20 Famous Landmarks in South Carolina to Visit
Destguides may receive commissions from purchases made through affiliate links in this article.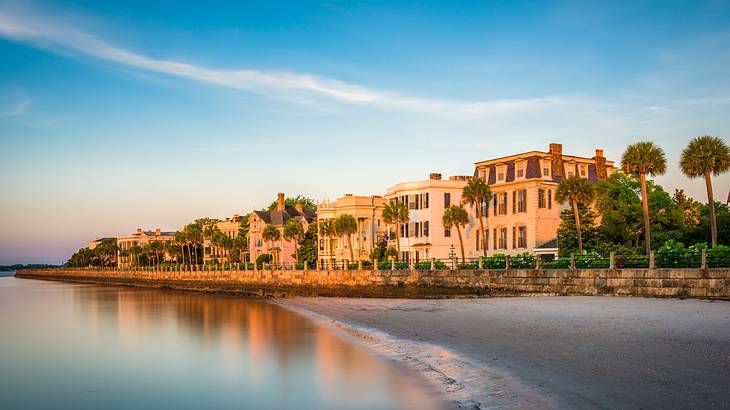 Would you prefer to live near the mountains or the sea? People lucky enough to find themselves in South Carolina won't have to wrestle with this question, as they'll have plenty of both within a few hours' drive.
In addition to its natural beauty, South Carolina is famous for its role in the country's colonial past and its bloody Civil War. Because of this, many of the 20 famous landmarks in South Carolina from this list will feel like a trip through time.
20 Famous South Carolina Landmarks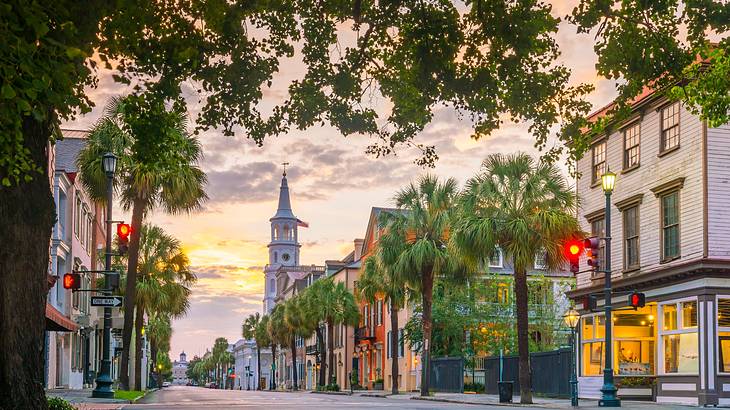 Charleston Historic District
Charleston, South Carolina, is one of the oldest cities in the United States, dating back to the European settlement of the region in 1670. The colonial past does not feel very past as you walk its cobblestone streets and take in hundreds of the historical (and colorful) stucco and brick buildings.
This beauty contrasts starkly with the Old Slave Mart Museum, where visitors can learn some stories of the millions of Africans bought and sold in this colonial port town.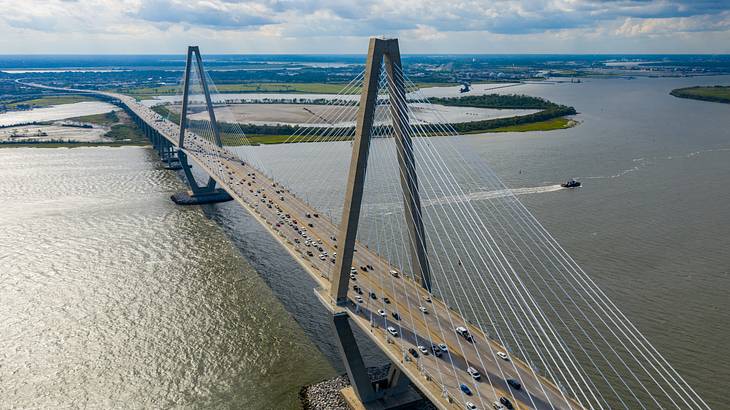 Arthur Ravenel Jr. Bridge
The Arthur Ravenel Jr. Bridge is one of the most popular landmarks in South Carolina. It allows visitors to see the tallest structure in South Carolina while simultaneously driving, biking, or walking along one of the longest cable bridges in North America.
Enjoy gazing up at the six-hundred-foot peaks of the bridge's dual towers as you cross the Cooper River from Charleston to Mount Pleasant.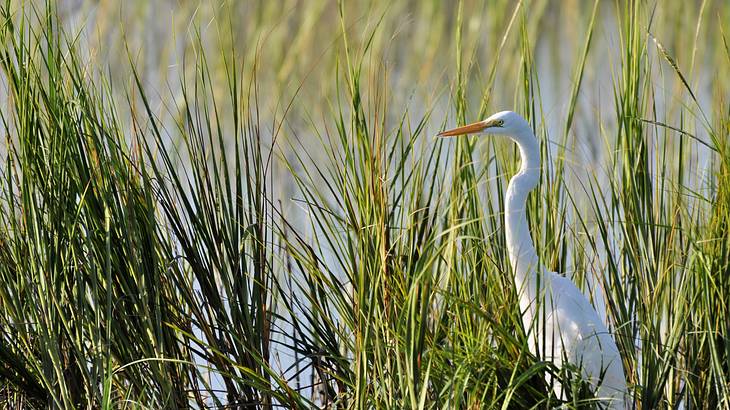 Huntington Beach State Park
The salt marshes, freshwater lagoon, geocaching, and some of the best birdwatching opportunities on the East Coast make this one of the most famous landmarks of South Carolina. The American Kestrel, the Savannah Sparrow, and the fantastically named Elegant Tern can all be spotted here.
Every September, the Atalaya Festival comes to town, and specialty crafts, live music, and southern cooking can be found from hundreds of local artisans, performers, and chefs.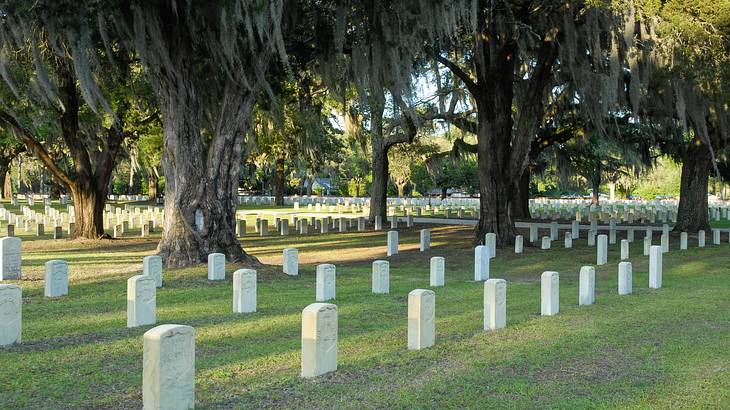 Beaufort National Cemetery
This half-circle cemetery was established in 1863 as a site for the burial of Union soldiers who died fighting in the south in the American Civil War. Five avenues diverge in spokes through the graves, giving visitors a long, peaceful walk through the solemn grounds.
Inside the cemetery, there is an obelisk monument for the Union soldiers who died far from home and two granite blocks to honor the African American soldiers that have been reinterred there.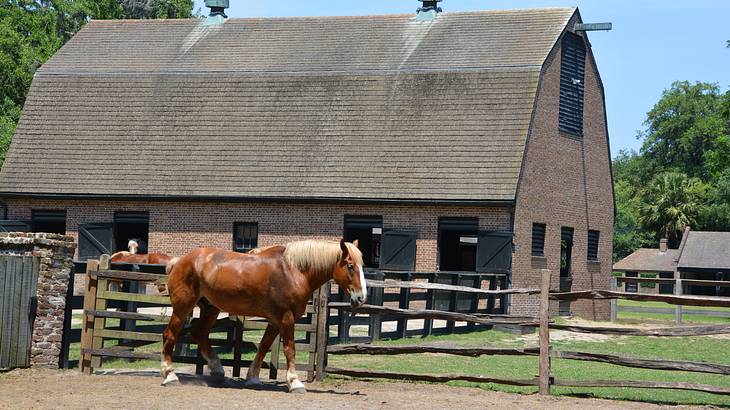 Middleton Place
Middleton Place National Historic Landmark's inclusive approach to history helps modern visitors to understand the integration of slavery into the early American economy.
It tells the story of both the Middleton family who once owned the estate and the hundreds of slaves who were forced to work on it. It's one of the important historical landmarks in South Carolina for people trying to grasp how such a system was developed and defended.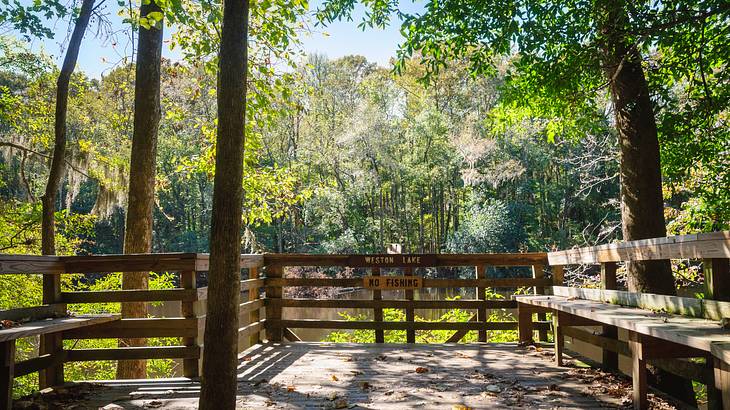 Congaree National Park
The old-growth forests of Congaree, a national park on the East Coast of the US, are home to an astounding twenty-five champion trees.
This may not get the same press as the gargantuan Redwoods or Sequoias in the National Parks of the West Coast, but these twenty-five trees are the tallest in the world of their species.
In the world of trees, being large typically means being very, very old. As you walk trails of Congaree, you'll find cypresses, pines, and maples that have stood for as long as 1,000 years.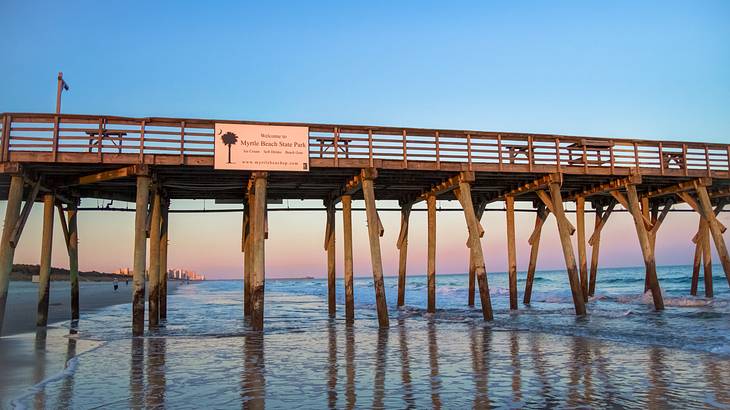 Myrtle Beach State Park
Due to being on the Eastern Seaboard, South Carolina has the nickname, the Seaboard State. You can find many beach towns in the Seaboard State, like Myrtle Beach, one of the most famous places in South Carolina.
The state park found here offers a great way to experience the coastal scenery without all of the crowds found near the hotels and resorts by the public beach. You can camp, hike, visit the nature center, and go swimming, all while still being within striking distance of the restaurants and attractions of the town.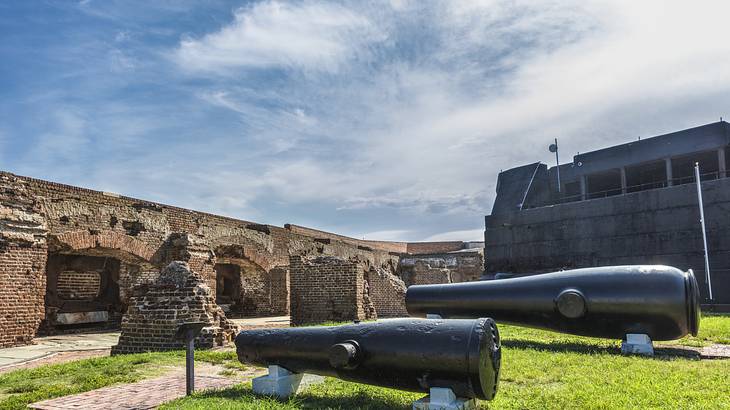 Fort Sumter and Fort Moultrie National Historical Park
After southern states began seceding from the United States in 1860 over the issue of slavery, many of the south's forts were still garrisoned by US troops.
The first battle of the US Civil War came at Fort Sumter in Charleston when southern forces stormed the stronghold to boot out the union soldiers and secure their status as a new nation.
Today, both Fort Sumter and the nearby Fort Moultrie are museums and protected historical parks where you can learn about how the nation's deadliest war began, whether visiting alone or in Charleston with your family.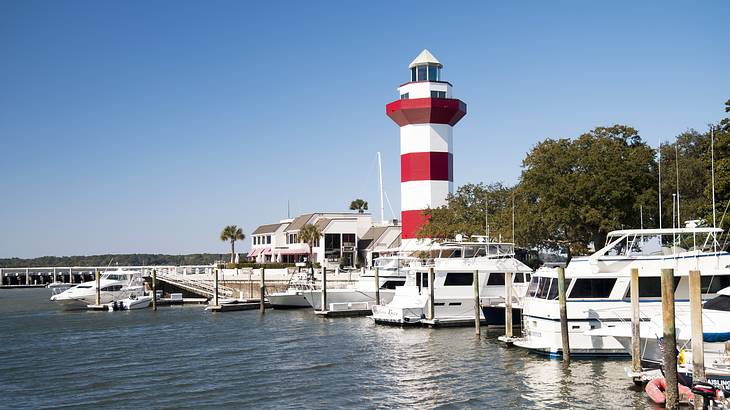 Harbour Town Lighthouse
The red-and-white-striped Harbour Town Lighthouse is an iconic welcome for travelers arriving by sea to Hilton Head Island. While still very functional, the lighthouse is also a museum that chronicles the history of Hilton Head.
While learning about the island's past, you can get views of its present by climbing to the top of the ninety-foot tower to take in the island's beautiful beaches and resorts.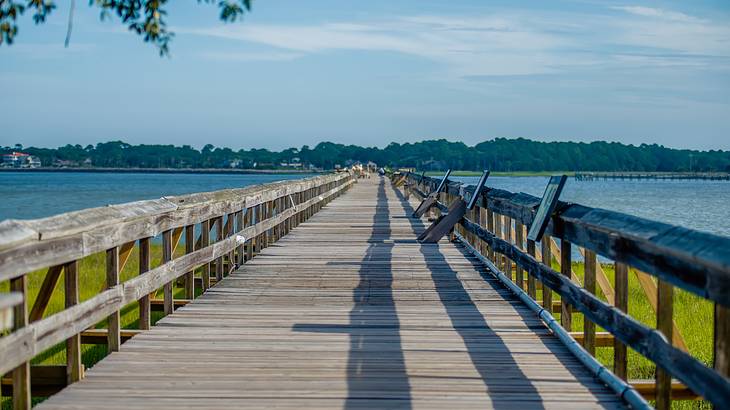 Hunting Island State Park
Over a million people every year make their way to Hunting Island State Park, and it's easy to see why. With over five miles of beaches and thousands of acres of protected wetlands, visitors will have a lot to see and do.
It's also a great place to pitch a tent or park an RV, with over 100 full-amenity campsites within walking distance of the sea.
Lake Jocassee
Lake Jocassee near Salem is often called the jewel of the south for its crystal-clear waters nestled in South Carolina's lush mountains. It's the perfect place for swimming or boating, with pontoons, kayaks, and canoes available to rent.
One of the major landmarks in South Carolina found at Lake Jocassee is Laurel Fork Falls, complete with a swimming hole at its base.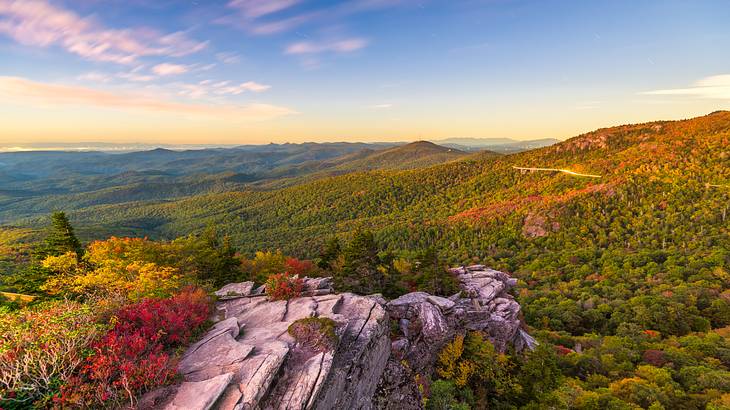 The Blue Ridge Mountains
The Blue Ridge Mountains run for 550 miles from Pennsylvania to Georgia, cutting through the northwestern corner of South Carolina along the way. This section of the mountain range contains Mount Sassafras, the highest point in South Carolina at 3560 feet.
The summit can be reached with about a five-mile round-trip hike. At the peak, you'll find yourself straddling the state border with North Carolina.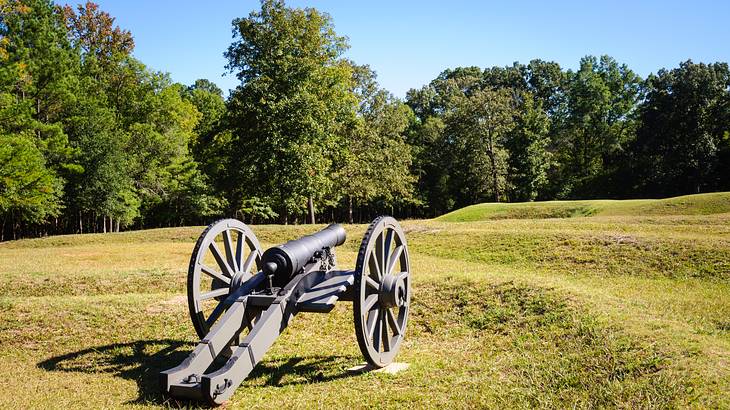 Ninety Six National Historic Site
In colonial times, the western mountains of South Carolina were the frontier of European settlements. This well-preserved site shows what it was like for those 17th and 18th-century settlers and the Cherokee Indians of the area who were defending their land.
It was also the site of two battles in the Revolutionary War. The National Park Service now maintains and educates about life, survival, and conflict at this place and time in history.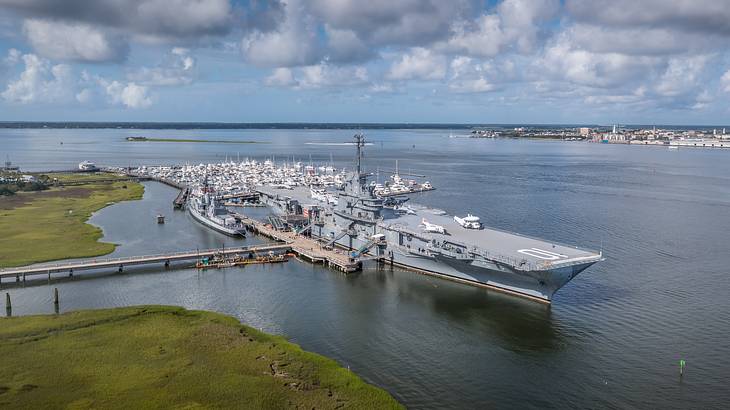 Patriots Point Naval and Maritime Museum
This military museum is one of the best historical sites in South Carolina and takes visitors through retired naval vessels to show what it's like to wage war at sea.
Aboard the massive USS Yorktown aircraft carrier, visitors can fly simulations in jet-fuelled virtual reality programs and even stay the night to explore the former living quarters of sailors.
The museum also lets visitors climb down into the USS Clagamore Submarine and learn about jungle warfare in the Vietnam Experience Exhibit.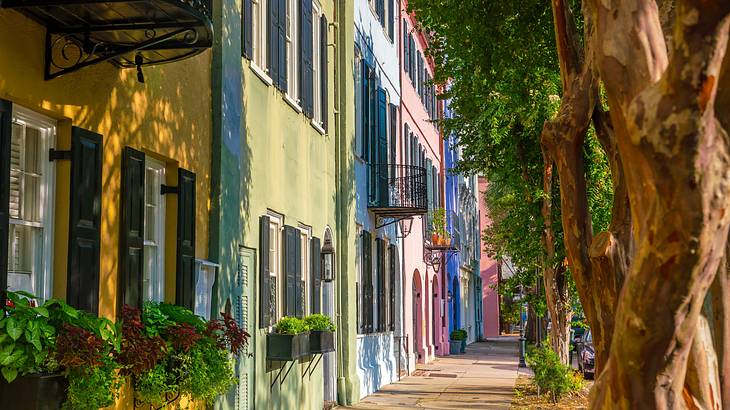 Rainbow Row
Along the waterfront in Charleston, a stunning row of brightly colored colonial homes will have you reaching for your camera. While the Georgian architecture dates back to the 1700s, in 1931, a new resident named Dorothy Porcher Legge decided to paint her home bright pink.
For reasons that are unclear, her neighbors soon followed suit. One story claims that the pastel facade was some kind of colorful GPS created to help drunk sailors find their way home. No matter why the colorful houses came about, visiting this Charleston landmark to take some photos is a must.
Reconstruction Era National Historical Park
Following the US Civil War, millions of newly freed African-American slaves became US citizens with three brand-new amendments to the constitution to enforce it. This reconstruction era created hope and upheaval in the south for about thirty years.
This National Historical Park in Beaufort chronicles this period, where Black Americans used their political rights and social protections to establish themselves in the nation.
Robert Mills House and Gardens
The designer of this 1823 mansion, Robert Mills, was the first American-born architect of note following independence from the British.
He is perhaps even more famous as the architect of the Washington Monument, and for his larger importance, this house has been preserved and maintained as a National Historic Landmark.
Visitors can come and tour the impressive 19th-century home and enjoy a pleasant afternoon wandering through the surrounding gardens.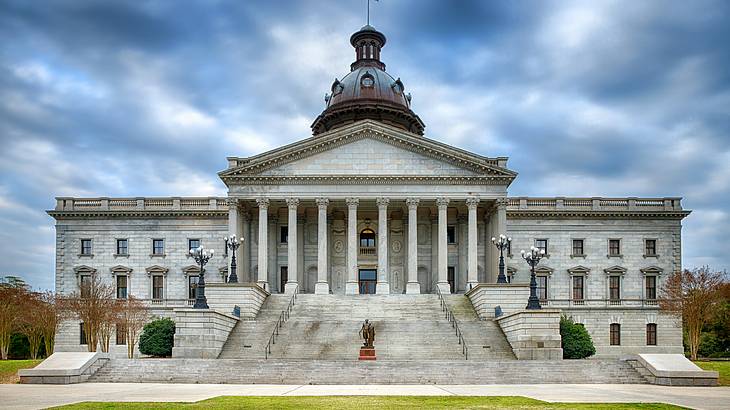 South Carolina State House
The South Carolina State House in Columbia dates back to 1855, when the country was barely half a century old. It took another fifty years for the grand government building to be completed, and today is still where the state's General Assembly, Governor, and Lieutenant Governor conduct their business.
The building is open for tours if you want to glimpse the historic architecture or the modern politics unfolding inside one of the major South Carolina landmarks and attractions.
South Carolina State Museum
This landmark is great for museum lovers who want to dabble in a little bit of everything. Art, history, nature, science, and technology are all displayed here, making it ideal for a truly curious mind.
Their permanent exhibits cover dinosaurs, Civil War history, African-American History, and astronomy. Check their calendar to see which temporary exhibits you can catch on the dates of your trip.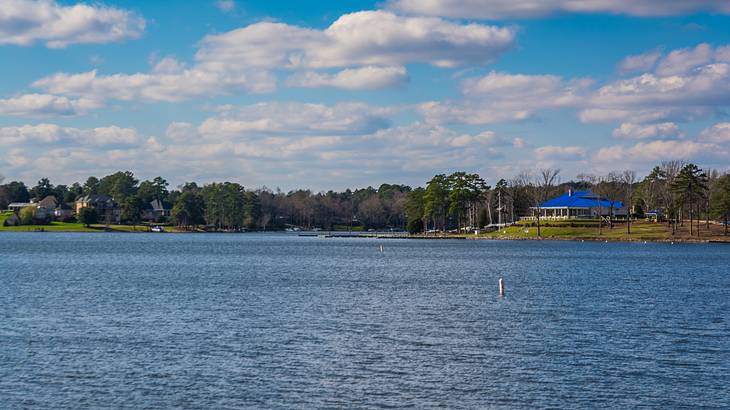 Lake Murray
Lake Murray was created by the construction of the Saluda Dam from 1927-1930. Today, it's a hotbed of watersports and recreation with a shoreline of over 650 miles.
Several islands are found in the middle of this artificial lake, where marinas, restaurants, and campgrounds have sprung up. Lake Murray is also well-stocked with striped bass, so fishing enthusiasts will want to remember their rods.
Conclusion
South Carolina is rich in history and natural beauty, and these twenty SC landmarks will leave a lasting impact on visitors.
South Carolina's location between the Appalachians and the Atlantic gives it a great deal of natural diversity, and its relatively small size allows it all to be explored without crazy travel times.
Still, there is much more to see here than just what's on this list, and you may find that it has just gotten you started. Happy exploring!
Give us feedback about this article
More articles about South Carolina:
Read more articles about the United States:
More articles about landmarks:
More visual stories related to this article:
---
---
Want to keep exploring?
Subscribe for discounts on tickets and hotels and our latest guides.
Thank you for subscribing
We will be in touch soon with discounts on tickets and hotels and our latest guides.
Want to keep exploring?
Subscribe for discounts on tickets and hotels and our latest guides.
Thank you for subscribing
We will be in touch soon with discounts on tickets and hotels and our latest guides.
Related Articles