25 Landmarks in Dallas, TX, to Visit
Destguides may receive commissions from purchases made through affiliate links in this article.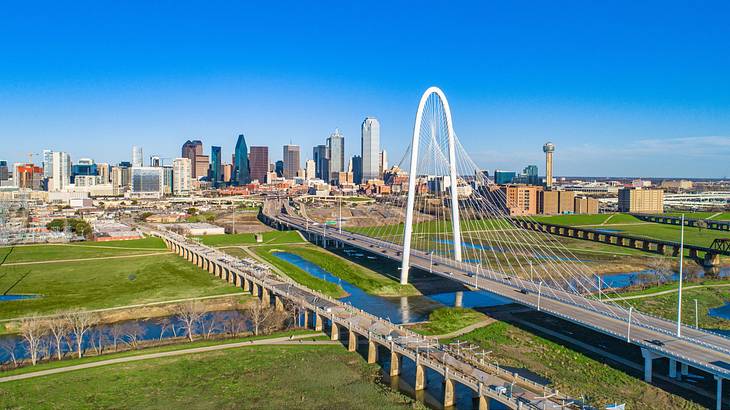 Dallas is one of the most well-known cities in Texas and the United States. Due to its rich cultural and historical links, you'll find many unique and interesting landmarks in Dallas, TX, to visit.
Places to see range from natural landmarks like the Dallas Arboretum and Botanical Garden to places of historical significance, like the Sixth Floor Museum at Dealey Plaza. To discover all of the top places to visit in Dallas, keep reading for 25 must-visit landmarks!
25 Landmarks in Dallas, Texas
Famous Landmarks in Dallas, TX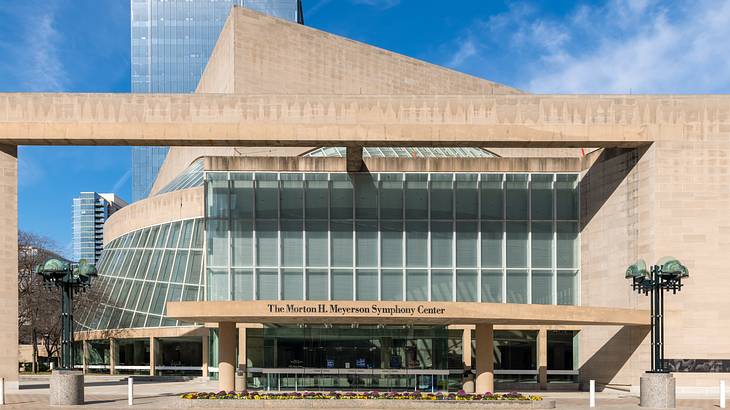 Morton H. Meyerson Symphony Center
Home to the Dallas Symphony Orchestra, the Morton H. Meyerson Symphony Center is a renowned cultural landmark in the city. This performance venue opened in 1989 and has a capacity of just over 2,000 spectators.
The concert hall is named after Morton Meyerson, an industry executive who led efforts to build a permanent home for the city's symphony orchestra. Along with being home to a famous orchestra, notable features here include the stunning internal and external architecture and a 4,535-pipe C.B. Fisk Opus 100 organ.
Dallas Arboretum and Botanical Garden
One of the most beautiful landmarks in the city is the Dallas Arboretum and Botanical Garden. The gardens surround the DeGolyer House, which was constructed between 1938 and 1940 in a Spanish Colonial style.
The botanical gardens you see today opened in 1984, although the site was added to the National Register of Historic Places six years earlier in 1978. At the Dallas Arboretum and Botanical Garden, you can wander through 19 themed gardens with pretty plant and flower displays. Gardens also include water features, sculptures, courtyards, and more.
While there isn't really a wrong time to visit this attraction, the best time to go to Dallas and the Dallas Arboretum and Botanical Garden is in late winter or spring. This is when many flowers are coming into bloom. In addition, the Dallas Blooms Festival takes place between the end of February and mid-April.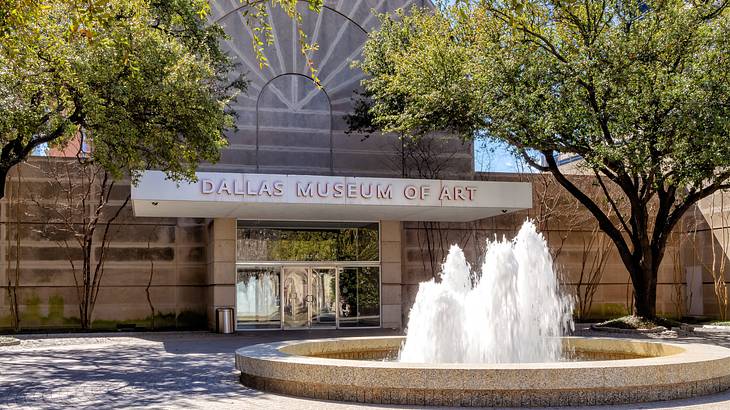 Dallas Museum of Art
A trip to the Dallas Museum of Art has to be on every art lover's Texas bucket list. The gallery is housed in a contemporary building in the Dallas Arts District and was founded in 1903.
The collection comprises over 23,000 pieces, including paintings, sculptures, and drawings. Works span over 5,000 years and represent a range of countries, cultures, and art styles. Famous artists with art on display include Cézanne, Monet, and Rodin.
Oak Cliff Nature Preserve
You may not expect to find a sprawling nature preserve in Dallas, but that's what this natural Dallas landmark is! Oak Cliff Nature Preserve is situated about 15 minutes (or 7.5 miles) from Downtown Dallas and features 121 acres of woodlands and wildflower meadows.
Visitors can explore the area by following eight miles of biking and hiking trails. It's also an ideal place to bird-watch and spot lots of other wildlife.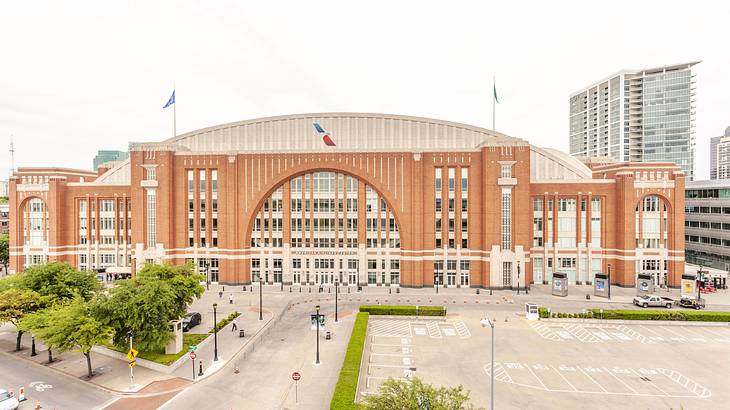 American Airlines Center
American Airlines Center is a premier sports and entertainment complex in Dallas. The arena opened in 2001 and has a capacity of around 20,000, depending on the event being held.
It's notably home to the Dallas Mavericks NBA team and the Dallas Stars NHL team. Along with watching sporting events here, you can attend concerts featuring famous musicians.
Fair Park
Located in South Dallas, Fair Park is best known for hosting the Texas State Fair, which has been in operation since 1886. However, this landmark is open year-round and features trails, museums, and entertainment venues. It's also a National Historic Landmark.
Just a few of the attractions to see in the park include the African American Museum of Dallas, Leonhardt Lagoon, and Cotton Bowl, an outdoor sports stadium.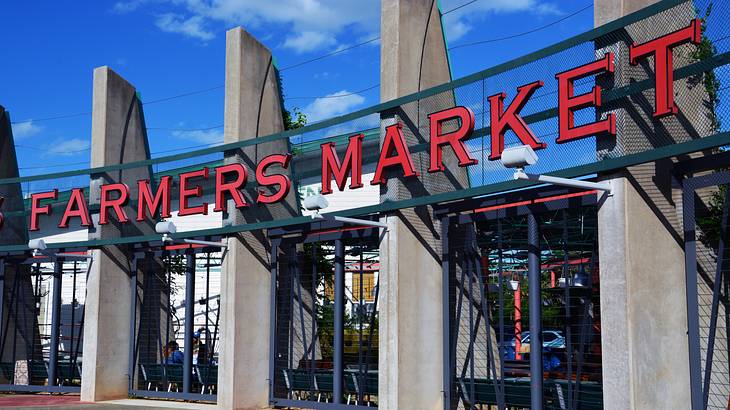 Dallas Farmers Market
The Dallas Farmers Market has been a popular attraction in the city officially since 1941. However, the area the market sits on has been used as a trading place since the end of the 19th century.
Today, you can explore a range of stalls selling local goods, from fruits and vegetables to fresh bread, other baked goods, and even plants and flowers.
African American Museum of Dallas
Another of many interesting Dallas, Texas, landmarks is the African American Museum of Dallas. The museum is found in Fair Park and is predominantly an art museum focusing on African art and works by African American artists.
You can also see some cultural, historical, and social exhibits covering various topics relating to African American communities in Texas.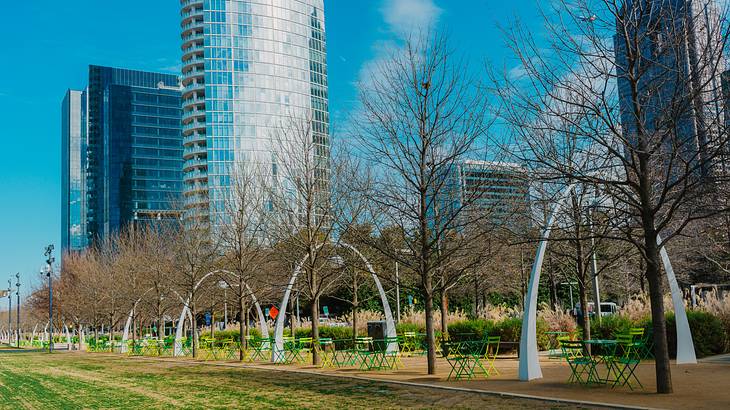 Klyde Warren Park
While there are many historical and cultural sites in Dallas, you can also find beautiful outdoor spaces, like Klyde Warren Park. The tranquil 5.2-acre urban park is unique as it sits over the Woodall Rodgers Freeway.
Visitors can walk along some trails or relax on the grass, taking in the views of skyscrapers around them. There are also fountains, a playground, and a dog park. Food trucks are often on-site as well, and events like outdoor yoga are hosted frequently.
Nasher Sculpture Center
Another can't-miss cultural landmark is the Nasher Sculpture Center. This is a somewhat more modern attraction, having opened in 2003. It features a vast collection of predominantly contemporary sculptures, and there's also a garden filled with more statues and sculptures.
The collection was curated by Patsy and Raymond Nasher, who collected sculptures since the 1950s. Pritzker Prize-winning architect Renzo Piano designed the museum building.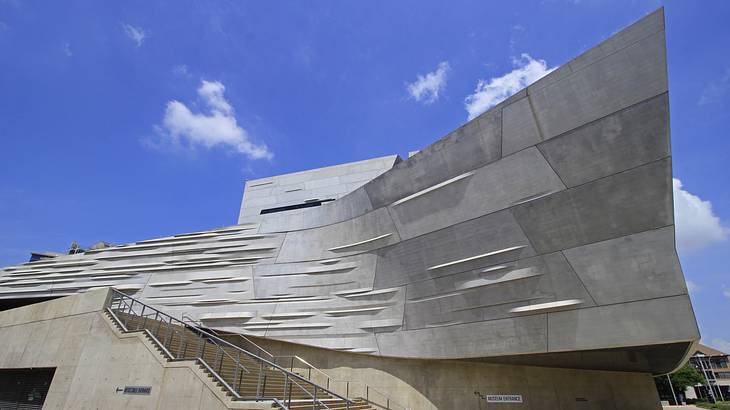 Perot Museum of Nature and Science
Located in Victory Park, the Perot Museum of Nature and Science will appeal to visitors of all ages. It opened in 2006 and houses various natural history and science exhibits.
Just a few of the topics covered here include paleontology and the dinosaurs, space travel and the solar systems, and ecosystems. There are also engineering exhibits, special exhibitions for kids, and more!
The building is also notable due to its green credentials. It has four Green Globes from the Green Building Initiative, the highest possible achievement. It additionally features a drought-tolerant plant roof and a rainwater collection system, among other eco-friendly design elements.
Frontiers of Flight Museum
The Frontiers of Flight Museum is an excellent Dallas, Texas, landmark to visit if you're interested in aviation and space travel history or like going to specialty museums. The attraction is located at Dallas Love Field Airport and was founded in 1988.
At the attraction, you can see restored airplanes, spacecraft, and missiles, along with many other artifacts and educational exhibits. Notable things to see include the Apollo 7 Command Module and artifacts from the Hindenburg.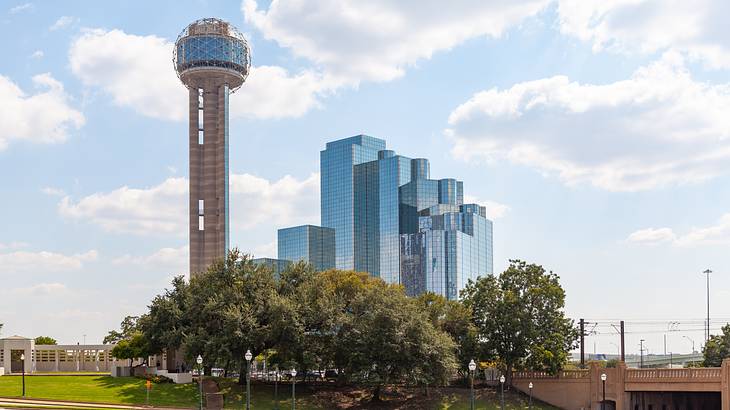 Reunion Tower
If you're looking for a place that offers a breathtaking view over Dallas, Reunion Tower is the landmark for you! The tower is a well-known feature on the Dallas skyline and stands at 561 feet tall.
This famous landmark opened in 1978 and is now part of the Hyatt Regency Hotel, although it was free-standing until the hotel's construction in 1998. The observation deck is located 470 feet off the ground and provides 360-degree views of the city.
The Kessler Theater
The Kessler Theater is an art deco-style theater located just outside the Bishop Arts District. The performing arts venue was built in 1942, and still hosts shows to this day. Things to see include concerts by a range of genres of musicians and films. There's also an on-site bar and kitchen.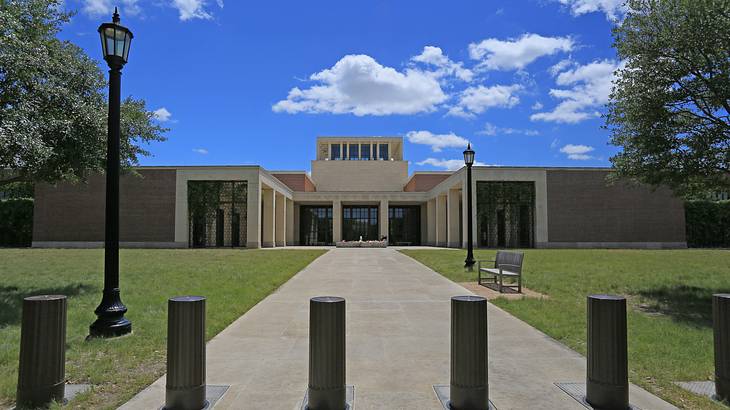 George W. Bush Presidential Center
Every United States president gets a presidential library, and the site for the 43rd US president, George W. Bush, can be found in Dallas. Also called the George W. Bush Presidential Library and Museum, this landmark opened in 2013 and houses the archives of Bush's presidency.
Things to see include photographs and other artifacts, as well as a replica of the Oval Office as it was when he was president. Interestingly, when they pass away, Bush and his wife Laura have requested they be buried on the grounds of the George W. Bush Presidential Center.
Margot and Bill Winspear Opera House
Winspear Opera House is another of many famous cultural attractions in Dallas. This performance venue opened in 2009 and is located within the AT&T Performing Arts Center. The design of the venue is intended to resemble a contemporary interpretation of a classical opera house. It is home to both the Dallas Opera and the Texas Ballet Theater.
Sculptures and Monuments in Dallas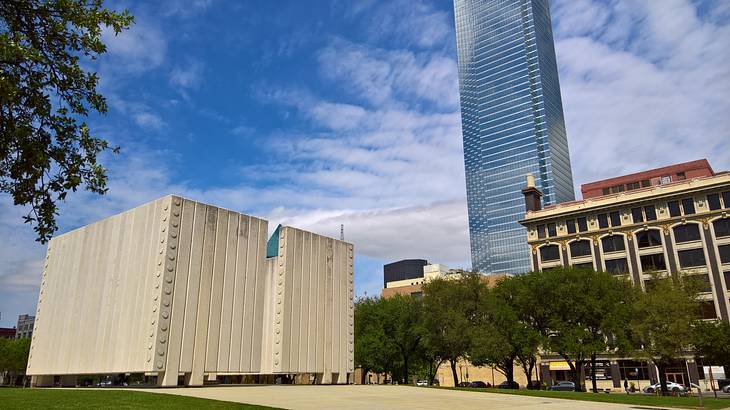 John F. Kennedy Memorial Plaza
John F. Kennedy Memorial Plaza is a renowned landmark in Dallas that opened in 1970, seven years after the president's assassination in the city in 1963. The memorial is located a block east of Dealey Plaza on the edge of the Dallas Downtown Historic District.
At the memorial, designed by architect Philip Johnson, you can see a cenotaph and two granite squares, each with an epitaph for the late president.
Pioneer Plaza
Found in the Convention Center District of downtown Dallas, Pioneer Plaza is a unique and interesting place to visit. The site was created in 1994 and is most well-known for its large sculpture of 49 longhorn steers and three trail riders created by artist Robert Summers.
This statue marks the 19th-century cattle drives that took place along the Shawnee Trail. There are also some walking paths through grassy areas, a scenic waterfall, and a pond with ducks.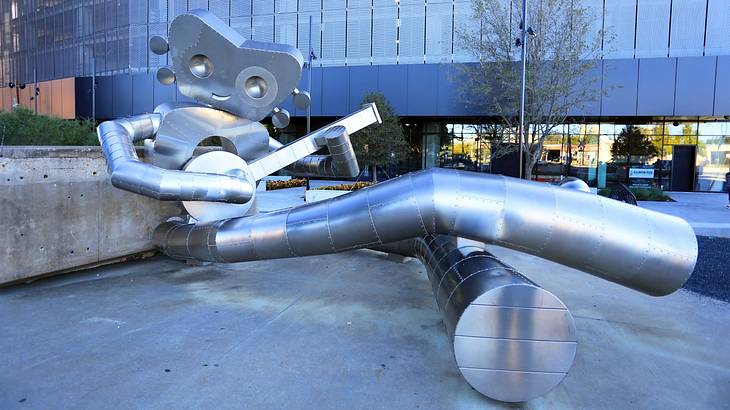 Traveling Man Sculptures
The Traveling Man Sculptures are a unique set of three statues around the Deep Ellum neighborhood. These include Traveling Man Sculpture - Walking Tall, a tall standing robot statue, and Traveling Man Sculpture - Waiting on the Train, a depiction of a robot sitting down.
The third is Traveling Man Sculpture - Awakening, which just shows the robot's head. The design is intended to incorporate the area's history of rail transportation and its more modern artistic culture.
Giant Eyeball
Are you looking for more unique sculptures? Then add Giant Eyeball to your landmarks list! The 30-foot tall fiberglass model of an eyeball is found downtown and was designed by artist Tony Tasset. While there is still some mystery around why it was installed, it's become a popular photo-op location in Dallas and is worth seeing for yourself.
Dallas Historical Sites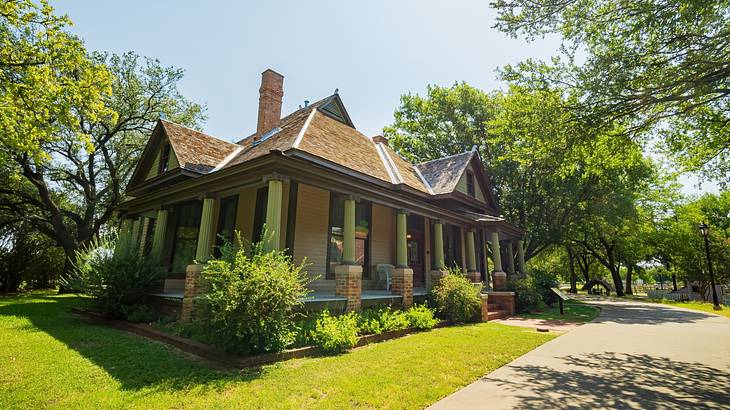 Dallas Heritage Village at Old City Park
The Dallas Heritage Village at Old City Park is one of the historical landmarks in Dallas, Texas, that will appeal to visitors of all ages. This 20-acre site features a collection of 19th-century pioneer and commercial buildings that can be toured to learn more about life in Texas in the 1800s.
Notably, this landmark houses one of Texas's largest collections of Victorian and pioneer buildings from the 1800s. While at the park, you can also see barnyard animals, watch period actors, and attend events like a candlelight carol concert during the holidays.
John Neely Bryan Cabin
It's not surprising that a list of Dallas landmarks features a site relating to the city's founder! John Neely Bryan established the area as a permanent settlement in 1841.
Today, you can view a replica of his log cabin in Founder's Plaza. While there is only a historical plaque relating to the cabin and no museum or the like, it's still worth stopping by to see where the modern-day city of Dallas began.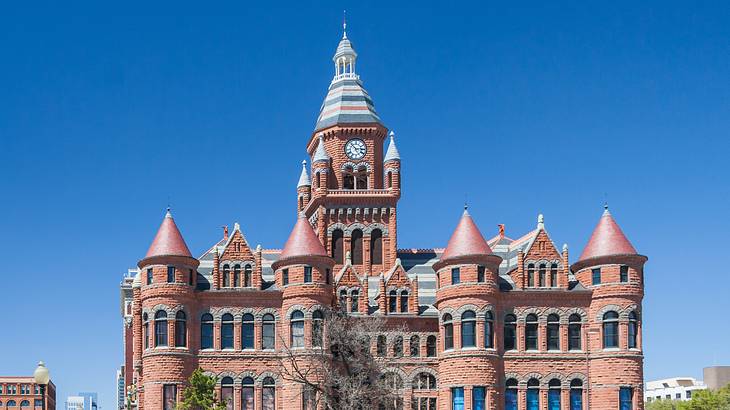 Dallas County Courthouse
Dating to 1892, the Dallas County Courthouse has a long and interesting history. It was initially constructed as a courthouse, but the court moved to a newer building in 1966. The 19th-century Dallas County Courthouse then became the Old Red Museum, which got its name due to the red sandstone used in the building's design.
However, it is now reverting to its original use and will be the home of the Texas Fifth Circuit Court of Appeals. So, while you can no longer visit the courthouse, you can admire its unique and eye-catching architecture from the outside.
Texas School Book Depository
One of the most well-known Texas facts relating to Dallas is that the city is where President John F. Kennedy was assassinated in 1963. The 35th president was shot from the sixth floor of the seven-floor Texas School Book Depository by Lee Harvey Oswald.
Today, the historical site is one of the most famous buildings in Dallas. It's now officially called the Dallas County Administration Building and houses the Sixth Floor Museum, which has exhibits on the assassination.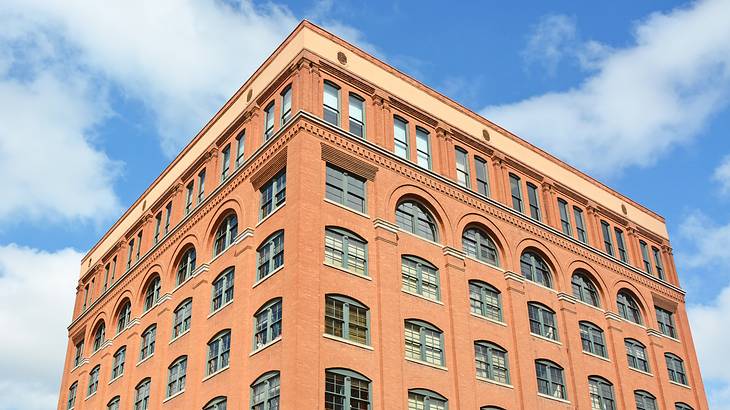 The Sixth Floor Museum at Dealey Plaza
The Sixth Floor Museum at Dealey Plaza is one of the most well-known and most visited landmarks in Texas. As mentioned, it's housed in the former Texas School Book Depository building in Dealey Plaza, the location of JFK's assassination.
The museum opened in 1989 and has a variety of exhibits and artifacts relating to the assassination. These include those covering the events of that day and the aftermath. You can also see exhibits on conspiracy theories surrounding the assassination, many of which are still believed by some today!
In Conclusion
There are many famous Dallas landmarks to check out when in the city. This list of 25 covers the most well-known sites, but after seeing these, you'll still be able to find various cultural and historical places to visit. Now all you have to do is plan a trip to Dallas and get exploring!
Give us feedback about this article
Learn more about Dallas:
More articles about Texas:
Read more articles about the United States:
More articles about landmarks:
---
---
Want to keep exploring?
Subscribe for discounts on tickets and hotels and our latest guides.
Thank you for subscribing
We will be in touch soon with discounts on tickets and hotels and our latest guides.
Want to keep exploring?
Subscribe for discounts on tickets and hotels and our latest guides.
Thank you for subscribing
We will be in touch soon with discounts on tickets and hotels and our latest guides.
Related Articles