30 Fun Things to Do in Denton, TX
Destguides may receive commissions from purchases made through affiliate links in this article.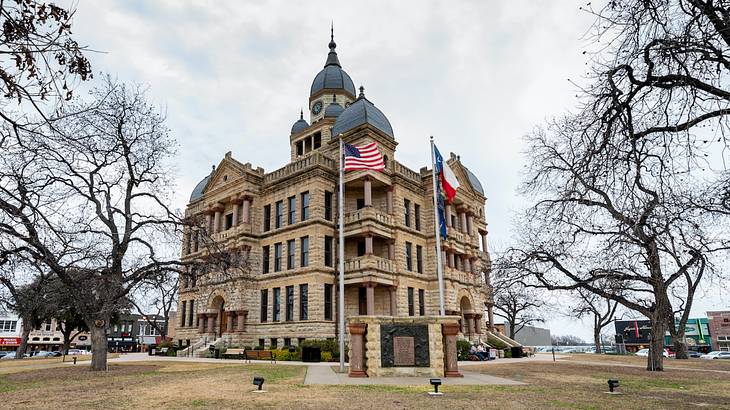 Denton is located within the Dallas-Fort Worth metro area in the south of the United States. This Texas city has a variety of attractions, from parks to performing arts venues and unique shops.
Fun things to do in Denton, TX, include treating yourself to sweets at Atomic Candy, sipping on cocktails at the classy Paschall Bar, and learning more about the city's history at various museums. As Denton is within an hour of Dallas, you can also plan a memorable trip to the well-known city. Wondering what else there is to do in and around Denton? Read on for 30 activity ideas!
30 Fun Things to Do in Denton, Texas
Fun Places to Go in Denton, TX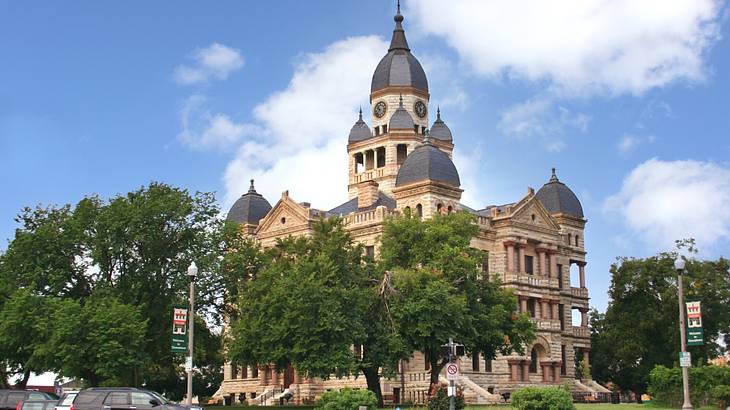 Tour the Denton County Courthouse-on-the-Square Museum
Constructed between 1895 and 1896 in a Romanesque style, the Denton County Courthouse is the city's former main courthouse. Today, the building is a museum with exhibits on Denton's history. Things to learn about include the city's African American and Latin heritage, significant events in Denton, and Native American history relating to the area.
Go to the Bayless-Selby House Museum at Denton County Historical Park
History enthusiasts will be interested in visiting the Bayless-Selby House Museum in Denton County Historical Park. The Queen Anne-style home was constructed in 1898 and today features exhibits on life in Denton in the 19th century. You can also explore rooms decorated with antique furniture, including a music room and bedroom suite.
Skate at Lone Star Indoor Sports & Event Center
Lone Star Indoor Sports & Event Center is a great place to head if you like to roller skate or have kids that do. The rink at the center is open for public skating a few times a week, and you can also book roller skating parties here, which offer private access to the rink.
Grab a drink at West Oak Coffee Bar
If you're looking for a place to relax with a coffee, visiting West Oak Coffee Bar is a must. The trendy coffee shop features exposed brick walls, lots of seating, and an extensive menu.
Beverages to order include traditional hot and iced coffees and barista specials, like a maple cappuccino served with a stroopwafel or a cold brew with brown sugar bourbon syrup. Various tea drinks, plus craft beer, are also available.
Hang out at South Lakes Park
Going to South Lakes Park is one of the best Denton, TX, things to do when you want to enjoy the fresh air. Visiting the park is also one of the great free things to do in the area!
At the park, you can walk, jog, or bike along trails, and there are basketball and volleyball courts. If visiting with kids, they'll be able to have fun at a playground, and there are dog areas for those in the park with their pups.
Learn about fire fighting at the Denton Firefighters Museum
Another interesting museum in Denton is the Denton Firefighters Museum. The museum is housed within an old fire station and features exhibits on the history of firefighting in the city. Visitors can see firefighting memorabilia and artifacts dating back as far as the 1800s. You can also learn more about how firefighting has evolved over the last few hundred years.
Cool off at Water Works Park
Those with kids will definitely want to plan a trip to Water Works Park on a hot day! At the waterpark, your family can enjoy multiple pools, including a wave pool, lazy river, and children's play pool. There are also numerous waterslides, poolside cabanas, and sand volleyball courts.
Snacks, like ice cream and fruit smoothies, are available too. Do note that the park is seasonal and is generally open Memorial Day weekend through Labor Day weekend.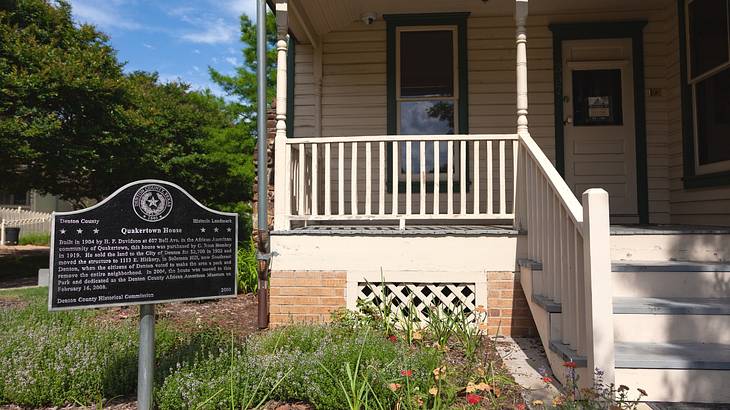 Visit the Denton County African American Museum
The Denton County African American Museum is housed within the Quakertown House in Denton County Historical Park. This structure was built in 1904 in an African American community that was named Quakertown after the slave trade abolitionists called Quakers.
At the museum, you can learn more about the residents of Quakertown and African American heritage in the area. You can also see various artifacts and learn about prominent individuals, like Denton's first African American doctor, Dr. Edwin D. Moten.
Hike trails at the Clear Creek Natural Heritage Center
Clear Creek Natural Heritage Center covers over 2,900 acres and features many scenic trails. The paths will take you through various habitats that are home to many animals, including herons and beavers. The Clear Creek Natural Heritage Center also hosts some events and workshops within its educational center.
Have a meal at Barley and Board
There are many great places to eat in Denton, like Barley and Board. This stylish brewpub serves a variety of dishes, from sharing plates and charcuterie boards to main meals like vegetable risotto or salmon with coconut broth and quinoa.
To accompany your meal, you can opt for wine or cocktails or order from an extensive list of draft beers. Decadent desserts, like affogato bread pudding, are also available, and brunch is offered on Saturday and Sunday.
Dare to go to the Parker House Haunted Attraction
Parker House Haunted Attraction is one of the attractions in Denton, Texas, that will appeal to thrill seekers. The haunted house is open throughout October and features many spooky areas to explore.
You'll wander around an eerie former mortuary before heading to a cemetery and then through a sanitarium. As you dare to go through each area, you'll be met with a range of characters, from zombies to victims of a serial killer.
Get cocktails at The Loophole
If you're wondering what to do in Denton, TX, in the evening, planning a trip to The Loophole is an excellent idea! At the trendy retro-style bar, you can order unique cocktails with various flavors of hard lemonade, Moscow mules, margaritas, and more on offer.
Fun shots, such as cinnamon toast crunch and pineapple upside-down cake shots, are also on the menu. Bar snacks can be ordered to accompany your drinks as well. As you enjoy your beverages, you can participate in events like karaoke or trivia.
Look around the Little Chapel in-the-Woods
The Little Chapel in-the-Woods is a unique North Texas landmark that's well worth visiting. The chapel is located at Texas Woman's University and is beautifully designed inside and out. If in the area, stopping to look inside the chapel and snap some pictures is a must. You can also plan a charming wedding here!
See a performance at Campus Theatre
Campus Theatre is a movie theater from the 1940s that now acts as a performance venue for local arts groups. At the theater, you can see various plays and musicals, with past performances including Cat on a Hot Tin Roof and Beauty and the Beast. Whether you're a lover of performing arts or looking for something memorable to do in Denton, you'll have a great night out at Campus Theatre.
Shop for local produce at Denton Community Market
Weekend visitors that want to know what to do in Denton, Texas, on a Saturday have to add a trip to Denton Community Market to their to-do list. Located in Denton Historical Park, the market features food and arts and crafts items produced by locals. As you look around, you'll also get to enjoy live entertainment, and there are kids' areas with fun activities.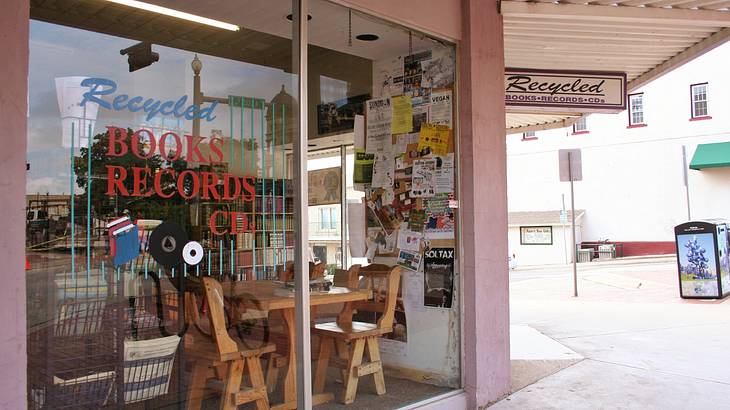 Pick up a new read at Recycled Books, Records, CDs
Going to Recycled Books, Records, CDs is one of the can't-miss Denton activities for bookworms. The independent store features an array of used books covering many genres in fiction and non-fiction. As the name suggests, music lovers will also find some great items here, with records and CDs available.
Treat yourself to retro sweets at Atomic Candy
A visit to the fun Atomic Candy sweet shop has to be on your Texas bucket list! At the retro candy store, you can purchase a range of treats, from bulk candy to classics like M&Ms and even unique sodas. International candies are also available, as are some unique gift items.
Start the day with breakfast at Spiral Diner & Bakery
Spiral Diner & Bakery serves vegan breakfast dishes all day that will please plant-based eaters and meat eaters. Just a few of the menu items include biscuits and gravy, pancakes with various toppings, and vegan bacon breakfast tacos.
Lunch and dinner dishes, plus indulgent shakes, ice creams, and other desserts, can be enjoyed, too. No matter what you order, you'll be impressed with Spiral's delicious plant-based comfort food.
Dine at Hannah's
Hannah's, or Hannah's Off the Square, is another must-visit dining spot in Denton. Located just a short walk from the Denton County Courthouse-on-the-Square, the eatery serves contemporary American dishes in a stylish and cozy space.
Dishes include scallops with sweetcorn risotto and peach and prosciutto flatbread pizza. Cocktails, including many types of martini, and wine can be ordered to accompany your meal.
Break free at Quandary Escape Adventures
Quandary Escape Adventures has fun escape games for almost all ages. Themes to choose from include an Egyptian mummy mystery, an art heist, and a French Resistance secret mission. Games range in difficulty from beginner through average to difficult and are for a minimum of two players up to a maximum of between eight and 12, depending on the game.
Grab a beer at Denton County Brewing Company
One of the most popular bars in the city is Denton County Brewing Company. At the brewery, you'll discover a range of craft beers on tap, including light and dark brews. Hard seltzers and wine are also available. As you enjoy your drinks, you can relax on comfy couches and play board games kept in-house.
Watch a movie at Movie Tavern Denton
Movie Tavern Denton is a boutique-style cinema showing all the new releases. While enjoying your movie in VIP seats, you can order snacks and drinks, including cocktails and wine. Whether you're looking for daytime or evening activities, Denton Movie Tavern is one of the best Denton, TX, attractions to check out.
Enjoy drinks at Paschall Bar
Also known as Denton's only speakeasy, Paschall Bar is one of the trendiest spots to visit. The sultry cocktail lounge serves classic, signature, and seasonal cocktails for all tastes.
Just a few options include a vodka, strawberry, lime, and ginger beer mix and a gin, raspberry liqueur, and champagne cocktail. Beer is also available, but trying at least one cocktail is recommended!
Things to Do Near Denton, TX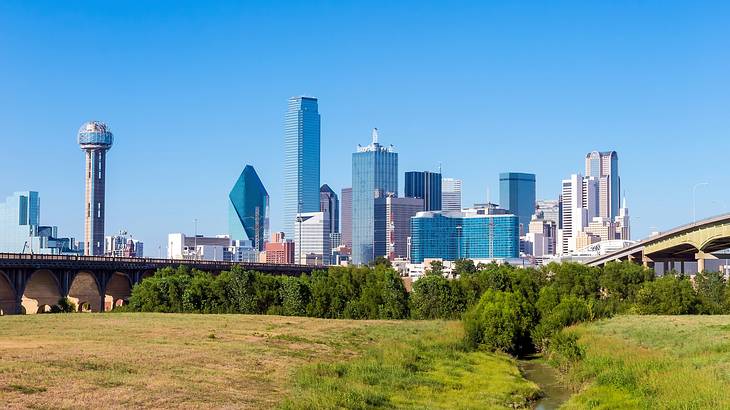 Plan a trip to Dallas
Dallas is a popular destination in Texas that is only an hour from Denton, depending on traffic. Planning a trip to the city is a great idea, whether visiting for the day or overnight. As there are many romantic things to do in Dallas, it makes for a perfect couples' weekend getaway destination as well!
Activities include taking in the views from Reunion Tower, watching a Dallas Mavericks NBA or Dallas Stars NHL game, and dining at incredible eateries. You can also book Dallas tours, like a sightseeing tour or downtown food tour. While in the area, you could additionally check out Arlington or Fort Worth, both of which are within an hour of Dallas.
Check out Doubletree Ranch Park
Doubletree Ranch Park is a fun place to spend some time, with activities for everyone to enjoy. Kids can check out the splash pad that's open during warmer months, and there's also a soccer field. Adults can walk or jog around trails, spotting birds and other wildlife. Picnic areas are also on-site if you're looking for a place to meet up with friends or family outdoors.
Find unique items at the Antique Gallery
Whether you like purchasing antiques or just browsing interesting stores, visiting Antique Gallery is a fun thing to do. The vast antique shop houses multiple vendors selling an array of items. Pieces on offer include furniture, decor items, jewelry, and much more.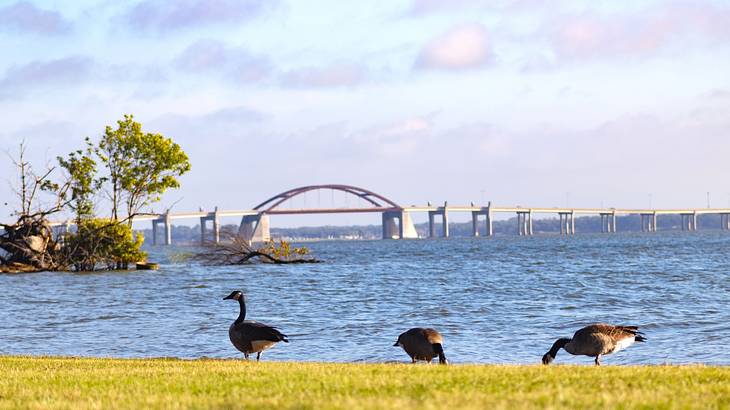 Access Lake Lewisville via Big Sandy Boat Ramp
Lake Lewisville is a great place to go boating near Denton. The lake is located around 20 minutes from Denton in Sandy Shores and can be accessed by boat from the Big Sandy Boat Ramp. Other access points within about 20 minutes of Denton include Westlake Park and Pilot Knoll Park.
Once on the lake, you can enjoy the views as you sail, and water skiing is also permitted. Most parks along the lake have sandy or grassy shores to relax on as well before or after hitting the water.
Relax at Pilot Knoll Park
Pilot Knoll Park is situated around 20 minutes from Denton in Argyle. The waterfront park sits on Lake Lewisville and offers access to the water for boating and waterskiing.
Kayaking and paddleboarding on the lake are also popular activities, and rentals are available for both. Additionally, you can relax next to the water, sunbathing or sharing a picnic with friends or family.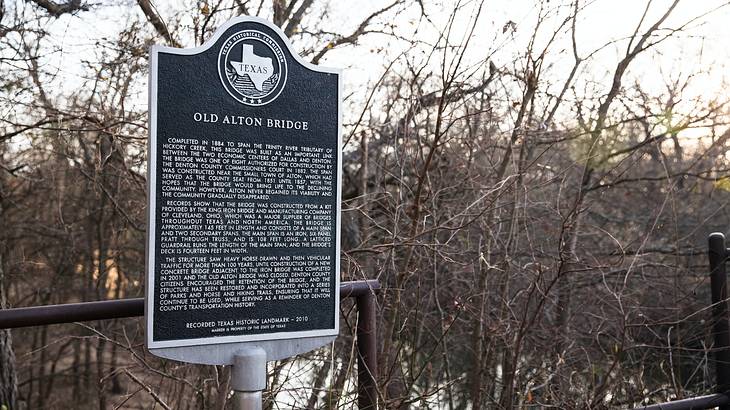 Snap photos on the Old Alton Bridge
One of the best things to do around Denton for those that like nature photography is going to Old Alton Bridge to take pictures. The iron truss bridge was built in the 1880s and was added to the National Register of Historic Places in 1988.
You can reach the bridge by following the Old Alton Bridge Trail. Once you arrive, you can take photos of the iconic structure and the surrounding lake and forest. The bridge is also thought to be haunted, so you could visit after dark to do some ghost hunting!
Explore Ray Roberts Lake State Park
Ray Roberts Lake State Park is the ideal place to spend the day exploring the outdoors. The park sits next to Lake Ray Roberts, making it the perfect place to enjoy water activities like swimming or paddleboarding.
Other activities include hiking and biking along beautiful trails. Camping is also offered, and there are a few lodges in the park if you want to spend the night in hotel-style accommodation.
In Conclusion
Visitors to Denton will find no shortage of things to do. Denton attractions range from fascinating museums and specialty stores to unique bars and restaurants. No matter what you enjoy doing, you'll find many enjoyable activities in Denton!
---
---
Want to keep exploring?
Subscribe for discounts on tickets and hotels and our latest guides.
Thank you for subscribing
We will be in touch soon with discounts on tickets and hotels and our latest guides.
Want to keep exploring?
Subscribe for discounts on tickets and hotels and our latest guides.
Thank you for subscribing
We will be in touch soon with discounts on tickets and hotels and our latest guides.
Related Articles