25 Fun Things to Do at Night in Houston
Destguides may receive commissions from purchases made through affiliate links in this article.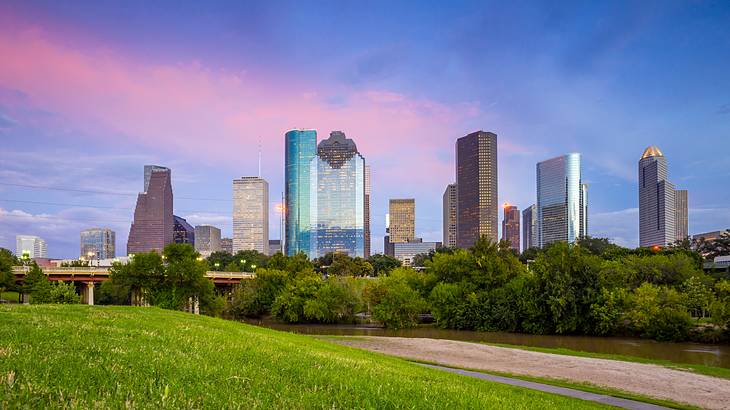 When visiting Houston, Texas, you don't have to stop exploring once it gets dark. Night owls will be pleased to learn that there are many fun things to do at night in Houston.
You can enjoy many classic evening activities, such as going to bars and nightclubs. You also have the option to watch local sports teams play, go sightseeing, wander around parks, and much more.
Whether you're traveling to Houston or live in the city, trying any of these 25 nighttime activities is guaranteed to result in a memorable night out.
25 Fun Things to Do in Houston at Night
Catch a baseball game at Minute Maid Park
One of the must-do things is Texas is watching a Houston Astros baseball game. The Major League Baseball team often plays in the evening at Minute Maid Park, making a trip to the ballpark an ideal nighttime activity to enjoy.
If you have fun at the game, you can return to Minute Maid Park during the day to take a guided tour and learn more about the team.
Admire the Twilight Epiphany Skyspace installation
One of the must-see Houston attractions at night is James Turrell's Twilight Epiphany Skyspace. Located at Rice University in the Suzanne Deal Booth Centennial Pavilion, this landmark is an art installation that involves interesting light shows.
The installation features room-like structures painted in bright colors, with cut-outs that show the sky. As the sun rises and sets, you can admire the changing colors of both the sky and the painted rooms.
Discover sea creatures at the Downtown Aquarium
The Downtown Aquarium is home to a vast array of sea creatures from across the globe. Animals to see range from exotic fish and jellyfish to turtles and alligators. You can also find some non-aquatic animals, like snakes and other reptiles.
The aquarium also has some rides for kids and a handful of dining options. Best of all, the attraction stays open until late every day.
Tackle an escape game
A fun yet challenging thing to try is an escape game. Houston offers visitors a selection of escape games to choose from that involve puzzles and problems to be solved in order to escape.
Themed escape rooms to choose from include an Apollo 13 room, an art gallery heist simulation, and a prison break puzzle. No matter which you choose, you and your friends or family will have a great time working together to win the game!
Watch a performance in the Theater District
When looking for things to do in Houston, Texas, at night, a trip to the Theater District has to be on your list. The district covers 17 blocks downtown and houses various performing arts facilities.
If looking to see a performance, there are many places to choose from in this area. Venues include the Houston Ballet, the Houston Symphony Orchestra, and theater houses performing Broadway Shows.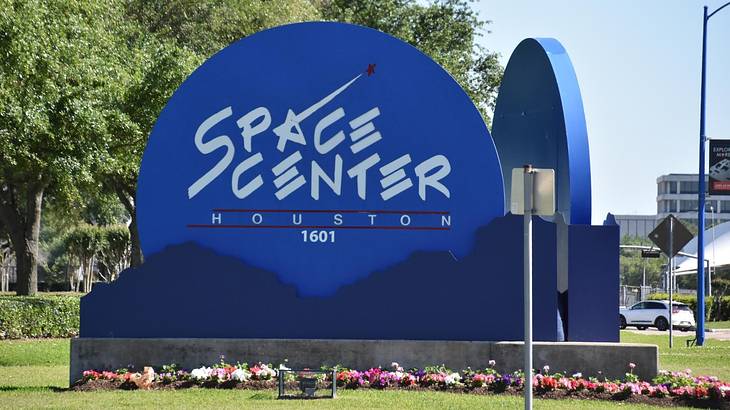 Learn about outer space at Space Center Houston
Although the iconic NASA space station usually closes at 5 PM, it stays open a little later on Saturday and Sunday. Therefore, you have the option to explore the center in the evening when it may be a little less crowded.
At the museum, you can interact with a range of exhibits that will teach you more about space exploration and NASA. Going to Space Center Houston definitely has to be on your Texas bucket list!
Listen to live music at White Oak Music Hall
If you want to see live music in Houston, one of the most popular places to do so is at the White Oak Music Hall. This much-loved venue welcomes a range of artists from multiple genres, meaning there's bound to be a performance you want to see!
The music hall is primarily outside, so it's a great place to hang out on a warm spring or summer night. As you enjoy the music, you can also order drinks from on-site bars. Catching a show at White Oak Music Hall has to be on every traveler's Houston itinerary!
Spend the evening at Kemah Boardwalk
Located just a 40-minute drive from downtown Houston, the Kemah Boardwalk amusement park is an exciting place to spend the evening. The attraction has numerous rides for all thrill levels, plus a Ferris wheel, stingray reef, and much more.
After trying the rides and amusements, you can grab a snack or a larger meal from numerous restaurants. Kemah Boardwalk is guaranteed to be a good time for kids and adults alike.
Drink craft beer at Axelrad Beer Garden
Axelrad Beer Garden is one of the coolest places to hang out in the city. The beer garden serves a range of craft beers, along with wine and some other alcoholic drinks.
While relaxing with your drink in the beer garden, you can also listen to live music. You even have the option to bring in delicious pizza from Luigi's Pizzeria, which is located next door to the beer garden.
Stroll around Hermann Park
One of the laid-back places to go in Houston at night is Hermann Park. The 445-acre park is a much-loved Houston landmark and is located near the Museum District. It features tranquil green space and a large scenic water feature.
In the evening, the paths get lit up, and strolling around the illuminated area is a perfect way to unwind after a long day. The park is also very romantic at night, so makes for a good place to go for a walk with your date or partner.
Drink delicious wines at a local wine bar
If you enjoy relaxing with a glass of wine, Houston has many wine bars for you to check out. Cellar 7 is a great bar to visit first. The stylish wine bar has a large outdoor patio and an extensive drinks list, with whites, reds, and sparkling wine available. Other popular wine bars to go to include Roots TX and Trez Art and Wine Bar.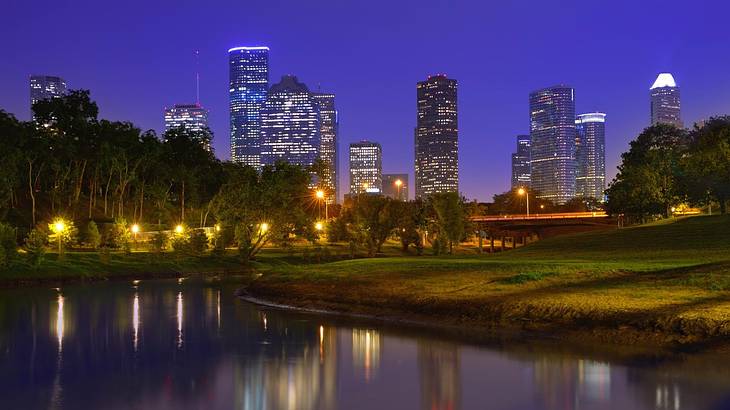 Walk in Memorial Park
Memorial Park is a popular place to go in the day for both tourists and locals. The attraction is also one of the great places to visit in Houston at night.
While walking in the park, you can appreciate the scenic surroundings, and there is a trail around the lake that's lit up at night. If you like working out in the evening, it's also the perfect place to go running.
Check out the bars in Washington Avenue
Many of the bars in Houston are found in the Washington Avenue neighborhood. For those that like going out for a drink, a trip to this area to check out the city's most popular bars is recommended.
Some of the spots to head to include Kung Fu Saloon, which has arcade games and ping pong, and Clutch Bar, a trendy sports bar.
Cheer for a local sports team
The Houston Astros aren't the only team that you can watch play in the city. Houston also has other professional sports teams like the Houston Texans in the NFL, the Houston Rockets in the NBA (this team is so popular that the Houston nickname "City of the Rockets" exists!), and the Houston Dynamo FC MLS team.
While the Rockets are most likely to play in the evening, the Texans and Dynamo also have some evening games that you can catch. No matter which game you attend, watching a local professional sports team will always be a fun night out!
Dance the night away at a club
A fun way to spend the night is dancing until late at a club. Houston offers club-goers a vast range of dance clubs to choose from, complete with bars, bottle service, and DJs playing various genres of music.
Some of the most popular nightclubs to check out include Baushaus Houston, Numbers Night Club, and Etro Nightclub. With so many options to enjoy, you and your friends are guaranteed to have a memorable and fun night out!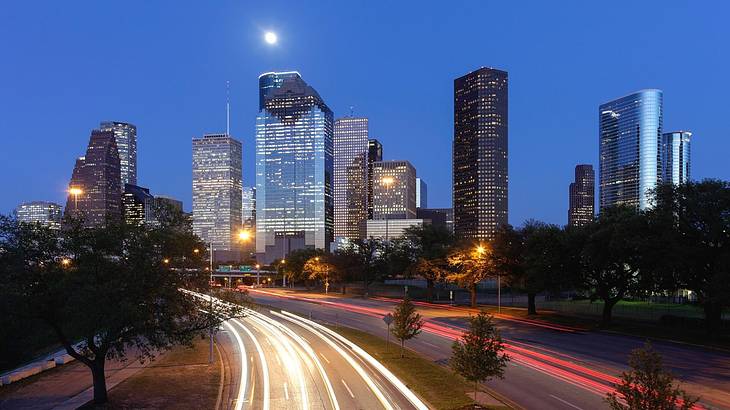 Hear spooky tales on a ghost tour
One of the best night activities in Houston for those interested in the paranormal is going on a ghost tour. The two-and-a-half-hour experience is combined with a pub crawl and will take you to the city's most haunted bars.
Along with hearing spooky stories about each place, you'll get to grab drinks and learn more about Houston's history.
Enjoy a game of bowling
A laid-back way to spend the night in Houston is by heading to Bowlero to go bowling. This trendy bowling alley stays open until late and features 39 lanes.
Along with bowling, Bowlero has a range of arcade games to play and pool tables. If you want some refreshments, you can get food and alcoholic drinks from the on-site bar and grill. Things to order include nachos, burgers, craft beer, and fishbowl cocktails.
See Houston's street art murals
Another of the things to do in Houston, TX, at night is discovering the best street art in the city. An easy way to do this is on a Houston murals tour.
The two-hour experience will take you to a host of stunning murals. Your guide may also be able to tell you about the artists. Of course, you can also take lots of photos with the murals as backdrops.
Sip drinks at a cocktail bar
If you're a lover of craft cocktails, you'll be spoiled for choice in Houston. The city is home to an array of unique and trendy cocktail bars that will please all tastes. One of the can't-miss spots is Diversion Cocktails.
This bar makes luxurious craft cocktails, such as a cava and caviar mix or a tiki cocktail in an edible glass. Many ingredients used are also grown on the bar's urban farms, meaning you can try some of the world's first farm-to-table cocktails! Other top cocktail bars include Julep Houston and White Rhino, which has a stylish outdoor patio.
Try Houston's best dishes on a food tour
Instead of going out for dinner in the evening, why not try a Houston food tour? During this activity, you get the chance to visit some of the most renowned restaurants in downtown Houston. At each stop, you'll learn more about the eatery and can try signature dishes.
As you go from restaurant to restaurant, your guide will also point out landmarks and offer some fun facts about Houston. This tour also includes access to the vast Houston tunnel system attraction!
Grab a beer at Texas' oldest craft brewery
Houston is home to Saint Arnold Brewing Co., which happens to be the oldest craft brewery in Texas. Stopping by the brewery to grab a beer is an absolute must when visiting! The brewery is usually open until between 9 PM and 11 PM, meaning you have lots of time in the evening to visit.
To drink, you can order a vast selection of craft beers and ciders, including limited edition brews. You can also accompany your beverage with food, with pizza, sandwiches, salads, and more on offer.
Relax with a coffee at a late night cafe
A laid-back evening activity is hanging out with friends at a late-night coffee shop. Houston has a few cafes that stay open past 10 PM. Tout Suite is one of these coffee shops.
It has urban vibes and delicious food and drinks. You can also get wine, beer, and cocktails here, along with coffee and tea. Snacks to enjoy include grilled sandwiches, salads, and soups.
Watch a movie at Rooftop Cinema Club
Houston's Rooftop Cinema Club allows movie-goers to watch a range of films in an open-air rooftop movie theater. You can see a vast selection of popular classic movies, plus a handful of newer releases.
While you watch the movie, you can take in the surrounding panoramic views. You can also grab drinks from the rooftop bar, and popcorn, candy, and other movie snacks are available for purchase.
Play board games at Coral Sword
Coral Sword is a fun game cafe that stays open until late. You and your friends can play a range of games from the cafe's library, or you can bring your own games with you.
As you play, you can order food and drinks. Menu options include fresh lemonade, matcha milk tea, and various sandwiches.
Go on a sightseeing tour of Houston
If you're visiting the city for the first time, one of the recommended Houston night activities to try is a Houston sightseeing tour. You can start the tour any time until 7 PM, allowing you to see Houston's iconic landmarks after dark.
Places to see include well-known landmarks, along with lesser-known attractions. As you explore the city, your guide will offer background on all the places you see and will teach you more about Houston's history and culture.
In Summary
Houston is one of the most exciting cities to visit in the United States. Tourists will find an array of landmarks to see and attractions to check out. Best of all, having fun in Houston doesn't have to end once the night sets in.
As you can see, there are an array of things to do at night in the city. From seeing movies and theater shows to sipping on cocktails or craft beer, Houston's nightlife options will please everyone!
Give us feedback about this article
More visual stories related to this article:
---
---
Want to keep exploring?
Subscribe for discounts on tickets and hotels and our latest guides.
Thank you for subscribing
We will be in touch soon with discounts on tickets and hotels and our latest guides.
Want to keep exploring?
Subscribe for discounts on tickets and hotels and our latest guides.
Thank you for subscribing
We will be in touch soon with discounts on tickets and hotels and our latest guides.
Related Articles