25 Landmarks in Houston, Texas, You Have to Visit
Destguides may receive commissions from purchases made through affiliate links in this article.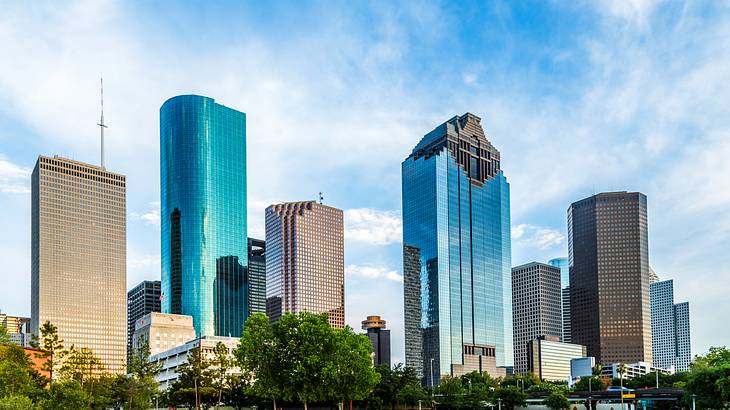 Houston is one of the most diverse and one-of-a-kind places in the United States. When it comes to landmarks in Houston, Texas, determining what should be in the top 25 of your must-see list can be overwhelming.
From the San Jacinto Battle Monument to White Oak Music Hall, there's a lot to enjoy about "Space City." If you're planning a trip to "H-Town" or want to learn more about this gem of a city, keep reading. Here's a rundown of the 25 Houston landmarks you have to visit.
25 Houston, Texas, Landmarks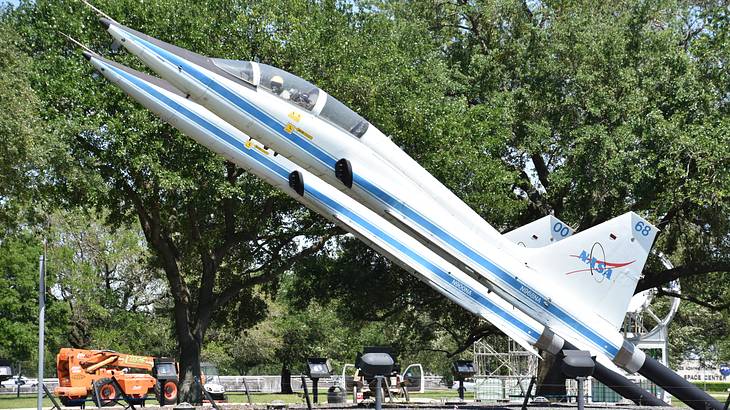 Johnson Space Center
Johnson Space Center is easily one of the most important scientific and historical sites in Houston. This NASA center is and continues to be where astronauts train for their missions. Although it's an active facility, you're still welcome to visit.
While open year-round, the attraction is understandably a popular tourist site, so to avoid crowds, fall and winter are the best times to visit Houston to go to Space Center Houston.
San Jacinto Battle Monument And Museum
One of the most historical landmarks in Houston, Texas can be seen from miles around. The San Jacinto Battle Monument is a 567-foot pillar monument that honors the Texans who fought against Mexico during the Texas Revolution in 1835 and 1836.
The monument isn't only the tallest landmark in the city; it's also the tallest monument in the US, standing 13 feet taller than the Washington Monument in D.C.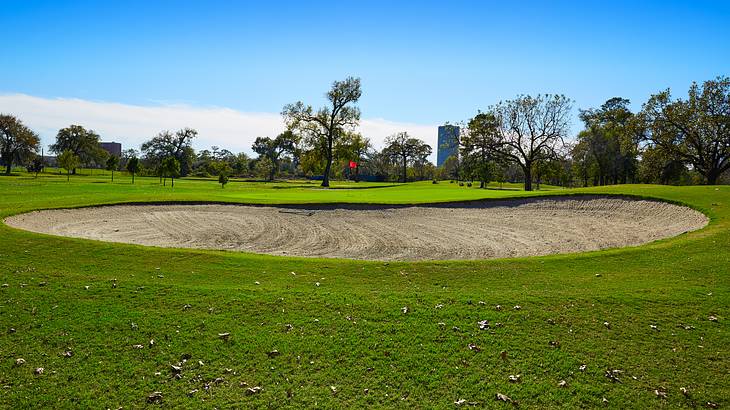 Hermann Park
Hermann Park is one of the most important cultural spots in Houston. Spanning 445 acres, the park isn't just a beloved place for people to relax and unwind, it's also the location of multiple Houston attractions.
Among its popular sites, Hermann Park is home to the Hermann Park Golf Course, built in 1922. Not only is it one of the oldest golf courses in the city, but in 1954 it became the country's first desegregated course.
Houston City Hall
You can't have a list of Houston, Texas, landmarks without mentioning city hall. Located in Downtown Houston, the building has been a symbol of the city since the 1930s when it was built.
This building is the heart of Houston's administration and government. It's also a popular landmark for those interested in Texas history.
The interior displays a collection of art depicting Texan life and history, and free in-depth tours are given on the first and third Wednesdays of each month (subject to change).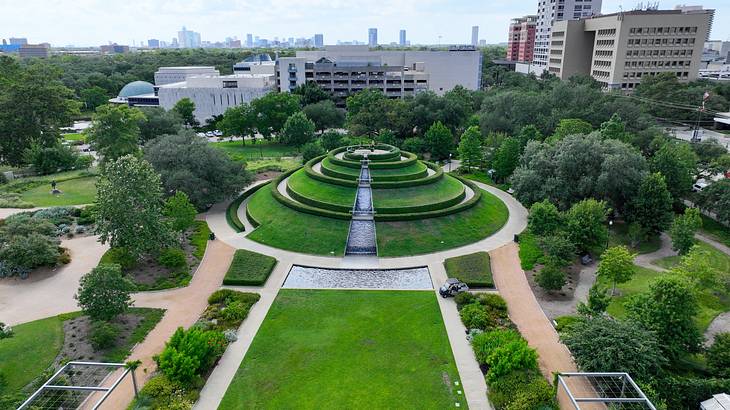 McGovern Centennial Gardens
Since Houston is a bustling metropolitan area, the city lacks green spaces. For that reason, the McGovern Centennial Gardens are treasured by locals even though it's a relatively new landmark, constructed in 2014.
The eight-acre gardens are home to 50 types of trees, 760 shrubs, nearly 56,000 perennials, and over four acres of neatly kept grass. Although the gardens are open to the public, operating hours change seasonally.
The Museum of Fine Arts, Houston
Since the 1920s, the Museum of Fine Arts, Houston, has wowed visitors with its collection of art from around the world. It's the oldest museum in the city and one of the largest in the country, as it houses more than 70,000 works of art.
The collection is so extensive that one building is insufficient. While most of the works of art are in the main building near Hermann Park, you can also visit the Rienzi, Museum of Fine Arts, Houston in River Oaks if you're particularly interested in European art.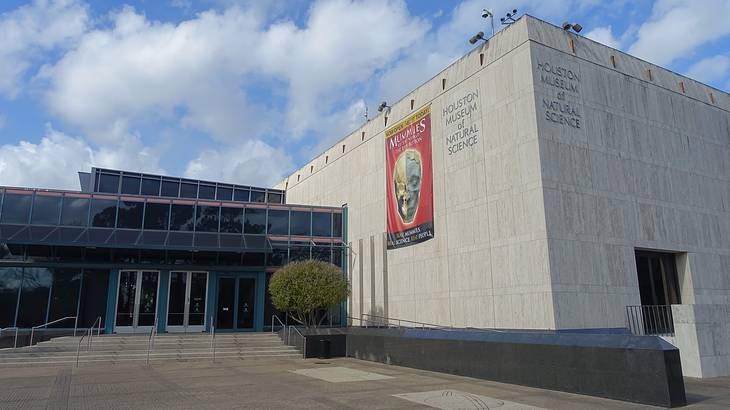 Houston Museum of Natural Science
If you're interested in brushing up on your science knowledge while exploring a Houston monument, look no further than the Houston Museum of Natural Science. With over two million annual visitors, it's one of the things to do that has to be on your Texas bucket list.
The museum has 16 permanent exhibits educating visitors on topics ranging from dinosaurs to energy. If you visit on a Thursday, you can see everything the museum offers for free, but this is subject to change.
Allen Center
The Allen Center complex comprises three of the most famous buildings in Houston. Completed in 1972, One Allen Center is the oldest of the three, but even the newest tower, Three Allen Center, has been a Downtown Houston icon for decades.
Together, these span seven acres of land and are known for their glass facades and interconnecting sky bridges. Though these still maintain their 1970s charm, the entire complex recently underwent state-of-the-art renovations making them a must-visit for modern architecture enthusiasts.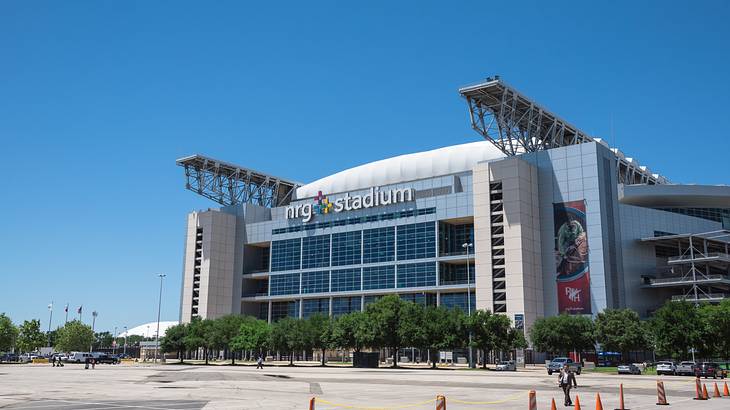 Houston Livestock Show And Rodeo
For most of the year, NRG Park is a regular stadium. However, for a few weeks, it hosts one of the most famous events in Texas, the Houston Livestock Show and Rodeo.
With over two million visitors to the show's various events and 69,000 seats in the stadium for spectators, it's the largest livestock show in the world. The rodeo portion of the event is particularly famous and consists of a 20-day-long tournament in everything from bull riding to roping.
Market Square Park
Market Square Park is an important Houston site for a few reasons, one being it's the location of the first city hall. In 1836, Augustus and John Allen, the city's founding fathers, chose this spot to start construction on what would later become Houston.
Today, the park is still an essential part of the city's culture. It has multiple open spaces for picnics, jogging, and outdoor activities. Market Square Park also hosts tours so visitors can learn about the city and the park's history.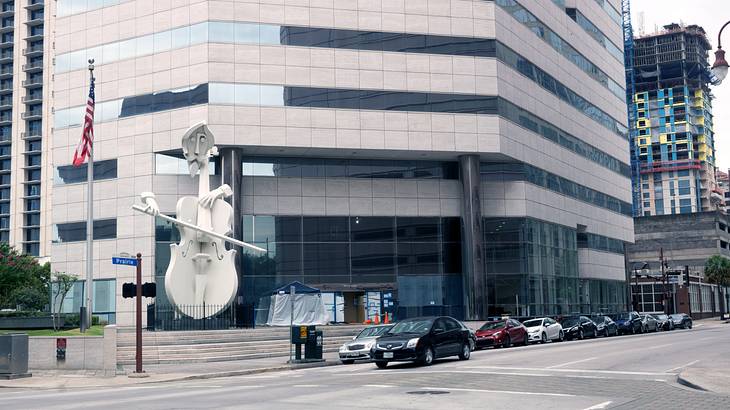 Downtown Houston
Downton Houston is the city's epicenter and one of the best places to stay in Houston. Not only is it the beating heart of the area's business districts, but it's also home to some of the city's significant sites, eateries, and entertainment venues.
A trip to Houston won't be complete without spending time in the city center. You might even see a concert or play since the city's main theaters are here. However, be prepared for crowds, especially if you visit between June and September.
Houston Museum of African American Culture
There are many Houston monuments, but none are quite like the Houston Museum of African American Culture. Part educational center and part art exhibit, the museum aims to preserve and honor African and African-American culture.
The museum opened in 2012, and since then, it's boasted one and a half to three million annual visitors. The museum has multiple permanent and rotating exhibits and regularly hosts film screenings, so no two visits are alike.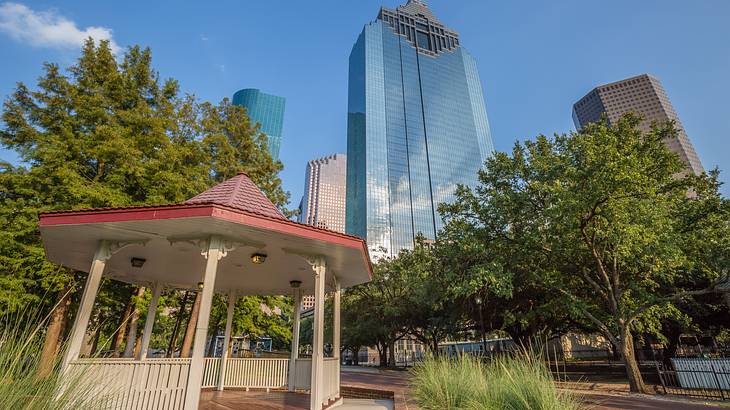 Sam Houston Park
Sam Houston Park is one of the most famous Houston landmarks in the city. This historical park preserves the area's history and is in the center of the modern developments erected around it.
You can find buildings from throughout Texas' history, including a cabin built before the territory's war for independence from Mexico. Though some buildings are in their original location, many were moved to the park for conservation.
White Oak Music Hall
If you're in the mood for live music, consider visiting the White Oak Music Hall. The venue's complex covers five acres of land and has three stages for indoor and outdoor performances. So, it's not surprising that attending a concert is considered one of the most entertaining things to do in Houston!
White Oak's owners pride themselves on booking musicians from various genres to appeal to the city's diverse population. While in the area, see who's on the calendar, and maybe you'll be lucky and get tickets to see your favorite artist.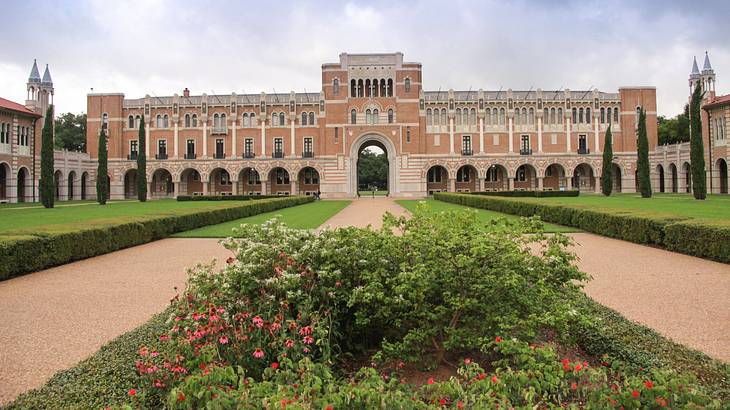 Rice University
Rice University might not come to mind when you think of Houston historical sites, but it should. The university's long history led to it becoming a leading research institute in the United States.
The university was founded in 1891 but wouldn't open its doors until nearly 20 years later. However, in 1963, the school gained its first major accolade by being the first US school with a space science department.
JPMorgan Chase Tower
JPMorgan Chase Tower is a Houston symbol you can see from all over the city. Standing at over 1,000 feet, it's the tallest building in Texas, as well as the tallest building west of the Mississippi River. The JPMorgan Chase Tower is mainly used as an office building, but there is an observation deck you can visit.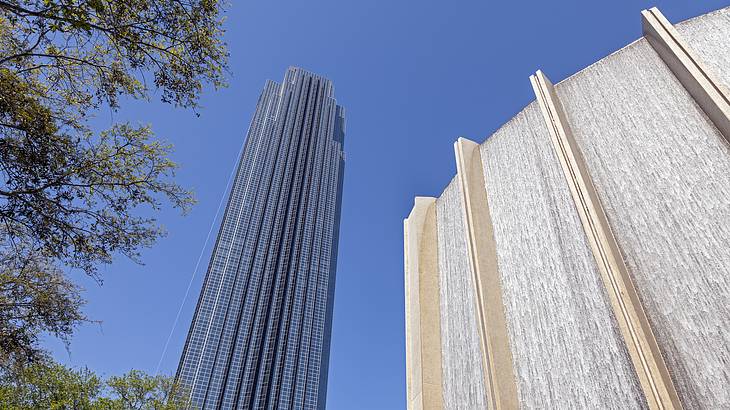 Williams Tower
Since 1983, Williams Tower has topped lists of famous landmarks in Houston. It often stands out among the other high-rise buildings in the city as it's one of the few skyscrapers that isn't in the downtown area.
The tower is 901 feet tall and has an impressive 64 stories, making it the fourth-tallest building in the state. Its size and design were so impressive that in 1999, it was dubbed "The Skyscraper of the Future."
Battleship Texas
The USS Texas, also called "Battleship Texas," is another of many historic places in Houston. Decommissioned in 1948 after 34 years of service, the ship became the first naval museum permanently hosted on a ship in the US.
As the only US battleship to participate in both World Wars, it is a historical artifact in its own right. To preserve its structure, the museum is currently closed for restorations, but it's set to reopen in 2024.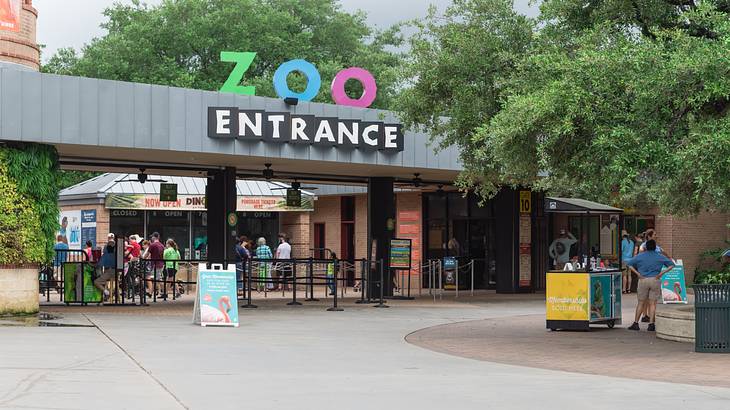 Houston Zoo
When people say, "Everything is bigger in Texas," the Houston Zoo is included. Housing over 6,000 animals on the 55-acre zoo property, it's one of the biggest zoos in the country.
Not only does the zoo have an impressive number of animals, but it also has one of the most extensive bird enclosures, with over 800 birds from 200 species. So, it's not surprising that it's only surpassed by the San Diego Zoo for its number of annual visitors.
Beer Can House
The Beer Can House has become a characteristic part of Houston's folk art scene. According to legend, the house was built when a local man, John Milkovisch, got the idea that the aluminum beer cans were made of would be suitable for house siding.
Between 1939 and 1968, the house was constructed, furnished, and decorated using an estimated 50,000 beer cans. Today, this eccentric property is a protected art installation you can visit.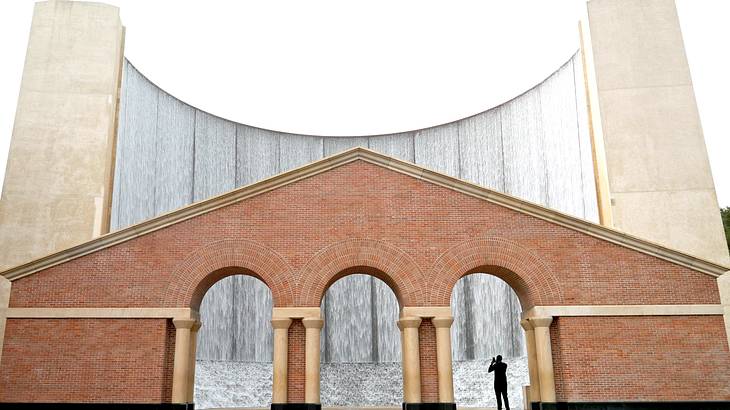 Gerald D. Hines Waterwall Park
If you spend a weekend in Houston, ensure you make time to see the Gerald D. Hines Waterwall Park. This nearly three-acre park is renowned for its oak trees, calm environment, and stunning 64-foot water wall fountain.
The wall was built in 1985 to complement the nearby Williams Tower skyscraper, but it's since become a standalone attraction. With 11,000 gallons of water circulating through the fountain system every minute, it's a popular photo backdrop for tourists.
Terry Hershey Park
Terry Hershey Park offers you the chance to go on a nature walk without leaving the bustling Houston area. The park spans nearly 500 acres along six miles of the Buffalo Bayou stream.
The park was named after Terry Hershey, a notable Texan conservationist who campaigned to keep the banks of the Buffalo Bayou stream natural and unpaved. As a result, the park was opened with approximately 11 miles of trails for visitors to explore.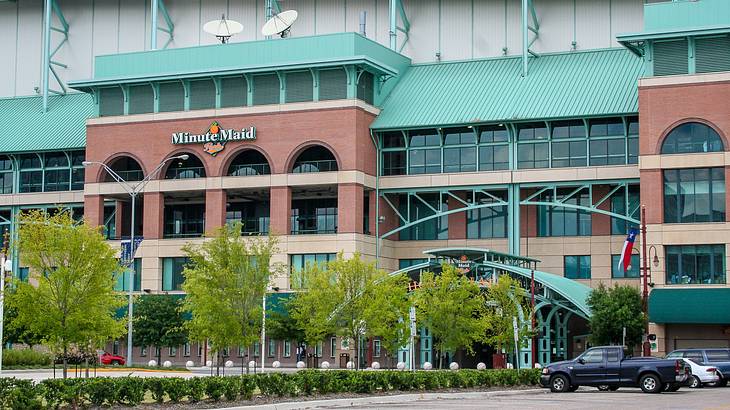 Minute Maid Park
If you decide to see a Major League Baseball game while in Houston, you'll get to experience the full effect of Minute Maid Park. Built in 2000, the stadium was created as the home field for the Houston Astros.
However, you can still enjoy the park even if you're not a baseball fan. It hosts a variety of concerts thanks to its over 41,000 spectator capacity. It's also impressive to see from the outside since its perimeter is almost half a square mile.
Seismique
Seismique is one of the newest Houston, Texas, monuments and likely the most unique. It sets itself apart from the city's art scene by offering guests an immersive experience that takes them into the installations.
It's set up to guide all ages through 40 galleries using sound, light, and movement to create new ways of experiencing art. Since the exhibits change periodically, it's an attraction locals recommend re-visiting when returning to Houston.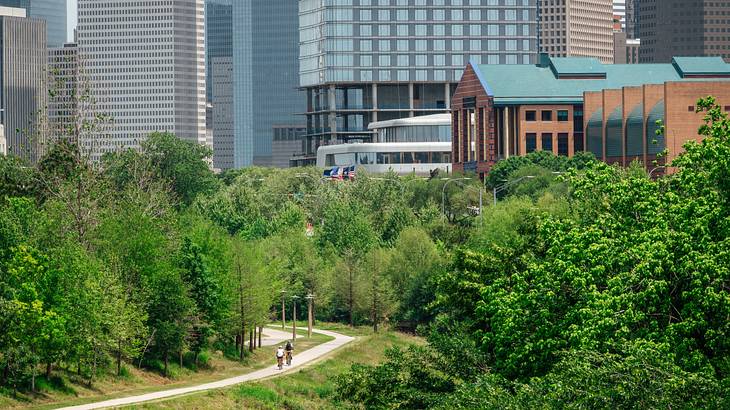 Buffalo Bayou Park
Though Buffalo Bayou Park opened in 2015, it was actually over a century in the making. Since the early 20th century, the 160 acres that Buffalo Bayou Park was built on were set aside for public park space.
The delay in its opening was worth the wait, though, because it's become one of the most frequented areas in the city. The park has dog parks, a nature area, visitor centers, and more for tourists and locals to enjoy. Interestingly, Houston has the nickname "Bayou City" due to being founded on a juncture of Buffalo Bayou!
In Summary
There are a lot of things to see and experience while in Houston. If you're a rodeo lover, the annual Houston Livestock Show & Rodeo is a must-see. On the other hand, if you're interested in unique local art, the Beer Can House might be up your alley.
No matter what sort of sites you prefer visiting when you travel, there's something in "Bayou City" for you to enjoy. Hopefully, this list has inspired you to pack your bags and visit a few Houston landmarks for yourself!
---
---
Want to keep exploring?
Subscribe for discounts on tickets and hotels and our latest guides.
Thank you for subscribing
We will be in touch soon with discounts on tickets and hotels and our latest guides.
Want to keep exploring?
Subscribe for discounts on tickets and hotels and our latest guides.
Thank you for subscribing
We will be in touch soon with discounts on tickets and hotels and our latest guides.
Related Articles