3-Day Houston Itinerary - A Long Weekend in Houston, Texas
Destguides may receive commissions from purchases made through affiliate links in this article.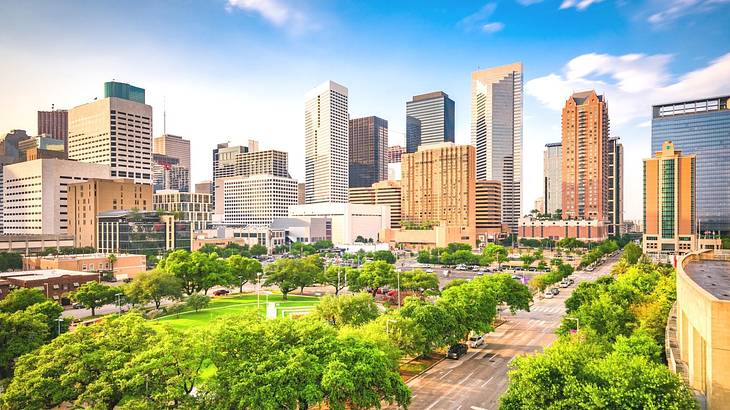 Planning a trip to Houston? Located in the south of the United States, Houston is a vibrant city that's popular with travelers. While the destination boasts many attractions, a long weekend in Houston, Texas, is enough time to see all the best spots.
So if you're going to be in Houston for the weekend, follow this 3-day Houston itinerary to ensure you see most major landmarks and points of interest. From Minute Maid Park to museums and breweries, there's a range of great places to visit during your stay!
A Weekend in Houston, TX
Exploring the Museum District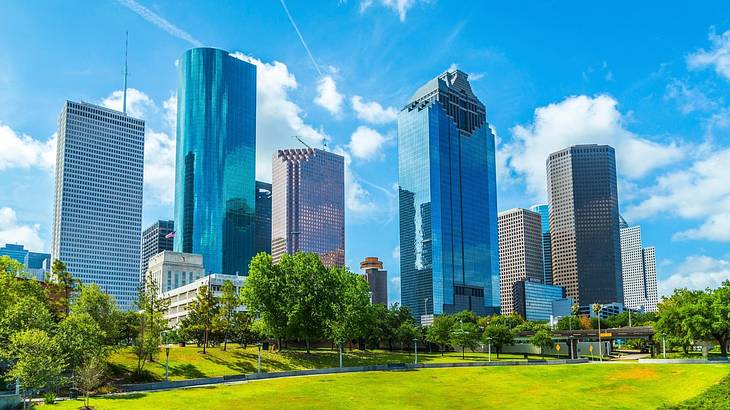 The first day in Houston, Texas, will be visiting attractions in the Museum District. Most visitors choose to stay in this area of Houston due to its close proximity to many of the best sights.
Before heading to museums, you'll first go to Gerald D. Hines Waterwall Park. This park has tranquil green spaces and a 64-foot water sculpture.
Next, you get to go to the Museum of Fine Arts, Houston, which has 70,000 artworks. The next attraction to see is the Cockrell Butterfly Center. The center is home to numerous species of butterflies, plus tropical plants and frogs.
In the afternoon, you can explore another museum, the Houston Museum of Natural Science, which has the world's largest dinosaur hall. After a busy day, you can relax at Saint Arnold Brewing Company with a cold craft beer or cider.
Gerald D. Hines Waterwall Park
Located in the Uptown District of Houston, the Gerald D. Hines Waterwall Park features a multi-story water fountain and green space. The park is found on the south side of Williams Tower.
Gerald D. Hines Waterwall Park is s somewhat of a Houston landmark and offers locals and visitors an ideal place to escape the bustle of the city. While at the park, you can follow walking trails, relax on the grass, and admire the 64-foot-high water sculpture.
If you're traveling with your dog, they're welcome in the park, too, as long as they're on a leash.
Houston Museum of Fine Arts
The Museum of Fine Arts, Houston, is one of the United States' largest museums. It also happens to be the 12th biggest art gallery in the world. The museum houses 70,000 works from artists across the globe.
Some notable artists with pieces on display include Kandinsky, Monet, and Rembrandt. Art to see is primarily in the form of paintings and drawings, but sculptures, ceramics, and photographs are also on display.
Along with the permanent collection, the Museum of Fine Arts hosts temporary exhibits. These exhibits cover a range of time periods and artistic mediums.
Cockrell Butterfly Center
Going to the Cockrell Butterfly Center is one of the fun things to do in Houston on the weekend for both kids and adults. The attraction houses hundreds of butterflies inside an indoor habitat complete with tropical plants and waterfalls.
Within the conservatory, you can see small creatures such as frogs and lizards too. You can also see a pollinator display which has caterpillars and more butterflies. Here, you can learn about the importance of pollinating plants in gardens and parks.
After seeing the exhibits with live creatures, you can go into the Brown Hall of Entomology to learn more about the animals and insects you have seen.
Houston Museum of Natural Science
Another of the educational attractions in the city is the Houston Museum of Natural Science. The museum is located in Hermann Park and has the biggest dinosaur hall in North America. The dinosaur display features fossils, life-size dinosaur skeleton replicas, and exhibits on the world during the Mesozoic era.
Along with the dinosaur exhibits, you can find many other displays on science and history. Topics covered include wildlife in Texas, animal habitats across the world, the human body, and the ancient Egyptians.
There's also a planetarium to check out, where you can learn about outer space and the galaxies. A trip to the Houston Museum of Natural Science must be on everyone's Texas bucket list!
Saint Arnold Brewing Co.
Saint Arnold Brewing Company is the oldest brewery in Texas and is located on the outskirts of downtown. The brewery often stays open until 10 PM, making it the perfect place to spend an evening with a few drinks.
During a visit, you can try a selection of refreshing craft beers and ciders, many of which are limited edition. If you're hungry, you accompany your drinks with food. Dishes on offer include pizzas, sandwiches, salads, and delicious desserts.
A Trip to Galveston Island and Other Top Attractions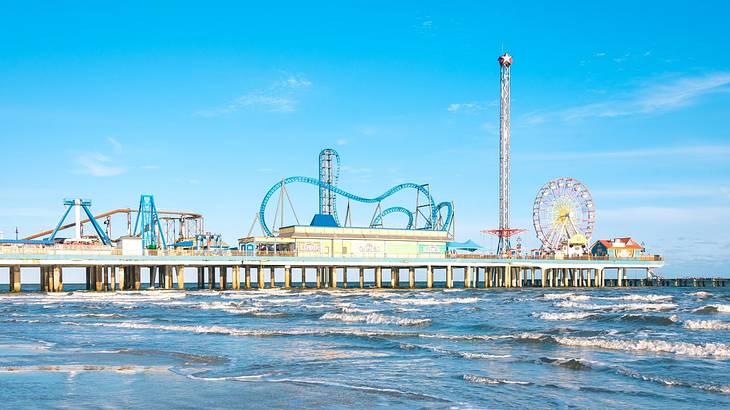 The second day of your weekend getaway in Houston begins with a trip to Galveston Island. This barrier island has beaches to enjoy the sun on, plus an amusement pier, shops, and restaurants.
On the way back downtown, you get the chance to stop at one of the most iconic places in Texas, the Nasa Johnson Space Center. After learning all about space travel, your next stop is Market Square Park in central Houston.
At the park, you can wander around and discover what events are being held. The afternoon and evening will be spent touring Minute Maid Park and watching a Houston Astros game.
You'll end the night on Washington Avenue, eating at one of many restaurants and checking out the best bars.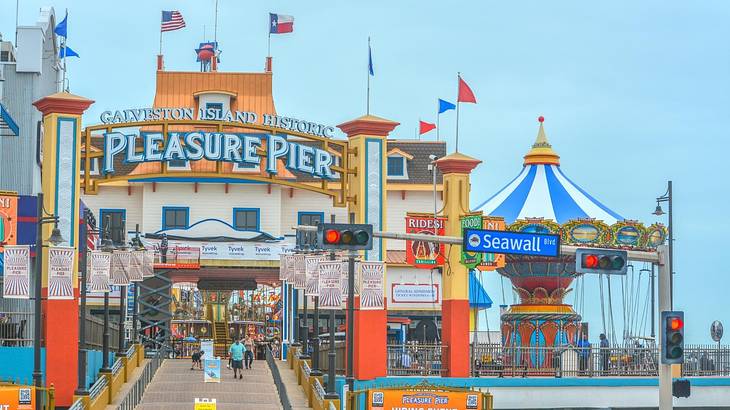 Galveston Island
Galveston Island is a barrier island on the Texas Gulf Coast. The island is located an hour and 20 minutes from downtown Houston. The coastal area features sandy beaches and lots of attractions to check out.
When on the island, you can go to landmarks like Moody Gardens, The Bryan Museum, and the Galveston Naval Museum. You can also walk along the seawall, relax on the beach, and eat at a variety of restaurants.
Another popular activity to try is going on a Galveston Island dolphin tour. Once on the water, you'll get to spot pods of dolphins that often come straight up to the boat. You can also sail past a range of landmarks on the shore.
Nasa Johnson Space Center and Space Center Houston
The Nasa Johnson Space Center is a Nasa base that's home to NASA mission control. Space Center Houston is the official visitor center that's open to the public. When visiting this famous Texas landmark, you can see over 400 space travel-related artifacts.
You also get the chance to learn more about NASA and space travel in the United States. If planning to visit, getting a Space Center Houston admission ticket in advance is highly recommended.
Market Square Park
A relaxed place to check out during your three days in Houston is Market Square Park. The park is a historical landmark that was originally founded when the city of Houston was founded in 1836.
When in the park, you can wander around and enjoy the green space. You'll also find water features and charming patio areas with seating.
You can additionally head to the "Lawn," which has games and events in the evening, such as movie nights. Other events held at the park include bingo evenings and live music concerts.
You can discover some great restaurants around the park too, and don't forget to find the park's wooden dog statue called Buster!
Minute Maid Park
Minute Maid Park is a sports landmark in Houston that's home to the Houston Astros MLB team. When in the city, watching a baseball game at the venue is a must. You can also take guided tours, during which you can learn more about the Astros.
Of course, you can always move this stop around on your itinerary depending on when the game you want to watch is on. If there isn't a baseball game during your visit, you may be able to catch a different sport.
Other professional teams in Houston that you can watch play include the Houston Rockets in the NBA, the Houston Texans NFL team, and Dynamo FC in MLS.
Washington Avenue
If you're looking for the best restaurants and bars in the city, a trip to Washington Avenue is recommended. You can find eateries serving a range of cuisines and a selection of bars, from sports bars to those with live music.
For those looking to eat, Velvet Taco is a fun spot to check out. You can order a selection of unique tacos, including veggie options, plus yummy cocktails. Another recommended eatery is BB Lemon, which has classic American dishes and a great dessert menu. Bars to grab a drink at include Julep Bar and HandleBar Houston.
Houston's Best Outdoor Spaces
On the last of your three perfect days in Houston, you can check out some of the city's best parks. Your first stop is McGovern Centennial Gardens. Next, you'll go to the Miller Outdoor Theatre, where you can watch a live performance. Afterward, you can explore the parts of Hermann Park that you haven't seen.
In the afternoon, you can head out to Buffalo Bayou Park to bike or kayak on the lake. Discovery Green is the next attraction to visit. This park also has numerous events to attend and an ice rink in the winter. Your day will end on a spooky but exciting ghost tour and pub crawl!
McGovern Centennial Gardens
McGovern Centennial Gardens are located in Hermann Park. The attraction features multiple plant and flower displays, plus water features and sculptures. These pretty gardens were created in 2014 to mark the centennial of Hermann Park.
As you explore, you'll come across a range of garden rooms featuring local and exotic plants. Notably, there are around 500 trees from 50 species, 650 azaleas, and a wide variety of roses. Another charming feature is the Family Garden. This garden has vegetable patches, fruit trees, and herb gardens.
You can visit the city's outdoor attractions almost any time of year and enjoy great weather. However, the best time to visit houston to explore parks like McGovern Centennial Gardens is in the fall or March and April.
During these periods, the weather is dry and warm but not overly hot and humid. Crowd levels will also be lower at outdoor attractions than during the summer months.
Hermann Park and Miller Outdoor Theatre
The Miller Outdoor Theatre is an open-air performing arts venue that hosts a variety of shows. Performances are held for eight months out of the year and include concerts, dance shows, theater, and children's entertainment.
Best of all, every show is free to the public. You may need tickets for your desired show, but these can be easily reserved online at no cost.
Before or after watching a show, you can explore the rest of Hermann Park too. You can unwind as you follow trails and take in the garden views. If you don't have lunch plans, packing a picnic to share in the park is also a great idea!
Buffalo Bayou Park
Another of the weekend activities in Houston to enjoy is going to Buffalo Bayou Park. Located just a ten-minute drive from downtown, the municipal park covers 160 acres and has many biking and walking trails.
There's also a lake in the park that you can kayak or canoe on. If interested, you can rent equipment within the park or bring your own. Bike rentals are additionally available if you feel like exploring Buffalo Bayou Park by bike.
Other attractions in the park include a skate park, a children's playground, and a dog park. If you return in the evening, you also get the chance to see the Waugh Bridge bat colony. Over 250,000 Mexican free-tailed bats fly around the bridge at sunset, making for a memorable sight.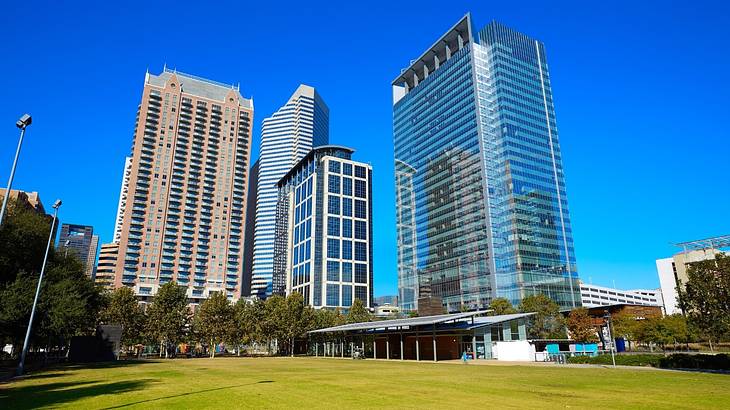 Discovery Green
Discovery Green is another tranquil park located in downtown Houston. The attraction is known for hosting an array of events, many of which are free to attend. Events you can join include yoga sessions and movie nights. If traveling with children, storytime events are held frequently too.
There's also a lake, lots of pretty gardens to wander around, and artistic sculptures to admire. In addition, Discovery Green has an ice rink in the winter months. Going to skate is a fun way to get into the festive spirit!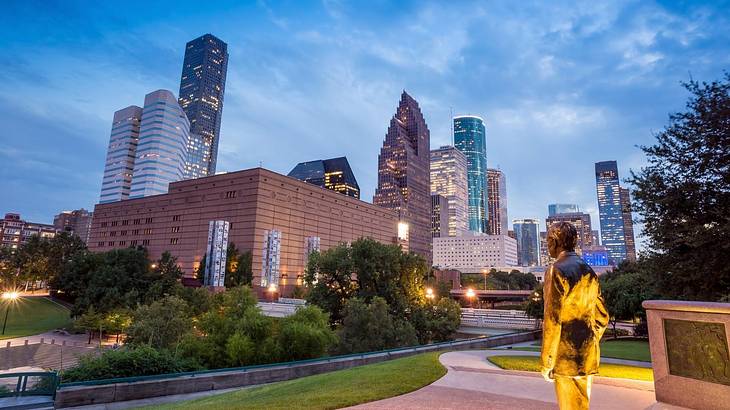 Houston Ghost Tour
One of the most fun weekend things to do in Houston is going on a ghost tour. The two-and-a-half-hour tour will take you to some of the most spooky places in the city. As you pass haunted spots, your guide will tell you more about the paranormal stories relating to them.
This particular tour is also combined with a pub crawl! Four of the haunted attractions to see are bars. Along with learning about their eerie past, you can grab drinks and hang out a bit before moving on to the next pub.
In Summary
If you're planning on visiting Houston for the weekend, these travel tips will help you make the most of your time. Even in just 72 hours, you can explore the city and discover everything it has to offer.
Give us feedback about this article
More visual stories related to this article:
---
---
Want to keep exploring?
Subscribe for discounts on tickets and hotels and our latest guides.
Thank you for subscribing
We will be in touch soon with discounts on tickets and hotels and our latest guides.
Want to keep exploring?
Subscribe for discounts on tickets and hotels and our latest guides.
Thank you for subscribing
We will be in touch soon with discounts on tickets and hotels and our latest guides.
Related Articles