Where to Stay in Hanoi, Vietnam? Best 7 Places to Stay in Hanoi
Destguides may receive commissions from purchases made through affiliate links in this article.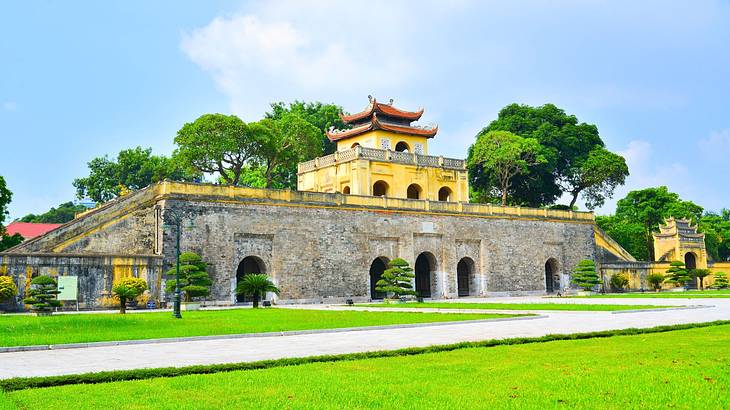 The seamless blend of rich history with a bustling modern atmosphere comes to life in Vietnam's capital city, Hanoi. Nestled on the banks of the Red River in the northern part of the country, Hanoi exudes charm from its vibrant night markets to its many ancient temples.
During a visit, you can explore the narrow streets, savor delectable food, and immerse yourself in Vietnamese culture. Hanoi's cultural history makes it the prime location in Vietnam to experience this immersion. Each district offers something unique, there is truly a place for everyone in Hanoi!
With so many wonderful options, deciding where to stay in Hanoi can be challenging. This decision depends on a few key factors; your travel goals, budget, and lodging preferences. Luckily, Hanoi offers everything from inexpensive to luxurious accommodations. If you need help deciding where the best fit is for you, this article will help you choose the perfect area for your trip.
Top 7 Places to Stay in Hanoi, Vietnam
Hanoi Places to Stay Video
Check out our highlights video of Hanoi places to stay.
Hanoi Places to Stay Map
A map of Hanoi. Use the map to explore all the places to stay.
Best Areas to Stay in Hanoi, Vietnam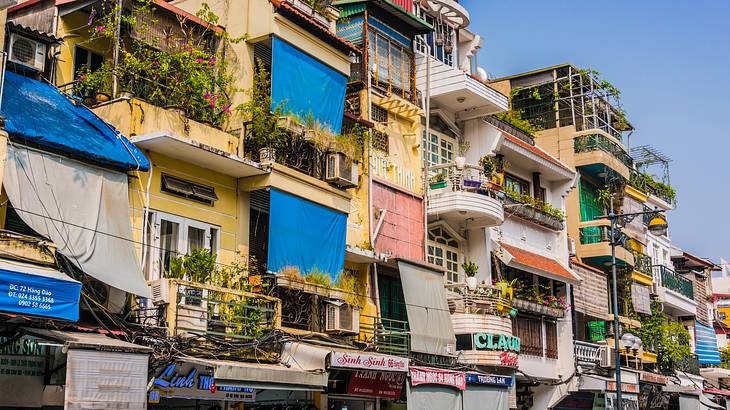 Hoàn Kiếm (Hanoi Old Quarter)
Hoàn Kiếm (Hanoi Old Quarter) is a wonderful reflection of Vietnam's past and culture. Situated west of the Red River, this region is a popular destination for tourists to stay. There are numerous hotels that offer lodging for individuals at every type of price point, from hostels to luxury hotels.
The French-influenced architecture gives Hoàn Kiếm a unique ambiance. You can take in the scenery as you stroll and shop along one of the many streets in the district. You can find everything from special silks to colorful souvenirs as you jump from shop to shop.
The streets of the Old Quarter are charming and bustling, making this an ideal location for a traveler who wants to experience Hanoi's authentic culture.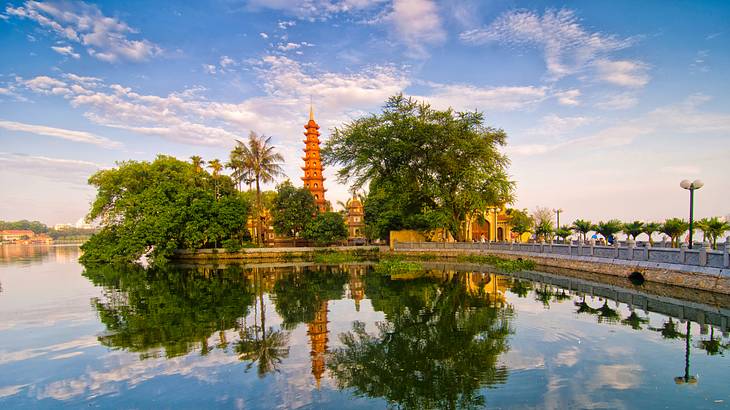 Tây Hồ (Hanoi West Lake)
West Lake is the place to stay in Hanoi if you are a traveler who has a deep appreciation for natural beauty as well as cultural heritage. Tây Hồ is home to the city's-largest freshwater lake that draws nature lovers from all over the world.
The lake is located northwest of the Old Quarter but is easily accessible by car or bus. With its proximity to the downtown main attractions, Tây Hồ is a wonderful spot to visit if you want to see the sights without the chaotic environment.
Between the historic temples, such as Tran Quoc Pagoda, and quaint cafes, you will find hotel options that are ideal for a traveler on a budget. Additionally, if you have a bit to splurge, Tây Hồ has higher-end options, including a few five-star hotels.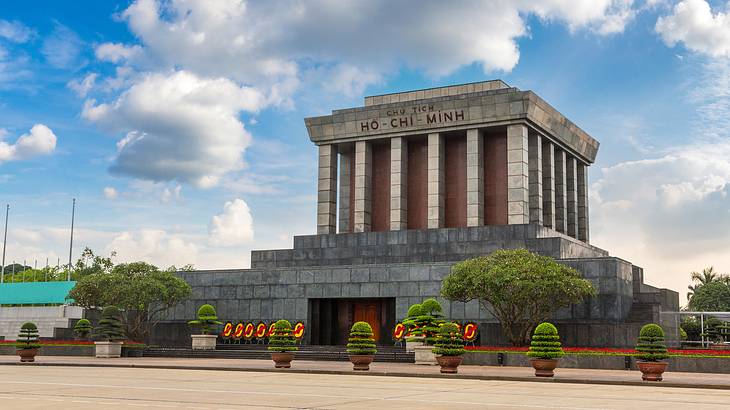 Ba Đình
Slightly west of the Old Quarter sits the district known as Ba Đình. This area is home to a multitude of Hanoi's most significant historical and cultural monuments, such as the Ho Chi Minh Museum and Ho Chi Minh's Mausoleum.
Ba Đình is one of the best parts of Hanoi if you want to learn about Vietnam's history and dive into the local culture. Locations like the One Pillar Pagoda, the Presidential Palace Hanoi, and the Quan Thanh Temple are only a short walk away from the center of this district.
The neighborhood is relatively easy to navigate on foot and is close to other neighborhoods, like Hoàn Kiếm. Taxis are an excellent option to get around but can be pricey and take more time compared to walking around.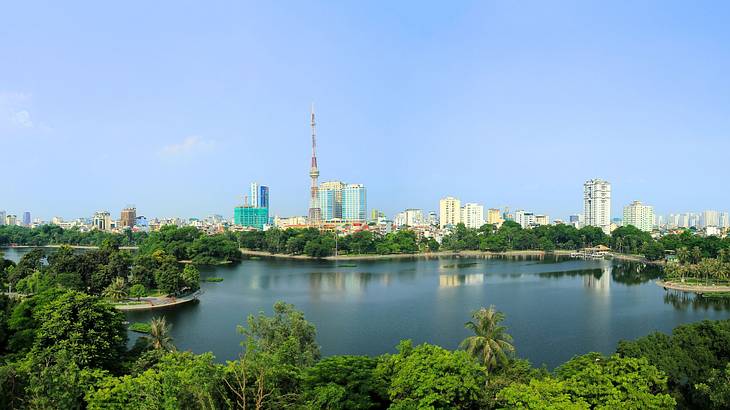 Hai Bà Trưng District
Hai Bà Trưng was one of the first districts established in Hanoi, which gives it a unique flare of nostalgia with a modern twist. This is the ideal location to stay in Hanoi if you want to dive deep into Vietnamese culture through food, nightlife, and conversations with locals.
There are many bars, clubs, and live music venues that line the narrow streets of Hai Bà Trưng District. Nightlife goers can enjoy a range of dance clubs and then hit the streets for some delicious late-night food.
Thong Nhat Park is another main draw to Hai Ba Trung. The park is situated near the city center and provides visitors with a large public green space. This is a tranquil outdoor setting that will leave you feeling at peace.
There are lodging options for every kind of traveler in Hai Bà Trưng. From luxury hotels with spas and fine dining to affordable hostels, you will definitely find somewhere to fit your budget.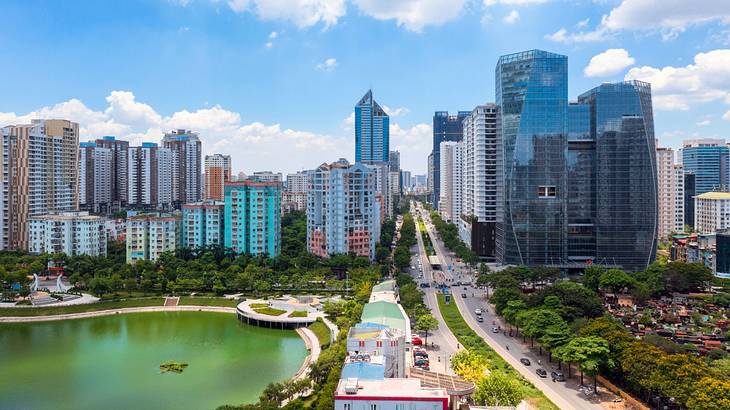 Thanh Xuân
Located in the southwest region of Hanoi, Thanh Xuân is vibrant and full of attractions, which is ideal for travelers who thrive in a bustling setting. There are a number of hostels in the region for those on a budget, as well as more expensive hotel accommodations.
Shopaholics and foodies alike will absolutely adore Thanh Xuân. This is a top location to stay if you have a desire to explore massive shopping centers, an array of restaurants, or even catch a movie at a cinema.
The best way to navigate Thanh Xuân is by bus or taxi, as walking through the streets can be crowded and chaotic at times. The bus routes will also help you travel to other districts of Hanoi with ease.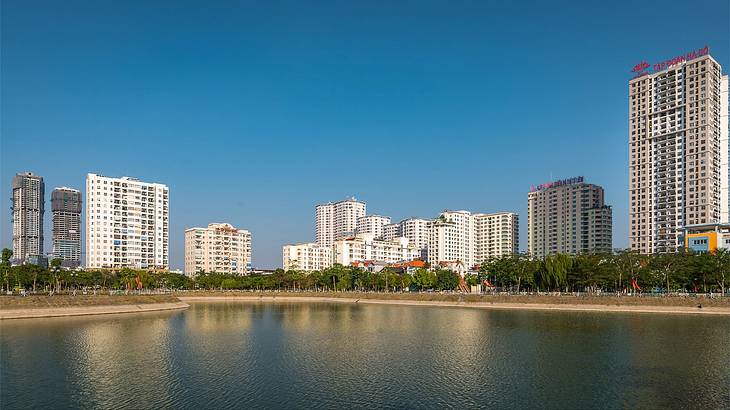 Cầu Giấy
Cầu Giấy is situated in the south of Hanoi, bordering other districts such as Tây Hồ and Ba Đình. This region is not far from the main attractions in the city center but also offers green spaces, like Cầu Giấy Park, and top-notch entertainment experiences.
If you are an individual who prefers to dive deep into the local culture while staying out of the hustle and bustle, this is the ideal neighborhood to stay in Hanoi. The museums, parks, and restaurants set the stage to create unforgettable memories.
It is easy to walk around Cầu Giấy on foot but to get to the city's center, you would need to take a bus or taxi. There are special stores that offer motorbike rentals if you prefer that route.
The accommodations in Cầu Giấy are relatively inexpensive. There are a number of hotels that offer lodging at reasonable rates, which is ideal for those looking to not break the bank.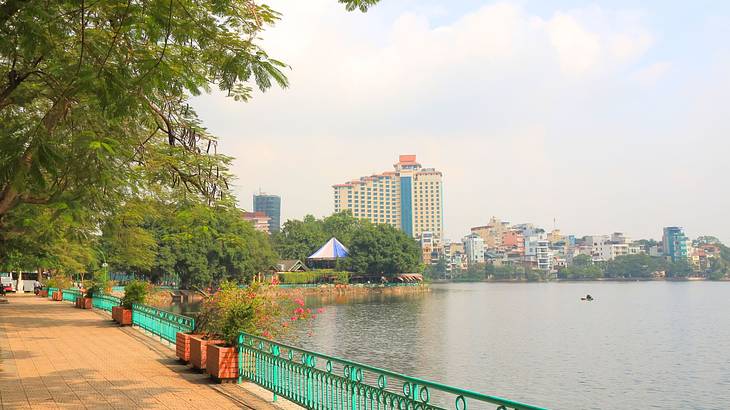 Trúc Bach
Just across the bridge from the massive West Lake and only a few kilometers from central Hanoi sits the region known as Trúc Bach. This district is unlike any other in the city, it is where locals and tourists take a deep breath to escape from the chaotic downtown environment.
The cafes of Trúc Bach are a big deal to the locals. There are not many main attractions in Trúc Bach, but the cafe culture is of utmost importance. This is one of the best places in Hanoi if you want to sip on a fresh cup of coffee while taking in the stunning lake scenery.
There are a variety of B&Bs, hotels, and even a couple of hostels around Trúc Bach. Travelers looking to save money will find comfortable hostels, and those looking to splurge more on lodging can find luxurious hotels.
Where to Stay in Hanoi, Vietnam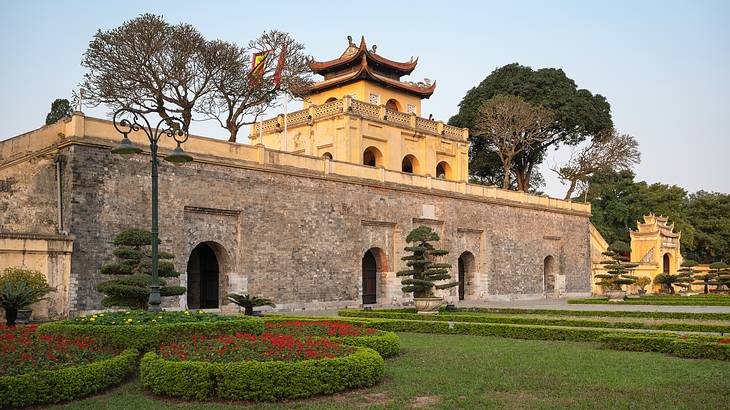 Where to stay in Hanoi with family?
Ba Đình is the best area to stay in Hanoi for traveling families. The environment is more laid-back compared to areas like the Old Quarter. Ba Đình is located a little way outside of the city which gives you a reprieve from the hustle and bustle.
This area is close to major landmarks such as the Temple of Literature and the Thang Long Imperial Citadel. The Hanoi Botanical Gardens is a wonderful location to go with children. They will be fascinated by the scenery.
Trúc Bạch Lake is also close to Ba Đình, which provides you with green space for your family to stroll through. If you are feeling adventurous, there is a rental shop for swan pedalos, allowing you to pedal on the lake with your family and enjoy the beautiful views.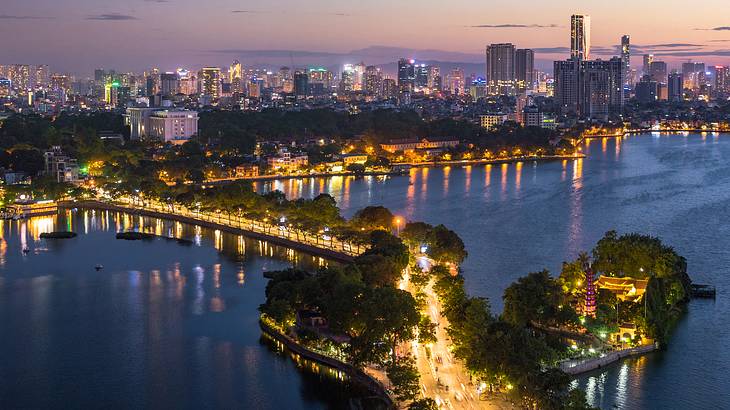 Where to stay in Hanoi for a romantic getaway?
The best place to reside for a romantic getaway is Tây Hồ, also known as West Lake. This area has so much to offer, from stunning lake views to an engaging nightlife scene. Couples are sure to enjoy their time spent here.
The hotels in West Lake are relatively inexpensive and offer you amazing service, traditional cuisine, and comfy rooms. Just outside your door, you can also discover authentic restaurants and street food vendors, as well as a variety of bars.
After exploring the area a bit, take a stroll along the lake and enjoy the picturesque beauty. Tây Hồ has an air of romanticism and whimsy that will make your romantic getaway memorable.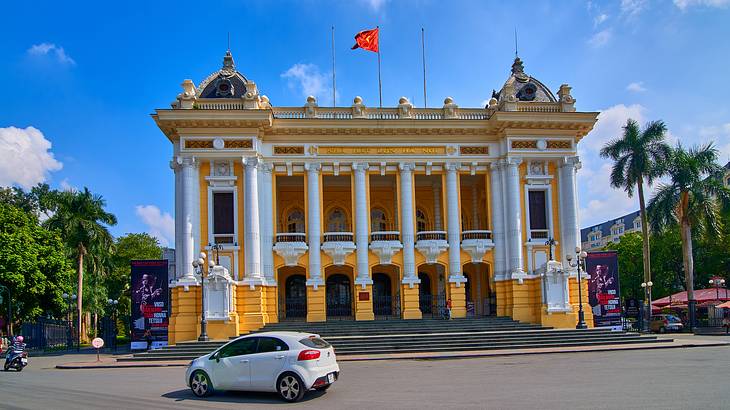 Where to stay in Hanoi for sightseeing?
The Hoàn Kiếm District and The Old Quarter within it are two of the best locations to stay in Hanoi for sightseeing. The Old Quarter is the historic heart of Hanoi and is close to many of the top attractions that you will likely want to explore.
There is so much to do in Hoàn Kiếm that it can be challenging to pack it all into one trip. However, you can see all the main sights if you plan well, even if you only have one-day in Hanoi.
Hoàn Kiếm is home to a plethora of main attractions. These include the Đồng Xuân Market, the Hanoi Opera House, and Hoàn Kiếm Lake. Lastly, be sure to check out the Thang Long Water Puppet Theatre to experience one of Vietnam's unique water puppet shows.
Where to stay in Hanoi for nightlife?
One word to describe Vietnam's nightlife is vibrant. Hai Bà Trưng District is the place to be to experience Hanoi's nightlife scene. Locals and tourists alike come to Hai Bà Trưng to go out on the town.
You can sip a cocktail from one of the many rooftop bars that overlook Hanoi. You can also dance the night away at a local EDM club. More intimate bars and lounges, where you can relax with your friends, are available as well. The possibilities are seemingly endless.
Additionally, Hai Bà Trưng has excellent late-night food options. The Vietnamese street food is sure to hit the spot after a long night of exploration and dancing.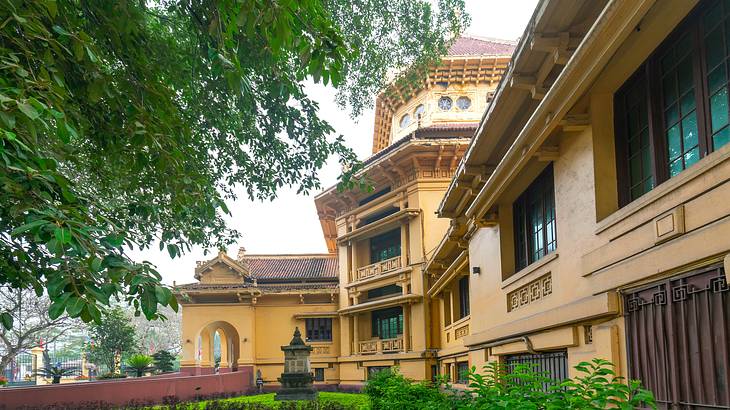 Where to stay in Hanoi for a weekend trip?
Do you only have a couple of days to spend exploring Hanoi? If so, plan your stay in Hoàn Kiếm (The Old Quarter). By doing so, you will be close to a plethora of dining options and main attractions.
Hoàn Kiếm is the center of the city, so you will be within a short taxi drive or walk of the other neighborhoods as well. This central location makes it a prime area for exploring as much of the city as possible in a short timeframe.
During your weekend stay, be sure to also visit the Hanoi French Quarter. This region is known for its stunning architecture and grand boulevards, which is a nice change of pace from the hectic streets of the Old Quarter. It's also near the fascinating Vietnam National Museum of History.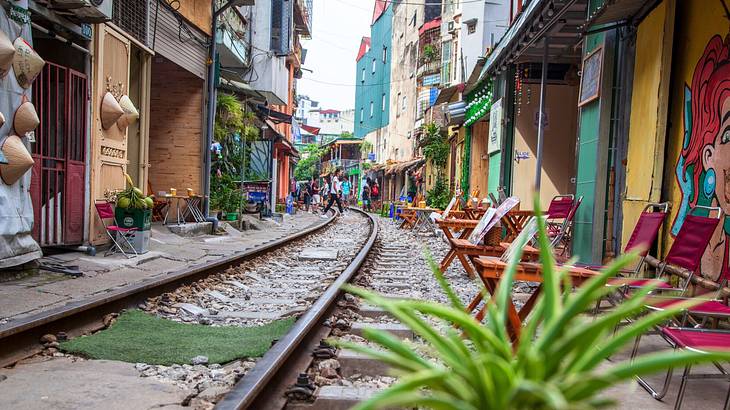 Where to stay in Hanoi for a business trip?
The central business district of Hanoi is comprised of Hoàn Kiếm and part of Hai Bà Trưng. These two neighborhoods are both great options for those traveling for business. These areas have a plethora of hotel options, and fabulous restaurants are located close to the business epicenter.
It is important to consider that these areas are downtown, which means they are a bit more chaotic than places like Trúc Bach. If you want to escape the chaos after a long day of meetings and do not mind a commute, Trúc Bach would be a better fit for you.
In Summary
Vietnam's capital city is a captivating destination that offers a unique blend of history, culture, and youthful energy.
Whether you are looking to take a romantic getaway, travel with family, or anything in between, there is a place for you in Hanoi. Each of the best neighborhoods to stay in Hanoi has its unique charm and special attractions.
No matter which region you stay in, Hanoi's warm and welcoming people contribute to its charm. The locals are known for their friendliness and hospitality, ensuring that visitors feel at home and have a memorable experience
Give us feedback about this article
Learn more about Hanoi:
Read more articles about Vietnam:
More articles about places to stay:
---
---
Want to keep exploring?
Subscribe for discounts on tickets and hotels and our latest guides.
Thank you for subscribing
We will be in touch soon with discounts on tickets and hotels and our latest guides.
Want to keep exploring?
Subscribe for discounts on tickets and hotels and our latest guides.
Thank you for subscribing
We will be in touch soon with discounts on tickets and hotels and our latest guides.
Related Articles