The Perfect One Day in Hanoi Itinerary
Destguides may receive commissions from purchases made through affiliate links in this article.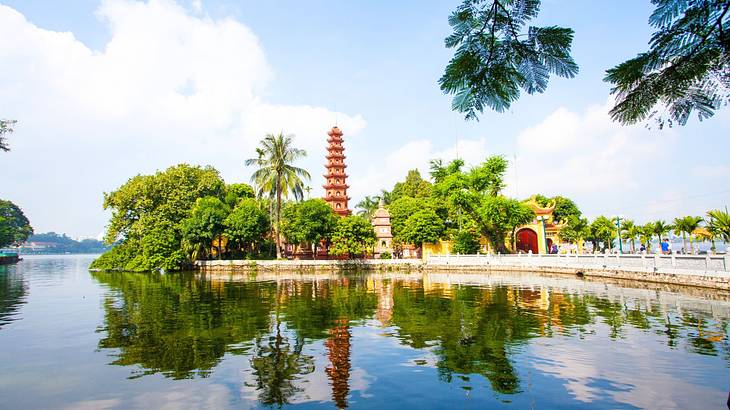 There are plenty of attractions to visit in Hanoi, but since a lot of visitors to Vietnam choose to visit Hanoi only briefly, we have compiled a One Day in Hanoi Itinerary that includes the most important sites. If you decide to travel slower, this same itinerary can be extended over two days.
Hanoi is a unique place that harmoniously combines an unhurried Asian spirit with a modern business bustle. The city is visited by tourists all year round and marks the starting point for adventures to different areas in the country, such as Vietnam's adventure capital Phong Nha.
A lot of travelers also choose to visit Hanoi as a stopover point before traveling further north to the UNESCO site of Halong Bay or the more chilled-out Cat Ba Island.
1-Day Hanoi Itinerary
Hanoi 1-Day Itinerary Video
Check out our highlights video of the stops covered in this Hanoi itinerary.
Hanoi 1-Day Itinerary Map
A map of Hanoi. Use the map to explore all the days and stops.
A Day in Hanoi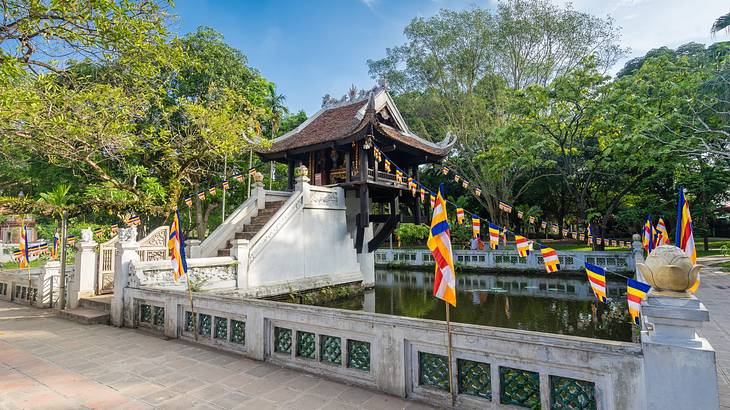 This 24 hours in Hanoi itinerary will take you to the best sites in Hanoi. From the Old Quarter and religious buildings to street markets and our favourite Pho restaurant - get ready to experience it all in a short amount of time, so start your day early!
If you're staying overnight, some of the best places to stay in Hanoi to be near the attractions on this itinerary include Tây Hồ, Ba Đình, and Hoàn Kiếm.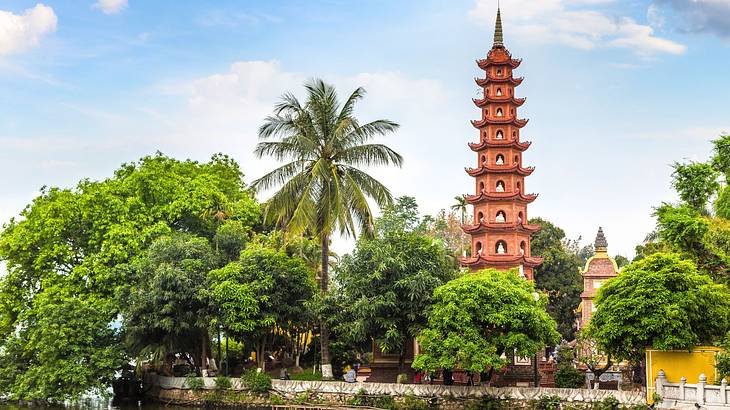 Tran Quoc Pagoda
Begin your day by visiting the Ho Chi Minh Mausoleum and two of the most popular pagodas in Hanoi - Tran Quoc and One Pillar - before heading over to the Old Quarter for some exploration.
The Tran Quoc Pagoda might not be the biggest in Hanoi, but it is the oldest Buddhist temple in the city. It is located just off a bridge near West Lake. It is an excellent place to start before you make your way to the busier areas of Hanoi, like the Old Quarter, as it is a calmer site.
You can also find many great photo opportunities here as it is quite charming. This pagoda is free to enter and shouldn't take you more than 30 mins to visit. Of course, dress appropriately according to the customs in Vietnam when exploring religious sites (make sure you cover past your shoulders and knees).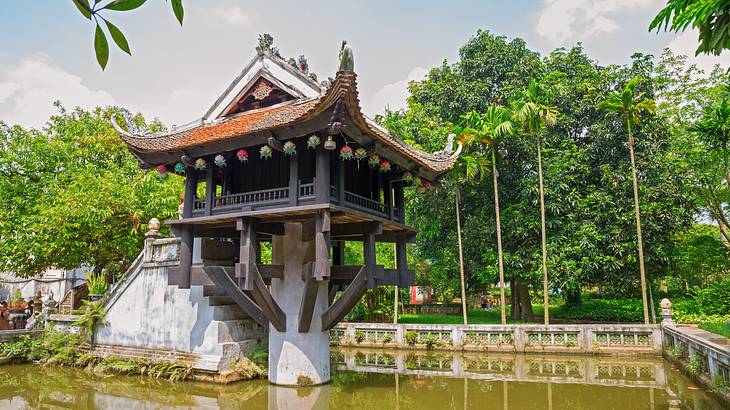 One Pillar Pagoda
The One Pillar Pagoda is another highly-regarded Buddhist temple in Hanoi, not too far from the Ho Chi Minh Mausoleum. It is the only temple in Vietnam to contain a female Buddha statue. Although it is rather small, it is a lovely temple complex that shouldn't take you more than 15 minutes to wander around and take a snap or two.
Ho Chi Minh Mausoleum
The Ho Chi Minh Mausoleum is an interesting site to visit. While the grounds and building itself are impressive, the environment surrounding the structure and inside the building is a sombre, but respectful one.
Entry is free, but the queues can be long, especially during peak seasons, so we would recommend coming early. You also need to take into consideration that you will have to go through security checks, and the site has limited operating hours.
Also, no photos are allowed to be taken when inside, nor are you allowed to pause when walking through the building. The line is kept moving at a steady pace.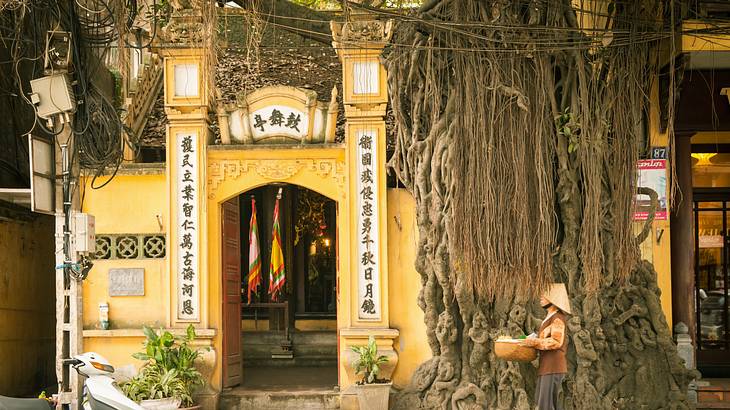 The Old Quarter
The Old Quarter, also referred to as the "36 Streets", is not only one of the largest shopping areas in the city, but is also a narrator of the capital's history. It contains all the Buddhist temples and pagodas, colonial architecture, and modern urban development.
Artisans have inhabited the Old Quarter since ancient times when they were made up of 36 guilds, including a silk guild, a paper guild, a silver guild, and more. While new goods might have replaced the old ones, the previous guild names are still reflected in the street signs.
There's always an abundance of people and motorbikes here, so it's hard to pick the best time to visit. The only time the streets are on the emptier side are at night.
Try Bun Cha for Lunch
After exploring some of the Old Quarter and taking a bunch of pictures, it's time to chow down. We recommend trying Bun Cha - a traditional Hanoi dish that locals eat for lunch. We don't recommend having it for dinner as it will be less fresh (depending on the place).
Bun Cha consists of a generous portion of thin "Bun" rice noodles and a bowl of juicy, grilled meat soaked in a flavorful broth with boiled veggies. It is served with a plate of greens where among a pile of obscure leaves you can find the familiar basil, salad leaves, and mint.
Standard Bun Cha prices are around 30K VND ($1.3) from a simple street cafe. Find out where to eat the best Bun Cha in Hanoi.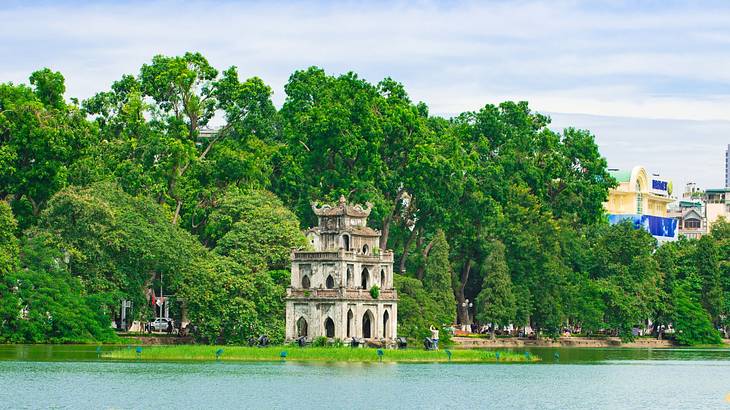 Hoan Kiem Lake
South of the Old Quarter, you will see Hanoi's legendary lake – Hoan Kiem. It's definitely a must-visit for your one day Hanoi itinerary! During the weekends, the road around the lake is blocked for transport and turns into a pedestrian paradise.
Local residents jog, dance, and play music or games around the lake alongside numerous tourists who take in the scene. We recommend having a cup of coffee in one of the nearby cafes that overlook the water to capture the moment perfectly.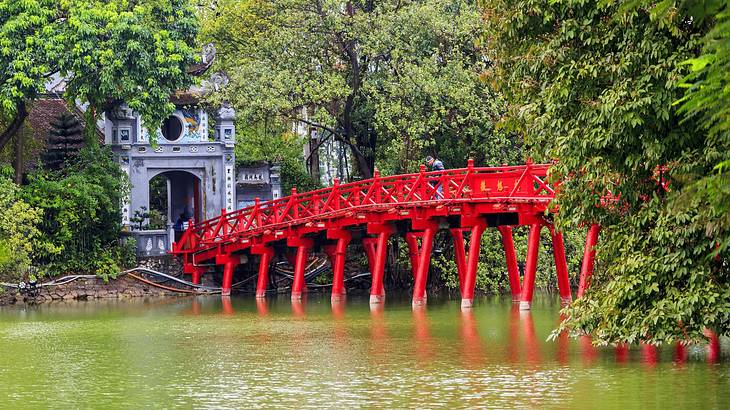 Temple of the Jade Mountain (Hoan Kiem Island) and Huc Bridge
A statue of a giant turtle is kept on Hoan Kiem Island in the Temple of the Jade Mountain (Ngoc Son Temple), which is connected to the shore by the iconic Huc Bridge.
When here, walk around, take pictures on the Huc Bridge (also called the Bridge of the Rising Sun), and check out the pagoda. You will need to buy a ticket at the box office to enter. The area around is quite beautiful - hanging tree-roots, a view of the lake and many flowers!
The entrance fee is 30K VND ($1.3), but children under 15 years of age enter for free. Conveniently, all the attractions mentioned in this stop are located in a small area that is impossible to miss once you're at the lake.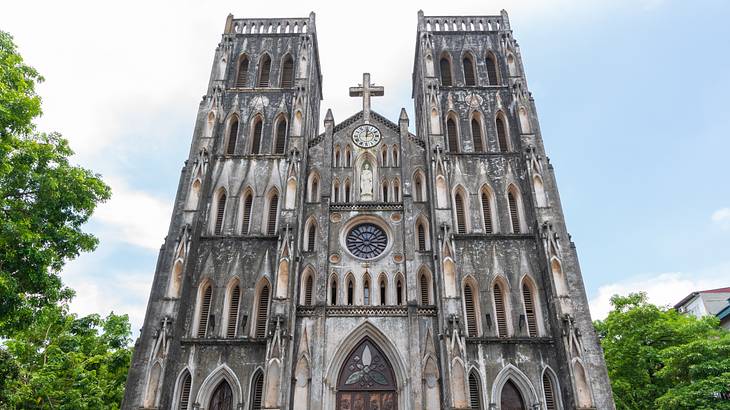 St. Joseph's Cathedral
Continue exploring the Old Quarter by heading to St. Joseph's Cathedral. Even if you don't care about religion (our case), St. Joseph's Cathedral is worth a visit to see its unique architecture up close. The building's gloomy Gothic style distinguishes it from the rest of the traditional Vietnamese buildings around.
A service is held daily here, and anyone can visit the church to explore it from the inside. The decor, organ music, and Roman Catholic style make you feel like you're in Italy. The Cathedral is especially worth visiting on Catholic holidays when large-scale carnivals are organized in the square.
Stop for an Egg Coffee
Make sure to try a traditional egg coffee, the recipe for which has been passed down from generation to generation. Try Cafe Giang, which is considered to be the originator of this style of coffee. Despite being more expensive than a standard cup of coffee in Vietnam, the combination of coffee and eggs is surprisingly delicious. The price for a cup is around 25-35K VND.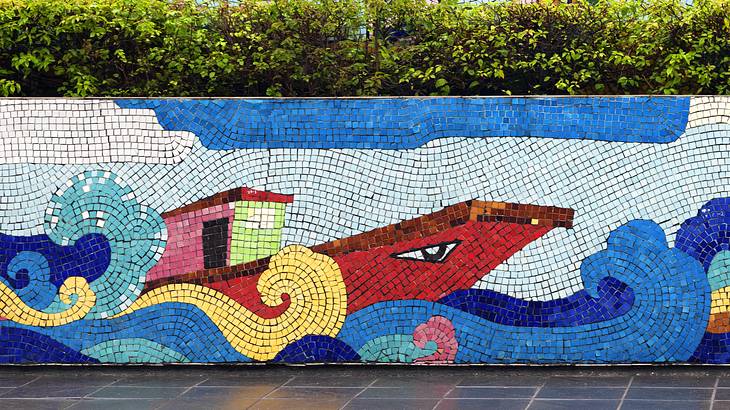 Hanoi Ceramic Mosaic Mural
While we were on the bus from the airport, we noticed a super long wall with mosaics (the Hanoi Ceramic Mosaic Mural) right at the entrance to the Old Quarter. It turns out that this is the longest mosaic wall in the world - it's even listed in the Guinness Book of Records!
The wall is four km long and was built to celebrate the 1000th anniversary of Hanoi. The mosaic depicts the history of Vietnam and some Vietnamese brands (Vietnam Airlines, for example).
We recommend checking out the mosaic wall on the way to the Long Bien Bridge. However, it is up to you whether or not to walk along the wall. It is located along a busy highway with practically no shade from the sun, which might be a bit much on a hot, sunny day.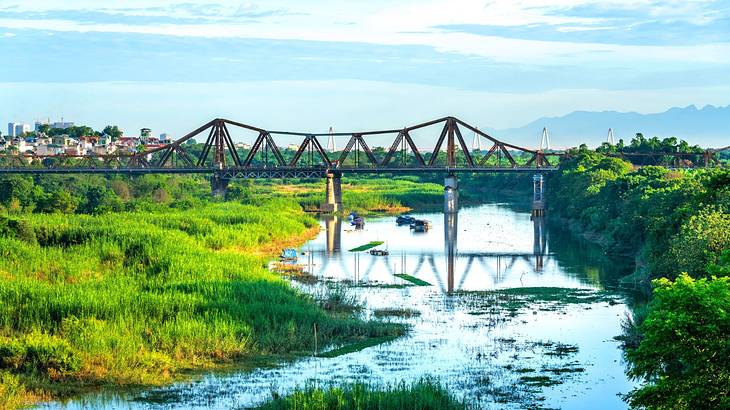 Long Bien Bridge
Long Bien Bridge was built in 1902 during the French occupation of Hanoi. It was the first steel bridge to cross the Red River, and at the time it was constructed, it was one of the four largest bridges in the world.
The bridge was bombarded for several decades during the years of French and American occupation, and now Long Bien is a living historic relic. The bridge has a functioning rail track, so be careful if you take any pictures on the rails.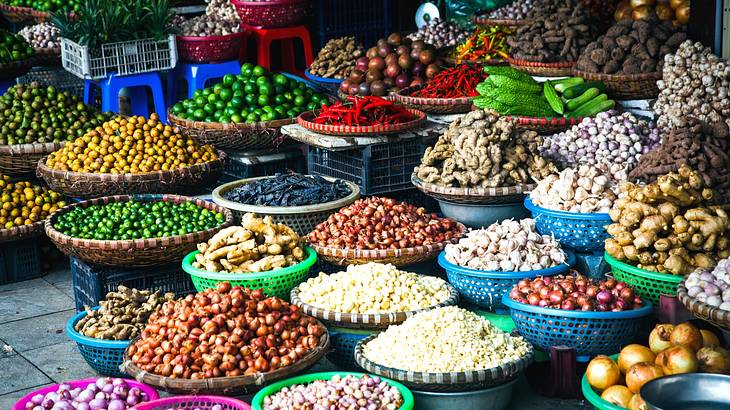 Hanoi Markets
Head back to the Old Quarter to explore some of the street markets. The markets are an important distinguishing feature of Hanoi and an unforgettable part of any visit. Many travelers visit the markets - just as often as they might visit museums and cultural centers -to browse the variety of exotic goods.
The busiest and most popular market in Hanoi is the Dong Xuan Market. If you can't find something here, you probably won't be able to find it in any other market in the city. Literally, everything is on sale here - from clothes and jewellery of various prices to rare delicacies and unique handmade crafts.
Note: Dong Xuan Market is better to visit in the morning since a lot of stalls are closed in the evening.
In addition to the usual markets, there are several night markets in the city which can also be fun to visit. It is possible, and even necessary, to bargain in local markets. Bargaining for the local residents has long been an enjoyable ritual.
Try Pho for Dinner
If you haven't eaten Pho before, then you haven't really been to Vietnam, so it should be on your bucket list for your Hanoi itinerary. Variations of the soup can be different - you can have it with chicken, beef, seafood, or just vegetarian. Our absolute favorite is Pho with beef since we aren't fond of Vietnamese chicken.
Pho is sold wherever you see small plastic chairs on the side of the street and can also be found in more upscale cafes and restaurants.
Pho is considered to be a traditional Vietnamese breakfast, and you can see the locals eating Pho as early as 5 to 6 AM. However, we preferred to have this kind of food later in the day. But again, it's all up to you!
The cheapest Pho costs anywhere from 30K VND ($1.3) to 40-50K and is what you should eat when on a budget in Southeast Asia.
In Summary
To sum up, we can conclude that Hanoi is one of the most culturally-rich cities that we were able to visit in Vietnam since it combines ancient temples, colonial mansions, and modern high-rise buildings.
Hanoi has a lot of historical and architectural sights, and most tourists come here just for them. Some of the temples and pagodas are considered to be the oldest in Vietnam, and interesting legends are associated with almost every one of them. Ho Chi Minh City, the capital of Vietnam, is another one of these places.
In addition to the attractions, shopping is trendy here. There are several large shopping centers and many markets where you can go even if not for shopping, at least just for fun.
---
---
Want to keep exploring?
Subscribe for discounts on tickets and hotels and our latest guides.
Thank you for subscribing
We will be in touch soon with discounts on tickets and hotels and our latest guides.
Want to keep exploring?
Subscribe for discounts on tickets and hotels and our latest guides.
Thank you for subscribing
We will be in touch soon with discounts on tickets and hotels and our latest guides.
Related Articles