2 Days in Bruges Itinerary
Destguides may receive commissions from purchases made through affiliate links in this article.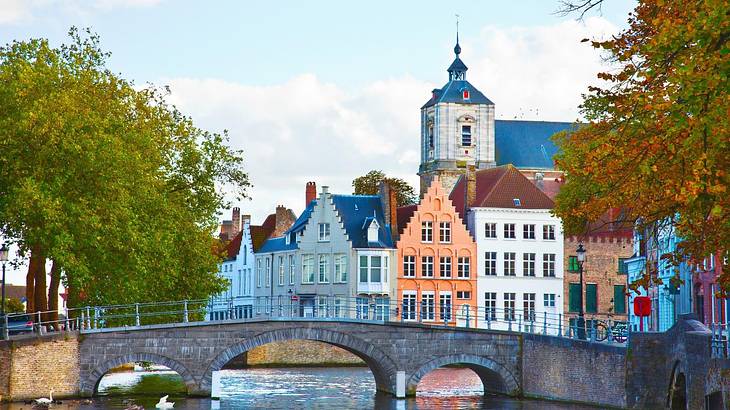 Do you have a weekend in Bruges, Belgium, coming up, and you're not sure how to spend your time there?
In this 2 days in Bruges itinerary, you will learn why Bruges makes the perfect weekend getaway. You will also find out which historical European landmarks you should visit, as well as learn about popular cafes and restaurants.
Known as the Venice of the North, Bruges is a beautiful medieval town famous for its long canals, historical buildings, Gothic architecture, and narrow, cobblestone streets. It is the capital and largest city in the West Flanders region and less than a 1.5-hour drive northwest of Brussels.
Despite being one of the most picturesque European cities, Bruges is often overshadowed by the larger and thriving nearby metropolises of Paris, London, and Amsterdam.
Many people think that all of Bruges' attractions can be seen in a single-day trip, but ideally, you will need two days to explore it all. With a couple of days in Bruges, you will be able to experience all that the city has to offer!
If you have more time in Belgium, the neighbouring town of Ghent also has a lot to offer. One day in Ghent is enough to experience most of its offerings!
Two Days in Bruges Itinerary
A walk in the past...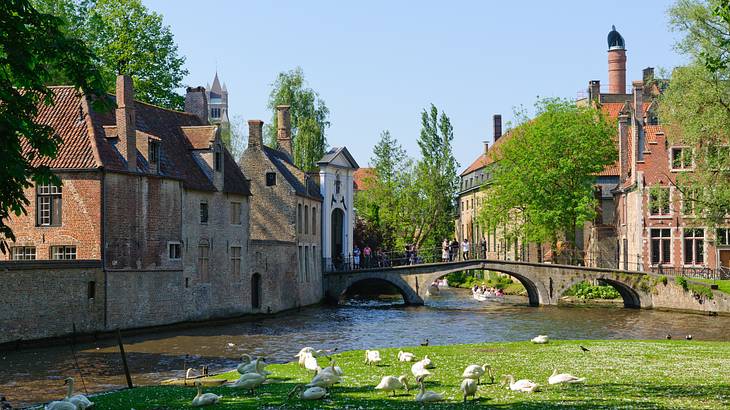 The first day of this weekend in Bruges itinerary is about travelling back in time. Start by taking a walk through the old town. The city centre is easily walkable and has attractions situated close to one another, so you don't need to worry about getting tired! And while both days are jam-packed, feel free to change up the intinerary and omit sights.
Before you walk, you should wake up early and have a nice breakfast. The first few attractions below will keep you busy for a few hours, so it's better to explore on a full stomach. That's Toast is a great choice to try a variety of breakfast dishes. The cafe is cosy and well-decorated, and the food is fantastic.
For lunch, head over to Sfeerbistro De Twijfelaar for a relaxed and casual atmosphere, away from the hustle and bustle of the tourist areas. They offer freshly prepared and cooked food. And lastly, end your day with dinner at The Olive Tree Brugge. The food here is tasty, and the portions are enormous.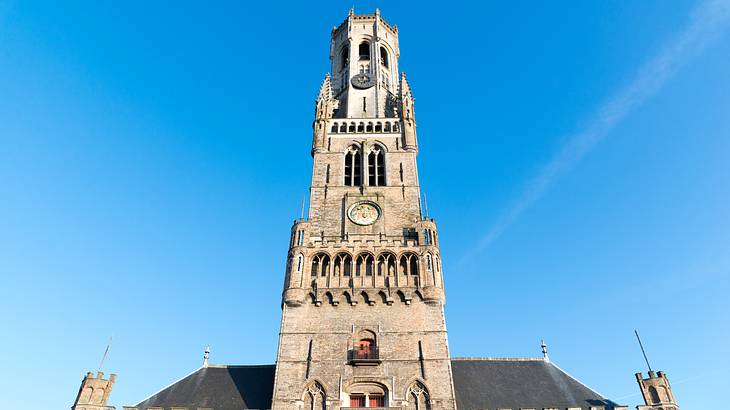 Belfry of Bruges
The Belfry Tower is a medieval bell tower overlooking Market Square. Awarded a Unesco World Heritage Site, the Belfry Tower is one of the most famous things to see in Bruges for tourists. It served as an observation tower and as protection from thieves and neighbouring enemies back in time.
Want to know more about it? Go inside the tower. Step back in history to the Middle Ages and take a look at the old funds and charters. You will also be impressed by the view at the top if you don't mind climbing up stairs (and you can). The 366 steps are nothing compared to the magnificent views of the city that you'll get to enjoy!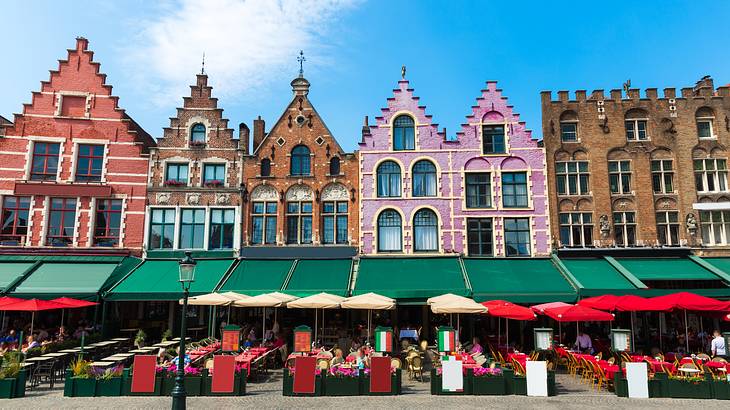 Market Square
Beneath the Belfry of Bruges, you will find the old Market Square ("Markt"), or the Grote Markt as it's also known - the heart of Bruges!
Market Square is surrounded by beautiful shops, restaurants, and brilliant architecture. The ambience in this area is amazing! Walk around, and you will spot the colourful brick houses you may have already seen on postcards of Bruges.
Continue your discovery of Bruges by exploring the post office architecture and other ancient buildings that reveal the past of Belgium.
Take a seat at one of the traditional cafes to enjoy locally-crafted chocolate or a refreshing Belgian beer. The family-owned Old Chocolate House is a popular place to grab some delicious chocolate.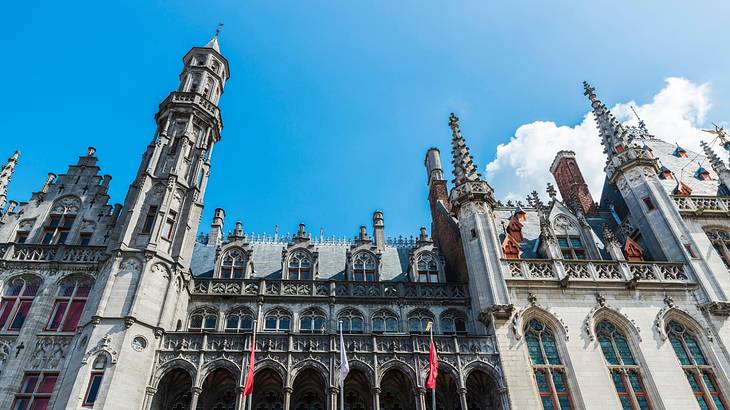 Historium Bruges
Finished strolling around Market Square? It's time for the Historium. Step inside to step back in time.
Discover Bruges through the medieval Golden era with a short but impactful virtual experience.
The Historium is an imaginative way of sharing the history of Bruges, enhanced by dramatic music, film, and special effects. Grab an audio guide to learn everything about the Golden age and Jan Van Eyck.
Don't forget to take some photos of the stunning panoramic views of Market Square from this attraction. After that, walk into the exhibition room to find informational postings on the city's history, architecture, and layout.
The Historium is a great place to entertain yourself and spend a couple of hours. It is worth adding to your things to do in Bruges, Belgium list!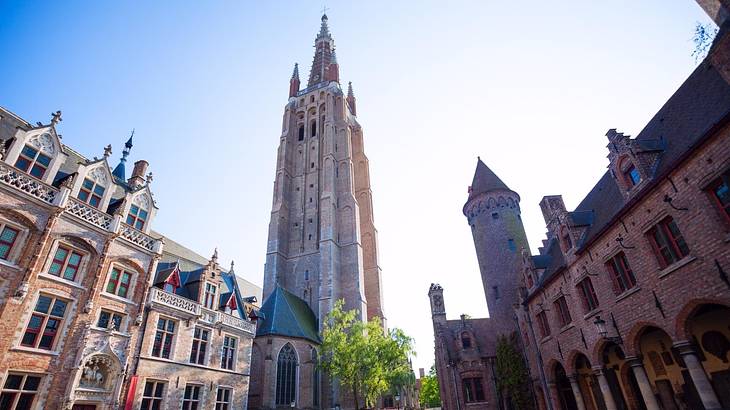 Church of Our Lady
Another attraction you should add to your Bruges weekend itinerary is The Church of Our Lady. It is one of the taller buildings to see in Bruges! Built between the 13th and 15th centuries, the Church of Our Lady boasts an iconic art collection.
You can find Michelangelo's famous Madonna and Child sculpture here, among many other art pieces. Moreover, the decorative and ceremonial tombs of Mary of Burgundy and Charles the Bold are in the church's choir.
Other exceptional artworks and woodcarvings include the paintings by Pieter Poubus - the Last Supper and the Adoration of the Shepherds - and Gerard David's Transfiguration. It is Michelangelo's sculpture, however, that drives most of the visitors here!
Groeninge Museum
If you love European art and would like to see some unbelievable classic pieces from the Flemish primitives, then the Groeninge Museum is the place you should head to next.
Groeninge Museum is a famous art museum known for Belgian plastic arts. You will also find neoclassical paintings from the 18th and 19th centuries by Jan Van Eyck and Hugo Van Der Goes. Or, you can marvel at masterpieces from the Renaissance and Baroque periods. Whatever your art taste, the Groeninge Museum is sure to impress!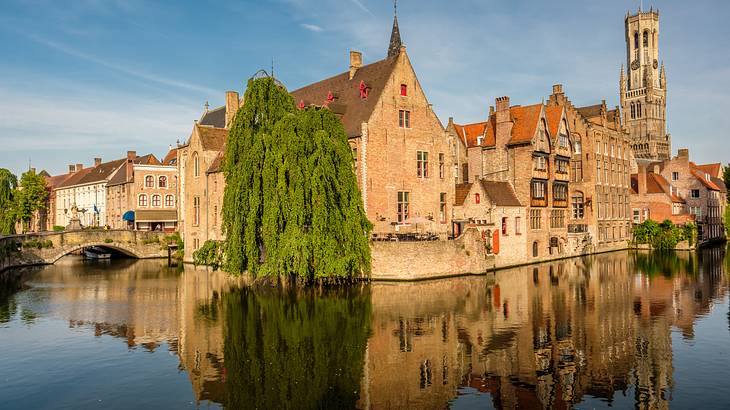 Rozenhoedkaai
Want to know what the most photographed spot in Bruges is? Head over to Rozenhoedkaai! This place is just a 3-minute walk from the Groeninge Museum. Rozenhoedkaai is a beautiful historic part of Bruges, along the canals that used to be a popular location for mooring boats.
This iconic site features several stunning buildings that look like castles from the medieval era. There are also many bars, cafes, and restaurants just beside the canals where you can stop for a drink.
Rozenhoedkaai makes the perfect area for taking photos with your family, friends, and loved ones at any time of the year. It doesn't matter if it's winter or summer; you should sit here for a while to enjoy its timeless scenery. Take out your camera to create picture-perfect postcards of Bruges. It is the perfect spot for photographers.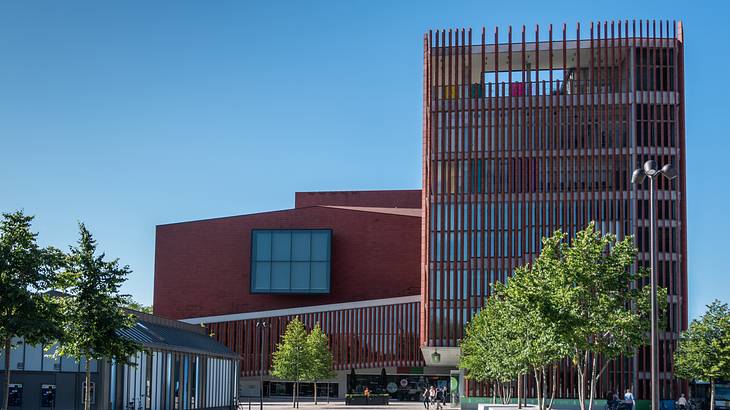 Concertgebouw Circuit
One of the most underrated things to do in Bruges is the Concert Hall. If you are fond of music and design, this is the place to be. Inside the modern building, there is a collection of modern music and interactive displays. The famous acoustics and contemporary art collection are quite impressive.
What's more, you can marvel at the most beautiful views of the entire city here - the icing on the cake! Guided tours of the concert hall are available. Check the hours before visiting, as they stop letting people in an hour before closing.
Lizzie's Wafels
No visit to Bruges would be complete without having tasted traditional Belgian waffles. There are many cafes where you can try mouth-watering waffles, but you should go to Lizzie's Wafels.
You won't be able to get enough of these waffles! The portions are big, so beware when ordering; you might want to share it with your companion. The waffles are fresh, light, and crispy. Also, there are plenty of toppings you can choose from, such as chocolate cream. And don't forget to try the hot chocolate; it's absolutely delightful.
Shop while tasting chocolate
If you are keen on shopping, you are in luck! Bruges offers a variety of speciality shops scattered around the city. Whether it is a lace doily or traditional cookies and souvenirs, you will find it here.
At Depla Chocolatier, you can buy truffles, chocolate covered with fruit, or dark chocolate rice cakes. You are guaranteed to have one of the best cups of cappuccino, too!
If you want to buy something for someone who likes lace, you should try 'T Apostelientje'. The owner is charming and can explain everything about lace patterns to you. All items here are handcrafted.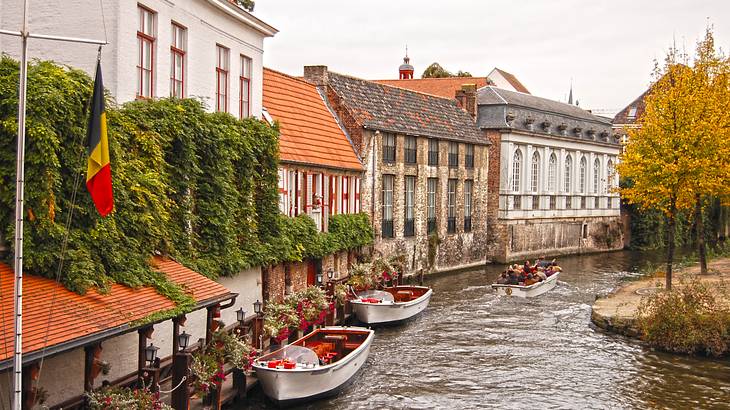 Canal Boat Tour
As you're ending your first day in Bruges after exploring the city's architecture and wonders, consider taking a canal boat tour. A boat tour at the end of your first day will be the cherry on the cake!
Finding a canal boat tour is very easy as there are five landing stages throughout the city. A boat tour lasts about 30 minutes. Once again, you'll enjoy the winding canals and old historic homes. So, make sure to add this relaxing activity to your things to do and see in Bruges list! After all, you can rest your feet after a long day of strolling around.
Because one day is not enough!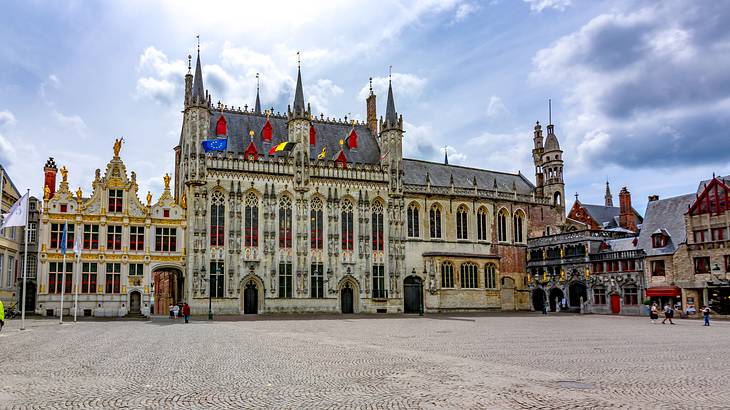 When putting together the second day of your two day Bruges itinerary, make sure to add the Burg Square on it as it is one of the must-sees in Bruges!
Burg Square is known for Gothic and Neoclassical architectural designs. The Gothic Town Hall from the 14th century is located here as well. Painted all over the hall, you will spot vivid 19th-century murals.
Grab breakfast and a cup of coffee in the morning at Books and Brunch, where they have delicious pancakes and other breakfast offerings.
For lunch, try out the restaurant Brazi's. It's a small, cute place where you can pick up a takeaway sandwich or a warmed baguette at a reasonable price.
And finally, as you are about to end your night, take a walk to De Stove. Here, you can have mussels with a superb sauce and a glass of excellent wine in a cosy setting.
Lastly, do rent a bike when exploring the eastern part of Bruges - it'll make your trip more pleasant!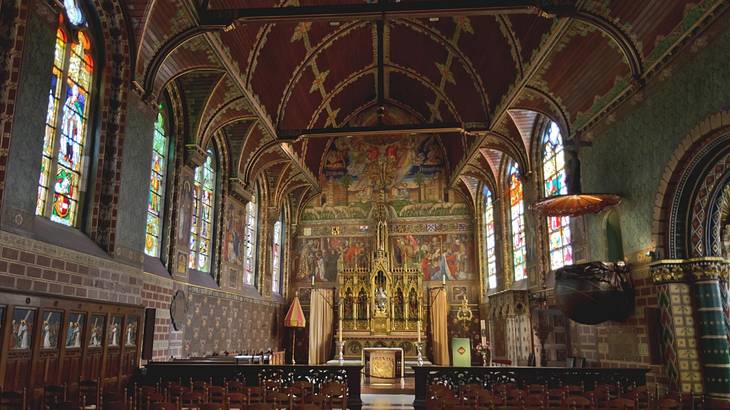 Basilica of the Holy Blood
The Basilica of the Holy Blood is a Roman Catholic church located in Burg Square, just beside the Town Hall. It is thought that the church preserved a cloth stained with the blood of Jesus.
The Basilica of the Holy Blood was built in the 12th century with a lower and upper chapel. The lower chapel has kept its Romanesque character. Dedicated to St. Basil the Great, it's the only one of such character in West Flanders.
The upper chapel was later rebuilt in the 16th century in the Gothic style. It is where the relic of the Holy Blood was kept. In the 19th century, it was renovated in the Gothic-revival style.
Gallery Xpo Salvador Dali
Admire a fantastic collection of famous graphics and statues by Salvador Dali. These works are authentic and exhibited in a dramatic pink and golden setting. At times, there might be a long queue; however, it is well worth the wait! If you don't like to wait, you can go to one of the cafes, rest and come back when the queue goes down.
Do pay the extra few Euros for an audio guide and enjoy earning the story about his art. The museum is marvellous - there are so many paintings in one place! To make admission easy, book your Salvador Dali Gallery admission tickets in advance.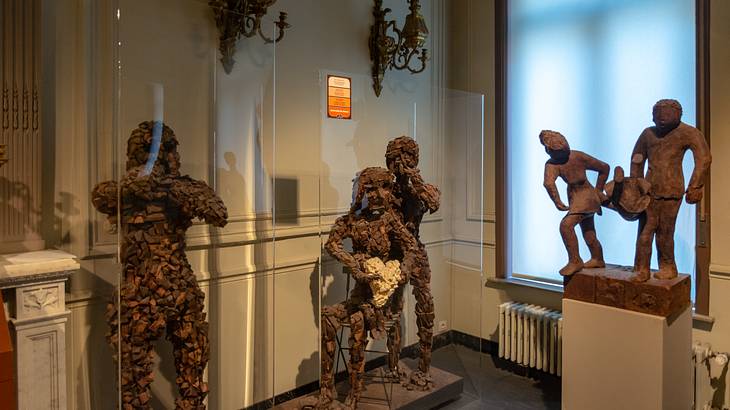 Choco Story
For the Chocolate addicts out there, don't miss out on experiencing Choco Story. Visit Choco Story to walk through the history of chocolate, attend a demonstration of Belgian chocolate making and more.
You will learn about the benefits of chocolate and the history of cocoa beans, and you will get to try free samples of chocolate. Make sure to leave at least one to two hours for the experience. In the nearby shops, you can also find traditional flavours such as dark and creamy chocolate and some variations such as lemongrass, spicy chilly, or Moroccan mint.
Lumina Domestica
Lumina Domestica museum is in the same building as the Choco Story museum and uses the same ticket office. You can buy a combined ticket for both experiences.
It is also known as the Lamp Museum, where you can find over 6000 antiques and lamps. So, if you are looking for one of the hidden gems in Bruges, this attraction is it!
Don't underestimate the Lamp Museum - it's not boring! It's actually quite interesting.
The experience starts from the beginning of humans' mastery of light, making light via fire. The museum then progresses from fire and explains the history of lamps and other light-related inventions.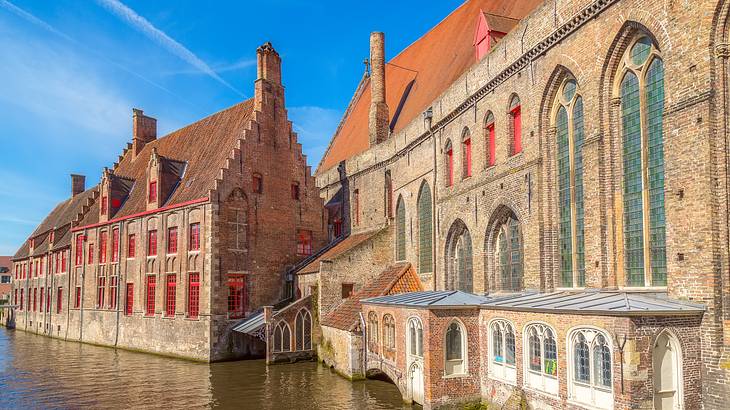 Sint-Janshospitaal Museum
Sint-Janshospitaal is one of the oldest preserved hospitals in Europe. The hospital operated between the 12th and 19th centuries, which is when many nuns helped sick people.
They used several medical instruments and modern methods for that time. The proof for this is the artefacts in the museum that tell the history of the hospital.
Sint-Janshospitaal Museum is within the old hospital, where you will see the old furniture, silverware, sculptures, pewterware, and medical instruments. There are also paintings by Hans Memling, like 'The Shrine of St. Ursula'.
Make sure to stop by the Diksmuide attic, the old dormitory, the custodian's room, and the pharmacy when here as well!
De Halve Maan Brewery
Your next stop will be De Halve Maan, the only remaining brewery in Bruges! Since 1865, they have been making the best Belgian beers in Bruge! The brewery has been a family run business for six generations now.
If you want to know more about the brewing process, take a 45-minute tour to explore the three-kilometre underground pipe. You will learn the trade secrets of making a beer and taste the local beer Brugse Zot. Brugse Zot is a strong, highly fermented beer with malt, hops, and yeast.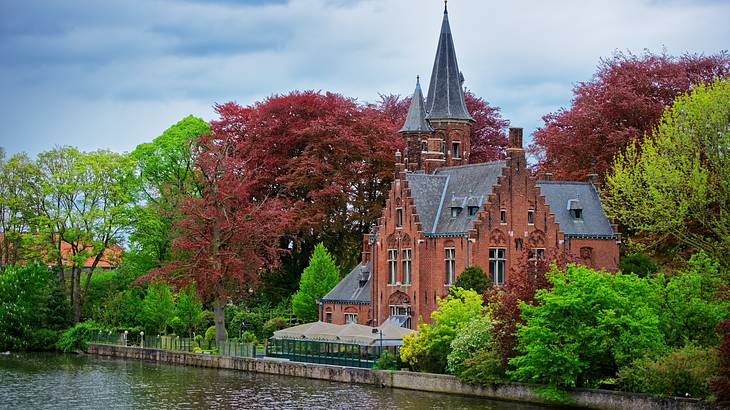 Minnewaterpark
For a romantic and peaceful time away from the large crowds, head to Minnewaterpark. Or, as the locals like to call it, "The Lake of Love". Scenic homes, buildings and trees can be found throughout the park. It also has canals twisting through it.
Minnewaterpark was nicknamed "The Lake of Love" due to a sad story about Minna and her warrior Stromberg, which later evolved into a local legend.
According to the legend, it is believed that you will experience eternal love if you walk over the lake with your loved one. That's why it is one of the most-visited romantic spots in Bruges!
You will also see beautiful swans swimming around where you can capture some lovely photos. O,r you can just rest your feet in the grass by the canals.
Diamant Museum
The Diamant Museum was opened in 1999. The city archives confirm that Bruges' diamond trading and polishing began in the 14th century. In the museum, you will find out how Bruges was the first city of diamonds in the world.
There are daily cutting demonstrations to learn how they cut and polish diamonds. The exhibitions cover some historical facts and information regarding the diamond-making process.
You can also find a shop with many diamond products and choose something to buy for a friend or family member. Photographing is not allowed in the museum.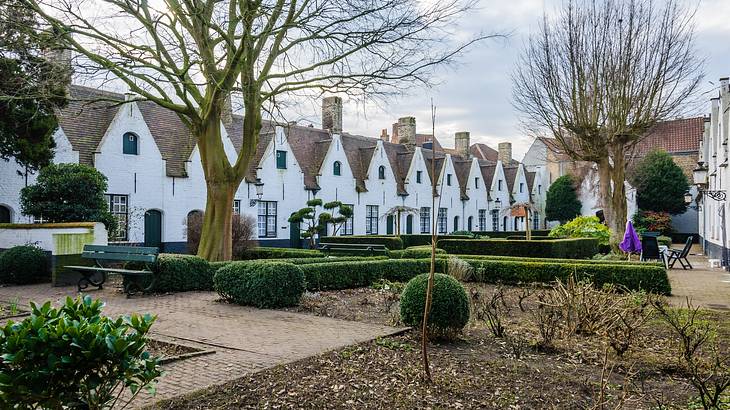 Almshouses
Many small whitewashed houses in Bruges date back to the 14th century. Wealthy citizens and guilds formed them so that single women and older adults had a place to stay.
However, those who lived there had to pray for the rich people in return. They prayed in special chapels near the houses.
Now, there are about 46 preserved church complexes that serve as shops and historic buildings that reveal the past.
One such complex is the Almshouse de Meulenaere and Sint-Jozef. All of the almshouses are almost the same, but on some of them, you'll spot bright colours or plants lining the doorways.
Interestingly, the founder's name is painted on the structure of each house, and is where you can learn more about their history.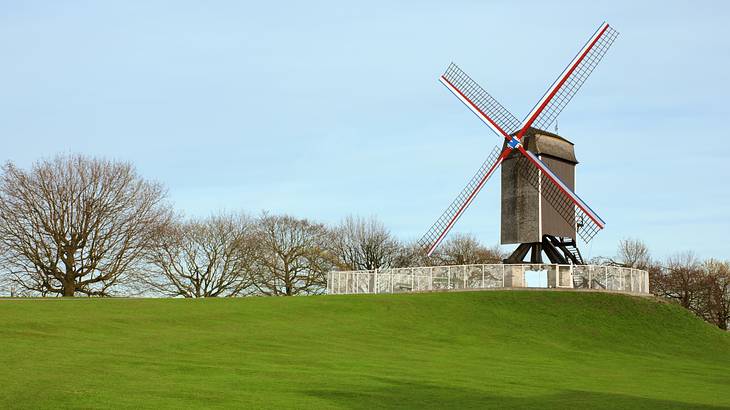 Windmills of Bruges
One of the best things to do in Bruges is to take a walk to the windmills. After exploring the shops, cafes, and iconic landmarks, escape the busy city life and head towards the windmills.
You can find them where the old Bruges city borders were once located. There were about 25 windmills back in the day, but now only four are left.
Some are open to the public, such as the Coelweymolen windmill built in 1765 and the Sint-Janshuismolen windmill built in 1770. Bakers built the later windmill to help them grind flour.
The atmosphere around the windmills is peaceful, and you can enjoy a coffee or a beer on the grass while observing the lovely canalside. You can also rent a bike to be at this location in just a few minutes!
In Summary
Bruges is truly a unique, historic, and picturesque place in the world. I hope you enjoyed this 2 day Bruges itinerary and that it will help you fully enjoy the Venice of the North. I am sure Bruges will leave you speechless, and you will want to come back here again.
With your 48 hours in Bruges, you'll definitely cover some of the best things to do, cafes, restaurants, iconic sites, and museums. Your belly will be full of waffles and chocolate, and your camera full of everlasting memories.
Whether you are looking for a quiet, quick getaway from the bustling city or just a lovely and romantic weekend away, Bruges is the place to be!
Give us feedback about this article
More articles about Flanders:
Read more articles about Belgium:
---
---
Want to keep exploring?
Subscribe for discounts on tickets and hotels and our latest guides.
Thank you for subscribing
We will be in touch soon with discounts on tickets and hotels and our latest guides.
Want to keep exploring?
Subscribe for discounts on tickets and hotels and our latest guides.
Thank you for subscribing
We will be in touch soon with discounts on tickets and hotels and our latest guides.
Related Articles