The Only 3-Day Siem Reap Itinerary You'll Ever Need
Destguides may receive commissions from purchases made through affiliate links in this article.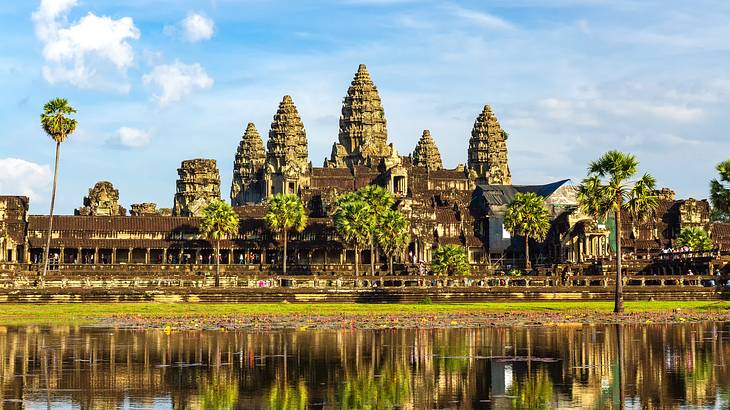 Siem Reap is a small town (sometimes referred to as a small city) in Cambodia known as an 'ancient world' because of the temples and ruins that have been left behind by the Khmer Empire (Angkor Empire). It is about an hour plane ride away from Cambodia's capital city, Phnom Penh.
Siem Reap is most famous for its massive temple complexes, which is why tourists visit. However, the town has way more to offer than just temples.
This 3 day Siem Reap itinerary will show you how to plan the perfect trip to Siem Reap. It lays out how to visit the majority of Siem Reap's attractions in a short amount of time without rushing through them.
Siem Reap interestingly has a pub street where you can find hipster pubs and great places to socialise with the locals. Also, several markets sell traditional crafts and delicious street food.
Beyond that, you can explore the floating fishing village and visit other ruins. Siem Reap has everything that makes travellers potentially not want to leave.
Despite being one of the smallest towns in Cambodia, Siem Reap is probably the most expensive place in the country. Be prepared to spend quite a bit of money. However, I can guarantee that you won't regret it, and even then, Cambodia is still one of the cheapest Asian countries to visit.
3 Days in Siem Reap Itinerary
Exploring Angkor Wat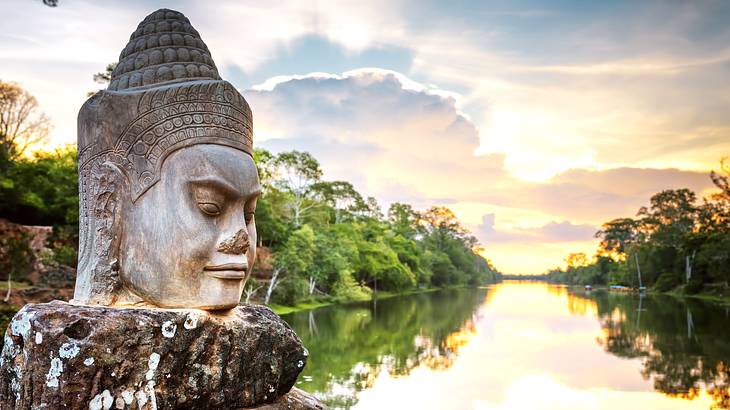 You will start the first day of your 3 days in Siem Reap itinerary with a tour around Angkor Wat. Your day will begin very early in the morning, as I suggest getting there around 4 AM. It will take less than 30-minutes to go from Siem Reap to Angkor Wat.
Angkor used to be the capital city of the Khmer Empire which flourished from the 9th to the 15th centuries. Today, the city houses the most popular Cambodian attraction - Angkor Wat temple. This famous Asian landmark is also listed as a UNESCO World Heritage Site.
Angkor Archaeological Park covers 163-hectares and has 72 temples and other buildings. Of course, it is impossible to visit all of them in one day, so this itinerary focuses on visiting the main temples.
Your day will start by watching the sunrise. Next, you will explore the Angkor Wat Temple Complex before a quick lunch. Your afternoon will be spent discovering two more temples, Ta Prohm Temple and Ta Som Temple.
You will spend the end of your first day watching the sunset at Phnom Bakheng before enjoying an Apsara Dance show at Smile Angkor Theatre.
For this day, you will need to purchase an Angkor pass. You can buy a one day, three days, or seven days pass for the temple complex. If you only have 3 days in Siem Reap, stick with a one day pass as there are more things to see outside of Angkor.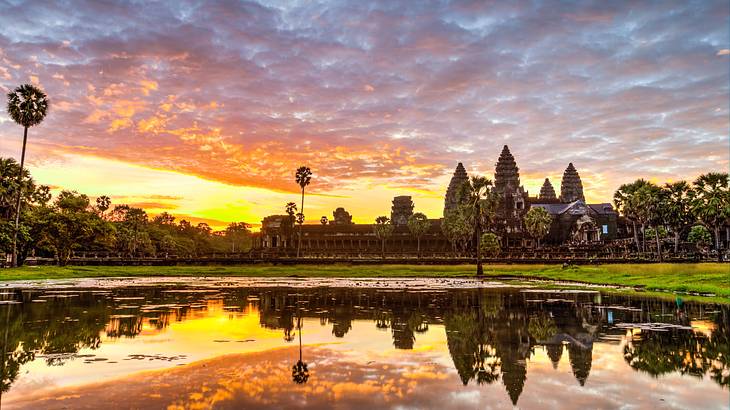 Sunrise at Angkor Wat
The temple complex of Angkor Wat was initially built as a Hindu temple complex for the god Vishnu during the Khmer Empire rule. However, it was gradually converted into a Buddhist temple in the late 12th century.
Today one of the things that Angkor Wat is well-known for is its magnificent sunrise views which attract thousands of people every morning.
For the best views, the majority of people head to the left pond. You can also go to the right pond, which has fewer crowds and offers a different temple angle. If weather permits, you will see breathtaking sunrise above the temple complex! After the sunrise, head to the temple and explore its halls and chambers.
If you already have tickets, you can arrive around 5 AM. Otherwise, arrive as early as possible and queue for tickets. If you visit Angkor Wat as a family, then it's a good idea to read up on some tips beforehand; exploring the temple complexes can be a very long and tiring day, especially for children!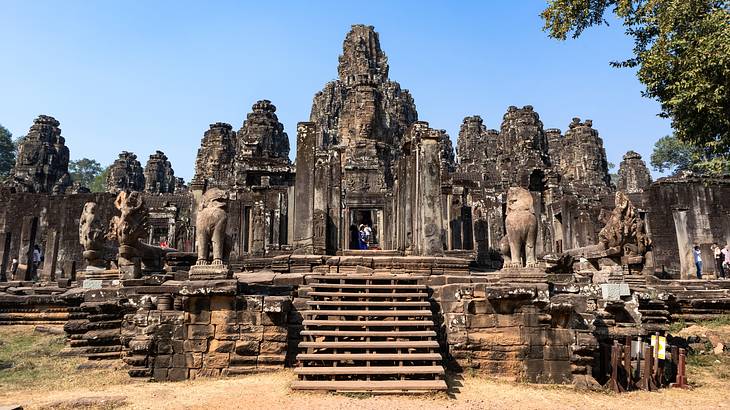 Angkor Thom Complex
Angkor Thom is a city-temple complex in the Angkor Archeological Park. Usually mistaken as 'just another temple', Angkor Thom is an ancient city with numerous temples, gardens, and other buildings.
The complex has five grand entrances: Victory Gate, South Gate (the most popular one), North Gate, West Gate, and East Gate (also known as Death Gate) used to transport kings to their funerals). Each gate features giant Buddha faces, elephants, and lotus flowers. All the gates lead to the Royal Palace Terrace.
The most magnificent building of the complex is Bayon Temple, which is located in the centre of the Angkor Thom.
Bayon Temple is a stunning temple that is considered one of the most beautiful temples in Siem Reap. Its walls are covered in 200 smiling faces making a truly unique feature.
Before you head out, visit the Terrace of the Elephants which used to be a hall where the king would watch his army and features life-sized carvings of lions and elephants.
Taprohm Khmer Food I
Located inside Angkor Wat, Taprohm Khmer Food I is the perfect little restaurant to enjoy your lunch. The restaurant serves a large variety of traditional dishes and drinks. There is also free wifi for you to use.
The prices are quite affordable, considering the restaurant's location. The portions are big enough to share too if travelling with friends or family. I suggest ordering a few portions of rice and sharing a main dish.
The most popular dish on the menu is Beef Lok Lak, a well-known Cambodian dish of beef with soy and oyster sauce. It is a must-try while at Taprohm Khmer Food I!
Be aware that almost all tuk-tuk drivers take their passengers to this restaurant, so it does get jam-packed. If you wish to go to a different local restaurant, make sure to tell your driver exactly where you want to go to avoid being taken here by default.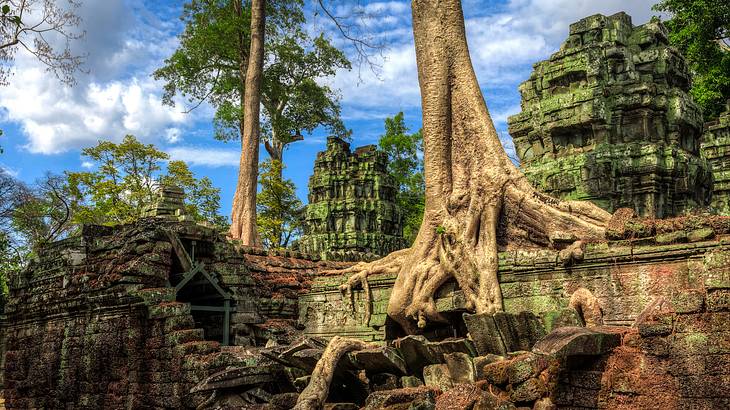 Ta Prohm Temple (Tomb Raider Temple)
Ta Prohm Temple, also known as Rajavihara, used to be a monastery and university. The temple was constructed during the 12th and 13th centuries. Today it is a UNESCO World Heritage Site and was even used as a filming location for the 2001 film Lara Croft: Tomb Raider!
Over the years, the temple lost its main relics and walls, so you will find mainly ruins when visiting. There are a lot of paths leading into the thick forest that surrounds the temple too. Due to this, do be careful as it is easy to get lost without a guide!
The temple is a perfect location to take some stunning photos for your Instagram feed. However, do be respectful and don't climb on the ruins as they can easily collapse.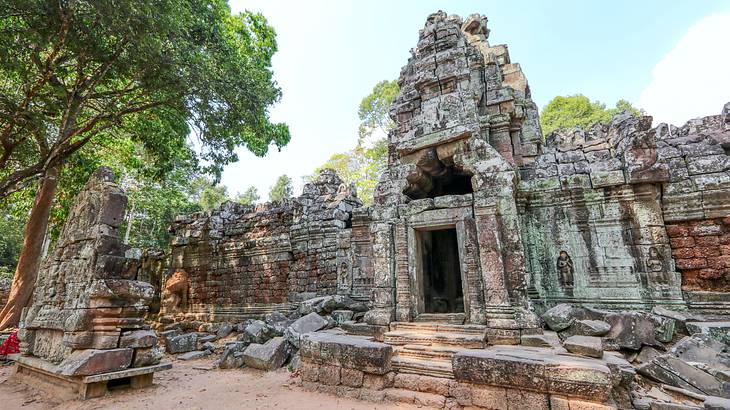 Ta Som Temple
Ta Som Temple is a small 12th-century Buddhist temple located to the north of the Angkor Wat Archaeological Park entrance. The temple is also found close to Neak Pean, an artificial island with a temple.
Ta Som is perfectly restored, allowing you to admire the magnificent architecture of the Khmer Empire. You will also be able to see preserved towers depicting Avalokiteshvara bodhisattva and a large fig tree.
Despite being one of the smallest temples in Angkor, Ta Som amazes everyone who visits it. I recommend you spend about 30-minutes at the temple before moving on to another destination.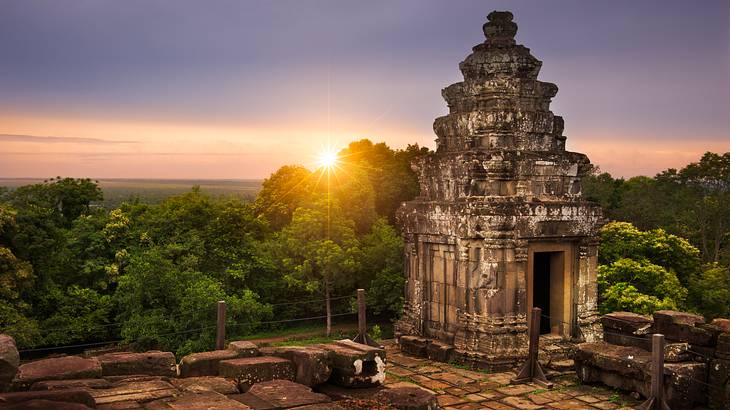 Sunset at Phnom Bakheng
Phnom Bakheng is dedicated to the god Shiva and was previously used as the tomb of King Yasovarman I. The temple is a pyramid-shaped temple (temple-mountain) that consists of seven levels. These levels symbolise Mount Meru and the seven Hindu heavens.
To see the amazing sunset, you will need to arrive around 4 PM. Be aware that it will be crowded so the earlier you arrive, the more likely it is that you will be able to secure a spot.
If you aren't particularly bothered about seeing the sunset from the best angles and simply want to enjoy tranquillity, I recommend heading to the Pre Rup temple. This temple offers excellent views of the sun setting around the other temples of Angkor Wat.
Apsara Dance at Smile of Angkor Theatre
Apsara Dance is an indigenous Cambodian performance that resembles a ballet. It was created in the mid 20th century by the Royal Ballet of Cambodia. There are several places where you can enjoy this performance, but I highly recommend Smile of Angkor Theatre.
Smile of Angkor Threatre creates spectacular performances that include traditional martial arts and Apsara Dance shows and the retelling of Angkor civilization folk tales. It is the perfect place to visit to learn about the history of the Angkor and Cambodia while enjoying a performance.
The theatre is not too far from the Angkor temple complex and offers tickets with dinner and drinks.
A Different Side of Siem Reap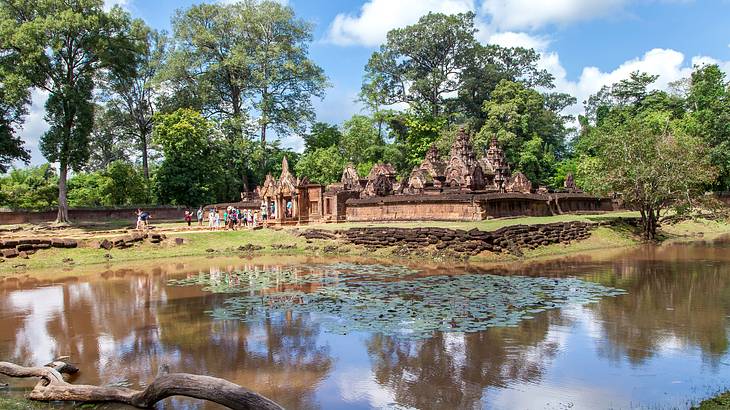 On your second day, you are going to experience a different side of Siem Reap. You will have a chance to see its beautiful natural spaces and learn more about the locals.
You will have to wake up quite early, but not as early as on the first day. You will start your second day in Siem Reap visiting Banteay Srei Temple. Then you will have a chance to explore the breathtaking Phnom Kulen National Park which features temples and magnificent waterfalls.
You will then be heading to Beng Mealea Temple, a temple hidden deep in the jungle. Next, you will visit Kompong Phluk Floating Village where you can explore the area and learn about the village's people.
After a day full of exploration, you are going to relax at Angkor Night Market. Here you will have your dinner and be able to shop for traditional souvenirs.
For this day, I suggest hiring a driver as you will need to travel quite far. Of course, you can also rent a scooter or join a tourist minivan group if you prefer.
If you purchased a three day Angkor Wat pass, I also recommend putting that in your bag. You then have the option to stop by some other temples as well as completing today's activities.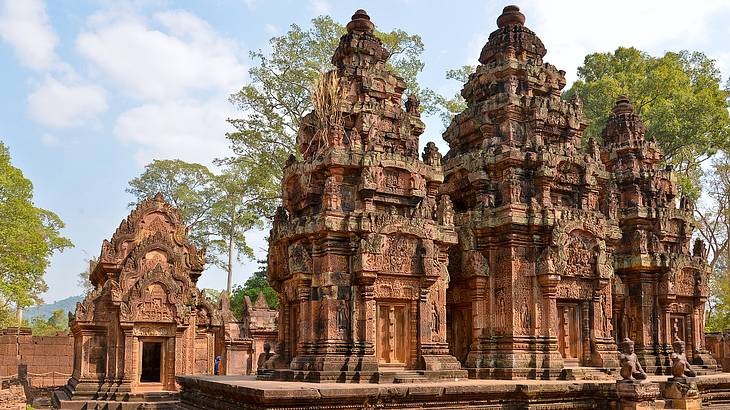 Banteay Srei Temple
Located north of Angkor Wat, Banteay Srei Temple is a perfect place to start your second day in Siem Reap.
The temple was built in 967 CE and is dedicated to the Hindu god Shiva. The temple is also known as 'the tiny temple', 'the lady temple', 'citadel of the women', and 'citadel of beauty'. People speculate that the names came from the limestone's pink colour and decorative carvings of female deities.
You could use your Angkor pass to enter this temple if you had purchased a three-day pass. However, be aware that you will not be able to enter the temple or will be charged the full amount of a one day Angkor pass without a pass.
You will find several local Siem Reap restaurants serving quick breakfast dishes for a very affordable price near the temple. Don't miss your chance to eat something before you continue your journey.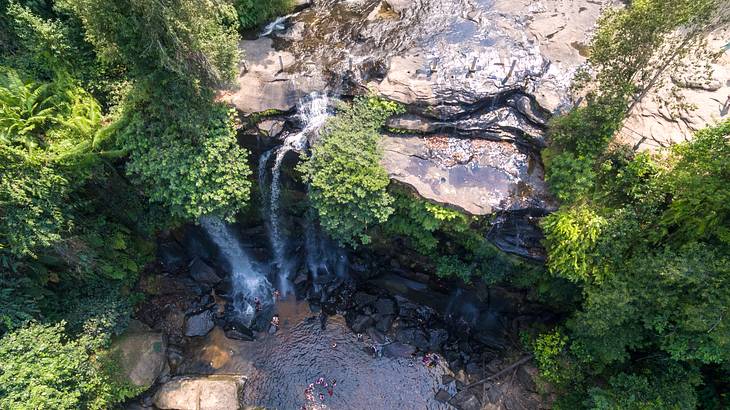 Phnom Kulen National Park
Located about 48 km from Siem Reap, Phnom Kulen National Park is a gorgeous mountainous park. Established in 1993, it is filled with sacred sites, waterfalls, Cambodian style shelters, and scenic picnic spots.
You will need to get to the park relatively early as the road has a one-way system and closes early for those going into the park. The park also has an entrance fee for foreigners. Tickets can be bought by the main entrance gates.
In the park, there are many things to do. I suggest first heading to the River of Thousand Lingas (Kbal Spean) that can be found along the route to the top of the mountain. Thousand Lingas is a sacred place and tribute to the God Shiva.
Another thing you have to see is a waterfall that was featured in the Tomb Raider film. You can take a break there or go for a swim. However, no bikinis or speedos are allowed, so ensure you have a t-shirt and shorts to wear while swimming.
If you have some time and energy left, you can also visit Elephant Pond (Srah Damrei).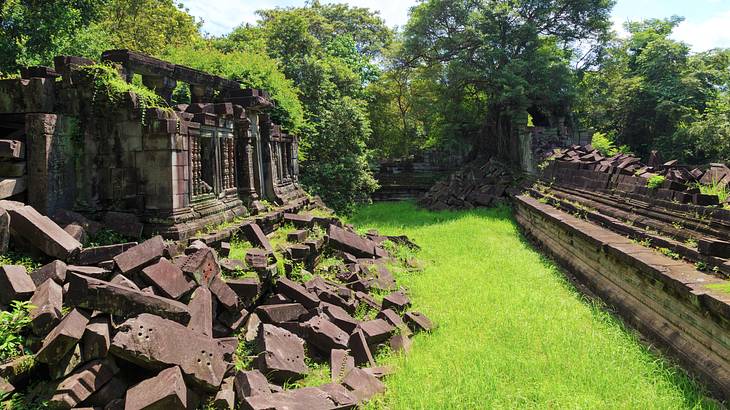 Beng Mealea Temple
Beng Mealea, also known as Jungle Temple and Lotus Pond, is an unrestored temple situated deep inside the jungle. To get to it, you will have to follow a trail of wooden paths that guide you around the temple ruins.
This temple is a Hindu temple and has the same architectural style as the main Angkor Wat temples. People believe that Beng Mealea was built around the same time as other Angkor temples.
The temple site is quite big and can be slightly confusing to explore. You will encounter many dead ends and narrow paths, so do be careful not to get lost. It almost resembles a maze of ruins!
To enter the temple site, you can use your Angkor pass or buy a separate ticket. There are several restaurants in the area for a quick lunch too.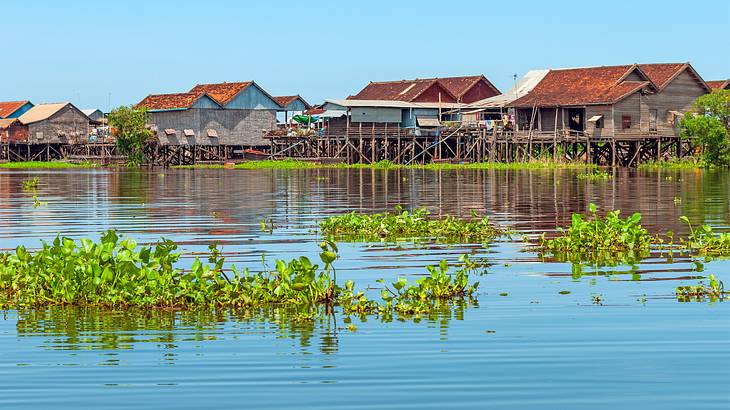 Kompong Phluk Floating Village
Situated about a 50-minute drive from Siem Reap, Kompong Phluk (sometimes called Kampong Phluk) is a collection of three floating villages. The villages are home to about 2,000 to 3,000 residents in total.
The area is also a UNESCO Biosphere Reserve due to the unique species of plants, fishes, and animals found there.
To understand the villagers' lives, you can take a floating village tour. This will take you through different parts of the village. You will have a chance to try fishing and explore Kompong Phluk's flooded forest as well. It is an amazing experience, so don't skip it!
Take a note that Kompong Phluk floating village is not always 'floating'. Depending on the season, the town can be full of mud instead of water, so check with your driver or guide before you go.
Angkor Night Market
If you are not too tired and are still looking for some ideas of what to do in Siem Reap, a visit to Angkor Night Market is a must. Also known as ANM Khmer Market and Original Night Market, this market is the perfect place to pick up some souvenirs and cheap eats.
Established in 2007, Angkor Night Market was the first night market to open in Siem Reap and Cambodia. It is located off of Sivatha Road, in the Siem Reap city centre. The market has more than 240 shops filled with traditional souvenirs and clothes and many food options.
While here, grab a modest and cheap but delicious dinner before or after enjoying endless shopping. I highly recommend visiting some silk shops where you can pick up good quality silk scarves at very affordable prices.
If you are thinking of getting gifts for your family and friends, Angkor Night Market is the perfect place to do that too.
A Day in the Heart of Siem Reap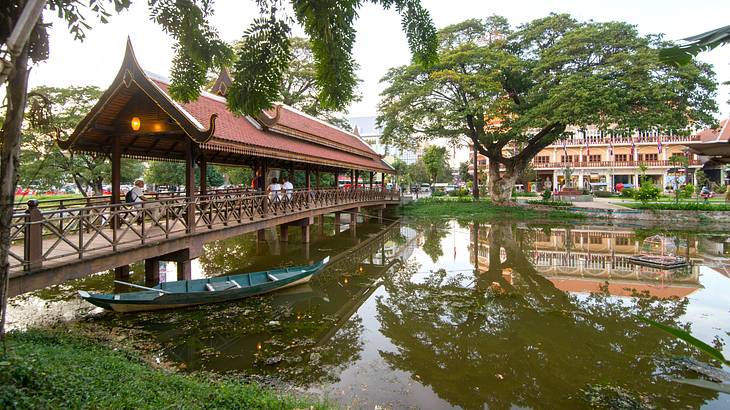 The third day of your 3-day itinerary for Siem Reap is going to be very relaxing and slow-paced. You will have plenty of time to see everything on the list without rushing.
This day covers several museums such as the War Museum and Angkor National Museum. They can be found near Angkor Wat and in the Siem Reap city centre. You will also have the chance to visit a vocational training restaurant which serves terrific rice cakes.
You will then get to explore Made in Cambodia market which sells unique local-made crafts. You are going to finish your day at Pub Street, which has plenty of pubs serving cheap beer, spirits, cocktails, and snacks.
I do recommend wearing comfortable clothes and shoes as you are going to walk a lot! Don't forget to bring your passport too in case museums need to verify your identity.
War Museum Cambodia
The War Museum, also known as War Museum Cambodia, is the only war museum in the country. It allows visitors to learn more about Cambodia's civil war, and it is a must on any Cambodia itinerary.
The museum houses unique war machinery including T-54 tanks, MiG-19 fighter jets, Mil Mi-8 helicopters, field artillery guns, and more. You will additionally find various photographs and documents related to the war.
There are hands-on activities offered at the museum every day too. Make sure you check what is on during your list while at the ticket booth. There is a small entrance fee that includes a free guide, wifi, and parking.
Be aware that the museum does not take cards, so bring cash to pay. Depending on where you are staying, you might need to take a tuk-tuk to reach the museum.
Angkor National Museum
Opened in 2007, the Angkor National Museum is a modern building packed with ancient artefacts. It is the perfect place to learn about the Angkor temples if you visited the complex without a guide.
The museum has eight separate galleries that are connected via corridors and halls that have fountains on display. You will find galleries showcasing images of the Buddha and telling the Khmer civilisation's story, including their beliefs, religion, and kings.
You will find out more about Angkor Wat, Angkor Thom, and national costumes in the other galleries. At the end of your visit, do not forget to visit the museum shop for some gifts.
The ticket needed to enter the museum is on the expensive side. Therefore, if not interested in the museum's subject matter, you may want to skip this. You will also have to pay extra if you would like to take pictures.
Spoons Cafe
Spoons Cafe is one of a few dining facilities that provide training to young Cambodian adults. These cafes hire young adults and help them to gain experience in the hospitality industry. These trainees will serve you and may assist in the preparation of meals.
Spoons Cafe serves authentic Cambodian cuisine, from street food to classic homemade dishes such as papaya salad and coconut chicken. It also offers a wide variety of drinks and desserts. This includes western-style cakes and traditional desserts such as rice cakes.
You can enjoy freshly prepared alcoholic cocktails and other spirits as well. It is a perfect place to have a heart-warming meal while supporting young adults in training.
Made in Cambodia Market
A Siem Reap travel guide cannot be complete without a trip to Made in Cambodia Market. This is an artisan market that is packed with stalls selling local produce made by underprivileged villagers.
You will be able to find various clothes, bags, and hand-made accessories. You can also purchase wood and stone carvings, and other souvenirs, including those made from recycled products.
The Made in Cambodia Market is an excellent place for picking up an authentic gift and helping out locals. You can also haggle for a lower price or ask for a discount if you buy lots of things from the same vendor. Of course, don't forget to bring cash!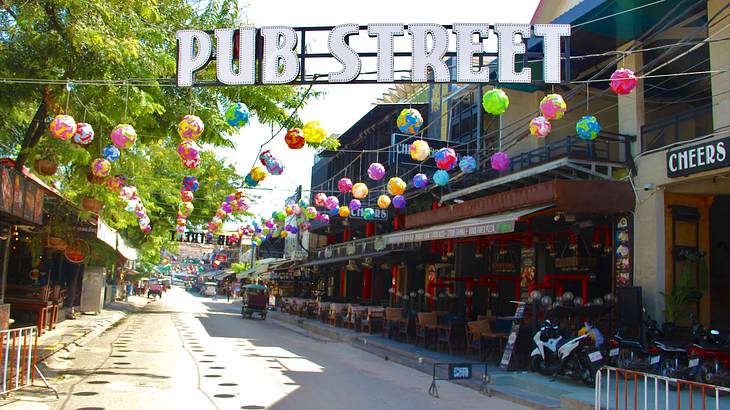 Pub Street
Pub Street is the heart of Siem Reap's nightlife. Situated next to the Old Market is the most famous street in the city.
It is full of bars, restaurants, nightclubs, shops, street food, and market stalls. The street has everything you could imagine!
Pub street seems like a typical street during the day, but it gets incredibly crowded from around 5 PM. All the places on the road serve cheap beer, spirits, and light snacks, so even if you don't drink, you will enjoy it.
I suggest visiting Banana Leaf for food and drinks. Then head to Angkor What? for drinks and dancing.
Conclusion
Siem Reap is a place that has everything from sacred sites to busy streets filled with nightclubs. As it is a small city, Siem Reap can be easily explored within three days.
This 3 day Siem Reap itinerary will make sure you visit the main temples of Angkor Archaeological Park, as well as Phnom Kulen National Park, Kompong Phluk Floating Village, and other hidden gems in the heart of the city.
You can easily skip or add the stops and change the days around to fit your schedule. If you have some spare time or are staying longer than three days, I suggest participating in a Cambodian cooking class or taking a walking tour around Siem Reap. You will be surprised how much you can learn!
I hope you enjoyed this itinerary and that it will be a huge help for you while planning your trip to magnificent Siem Reap!
---
---
Want to keep exploring?
Subscribe for discounts on tickets and hotels and our latest guides.
Thank you for subscribing
We will be in touch soon with discounts on tickets and hotels and our latest guides.
Want to keep exploring?
Subscribe for discounts on tickets and hotels and our latest guides.
Thank you for subscribing
We will be in touch soon with discounts on tickets and hotels and our latest guides.
Related Articles