Canadian Landmarks - 30 Famous Landmarks in Canada
Destguides may receive commissions from purchases made through affiliate links in this article.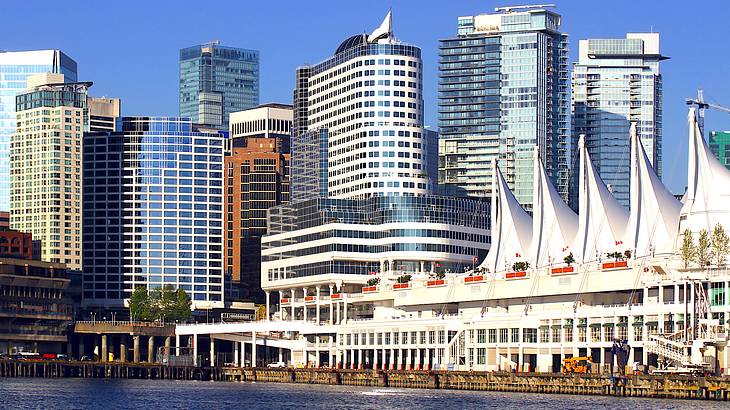 Canada in North America is a beautiful and inviting country full of many unique natural and human-made Canadian landmarks. Over 20 million tourists visit Canada each year, and for good reason!
From its modern, attraction-filled city hubs, like Toronto and Vancouver, to quaint coastal towns and snowy resorts, every type of traveler will fall in love with Canada.
It can be overwhelming deciding exactly what to see when in Canada. This Canada landmarks list covers the 30 best attractions in the country to help you plan a memorable adventure.
Below, you will also find a Canada landmarks map to make it even easier to discover what there is to explore in the areas you're visiting.
If planning a trip to the Great White North, read on for the most famous landmarks in Canada you have to head to!
30 Famous Landmarks of Canada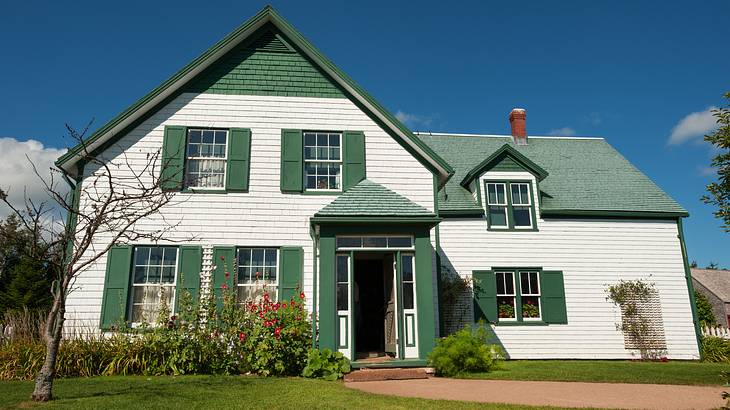 Green Gables Heritage Place, Cavendish, Prince Edward Island
Located in Prince Edward National Park, Green Gables Heritage Place is a 19th-century farm and Canadian literary landmark.
This tourist site is well-known as being the setting for Lucy Maud Montgomery's Anne of Green Gables novel. The house and surrounding famous Canadian buildings are restored to appear exactly as described in the book.
Visitors can visit Green Gables House and multiple small museums covering the history of the book. You'll also be able to explore places mentioned in the story, such as the Haunted Woods trail and Lovers Lane.
If you want to learn even more about this landmark, tour guides are available. Do note that the site is only accessible by car, so make sure you plan appropriate transport.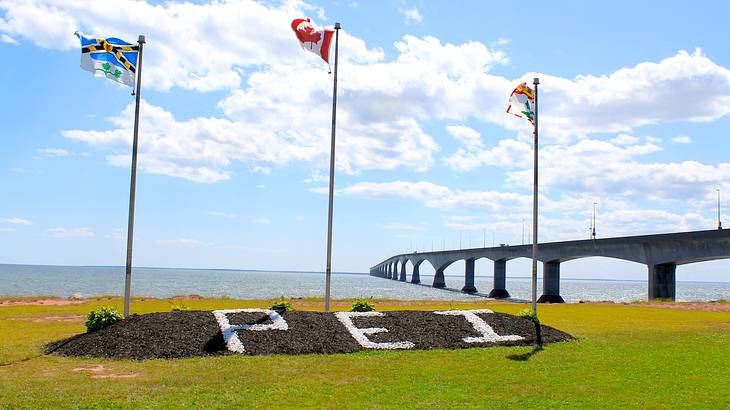 Confederation Bridge, Borden-Carleton, Prince Edward Island
Confederation Bridge is a 12,900-meter-long bridge that connects Prince Edward Island to New Brunswick. The bridge is notable as it is the longest bridge in the world that extends over ice-covered waters. It is also the longest bridge in Canada.
Built in 1993, the bridge was named after the forming of the Canadian Confederation. This is because PEI's Charlottetown is where many meetings of the Founding Fathers of Canadian Confederation took place.
The bridge runs from Borden-Carleton in PEI to Bayfield in New Brunswick. Despite being Canada's longest bridge, it only takes 10 minutes to cross when driving.
Even if you don't drive across the bridge, viewing it from either province is recommended. The view of the long arching bridge disappearing into the water and sky ahead is quite a view to see!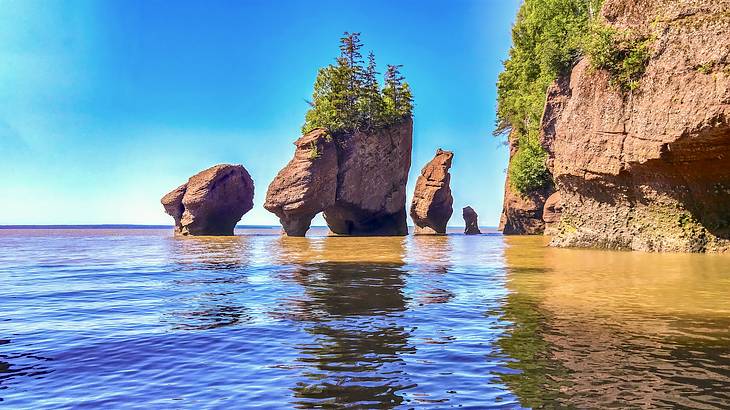 Hopewell Rocks, Hopewell Cape, New Brunswick
Hopewell Rocks is one of many stunning natural landmarks in Canada. This attraction is located along the Bay of Fundy, which features the world's highest tides. The rocks themselves have been formed over hundreds of years by tidal erosion.
The rock formations are found within Hopewell Rocks Park. If possible, visit during low tide as you'll be able to walk around the rocks. Once the tide comes in, you'll have to view them from afar.
Along with viewing the rocks, you can wander along two sandy beaches. There are some hiking trails in the area too.
The Hopewell Rocks are a truly magical sight to see and should be on every traveler's to-do list when in New Brunswick. You can access the area from mid-May to mid-October.
Reversing Falls, Saint John, New Brunswick
Saint John Reversing Falls is an interesting natural landmark in Canada. Located on the Saint John River, this series of rapids turn into whirlpools as the river flow tries to move back into the Bay of fundy during high tides.
You can see this natural phenomenon from the edge of the river. Alternatively, head to Fallsview Park or Wolastoq Park to get a bird's-eye view of the rapids.
This natural wonder is a unique sight for most visitors, and you'll be left wondering how nature can create these fast-swirling whirlpools!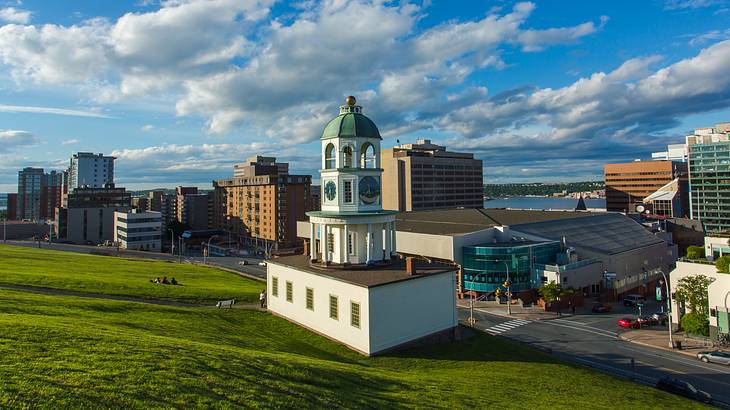 Halifax Citadel, Halifax, Nova Scotia
The Halifax Citadel National Historic Site comprises four fortifications built on Citadel Hill. The Citadel and Citadel Hill play a major part in Canada's history and are among the best things to do in Halifax in summer.
British settlers and the military were attracted to the area in the mid-1700s due to its proximity to the harbor. Its landscape also allowed for the easy defense of the harbor and surrounding town.
Initially, a small fort was constructed on Citadel Hill, and settlers built homes around the base of the hill. Over time, the city and the fort complex grew until it became what is seen today.
The Citadel complex today is also known as Fort George and sits close to Halifax's downtown core as a reminder of the area's history. Visitors can explore the fort and learn more about its history.
There is also the Halifax City Army Museum to visit, which offers more info on the Citadel's role in Halifax's and Canada's history.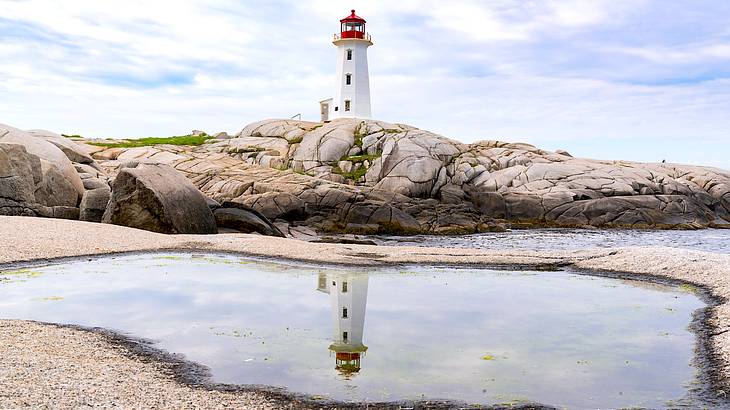 Peggy's Cove Lighthouse, Peggy's Cove, Nova Scotia
Peggy's Point Lighthouse is found in Peggy's Cove just outside Halifax in Nova Scotia. This picturesque Canadian landmark is synonymous with Nova Scotia and is a must-visit when in the province.
The lighthouse is still active and is found along the beautiful Lighthouse Trail drive. Being located in a fishing village, visitors will get to enjoy the bustling coastal atmosphere too.
There is a range of unique photo-ops here, both of the lighthouse itself and the surrounding coastal town and scenery.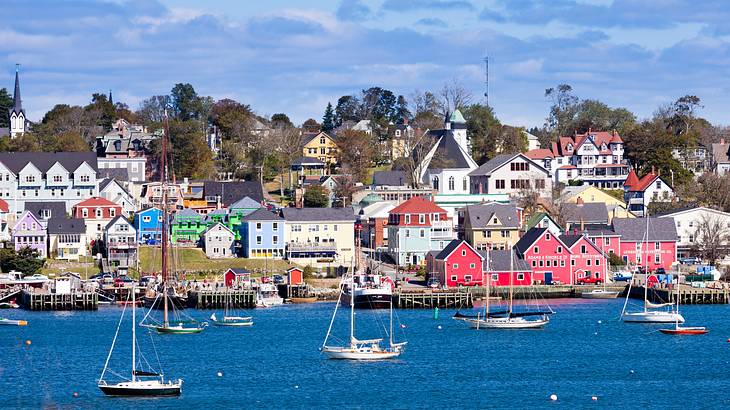 Lunenburg Harbour, Lunenburg, Nova Scotia
Lunenburg is a picturesque fishing village known for its fishing boat-filled harbor and bright colored wooden houses.
This maritime village dates back to the mid-1700s. Today, it is inhabited by just over 2,000 residents and retains an old-worldly feel.
Along with enjoying the harbor view and taking lots of pictures, there is the Fisheries Museum and a range of shops and galleries to explore.
Of course, there are also many excellent seafood restaurants to try that serve fresh-caught east coast fish, lobster, oysters, and more.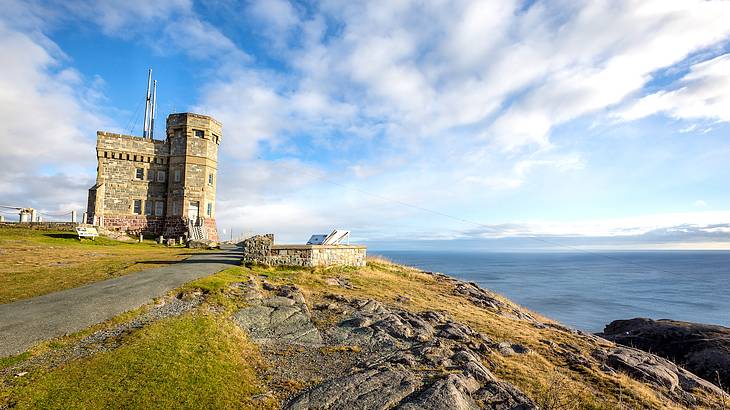 Signal Hill, St. John's, Newfoundland and Labrador
Signal Hill overlooks St. John's in Newfoundland and Labrador. This famous landmark in Canada has even been given National Historic Site status.
Signal Hill is a significant site as it was the location of the harbor defenses of St. John from the 1600s through to the Second World War. This is also the location of the first transatlantic wireless transmission by Guglielmo Marconi in 1901.
You can learn more about Signal Hill's history by visiting Cabot Tower that has an exhibit on Guglielmo Marconi, and viewing the various canons located on the hill. There is also a visitors center offering more information on the history of the site.
There are many scenic hiking trails in the area to enjoy too. These trails include the North Head Trail which runs along the harbor and the Ladies' Lookout Trail which takes hikers to the highest point of Signal Hill.
Hôtel de Glace, Saint-Gabriel-de-Valcartier, Quebec
Hôtel de Glace, or ice hotel, is a hotel and bar in Quebec City, Quebec, made entirely from ice. This well-known unique hotel is the only ice hotel in North America and is open throughout the winter months.
Guests can head to the ice bar and even spend the night in rooms with a bed carved from ice! The building is an amazing sight, with a half igloo, half ice castle design.
While some tourists opt to just view the hotel from outside, it's recommended that you at least get a drink in the bar. Here you can choose from a range of cocktails served in ice glasses.
If you want a very memorable experience, spend the night. Each room is made entirely from ice and has an ice bed, blankets, and a small fire.
Hôtel de Glace is a must-see attraction in Canada and one of the most famous landmarks in North America. If you are making a trip to the ice hotel, make sure you wrap up warm!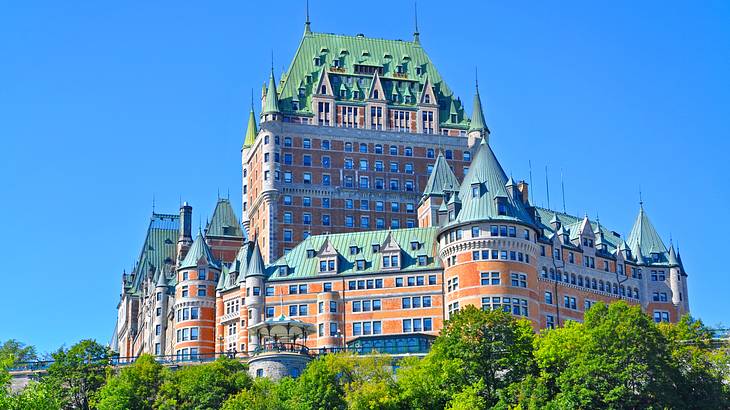 Fairmont Le Chateâu Frontenac, Quebec City, Quebec
Fairmont Le Chateâu Frontenac is a 19th-century chateau found in Quebec City. This building is a highly recognizable landmark of both Quebec and Canada.
Some refer to this Gothic castle-style building as the "heart of Quebec City." It also has National Historic Site status.
The chateau was built in the 1890s by directors of the Canadian Pacific Railway. The chateau and named after a governor of the New France Colony.
Today, the chateau is a hotel run by the Fairmont hotel chain. Visitors to Quebec City can view the stunning exterior and have the option to explore some of the building's interior.
Of course, you could stay here during your trip too in one of their beautiful 5-star rooms or suites.
Individuals can also enjoy a meal at one of three restaurants or have afternoon tea in the hotel's charming lounge.
This landmark is unmissable when in Quebec City and is a truly stunning piece of 19th-century architecture.
Notre-Dame Basilica of Montreal, Montreal, Quebec
Notre-Dame Basilica is located in Old Montreal close to the city's downtown and Old Port areas. The basilica is notable as it is Montreal's oldest Catholic church.
The Basilica was renovated in the 1820s and is a beautiful example of Gothic-Revival architecture. Despite it being designed as is today in the 1800s, the church was first constructed at this location in the mid-1600s.
When here, you'll be blown away by both the interior and exterior of the basilica. The exterior features two regal tower-like structures connected by the inner building of the church.
A very well-known feature of the church is its stained glass windows. While many churches have stained glass windows depicting religious scenes, Notre-Dame Basilica's windows show scenes from Montreal's history.
Along with admiring the stained glass, you'll get to enjoy several other ornate details inside the basilica. The colors used, including golds, purples, blues, and reds, add to the overall regal feeling of the building.
This is a must-see landmark for anyone visiting Montreal, especially lovers of religious architecture.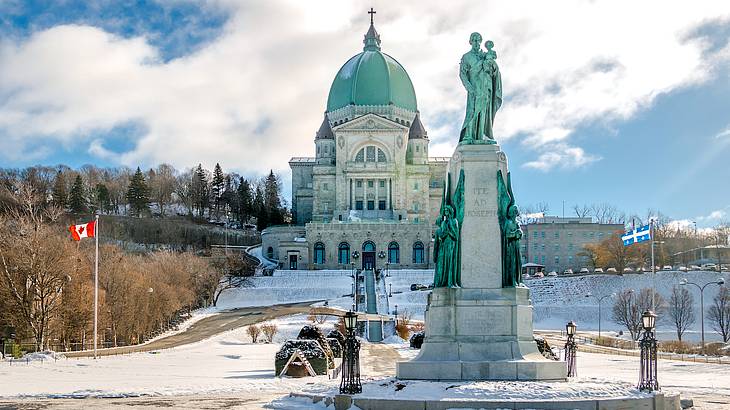 Saint Joseph's Oratory, Montreal, Quebec
Saint Joseph's Oratory is a Roman Catholic basilica located on the edge of Mount Royal Park, Montreal. This site is notable as it's Canada's largest church and is another of Canada's National Historic Sites.
The basilica was founded in 1908 by Andre Bessette and is the largest church dedicated to Saint Joseph in the world.
Like many famous buildings in Canada, Saint Joseph's Oratory is just as breathtaking from the outside as it is inside. While you could just view the basilica's exterior, be sure to visit inside if you can too.
A noteworthy exterior feature is the basilica's dome. This feature makes it the largest domed basilica in North America.
Once inside, you'll be able to admire the chapel, which is filled with over 10,000 candles. There is also a religious museum and the scenic Garden of the Way of the Cross to explore.
If you're catholic or want to view a catholic mass, there are weekly services held here in English and French.
Fairmont Le Chateâu Montebello, Montebello, Québec
This landmark is another hotel owned by the Fairmont chain. Fairmont Le Chateâu Montebello, found in Montebello, Quebec, is the world's largest log building!
Constructed in 1930, this luxury hotel epitomizes rustic charm. The exterior is completely covered in logs, and the interior resembles a cozy ski lodge.
The entrance and lounge rooms alone are breathtaking. Complete with log details, large roaring fires, and comfy lounge chairs, you'll feel instantly warm and welcomed.
There is a selection of rooms and suites available, all decorated in a rustic way with plaid and wood accents. Guests also have access to a range of dining options, served in grand wood and stone dining rooms.
There's additionally a pool, spa, golf course, and even an indoor ice rink for guests to enjoy. This is a truly unique vacation spot; after all, how many people can say they spent the night in the world's biggest log cabin?!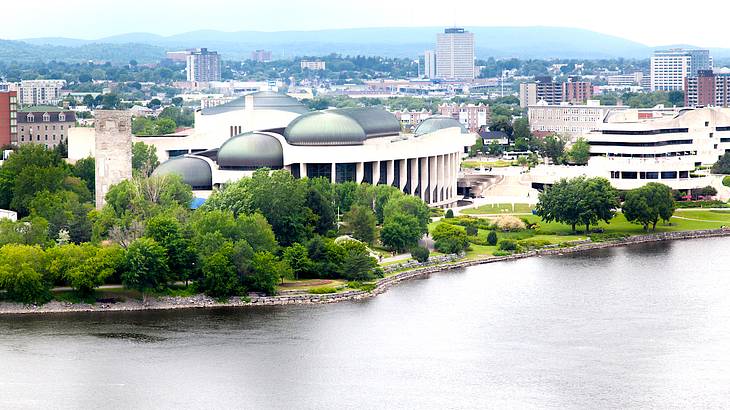 The Canadian Museum of History, Gatineau, Quebec
The Canadian History Museum is a cultural landmark in Canada that's well worth a visit! While many think this museum is in Ottawa, it's actually located in Gatineau which sits across the Ottawa River from downtown Ottawa.
As the name suggests, this museum has a range of exhibits covering Canada's history. A main focus is on the achievements of Canada's Indigenous nations.
The museum is notably home to the world's most extensive indoor collection of Totem Poles. The beautiful and unique building that houses the museum was also designed by acclaimed Indigenous architect Douglas Cardinal.
Other exhibits cover a range of historical and cultural events that have shaped Canada into the country we know today.
Despite being in Quebec, the museum is just a five-minute drive from downtown Ottawa making it a must-visit cultural attraction when in the nation's capital.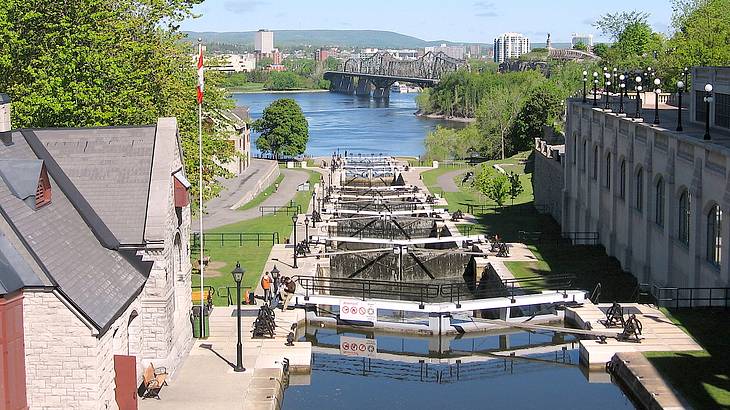 Rideau Canal, Ottawa, Ontario
The Rideau Canal is a waterway that connects Canada's capital city of Ottawa in Ontario and the St. Lawrence River. While it may not sound particularly interesting, the Rideau Canal is a major feature of downtown Ottawa.
The canal creates an incredibly iconic scene in the winter when it freezes over and is used as an ice rink. It's also one of Canada's UNESCO World Heritage Sites.
Along with visiting the ice rink in the winter, there are canal pathways open for visitors to walk and bike on. There are also water activities from May to October, including boating and the Rideau Canal Cruise.
If you have time, try to also visit the Corktown Footbridge. This bridge crosses the Rideau Canal and is covered with love locks to resemble the famous love lock bridges in Paris.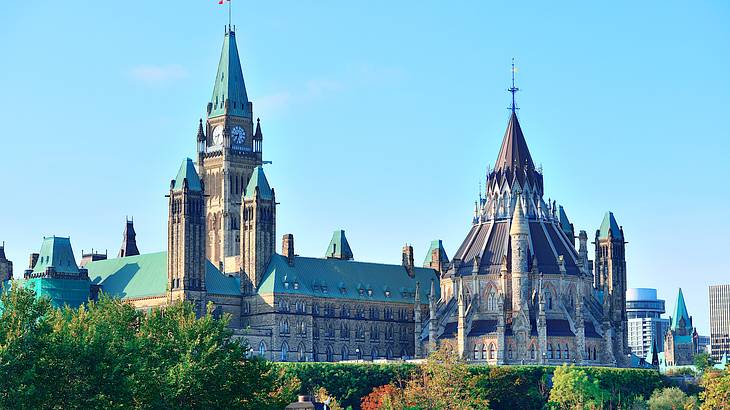 Parliament Hill, Ottawa, Ontario
Parliament Hill, in the capital of Ottawa, is one of the country's most important landmarks. The main attraction here is the gothic revival parliament building. The parliament building is home to Canada's federal government.
Located in downtown Ottawa overlooking the Ottawa River, it's hard to miss Parliament Hill when exploring the city. Visitors can view the building from outside and can also venture inside for organized tours.
If you opt to go on a tour, you'll be able to see the Senate of Canada, the House of Commons, and the East Block. You'll also get more history on the building and politics in Canada.
You'll also get to see statues of famous political and historical figures. These include statues of Alexander Mackenzie, who was the second Prime Minister of Canada, and Queen Elizabeth II, who is the reigning monarch of Canada.
If you visit in the summer, be sure to head to Parliament Hill in the morning to see the iconic Changing of the Guards ceremony. A trip to Parliament Hill is an absolute must-do activity in Ottawa!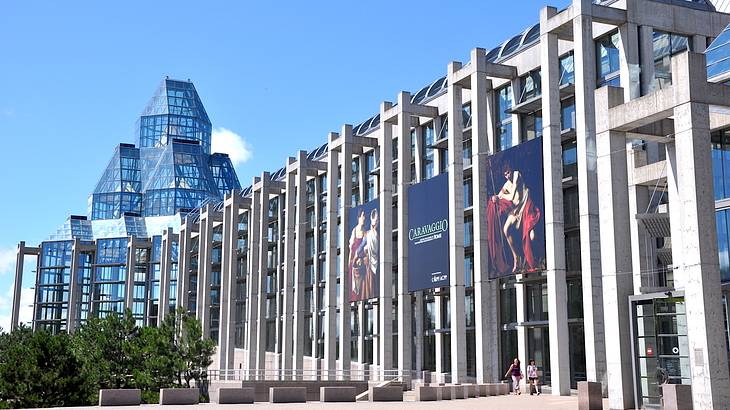 The National Gallery of Canada, Ottawa, Ontario
This cultural landmark is known as Canada's national art museum. The National Gallery of Canada is also one of the largest art museums in North America, covering over 46,000 square meters.
The building itself is a work of art! The exterior features floor-to-ceiling glass windows and an interesting glass greenhouse-style structure.
You'll also be able to spot a Maman spider sculpture by Louise Bourgeois outside the museum too. This work is one of seven, with the six other spiders being found at art museums across the globe.
Once you venture inside, you'll get to enjoy a range of exhibits. These exhibits include those showcasing Canadian and Indigenous Art, Renaissance paintings, contemporary works, and more.
There are also temporary exhibits throughout the year. Be sure to check the museum's website before your trip to see what is on. If you are an art lover, then a trip to the National Gallery of Canada needs to be added to your Ottawa bucket list!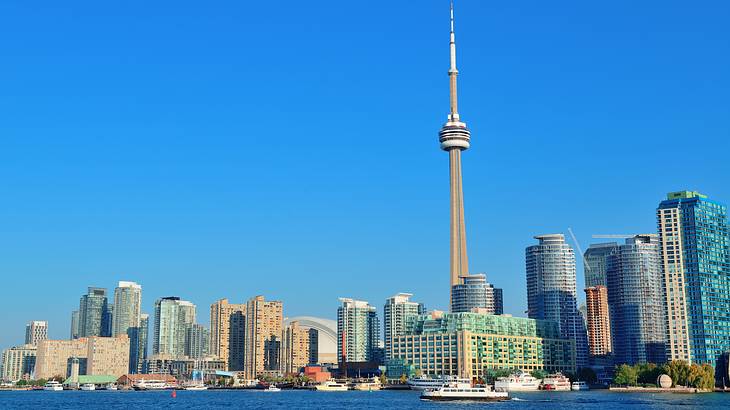 CN Tower, Toronto, Ontario
The CN Tower is one of the most iconic landmarks in Toronto. The 553-meter observation tower stands out on the city's skyline and is a must-visit attraction.
A trip to the observation deck, which sits at 346 meters above the ground, offers the most amazing views of Toronto. You also have the option to visit the SkyPod, which is found 447 meters above the ground.
There is additionally a revolving restaurant, 360 The Restaurant, where you can enjoy panoramic city views with a fantastic meal. Be sure also to get some pictures of the tower as you explore the city.
You can get a great view of CN Tower from Toronto Island Park, and it looks stunning at night when the tower is lit up.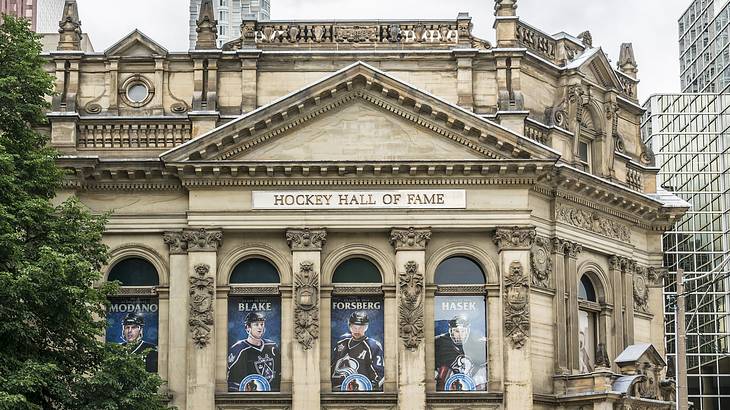 Hockey Hall of Fame, Toronto, Ontario
How could we talk about famous Canadian landmarks without mentioning one that pays homage to Canada's favorite sport, ice hockey?
The Hockey Hall of Fame is a 65,000 square foot museum featuring a range of exhibits on the National Hockey League, Team Canada, and international hockey competitions.
Along with various pieces of memorabilia, you'll find exhibits dedicated to some of hockey's best players. These include displays on Wayne Gretzky and Mario Lemieux.
An item of particular interest to fans of the NHL will be the Stanley Cup. The cup is housed here for the majority of the year and is a popular photo-op for visitors.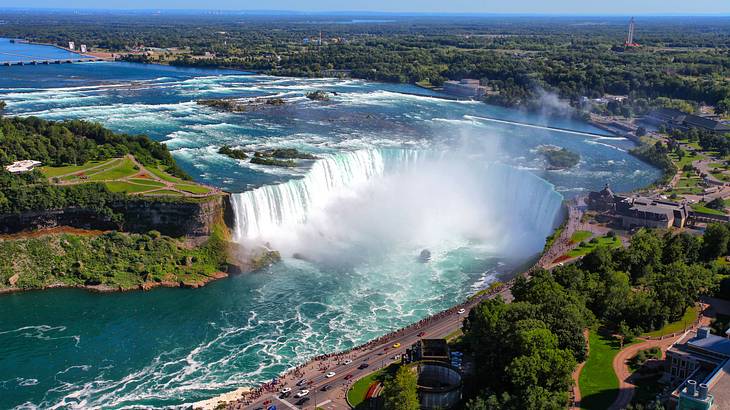 Niagara Falls, Niagara Falls, Ontario
Niagara Falls is one of the most recognizable landmarks in Canada (and in the world!) The falls are located just an hour and a half from Toronto, making them incredibly easy to get to while staying in the city.
Once you arrive, you'll be blown away by the incredible waterfall, which stretches for over 2,700 feet and reaches a height of 167 feet.
Having taken in the breathtaking falls from the ground, be sure to head up the Skylon Viewing Tower. Here, you'll get incredible 360-degree views from 775 feet up.
You'll additionally find many dining options that offer more exceptional views of the falls. You can even take a boat tour right through Horseshoe Falls, one of three falls that make up Niagara Falls.
If spending a weekend in Toronto or on a road trip from New York City to Toronto, a visit to Niagara Falls is a must to make your trip extra memorable.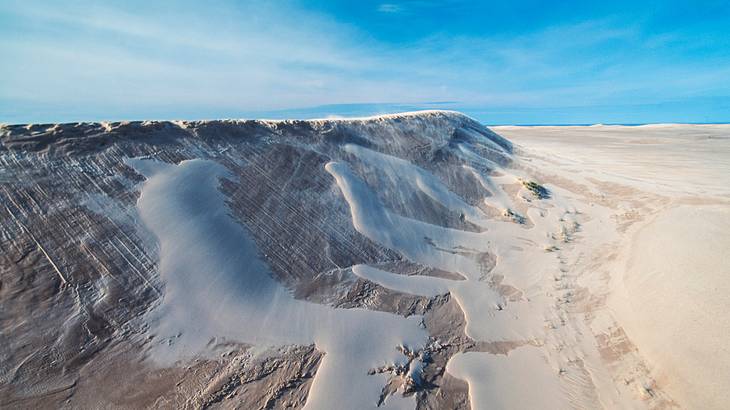 Athabasca Sand Dunes, Uranium City, Saskatchewan
The Athabasca Sand Dunes are found in a Provincial Park of the same name in Uranium City, Northern Saskatchewan. They are notable as they are one of the northernmost formations of dunes in the world. They also make up the largest active sand surface in Canada.
The dunes run for 100 kilometers down the shores of Lake Athabasca. The dunes can reach up to 30 meters high. The environment is extremely interesting as you have a sandy desert landscape surrounded by green forests and fishing lakes.
You can only reach the park via floatplane, and it is necessary to consult with one of the park's conservation officers before you visit.
The West Edmonton Mall, Edmonton, Alberta
This Edmonton based site is a more modern and entertainment-based landmark. The West Edmonton Mall is a well-known Canadian shopping mall home to hundreds of shops, restaurants, and other attractions.
The mall is the second most visited mall in Canada (with Toronto's Eaton Centre welcoming the most shoppers.) It is also the 23rd largest shopping mall in the world.
This mall is a shopper's paradise with over 800 stores to explore. You'll find all types of shops, from designer stores to chains and some independent retailers.
You can also stop for refreshments at one of over 100 restaurants, bars, and cafes. This mall is not just for shopping, though! Other attractions at the West Edmonton Mall include the World Waterpark and Galaxyland Funfair.
There's also an ice rink, aquarium, bowling alley, escape room, and much more. A visit to the West Edmonton Mall will offer a super fun day out for visitors of all ages.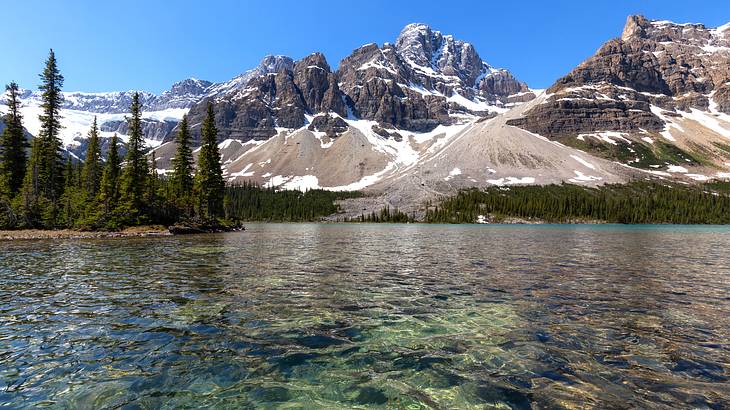 Banff National Park, Banff, Alberta
Banff National Park is one of the most well-known parks in Canada and is found in Banff, Alberta. Located in Alberta's Rocky Mountains, the park features snow-capped mountains, vast areas of forest, glaciers, and the most stunning turquoise lakes.
Lake Louise is one of the most renowned lakes in the park. It is also one of the most beautiful natural landmarks in Canada. This picturesque emerald lake sits nestled below tall snowy mountains. It's a truly unique view and an incredible photography location.
Visitors to Banff National Park can partake in a variety of outdoor activities, likehiking while taking in the breathtaking vistas. The park is relatively easy to get to from popular locations in both Alberta and British Columbia. If you have the opportunity to visit Banff National Park and Lake Louise, be sure to take it!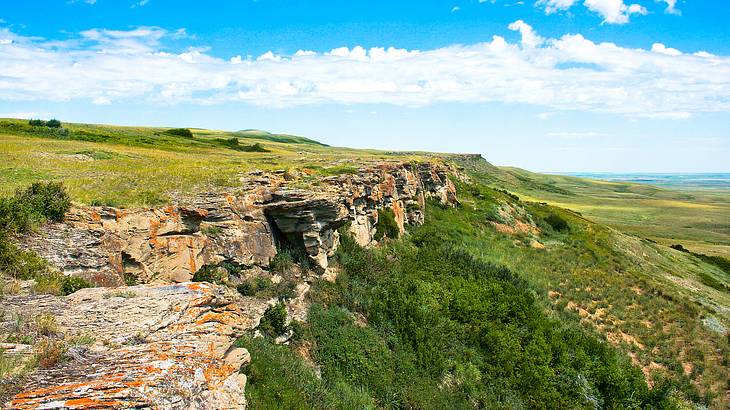 Head-Smashed-In Buffalo Jump, Fort MacLeod, Alberta
Head-Smashed-In Buffalo Jump World Heritage Site is one of North America's oldest buffalo jumps. This landmark is found in the Canadian Rocky Mountains in Fort MacLeod, Alberta.
This site was used over 6,000 years ago by Native Americans as a hunting ground for buffalo and bison. There are a few trails here to follow, and there is a viewpoint that gives excellent views of the buffalo jump.
There is also a visitors center and small museum on site. These will offer more information on the buffalo jump's history and what there is to see here.
This attraction is one of the most important archaeological and cultural landmarks in Canada, making it a must-see!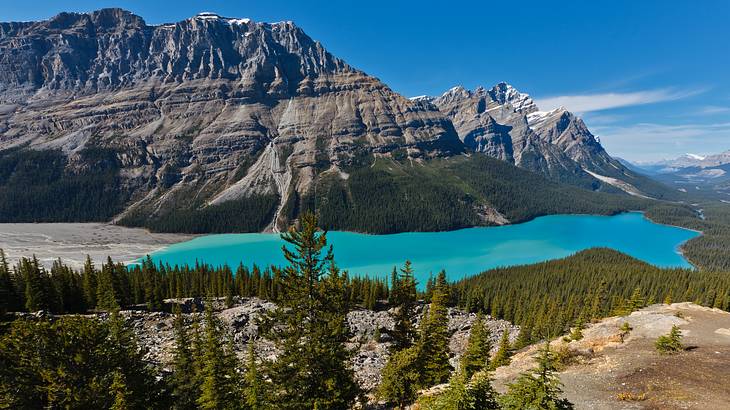 The Canadian Rockies
The Canadian Rockies are made up of the Alberta and BC Rockies. These combine to make the Rocky Mountain range that stretches through the United States to New Mexico.
The Canadian Rockies are a very well-known Canadian landmark and attract many tourists, both domestic and international. Places to see along the Rockies include Banff, Yoho, and Jasper National Parks along with several other notable national and provincial parks.
A popular way to see the Rockies is via the Rocky Mountain train. Things to learn about along the rocky mountain train route include the Canadian gold rushes and the building of the Canadian Pacific Railway.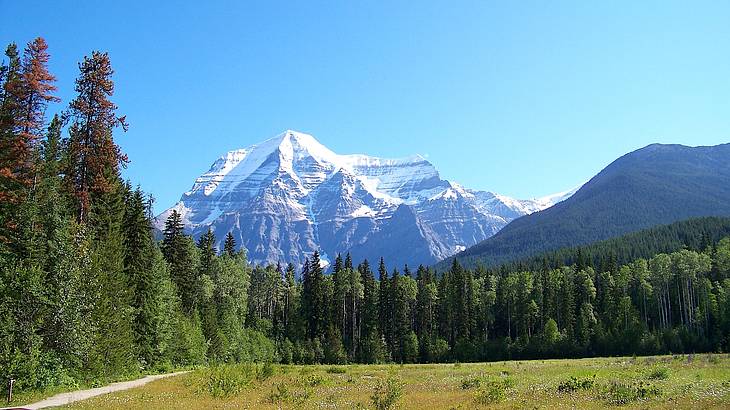 Mount Robson, Mount Robson, British Columbia
Mount Robson is a mountain in the Canadian Rocky mountain range found in Mount Robson Provincial Park in the town of the same name. This mountain is of particular interest because it's the highest point in the Canadian Rockies.
You'll be able to take in the majestic mountain at the park, and there are a few hiking trails. Along with taking in the stunning views, you may spot some Canadian wildlife while visiting this landmark. Moose, caribou, grizzly bears, and black bears are just some of the creatures you may see.
Mount Robson also borders Jasper National Park, meaning you can visit two amazing Canadian parks in one day!
Stanley Park and Seawall, Vancouver, British Columbia
Stanley Park and the Stanley Park Seawall are among the most popular landmarks in Canada and Vancouver, British Columbia. The park is also one of the largest urban parks in the country and is a must on any Vancouver itinerary.
This landmark offers stunning city, ocean, and rainforest views. Within the park, you'll find many trails, gardens, and other attractions. These include the First Nations Totem Poles, the Rose Gardens, and Prospect Point.
You can also walk, bike, or skate around the Stanley Park seawall. This walkway stretches for ten kilometers from the Vancouver Convention Centre to the beaches of[Kitsilano.
Along the seawall, you'll pass through the downtown beaches like English Bay Beach, David Lam Park, and Olympic Village, among other popular sites.
A visit to Stanley Park is an absolute must when in the city. A walk in the park or around the seawall makes for a fun Vancouver date idea as well!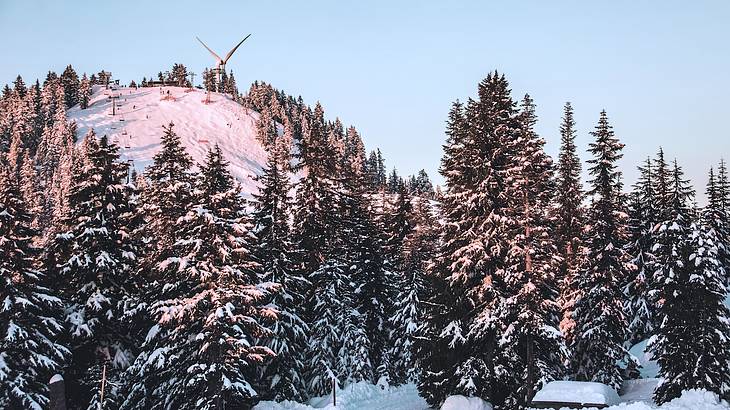 Grouse Mountain, North Vancouver, British Columbia
Grouse Mountain is another amazing natural landmark in Canada. Located just a 20-minute drive from downtown Vancouver, it's a must-visit attraction all year round.
A popular activity at Grouse Mountain is the Grouse Grind, a challenging uphill hike. The hike takes between one and two hours to complete, and you will see hikers climbing 2,830 steps.
Despite its difficulty level, many class the Grouse Grind as one of the best hikes in Vancouver. Visitors can also reach the top of the mountain via the Grouse Skyride.
No matter how you get to the top, you'll be able to enjoy some of the most breathtaking views of the greater Vancouver area.
Other popular attractions here include snowsports in the winter and zip-lining in the summer. You may even spot Grouse's resident grizzly bears!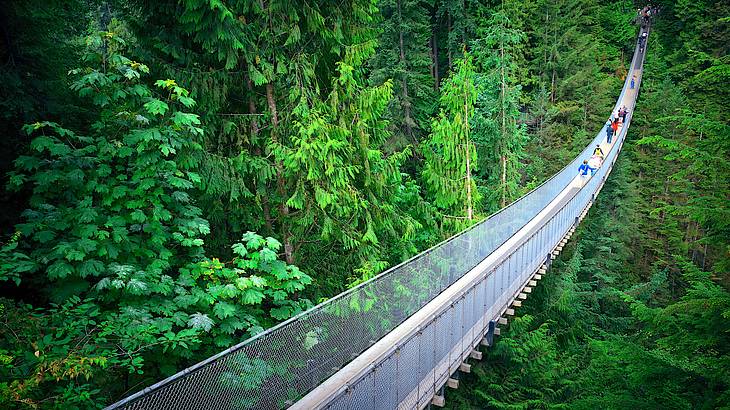 Capilano Suspension Bridge, North Vancouver, British Columbia
The Capilano Suspension Bridge in North Vancouver is a famous landmark in BC among tourists and locals. The suspension bridge stretches 450 feet across a canyon and sits 230 feet above the river below.
Those who venture across the bridge will get to enjoy incredible views of the surrounding forest and get some very memorable photos.
When in the area, you can also try the Capilano Cliff Walk and Tree Top Adventure to enjoy even more amazing vistas from above the forest.
Crossing the bridge at night is just as magical as in the day, especially in the winter. Thanks to the Canyon of Lights event, the bridge and surrounding forest are covered in twinkling lights from November to January.
A trip to Capilano Suspension Bridge is highly recommended, even if you have just three or four days in Vancouver.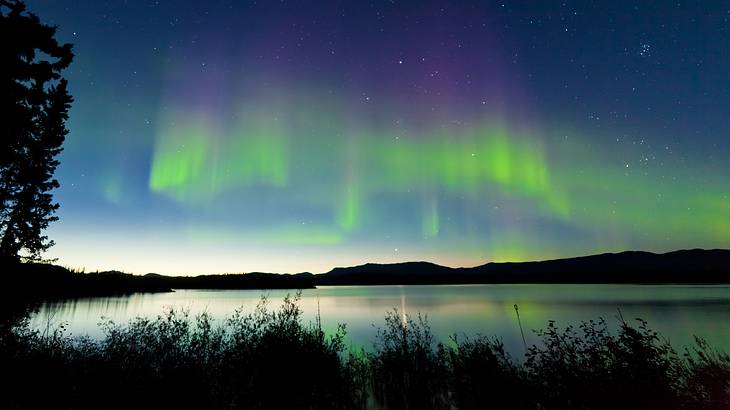 The Northern Lights (Aurora Borealis), Yellowknife, Northwest Territories
Canada's Northwest Territories is the perfect place to spot the magical Northern Lights (Aurora Borealis.) While there are many places in the NWT to potentially view this natural phenomenon, most people head to Yellowknife.
The Aurora Borealis is known globally for the stunning natural light show it provides. Canada's location and climate, especially in the Northwest Territories, create the ideal environment for the lights to be seen. Visitors will be blown away by the green, blue, and purple natural lights as they dance across the starry sky.
This wonder of the natural world can be seen in the NWT at least 200 nights of the year. The best time to see them is from early fall to April.
In Summary
Canada is a fantastic location for travelers. The range of incredible natural landscapes, bustling cities, and quaint towns offers visitors a range of activities to try and things to see.
These 30 Canadian landmarks are some of the most well-known sites in the country that every traveler should see. There are so many great attractions, landmarks, and experiences that you're guaranteed to have an incredible trip no matter what you see and do in Canada!
---
---
Want to keep exploring?
Subscribe for discounts on tickets and hotels and our latest guides.
Thank you for subscribing
We will be in touch soon with discounts on tickets and hotels and our latest guides.
Want to keep exploring?
Subscribe for discounts on tickets and hotels and our latest guides.
Thank you for subscribing
We will be in touch soon with discounts on tickets and hotels and our latest guides.
Related Articles