The Best Two Days in Vancouver Itinerary
Destguides may receive commissions from purchases made through affiliate links in this article.
Vancouver, on the West Coast of North America, has continuously been rated as a top place to live and is a fun destination to visit. If you have 24 hours or two days in Vancouver coming up soon, you might be scrambling trying to figure out how to make the most of your short time here.
Well, no need to worry as I have plenty of suggestions for you on how to plan your visit to Vancouver. It's not as hard as you might think!
Vancouver is a vibrant and multicultural city in British Columbia (BC for short) with a happening nightlife. BC is a province, not a state (as they refer to them in the USA), filled with beautiful mountains, and its coast surrounded by the Pacific Ocean.
It has tons of natural wonders, cultural attractions, and yummy food stalls fine-tuned for every taste. Vancouver is also classed as one of the most diverse and popular places to visit in Canada, offering plenty of fun for a couple of days or weeks.
Once here, you can rent a bike to get around (helmets MUST be worn at all times - it's the law.) Or, if you decide to travel further from downtown for day trips, an eco-friendly car is the best option for your few days in Vancouver. You can find bicycle and car rental places all around the downtown core.
The public transportation is good in the city centre but can become more troublesome the further out you go into the suburbs, like Surrey and beyond. The primary method of public transport here consists of the SkyTrain (like a metro) and buses.
If you decide to stick with the trains and buses, then don't forget to buy a Compass Card (available at the train stations, not on the buses.) It is not only more convenient, but it can also help you save a bit of money.
Want to save even more money? Then stick to walking as you can easily get from one area to another in the downtown core as is not all that big.
As there are plenty of things to do within a limited time, this Vancouver itinerary will help you prioritize your time, get to know the city, and visit some of the most popular locations in the area.
The sites included are Stanley Park, the Vancouver Art Gallery, the Steam Clock, Granville Island, and more. Take a look below to find out what else you can do in Vancouver for two days.
Vancouver 2 Day Itinerary
Vancouver 2-Day Itinerary Video
Check out our highlights video of the stops covered in this Vancouver itinerary.
Vancouver 2-Day Itinerary Map
A map of Vancouver. Use the map to explore all the days and stops.
Get Lost in Downtown Vancouver & Beyond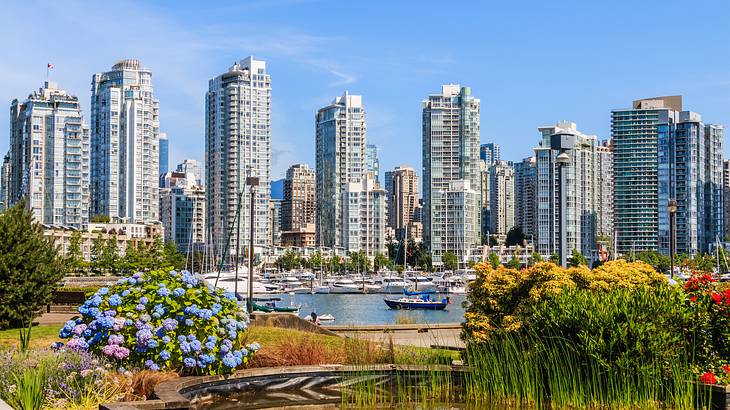 On the first day, you will begin in Downtown Vancouver. During the day, this part of the city is buzzing with people shopping, sightseeing, and eating out (and, of course, those going to work too). At night, the area becomes a great place for watching live performances, clubbing, and drinking.
You will start your day by visiting the Gastown Steam Clock and Canada Place. Canada Place is a building shaped like a ship and is one of the most well-known Vancouver landmarks. Afterward, go to the Vancouver Art Gallery, a contemporary art museum, and finish your day with delicious food on Main Street.
Gastown Steam Clock
Stopping by the Steam Clock is one thing you have to do with your 2 days in Vancouver, BC. It is located in Gastown, close to Waterfront Skytrain Station.
The Steam Clock was built in 1977 and is the world's first steam-powered clock. Every hour, the clock's whistle blows and lets out steam. This process attracts lots of visitors. While waiting for the whistle to go, grab a light brunch or coffee at one of the nearby cafes.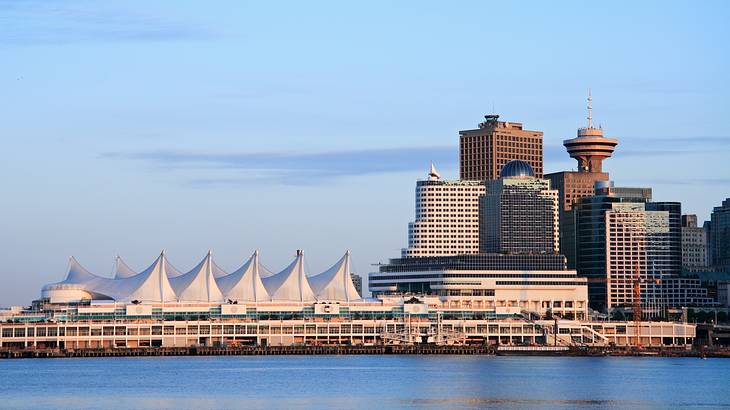 Canada Place
Canada Place is located on the Burrard Inlet and is probably the most famous building in Vancouver. It resembles a ship and houses businesses like FlyOver Canada and the Vancouver Convention Centre. While at Canada Place, try the virtual FlyOver Canada ride that will take you on a flight across some of Canada's most beautiful places in less than 10 mins!
If you haven't booked your accommodation yet, Coal Harbour, right next to Canada Place, is also one of the best places to stay in Vancouver. Booking a hotel here allows you to enjoy amazing views of the harbor and offers easy access to Canada Place, Downtown, and Stanley Park.
Vancouver Art Gallery
The Vancouver Art Gallery was established in 1980 and has a massive collection of 11,000 artworks by Canadian and British artists. The permanent collection includes respected artists such as Emily Carr, the Group of Seven, Jeff Wall, Harry Callahan and Marc Chagall.
This Canadian landmark also hosts various touring exhibitions and has a public library, gift shop and café where you can get a delicious hot chocolate and freshly baked bakery.
Food Tour on Main Street
Main Street is a very long and busy street that runs from the north to the south end of Vancouver. You can get here by getting off at the Main Street-Science World Skytrain stop or catching the 19 bus from downtown.
Here, you will find fantastic independent coffee shops, various restaurants, and great pubs where you can taste locally brewed beer. Some of the more well-known breweries that the locals in this area frequent include 33 Acres and Brassneck.
Experience 'Beautiful British Columbia'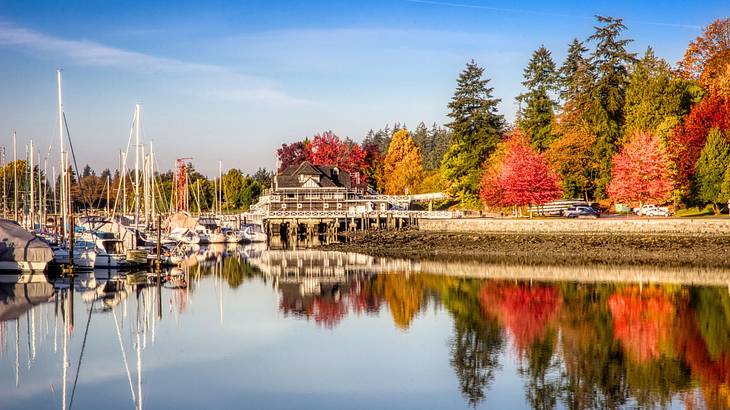 On your second day in Vancouver, you will start your day by travelling towards North Vancouver. You can take a bus, the Seabus (a ferry) from Waterfront Station (you can use the Compass on here too!) or rent a car to get here if you want to save a bit of time.
North Vancouver is known for its abundant nature, awesome hiking trails and spectacular views over the water and city. During this day, you will first visit Capilano Suspension Bridge Park.
After you finish here, you will head back towards Downtown Vancouver and visit Stanley Park. This attraction is the largest park in Vancouver and is where you will find the city's longest forest trail.
After exploring both parks, you will cross a bridge to visit the popular Granville Island. This area is known for its local food and market shopping stalls set among a beautiful backdrop with fantastic views of the city. You will finish your day at Sunset Beach Park, which is another stop that has to be on your things to do in Vancouver list.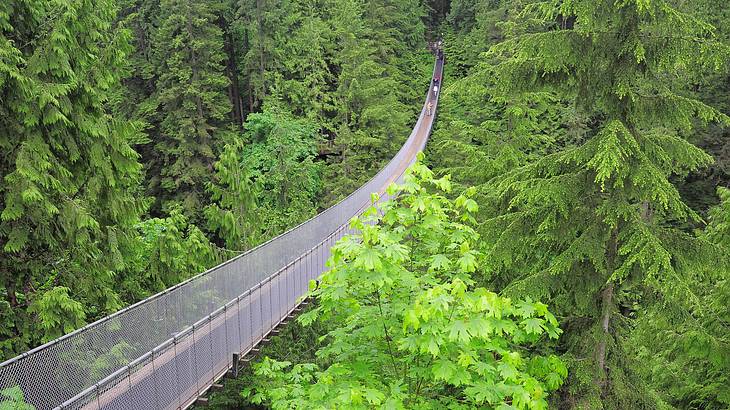 Capilano Suspension Bridge & Totem Poles
Capilano Suspension Bridge Park was established in 1889. The most visited attraction at is the 450 feet (137 metres) long and 230 feet (70 metres) tall wooden suspension bridge that showcases spectacular views from above.
The attraction is also known for housing the most extensive private collection of totem poles that were carved near the Park. If you wish to experience something more thrilling, try the Cliffwalk or Treetops Adventure, which is suitable only for the bravest. You can't leave the Capilano Suspension Bridge off of your Vancouver itinerary!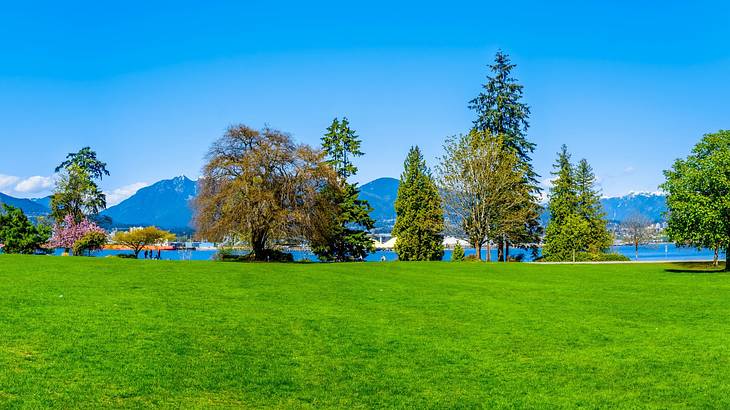 Stanley Park
Stanley Park is located northwest of Downtown Vancouver and is one of the most famous parks in the city. The outdoor area attracts more than eight million visitors per year. It has various forest trails, lakes, and beaches, as well as a splash pad for kids and an aquarium (Vancouver Aquarium).
It is the best place to enjoy spectacular Vancouver views of the north shore mountains and the lovely Lion's Gate Bridge. If you are feeling hungry, there are plenty of cafes along the park trails where you can enjoy a light brunch/lunch.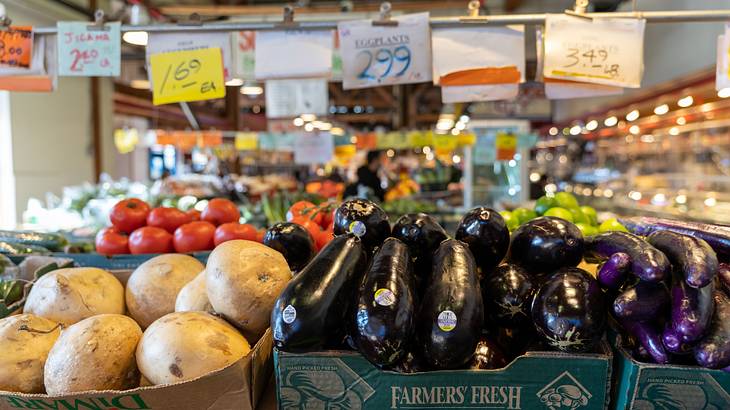 Granville Island
Granville Island, a public market, is known as one of Vancouver's many shopping areas and is a must on your two days in Vancouver itinerary. The area is packed with theatres, market stalls, shops, art studios, restaurants, bars and bookstores.
The market is a great place for souvenir shopping and tasting fresh seafood that is prepared and sold here. It is also an excellent location for a date in Vancouver!
If you have some time, make sure to check out a play at one of the amateur theatres. You will be surprised by how good it is!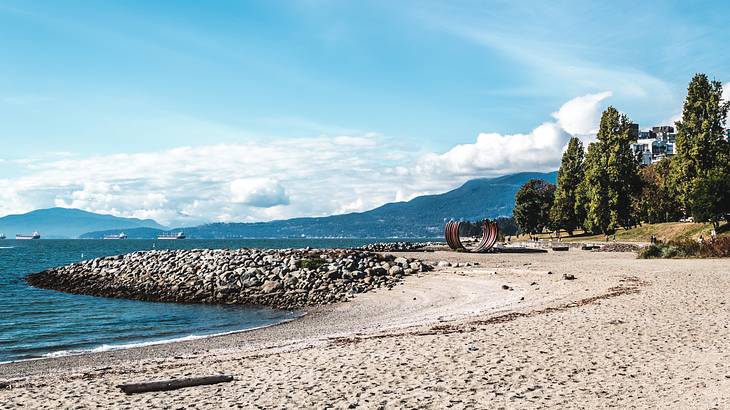 Sunset Beach Park
Sunset Beach Park is a short bus ride away from Granville Island, which is west of Downtown Vancouver. You can also catch a ferry boat from Granville Island to Sunset Beach (or other locations). This beach is a popular spot for swimming, playing volleyball, dog walking and watching the sunset.
Sunset Beach is connected to Stanley Park via the Seawall path, which allows visitors to walk along the sea and enjoy the views. If you wish to do something more exciting than watching a sunset, then venture over to the West End and/or Yaletown for some more last-minute exploration. These are both great areas to stay in Vancouver.
In Summary
This itinerary covered what to do in Vancouver for 2 days and how to make these days the most memorable and exciting. It includes visiting some of the most famous landmarks in North America and the city, which will give you a glimpse into Vancouver's local culture and history.
You will also experience some of Vancouver's unique activities, such as wandering around the biggest private Totem Poles collection and watching an amateur theatre show on Granville Island.
This guide is simple to follow and includes a minimum number of stops, meaning you won't need to travel far between the sites. You will also have some time to do extra things, such as eating, shopping or just walking around the beautiful streets.
Also, feel free to skip any stop to try more exciting activities, like spending half a day climbing the trees at the Capilano Suspension Bridge Park.
Enjoy a perfectly planned itinerary for your weekend getaway in Vancouver, and forget about being overwhelmed with planning. Save your time with our itinerary, and enjoy the trip!
If you are looking for other shorter trips to do from Vancouver, why not also consider a visit to the always popular Whistler, Victoria on Vancouver Island or Kelowna for wine-tasting?
Give us feedback about this article
Learn more about Vancouver:
More articles about British Columbia:
Read more articles about Canada:
More visual stories related to this article:
---
---
Want to keep exploring?
Subscribe for discounts on tickets and hotels and our latest guides.
Thank you for subscribing
We will be in touch soon with discounts on tickets and hotels and our latest guides.
Want to keep exploring?
Subscribe for discounts on tickets and hotels and our latest guides.
Thank you for subscribing
We will be in touch soon with discounts on tickets and hotels and our latest guides.
Related Articles