Where to Stay in Colombia? 11 Best Places to Stay in Colombia
Destguides may receive commissions from purchases made through affiliate links in this article.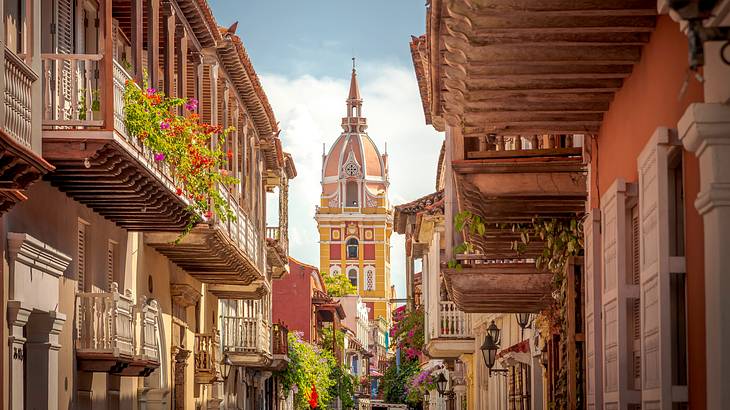 Nestled in the northwestern corner of South America is the vibrant, diverse, and welcoming country of Colombia. This popular destination is a treasure trove of natural wonders, rich history, and friendly people.
The beauty of this country is incomparable! From towering Andean peaks to gorgeous beaches, the outdoor lover's dream awaits. Colombia's coastline stretches along the Pacific Ocean and the Caribbean Sea, offering pristine beaches and crystal-clear waters.
Another reason people flock to Colombia is to immerse themselves in the region's rich history. The country's cities are bustling centers of art and history intricately woven together.
Lastly, people visit Colombia because of their connection with the locals. Colombians are renowned for their warm hospitality and zest for life. Continue to read if you want to learn about the best places to stay in Colombia for a perfect trip.
11 Best Places to Go in Colombia
Best Areas to Stay in Colombia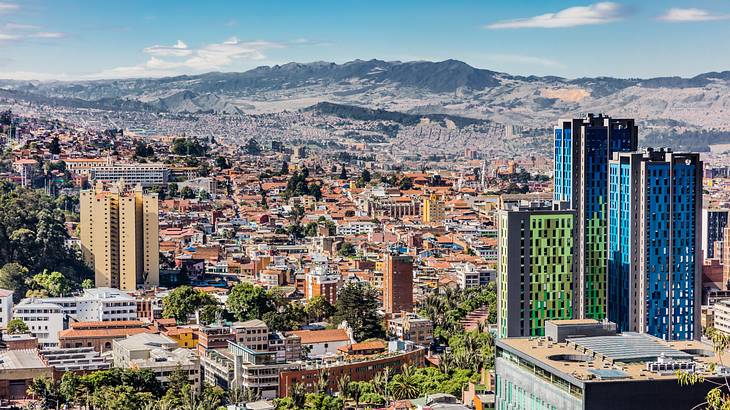 Bogotá
Bogotá, Colombia's capital, is well known as the melting pot of the country. This is the place to stay in Colombia if you enjoy experiencing a variety of cultures, cuisines, and activities.
The neighborhood of La Candelaria is the cultural epicenter. Here you will find historic mansions and the legendary Plaza del Chorro de Quevedo, where it is believed the city was founded in 1538. This is a very popular space for street performers and live music.
If you are an avid museum-goer, Bogotá is probably the best place in Colombia to visit. With the National Museum of Colombia, the Museum of Modern Art of Bogotá, and the Gold Museum, you will have an array of engaging options at your fingertips.
Last but not least, the food in Bogotá is raved about by locals and tourists alike. Visitors will find a variety of food options, some of which are referred to as the best in Latin America.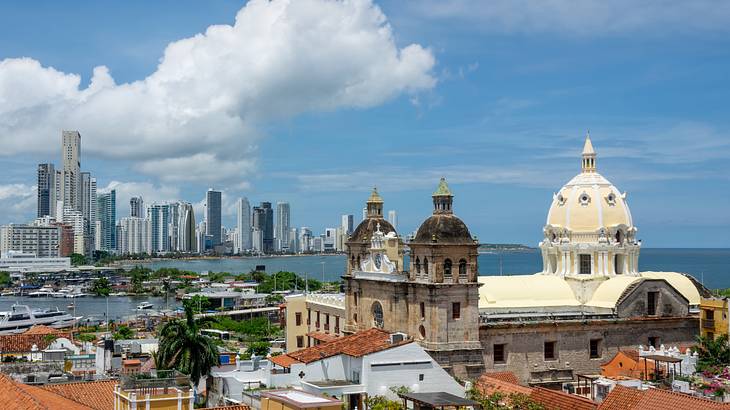 Cartagena
Located on the shores of the Caribbean Sea in Northern Colombia sits Cartagena. This region is a culmination of vibrant nightlife, exciting festivals, and scenic landscapes; the perfect vacation spot.
Many refer to this city as one of the best places to travel in all of Colombia. During your travels, take the time to learn about Cartagena's extensive cultural heritage. A must-do activity in Cartagena is paying a visit to the Historic Center, a UNESCO World Heritage Site. The walled city of Old Town is an especially amazing site.
Additionally, you can let your inner foodie flourish at one of the many restaurant options in Cartagena. The city has a very diverse ethnic background which is reflected in the food options. Local dishes have hints of African, indigenous, and European cuisine.
You could also go on a trip to escape the hustle and bustle of the daily grind. A great option is the Rosario Islands. Located off the coast of Cartagena, this destination is a stunning archipelago with crystal-clear waters and pristine beaches. If you are looking for a private beach to experience the serenity of Colombia, this is the place to be.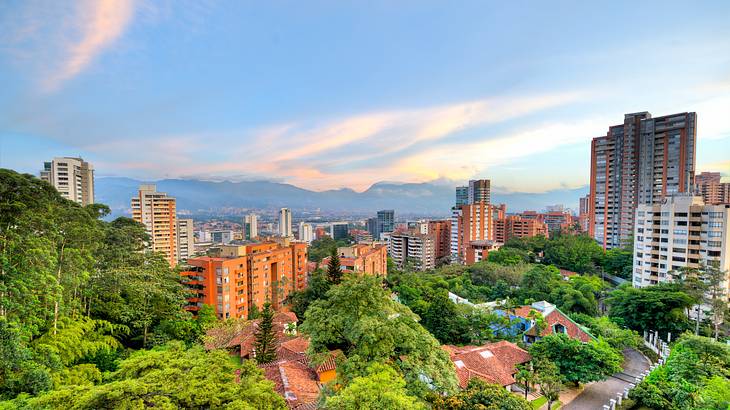 Medellín
Often referred to as the "City of Eternal Spring," Medellín has become a tourist hotspot for fine dining, outdoor activities, and excellent coffee. There are so many things to see and do in Medellín that you won't get bored while exploring!
Medellín is the second largest in Colombia and is nested in a valley with coffee plantations and a gorgeous backdrop of the Andes mountains. The climate is about as good as it gets, rarely ever getting cold, which alone is enough of a reason to visit.
There are also many beautiful parks and gardens in Medellín that you must see. The Botanical Gardens and hiking trails in Parque Arvi are absolutely breathtaking. Plus, you get a gorgeous backdrop view of the Andes Mountains from every angle in the city.
It is said that the people are just as wonderful as the weather in Medellín, welcoming travelers from all walks of life. You will be sure to feel at least a little "at home" during your visit.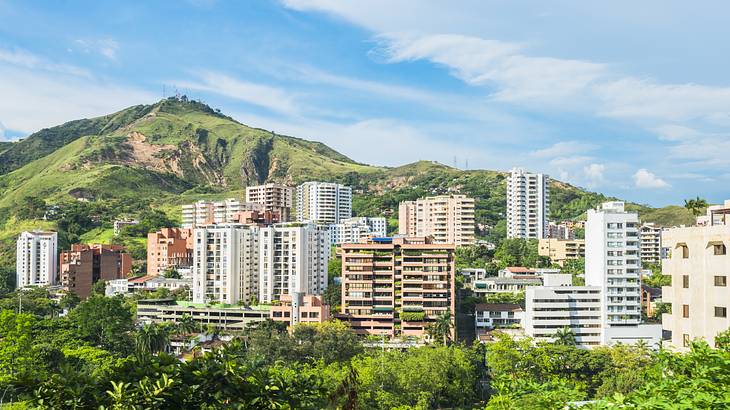 Cali
Cali is known by the world as the "Salsa Capital" and is one of the best cities to stay in Colombia if you love to dance. Cali's musical background is diverse and a vibrant symbol of the city's unique flare.
If you love to dance, you must attend La Feria de Cali, a salsa dancing festival held in December each year. This larger-than-life event brings together amazing artists and offers a fantastic atmosphere.
Don't worry if you cannot make it to Cali during a salsa festival. There are many nightclubs and even dance academies that allow individuals to dance the night away all year round!
If you're looking for great neighborhoods to explore, the historic district of San Antonio in is a must-visit. It's known for its beautiful colonial architecture, and while wandering through its colorful streets, you'll find charming houses, quaint cafes, and art galleries. No matter where you are in Cali, you will feel the vibrancy of the culture and the genuine kindness of the locals.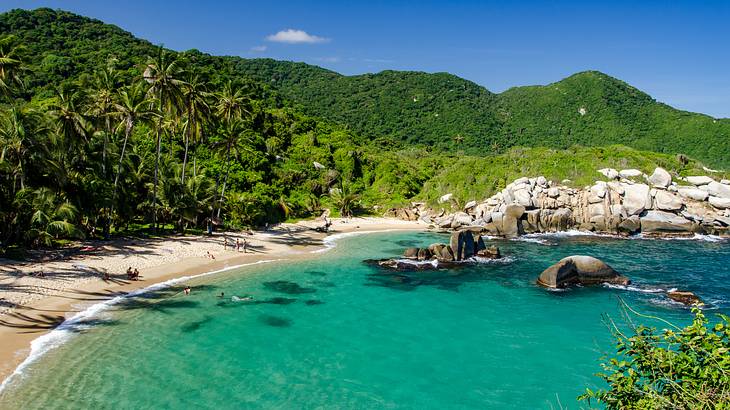 Tayrona National Park
Tayrona National Park is undoubtedly the poster child for Colombia's tourism industry. Stunning beaches, lush jungle hikes, and palm tree forests make for a scenic adventure. This is one of the best places to see in Colombia for tourists and Colombians alike.
The beaches require you to hike to them, but the view is worth it. The park is quite vast at around 58 square miles. Shuttles are offered at some points in Tayrona, but the majority of destinations require a fair bit of walking.
When visiting, most tourists stay in the park, whether at the lodges or camping. If you decide to stay at a lodge, book far in advance as they fill up quickly. There are also several restaurants in the park located near accommodation hubs.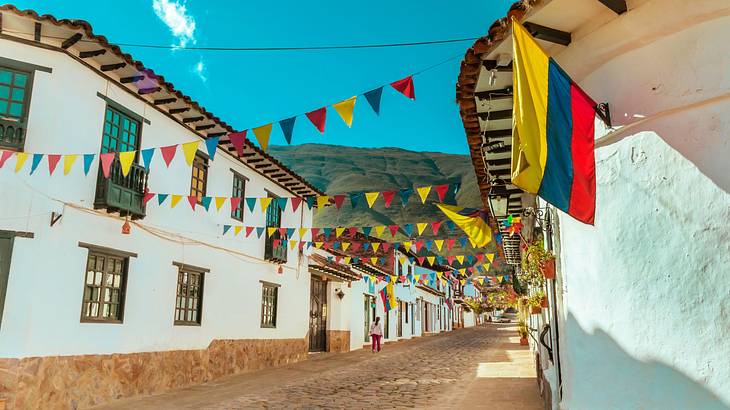 Villa de Leyva
The colonial architecture of Villa de Leyva, a municipality of Boyacá, is absolutely breathtaking and one of the more unique places in Colombia to visit. In addition, the city boasts the largest plaza in all of Colombia, Plaza Mayor. This popular destination in Columbia was even recognized as a National Monument in 1954.
Villa de Leyva is also well known for its rural landscapes and is the perfect place to visit in Colombia for history lovers who enjoy cultural immersion. For example, museum-goers will absolutely love the plethora of facilities at their doorstep.
Museo EL Fósil and Museo Palenotológico are just two of the world-class museums in Villa de Leyva. You also cannot forget about the Pozos Azules (blue pools), which are just a little over a mile from Villa de Leyva. These pools show a stunning contrast to the desert setting surrounding them.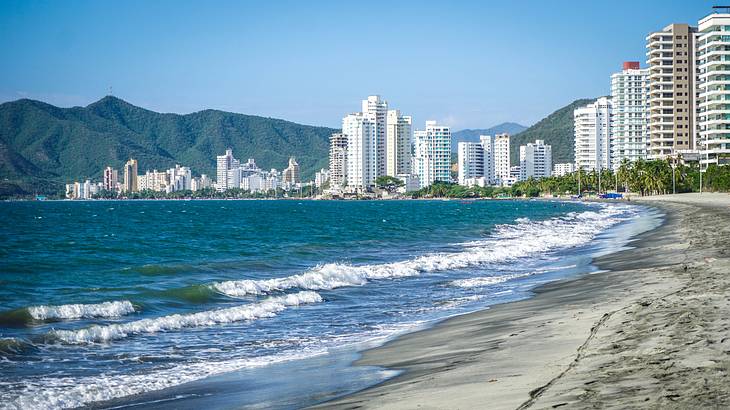 Santa Marta
Santa Marta is one of the top places of interest in Colombia simply because it offers something for everyone. The beautiful, distinguished landscapes are unlike anything you have seen before.
You can take a stroll or sunbathe on the breathtaking beaches, sip a coffee while watching colorful tropical birds fly by, or take an informative walking tour through the city. Your days in Santa Marta will be full of adventure and activity.
During your stay in Santa Marta, visiting El Rodadero is recommended. This white sand beach is accompanied by a stunning greenish-blue sea. Even better, the sand is relatively coarse, so it will not stick to your skin and belongings!
Another unique experience in this Colombian city is paying a visit to Taganga. This area is just outside of the main region and is a testament to sacred simplicity. This town has very few traces of industrialization, so it is an ideal location to lie on the beach and relax.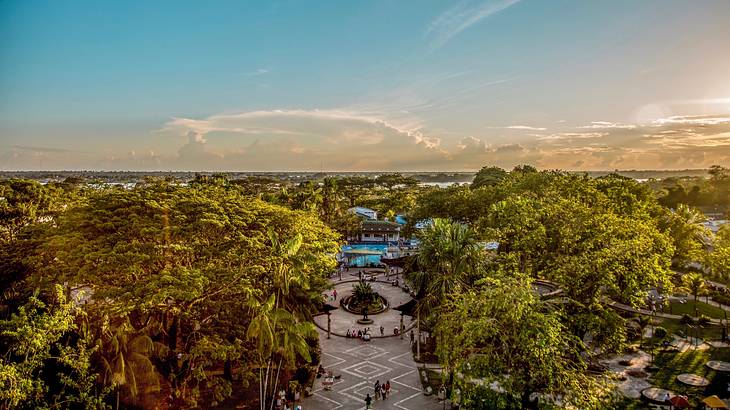 Leticia
If you love to immersive yourself in nature and avoid the hustle and bustle of city life, a trip to Leticia may be in order. The main attraction in this region is undoubtedly the Amazon River and all the species of flora and fauna that come along with it.
The biodiversity of the region is truly remarkable. You will undoubtedly be left in awe with hundreds upon hundreds of unique species of birds, reptiles, and mammals. Visiting parks and reserves will allow you to learn about these wonderful species and the cultural heritage of the local indigenous people.
Leticia is a beautiful place to interact with indigenous people who have established communities in this region. Absorbing the cultural wealth of local communities is incomparable to any other experience. The region of Leticia is the true intersection of the wonders of the natural world and eclectic cultural diversity.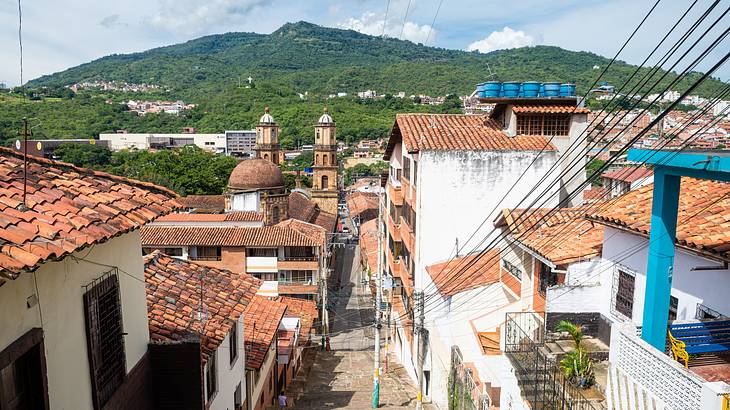 San Gil
If you are a thrill-seeking adrenaline junkie, San Gil is the best place to stay in Colombia. San Gil is known as the mecca of adventure sports; from bungee jumping and rafting to skydiving, there is a plethora of activities offered in this city.
These activities are easy to book through one of the many travel agent offices in town and require a knowledgeable guide or instructor. For those looking to explore on a budget, there are also fabulous hiking and biking trails all over San Gil. The rugged landscapes surrounding the town provide the perfect backdrop for these exciting adventures.
After your action-packed day, stroll through the cobblestone streets, and you will find Parque Principal, home of the Catedral de la Santa Cruz. This beautifully designed cathedral is the perfect backdrop for a photo or two and is a must-see destination in San Gil.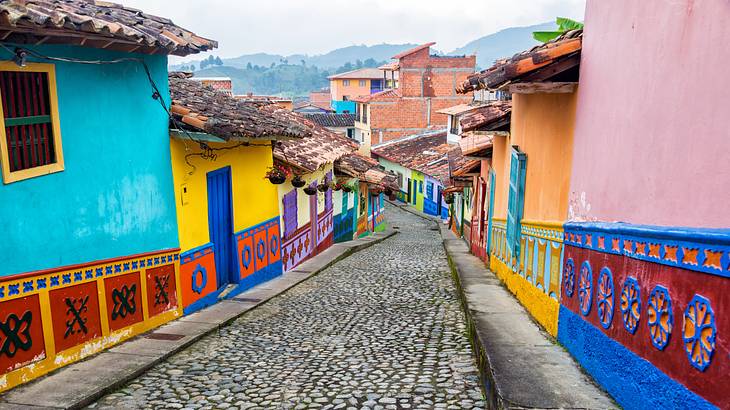 Guatapé
Just outside of Medellín sits the picturesque town of Guatapé. This post-card-perfect destination is extremely scenic and offers a more peaceful atmosphere than the major cities.
If you only have a couple of days to spend, it is suggested that you take a guided tour of the town. Rates are very reasonable, and you will learn lots about Guatape that you wouldn't be able to discover if exploring alone.
Tours are an excellent way to become acquainted with a new location but also make time to do some solo exploration. The small town is famous for its zocalos which are painted panels on buildings that portray their unique culture and history. Visitors come from far and wide to photograph these displays.
Climbing El Peńol, also known as "the rock of Guatapé," is recommended as well. From here, you will see the absolute best views of the town and the turquoise water surrounding it.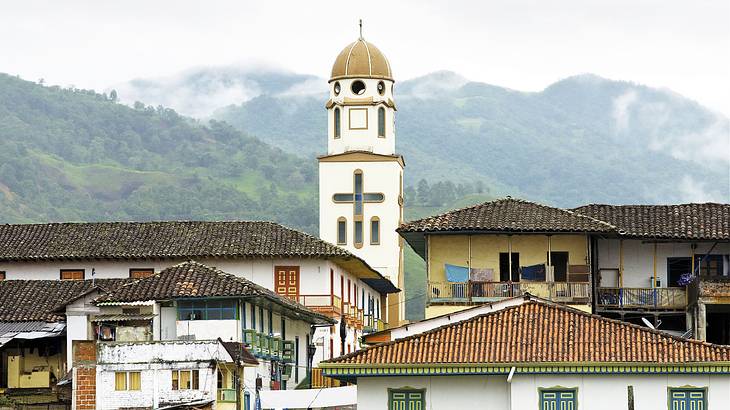 Salento
Nestled in the region of Quindio lies the quiet, somewhat remote town of Salento. Grassy green hills, colorful artwork lining the streets, and extremely friendly locals are just a few of the things people love about the town.
Salento is one of the top places to go in Colombia because it has retained its cultural and historical charm. Another reason it has become so popular is that a variety of coffee tours are offered in the area. This is known as some of the best, richest coffee in the world, and trying some is a must-do activity on any itinerary.
Colombians and foreigners enjoy visiting because of the relaxed atmosphere and easy walkability. There is only one main plaza where street markets are set up. However, there are numerous cafes and boutique shops in town.
Near Salento is Valle de Cocora, a breathtaking destination located in the Coffee Cultural Landscape of Colombia. It is situated within Los Nevados National Park, close to Colombia's Coffee Triangle. This popular tourist destination is highly recommended for the scenic views.
Tourists flock from all over the world to see the tall palm trees in Valle de Cocora. These palm trees stand at around two hundred feet tall! Walking among the wax palms is an unforgettable experience and a photographer's dream.
Where to Stay in Colombia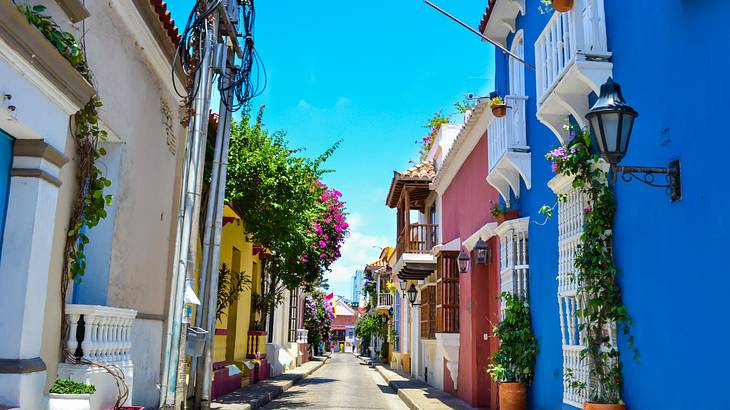 Where to stay in Colombia for couples?
Colombia offers couples many romantic destinations for a memorable getaway. Depending on what type of atmosphere you and your partner prefer, there are two excellent options at your fingertips.
Cartagena could be the best area to stay in Colombia for romantic partners because of its charm and beauty. Stay in the walled city's historic center to be surrounded by cobblestone streets, vibrant plazas, and boutique hotels. You can also have a romantic candle-lit dinner at a rooftop terrace restaurant.
For adventure-seeking couples who enjoy the outdoors, staying in or around Tayrona National Park is a fantastic option. This biodiverse park on the Caribbean coast features breathtaking beaches, lush rainforests, and ancient ruins.
You and your partner can wake up to the sounds of birds chirping and waves crashing; it is extremely serene. Romance fills the air in Colombia with a unique ambiance that will make your getaway one to remember.
Where to stay in Colombia with family?
Colombia offers a variety of family-friendly destinations where you can find suitable accommodations and activities for all ages. The country has been working on increased safety precautions throughout the years, making Colombia a prime travel destination for families.
The coastal city of Cartagena is a popular destination for families because of its charming streets, colorful buildings, and lively plazas. In addition, there are many family-friendly hotels and resorts that offer easy access to the beach as well as pools.
Bogotá, the country's capital, is another excellent option for traveling families. The city's largest park, Simón Bolívar Park, features playgrounds, bike rentals, and even paddle boats. The Maloka Interactive Center is a wonderful place for children because they can engage in various hands-on science activities.
Bogotá and Cartagena offer their own unique charm and activities, but both are excellent options for families looking to make the most out of their adventure in Colombia.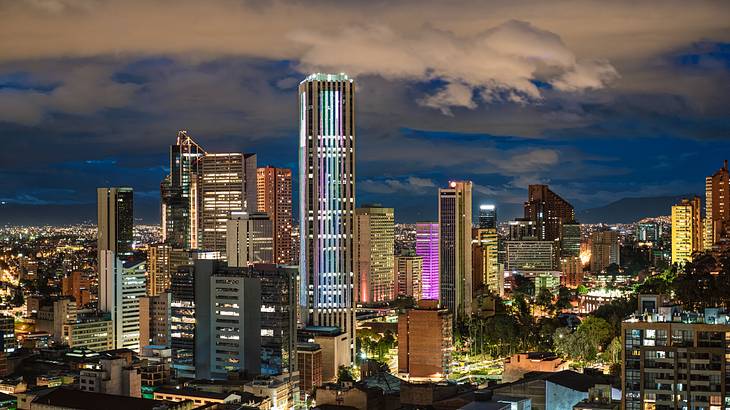 Where to stay in Colombia for nightlife?
Colombia has much to offer if you are looking for a vibrant, exciting nightlife scene. Bogotá and Cali are arguably the best places to visit in Colombia for excellent nighttime attractions.
Bogotá boasts a thriving nightlife scene with something for everyone. The Zona Rosa neighborhood, specifically the area known as "Zona T," is renowned for its trendy bars, upscale clubs, and lively atmosphere. You can explore various bars, nightclubs, and live music venues with a mix of local and international DJs as well as live bands.
Known as the "Salsa Capital of the World," Cali is a must-visit destination for nightlife enthusiasts. The city comes alive after dark with its salsa clubs, where locals and visitors gather to dance the night away. Juanchito is a neighborhood in Cali famous for its salsa clubs and is a great place to experience the vibrant nightlife.
Where to stay in Colombia on a budget?
Colombia, as a whole, is well known for being an affordable travel destination for tourists from all backgrounds. However, safety is a key concern, so be sure wherever you stay, you check reviews and research the location first.
Medellín is a popular destination among budget-savvy visitors. The transportation system is known for being convenient and cost-friendly. It has an efficient metro system, making it easy to explore the city on a budget.
Medellín also offers a diverse culinary scene with options for every budget. From street food stalls and local eateries to international restaurants and trendy cafes, you'll be spoiled for choices with dining options that won't break the bank.
Additionally, Santa Marta offers many budget-friendly accommodation options, particularly in the Rodadero area. There are various markets and local shops where you can find affordable prices for clothing, souvenirs, and handicrafts. The Mercado Público and the Mercado Artesanal are popular markets offering a wide range of products.
In Summary
If you have been wondering what places to visit in Colombia, this article should have given you an idea of all the fantastic towns and cities you can visit. Colombia has something to offer everyone, from breathtaking landscapes and natural wonders to its rich cultural heritage and warm hospitality.
Adrenaline junkies love the activities offered in San Gill. On the other hand, dancing enthusiasts can dance the day and night away in Cali.
Additionally, nature lovers from all over the world flock to Leticia to see the unique biodiversity of Colombia. No matter where your adventure takes you in Colombia, you will have an unforgettable experience.
Give us feedback about this article
Read more articles about Colombia:
More articles about places to stay:
---
---
Want to keep exploring?
Subscribe for discounts on tickets and hotels and our latest guides.
Thank you for subscribing
We will be in touch soon with discounts on tickets and hotels and our latest guides.
Want to keep exploring?
Subscribe for discounts on tickets and hotels and our latest guides.
Thank you for subscribing
We will be in touch soon with discounts on tickets and hotels and our latest guides.
Related Articles