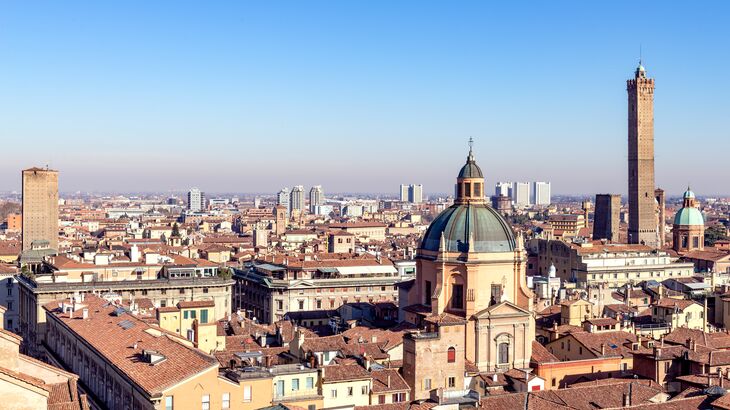 Do you think it is possible to get the full taste of Italy without visiting Milan or Rome? Most of you would think no; but believe me, Bologna offers the best that Italy has to offer without the touristy gimmicks and huge crowds. Therefore, Bologna is a must-see for travellers to Italy!
What comes to mind when you think about Italy? For me, it is the gorgeous ancient architecture, heaping cones of delicious gelato and winding alleys with painted shutters and mopeds. cccccclklvblnbgbidbdtujbicldrkbhildklcrkuhlv
Whatever you may be picturing, it surely doesn't involve massive swarms of people crowding the most beautiful places. However, this is how most of the people experience Italy each year.
Instead of trying to battle huge crowds and desperately looking for authentic Italian fare, why not choose a relaxed Bologna itinerary that highlights hidden gems as well as the major highlights of the city.
Bologna is the capital city of the Emilia-Romagna region located in the northern part of Italy. Though it is usually ignored on most tourists' travel itineraries in favour of other more famous Italian cities, it has a lot to offer in terms of history, culture, art, and fantastic food.
Spending 2 days in Bologna will give to a chance to explore a lot, from world-class museums to serene parks, beautiful churches and much more!
2 day itinerary
Average of 10 stops per day
Bologna 2 Day Itinerary
Bologna Map
Using the map of Bologna, you can explore all the days and stops.
Conclusion
Visiting the entire city of Bologna in 2 days can be a whirlwind. There is a lot to see, do, and experience in Bologna. Hopefully using this 2 day itinerary for Bologna, you will be able to visit the most important landmarks of the city without the need to rush too much.
It will also take you a bit off the beaten track and help you discover some of the hidden gems that will give you insight into Italian culture.
After this amazing weekend in this culturally-rich city, you will definitely leave with a pleasant taste of everything the city has to offer!
This article was edited by Loredana Elena and was first published on Mar 8, 2020 17:42 UTC.
For more interesting articles about Italy, read: