The Perfect 72 Hours in London Weekend Itinerary
Destguides may receive commissions from purchases made through affiliate links in this article.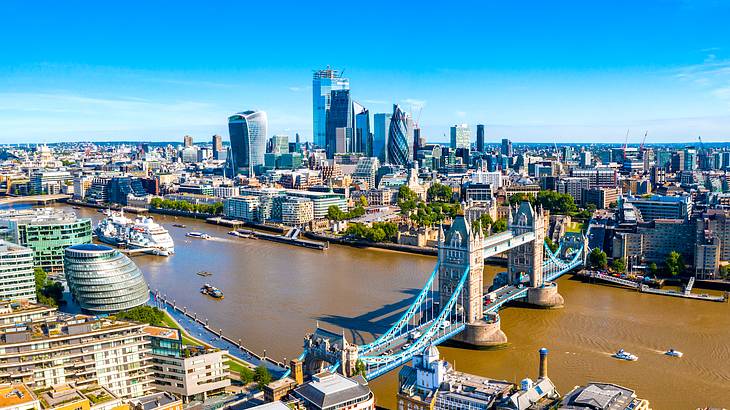 London, the capital city of the United Kingdom, is one of the most-visited cities in the world. And for good reason. This busy city is full of culture and history with fun activities and events for every type of traveler.
With so many attractions to visit, planning a trip to London can be overwhelming! To help, I've put together this London weekend itinerary. Hopefully, it will help those with just 48 to 72 hours in London to see the majority of the city's Englilandmarks and most popular tourist attractions.
I've also included a few bar and restaurant recommendations that are less well-known to tourists for when you need to refuel (or relax with a good drink!).
Attractions and landmarks in London are relatively close together, and it's effortless to get around using the underground Tube system. To use the Tube, you can get a day travel pass or a visitor Oyster Card that you can top up as you go, or you can simply tap your credit or debit card depending on compatibility.
If you have some extra time in the UK and want to explore outside of central London, Windsor Castle is a great place to visit for a day trip. It's also easy to catch a train to nearby towns such as Oxford or Cambridge. You can even take the Eurostar train from London to European locations like Amsterdam, Brussels or Paris.
3 day itinerary
Average of 7 stops per day
A Weekend in London Itinerary
A Picturesque Day in London
The first day of your 3 day London itinerary will start in Notting Hill amongst the colorful and quaint houses. Next, you'll head over to Portobello Road Market to explore the antique stores and vintage market stalls and shops.
After the bustle of the market, you'll spend the next hour or more in the beautiful Kensington Gardens and Hyde Park. Wandering through the greenery and taking a look around Kensington Palace will make you feel far from the city. You can even grab a pedal boat and go out on Serpentine Lake.
Your afternoon will be spent with whales, dinosaurs, and a host of other creatures at The Natural History Museum. You can also enjoy a British tradition of Afternoon Tea at the renowned Royal Albert Hall. Alternatively, take a guided tour of the venue or return in the evening for a performance.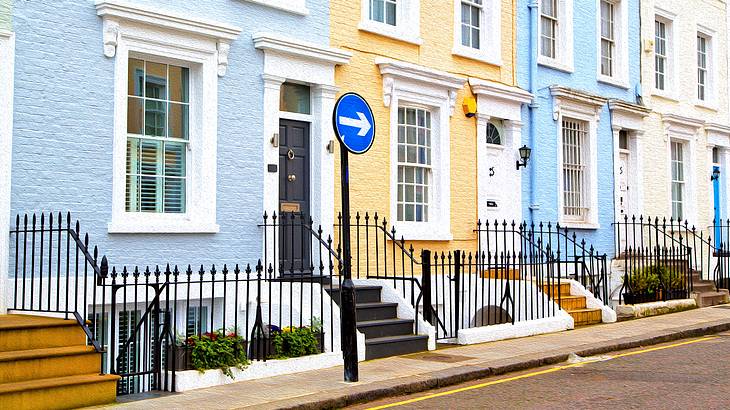 Notting Hill
Notting Hill is one of the most-visited neighborhoods in London. Found in the west of the city, Notting Hill is a trendy area known for its pastel-colored houses.
The location is also popular due to its appearance in movies, including the romantic comedy Notting Hill and Bridget Jones' Diary. There are plenty of sites here that have been used as filming locations over the years, so be sure to check them out.
Along with spotting movie locations and taking pictures of the pretty houses, there are many other fun activities to do in Notting Hill. I recommend a visit to the Museum of Brands, or watch a movie at the plush Electric Cinema on Portobello Road.
The area also hosts the famous Notting Hill Carnival, held each year at the end of August.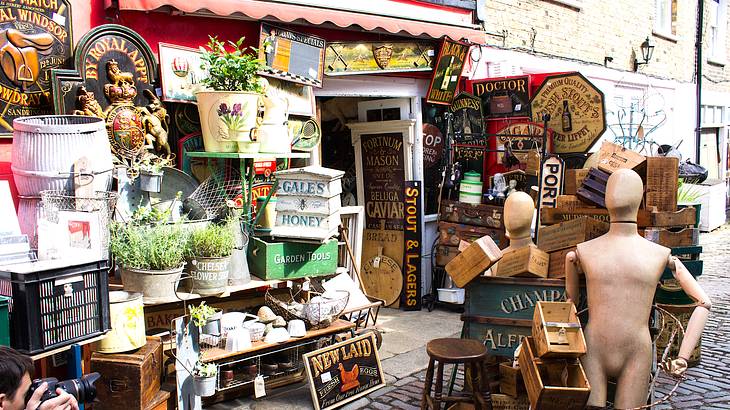 Portobello Road Market
Portobello Road Market, located on Portobello Road in the Notting Hill neighborhood, is not only one of the best markets in London and a must for your London bucket list, but it is also one of the prettiest streets in the city!
Stretching for almost one kilometer, the market is known for its antique stores and stalls selling clothing, books, and second-hand goods. There are many treasures to discover here!
The main market days are Friday and Saturday when the majority of stalls and shops are open. There are also markets Monday to Thursday, but offerings are more limited. The market is closed on Sundays.
There are additionally many food shops and stalls around the market. The well-known Hummingbird Bakery is a highly-recommended place to stop for a treat. Choose from a range of cupcakes and other sweet offerings, including pies and bars.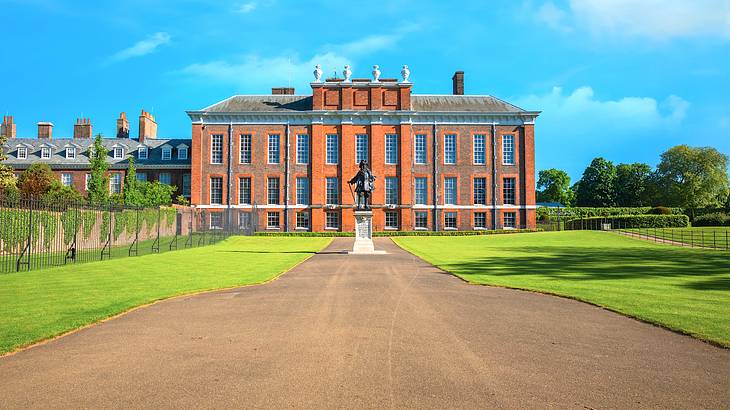 Kensington Gardens and Kensington Palace
Take a break from the crowds of Notting Hill by visiting Kensington Gardens. You can also visit Kensington Palace, which is the current London residence of the Duke and Duchess of Cambridge. Areas like the Queen's State Apartments and the gardens are open for the public to explore.
While walking or cycling around the park, be sure to visit the pretty Italian Gardens and the Kensington Gardens Allotment too. You'll also encounter The Albert Memorial and a statue of Peter Pan whose creator was inspired by Kensington Gardens.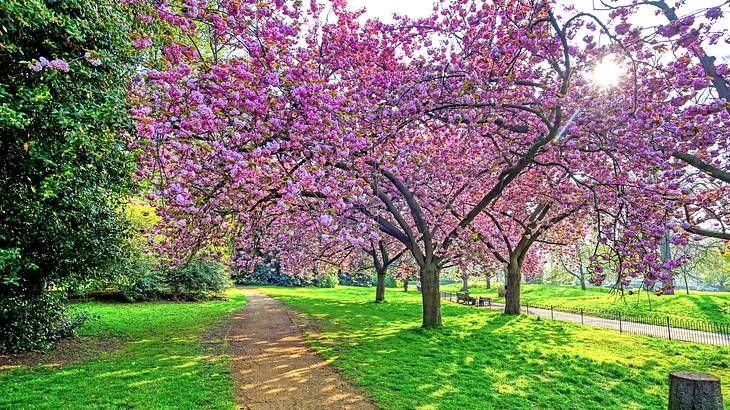 Hyde Park
After you've wandered around Kensington Gardens, continue east toward the iconic Hyde Park. The 350-acre park is the largest of the four royal parks found in central London.
You can walk or cycle around the park, enjoying the trees, flowers, and wildlife that you'll encounter. Along with being able to view a range of flora and fauna, there are many activities to do in Hyde Park.
Boating is offered on The Serpentine, the lake that runs through the park and separates it from Kensington Gardens. You can rent a pedal boat, for an hour or 30-minutes, if you're up for a relaxing time on the water.
You can additionally explore the Rose Garden and visit the Diana, Princess of Wales Memorial Fountain. End your time in Hyde Park by visiting Marble Arch found in the east of the park.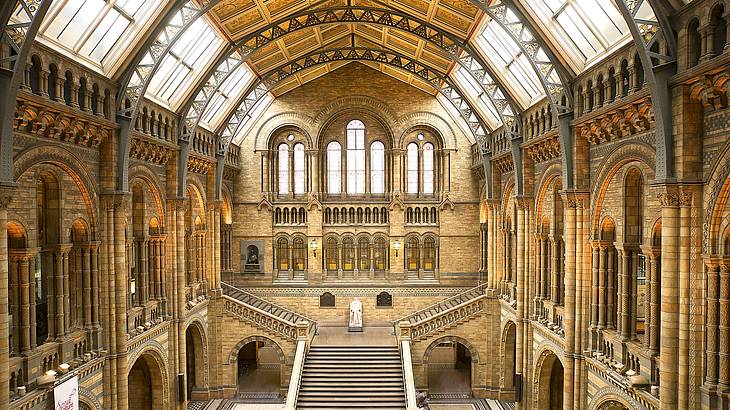 The Natural History Museum
A visit to London's Natural History Museum will see you learn about global biodiversity, climate change, the Earth's oceans, and more. You'll even run into a dinosaur or two!
The Natural History Museum itself is housed in an 1800s cathedral-style building, which is just as impressive as the exhibits it features. Visitors will have access to a range of exhibitions, including the museum's famous exhibit on the history of Dinosaurs. Exhibits on British Wildlife, Space, and multiple aspects of natural history are also featured.
While at the museum, you'll also get to see some of the incredible animal skeletons on display. This includes Hope the Blue Whale, a 25.2-meter-long whale skeleton that hangs in Hintze Hall. Another famous "resident" is an over 200-million-year-old Mantellisaurus that is one of the most complete dinosaur skeletons in the world.
The museum additionally hosts a range of exciting events. These include yoga classes, silent discos, and crime scene investigation evenings. Be sure to check the website to see what fun activities are being held during your visit. Admission is free. However, a donation is recommended, and some exhibits and most events do have a fee for access.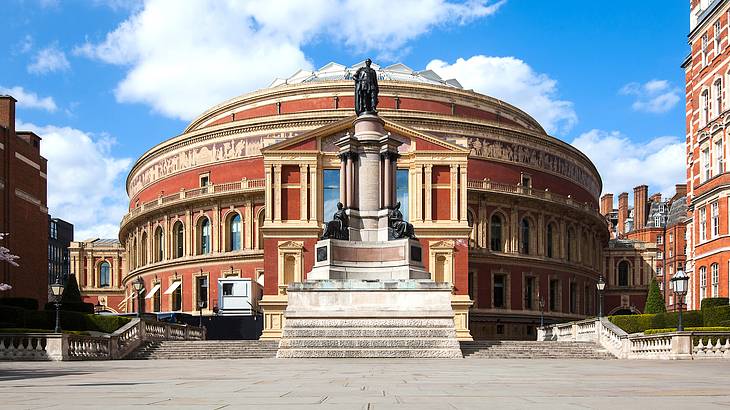 The Royal Albert Hall
As one of the UK's most iconic and treasured buildings, The Albert Hall is a place you must see in London. The concert hall has hosted many famous performers, including The Beatles and Sinatra.
If there's a show that appeals to you during your visit, I recommend seeing a performance here. From ballet to opera, jazz, and more, there are many great performances throughout the year for a fun cultural night out.
During the day, you can also take a guided tour of the venue, or go for afternoon tea here. The Albert Hall has been observing the afternoon tea tradition for over 100 years. Enjoy classic finger sandwiches, scones, and musically-themed cakes along with live music for a relaxed and sophisticated experience.
If you can't take afternoon tea at the Albert Hall, other popular afternoon tea locations include The Ritz and The Savoy. Or fall down the rabbit hole for an Alice in Wonderland themed tea at The Sanderson Hotel.
London's Landmarks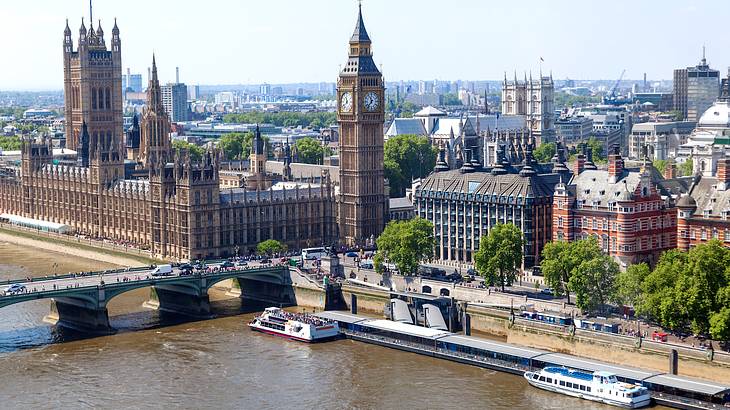 Your second day in London will be spent visiting some of the city's most well-known landmarks. You'll begin your day at Buckingham Palace, the London residence of the Royal Family. If you're lucky, you may even see the Changing of the Guard ceremony.
You'll then head over to Westminster Abbey to explore the UK's coronation church. A visit to the Churchill War Rooms is your next stop. Here, you'll go underground to take a look at where Churchill and his team worked during WWII.
Your tour of London's most famous British landmarks will continue by visiting Big Ben. You can also take a tour of the Houses of Parliament before going to the London Eye. Venture up 135 meters above the city for exceptional panoramic views.
Finish your day with some shopping, drinks, and snacks on Oxford Street and Regent Street. Look around popular British chain stores and London's iconic department stores, like Selfridges and Liberty.
End your shopping spree with a drink and something to eat at one of my recommended locations, or one of the many other bars and restaurants you'll come across.
Buckingham Palace
Buckingham Palace is a very famous European landmark that you must see in London. The grand and globally-recognized palace has been the London residence of the Royal Family since the 1800s.
Visitors can view the staterooms and gardens during the summer and at certain times during the spring and winter. The staterooms are made up of 19 rooms and feature items from the Royal Collection.
You may also be able to view the Changing of the Guard ceremony. This 45-minute ceremony happens most days and begins at 10.45 am.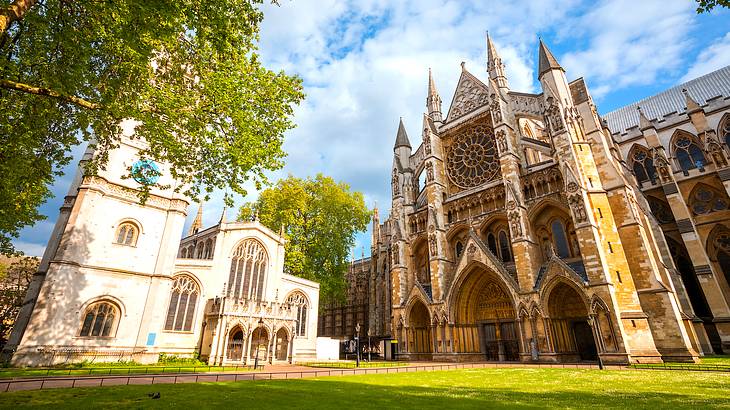 Westminster Abbey
Westminster Abbey is another world-renowned London landmark. This gothic-style abbey church in the city of Westminster has been the coronation church since 1066. It's also the final resting place of many of England's Kings and Queens, plus famous scientists, poets, musicians, and politicians.
Inside the abbey, you can view breathtaking paintings and stained glass. There are also historic textiles, artifacts (like the coronation chair), and sculptures.
Visitors can additionally visit the Queen's Diamond Jubilee Galleries, the Royal Tombs, and the Abbey Gardens. The Pyx Chamber is another must-see, having been in the abbey, relatively unchanged, since 1070. As a functioning church, choral services are held daily and are open to the public.
Churchill War Rooms
The Churchill War Rooms, located under the streets of Westminster, is one of five branches of the Imperial War Museum. The war rooms are a lesser-known London attraction, but are worth a visit, especially if you enjoy World War II history.
The Cabinet War Rooms are the underground nerve center where Churchill and his team worked during the Second World War. Most notably, they met here during the Blitz and the German V-Weapon Offensive.
During your visit, you can explore the underground rooms and corridors that are furnished as they were during the war. You'll also learn more about the history and significance of the war rooms.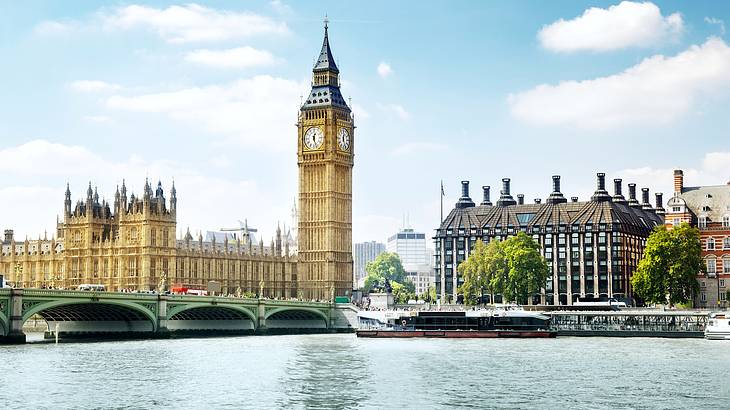 Big Ben
Big Ben is one of the most famous London attractions. The clock tower is synonymous with London and is a globally-recognized landmark.
The clock tower took 13 years to build, eventually being completed in 1859. It stands at over 96 meters tall next to the Houses of Parliament. While the tower, clock, and bell are often referred to as Big Ben, only the bell actually holds that name. The tower is called the Elizabeth Tower.
Your trip to London cannot be complete without snapping a photo with Big Ben, so be sure to do just that. You can also take tours in the tower. If interested in British politics and political history, you can additionally visit the Houses of Parliament while at Big Ben.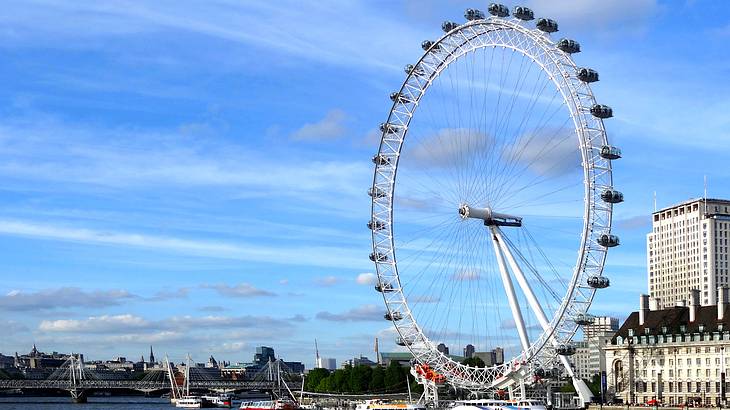 The London Eye
Also known as the Millenium Wheel, the London Eye has been a popular London attraction for 20 years. The observation wheel, found on the south bank of the River Thames, is the world's largest. It stands at 135 meters tall.
Taking a ride on the wheel is a great way to get 360-degree views of London, and see all of its landmarks from up high. You can even see as far as 40km to Windsor Castle on clear days.
While the London Eye is notorious for its long queues, your London experience might not be complete if you don't go on it. It's recommended to buy tickets in advance, which you can do on The London Eye website.
You can purchase tickets alone or package it with tickets to other attractions such as Madame Tussauds or The London Dungeons.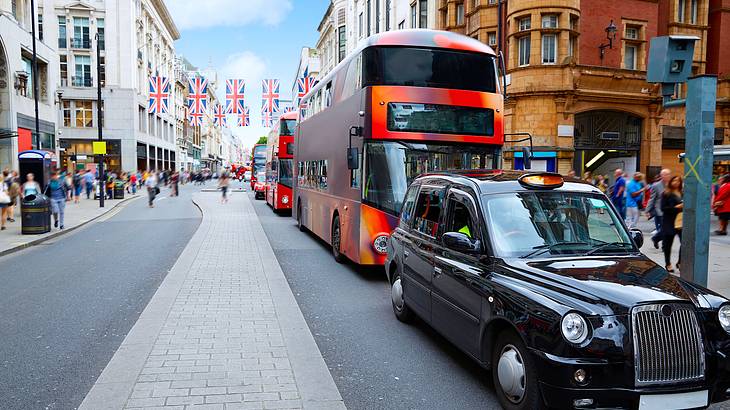 Oxford Street
Oxford Street is a well-known shopping area and street in London. It's Europe's busiest shopping street and runs from Tottenham Court Road to Marble Arch on the edge of Hyde Park.
Oxford Street features many international and British chain stores. It's also home to the high-end department store Selfridges. The store's Oxford Street flagship location is the second largest shop in the UK after Harrods.
Whether you're looking for some fast-fashion, designer goods, or just want to window shop, there's something for everyone on Oxford Street.
If you need a shopping break, I recommend stopping by The Churchill Bar & Terrace. This stylish Art Deco Cocktail Bar is inspired by Churchill himself and is found in The Hyatt Regency. Choose from bar food and an extremely extensive list of themed cocktails, wine, and liquor (there are over 60 whisky options alone!).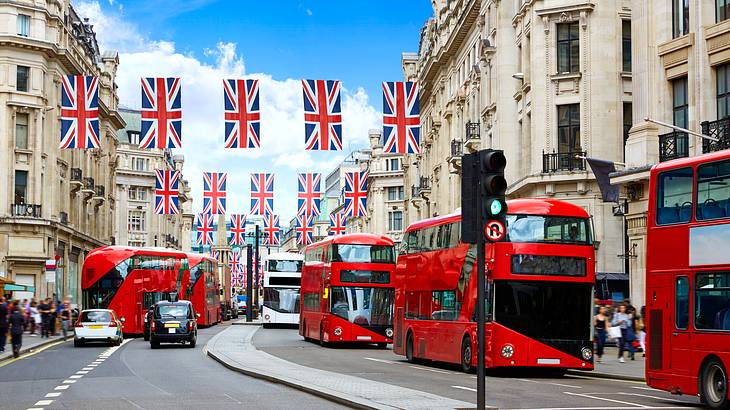 Regent Street
Regent Street is another famous shopping street close to Oxford Street. This area features more high-end and designer brands than Oxford Street.
A recommended place to stop is Liberty London. The department store is well known for its boldly-patterned fabrics but also sells designer fashion and homeware. Having explored Liberty, visit Aqua Spirit, located about a minute away. This trendy bar, with rooftop terrace, serves Japanese-inspired bar snacks and a range of cocktails.
Be sure to also visit Hamleys. This iconic London toy store has been on Regent Street since 1881. It's also the world's oldest and largest toy shop. Even if you aren't traveling with children, it's worth a visit to explore the seven floors of toys and games.
Outside of Oxford Street and Regent Street, I also recommend visiting Knightsbridge and Piccadilly. Among other shops, they're home to iconic department stores Harrods and Fortnum & Mason, respectively.
London Culture and Cuisine
The last day of your 72 hours in London will be spent visiting cultural and historic England landmarks interspersed with great food and drink!
You'll begin your day at the British Museum where you'll get to explore a range of exhibits and see artifacts such as the Rosetta Stone. Next, visit St. Paul's Cathedral. This beautiful cathedral is a central part of London's history and is still used for church service as well as royal weddings and state funerals.
Make sure you have a good appetite for your next stop, Borough Market. Snack your way through this well-known food hall, or pick up supplies for a picnic in the park. Having explored the market, head back toward the Thames to visit London Bridge and the Tower of London.
Before you leave the area, take a walk alongside the Thames River. If you have a little extra time, you can even take a Thames River Cruise to appreciate the river and surrounding landmarks.
Your last day in London will finish at the Sky Garden. Enjoy amazing city views in this urban garden before grabbing dinner and drinks at one of five bars and restaurants located across Sky Garden's three floors.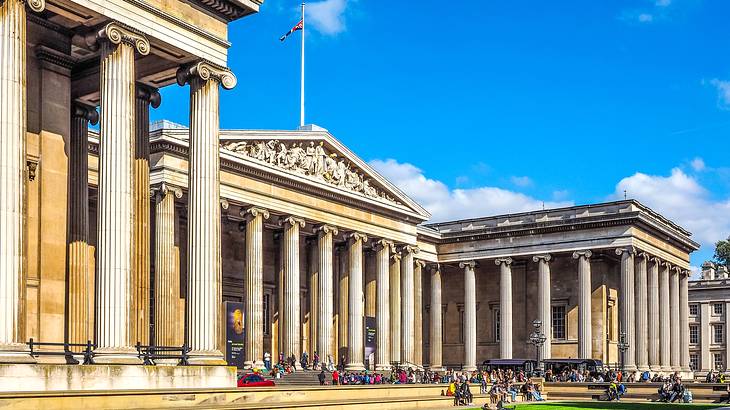 The British Museum
With over 8 million works, The British Museum and its extensive number of exhibits is another must-see in London.
The British Museum focuses on exhibits and collections relating to human history and culture throughout time. This includes exhibits on Greek, Roman, and Egyptian history and culture. There are also many famous artifacts, including the Rosetta Stone, the Elgin Marbles, and the Parthenon Sculptures on display.
The museum is enormous, so it's a good idea to plan your time there well, or get a guide. Like most London museums, entry is free!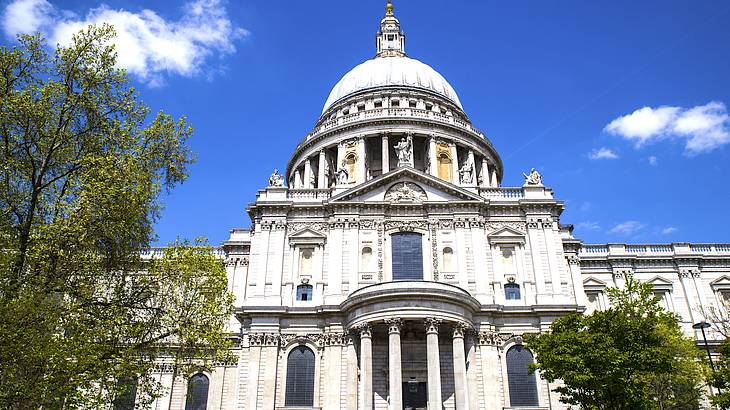 St. Paul's Cathedral
St. Paul's Cathedral is an Anglican Cathedral and the mother church of the Diocese of London. The cathedral sits on Ludgate Hill at the highest point in the city. It has additionally been the site of many royal weddings and state funerals, making it a center-point of London history.
St. Paul's is not only the most iconic church in London, but it's also a work of art! You can enjoy the cathedral with access to five levels of the building. This includes access to the cathedral's dome, which offers panoramic views of London. The cathedral additionally holds several services daily, and free guided tours are available.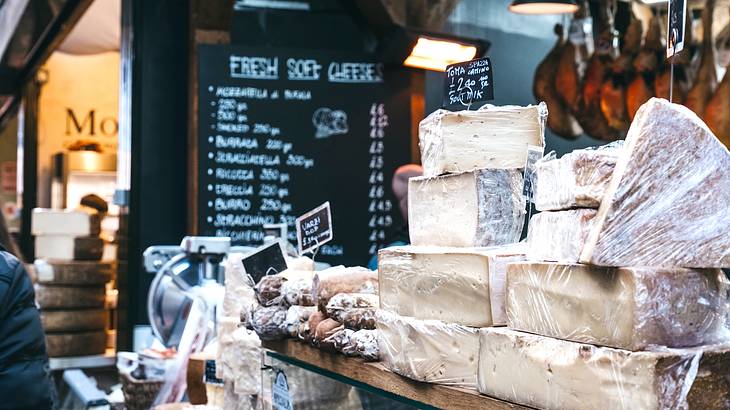 Borough Market
Borough Market is a produce market hall in Southwark. The food market dates back to the 13th century. Even today, it still draws thousands of visitors who browse and purchase the range of produce on offer.
Stalls include those selling all types of sweet and savory produce from all parts of the world. You can get great ingredients or buy pre-made meals and snacks. Stalls and shops selling beverages, including alcohol and coffee, plants and flowers, and cookware can also be found here.
Wander around the market, snacking as you go, or even pick up some supplies for a picnic to enjoy in one of London's parks. If you'd rather sit down to eat, there are a selection of eat-in cafes.
La Tue Pasta is a great stall to stop by. This authentic Italian brand sells both fresh pastas to cook at home and take-out pasta dishes. Their pasta fillings and sauces are all made using ingredients from other traders at the market.
Be sure to also satisfy your sweet tooth at Comptoir Gourmand. This French bakery sells patisserie, including eclairs and macrons. They also sell their famous giant cookies, which I highly recommend trying.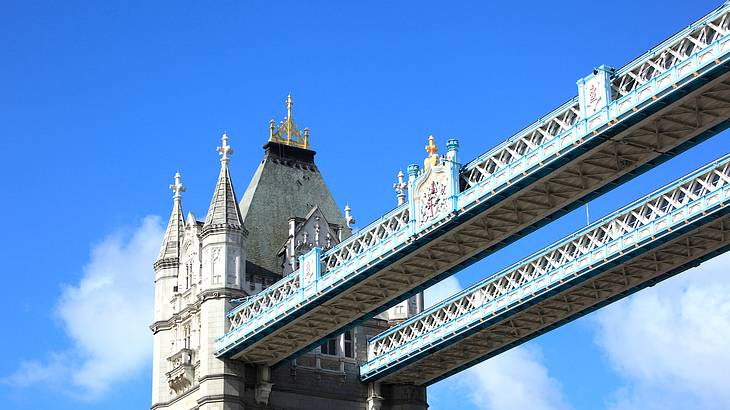 The Tower Bridge Exhibition
Tower Bridge is another must-visit London Landmark. It's one of two well-known bridges in London, along with London Bridge, which is upstream. Built over 125 years ago, it's still used by vehicles and pedestrians to cross the Thames.
The exhibition center allows you to see inside the bridge. You can view the Victorian Engine Rooms and learn more about the bridge's history. There is even a glass floor to look below the bridge and high-level walkways that offer magnificent city views.
You may even be able to see the raising of the bridge, a process that happens over 800 times a year to allow marine vessels to pass through.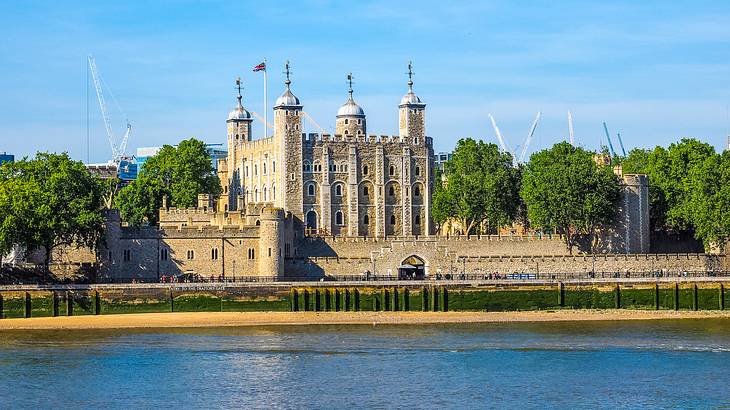 The Tower of London
Not many major cities have castles in the center of them, but that's just what The Tower of London is! The Tower has been a London landmark for over hundreds of years, having been built in 1066.
It's most famously known as being used as a prison to hold those awaiting execution. Those detained include Thomas Cromwell and two of Henry VIII's wives, all of whom are also buried on the grounds.
You can explore the castle and grounds at your leisure, or get a guided tour from one of the Yeoman Warders. There are many historical exhibits to see, and you can even view the Crown Jewels here.
Be sure to also look out for the Tower's resident Ravens, known as "the guardians of the Tower." Legend has it that if the six Ravens ever left the Tower, the "Kingdom" and The Tower of London would fall.
Sky Garden
Sky Garden is one of the world's highest green spaces. Along with enjoying the beautiful garden up high, you'll benefit from fantastic 360-degree views of the city.
The garden covers three floors and is housed in a glass dome-type structure. Views can be taken in from anywhere throughout the garden, including on observation decks and an open-air terrace. Sky Garden also has two restaurants and three bars serving high-quality dishes and unique cocktails.
If you decide not to go on the London Eye, visiting Sky Garden is your chance to get the best panoramic view of the city. Even if you do make it to the London Eye, Sky Garden is definitely worth a visit to view this unique urban garden.
What's great is that entrance is free! However, do make sure you book well in advance as this spot is popular all year round.
In Summary
Once you visit London, you'll definitely understand why it's one of the most famous cities in the world! Whether you're in town for a short time or a little longer, you can experience everything this cultural, historic, and charming city has to offer.
My 3-day London itinerary will allow you to see all of London's most popular attractions. However, once you've checked those sites off your list, I definitely recommend returning to explore even more.
Give us feedback about this article
Learn more about London:
More articles about England:
Read more articles about the United Kingdom:
More visual stories related to this article:
---
---
Want to keep exploring?
Subscribe for discounts on tickets and hotels and our latest guides.
Thank you for subscribing
We will be in touch soon with discounts on tickets and hotels and our latest guides.
Want to keep exploring?
Subscribe for discounts on tickets and hotels and our latest guides.
Thank you for subscribing
We will be in touch soon with discounts on tickets and hotels and our latest guides.
Related articles