45 Most Famous Landmarks in Spain to Visit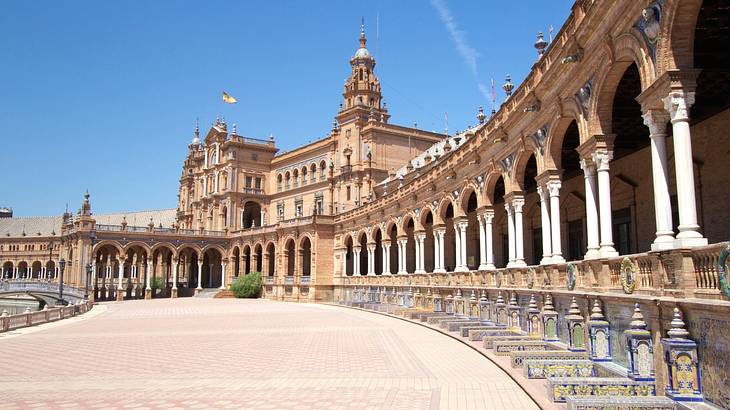 Spain is well known across the world for its landmarks and sporting activities that lure tourists into the country every year. When it comes to sports, Spain is a country that can boast of an incredible football league with several historic clubs, like Real Madrid C. F. and FC Barcelona. Football is just one of the ways Spain attracts visitors.
Another reason people travel to Spain is because of its large selection of very famous European landmarks. There are many famous landmarks in Spain, with a few of them being as old as 500 years. Landmarks range from museums, football stadiums, cathedrals, and even art centres that were built by a variety of well-known architects.
Travelling to Spain and leaving without visiting any landmarks is quite impossible to do. Below is a complete list of Spanish landmarks that you can see when in Spain.
45 Famous Spanish Landmarks
Spain Landmarks Map
A map of Spain landmarks. Use the map to explore all of the points of interest.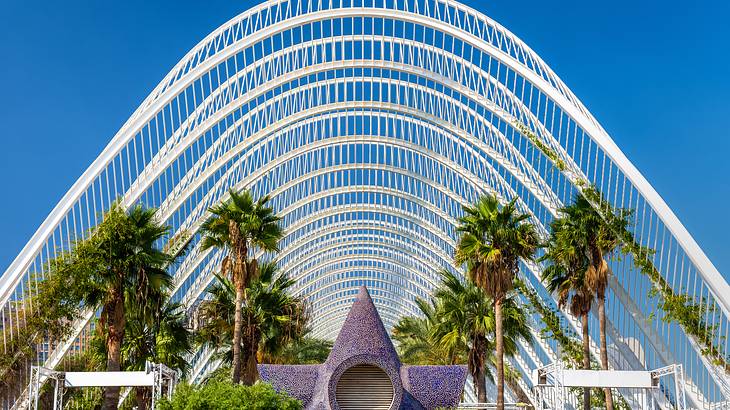 Ciudad de las Artes y las Ciencias, Valencia
Translated from Spanish to English, the Ciudad de las Artes y las Ciencias becomes the City of Arts and Sciences.
Designed by Spanish architect Santiago Calatrava, the City of Arts and Sciences is the largest of its kind in Europe and an example of modern architecture - making it a famous landmark of Spain.
The city has six buildings that each focuses on a particular topic area. The buildings are El Museu de les Ciències Príncipe Felipe (a science museum); Ágora (a recreational centre for holding events); El Palau de Les Arts Reina Sofía (arts and performance centre), L'Umbracle (a garden and walkway); Oceanografic (an aquarium), and L'Hemisfèric (a cinema or planetarium).
You can visit any or all of these buildings depending on your interests.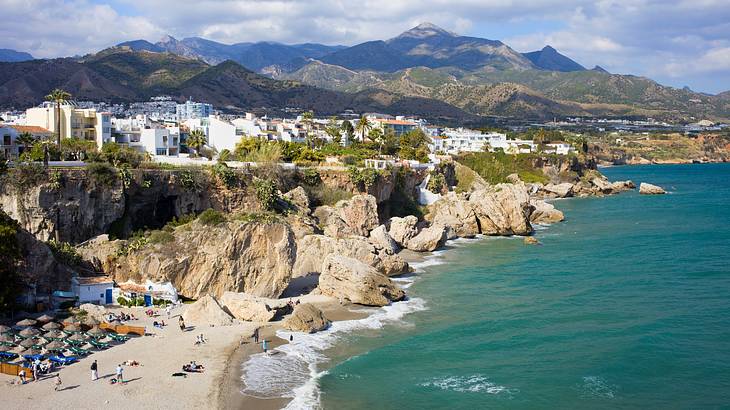 Costa del Sol, Malaga
Costa del Sol is a region most famous for its beaches that attract a lot of Europeans to Spain. But the beaches are not the only reason to travel to the province of Malaga in Andalusia.
As well as the beaches, Costa del Sol has many activities for you to enjoy if you visit. You can also engage in water sports, cruises, walking, golf, and hiking.
Costa del Sol has some amazing mountains protecting the coastline with great hiking opportunities, such as Pico de Mijas in Sierra de Mijas, which can easily be reached from the popular white village, Mijas Pueblo.
Museo Picasso Málaga, Malaga
The Picasso Museum is an integral part of the culture of Malaga, Spain. It is a landmark that is highly appreciated by the locals in the city. Malaga is the city where Pablo Ruiz Picasso was born, so it is no surprise that a museum has been named after him. The museum was opened in 2003 with 285 works all from Picasso.
Going to Malaga without visiting the Picasso Museum is something I recommend you do not do! When you visit the museum, you get a free audio guide which will guide you through the museum and more. The museum has 233 paintings that are exhibited across 11 rooms.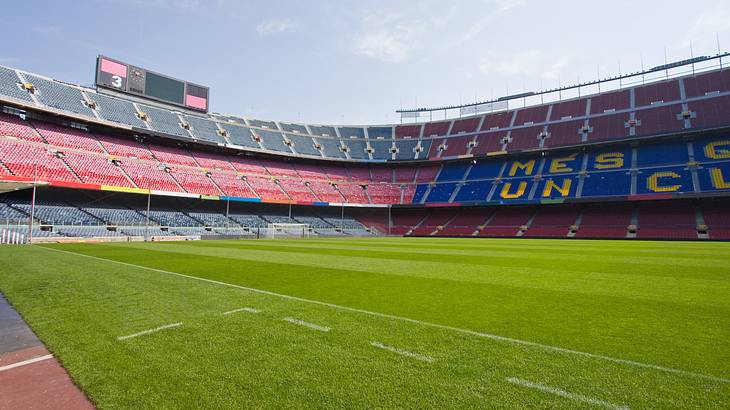 Camp Nou, Barcelona
Camp Nou has been the official home stadium of the FC Barcelona football club since 1957 when it was completed. Having a seating capacity of 99,354, it's by far the biggest stadium in Spain and Europe, and is the fourth largest football stadium in the world.
The stadium has played an essential role in the field of sports, from hosting the Olympics to the World Cup, and even the European Cup Finals.
If you enjoy football, you probably know that FC Barcelona is one of the best football clubs globally. When here, you can learn about the history of the football club and the stadium.
To make the most of your visit, book a guided tour to gain access to the changing rooms, and even the tunnel leading to the pitch.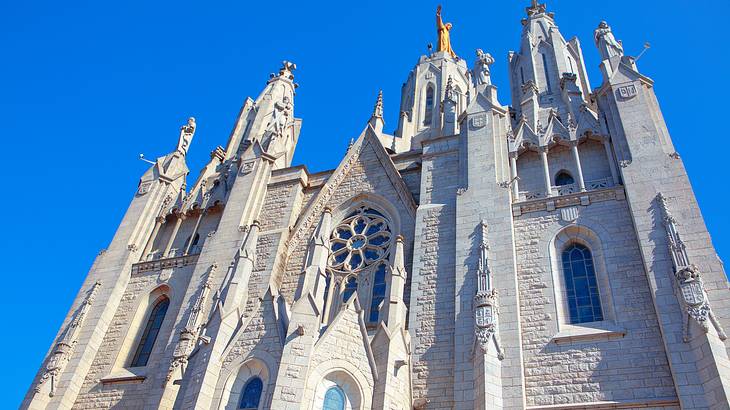 Templo del Sagrado Corazon de Jesus, Barcelona
The Temple of the Sacred Heart of Jesus is the English translation of Templo del Sagrado Corazon de Jesus. It is a Catholic church situated atop Mount Tibidabo in Barcelona. Spanish architect Sagnier designed the building, but his son Josep Maria Sagnier did the honours by finishing it.
A statue of Jesus Christ made with bronze can be found at the top of the church. The church also has an elevator that takes you to the top of the building for amazing views of Barcelona.
Casa Milà, Barcelona
Casa Milà is usually seen as a stone quarry and is one of the most modern buildings in Barcelona. It was the last private building designed by the famous Antoni Gaudi between 1906 and 1912.
This must-see site in Spain gives you a glimpse of the original purpose of the building, which was as a condominium building. It displays the lifestyle of a Barcelona Bourgeois family during the 20th century.
The modern building has an attic that is used as a museum. In the museum, you can learn about Gaudi's architecture skills and what inspired him. There is an exhibition on the main floor of the apartment. Casa Milà is the place to visit if you want to see how a residence can be used as a multi-purpose building.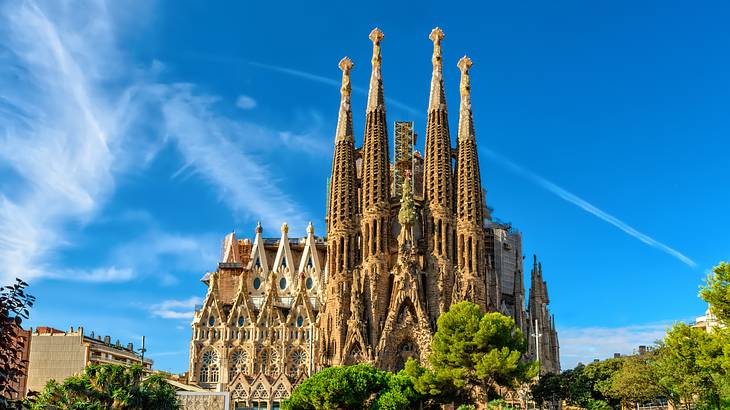 La Sagrada Familia, Barcelona
La Sagrada Familia is one of the most popular landmarks in Spain, and of course, Barcelona. It is one of Antoni Gaudi's masterpieces. The architect commenced work on it in 1883 in Barcelona, but he did not live to complete it.
To this day, this historic landmark in Spain has not been completed. Jordi Fauli, the current architect working on this project, estimates that they might finish it by 2026.
Even though the building has not been completed, the church's managers opened it to visitors on November 7, 2010. This is because parts of the building had already been completed. For example, the door of El Nacimiento, the crypt, and the chapel of San José can all be explored today.
You can go on a tour around Sagrada Familia's interior and exterior to explore and learn more about its unique architecture.
Font Màgica de Montjuïc, Barcelona
Montjuïc is a well-known hill in Barcelona, Catalonia that used to provide the city with natural protection against invaders.
Today, it does not serve as protection, but rather as a natural landmark in Spain that attracts many visitors daily. As a visitor, you have access to a variety of activities to make your visit memorable.
The Magic Fountain is situated under Palau Nacional on Montjuic mountain, near Poble Espanyol. It is an area filled with several fantastic viewing spots - perfect for photo taking!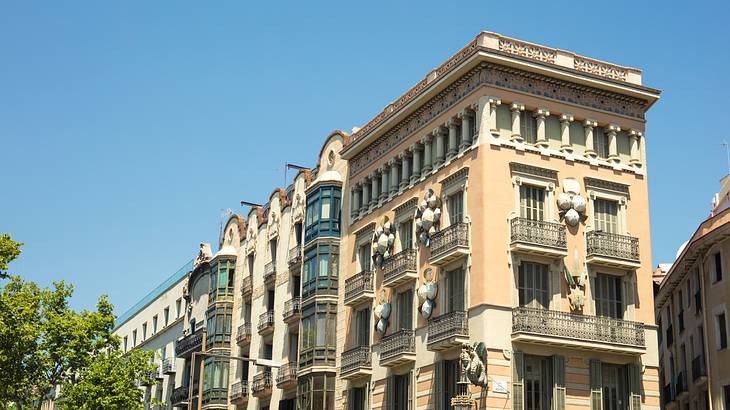 La Rambla, Barcelona
La Rambla is a street that is easily recognizable in the centre of Barcelona. Unfortunately, today, several local Barcelonians report that Las Ramblas is filled with too many tourists. This is because the area is such an icon of Barcelona and Spain; it attracts tourists from around the world.
If you are with your significant other and you want to do something not so conventional in Barcelona, try Museu de l'Erotica. This experience is mainly for adults; it is not advisable if you are with children. The museum introduces you to the history of sex in Barcelona.
There is an art gallery at Centre d'Art Santa Monica for you to check out as well if you love art. You can also take a walking tour around the busy city to enjoy the view with your family.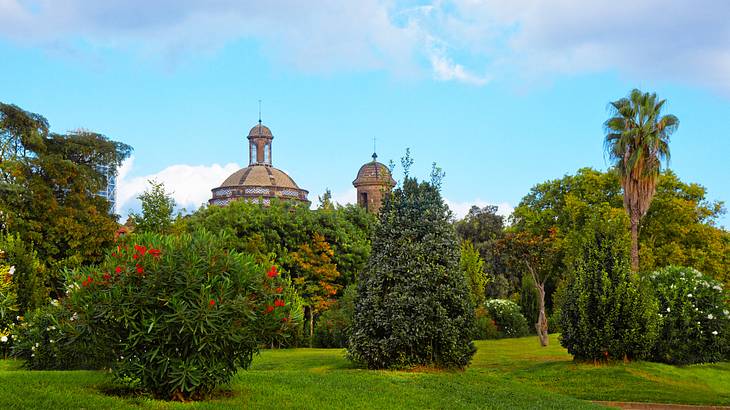 Parc de la Ciutadella, Barcelona
The Parc de la Ciutadella is the oldest and biggest park in Barcelona and is located in the district of El Born, a green refuge in Barcelona.
Ciutadella Park used to be a military fortress during the 18th century. As time went on, Barcelona began to develop, and they needed something to attract investors and visitors with. Because of this, in 1869, it was approved that the fortress could be used as a public park.
The main attraction of the park is its zoo, which is located within the park. There is also a lake, which is an excellent place to take a stroll or even have a picnic. You can hire a boat as well if you want to go rowing.
The park has a Geology and Zoology museum too, which educates people on nature and the animal kingdom.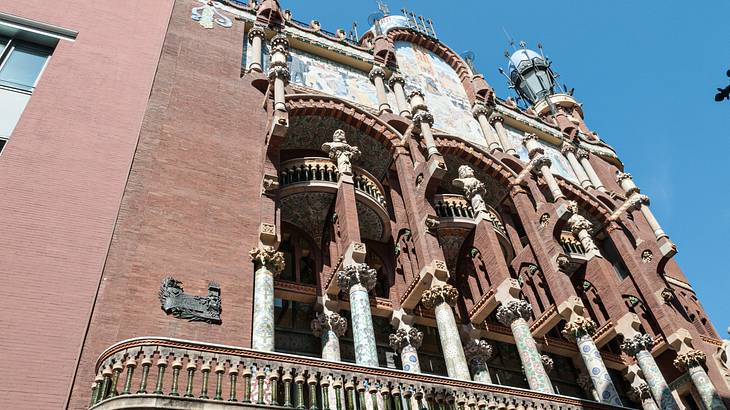 Palau de la Música Catalana, Barcelona
Another landmark that attracts many visitors to Spain, and especially Barcelona, is the Palace of Catalan Music. It is a historic music hall designed by architect Lluís Domènech i Montaner in Catalan modernista style.
Construction of this historic landmark was between 1905 and 1908. It was built then due to the Orfeó Català, a choral society that was formed in 1891.
The Concert Hall is the largest space in Palau de la Música, having a seating capacity of 2,146. One impressive fact to know is that the whole music hall is illuminated by natural light during the day.
If you love classical music, you can pay to attend a concert to experience the music hall in full effect. You can also pay for a guided tour if you want to explore the music hall and its features.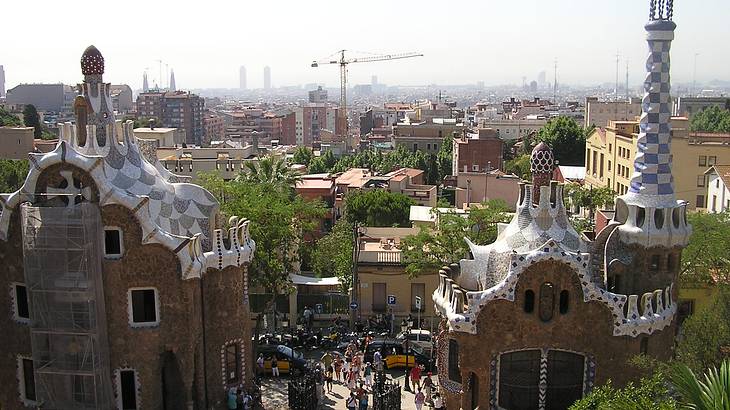 Park Güell, Barcelona
Built between 1900 and 1914, Park Güell is undoubtedly one of the most famous Spanish landmarks in Spain. Park Güell is located in Barcelona, Catalonia and is a must-visit if in Barcelona for a couple of days.
Antoni Gaudi designed Park Güell, but it was named after the sponsor who goes by Eusebi Güell. The park was built to be the family home of Eusebi Güell, but it was converted into a public site after his passing in 1926.
Park Güell is a tourist site for all ages, from children to adults. With no entrance fee required, you get to have fun with your family at this unique and interesting park.
It has many attraction sites for visitors, like Serpentine Bench, Austria Gardens, the Gaudí House Museum, and so much more. The park is a colourful place to take your family for relaxation and site-seeing.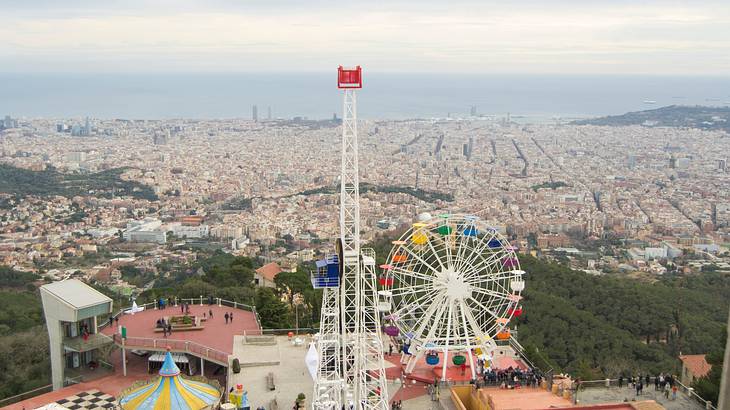 Parc d'Atraccions Tibidabo, Barcelona
Tibidabo Amusement Park is the best place to be if you have kids with you in Barcelona. Salvador Andreu, an entrepreneur during 1899, built the park and opened it in 1905. It is one of the oldest and still functioning parks in the world. Specifically, it is the oldest and longest-running amusement park in Spain.
The park offers a lot of activities related to fun and entertainment. This is the main reason why it is the perfect place to relax and entertain yourself if you have children with you on your travels. You can also visit the Temple of the Sacred Heart of Jesus whilst you are in Barcelona.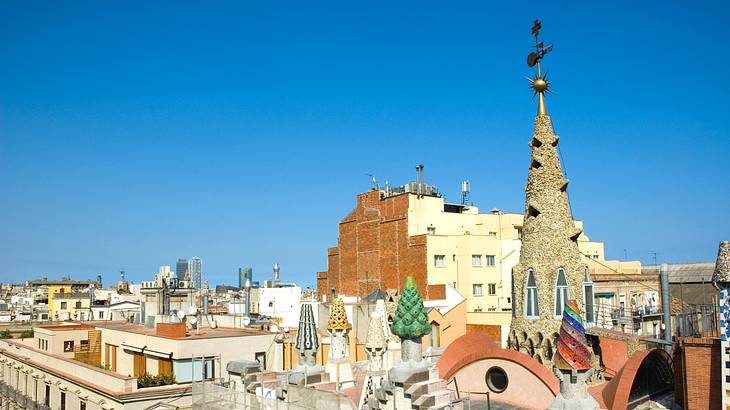 Palau Güell, Barcelona
Palau Güell is a gorgeous 19th century mansion designed by Antoni Gaudi for Eusebi Güell. Notably, this was the first building designed by Gaudi in Barcelona.
Compared to some of Gaudi's designs, this building is quite minimalist and features medieval castle details. However, you'll still find colourful details, one of the architect's signatures, on Palau Güell's roof.
While in Barcelona, you can view the building from the outside or take a tour of the interior to fully appreciate this fantastic piece of Spanish architecture.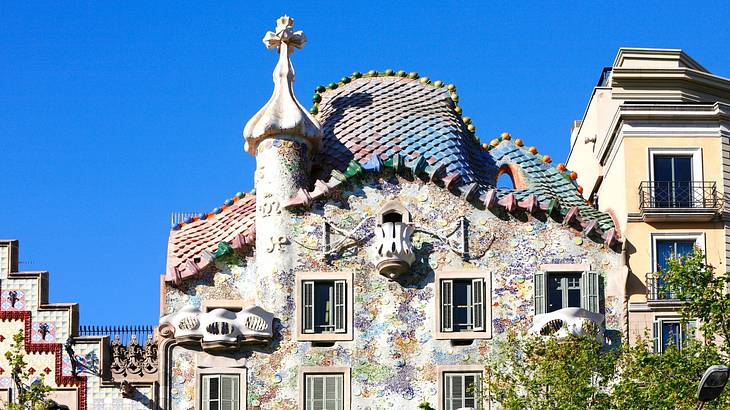 Casa Batlló, Barcelona
Casa Batlló is another of the famous Spanish places found in Barcelona. The building is particularly well-known as it was designed by architect Antoni Gaudi in 1904. It's even thought to be one of his best pieces of work.
The stunning building features an array of colours, magnificent stained glass, and unique shapes. The building's roof alone is covered with thousands of vibrant tiles that resemble snakeskin!
Casa Batlló is one of the most unusual buildings in Spain and a must-visit while in Barcelona.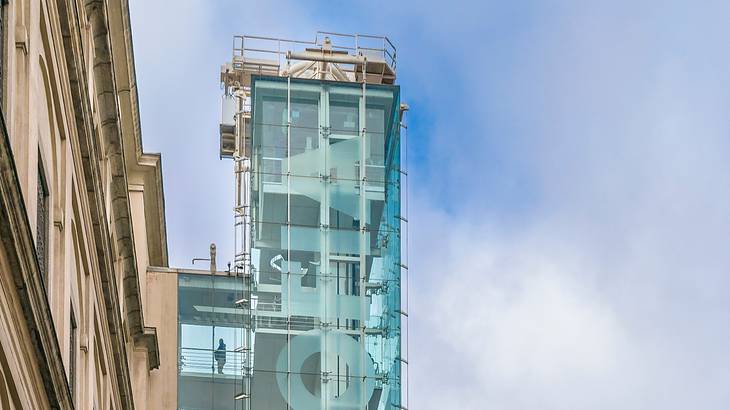 Museo Nacional Centro de Arte Reina Sofia, Madrid
Museo Nacional Centro de Arte Reina Sofia is Madrid's primary 20th-century art museum. The museum was opened in the 1990s and was dedicated to Queen Sofia.
It is located in Madrid's Golden Art Triangle near the city's centre and within Ciudad de las Artes y las Ciencias.
The museum focuses on displaying 20th-century contemporary artworks, especially those by Spanish artists. This includes a range of exhibits featuring paintings, sculptures, and other works by artists including Picasso and José Gutiérrez Solana.
Along with a range of permanent exhibits, the museum hosts temporary exhibitions that change all year. Be sure to check the museum's website before planning your visit to see what will be on display.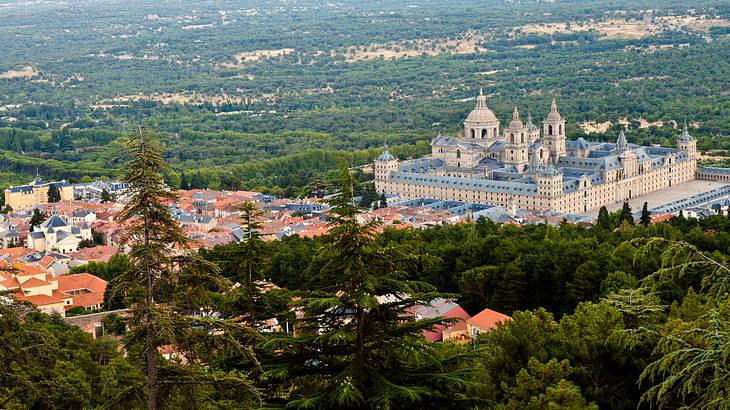 San Lorenzo de El Escorial, Madrid
San Lorenzo de El Escorial is a UNESCO World Heritage Site and a royal town located in the Guadarrama Mountains near Madrid. There are several buildings in the city, making it stand out as one of the major landmarks in Spain.
You can find a library, museum, monastery, church, fountains and even a grand palace here. The library is so ancient to the extent that it contains manuscripts dating back to the 15th century.
You can do many things when you visit the town. For example, you can go to the grand palace and sit on the king's throne. When you want to explore nature, you can roam through the woods as well. Since the beautiful town is in the mountains, you can also go on a hike.
Estadio Santiago Bernabéu, Madrid
Real Madrid is one of the most well-known clubs in the world, and it is not surprising that their stadium is considered one of the most famous buildings in Spain and Madrid.
The Santiago Bernabéu Stadium has a seating capacity of 81,044, and it has been in existence since 1947. It is the second-largest stadium in Spain after Camp Nou.
If you love football and you will be in Madrid for a few days, going to the Santiago Bernabeu Stadium should be on your list! I recommend visiting the stadium during a match to experience and join in the atmosphere and passion of the crowd.
Alternatively, if you are not a football fan, you can also wait for the stadium to open for tours and explore it with a guide. The stadium has a trophy room that showcases all of the trophies they have won in the past.
Palacio Real de Madrid, Madrid
The Royal Palace of Madrid is the largest palace in Europe. Even though the Spanish royals do not live in the palace, it is still one of the most historical sites in Spain that attracts many visitors.
Today, the building is mainly used for state ceremonies. The palace has about 3,418 rooms across six floors covering 135,000 square metres of ground space.
One feature of the palace is the main staircase designed by the famous Francesco Sabatini. You are permitted to take photos of this location, unlike some other parts of the palace. The palace also has a Hall of Columns, which is where the most important ceremonies are held.
Visiting the Royal Palace of Madrid shows you how the Spanish royalty once lived in Spain!
Museo Nacional del Prado, Madrid
Museo Nacional del Prado translated from Spanish means the Prado National Museum. This is one of the most visited landmarks in Spain, and it is located in central Madrid. If you love art, and like seeing artworks from around the world, then the Prado Museum should be on your list of destinations.
The Prado National Museum is home to more than 8600 paintings from Spain and other countries in the world. The number of paintings on display at the museum, and the artists responsible for them, is quite impressive. Names such as Rogier van der Weyden, Hieronymus Bosch, and Fra Angelico can all be found here.
Even if you don't love art, visiting the Prado Museum when you are in Madrid will make your visit to Spain a memorable one!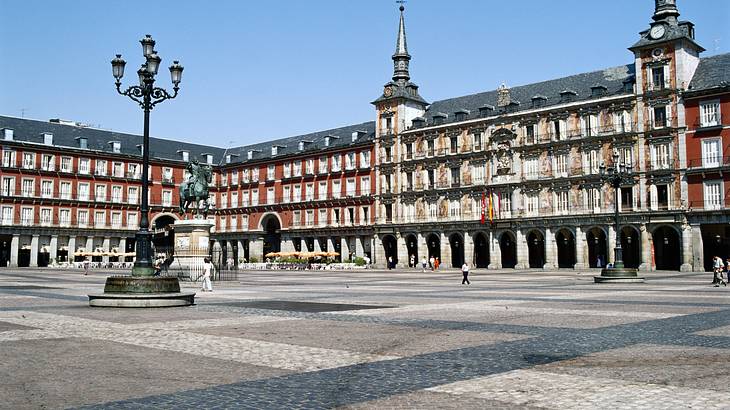 Plaza Mayor, Madrid
If you are visiting Madrid for the first time, then going to Plaza Mayor is one of the famous places in Spain you must see. Plaza Mayor is an arcaded square located at the centre of Madrid, formerly known as Plaza del Arrabal. It was built during the Habsburg period in the 16th century. There is plenty to do when you visit the Plaza.
You can explore Plaza Mayor by walking around it, which should not take you all day. The Plaza measures about 129 meters in length and 94 meters in width.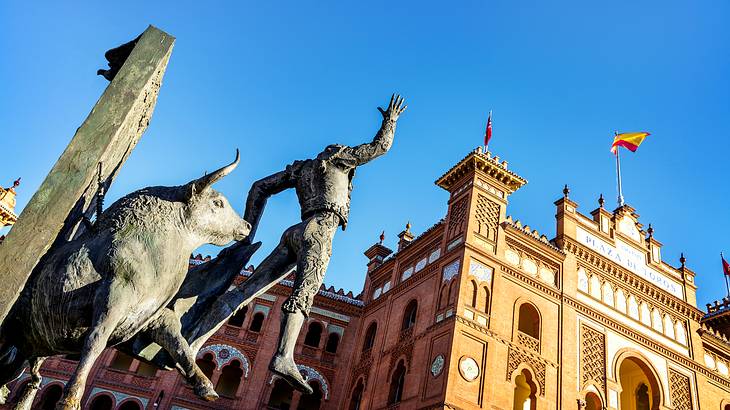 Plaza de Toros de Las Ventas, Madrid
Simply known as Las Ventas, the Plaza de Toros de Las Ventas is the largest bullfighting ring in Spain and the world. It is located in the Salamanca district in Madrid, and it was inaugurated in June 1931. Even though bullfighting is controversial in sports today, it is still part of the history of Spain.
The bullfighting ring was designed by the architect Espeliú in a Neo-Mudéjar style. This style of architecture involves building with red bricks and ceramic tiles.
Nowadays, bullfights only occur during festivals like San Isidro, which takes place from mid-May to June.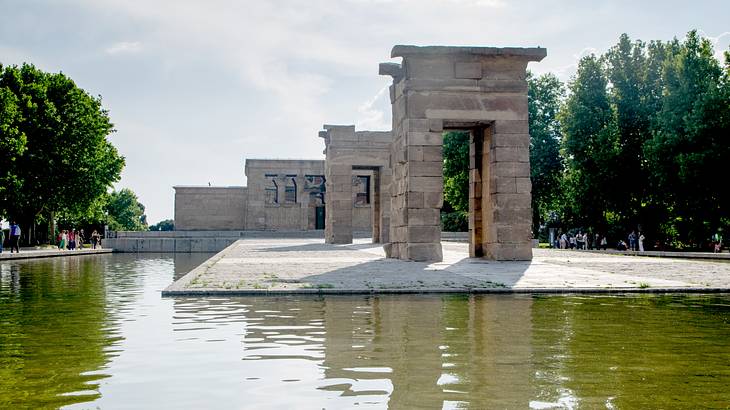 Templo de Debod, Madrid
The Temple of Debod is a historical Egyptian Temple and landmark that was dismantled and rebuilt in Madrid, and it is one of the most famous monuments in Spain. Many local people visit the temple to relax and enjoy themselves in the sun.
The temple was a gift to Spain from Egypt in 1968, when Spain helped Egypt in the preservation of other temples along the Nile. Its interior contains several chapels, a small museum, a hall and other attractions.
This is not just an excellent area to find peace among the busy streets with Plaza de España close by, but it is also one of the best places to watch the sunset in Madrid.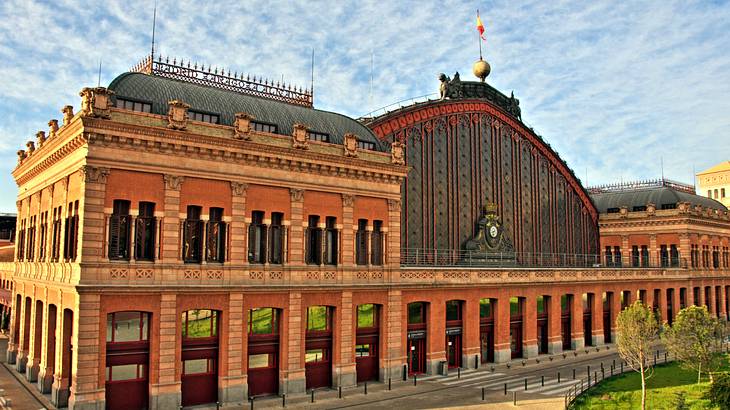 Estacion de Atocha, Madrid
The first and largest railway station found in Madrid is the Atocha Railway Station. This is just one reason why it is a famous landmark in Spain. Atocha Railway Station receives trains from across the country, for example, intercity trains from Huelva and Navarre use this station. It is also the central station for commuter trains in the city.
The station was initially designed by Rafael Moneo and inaugurated in 1851. It was later redesigned by Eiffel Gustave and Alberto de Palacio Elissagne after a fire outbreak destroyed it.
Atocha Railway Station has an unconventional botanical garden that covers an area of 2,000 square metres. The garden is home to more than 5,000 plants of about 260 species. You can go to the train station to explore some of the plants on display.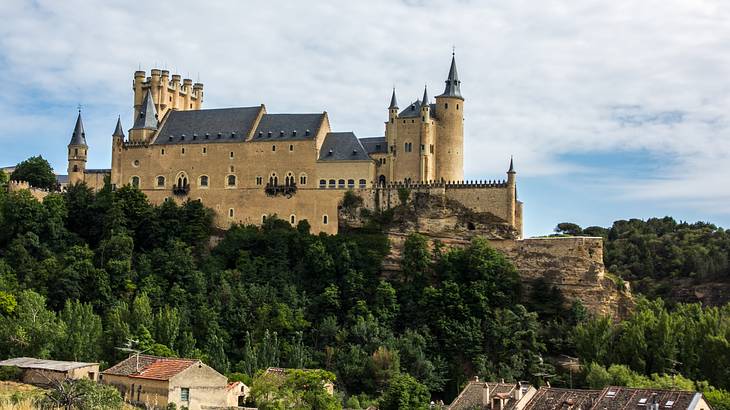 Alcázar de Segovia, Segovia
The Alcázar of Segovia is a historic UNESCO World Heritage Site located in the city of Segovia. Christian monarchs constructed it in the 12th century.
The landmark is not as big as compared to others in Spain, but it continues to attract many visitors from around the world every year. Due to its age and grandness, the Alcázar of Segovia is one of the most famous historical landmarks in Spain.
The Alcazar of Segovia also has the Aqueduct, an amazing building and probably the most iconic section of the attraction. The Romans built the Aqueduct to help them transport water from the River Acebeda to the city.
When you study the structure, you realize that no cement or mortar was used, but the building is still stable til this day. You can take a walk under or around the place to enjoy the view.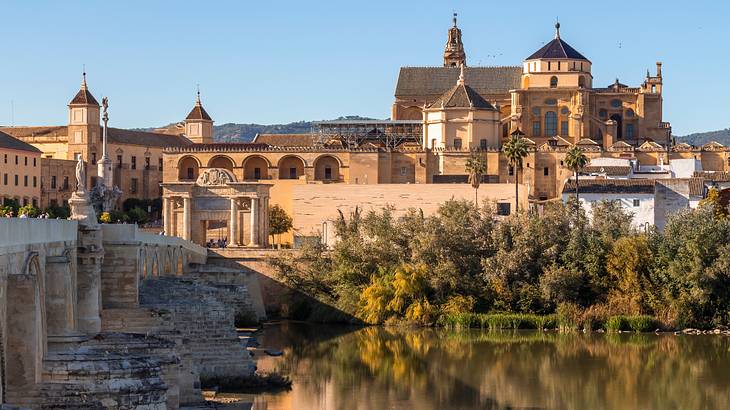 Mezquita Cathedral de Cordoba, Córdoba
The Mosque of Córdoba is located in Andalucia, and it is one of the most famous landmarks of Spain! It is a must when in Cordoba, even if you're just here for the day.
This structure became a church when Córdoba was retaken in 1236. You can go on a tour during the day or at night to explore the building and its features. You can also climb up to the Bell Tower, which is 54 metres tall, to view the town from a birds-eye perspective.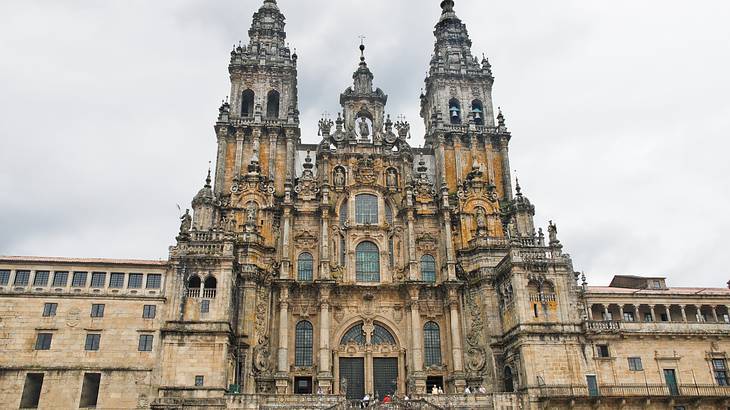 Catedral de Santiago de Compostela, Santiago de Compostela
Catedral de Santiago de Compostela is a main part of the Santiago de Compostela UNESCO World Heritage Site in Galicia, Spain. The cathedral is also part of the city's Roman Catholic Archdiocese. This landmark is found in Plaza del Obradoiro in Santiago de Compostela.
Cathedral Santiago has been in the city since the 1200s and is a popular tourist attraction today. People from across the world come to appreciate the church's stunning Romanesque design.
It is an important religious pilgrimage location, too. Many Catholics walk hundreds of miles to the cathedral each year to visit the tomb of Apostle Saint James the Elder. The whole city was built around the cathedral, and it is believed that this is the final resting place of St James.
Visitors need more than a couple of hours to view the religious artworks and statues throughout Santiago de Compostela Cathedral. There is additionally a special museum located on the cathedral site. The museum also houses artworks and sculptures as well as some information on the cathedral's background.
Siam Park, Tenerife, Canary Islands
With more than 20 rides and attractions for tourists to visit, Siam Park is a water park located in Tenerife, Canary Islands. It is one of the highly-rated water parks in Spain and Europe at large. The Princess of Thailand opened the park, and it has been named as one of the best waterparks in the world.
Siam Park covers an area of 46 acres, with some of the tallest, fastest, and craziest waterslides you can find globally. This waterpark is the best place to take your family to escape from a busy year.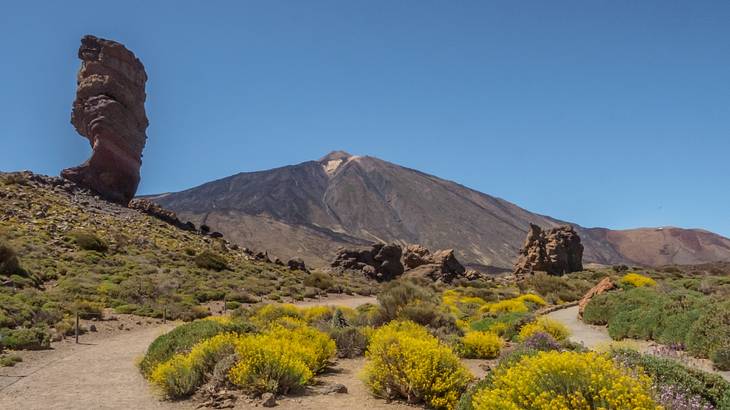 El Teide, Tenerife, Canary Islands
El Teide, in Teide National Park, Tenerife, is one of the naturally occurring famous Spanish places you must see. This mountain is actually a volcano and is also the highest peak in Spain.
If you're interested in reaching the summit, there is a convenient cable car that you can take. The ride is just eight minutes, and you'll enjoy stunning views of the park as you venture up. If you get a guide, you can also climb parts of the mountain.
Alhambra, Granada
Granada is one of the cities where you can find a lot of Moorish heritage covering more than 700 years. Alhambra is evidence of the rule of the Nasrid Dynasty in the 12th century. It was the location for the Emirs of Granada when they wanted to relax and escape from the summer heat.
Today, Alhambra is a national landmark that attracts a lot of visitors to the city of Granada. Do make sure to include it on your Granada itinerary if spending a couple of days here.
Alhambra, when translated into Arabic, is Medinat Al-Hambra, which means the Red City. This is because of the red coloured buildings. Some of the highlights you can look for in Alhambra are the three palaces built for Mohammed ben Al-Hamar, namely the Royal Palace, Palace of Ceremonial Rooms, and Palace of the Lions.
Centro Niemeyer, Avilés
The Oscar Niemeyer Cultural Centre was designed by Brazilian architect Oscar Niemeyer. You can locate the landmark on the estuary of Avilés in northwest Spain.
The Oscar Niemeyer International Cultural Centre was inaugurated in March 2011, with Oscar himself seeing the inauguration of his building when he was 103 years old!
The first stone for the educational centre was laid in April 2008. The centre is open to people of all ages. There is a children's centre where kids can learn about Oscar Niemeyer's works and legacies. The Center also offers guided tours for those who want to learn more about Oscar Niemeyer and his ideas.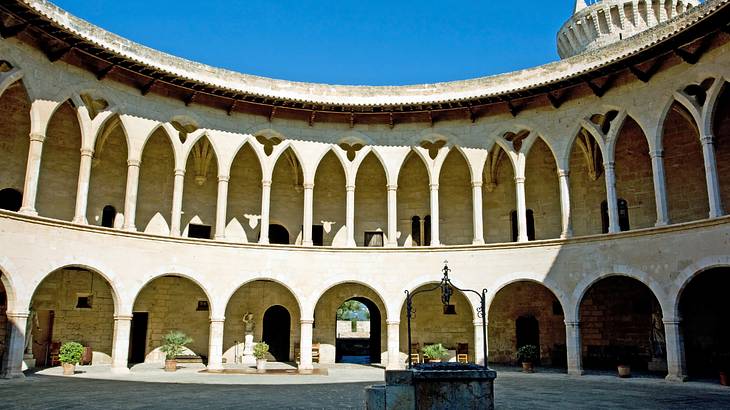 Castell de Bellver, Majorca
The Bellver Castle, popularly known as the Castell de Bellver in Spanish, got its name from Catalan, which means lovely view. It is located on a hilltop west of Palma on the island of Majorca, and it is a family-friendly activity in Palma.
The castle was built for King Jaume II of Majorca in the 14th century. It is sometimes hard to believe that the castle is more than 700 years old because of how well it has been maintained.
The castle served as the royal residence but was later converted into a prison for almost all of the 16th century. Bellver Castle has three defence towers, a moat and a drawbridge, all linked to the main castle. You can get one of the best views of Palma from the defence tower.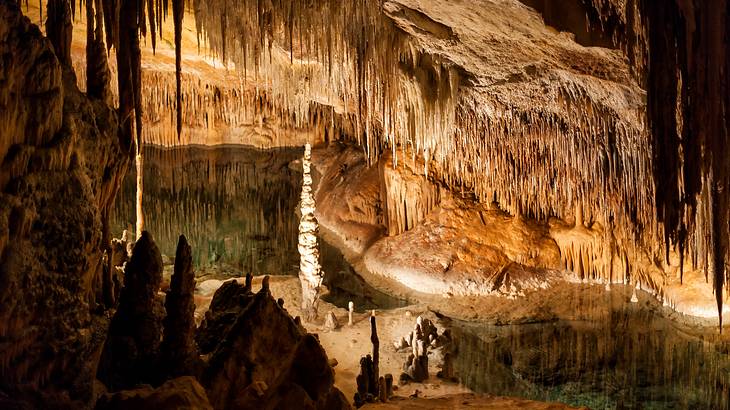 Cuevas del Drach, Majorca
The Drach Caves are four historic caves located on Majorca Island in Spain. The caves extend to a depth of 25 metres and are about 4 kilometres in length. The biggest underground lake in the world, Lake Martel, can also be found here. Concerts are held occasionally by classical musicians to lure visitors to this famous place in Spain.
Even though taking photographs is not allowed here, this does not mean that you cannot have a good time. You can combine your visit to the Drach Caves with a stop at the fishing village of Porto Cristo, meaning you are not restricted to only one location.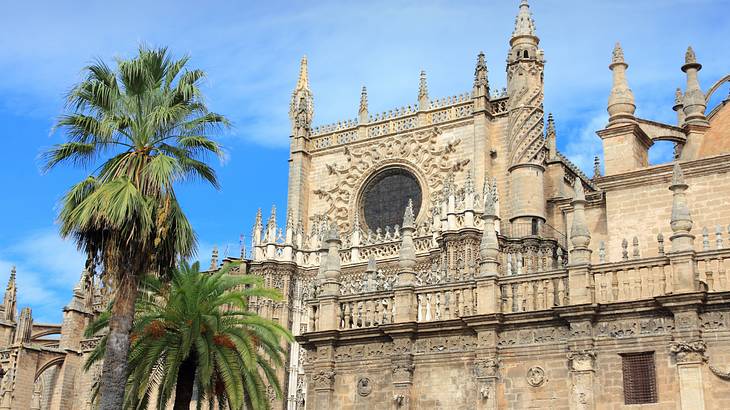 Catedral de Sevilla, Seville
Catedral de Sevilla is a Roman Catholic cathedral located in Seville in Spain's Andalusia region. The cathedral was built in 1507 and exemplifies Gothic-style architecture. At least two days in Seville is needed to appreciate the history of the place and its mystical attractions.
The cathedral is one of the world's largest churches and was made a UNESCO World Heritage Site in the 1980s. The Seville Cathedral is one of the most important landmarks in Spain. It is definitely a must-visit when in Seville.
Notably, the cathedral is the final resting place of Christopher Columbus. The regal tomb of Columbus, found inside the cathedral, is one of the most popular attractions.
Along with seeing Columbus' tomb, you will be able to appreciate the stunning architecture and intricate details of the cathedral. This includes many carvings, sculptures, paintings, and stained glass.
Guided tours are available too if you would like more information on the cathedral's history.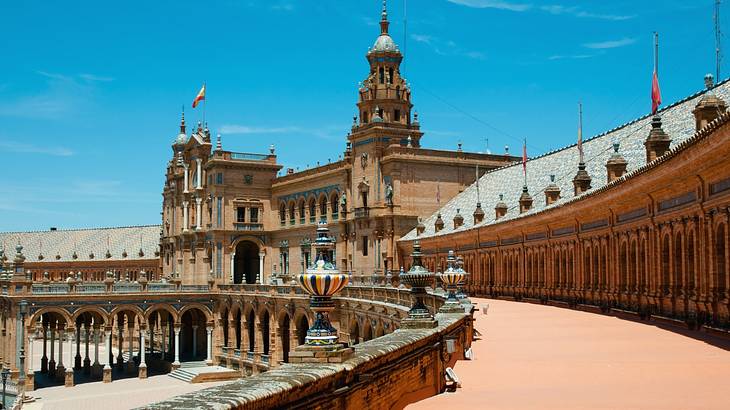 Plaza de Espana, Seville
Plaza de Espana is a historic landmark found in Parque de Maria Luisa in Seville. The plaza was built in 1928 as part of preparations for the 1929 Ibero-American Expo.
Today, visitors head to the area to enjoy the beautiful scenery and surrounding gardens. The plaza is designed in an interesting half-moon shape and has four bridges representing Spain's four ancient kingdoms. A picturesque canal also runs under the bridges separating the square in two.
Plaza de Espana is additionally set against a backdrop of architecturally-stunning government buildings. While visiting, you may even be able to see flamenco dancers that frequently perform in the square.
Having wandered around Plaza de Espana, be sure to take a look around Parque de Maria Luisa. The peaceful park features many fountains and pretty gardens.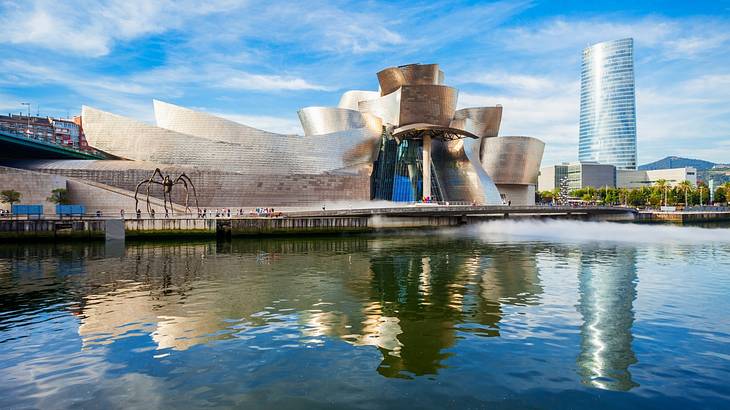 Guggenheim Museum Bilbao, Bilbao
This famous Spanish landmark in Bilbao in Basque Country is one of just four Guggenheim Museum locations in the world. The other three are located in New York, Venice, and Abu Dhabi.
Even before entering the museum, visitors can appreciate the stunning architectural design of the museum. The modern chrome design was created by the architect Frank Gehry.
Once inside, you can view a range of exhibits showcasing artworks by contemporary artists. Works on display include those by Kandinsky, Mark Rothko, and Jeff Koons.
Along with its permanent collection, the museum also hosts temporary exhibits featuring many well-known artists. Additionally, there may be other events during your visit. These include talks with artists and the museum's Art After Dark event.
Before the Guggenheim was built, Bilbao was not the most popular tourist spot. However, it is now a modern city well worth a visit with a stop at the Guggenheim needing to be top of your itinerary!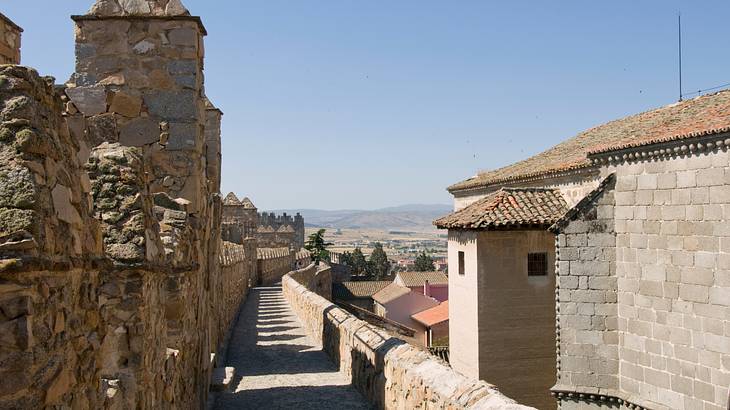 Muralla de Avila, Avila
The Wall of Avila, or Muralla de Avila, was constructed between the 11th and 14th centuries in Avila, Spain. The old city wall acted as Avila's main defence and has seen little damage over the hundreds of years it has been standing.
The wall covers approximately 2,500 meters with the enclosed area of the wall being 31 hectares. It also features 88 towers placed at intervals which would have been used as watchtowers.
The Wall of Avila was declared a national monument in the 1980s and the entire ancient city of Avila is a UNESCO World Heritage Site.
In the area surrounding the walls, there are churches and quaint streets to explore too, many of which date back to the medieval city of Avila. You will find some newer restaurants and shops as well housed in the city's old buildings.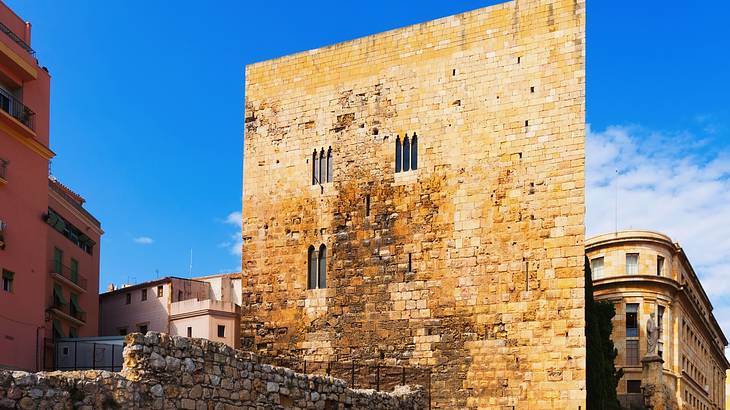 Tarragona Romana, Tarragona
Tarragona is found in Spain's Catalonia region on the Costa Daurada (Costa Dorada). The city is about an hour outside of Barcelona. Tarragona is well-known for its Roman ruins that draw many tourists each year.
The Roman Amphitheatre is one of the most popular attractions here. This large arena was built in the 2nd century AD and accommodated 12,000 spectators. The amphitheatre was used for gladiator fighting among other events.
Today, visitors can explore the amphitheatre for just 3.30 euros. Once inside, you can take in the arena's breathtaking remains and enjoy views of the Mediterranean Sea.
Next, you can visit the Roman Circus and Praetorium. The Roman Circus was constructed to host horse and chariot races, theatre performances and circus shows. It was built in the 1st century AD and accommodated 30,000 spectators.
Along with viewing the Roman Circus remains, you can go up the ancient Praetorium to enjoy panoramic views of Tarragona.
Other famous Spanish monuments to see in Tarragona include the Tarragona Cathedral and the Pont del Diable Bridge. There is also the Torre del Pretorio Romana, a local history museum, and an Archaeological Museum to check out along with many other ruins.
Museo de Altamira - Cave of Altamira, Cantabria
Santillana del Mar is not only a historic town in Cantabria, but it is home to the Cave of Altamira as well.
The cave is a showcase of some of the Paleolithic art in the world. It has charcoal drawings and polychrome paintings of contemporary local fauna and human hands. The cave also contains many ancient artworks from Europe, some dating back to 40,000 years and possibly created by Neanderthals.
Aside from the caves, you can enjoy beautiful landscapes, fantastic food, and the unique cultures of the people of Northern Spain. One interesting thing about the artwork in the cave is that at first it was dismissed as fake. The art that features in the cave was so realistic that scientists did not believe it was ancient!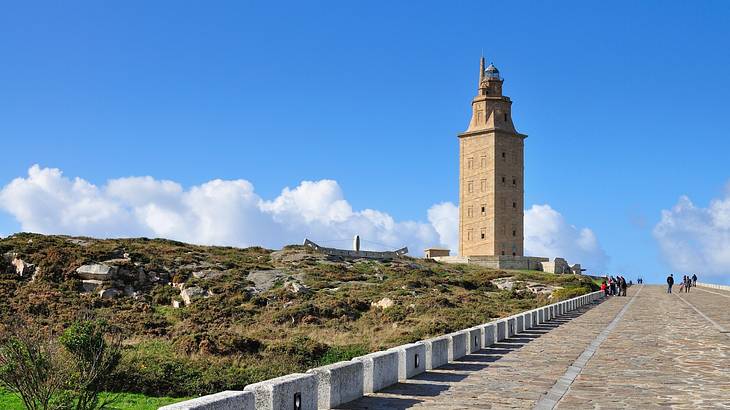 Torre de Hercules, La Coruna
The Tower of Hercules, or Torre de Hercules, is found in La Coruna in Galicia. The tower is an ancient lighthouse built by the Romans between the 1st and 2nd centuries AD.
It is said to have been modelled on the Lighthouse of Alexandria in Egypt and was constructed as an offering to the Roman god of war, Mars.
The tower stands at 55 meters tall and is one of Spain's oldest landmarks. It is also the world's oldest functioning lighthouse and a UNESCO World Heritage Site.
To get to the lighthouse, you will have to follow a short trail. Once there, you can enjoy the historic building and learn more about its history through a series of informational placards located in the area. You can also go to the top terrace to get views of the Atlantic Ocean and the town of Coruna.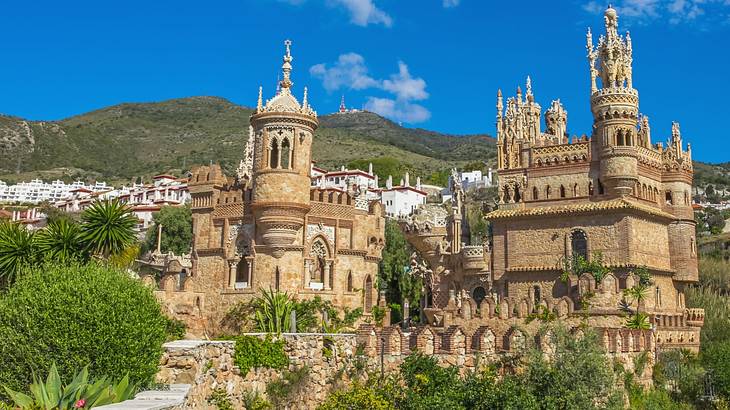 Castillo de Colomares, Benalmadena
Castillo de Colomares is a famous Spanish monument found in Benalmadena on the Costa del Sol. This stunning castle was built to honour Christopher Columbus. Despite looking as though it was built hundreds of years ago, the castle was constructed between 1987 and 1994.
The castle is one of the world's largest monuments to Columbus, covering an area of 1,500 metres. It interestingly contains one of the smallest churches in the world, too. This magical castle is a must-visit for anyone interested in unique architecture and Christopher Columbus' life and legacy.
Along with admiring the castle's exterior and interior design, you will be able to see many statues and sculptures. There are also beautiful gardens to wander around.
Castillo de Colomares is the perfect place to get some fantastic holiday pictures! It is advisable to book tickets in advance, and entrance is just 2.50 euros per person.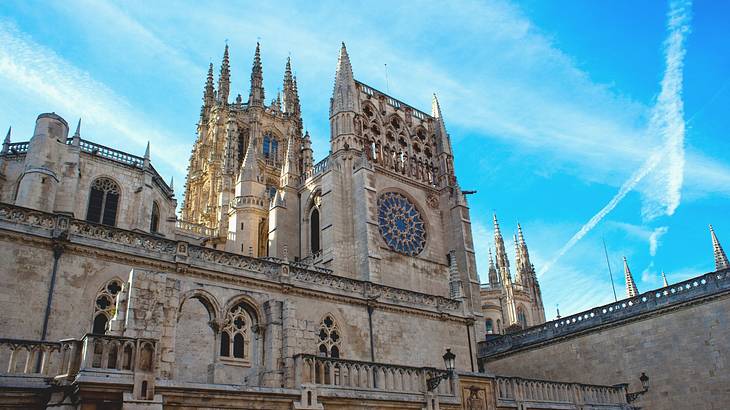 Catedral de Burgos, Burgos
Also known simply as Burgos Cathedral, Santa Iglesia Catedral Basílica Metropolitana de Santa María de Burgos is a Catholic church dedicated to the Virgin Mary. The church is found in Burgos and is a UNESCO World Heritage Site.
The cathedral was constructed in the early 1200s in a French-gothic style with inspiration from the cathedrals of Paris and Reims. Today, visitors come to the city specifically to see this incredible piece of architecture.
Both the interior and exterior of the building feature intricate details. Inside, you will find multiple artworks, statues and sculptures by famous artists and sculptors. There are beautifully painted ceilings and stained glass windows as well to admire.
Entry to the cathedral is eight euros. Guided tours are available too if you want to learn more about the cathedral's history.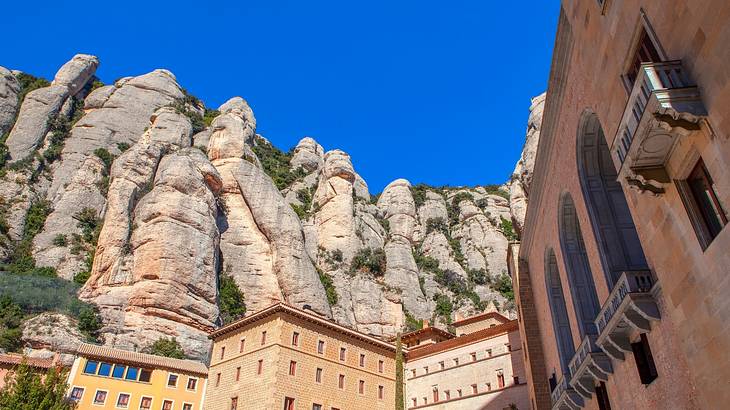 Santa Maria de Montserrat, Montserrat
Despite being one of the lesser-known monuments of Spain, a trip to Santa Maria de Montserrat (Abadia de Montserrat) is well worth it. This 11th-century abbey sits in the hills of Montserrat and offers impressive views of the surrounding area.
You cannot enter the actual monastery as monks still live there. However, you can enter the beautiful church and explore the impressive grounds. The monastery is also home to the Our Lady of Montserrat statue, which is available for public viewing.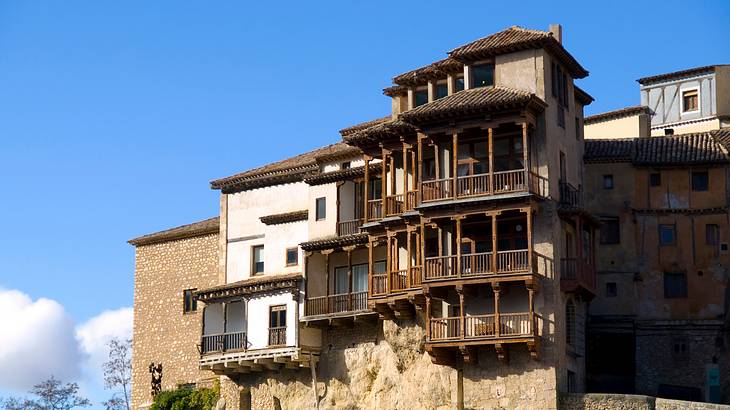 Casas Colgadas, Cuenca
Translated as "Hanging Houses," Las Casas Colgadas are found in Cuenca and hang off the side of the cliffs they're built into. These interesting buildings were constructed during the 15th and 16th centuries. Despite renovations occurring, only a few remain today.
While there are only a few left, the hanging houses are an amazing sight to see. A visit to Casas Colgadas will allow you to marvel at this unique design. Being built into the mountains, you'll also enjoy incredible views while appreciating the architecture.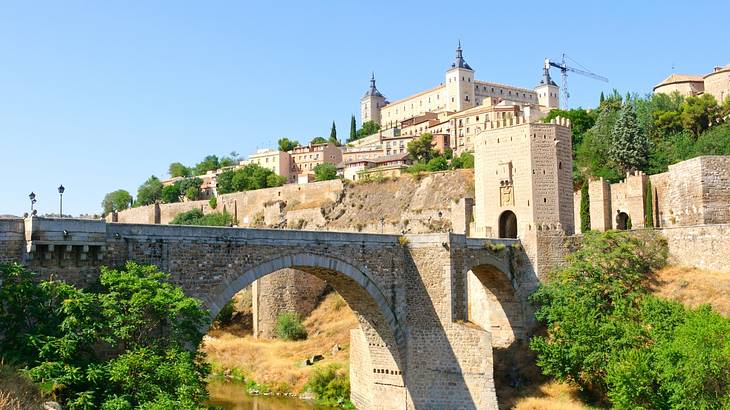 Alcázar de Toledo, Toledo
Alcázar de Toledo is a former palace located in the highest point of the Spanish city of Toledo. Today, the fortification acts as a military museum. It also draws in those who want to appreciate its incredible architecture.
Although originally constructed in the 1500s, the palace was rebuilt in the mid-1900s after being damaged during the Spanish Civil War. Despite this, the building still boasts beautiful 16th-century details and is a must-see for both history and architecture lovers.
In Summary
Spain is a beautiful country to travel to; there are many notable landmarks in Spain for you to visit. The list provided above simply serves as a guide for your Spain trip planning.
If indeed you are travelling to Spain, including at least one of the famous Spain landmarks mentioned above on your itinerary will make your vacation memorable. I hope you found this Spanish guide useful, and I wish you a fantastic time in Spain!
This article was edited by Alli Sewell.
For more interesting articles about Spain, read:
For some great articles about landmarks, check out:
---
---
Want to keep exploring?
Subscribe for discounts on tickets and hotels and our latest guides.
Thank you for subscribing
We will be in touch soon with discounts on tickets and hotels and our latest guides.
Want to keep exploring?
Subscribe for discounts on tickets and hotels and our latest guides.
Thank you for subscribing
We will be in touch soon with discounts on tickets and hotels and our latest guides.
Related articles