4 Days in London Itinerary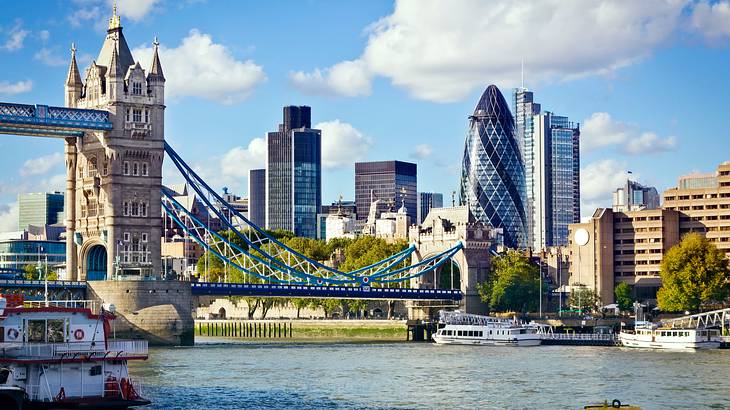 London is a historical city with many famous landmarks, such as ornate bridges, buildings, palaces and towers that are worth visiting if you are spending 4 days in London.
The city is home to over 150 museums, 250 theatres, and street art by Banksy, El Chivo, and King Robbo can be found on concrete walls throughout the city.
London is also a significant city with a lot of ties to music, art, and theatre. Each year, over 30 million people travel here to explore it.
When visiting London for a few days, you should consider purchasing an Oyster Card as it will make using public transportation super easy. If your bank card supports contactless payments, it might work directly on the tube turnstiles - it is worth checking your cards compatibility before getting an Oyster Card.
4 day guide
Average of 5 stops per day
4 Day London Itinerary
London Map
A map of London. Use the map to explore all the days and stops.
A walk Through Royal History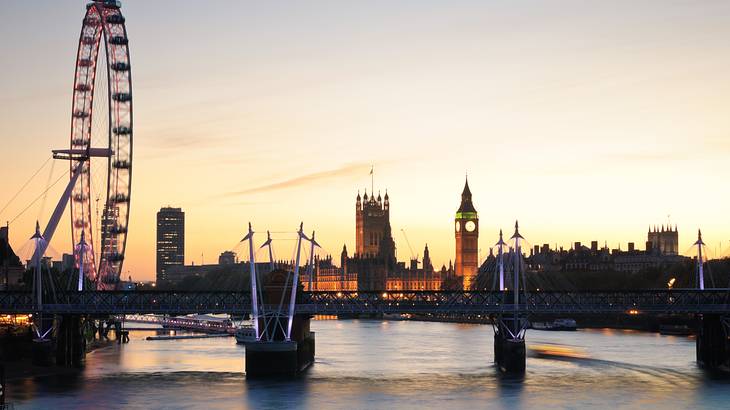 London has a lot of history behind it and of course that includes the Royal Family and beautiful government homes and buildings. Your 4 days in London guide starts with typical London bucket list items, including visiting museums, famous structures and other popular London attractions.
Buckingham Palace
Buckingham Palace is the official home of the Queen of the United Kingdom and is where the Changing of the Guard Ceremony takes place. The ceremony lasts about 45 minutes and starts at 10:45 am. Want to know if the Queen is in? Check the flag; if the royal standard flag is flying, then she is in. If the Union Jack is flying, then she is out and about.
The palace isn't just home to the queen; the palace is also home to The Royal Collection, a collection of famous paintings, sculptures and tapestries.
Originally built in 1703, the palace has gone under numerous additions and changes, transforming it into one of the most iconic buildings in England and London. During WWll, the Palace survived nine bombings.
Today there are over 700 rooms in the palace. There are over 50 royal and guest bedrooms, 188 staff bedrooms, 78 bathrooms and 19 staterooms. Also, within Buckingham Palace is a police station, a movie theatre, a pool, a post office and even a clinic. The palace grounds feature London's largest private garden and also has a lake, tennis courts, and a helicopter landing.
While you can always view the palace from outside, you can only visit inside between the months of July, September and October. If you are planning your 4 days in London during these months, purchase a ticket for a tour beforehand. The tour typically takes between 2 and 2.5 hours, so wear comfortable shoes!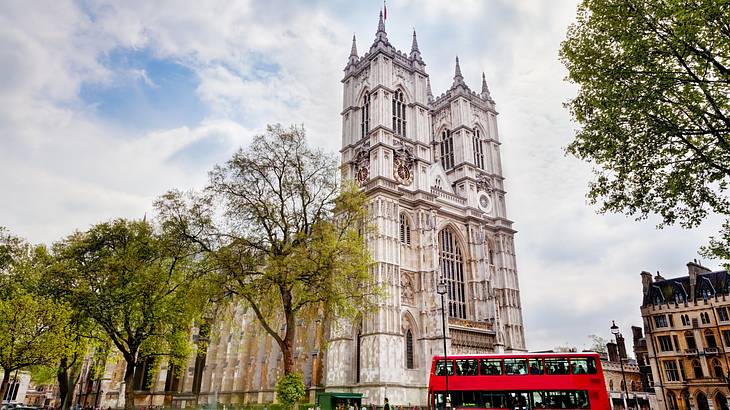 Westminster Abbey
Westminster Abbey is a breathtaking gothic style church that is a royal place for coronations, weddings and burials. While most people know it as Westminster Abbey, the buildings official name is Collegiate Church of St Peter, Westminster.
The cathedral boasts the highest gothic vault in England, soaring 102 feet into the sky. Westminster Abbey has ten church bells that are rung for major church festivals, saints' days, Royal and Abbey anniversaries, civic events and other special events.
Westminster Abbey still holds five services every Sunday and is open for tours the rest of the days of the week.
There are several interesting sights within Westminster Abbey:
You can take a private or guided tour, and they are around 90 minutes long.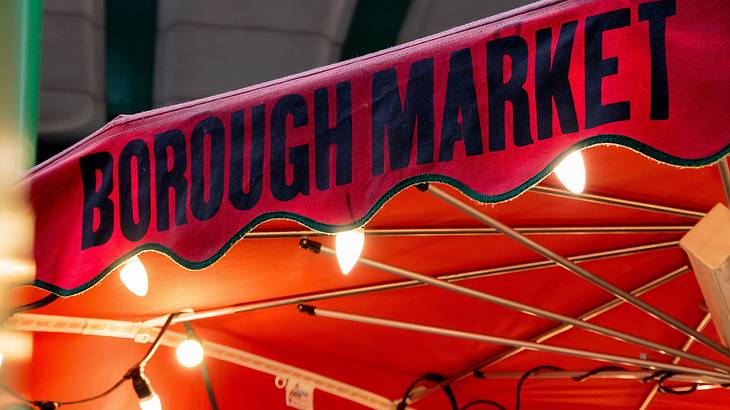 Borough Market
The Borough Market is a historic British landmark that has been around for nearly 1,000 years. This full produce market is broken down into sections such as: The Green Market, which is smaller and has specialised produce traders.
The Three Crown Square features more abundant produce. Then there is the Borough Market Kitchen which sells hot and cold, high-quality dishes. There are also other retail stores and restaurants within the market.
The market also claims to have the hottest chilli in the world. You can also find delicious pastries, fresh bread, fresh oysters, spices, coffee and numerous other items. It is open every day, but Sunday. They have limited things available on Mondays and Tuesdays.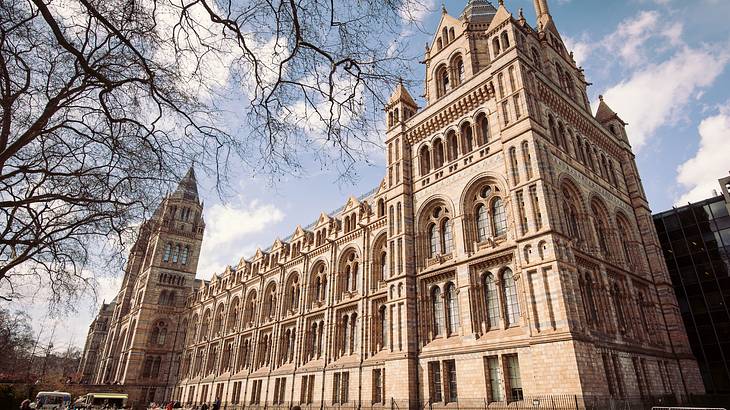 Natural History Museum
The Natural History Museum is free to the public and open every day of the week. It is a great rainy day activity or something to do with children.
The museum is dedicated to the life and earth sciences. They have over 80 million items within five main collections: botany, entomology, mineralogy, palaeontology and zoology. They are also very involved in research and conservation of Earth and all its animals.
Amongst the treasures at the Natural History Museum, you can find:
The museum sees over 5 million visitors throughout the year and is easily accessible to everyone.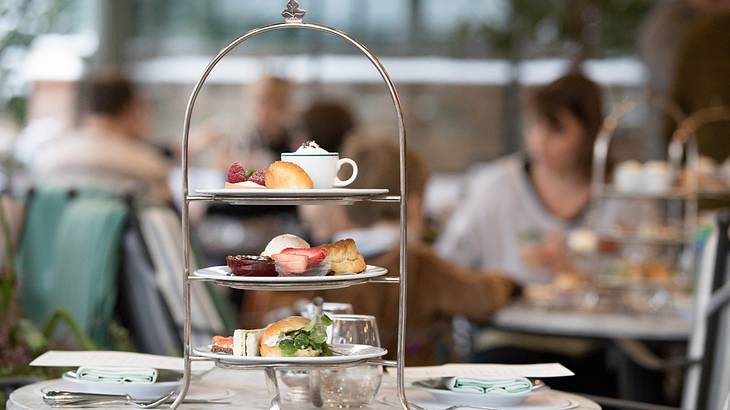 Afternoon Tea
Afternoon tea is an important tradition in London. It started with Anna the 7th Duchess of Bedford. She would always become hungry in the afternoon and would dull her hunger pains by having tea and tiny sandwiches. She eventually started inviting her friends, and the tradition has grown from there.
There is proper etiquette for when you are having afternoon tea. For example, when stirring your tea place the teaspoon at 6 o'clock and fold your tea bag at 12 o'clock before stirring and don't ever let your spoon clink against the side of the cup. Don't forget to take your spoon out and place it on your saucer before sipping. And opposite to what some people think, you do not have to stick out your pinkie when sipping your tea.
Some of the most popular afternoon tea spots include Mad Hatter and Charlie and the Chocolate Factory. Other fun things to do in London include afternoon tea on a bus tour or on a cruise.
Taking a Step Back in Time
As mentioned before, London has a lot of history to it, it also has a little bit of mystery.
Tower Bridge
London's Tower Bridge is one of its most iconic European landmarks. It spans across the River Thames with a length of nearly 800 feet. At either end is a tower that soars almost 200 feet into the sky. It was built between 1886 and 1894.
The bridge is a drawbridge that still works today to let ships through safely underneath.
There is a glass walkway that spans the two towers that visitors brave enough can walk across. There is also a permanent exhibition that visitors can do and it is called The Tower Bridge Experience, which shows you the history of the bridge.
The bridge itself has seen quite a bit of excitement. In 1912, after an emergency, a very skilled pilot had to fly between the bascules and the upper walkway to avoid an absolute disaster. Then in 1952, the drawbridge started rising while a double-decker bus was still crossing. The driver avoided catastrophe by accelerating rapidly and jumping the gap, saving everyone on board.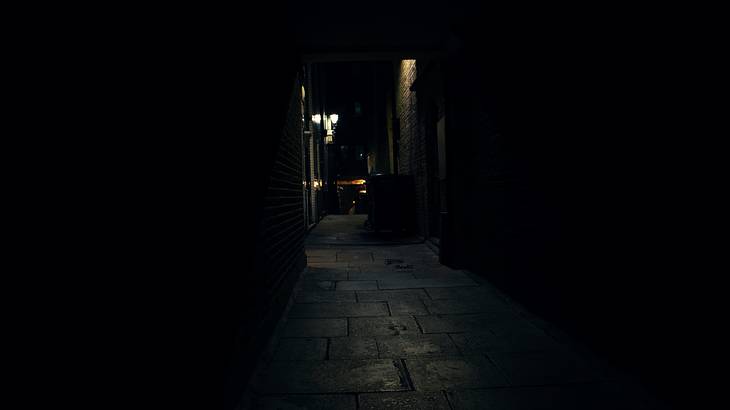 Jack the Ripper Museum
Jack the Ripper is one of, if not the most notorious unknown serial killers. While there were plenty of suspects, the true killer's identity has never been proven.
In 1888, Jack the Ripper viciously and methodically butchered and slaughtered five women. They were all prostitutes and were so badly beaten that they were hard to identify. The bodies were also cut open with perfect precision, and their internal organs were removed. It is thought that the murder was some sort of medical professional that hated women.
The Jack the Ripper Museum has recreated each of the murder scenes for you to look at and explore. The museum also offers a walking tour through the streets of the city to all the real-life murder scenes.
The walking tours leave 3 pm daily from Traders Gate at Tower Hill Tube Station.
British Museum
The British Museum has nearly 2,000 years of history stored inside its walls. They feature ancient artefacts as well as modern-day art and paintings.
The museum is free to enter and is open seven days a week. There are some pieces that you don't want to miss out seeing, like the Rosetta Stone, Parthenon Sculptures, The Mummy of Katebet, Japanese Samurai Armor and an ancient game called Ur which is thought to be 5,000 years old.
You can take guided tours or walk around on your own. If you are walking around on your own, you should allow yourself a few hours to explore everything you want to see. You can even look online, so you can find out where the pieces you are interested in are located.
Tower of London
The Tower of London is a 900-year-old castle and fortress which has also been used as a prison and a zoo.
In the 1200s it was turned into a zoo and featured exotic animals such as polar bears, lions, kangaroos, ostriches, and elephants.
Up until the 15th century, executions were still being held at the tower and throughout the years there were 22 executions completes here.
The Tower is also thought to be haunted by the ghost of Henry VI and Catherine, the fifth wife of King Henry VIII. Some say that there is even a ghost of a grizzly bear.
Today the tower is a UNESCO World Heritage Site and houses The Crown Jewels. Their estimated worth is $25,825,500,000.00 usd. Items include:
The Tower of London is also home to 6 ravens at all times. Legend says that the ravens protect the tower and the jewels and if they flew away the crown, as well as Britain will fall.
The Tower is a super fun place to visit on your trip to London. Buying tickets online is cheaper and easier. There are also cafe's on site if you start getting a bit hungry.
Hyde Park
Hyde Park is one of the Royal Parks and at one time was a private hunting ground for King Henry Vlll.
It was opened to the public in 1536 and is one of the largest of the Royal Parks and the oldest.
Hyde Park has many functions and features, including concerts and protests. The park is also home to the famous Achilles Statue can be found in Hyde Park, along with the Diana, Princess of Wales Memorial Fountain as well as the Joy of Life Fountain. There is the human-made Serpentine Lake where you can swim and rent boats. The park is also home to unique and eye-catching sculptures like the Drinking Horse, which is a massive horse head made to look like it is drinking water and another sculpture referred to as Vroom Vroom and it looks like a gigantic hand playing with a toy car.
If you visit Hyde Park on a Sunday, you can listen to or give a speech at Speaker's Corner; it has been a long-standing tradition in the park for people to speak their minds freely.
Hyde Park is also the final resting place for numerous beloved pets that have since passed on. While the pet cemetery is technically not open to the public, you can arrange to have a tour of the area.
Let the Music Play
London is very much a musical city as it is historical. Discover the soundtrack of London as you explore its musical past and present.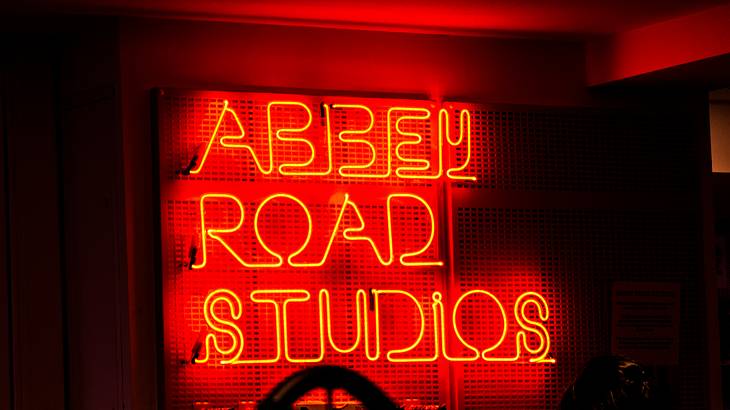 Abbey Road Studios
London is also an oasis for any music lover, and of course, Abbey Road Studios should be at the top of your list. While visiting the studios, you can mimic the Beatles crossing the iconic zebra stripes. You can even check back on their camera that is trained on the crosswalk at all times to watch yourself cross.
You can write on their world-famous graffiti wall and take photos in front of the Studio Building and don't forget to visit the Abbey Road Shop.
Dance Down Denmark Street
Denmark Street is famous for its musical history. Dating back to the 1920s this street has seen and heard music from some of the world's most famous musicians.
Artists such as The Kinks, The Rolling Stones, The Small Faces, David Bowie, The Sex Pistols, Paul Simon, Jimi Hendrix, Stevie Wonder and Bob Marley, Eric Clapton, Jeff Beck and Pete Townshend have all spent time on Denmark Street.
The street is now filled with speciality shops, music shops, cafes, bars, and restaurants.
23 Heddon Street
In 1972, on a dreary night in January, one of the most quintessential album covers came to life. Despite fighting a horrid case of the flu, David Bowie transformed himself into everyone's favourite alter ego - Ziggy Stardust for The Rise and Fall of Ziggy Stardust and the Spiders From Mars album.
Brian Ward, the photographer of the famed photo, had a studio on Heddon Street. The photo was originally taken in black and white and hand coloured-in afterword by Ward.
In an unprecedented move by the Crown Estate, a plaque was put up in honour of Ziggy Stardust. The plaque was installed on March 28th, 2012.
The Good Mixer
The Good Mixer is a must for any pub crawl in London, especially for anyone nostalgic for the 90s music scene.
This subtle little pub has seen many musicians in its time. The pub became a hangout for musicians as it was close to most of the indie rock label studios and was conveniently located for a pint. The pub became the backdrop for bands singing with labels.
As the story goes, The Good Mixer was the spot where the infamous rivalry started between Oasis and The Blur. Elastica, Mensware and Amy Winehouse were also known to be seen hanging around the pool tables.
Handel and Hendrix House
Two hundred years apart, but only separated by a wall are the homes of two musicians who changed the world.
You can experience the home where Jimi Hendrix lived during the late 1960s. You can hang out in the main room where he used to hang out with friends and write and rehearse the music we all love and adore today.
Above the Hendrix flat, is what was once the home of the composer George Frideric Handel.
Where the Past Meets the Present
The city of London is a great example of how history can be celebrated while looking to the future.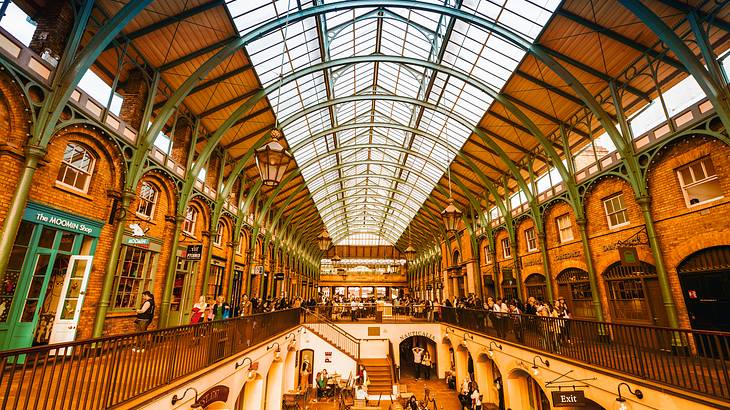 Covent Garden
Covent Garden is London's premier luxury shopping destination. High-End clothing brands like Polo Ralph Lauren, Tom Ford, Mulberry, Tiffany & Co., and Lacoste can all be found here. There are, of course, cheaper shopping destinations in London for those on a budget, such as markets and vintage shops on the High Streets.
Covent Garden, the Piazza and the Market Building is a public space and can be visited day or night. However, the shops, restaurants and boutiques are typically only open from 10 am to 8 pm.
Covent Garden is a beautiful blend of new and old. The Piazza still has it's cobblestone, and the Market Building still has its arches.
You can also visit different museums and theatres, beauty boutiques, and speciality shops.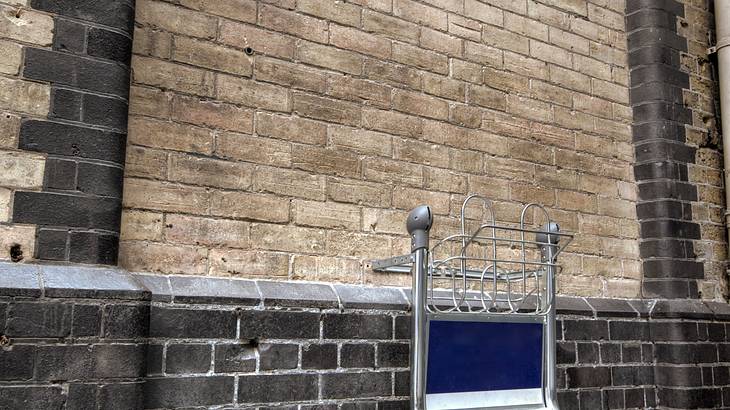 Warner Brothers Studios
Of course, you can't spend four days in London without a Harry Potter experience. The Warner Brothers Harry Potter Studio Tour has been ranked one of the best attractions in the world since it first opened in 2012.
During the tour, you can visit Diagon Alley, The Great Hall, Platform 9 3/4, The Forbidden Forest, Gringotts Wizarding Bank, Professor Dumbledore's Office, and a Potion Classroom. You can also try Butterbeer at Backlot Cafe.
You can get up close and personal with Buckbeak, Aragog, and The Basilisk.
Don't forget to use the hashtag #WBTourLondon when posting your photos as the studio sometimes chooses photos to feature on their website.
If you don't want to wait in line, make sure to purchase a skip the line tour ticket.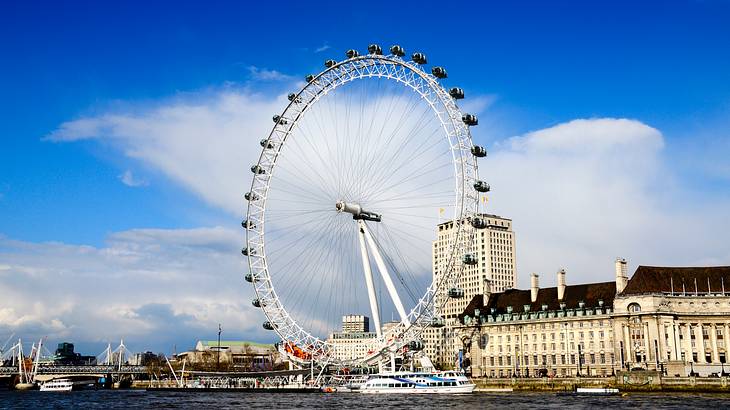 London Eye
The London Eye is a great way to end your 4 days in London. It is Europe's tallest Ferris wheel at 443 feet high and is London's most popular paid tourist attraction seeing almost 4 million passengers a year.
Similar to the Eiffel Tower in Paris, it was not meant to be a permanent attraction. Commissioned initially for five years, but was given a permanent place in 2002.
The London Eye will light up with different colours to represent different holidays or occasions.
In Conclusion
London is a city of magic, music and mystery and of course, history. As you plan what to do in London for 4 days, consider getting the London Pass. It is an excellent option for anyone visiting London for the first time as it can provide discounts.
This article was edited by Loredana Elena and was first published on Feb 22, 2020 15:33 UTC.
For more interesting articles about United Kingdom, read:
---
---
Want to keep exploring?
Subscribe for discounts on tickets and hotels and our latest guides.
Thank you for subscribing
We will be in touch soon with discounts on tickets and hotels and our latest guides.
Want to keep exploring?
Subscribe for discounts on tickets and hotels and our latest guides.
Thank you for subscribing
We will be in touch soon with discounts on tickets and hotels and our latest guides.
Related articles