The Best 4-Day London Itinerary for First Timers
Destguides may receive commissions from purchases made through affiliate links in this article.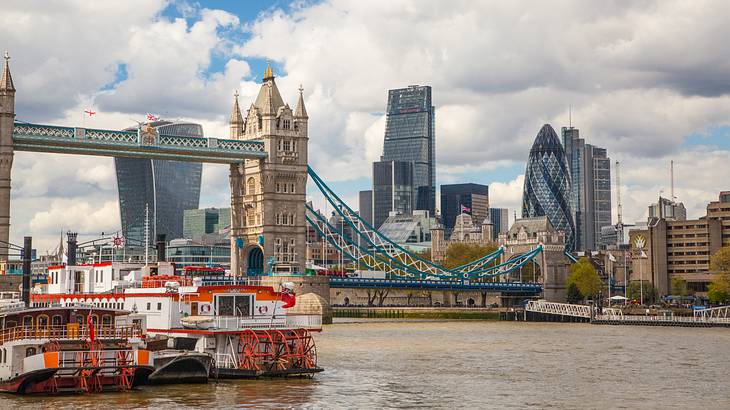 London is a historical city with many famous landmarks to visit, which includes ornate bridges, buildings, towers, palaces, and much more. It also has over 150 museums, 250 theaters, and street art by Banksy, El Chivo, and King Robbo on concrete walls throughout the city.
With significant ties to music, art, and theatre, and over 30 million people traveling here to explore the arts and theatre scene every year, you will not be short of things to add to your 4-day London itinerary.
So, what are you waiting for? Continue reading to learn more about how to spend 4 days in London!
London 4-Day Itinerary
Royal history and national treasures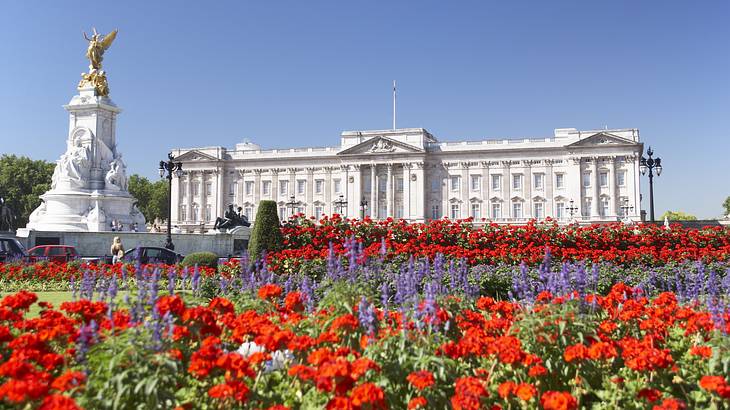 If you're wondering how to plan 4 days in London, you're not alone! London is one of the oldest cities in Europe, and all of that history means a lot to do.
This list will help make seeing the city and all of its world-renowned attractions easy by covering many of the big London bucket list items right away. Royal palaces, national treasures, and historic landmarks are among the popular London attractions recommended for your first day. You'll also get the chance to try a delicious afternoon tea.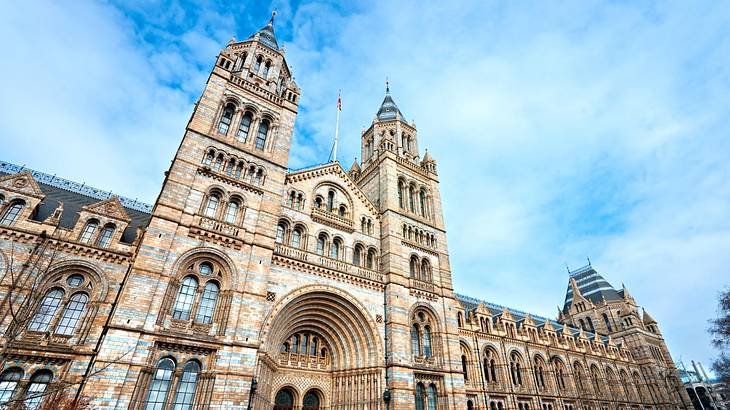 Natural History Museum
The first stop on this things to see in London itinerary is the Natural History Museum, which is dedicated to life and earth sciences. The attraction has over 80 million items within five main collections: botany, entomology, mineralogy, paleontology, and zoology.
It's also very involved in the research and conservation of Earth and all its animals. Amongst the treasures at the Natural History Museum, you can find:
A cup made from a human skull
The extinct Dodo
A skeleton of the largest mammal on Earth, the Blue Whale
A chunk of gold worth 1.5 million dollars
A stuffed polar bear
The first edition of Darwin's "On the Origin of Species"
Casts from victims of the Mt. Vesuvius eruption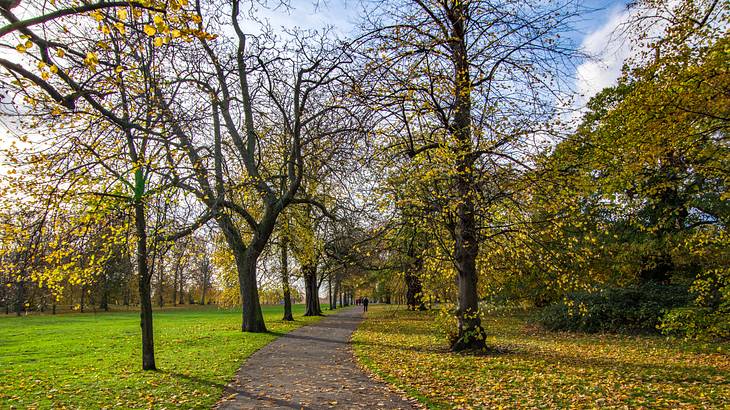 Hyde Park (optional)
The next stop on this 4 days in London guide is Hyde Park, a former royal park which at one time was a private hunting ground for King Henry Vlll. It was opened to the public in 1637 and is one of the largest and oldest of the Royal Parks.
Today, Hyde Park is used for many things. From concerts and recreation to protests and activism, it's one of London's best places to be seen and heard.
If you visit Hyde Park on a Sunday, you can listen to or give a speech at Speaker's Corner. It has been a long-standing tradition for people to speak their minds freely in the park. The park is also a great place to enjoy a stroll or take a boat out on Serpentine Lake any day of the week.
It's only about a 10-minute walk to Hyde Park from the Natural History Museum, so it could be a good opportunity to sit down for a snack before continuing on your day. However, if you're feeling pressed for time, this can be viewed as an optional stop.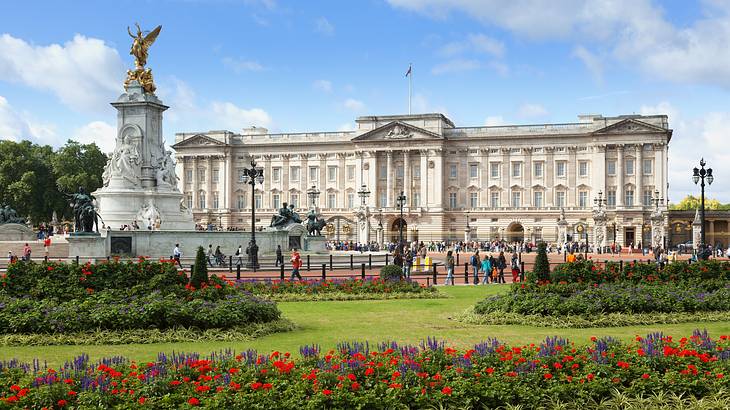 Buckingham Palace
Buckingham Palace is the official home of the Queen of the United Kingdom and is where the Changing of the Guard Ceremony takes place. The guard changing ceremony starts at 10:45 am and lasts about 45 minutes. It is a must-do when in London for a few days.
Want to know if the Queen is in? Check the flag! If the royal standard flag is flying, then she is in. If the Union Jack is flying, then she is out and about. The Palace isn't just home to the Queen; it also houses The Royal Collection - a collection of famous paintings, sculptures, and tapestries.
Originally built in 1703, the Palace has gone under numerous additions and changes, transforming it into one of the most iconic buildings in England and London.
Today, there are over 700 rooms in the Palace, with 50 royal and guest bedrooms, 188 staff bedrooms, 78 bathrooms, and 19 staterooms. Also found within Buckingham Palace is a police station, a movie theatre, a pool, and a post office. The palace grounds contain London's largest private garden, a lake, tennis courts, and a helipad.
While you can always view the Palace from the outside, you can only visit the inside in the months of July, September, and October. If you are planning your four days in London during these months, you'll want to purchase a ticket for a tour beforehand. The tour typically takes a few hours, so wear comfortable shoes.
Westminster Abbey
Westminster Abbey is a breathtaking gothic-style church that is a royal place for coronations, weddings, and burials. While most people know it as Westminster Abbey, the building's official name is the Collegiate Church of St Peter, Westminster.
The cathedral boasts the highest gothic vault in England, soaring 102 feet into the sky. Westminster Abbey has ten church bells that are rung for major church festivals, saints' days, Royal and Abbey anniversaries, civic events, and other special events. Westminster Abbey still holds services every Sunday and is open for tours the rest of the week.
A Westminster Abbey guided tour is available that allows you to skip the lines and see some of the surrounding area as well. Your guide will also offer lots of information on the things you see. There are several interesting sights within Westminster Abbey, like:
The Lady Chapel is dedicated to the Virgin Mary. It is adorned with a fan-vaulted ceiling and 95 statues of saints. There is a vibrant stained glass window featuring badges of the fighter squadrons that took part in the Battle of Britain, as well as other newly installed stained glass windows. It is also the final resting place for 15 different kings and queens.
The Coronation Chair, located in St. George's Chapel, has been used for the coronation for over 700 years. There is even vandalism on the back of the chair dating back to the 18th century. This happened when one schoolboy or tourist had carved into it, "P. Abbott slept in this chair 5-6 July 1800".
Poets' Corner has burial places and memorials for over 100 famous writers and poets, including C.S. Lewis, William Shakespeare, and Charles Dickens.
The Queen's Window is a brilliant stained glass window depicting the Yorkshire Countryside during the spring. It was made to celebrate Queen Elizabeth ll.
The Pyx Chamber dates back to 1070 and still retains the original tiled floor.
The Royal Tombs are the final resting place of 30 kings and queens, starting with King Edward.
The Quire still has daily choral services reminiscent of the chanting monks of the 10th century.
Chapter House was a place where monks initially gathered to read and pray. Paintings on the wall portray scenes from the book of Revelation.
The Abbey Gardens have been growing for over 900 years. At one time, monks grew food, herbs, and medicine. Today, it is a serene place to stroll around or relax.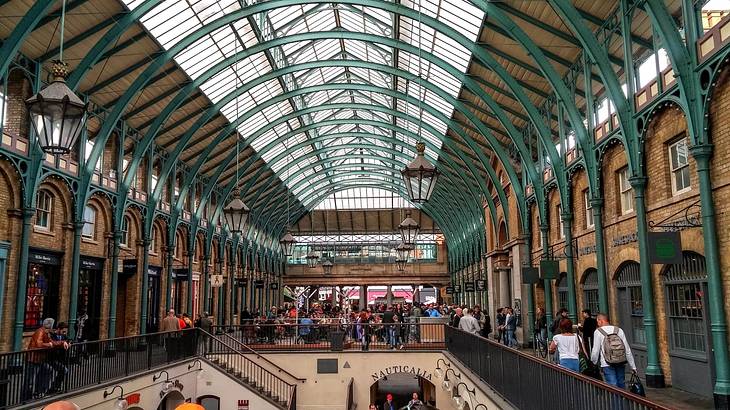 Afternoon Tea at Covent Garden
Afternoon tea is one of the fun things to do in London, and it is an important tradition in the city. It started with Anna the 7th Duchess of Bedford. She would always become hungry in the afternoon and would dull her hunger pains by having tea and tiny sandwiches. She eventually started inviting her friends, and the tradition has grown from there.
There is proper etiquette for when you are having afternoon tea. For example, when stirring your tea, place the teaspoon at 6 o'clock and fold your tea bag at 12 o'clock before stirring. Don't ever let your spoon clink against the side of the cup!
Don't forget to take your spoon out and place it on your saucer before sipping, too! And opposite to what some people think, you do not have to stick out your pinkie when sipping your tea.
One of the most popular afternoon tea spots is Charlie and the Chocolate Factory in Covent Garden. Covent Garden is not only London's premier luxury shopping destination but also offers many delicious spots for afternoon tea.
High-end clothing brands like Polo Ralph Lauren, Tom Ford, Mulberry, Tiffany & Co., and Lacoste can all be found here. There are, of course, cheaper shopping destinations in London for those on a budget.
Covent Garden is a beautiful blend of new and old. The Piazza still has its cobblestone, and the Market Building still has its arches. You can also visit different museums and theatres, beauty boutiques, and specialty shops.
If you are interested in walking around while a British historian delivers fascinating tidbits about this part of London directly into your ear, you can book a self-guided audio tour and go at your own pace.
National Gallery at Trafalgar Square (optional)
If there's enough time left on your first day and you're feeling energized following afternoon tea, the nearby National Gallery at Trafalgar Square is a treasure trove of European art. Its collection spans from the late middle ages until the turn of the twentieth century, with a heavy emphasis on the Renaissance period.
Claude Monet, Michaelangelo, Leonardo da Vinci, Rembrandt, and Vincent Van Gogh are just a few of the headlining artists that you'll find in its unbelievable collection.
If that wasn't enough motivation to squeeze one more bucket-list item out of your day, then check their website to see what temporary exhibits they have coming up.
If you're trying to squeeze a lot into your trip or you want an expert to guide you through the intricacies of these works, there is a private tour available to make the most of your time here.
Museums, monuments, and markets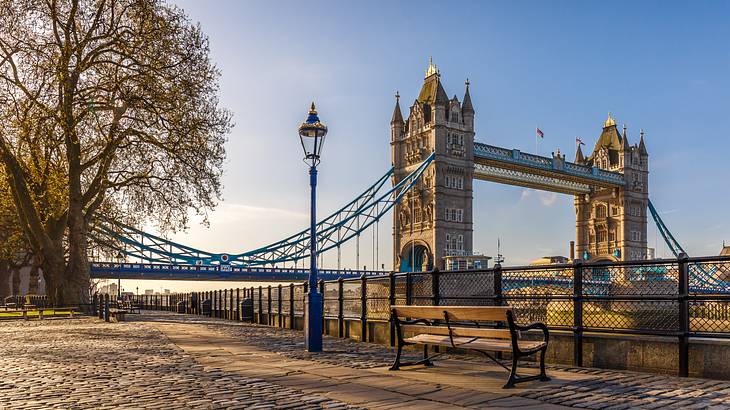 London has too much history to pack into just one day, so day two of your London in 4 days itinerary will take you to a couple of world-famous museums, some more jaw-dropping national monuments, and a thousand-year-old marketplace.
British Museum
The British Museum has nearly 2,000 years of history stored inside its walls. It contains ancient artifacts as well as modern-day art and paintings.
The museum is free to enter and is open seven days a week. You don't want to miss out on seeing some pieces, like the Rosetta Stone, Parthenon Sculptures, The Mummy of Katebet, the Japanese Samurai Armor, and an ancient game called Ur, which is thought to be 5,000 years old.
You can take a guided tour to help you sift through the astounding collection, or just walk around on your own discovering its many treasures at your own pace.
Jack the Ripper Museum
Jack the Ripper is probably the most famous real-life serial killer due to the ongoing mystery about the killer's identity. While there were plenty of suspects, the murders have remained unsolved to this day.
In 1888, Jack the Ripper viciously and methodically butchered and slaughtered five women. They were all prostitutes and were so badly beaten that they were hard to identify.
The bodies were cut open with perfect precision, and their internal organs were removed. It is thought that the murderer was some sort of medical professional harboring hatred for women.
The Jack the Ripper Museum has recreated each of the murder scenes for you to look at and explore. The museum also offers a walking tour through the city's streets to all the real-life murder scenes.
Other Jack the Ripper walking tours are available as well if you would prefer to skip the museum and just take a gory tour of old London later in the evening.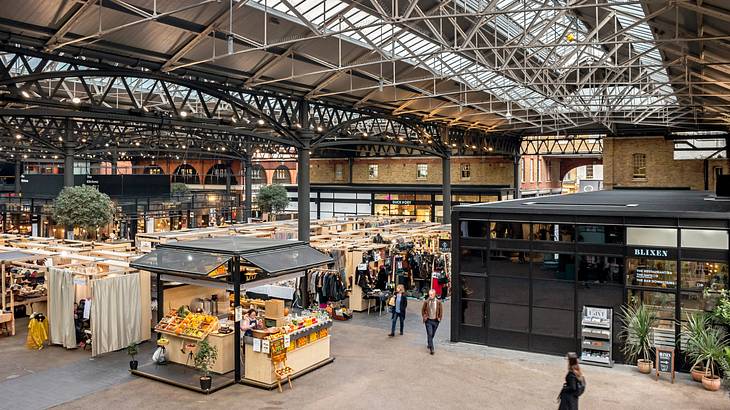 Old Spitalfields Market
Old Spitalfields Market is more of an event than a shopping destination, with food, drink, and entertainment often as the focal points. That's not to say that there are no shops of note here, with several stores and stalls offering art prints, specialty candles, hand-crafted jewelry, clothing, and more.
If nothing else, though, come here for the food, which hails from all over the world. After a morning in museums, this market will transport you away from London to the Caribbean, Ethiopia, India, and even to an American-style diner. With so many choices, it'll be hard to have just one meal here!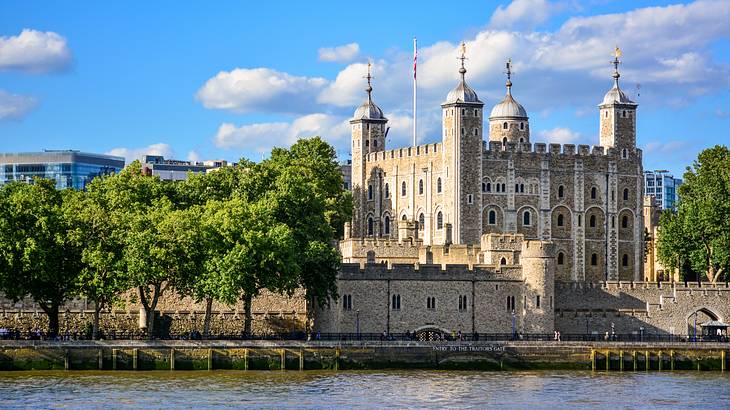 Tower of London
The Tower of London is a 900-year-old castle and fortress which has also been used as a prison and a zoo. In the 1200s, it was turned into a zoo and featured exotic animals such as polar bears, lions, kangaroos, ostriches, and elephants.
Up until the 15th century, executions were still being held at the Tower, and throughout the years, there were 22 executions completed here. It is thought the Tower is haunted by the ghosts of Henry VI and Catherine, the fifth wife of King Henry VIII. Some say that there is even a ghost of a grizzly bear!
Today, the Tower is a UNESCO World Heritage Site and houses The Crown Jewels. Their estimated worth is nearly $26 billion, and the items include:
The Imperial State Crown, which is typically worn by whomever the monarch is at the time of the State Opening of Parliament. St Edward's Crownis considered the most sacred of all crowns and is only used at the actual crowning.
The Sovereign's Orb, which is what is placed in the monarch's right hand before being taken to the altar. The Orb still contains its original gemstones, and it is meant to symbolize the Christian world.
The Jewelled Sword of Offering is given to the new monarch as a symbol of protecting good and fighting evil.
The Imperial State Crown contains 2,868 diamonds, 17 sapphires, 11 emeralds, 269 pearls, and four rubies!
The Tower of London is also home to 6 ravens at all times. Legend says that the ravens protect the Tower and the jewels and if they flew away, the crown, as well as Britain, would fall.
The Tower is a super fun place to visit on your trip to London. Buying tickets online will ensure you can visit when you want to, and there are personalized tours available as well that allow you to skip the line and more.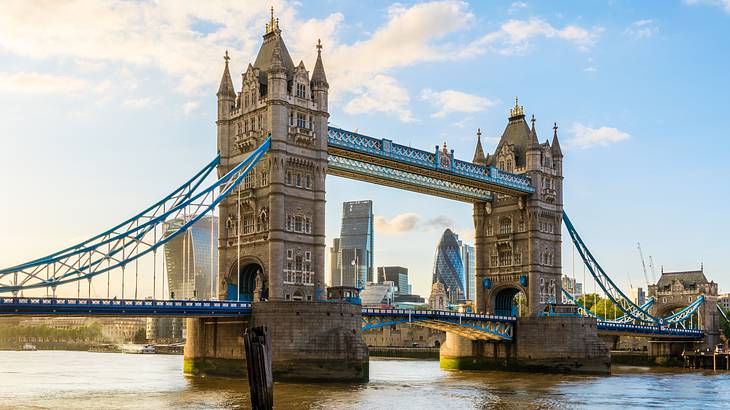 Tower Bridge
London's Tower Bridge is one of its most iconic European landmarks. It spans across the River Thames with a length of nearly 800 feet.
A tower that soars almost 200 feet into the sky is at either end. It was built between 1886 and 1894, and its drawbridge still functions to allow larger vessels to pass through, though not without occasional excitement.
In 1952, for example, the drawbridge started rising while a double-decker bus was still crossing. The driver avoided catastrophe by accelerating rapidly and jumping the gap, saving everyone on board.
Visitors can ascend the two towers and even venture out onto a glass walkway that spans between the two sides. Another popular way to see Tower Bridge is by sailing under it on a Thames River Sightseeing Cruise.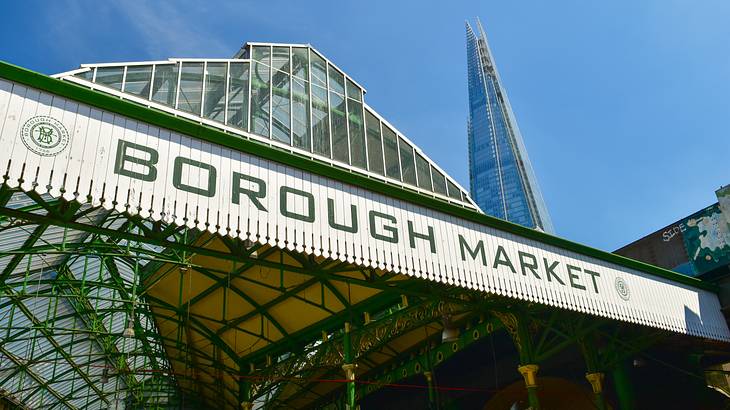 Borough Market
The Borough Market is a historic British landmark that has been around for nearly 1,000 years. This full produce market is broken down into sections, such as the Green Market, which is smaller and has specialized produce traders.
The Three Crown Square features more abundant produce. Then there is the Borough Market Kitchen which sells hot and cold, high-quality dishes. There are also other retail stores and restaurants within the market.
The market claims to have the hottest chili in the world, and you can also find delicious pastries, fresh bread, fresh oysters, spices, and coffee among its many culinary delights. If you're looking to switch the order of these stops around, this market would also make for a great lunch stop.
The Beatles, Sherlock Holmes, and Judge Dredd walk into a pub...
London may be a historic city, but it's left an indelible mark on pop culture as well. Day three of this tour chronicles British contributions to music, literature, and pop art while conveniently starting you off at a market and leading you to a pub.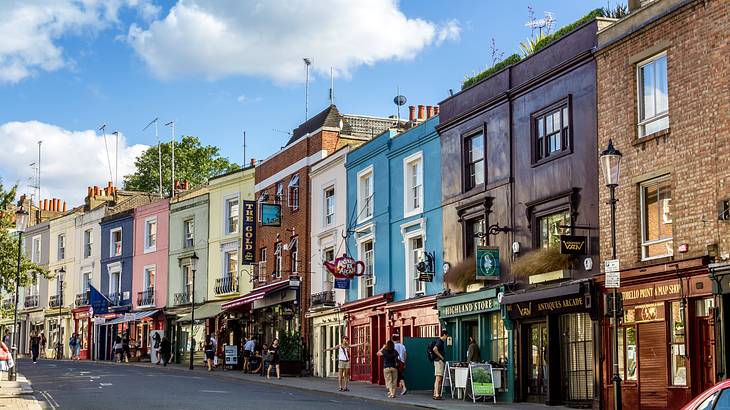 Portobello Road Market
This bustling, eclectic marketplace showcases the thrum of modern-day London, with food, artisan crafts, and antiques representative of the many people who call the city their home.
Tailored clothing cut from surplus fabric, French artisanal cheeses, art galleries, and vintage film cameras are just a few of the things that you can find here.
Whether you're looking for a unique souvenir, something to eat, or just want to go and browse, this stop on your itinerary for London in 4 days is a great place to begin your day!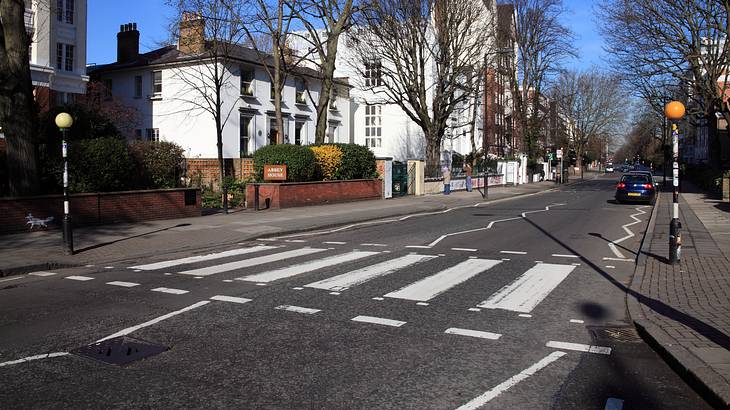 Abbey Road Studios
London is also an oasis for any music lover, and of course, Abbey Road Studios should be at the top of your list. While visiting the studios, you can mimic the Beatles crossing the iconic zebra stripes. A camera and screen have been mounted nearby so fans can watch themselves cross just as the Beatles did for their iconic album cover.
If visiting the studio isn't enough for you, you can sign up for a Beatles Tour of Central London that will whisk you through locales important to Beatlemania. You'll be able to visit over thirty key places that made the band who they were, including filming locations for their movies and Apple HQ.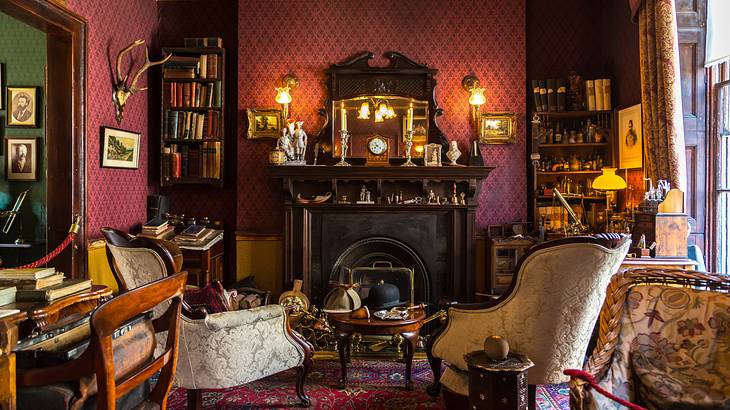 Sherlock Holmes Museum
Even Sherlock's powers of observation and deduction couldn't have predicted the materialization of his residence at the very real 221B Baker Street in London.
Fans of the fictional sleuth will enjoy rummaging through this gas-lit Georgian townhome crammed with Victorian knickknacks and easter eggs from Sir Arthur Conan Doyle's stories.
To further blur fantasy and reality, there is a plaque with the dates 1881 - 1904 on the building, and an inscription commemorating those dates as the time during which Holmes would have lived there.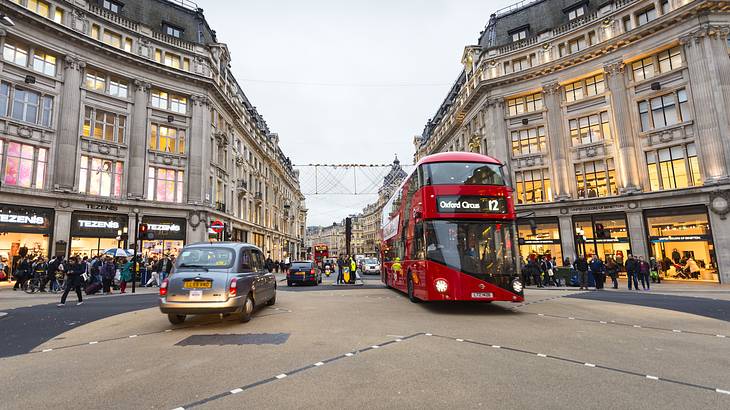 Oxford Street (optional)
With over a half-million visitors per day to its shops, Oxford Street ranks as the busiest street in Europe. It can get a little spendy, but it's closed to automobile traffic, and the people-watching alone makes it a nice optional stop on day 3.
Even if boutique shopping and fine dining aren't on your own personal list for your London 4 day itinerary, you should make your way through central London by way of this fascinating display of retail frenzy.
Following Baker Street from the Sherlock Holmes Museum, you can intersect with Oxford Street and follow it almost all the way to the next stop at the Cartoon Museum.
The Cartoon Museum
This unique museum highlights the importance of an often overlooked art medium in British culture. It features iconic comic books like Judge Dredd and Watchmen, designed to shine an often uncomfortable light on our own reality.
Perhaps even more powerful is its collection of political cartoons taking aim at world leaders, historical events, and public attitudes by unleashing one of the greatest weapons the world has ever known: British humor. This may not be typical London sightseeing, but it's an impactful and fun way to get to know the British psyche.
The Good Mixer
The Good Mixer is a must for any pub crawl in London, especially for anyone nostalgic for the 90s music scene. This subtle little pub has seen many musicians in its time.
The Good Mixer became a hangout for musicians as it was close to most of the indie rock label studios and was conveniently located for a pint. The pub became the backdrop for bands singing with labels.
As the story goes, The Good Mixer was the spot where the infamous rivalry started between Oasis and Blur. Elastica, Menswear, and Amy Winehouse were also seen hanging around the pool tables.
Along the River Thames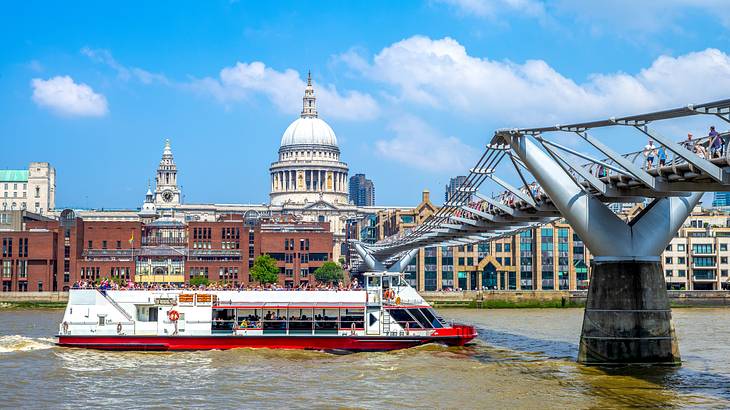 To cap off your London itinerary, you'll stay along the River Thames for some grand views and a few more bucket list items.
There's no need for the Tube, tour buses, or a guided walking tour on this part of your trip since everything is found in an even more compact area than the other days of your itinerary.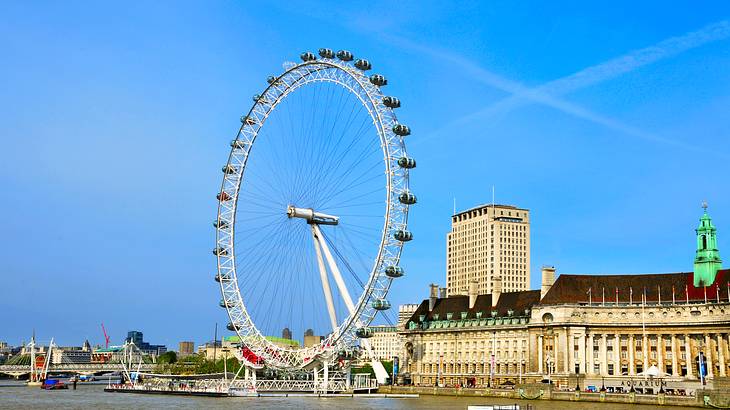 London Eye
The London Eye is a great way to end your 4 days in London! It is Europe's tallest Ferris wheel at 443 feet high and is London's most popular paid tourist attraction. It entertains almost 4 million passengers a year, seeking out its breathtaking views over London.
Similar to the Eiffel Tower in Paris, it was not meant to be a permanent attraction. Initially commissioned for only five years, it was declared a permanent feature in 2002.
The London Eye is also a calendar of sorts, lighting up with different colors to represent important holidays and occasions.
If you want to combine this experience with a trip to the SEA LIFE Aquarium and Madame Tussauds, you can sign up for this bundled tour.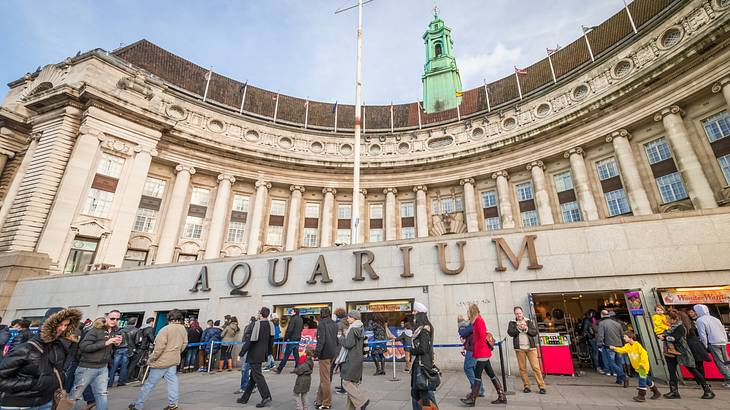 SEA LIFE Centre London Aquarium
After experiencing the heights of the London Eye, the SEA LIFE Centre London Aquarium will immerse you in the depths of the world's oceans and aquatic environments.
Sharks, penguins, jellyfish, and octopi are among the sea-dwellers you'll find here, along with tropical fish, a coral ecosystem, and rainforest exhibits.
The aquarium also holds special events for adults at night, including silent discos where you can flick between several channels hosted by different DJs.
The lighting, the music, and the floor-to-ceiling tanks of colorful fish will make you feel like you're underwater, in outer space, and in the heart of London all at once.
With all of these events and attractions, it's important to check out your options and book your admission ahead of time.
As a bonus, SEA LIFE Centre is almost directly across the river from Big Ben and Parliament, so remember to take in those views on your way in and out.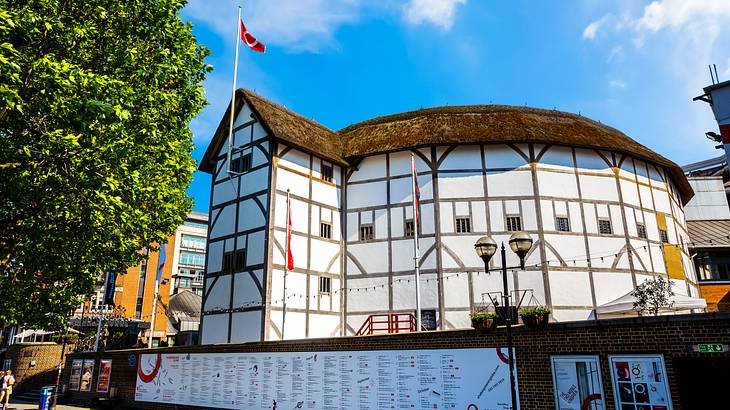 The Globe Theatre
In fair London, where we lay our scene... Perhaps that's not quite how Romeo and Juliet opened, but this also isn't quite Shakespeare's Globe Theatre. The real one burned down in 1613 when empty cannons being used for a production of Henry VIII used very real gunpowder.
The modern replica along the Thames has tried to stay true to the old theatre, going as far as keeping the space above the stage open to the sky and advising attendees of their shows to dress for the weather. Check their website to see what's playing while you're in town, and don't forget to stop by their gift shop to treat thyself!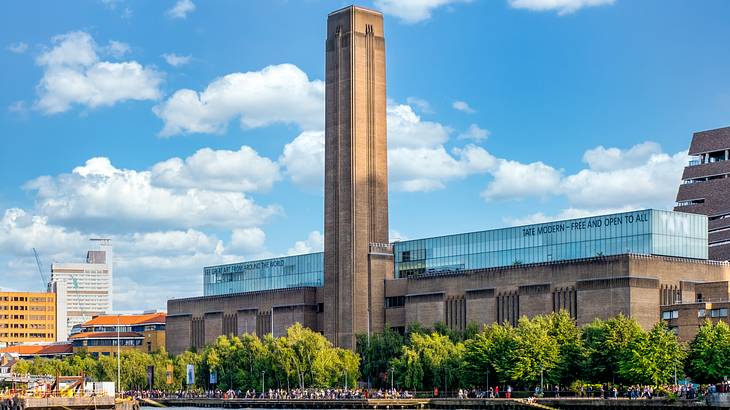 Tate Modern
Tate Modern is a powerhouse of an art museum, housing 500 years of British art as well as modern and contemporary art from around the world.
From mind-bending surrealism to performance pieces blurring the line between art and artist, this museum pushes boundaries and often leaves visitors with the ever-nagging question, "What is art?"
Perhaps the most controversial piece of art in this sense is Marcel Duchamp's "Fountain." This installation at Tate Modern is simply a bathroom urinal that has been set on the ground rather than mounted on a wall.
It's part of the artist's "ready-made" or "found object" collection and always provides an excellent source of argument.
In Conclusion
London is a city of magic, music, mystery, and of course, history. This list is helpful for visitors wondering what to do in London in 4 days, but there is an infinite number of ways to see this city.
If you want to have someone help you navigate the city, there are many walking tours to be found, such as this five-hour London sightseeing walking tour. Also, consider getting fast track tickets for popular attractions and an Oyster card for traveling around on the London Underground.
Most importantly, though, there's no right or wrong way to see London. Remember to move at your own pace, do what sounds and feels good to you, and have fun. If you end up missing anything, London will be waiting right where you left it for your return trip!
Give us feedback about this article
Learn more about London:
More articles about England:
Read more articles about the United Kingdom:
---
---
Want to keep exploring?
Subscribe for discounts on tickets and hotels and our latest guides.
Thank you for subscribing
We will be in touch soon with discounts on tickets and hotels and our latest guides.
Want to keep exploring?
Subscribe for discounts on tickets and hotels and our latest guides.
Thank you for subscribing
We will be in touch soon with discounts on tickets and hotels and our latest guides.
Related Articles