20 Things to Do for Kids in Nashville, TN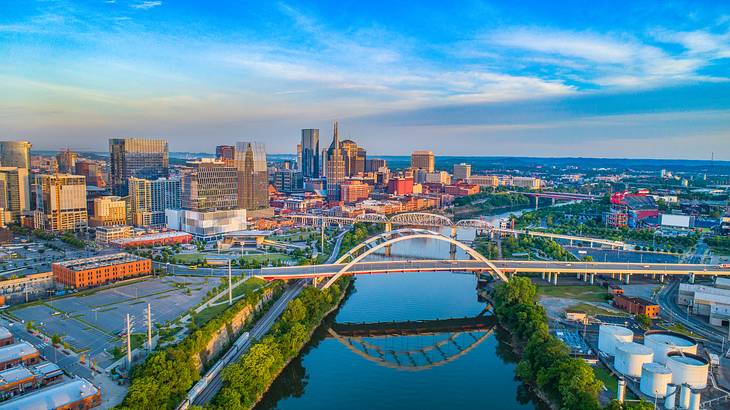 Nashville is a unique city found in the state of Tennessee. It's known as being a hub for music, especially country music, and for being a fun city break destination. This exciting city is also a great family-friendly location, and you can find a host of interesting and memorable things to do for kids in Nashville, TN.
Activities on offer for families range from visiting museums and iconic music venues to spending the day at water parks or zip-lining through the forest. If you have Nashville on your list of must-visit family vacation spots, check out these 20 kid-friendly activities in Music City.
20 Nashville things to do
Things to Do in Nashville, TN with Kids
Nashville Things to Do Map
A map of Nashville. Use the map to explore all the things to do.
Learn and play at the Adventure Science Center
The Adventure Science Center is a fun kid-friendly attraction in Nashville. The museum features various exhibits on scientific topics, including biology, physics, space, and even beekeeping!
Kids are sure to love how many interactive exhibits there are too. Almost every display has some element that kids can touch or interact with, from creating tsunami waves to trying virtual reality glasses.
Discover more about TN history at the Tennessee State Museum
Visiting the Tennessee State Museum is one of the fun family activities in Nashville, TN. This attraction is the ideal place to learn about Tennessee history and culture. Exhibits cover the state's significant events, and there's also an art gallery.
Your kids will enjoy viewing a range of artifacts on display, from photographs and art to furniture and flags. Best of all, the museum also houses a children's gallery.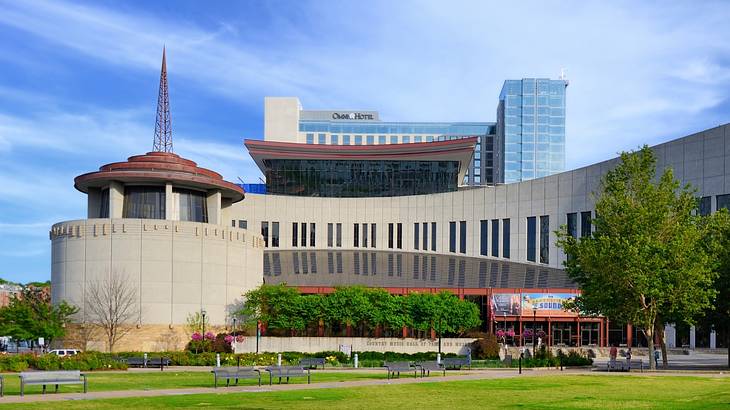 Visit the Country Music Hall of Fame
Nashville is known as being the country music capital of the United States and a visit to the Country Music Hall of Fame is a must when in the city. Best of all, it's an attraction that your kids will enjoy as much as you do.
The Hall of Fame features exhibits on Country Music's biggest stars. There are also over 2.5 million artifacts relating to country music to discover. Having explored the Country Music Hall of Fame, also check out RCA Studio B.
Tackle the Treetop Adventure Park at Nashville Shores Lakeside Resort
Heading to Nashville's Treetop Adventure Park is the perfect thing to do if your kids like adventurous activities. At the park, located at the Nashville Shores Resort, you can zipline across a range of treetop courses.
The courses are located within the woods surrounding the resort and feature obstacles like bridges, nets, Tarzan-style swings, and much more. Spending a day tackling these treetop courses is an exciting activity for all the family!
Explore the Gaylord Opryland Resort
The Gaylord Opryland Resort is a Marriott-owned hotel, resort, and convention center in Nashville. The resort has a lot of fun attractions for kids, from a waterpark to seasonally decorated atriums and kid-friendly dining options.
At the waterpark, your kids will get to enjoy an array of slides, tidal wave pools, a surfing simulator, and much more! Once you've worn yourselves out at the waterpark, head inside for a snack at one of many restaurants. Younger children will also like seeing the hotel's decorated displays if visiting near a holiday.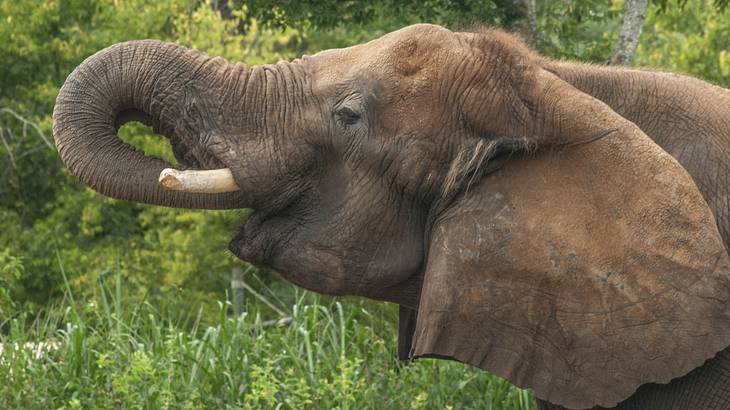 Spot exotic animals at the Nashville Zoo
The Nashville Zoo is a much-loved Nashville landmark and, of course, is a kid-friendly attraction. The zoo is home to many animals including mammals, birds, amphibians, and fish.
Creatures your kids can see include meerkats, red pandas, flamingos, tortoises, seahorses, and more. The zoo also features a zipline experience, carousel, and kids Jungle Gym. Nashville Zoo is one of the fun places for kids in Nashville, TN, that you must check out!
Splash around at the Nashville Shores Waterpark
Another fun and kid-friendly attraction at the Nashville Shores Resort is the Nashville Shores Waterpark. Your kids will be able to try multiple waterslides, play in a water treehouse, and splash about in a wave pool.
For a more relaxed vibe, there's also a lazy river and artificial beach to sunbathe on. Being located on Percy Priest Lake also means that you can try lake activities, like an inflatable lake obstacle course. Visiting the Nashville Shores Waterpark makes for an ideal day out for kids of all ages.
Get artsy at the Frist Art Museum
The Frist Art Museum, or Frist Center for the Visual Arts, is one of the great Nashville attractions for families that love arts and cultural activities. The museum hosts a range of exhibits covering various art forms. Artworks to see include drawings, photographs, sculptures, and virtual reality installations, among others.
Frist Art Museum is also very kid-friendly and features resources to make exploring the museum more fun and interactive. After visiting, kids can also access resources to help them create artworks like the ones they saw.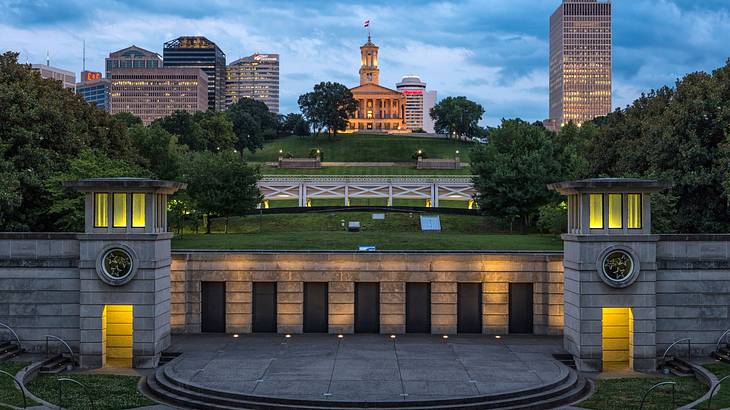 Have a picnic at the Bicentennial Capitol Mall State Park
The Bicentennial Capitol Mall State Park is a vast urban park in downtown Nashville. The park also features a 95-bell carillon that plays a song every 15-minutes, with the 95 bells resetting Tennessee's counties.
One of the best things to do in the park with kids is to enjoy a picnic. You can pack their favorite snacks and eat and relax in the scenic surroundings. The kids will also love running around the park and hearing the bell song. There are also fountains for them to run through on hot days.
Try to escape from Escape Game
The Escape Game is a Nashville escape room operator offering a range of escape games to try. Escape rooms are a fun activity to enjoy with older kids and also make for a great thing to do on rainy days.
Themes to choose from include Prison Break, space-themed Mission: Mars, and Special Ops. Escape Game also has multiple locations across Nashville, making it easy to get to from wherever you're staying.
View antique cars at the Lane Motor Museum
The Lane Motor Museum houses the largest collection of European automobiles in the US. If your kids are interested in cars, motorcycles, and the like, then a trip to this museum is a must.
Automobiles on display range from the 1900s to the present and come from various European countries, including England, Italy, and Germany. You can also see planes, bikes, military vehicles, and much more. Along with the main museum, there is a kids museum featuring cars they can interact with and car-themed toys.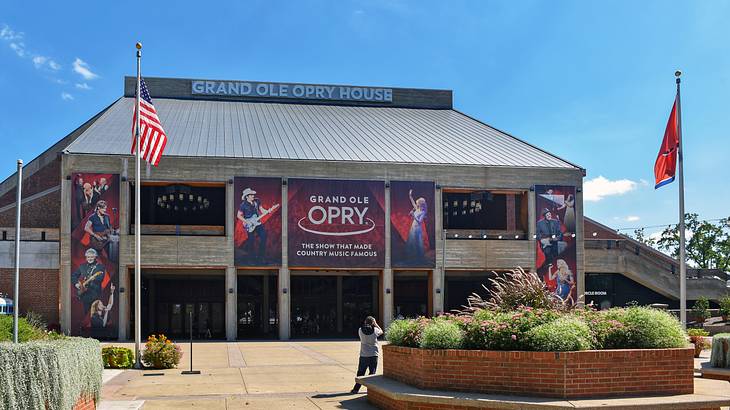 See a show at the Grand Ole Opry
The Grand Ole Opry, or Grand Ole Opry House, is an iconic music venue in Nashville. It's especially known for hosting country music shows, however, performances of other genres of music occur here also.
One of the memorable family friendly activities in Nashville, TN is seeing a show at the Grand Ole Opry. Your kids will love the live music, and you're sure to find a performance you'll enjoy too. If seeing a live show is too overwhelming for your kids, you can tour the venue instead.
Hike in the Edwin and Percy Warner Parks
The Edwin Warner Park and Percy Warner Park, known together as the Warner Parks, are two stunning scenic parks in Nashville. Located a 20-minute drive from downtown Nashville, the parks feature hiking trails, plus areas to bike and horse ride.
Whether you hike, bike, horseback ride, or wander around the park, escaping the bustle of Nashville for a few hours will be a welcome break. If you want to make a longer day of it, other parks and trails are nearby, and the Belle Meade Historic Site is a 10-minute drive away.
Line dance at Wildhorse Saloon
You and your kids will love learning to line dance at the Wildhorse Saloon! This fun restaurant offers daily line dancing classes, which are free for all. You'll be taught basic steps and can dance along to live music.
Having perfected your line dancing skills, your family can enjoy dinner at the saloon. Tasty Southern dishes to try include ribs, mac and cheese, and caramel apple pie. There's also a kids menu with favorites like chicken fingers and grilled cheese.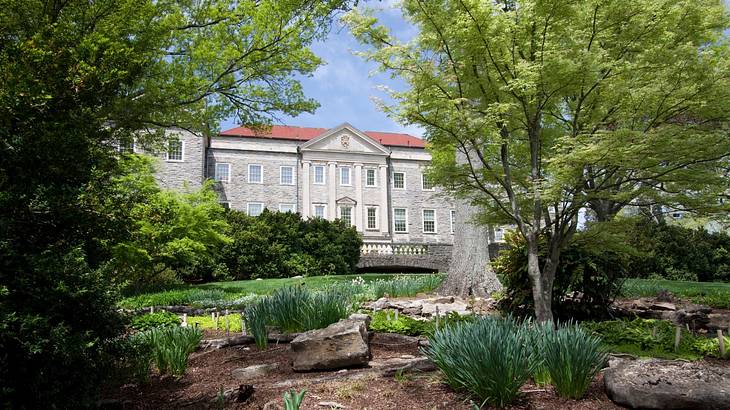 Explore Cheekwood Botanical Gardens
Exploring the Cheekwood Botanical Gardens is an exciting experience for kids and adults, including couples! Your kids will love to wander through a range of pretty, storybook-like gardens, spotting different plants and wildlife.
Gardens to discover include a rose garden and a Japanese garden, along with a sculpture trail and many other floral and decorative displays. There's also a children's garden that features a turtle pond, outdoor rooms, and woodland areas.
Spot your favorite celebrities at Madame Tussauds
Madame Tussauds is one of the best Nashville attractions for kids. They'll have a great time seeing all of their favorite celebrities and taking lots of pictures.
Wax works to see include Katy Perry, Taylor Swift, Elvis, and many more. Having checked out all the celebrity replicas, you can grab some merch at the gift shop or listen to music at the Bluebird Cafe.
Enjoy a performance at the Nashville Children's Theatre
The Nashville Children's Theatre is one of the super fun places for kids in Nashville, TN. The kid-friendly theatre hosts an array of performances and plays, such as The Elves and the Shoemaker, Peter Pan, and the SpongeBob Musical.
If you're in Nashville for an extended period of time, the theatre also hosts summer camps and acting classes. Even if you can only make it to a show, your kids will have an amazing time watching a performance made for them.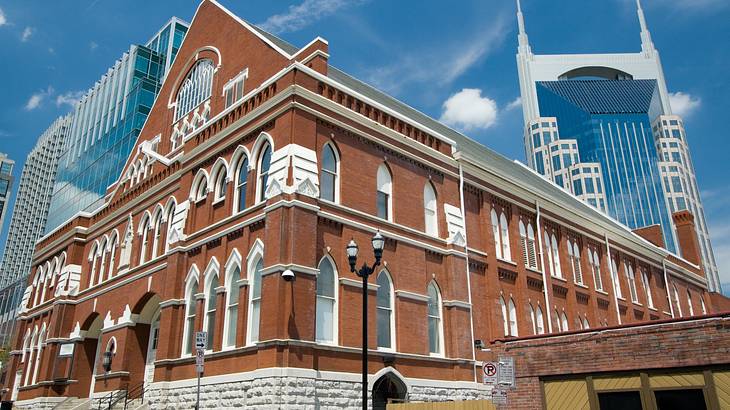 Go backstage at Ryman Auditorium
Ryman Auditorium is another live music venue in Nashville that's iconic. Called the "Mother Church of Country Music," you can watch shows here or take guided tours of Ryman Auditorium.
On the tour, your family will get to see the main concert rooms and backstage areas. You'll also learn a lot more about this venue Music City as a whole. If your family are music lovers, then seeing Ryman Auditorium is a must!
Try new dishes on a Nashville food tour
If your children are adventurous eaters, going on a Nashville food tour is the perfect activity to try. You'll be taken to some local favorite spots to try various delicious southern dishes.
Dishes to try include Nashville hot chicken sandwiches, ribs, and banana pudding. Your guide will also offer information on Southern cuisine and the areas you walk through between restaurants. This tour is a great way to get your kids trying new things and interacting with the city they're visiting.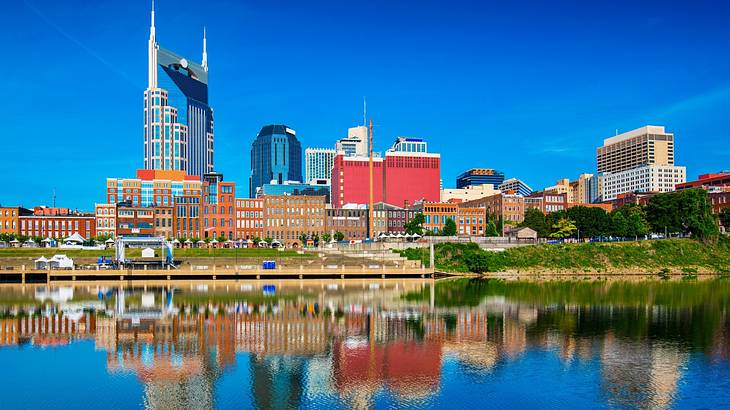 Kayak on the Cumberland River
An exciting activity for kids that love the outdoors is kayaking on the Cumberland River in downtown Nashville. You and your family will be provided with kayaks and life vests before getting on to the water to explore.
You'll be able to kayak through the calm water and appreciate the Nashville skyline as you sail past it. For an added fee, you can have a guide accompany you. This activity is a fun and relaxing way to enjoy a unique view of Nashville and get some fresh air!
In Summary
Nashville is an incredible place to visit for all types of travelers, including families. If in the city with kids, you'll find endless exciting things to do that will keep everyone in your party amused!
For more interesting articles about United States, read:
For some great articles about things to do, check out:
For visual stories related to this article, take a look at:
---
---
Want to keep exploring?
Subscribe for discounts on tickets and hotels and our latest guides.
Thank you for subscribing
We will be in touch soon with discounts on tickets and hotels and our latest guides.
Want to keep exploring?
Subscribe for discounts on tickets and hotels and our latest guides.
Thank you for subscribing
We will be in touch soon with discounts on tickets and hotels and our latest guides.
Related articles