Nashville Weekend Trip - A Fun 3 Day Nashville Itinerary
Destguides may receive commissions from purchases made through affiliate links in this article.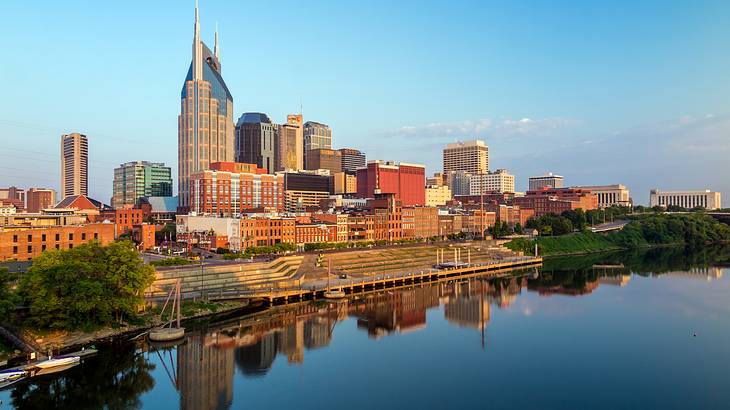 Nashville is an iconic city in the Southern United States known for its fun atmosphere and country music culture. If you're planning a road trip in the south of the US, adding Nashville as a stop is highly recommended and makes for a great weekend getaway destination. The city is also conveniently located near Nashville International Airport, making it easy to access via air.
Those planning a Nashville weekend trip will discover an array of things to do. If you're having trouble choosing what attractions to visit, this 3 day Nashville itinerary is here to help by covering all the must-see Tennessee landmarks. Read on to discover what you must do and see in Music City!
A 3-Day Weekend in Nashville Itinerary
Nashville 3-Day Itinerary Video
Check out our highlights video of the stops covered in this Nashville itinerary.
Nashville 3-Day Itinerary Map
A map of Nashville. Use the map to explore all the days and stops.
Nashville's Most Important Landmarks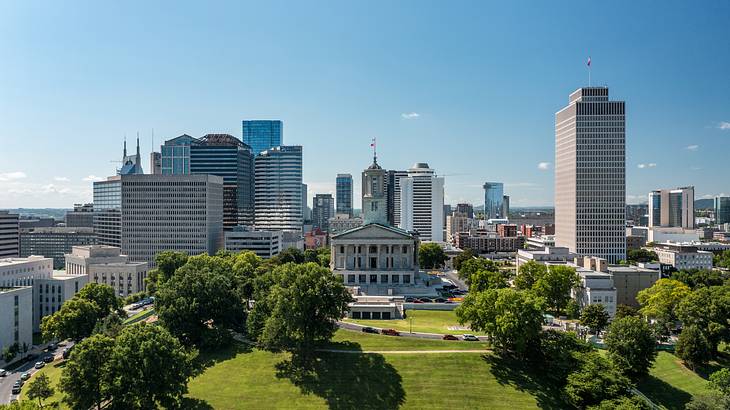 On your first day in Nashville, you'll see some of the city's famous landmarks. The day will start at the Tennessee State Museum. Here you can learn more about the rich history of the state. The next stop is Bicentennial Capitol Mall State Park to explore this pretty urban park.
The Tennessee State Capitol Building is the next place to visit after lunch. Here you can explore the seat of government for the state before heading to the "Nashville What Lifts You" mural to take some cute pictures with the painted wings. The evening will be spent at the iconic Grand Ole Opry House watching a country music show.
Tennessee State Museum
The first stop on your weekend in Nashville will teach you all about Tennessee history. The Tennessee State Museum houses a range of exhibits covering significant events that have happened in the state. You'll also find an art gallery and interesting temporary exhibits.
One fascinating permanent exhibit is the Tennessee Time Tunnel that gives an in-depth look at the state's history. Other exhibits include those covering the Civil War, the "First Peoples" of Tennessee who arrived in the Ice Age, and Tennessee post-WWII. If visiting with kids, there's also a children's gallery to look around.
Bicentennial Capitol Mall State Park
The Bicentennial Capitol Mall State Park is a beautiful 19-acre urban park. Located in downtown Nashville, the park has been a popular feature of the city since 1996 when it was opened to mark the 200th anniversary of Tennessee's statehood.
While visiting the park during your weekend getaway in Nashville, TN, you can wander around the vast green space or even rent a bike to cycle through the scenic area. The park is also filled with plaques that provide information on Tennessee's history, and you're sure to hear the 95-bell carillon that plays a song every 15-minutes. If you have time, enjoying a picnic in the park is a great idea too!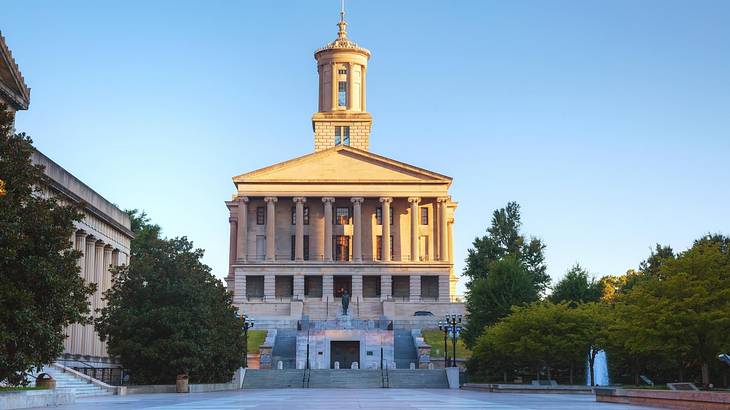 Tennessee State Capitol Building
Another amazing landmark to see is the Tennessee State Capitol. This attraction is the seat of government for the state of Tennessee, making it one of the most important buildings in Nashville.
As soon as you see the building, you'll be amazed by its stunning design. The State Capitol is modeled after Greek temples and sits majestically at the top of Capitol Hill. Along with admiring the architecture, you can take guided and self-guided tours inside.
The guided tour will teach you about politics in Tennessee, what goes on in the building on a daily basis, and what historical events have occurred there. After the tour, you can explore the grounds and even see the grave of President James K. Polk.
Nashville What Lifts You Wings Mural
As a creative city, Nashville features a range of stunning street art. Discovering some of these artworks is a fun activity and will give you some great backgrounds to take pictures on. One of the most famous street art murals is the "Nashville What Lifts You" mural which features a large pair of white wings with intricate designs inside.
Stopping by this mural to take some pictures is highly recommended and will be a pretty reminder of your time in Nashville. If you're impressed by this mural and want to see some more like it, consider joining a Nashville street art tour.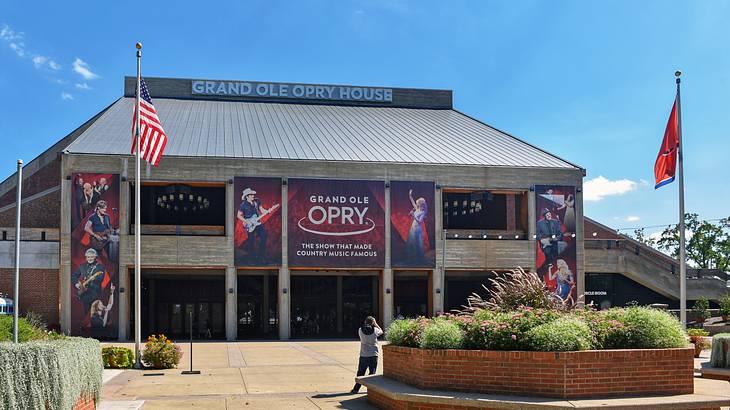 Grand Ole Opry House
This attraction is one that country music fans will greatly be looking forward to visiting. The Grand Ole Opry House is one of Nashville's most renowned music venues and is known for hosting Grand Ole Opry shows that feature various country music acts.
Activities to enjoy at the Grand Ole Opry include taking backstage tours and catching a live show. Along with lesser-known artists, some of the biggest stars perform here, so you never know who you may be able to see live!
A night at this venue is sure to be one of the most memorable moments of your trip and is an ideal date idea for couples in Nashville.
From Historical Attractions to Late-Night Partying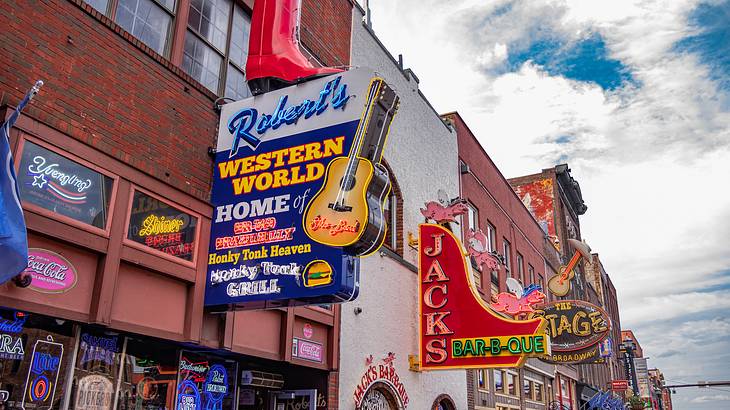 Day two of your three-day weekend getaway to Nashville, TN, will start a little outside of central Nashville at the Belle Meade Historic Site. Here you'll explore the grand estate and learn about the site's history before enjoying a wine tasting session.
The next stop on the way back to downtown is the Adventure Science Center. This attraction features a range of fascinating science exhibits. A quick trip to Biscuit Love will allow you to try some delicious Southern biscuits and other Southern-style treats. Your night will then be spent on the Honky Tonk Highway, partying between exciting bars on a pub crawl.
Belle Meade Plantation
Also known as the Belle Meade Historic Site, the Belle Meade Plantation is a historically significant site located about 15-minutes from downtown Nashville. Visiting Belle Meade allows you to explore the attraction and learn about its history, including the stories of those sadly enslaved there in the 1800s.
After learning more about Belle Meade, you can visit the on-site winery for wine tasting and bourbon tasting. End your visit with a delicious meal at the estate's restaurant.
Adventure Science Center
Going to Adventure Science Center is one of the top activities for those visiting Nashville with kids. However, the attraction is also worth a visit for those traveling without children. This attraction is a science museum that features a range of interactive exhibits.
Topics covered include space travel, earth sciences, and biology. Along with discovering fascinating exhibits, there are daily shows, talks, and other events. There's also a planetarium with laser shows and a projection system that allows you to look up at the galaxies above.
Biscuit Love
You can't take a weekend trip to Nashville, TN, without trying some tasty Southern biscuits! One of the best spots to grab this snack in Nashville is Biscuit Love. This local family-owned business serves yummy breakfast-inspired food all day, including their namesake biscuits.
Biscuit dishes to try here include buttermilk biscuits with gravy and fried chicken and biscuits with eggs benedict. You can also order cinnamon donuts with lemon mascarpone and cinnamon rolls with sticky pecan sauce, both made from biscuit dough.
Other snacks include cherry jam oatmeal, veggie bowls, and shrimp and grits. You can even add a touch of luxury to your meal with a breakfast-style cocktail like a mimosa.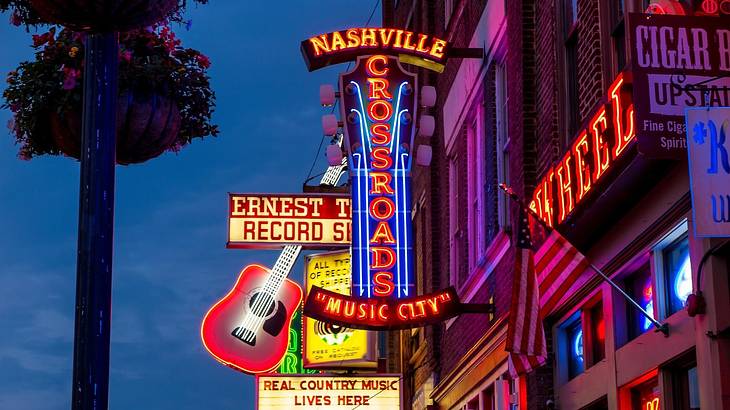 Honky Tonk Highway
The Honky Tonk Highway is a street in the Lower Broadway area filled with fun bars, specifically "Honky Tonk" bars. Partying in this part of downtown Nashville is an ideal way to spend a night when visiting the city.
Along with stopping in whichever bars take your fancy, you can explore the area on a Honky Tonk Highway pub crawl. A local guide will take you and other party-goers to the best spots on the street where you can drink, dance, and meet new friends.
Iconic Country Music Attractions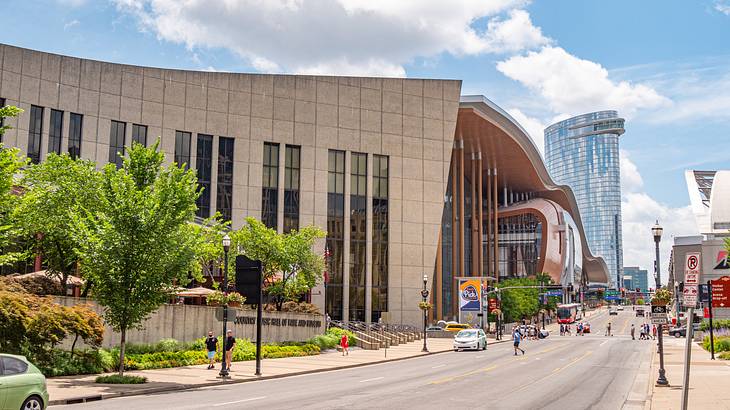 Your last day in Music City will be spent visiting some of the most iconic places on the Nashville country music scene. The first place you'll go to is the Country Music Hall of Fame. This museum features various exhibits on country music history and stars. The next stop is a museum dedicated to former Nashville resident and country music star Johnny Cash.
After enjoying a meal at the Johnny Cash BBQ and Bar, it's time for a relaxed walk across the John Seigenthaler Pedestrian Bridge to take in breathtaking views of the city. The last stop on your Nashville weekend itinerary is the Ryman Auditorium. Here, you can take a tour of the venue before enjoying another live country music performance.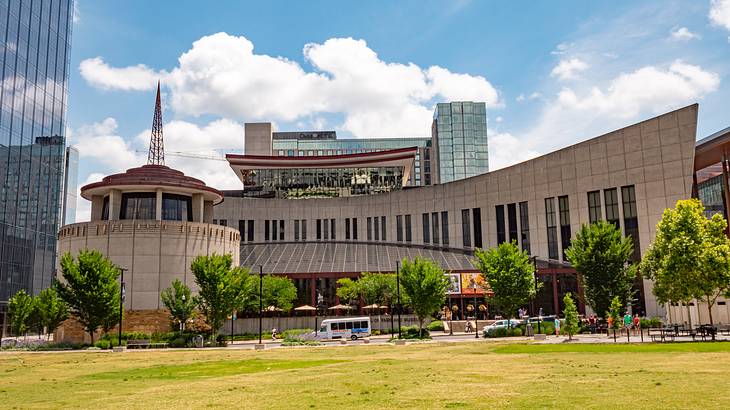 Country Music Hall of Fame
The Country Music Hall of Fame is one of the most important Nashville landmarks. Visiting the iconic Country Music Hall of Fame is an absolute must when in the city.
This attraction acts as a museum dedicated to country music, both the genre as a whole and its most famed performers. Exhibits to view include those featuring displays on famous singers and how country music has shaped the US. You'll also get to see over 2.5 million country music artifacts.
After you visit the Country Music Hall of Fame, be sure to tour RCA Studio B found nearby on Music Row.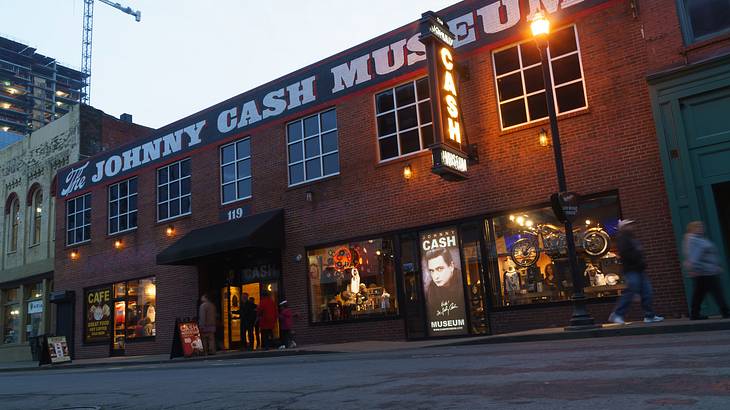 Johnny Cash Museum
Another renowned country music-related attraction in Nashville is the Johnny Cash Museum. At the museum, you'll discover an array of exhibits on the singer's life and work. Things to see include artifacts, memorabilia, and in-depth informational displays. There are also films relating to the artist to watch.
Next to the museum is the Johnny Cash Bar and BBQ, which is a great place to grab a drink and some food after touring the attraction. You can choose from Southern dishes such as fried chicken, baby back ribs, Nashville hot chicken sandwiches, and various southern-style sides.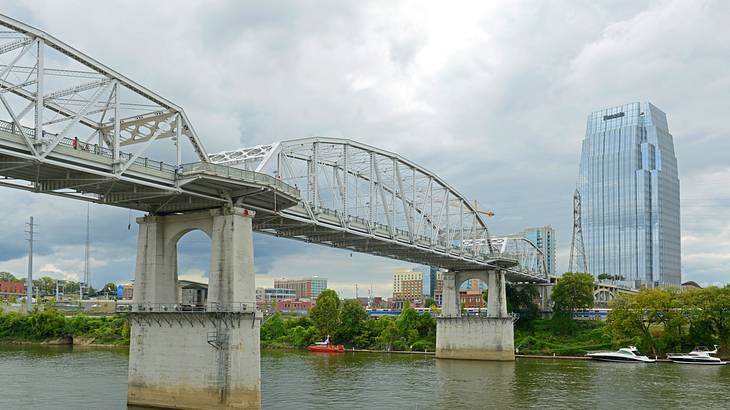 John Seigenthaler Pedestrian Bridge
For some of the best views of the Nashville skyline, you have to walk across the John Seigenthaler Pedestrian Bridge. The 3,150-foot-long bridge spans across the Cumberland River to connect downtown to East Nashville.
As you walk across the bridge, you can appreciate the breathtaking views of Nashville and take some beautiful photographs. While this isn't the most time-consuming activity on your Nashville weekend itinerary, walking across the bridge and taking in the views is well worth it.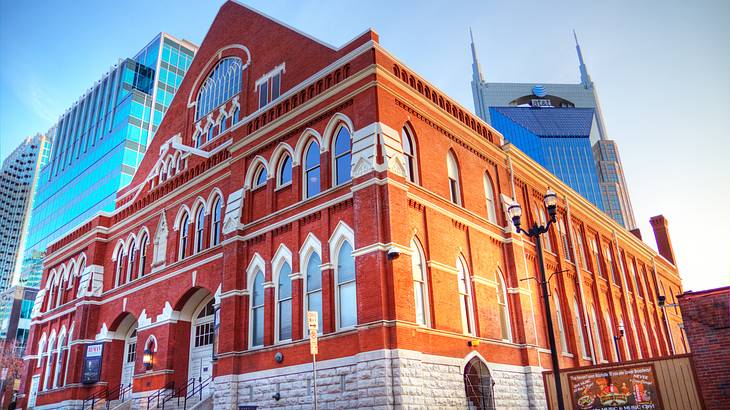 Ryman Auditorium
While Grand Ole Opry House is known as the home of the Grand Ole Opry today, the shows were held at Ryman Auditorium until 1974. Today, the music venue is still one of the most well-known in Nashville, with many calling it "The Mother Church of Country Music."
When in the city, watching a live music performance at Ryman Auditorium is a memorable activity that you must add to your itinerary. The majority of performances are country music shows performed by a range of artists.
Concerts by other genres of musicians can be seen too, and comedy shows are also held at the venue. Along with watching a show, consider taking a tour of Ryman Auditorium to learn more about this historic venue.
In Summary
Nashville is an exciting location to visit and is the perfect destination for a long-weekend trip. Even with just 72 hours in Nashville, you'll be able to see the city's most renowned attractions and tourist hotspots.
Give us feedback about this article
More visual stories related to this article:
---
---
Want to keep exploring?
Subscribe for discounts on tickets and hotels and our latest guides.
Thank you for subscribing
We will be in touch soon with discounts on tickets and hotels and our latest guides.
Want to keep exploring?
Subscribe for discounts on tickets and hotels and our latest guides.
Thank you for subscribing
We will be in touch soon with discounts on tickets and hotels and our latest guides.
Related Articles