72 Hours in Hong Kong Itinerary
Destguides may receive commissions from purchases made through affiliate links in this article.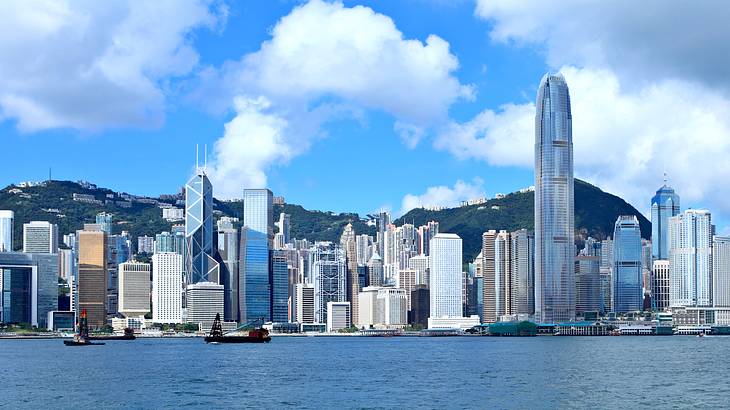 Hong Kong, on China's southeastern coast, is a melting pot of culture, cuisine, and people. Due to the city's compact size, spending 72 hours in Hong Kong is enough time to see all that it has to offer.
You'll find something to do in Hong Kong regardless of what type of traveler you are. It's a haven for lone travelers, a mecca for foodies, and the place to be for shoppers and lovers of cultural Asian landmarks.
As a former British colony, it still has an abundance of English speakers and signage. Hong Kong is also a safe city to visit. If you enjoy exploring off the beaten track, Hong Kong is the city to do so in.
So, what are you waiting for? Let's jump straight into this in-depth 72 hours in Hong Kong itinerary!
Hong Kong in 72 Hours
Shopping and More in Kowloon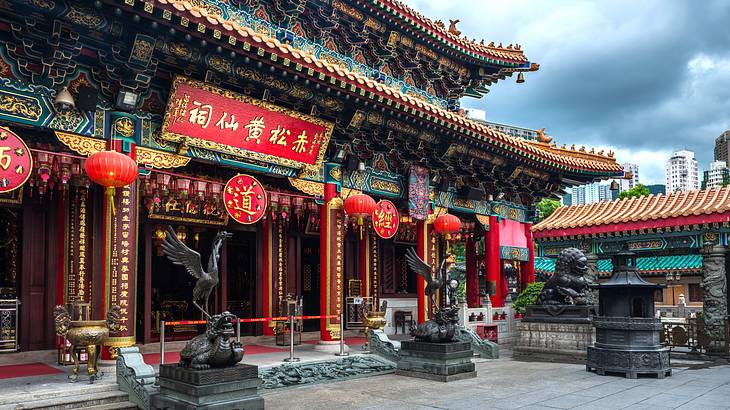 Your 3 day Hong Kong itinerary will start by exploring the Kowloon area. Located across the harbor from Hong Kong Island, it's a great mix of old and new. You'll find shopping malls and high-end restaurants mixed in with historic buildings and traditional markets. If you're staying on Hong Kong Island, simply hop on the Star Ferry to get to Kowloon.
Start at the Kowloon markets to discover the vast selection of market stalls before visiting Kowloon Park for a relaxing walk. Next, you'll go to the Tsim Sha Tsui area for shopping, dining, drinks, and more. A stop by the Avenue of Stars will provide some great photos, too!
Finish your first day in Hong Kong at Victoria Harbour, enjoying the Symphony of Lights. Then, if you aren't ready for bed, head back to Tsim Sha Tsui to make the most of the nightlife.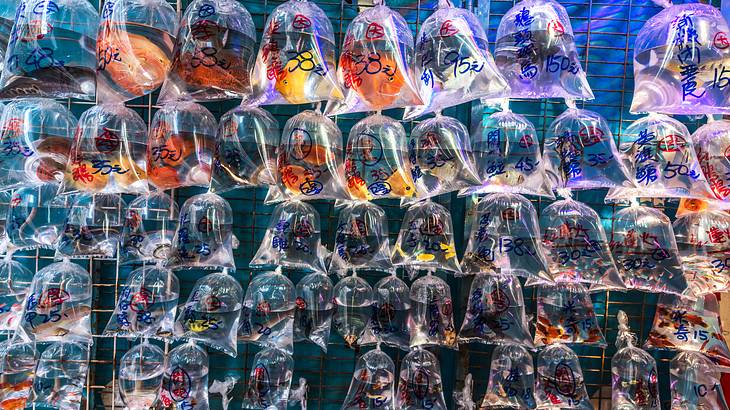 Kowloon Markets
Hong Kong is famous for its markets, and Kowloon has some of the best in the city. Exploring these markets is a must when visiting Hong Kong. Begin at the well-known Ladies' Market, which sells clothing, beauty products, and more. It's an excellent place to start perfecting your haggling skills!
After that, move along to the interesting flower and goldfish markets. Continue wandering through the maze of markets to find stalls selling anything and everything from fashion and tech items to souvenirs.
Temple Street Night Market, open from 2 pm each day until late, is another must-visit market. If you need a break, Kowloon has many street bars and food stalls serving a range of exciting cuisine and beverages.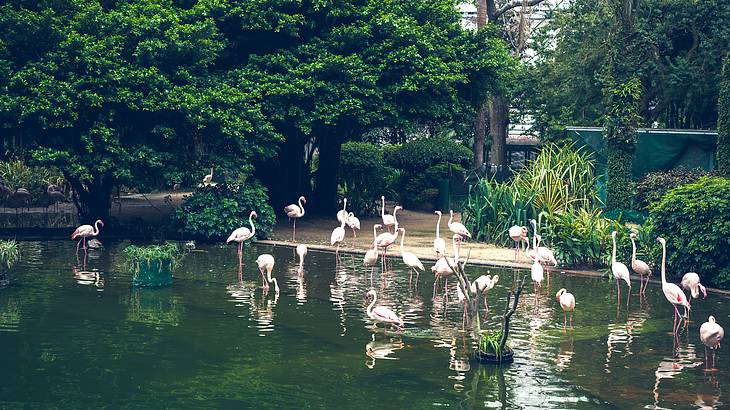 Kowloon Park
Kowloon Park is located in the Tsim Sha Tsui area of Kowloon. This tranquil public park is a great spot to visit after exploring the markets.
For a unique sight, visit the flamingo pond to admire the pretty pink flamingos. The park also has a beautiful two-tier lotus pond. Before you leave, head to the eastern side of the park to see Hong Kong Avenue. It features comic book character sculptures and the handprints of local comic artists.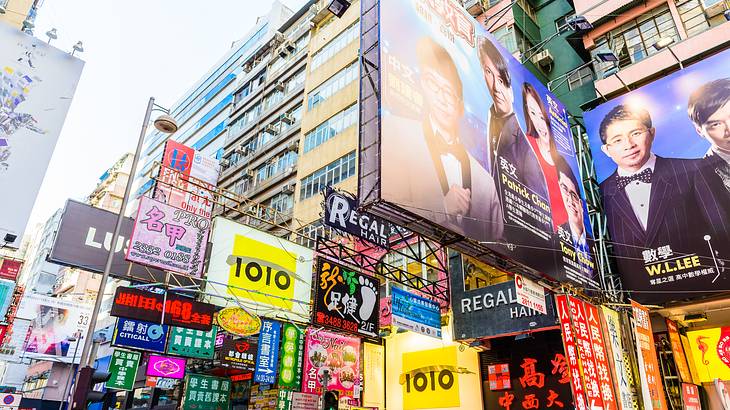 Tsim Sha Tsui
Tsim Sha Tsui is a shopping and nightlife district in Kowloon. Here, you'll find a selection of eateries, local shops, and malls. Located at Kowloon's southernmost point, you'll also enjoy harbor views against a city backdrop.
One of the most popular malls in Tsim Sha Tsui is the K11 Art Mall. This quirky and stylish six-story complex is part shopping mall and part art gallery. They have a great selection of fashion, beauty, and lifestyle stores, plus multiple art exhibitions.
With many nightclubs and bars, it's no surprise that Tsim Sha Tsui is a haven for partying. Knutsford Terrace is one popular choice.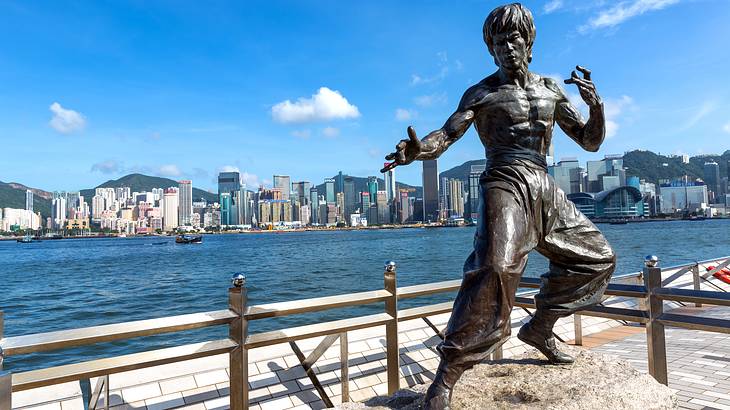 Avenue of Stars
An interesting fact about the city is that it had a thriving film industry in the past. This industry even led to the creation of the Hong Kong nickname, the Hollywood of the East.
An excellent way to learn a little more about the film and other entertainment industries is by visiting the Avenue of Stars. It's Hong Kong's equivalent of the Hollywood Walk of Fame! You'll find celebrity statues, handprints, and plaques. Notably, it offers some great photo-ops.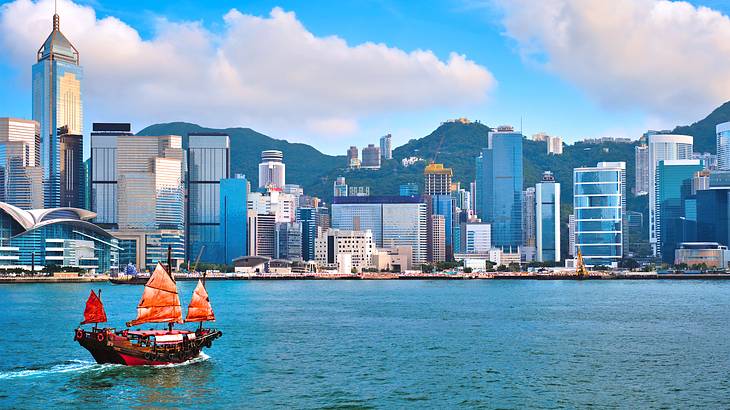 Victoria Harbour
Victoria Harbour separates Hong Kong Island and the Kowloon Peninsula. The image of the harbor surrounded by high-rise buildings is extremely iconic. Head to the Tsim Sha Tsui waterfront to enjoy the harbor and city views.
To see the city lit up at night, don't miss the Symphony of Lights show, hosted at 8 pm every night. This 15-minute-long multimedia show is considered one of the world's most spectacular light shows.
You can view the show from Tsim Sha Tsui waterfront or Golden Bauhinia Square in Wan Chai. You can also watch from sightseeing ferries in Victoria Harbour.
A Laidback Day at Lantau Island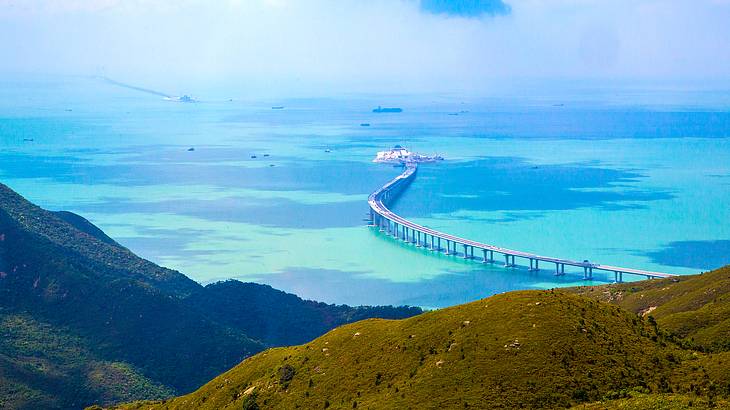 For your second day in Hong Kong, you'll be going to Lantau Island. The Island has small villages, plus fantastic eateries and tourist attractions.
Start your day by venturing to the Tai O Fishing Village. Next, head to Ngong Ping Village. From here, you can access the Ngong Ping Cable Car, the Big Buddha, and the Po Lin Monastery.
Having seen all that Ngong Ping has to offer, finish the day by going to Mui Wo. This rural town has a great beach, waterfall hikes, and cute shops and eateries.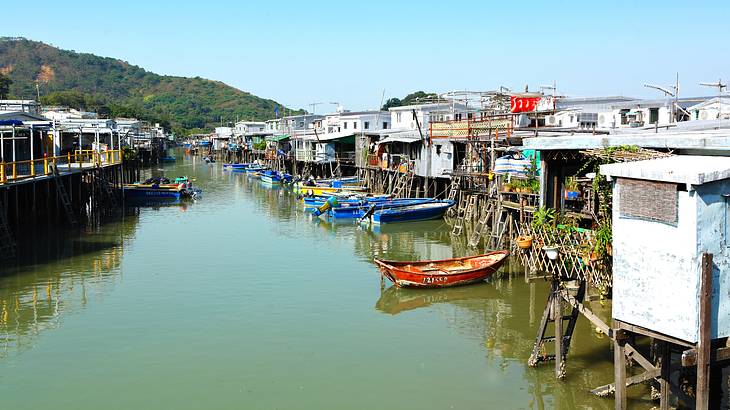 Tai O Fishing Village
Tai O Village is the oldest fishing village in Hong Kong and is an integral part of its history. It's definitely worth the visit to see this picturesque village. Start your visit by going to Tai O Market. Here, you'll find a vast selection of food stalls, plus booths selling jewelry, local crafts, and lots of fish and seafood.
Next, take a boat tour to see the iconic stilt houses. For HK$25, you'll be taken around the inlet to view the homes, and you may even see local pink dolphins! If you want to guarantee a pink dolphin sighting, tours are run by Hong Kong Dolphin Watch.
Finish your visit by dining at one of the many seafood restaurants. Be sure to also stop by Tai O Bakery for a Tai O Donut. There will likely be a line, but it's worth it!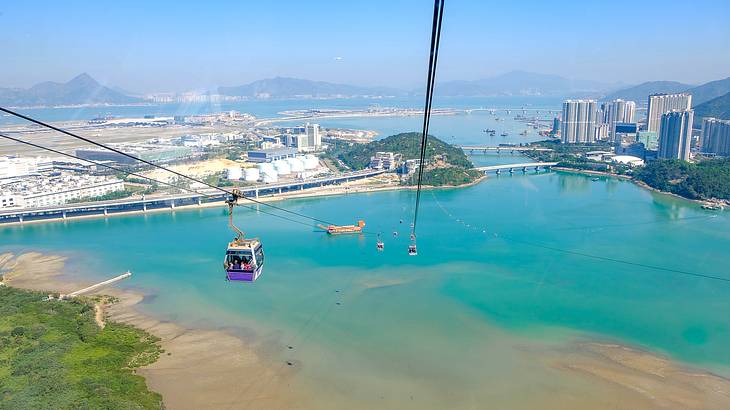 Ngong Ping Village
Ngong Ping Village is the central point for accessing popular activities like the Big Buddha and the Po Lin Monastery. This small village is full of shops and restaurants, including many souvenir shops and tea houses.
Afternoon tea in Hong Kong is a fun activity in this buzzing metropolis. Although slightly commercialized, it's a good starting point for grabbing a snack or having a relaxing look around the shops before other activities.
Ngong Ping Village is also where you can access the Ngong Ping Cable Car. You can take a scenic trip between Ngong Ping and Tung Chung or ride to the Big Buddha or the Po Lin Monastery. Opt for their crystal cabin to enjoy views through the cable car windows and a glass bottom.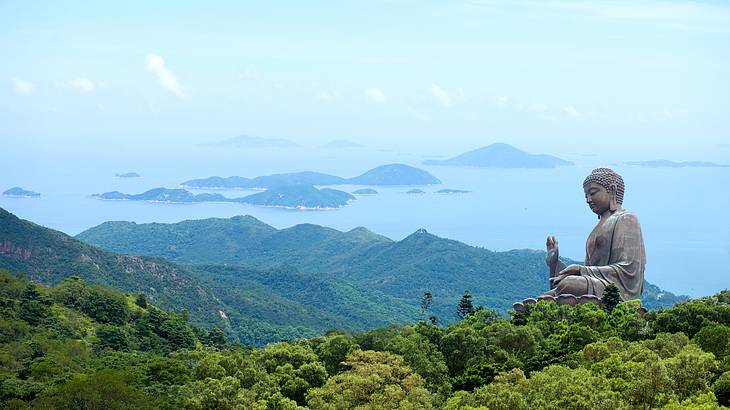 Big Buddha (Tian Tan Buddha)
The famous 34-meter-high bronze statue of Buddha Shakyamuni is one of Lantau's most iconic attractions. It's a must-see site while visiting Hong Kong! To reach the statue of the Big Buddha, you'll need to climb 268 steps. Even though it can be a bit of a workout, I recommend making the journey to see Big Buddha up close.
At the top, you'll also have access to the exhibition hall. This three-story hall houses a range of Buddhist relics. You'll also experience amazing views of Lantau and the South China Sea.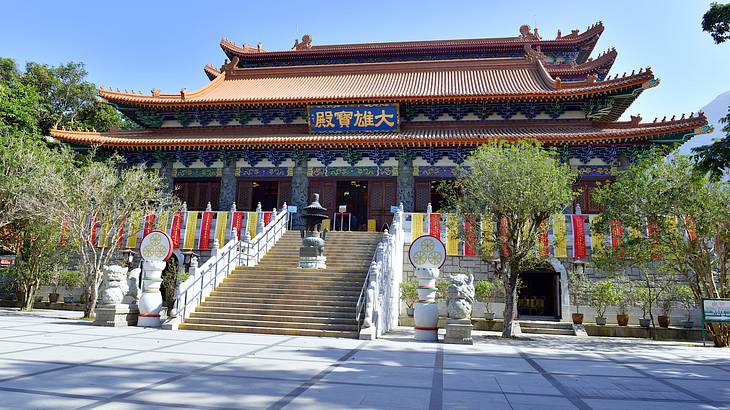 Po Lin Monastery
Facing Big Buddha is the Po Lin Monastery. This Buddhist monastery on Ngong Plateau was founded in 1906. It's considered one of Hong Kong's most important Buddhist sanctums.
The monastery houses several different structures and temples. Some are still standing from the monastery's construction, while others have been added over the years.
As you wander around the monastery, you'll see a range of Buddhist statues. These include gateway deities and guards protecting the monastery temple's entrance. The Monastery is additionally covered in beautiful carvings and paintings, and there are various areas to pray and leave offerings.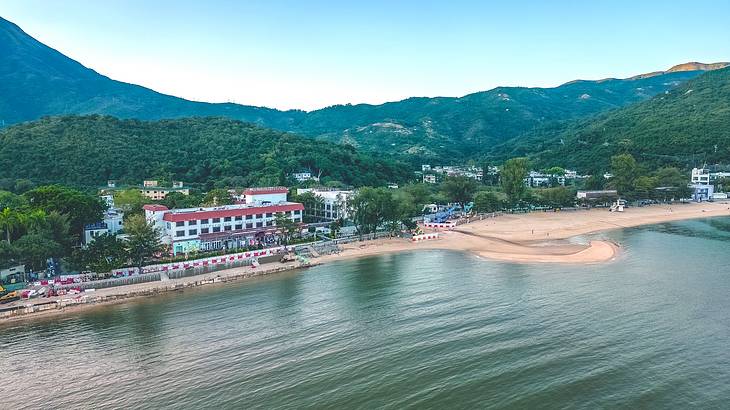 Mui Wo
Mui Wo is an old rural town on the eastern side of Lantau. The town is surrounded by beaches and lush green mountains. Don't be surprised as well if you see cows and water buffalo wandering the streets!
There is a range of outdoor activities in Mui Wo. Heading to Silver Mine Bay Beach to relax and enjoy the view is highly recommended. Alternatively, explore the Silver Mine Waterfalls. This scenic trail of three waterfalls starts just a few kilometers from Mui Wo pier.
Mui Wo is also known for its excellent selection of dining options. A local favorite is China Bear Pub, which offers pub food in a relaxing atmosphere. Cafe Isara, a popular Thai food spot, is another great eatery to check out.
A Busy Day Exploring Hong Kong Island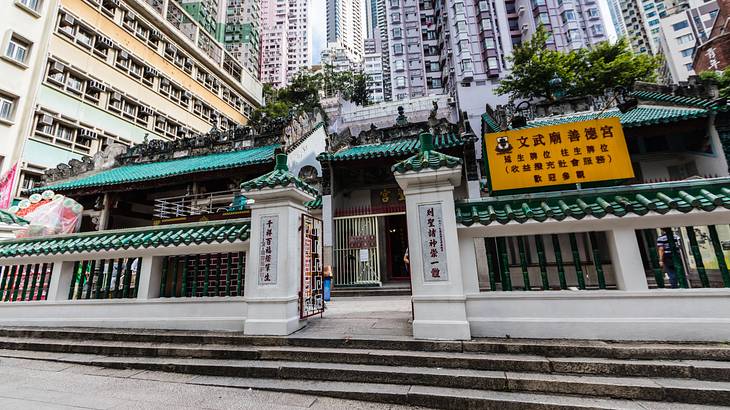 Your last day visiting Hong Kong will be spent on central Hong Kong Island. Start the day at Causeway Bay. Here, you can grab breakfast and explore the many stores and markets.
After Causeway Bay, head to the nearby Wan Chai for more market shopping and a visit to the Hong Kong Arts Center. Next, you'll be going to the top of Victoria Peak. After soaking up the views, move on to the Man Mo Temple.
End your day by visiting SoHo. Here, you can shop some more, eat (Dim Sum is a SoHo favorite), and drink at one of the many bars. If you can stay up late, SoHo also has a lot of popular nightclubs - a fun way to end your Hong Kong trip!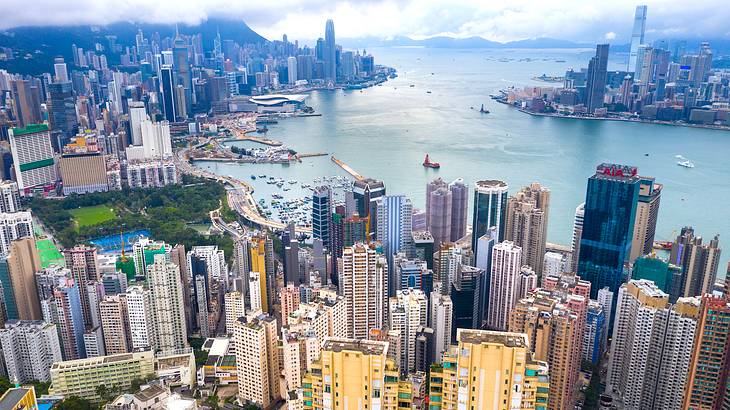 Causeway Bay
Causeway Bay is a great retail location in Hong Kong. One of the most famous (and largest) shopping complexes in Causeway Bay is Times Square Hong Kong. This 16-floor luxury mall houses over 200 retail stores, multiple entertainment outlets, and 30 restaurants.
Along with higher-end and chain stores, Causeway Bay has great markets like Jardine Crescent Street Market. Be sure to explore the side streets too to find unique shops and food stalls.
Houston Street, also known as "Food Street," is another must-visit location in Causeway Bay. This small street is lined with restaurants offering some of the best local and international dishes in Hong Kong. The road is also known for its colorfully painted walls - an excellent backdrop for pictures!
Finish your visit to Causeway Bay by checking out the Hong Kong Central Library and the Tin Hau Temple.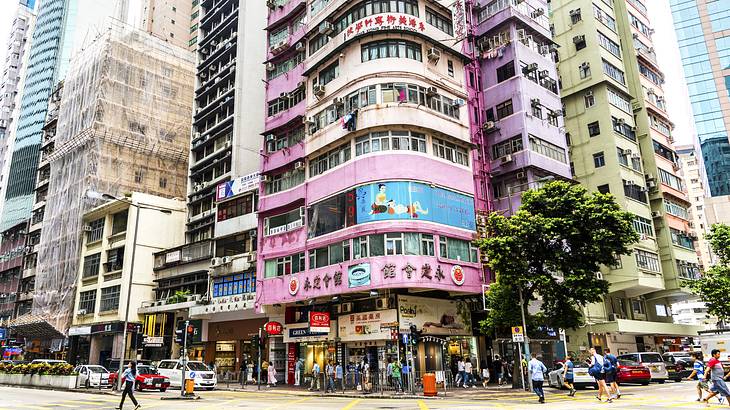 Wan Chai
Wan Chai is another commercial area close to Victoria Harbour and Causeway Bay. Tai Yuen Street Market is one of Wan Chai's most popular attractions. It's mostly known for its vast array of toy stalls. Along with modern toys, you'll find those from the 90s, 80s, and 70s - a great shot of nostalgia!
The Hong Kong Arts Center is also recommended to visit in Wan Chai. It has been a cultural hub since the 70s and contains photography, ceramics, and light and sound installations.
If you're hungry, I recommend Little Bao. This popular spot is considered the best bao in Hong Kong by many. Their yummy bao burger fillings include fried chicken, pork belly, fish, and vegan beyond meat. They also serve snacks like dumplings and fun cocktails.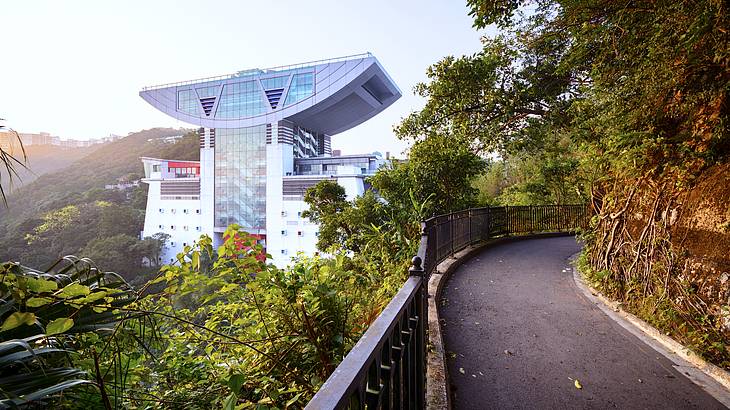 The Peak Tower and Sky Terrace 428
Going up Victoria Peak is a highly recommended activity while visiting Hong Kong. You can take the Peak Tram to the top or walk up, as long as you don't mind a challenging steep incline.
The Peak Tower itself is an architectural icon in Hong Kong. It also houses restaurants, shops, and entertainment venues, including Madame Tussauds Hong Kong.
For amazing 360-degree panoramic views, go to the Sky Terrace 428. This viewing platform is the highest in Hong Kong at 428 meters above sea level, hence its name. Even though the peak can get crowded, it's worth visiting for the view alone!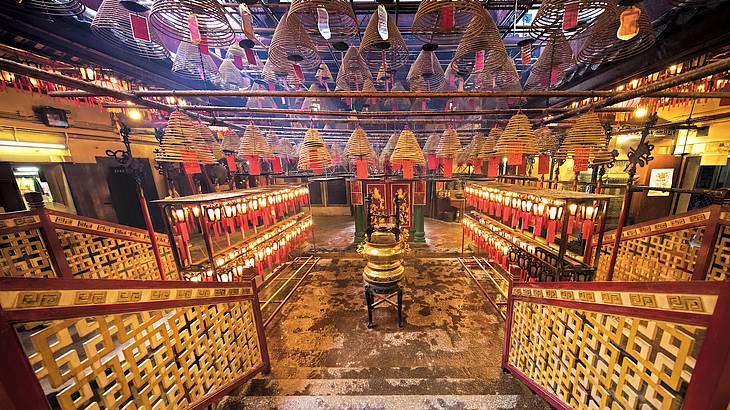 Man Mo Temple
Housed on Hollywood Road, the Man Mo Temple takes you by surprise. This iconic destination has been in Hong Kong since the 1800s.
The most striking feature of the temple is its incredible interior. There are many intricate details and carvings, as well as paintings and statues. The many incenses stuck on its ceiling add to the experience, inundating the temple with an intense fragrance.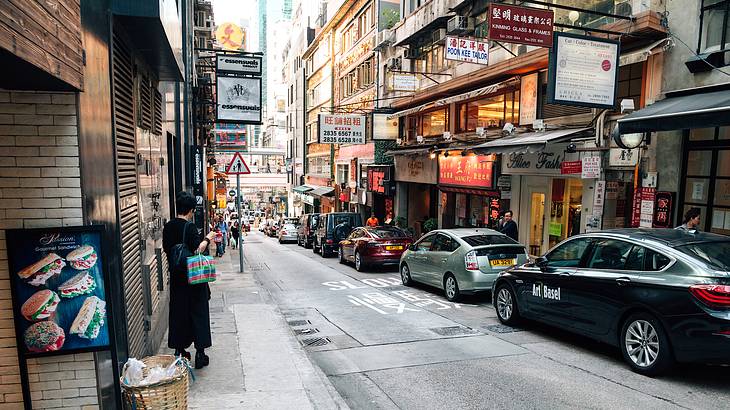 SoHo
SoHo is a drinking and dining district south of Hollywood Road. It's definitely a place to check out as you explore Hong Kong. Along with many bars and restaurants, the area has antique stores, art galleries, and nightclubs.
The street food and dim sum options found here are some of the best in Hong Kong. Ding Dim is one of the most popular. Founded in 1968, it's one of SoHo's oldest establishments. A highly recommended stop for dim sum lovers!
If in SoHo to drink and party, Wyndham street is the place to be. For those who enjoy unique cocktails (especially gin-based drinks), I highly recommend Ori-Gin Bar. Their most famous drink is the KGB (Kyoho Grape Bathtub). This yummy cocktail is served in a mini bathtub cup. It's even finished off with bubbles and a rubber duck!
Be sure to also visit Cat Street Market, a popular antique and flea market, to find some unique souvenirs to take home. If you're an art enthusiast, then you'll love the street art in SoHo too.
In Summary
There's a lot to do in Hong Kong, whether you're visiting the city with friends or family or traveling alone! By following this 72 hours in Hong Kong itinerary, you should be able to see everything this fantastic destination has to offer.
Whether you love shopping and dining, partying, or visiting cultural sites, Hong Kong is the perfect place for an exciting getaway.
---
---
Want to keep exploring?
Subscribe for discounts on tickets and hotels and our latest guides.
Thank you for subscribing
We will be in touch soon with discounts on tickets and hotels and our latest guides.
Want to keep exploring?
Subscribe for discounts on tickets and hotels and our latest guides.
Thank you for subscribing
We will be in touch soon with discounts on tickets and hotels and our latest guides.
Related Articles