The Best 3 Day Mumbai Itinerary
Destguides may receive commissions from purchases made through affiliate links in this article.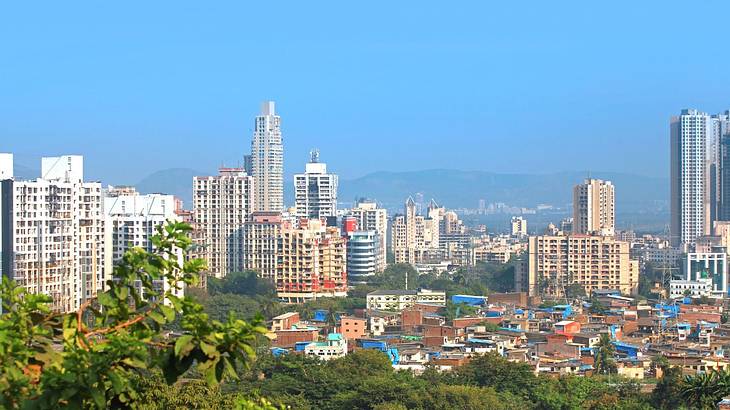 Mumbai, India's financial capital, is fondly called the "City of Dreams." It is home to the second-largest movie industry in the world, Bollywood, and features some of the most famous landmarks in India.
This bustling city has an incredibly diverse population and lifestyle where those living in poverty live beside those benefitting from an extravagant cosmopolitan culture. India's richest businessman lives here in a $2 billion home, but the city also houses the largest slum in Asia.
Seeing this unique culture and city is a once-in-a-lifetime experience! However, you don't need to plan a long vacation to see everything Mumbai has to offer. This 3 day Mumbai itinerary will allow you to explore all facets of the city, from the modern, thriving nightlife to historical attractions and architecture and more.
Keep reading to discover all there is to see and do when spending a few days in Mumbai!
Mumbai 3 Day Itinerary
South Mumbai Sightseeing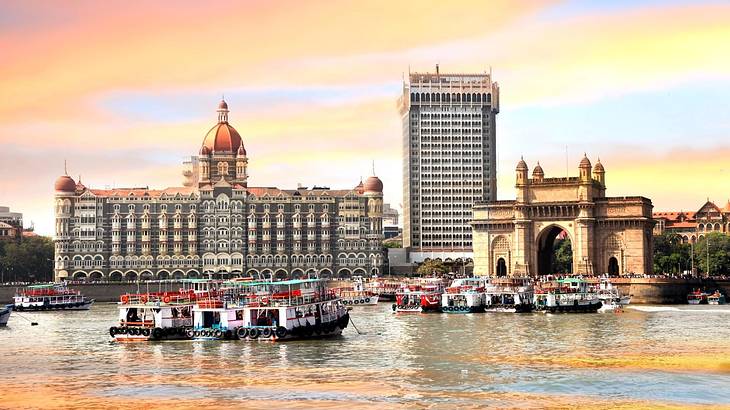 Your 3 days in Mumbai will begin in the southern part of the city. South Mumbai is considered the most bustling and trendy part of Mumbai. The locals take pride in their southern hub's lifestyle, culture, and history.
On your first day, you will see famous Asian landmarks, like the Gateway of India and the Taj Mahal Palace, where you can stop for an indulgent afternoon tea. Other fun stops during the morning and early afternoon include the Colaba Causeway and Leopold Cafe.
Later in the afternoon, you will journey along Marine Drive, stopping at the beautiful Khotachiwadi Village before ending the day at Girgaum Chowpatty.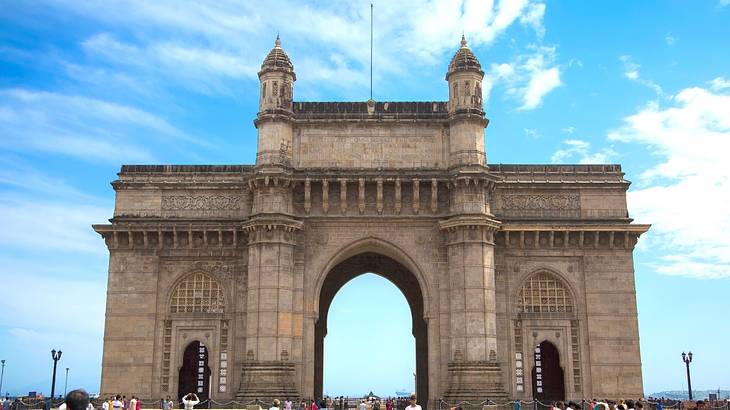 Gateway of India
The first place to head to once in Mumbai is the Gateway of India. As one of the most iconic structures in the city, it serves as the starting point of sightseeing for most tourists.
The Gateway of India was built during the British reign of India to commemorate Queen Mary and King George V's visit to Mumbai. It is located at Apollo Bunder and was designed by British architect George Wittet.
The attraction features a 26-meter-high archway joined together with four turrets. You can also see intricate latticework on the stones of the monument. The arch alone cost 2.1 million rupees to build!
Notably, the Gateway of India faces the Arabian Sea on one side and the renowned Taj Mahal Hotel on the other side. It is a must-visit famous landmark for everyone visiting Mumbai.
Colaba Causeway
Spending some time perusing the street markets lining the Colaba Causeway is an enjoyable activity. It is an ideal place to get some souvenirs, with items like costume jewellery, handicrafts, books, clothes, incense, and crystals for sale.
You can wander along the street, browsing the different shops and looking for hidden gems. Whatever you buy, do not forget to haggle to get the best deal! If you prefer shopping at boutiques, there is also a selection of independent shops in the area.
Leopold Cafe
Leopold Cafe is an exciting place on this Mumbai travel itinerary to stop at for something to eat. Located on the Colaba Causeway, it is undoubtedly one of the most renowned restaurants in Mumbai. Leopold Cafe offers a mix of Continental and Indian cuisine. However, it is more famous for its ambience and history than the food.
The eatery has been operating successfully since 1871 and has featured in numerous books and movies. Sadly, it was also one of the targets in the 2008 Mumbai terrorist attack, and you can still see bullet holes in the restaurant's walls.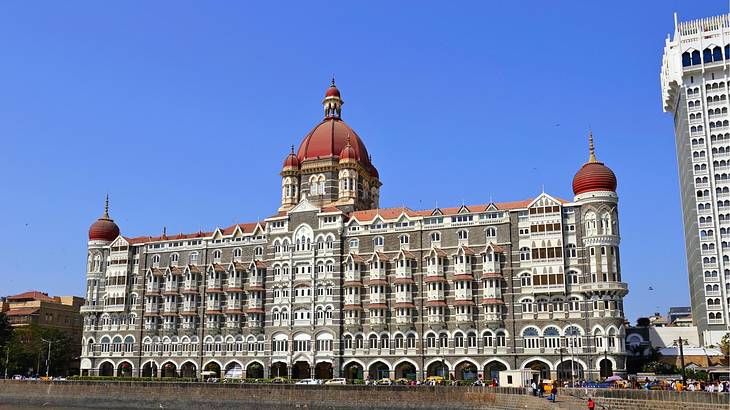 Taj Mahal Palace
Dating back to 1903, this regal heritage hotel exemplifies history and luxury. Located opposite the Gateway of India, Taj Mahal Palace is the city's most luxurious and famous 5-star hotel.
Even if you are not staying at the hotel, you can walk around the public areas to admire its beauty. The Sea Lounge is a great place to stop for a drink and offers a gorgeous view of the sea across Mumbai Harbor.
For a memorable experience (and if you didn't overeat at Leopold Cafe), splurge on an elaborate high tea in the Sea Lounge at the Taj Mahal Palace. The high-end afternoon tea features a selection of scones, sandwiches, cakes, and fruit desserts. Accompany your treats with tea or coffee, or indulge in a glass of sparkling wine.
Marine Drive
Your next activity is taking a cab along Marine Drive to Girgaum Chowpatty. The drive along Marine Drive is an experience in itself.
Fondly known as the Queen's Necklace, this 3.6-kilometre promenade is a renowned landmark in the city. It is considered a symbol of Mumbai's glamour and has been featured in countless movies.
It is a trendy spot for watching the sunset. It is also the ideal place to take a stroll by the seashore. The view of Marine Drive after sunset when the coastline lights up is especially breathtaking.
Marine Drive is also one of the city's most romantic spots. Admiring the gorgeous view of the Mumbai skyline and listening to the sounds of the waves with your partner is a memorable experience.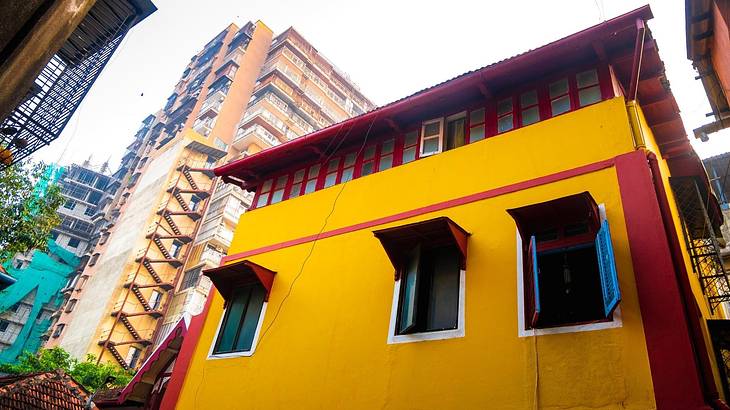 Khotachiwadi Village
After your drive and before going to Girgaum Chowpatty, take a quick detour to Khotachiwadi Village. It is the perfect place to stroll through colourful streets and marvel at the village's gorgeous Portuguese architecture.
This place is quite popular amongst tourists as it is a great spot to take some fantastic photographs. The contrast between Mumbai's loud and chaotic streets and the quieter area of Khotachiwadi is evident and allows you to unwind a little!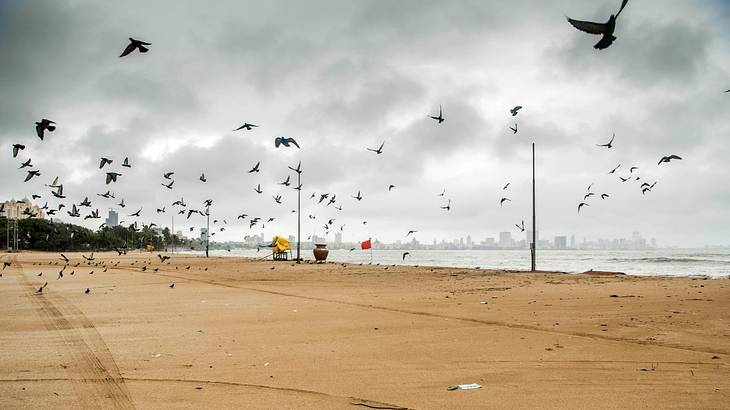 Girgaum Chowpatty
One of the most memorable places to visit in Mumbai in 3 days is Girgaum Chowpatty. Located along Marine Drive, Girgaum Chowpatty is a trendy beach that locals and tourists love.
It is especially well-known as an evening hangout. Visitors flock to the area to watch the gorgeous sunset and check out beachside bars. If travelling with kids, they will also enjoy this area in the evening as there is a colourful fair with amusement rides and a Ferris wheel.
In addition, the Chowpatty is lined with numerous street food stalls offering classic Mumbai street foods. Dishes to taste include vada pav, bhel puri, and pav bhaji.
Besides the food, this sandy beach is a great place to chill out, day or night, and a must-visit for all tourists in the city for the first time. If you want to check out another beach, Juhu Beach is a great choice!
Historical and Spiritual Mumbai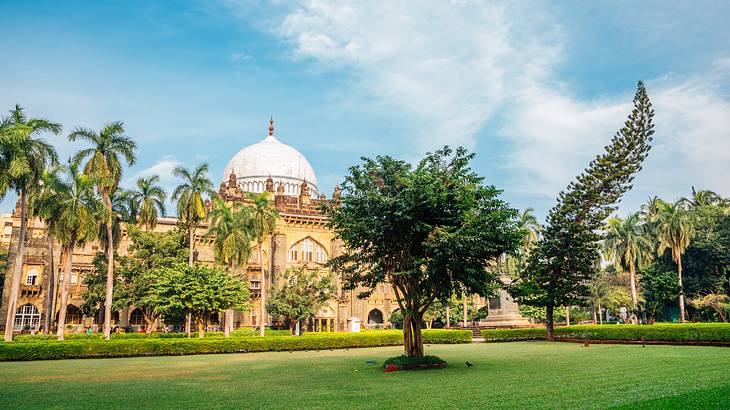 To ensure you can see everything on the second day of your Mumbai itinerary for 3 days, you will want to wake up early. Today, you will explore the city's more historical and traditional areas and attractions.
The first stop is Mahalaxmi Dhobi Ghat, the world's largest open-air laundry. After seeing this landmark, you will visit the Shree Mahalakshmi Temple and the Haji Ali Dargah, two famous buildings in India. In the afternoon, you can stroll along the Worli Sea Face and unwind in the relaxing Kala Ghoda area.
Your day will finish by visiting two more landmark attractions, Chhatrapati Shivaji Maharaj Vastu Sangrahalaya and Chhatrapati Shivaji Terminus.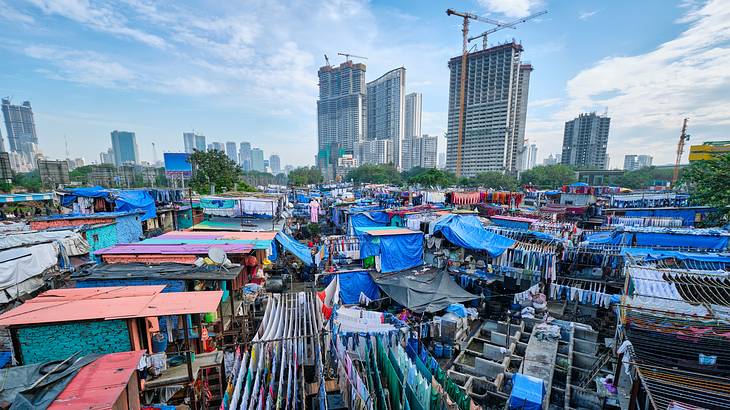 Mahalaxmi Dhobi Ghat
Situated in the heart of the city, Dhobi Ghat is known for being the largest outdoor laundry in the world. The Ghat is renowned across the globe for its rich history as well as for the numerous movies shot here.
If you visit here early in the morning, you will see numerous washers, locally known as Dhobis, washing clothes by hand in the vast sinks. This tradition has been in place for centuries and continues to this day.
The Dhobis begin their work at 4.30 AM and often continue to work until the late-night hours. The fact that Dhobis wash the clothes of almost half of Mumbai's population and ensure they are all returned to their rightful owners is impressive!
An interesting way to see the laundry is by going on a Dhobi Ghat guided tour. After seeing the laundry with your local guide, you will also visit Dharavi and the Dabbawala Tribute Statue.
Shree Mahalakshmi Temple
Going to Shree Mahalakshmi Temple is one of the fascinating things to do in Mumbai. Dedicated to the deity Mahatmyam Mahalakshmi, the temple was constructed in 1831.
Though it is primarily a Hindu temple, it is visited by millions of people belonging to all faiths. The temple is endowed with the images of the Tridevi goddesses, Mahalakshmi, Mahasaraswati, and Mahakali. The divine experience you will have while visiting the temple is unmatched!
In addition, if you travel to the temple via the Mumbai local train, you will witness people folding their hands and praying as soon as the train enters Mahalakshmi Station. It is quite a unique sight to see.
If you want to visit more beautiful temples, booking a Mumbai temples tour is a good idea. Your guide will take you to Mahalakshmi Temple, plus four others.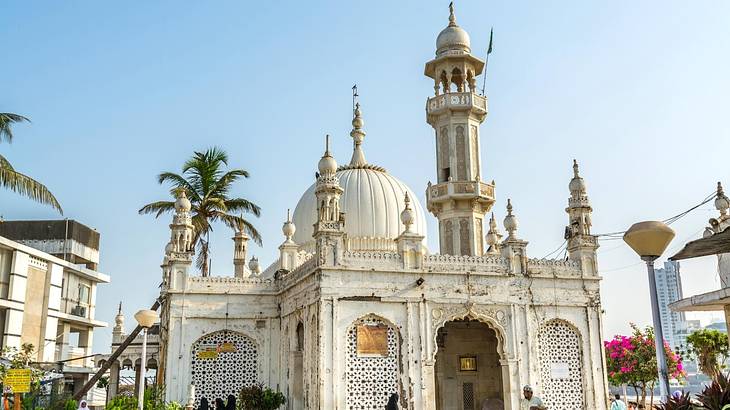 Haji Ali Dargah
Haji Ali Dargah is a famous place of worship for people following the Islamic faith in Mumbai. It is also the mausoleum of Saint Pir Haji Ali Shah Bukhari.
Located on a small island near Worli, the structure features a white-coloured dome and four minarets, exemplifying gorgeous Mughal architecture. It covers a sprawling 4,500 square metres and houses a mosque, the tomb of the renowned Sufi saint, and a three-storey sanatorium.
In addition, a 700-yard-long walkway runs over the water and connects the Dargah with the Arabian Sea shore. Walking up to the Dargah is a thrilling experience as the waves lap against the walkway, and there are no railings on it either. This feature is so close to the ocean that the walkway often gets completely submerged under the water during high tides.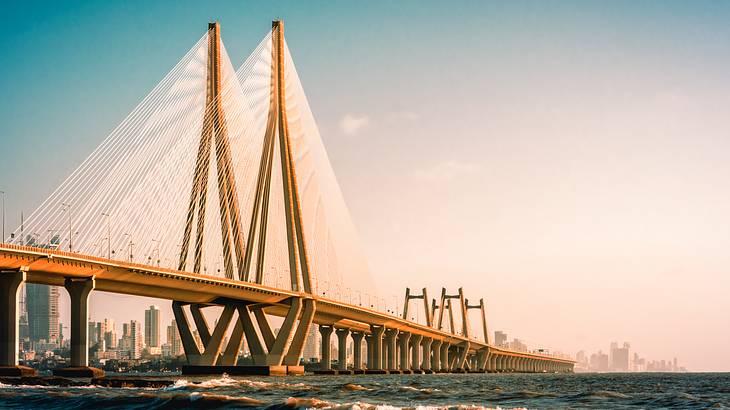 Worli Sea Face
A favourite local hangout is Worli Sea Face, another prominent promenade in Mumbai. As you walk along the path, you can enjoy gorgeous sea views. It is one of the most renowned places in the city to experience the Mumbai monsoons as you can get remarkable views of the angry waves splashing against the road.
The iconic Bandra-Worli Sea Link, also known as the Rajiv Gandhi Sagar Setu, begins at the end of the Sea Face. The area around Worli Sea Face is also a popular place of residence for the celebrities of Mumbai, and it is common to see movie scenes being filmed here.
If you have some extra time, drive across the Sea Link to visit the stunning Basilica of our Lady of the Mount.
Kala Ghoda
If you have watched a few Bollywood movies, you will have seen this place in many of them. Kala Ghoda is considered to be the art district of Mumbai. Resembling Connaught Place in Delhi, the epicentre of Kala Ghoda is the Horniman Circle, a vast park surrounded by office complexes.
Notably, Kala Ghoda hosts numerous famous festivals throughout the year. These events include Ruhaniyat, a Sufi music festival, and the Kala Ghoda Arts Festival.
It is additionally known for its iconic fountain. The fountain was constructed in 1864 and features a sculpture of Roman Goddess Flora. Kala Ghoda is the ideal place for a relaxing stroll, enjoying the green and artistic environment.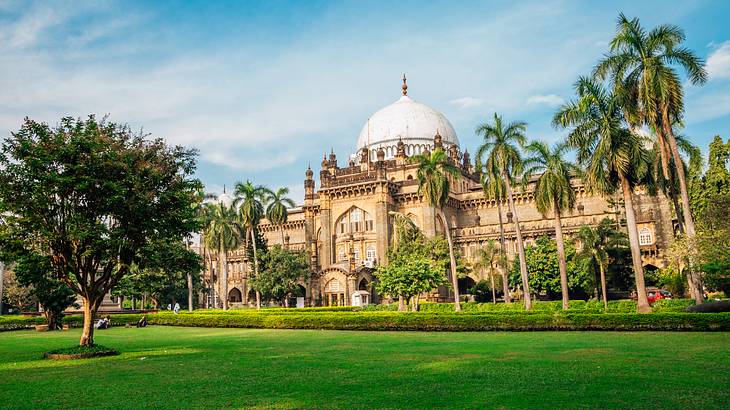 Chhatrapati Shivaji Maharaj Vastu Sangrahalaya
Another of the memorable things to do on this "What to do in Mumbai for 3 days" guide is visiting Chhatrapati Shivaji Maharaj Vastu Sangrahalaya.
As Mumbai's main museum, it is the perfect place to see some fascinating relics, artworks, and antiques. The museum's building is also a landmark due to its glorious architecture. It was designed by Scottish architect George Wittet, who took inspiration from Agra's Taj Mahal and Bijapur's Gol Gumbaz.
It was conceptualized in 1905 after several prominent citizens resolved to develop a public museum to commemorate the visit of the Prince of Wales. The foundation stone was laid by the Prince himself. The museum opened to the public in 1922 and was inaugurated by the wife of the Governor of Bombay.
Today it houses an extensive collection of artefacts and archaeological finds from the Mughal Era, Indus Valley Civilization, and the Marathas. In addition, numerous galleries are dedicated to European paintings, Nepal-Tibet, armours and arms of Mugal Emperor Akbar, and much more.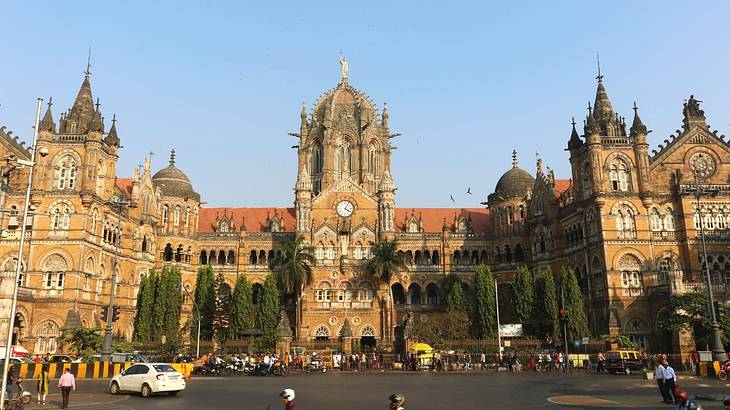 Chhatrapati Shivaji Terminus
Chhatrapati Shivaji Maharaj Terminus, commonly known as CST, is another UNESCO World Heritage Site in Mumbai. It is an iconic railway station that acts as the headquarters for Central Railways.
Constructed in May 1888, today, it is trendy amongst tourists for its stunning Victorian Gothic Revival architecture. In addition, if you arrive at the right time, you may see the famous Mumbai's Dabbawalas in action as they deliver lunchboxes to Mumbai workers.
Notably, the song "Jai Ho" in the movie Slumdog Millionaire was shot at Chhatrapati Shivaji Terminus, and it was also featured in the film Ra. One.
A Bollywood Tour and a Trip to Elephanta Islands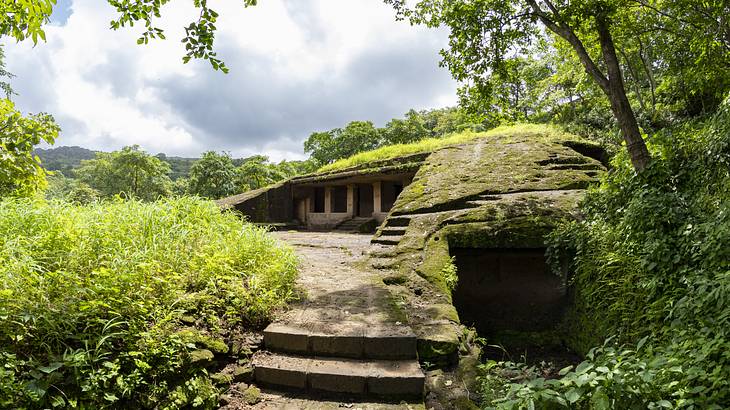 The last day of this itinerary for Mumbai is an enjoyable and memorable one that will allow you to learn more about the city's culture. Your first activity for the day is a Bollywood tour. You can see a Bollywood studio and watch a live performance, learning more about the industry along the way.
Next, you will see the fantastic Kanheri Caves and Elephanta Caves. These caves are a wonder of nature and cannot be missed! You will need to take a short scenic ferry ride to reach the islands where the caves are located.
After this eventful day, you can relax with some street shopping on Fashion Street. Finally, you will end your trip with a delightful dinner at Ziya in Oberoi Hotel, Nariman Point.
Bollywood Tour
A visit to the City of Dreams isn't complete until you get a taste of Bollywood. So if you are a fan of Hindi movies and are looking forward to witnessing the workings of the Indian film industry up close, now is the chance.
Bollywood is the second-largest film industry in the world, producing thousands of movies every year. A fun way to get behind the scenes of these movies is by taking a Bollywood private tour.
The five-hour tour will take you to Bollywood studios, a Bollywood Museum, and a live Bollywood show. Some shorter one-hour and two-hour tours are available if this tour is too long.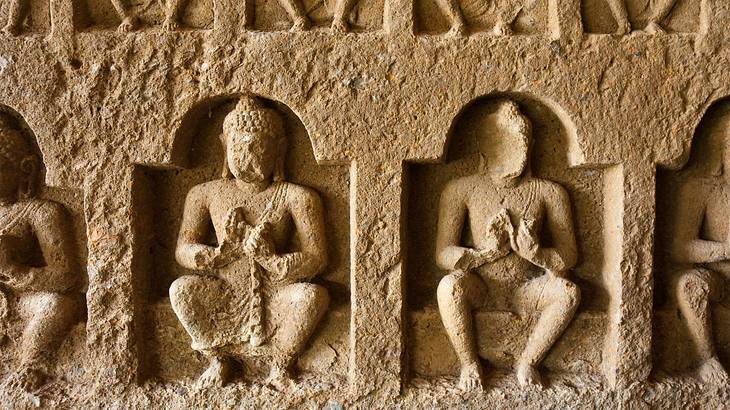 Kanheri Caves
Nestled within Sanjay Gandhi National Park, Kanheri Caves attract hundreds of tourists from around the world. There is also a seasonal waterfall near the site, which gets lots of water during the monsoons.
The front passageway of the site is adorned with a stupa, which attracts curious minds to investigate the legacy of the caves further. Dedicated to the Buddhist faith, it is not only a spiritual place but a place of artistic exploration as well.
In ancient times, the caves were used as rooms for monks, and each featured a stone platform used as a bed. You can also see an additional huge corridor housing a "Dagoba" Buddhist image.
To get the most out of your visit, book a Kanheri Caves tour. There are many to choose from, including private tours and those combined with trips to other landmarks.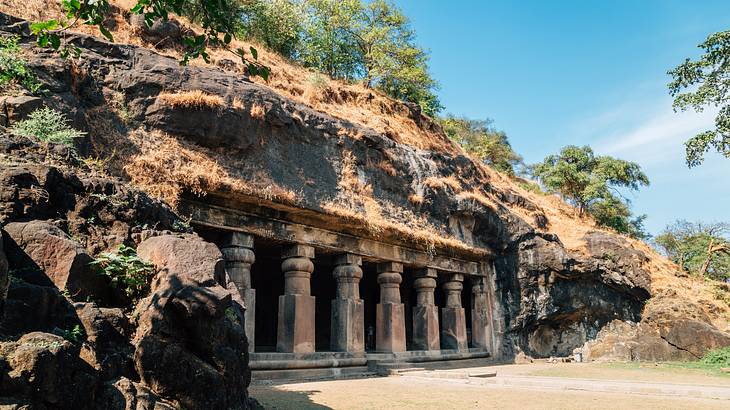 Elephanta Caves
Elephanta Caves are a collection of cave temples dedicated to Lord Shiva. Located on the Elephanta Islands within Mumbai Harbor, the island consists of five Hindu caves and some Buddhist stupas dating back to the 2nd century BC.
This attraction is another of Mumbai's UNESCO World Heritage Sites and can be reached with a short ferry ride from the Gateway of India. It is also one of the most popular trekking destinations in the city.
As with other famous landmarks, taking a guided tour of Elephanta Caves is recommended to ensure you learn everything there is to know about the site.
Fashion Street
Once you arrive back on the mainland after your trip to Elephanta Islands, the next place you should head to is a shopping haven, Fashion Street. This is the best place in Mumbai to test your bargaining skills and pick up some fantastic pieces to add to your wardrobe.
The rule of thumb is to quote half the ticket price and then bargain to the final price. You will find numerous knick-knacks and souvenirs as you browse the various shops. The affordable items found on Fashion Street make it perfect for those travelling in Asia on a budget.
After your shopping spree, you can try the various cafes and street food options available here. You can also go to one of the spas in the area to get a relaxing foot massage!
Ziya
After a whole day of sightseeing, it is time to end your trip to Mumbai with a lavish meal at Ziya, the signature restaurant in Oberoi Hotel. Operated under the direction of two-Michelin starred Chef Vineet Bhatia, the restaurant serves traditional Indian cuisine with an innovative twist.
As you enjoy your meal, you can relax in the elegant surroundings and sip on some delicious cocktails. If you are spending a long weekend in Mumbai, make a reservation in advance as the restaurant will be very busy!
In Conclusion
Mumbai is one of the most popular destinations amongst tourists visiting India, especially for those wishing to indulge in culture, spirituality, delicious cuisine, and adventure-filled days. It is also conveniently located close to Chhatrapati Shivaji International Airport, making the city easily accessible.
Places to visit include temples, markets, and serene beaches. If you have extra time, consider adding Crawford Market or Kamala Nehru Park to your itinerary. No matter which attractions you head to, be prepared to have an exciting and memorable time in Mumbai!
Give us feedback about this article
More visual stories related to this article:
---
---
Want to keep exploring?
Subscribe for discounts on tickets and hotels and our latest guides.
Thank you for subscribing
We will be in touch soon with discounts on tickets and hotels and our latest guides.
Want to keep exploring?
Subscribe for discounts on tickets and hotels and our latest guides.
Thank you for subscribing
We will be in touch soon with discounts on tickets and hotels and our latest guides.
Related Articles