The 22 Best Cenote Tours From Cancun
Destguides may receive commissions from purchases made through affiliate links in this article.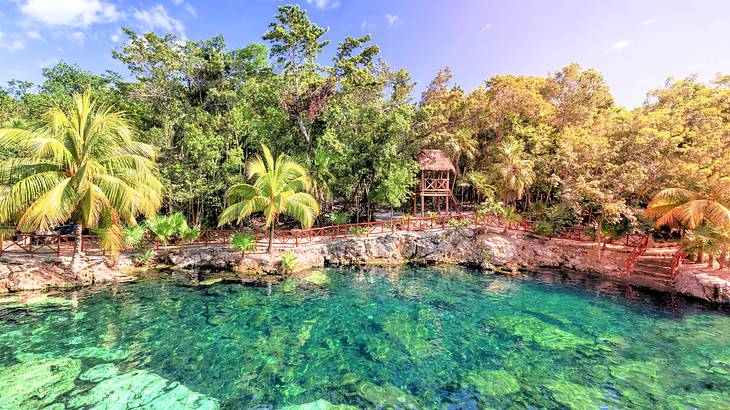 While visiting Cancún, you'll find no shortage of things to do. One of the most popular activities in the area is going to some of the Riviera Maya's breathtaking cenotes. Conveniently, there are many excursions from Cancún that take you to beautiful cenotes along with other top attractions.
To help you choose the perfect excursion, this list of the best cenote tours from Cancún covers 22 tours offering a range of activities for all types of travelers.
From trips that take you to Mayan ruins to those that allow you to do adventure activities along with swimming in cenotes, there's an array of options to discover. If you're planning a Cancún trip soon, keep reading for the most popular cenote excursions!
22 Best Cancun Cenote Tours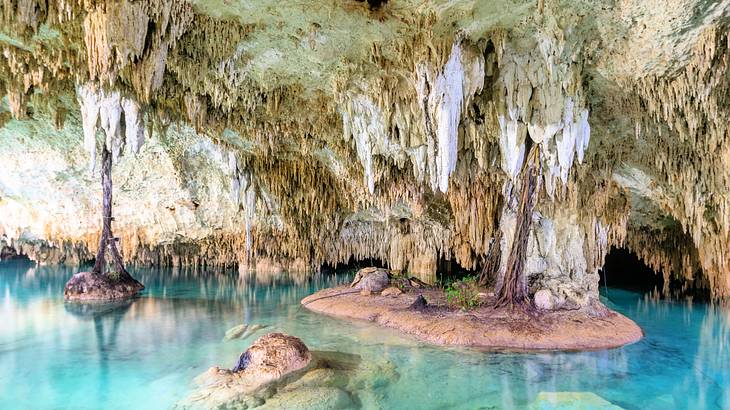 Cenotes Sac Actún and Chemuyil
If you're looking for a private cenote tour, a Cenotes Sac Actun and Chemuyil day trip is one of the best options. During the approximately five-hour tour, you'll be transported to the stunning Cenotes Sac Actún to swim in the crystal clear waters.
Interestingly, you can explore an underground river system complete with impressive stalactites and stalagmites. After swimming through the subterranean river, you can visit another cenote within the jungle in Chemuyil. This cenote is perfect for snorkeling and is home to many fish.
Cenote Nohoch Nah Chich, Cenotes Sac Actún, and Tulum Adventure Tour
Are you searching for unique Cancún cenote excursions? If so, a jungle and cenote adventure tour around Tulum is an excellent choice.
After pick up from Cancún, you'll drive to Tulum, where you can have a bit of time to explore. Next, you'll head to the jungle to hike to some beautiful cenotes, including Cenote Nohoch Nah Chich and Cenotes Sac Actún.
Finally, you can experience adventure activities by rappelling into the water and ziplining through the forest. A buffet lunch is also included, and due to the variety of activities, the tour is one of the best things to do around Cancún with kids.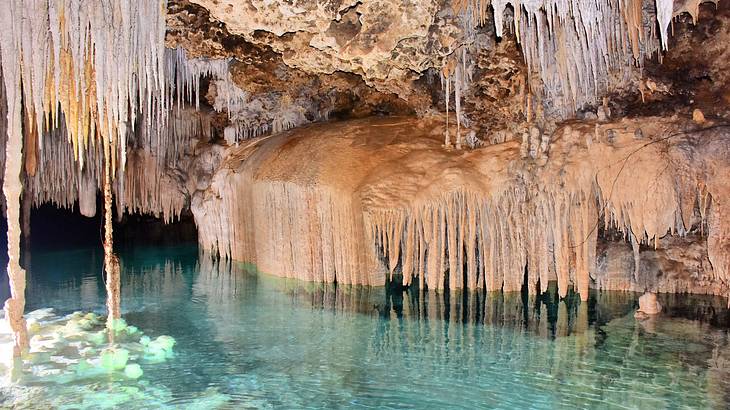 Río Secreto Nature Reserve
The Río Secreto Nature Reserve is a stunning attraction featuring underground rivers. On a Río Secreto tour, your guide will take you through the underground cave system.
While in the caves, you can swim through the turquoise waters and marvel at stalactites, stalagmites, and other rock formations. With this tour, you can also add a trip to the Tulum Archaeological Site. Round-trip transportation from Cancún can be included as well.
Cenote Dos Ojos
While many cenote tours in Cancún take you to additional attractions, you can find some solely focused on cenotes, like an excursion to Cenote Dos Ojos. This private tour technically begins from Playa del Carmen, but pick up from Cancún is available.
Once with your guide, you'll drive to Tulum and then on to the two cenotes. On arrival, you can swim and snorkel in the water and take lots of stunning photos. As you can depart quite early with this tour, you can enjoy the cenotes with fewer crowds.
A delicious lunch is included, and at the end of the day, you can return to Playa del Carmen to explore. Alternatively, head straight back to Cancún.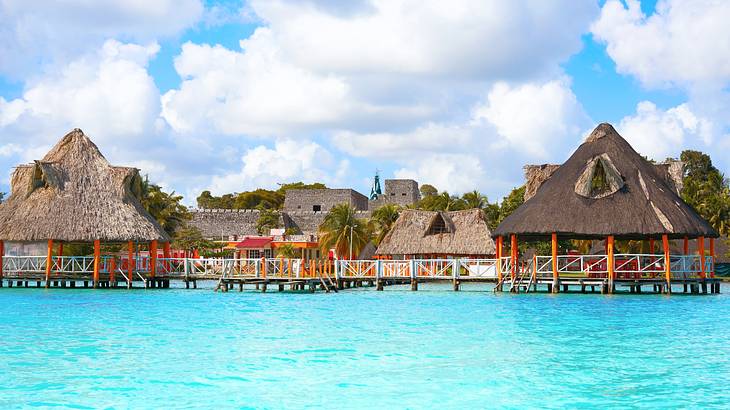 Cenote Azul, Xul-Ha Lagoon, and Bacalar
A Cenote Azul tour with stops at Xul-Ha Lagoon and Bacalar is one of the most relaxing and memorable excursions. Your day begins at the breathtaking Cenote Azul, one of the best open cenotes in the Riviera Maya. After swimming and snapping lots of photos, you can have breakfast next to the cenote.
Then, you'll visit another stunning body of water, Xul-Ha Lagoon, which features various shades of blue due to different water depths. The guided tour ends by exploring the town of Bacalar, including Fuerte de San Felipe de Bacalar, an ancient fortress linked to pirates!
Chichén Itzá, Cenote Saamal, and Valladolid
Why only visit cenotes when you could also go to one of the most famous landmarks in the world? To do that, simply book a Chichén Itzá and Cenote Saamal excursion.
This tour begins by visiting the UNESCO World Heritage Site of Chichén Itzá. You can wander around the fantastic Mayan ruins and learn more about their history from your guide.
Next, a trip to Cenote Saamal allows you to cool off while admiring the Cenote's unique waterfall. This tour also includes a visit to the colonial town of Valladolid, along with a buffet lunch.
ATV and Cenote Adventure Tour
Visitors looking for the most unique things to do in Cancún will want to add a cenote and ATV adventure tour to their bucket list! On the exciting excursion, you'll hop on ATVs to drive through the jungle.
You will also get to drive to a tranquil cenote where you can swim and cool off a little. Lastly, you can enjoy another thrilling activity, ziplining through the jungle canopy. Lunch and bottled water is included with this tour as well.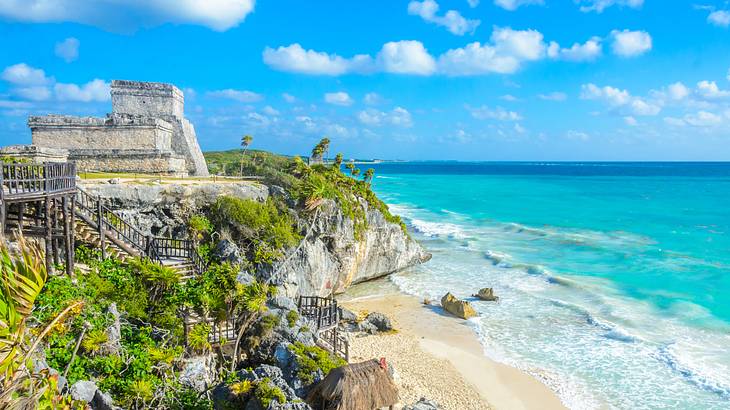 Tulum Archaeological Site and Casa Tortuga Cenote
A Tulum and Casa Tortuga Cenote day trip is another top Cancún cenote tour that allows you to view Mayan ruins. Located on the east coast of the Yucatan Peninsula, Tulum is a beautiful destination best known for the Tulum ruins.
Once you arrive in the area, you'll head to the Tulum Archaeological Site, which sits on cliffs beside the beach. As you look around, your guide can provide information on notable ruins and the Mayan community that lived in the area. Next, you can go to a stunning cenote to swim and snorkel (if you bring your own snorkel gear).
Cenotes and Akumal Beach
If you want to spend as much time as possible in the water, opt for a cenotes and Akumal Beach tour. During this swimming and snorkeling tour, you can visit multiple Mayan cenotes, where you can explore the fantastic crystal-clear water.
Next, you'll go to Akumal Beach to get in the water again and snorkel around a coral reef. Underwater, you can see various creatures, including tropical fish and potentially sea turtles! After a fun day of watersports, finish the day with lunch and drinks at a stylish beach club.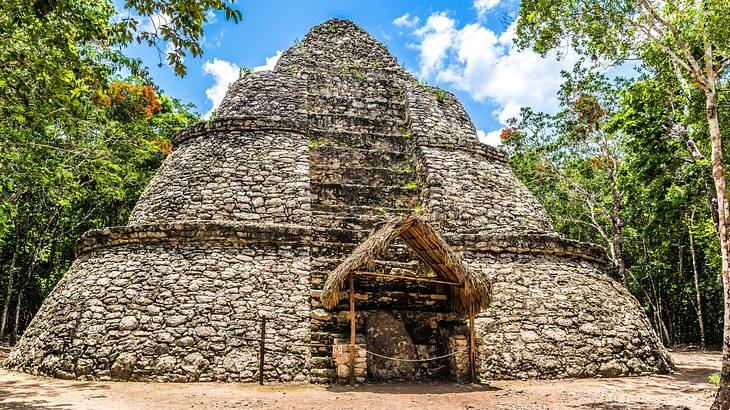 Cobá, Mariposa and Chen Ha Cenotes, and Tulum
One of the most unique full-day trips takes you to Cobá and Tulum, plus Mariposa and Chen Ha Cenotes. Your first stop of the day is the ancient Maya city of Cobá. The main attraction here is the Cobá Archeological Zone, which features the highest Mayan pyramid in the Yucatán Peninsula.
Having admired this historical landmark, you can spend a few hours relaxing at Mariposa Cenote and Chen-Ha Cenote. After a delicious buffet lunch, you will visit the Tulum Archeological Zone to learn more about the Mayan civilization that previously inhabited the area.
Chichén Itzá and Cenote Ik Kil Sunrise Tour
While you could visit the famous Mayan ruins later in the day, a Chichén Itzá sunrise trip is one of the most memorable ways to see the site. A Chichén Itzá and Cenote Ik Kil tour at sunrise is the most convenient option if you want to go at this time.
Your early morning begins at the Mayan ruins, where you can take beautiful photos of the landmark under a sunrise sky. As with other tours, your guide can offer information on the history and mythology of the site.
After admiring Chichén Itzá, you can relax with a swim at one of the best cenotes near Cancún, Cenote Ik Kil. An extra benefit of this tour is that it's private. This allows you to customize the tour by adding a trip to other popular places, like Ek Balam or Cobá.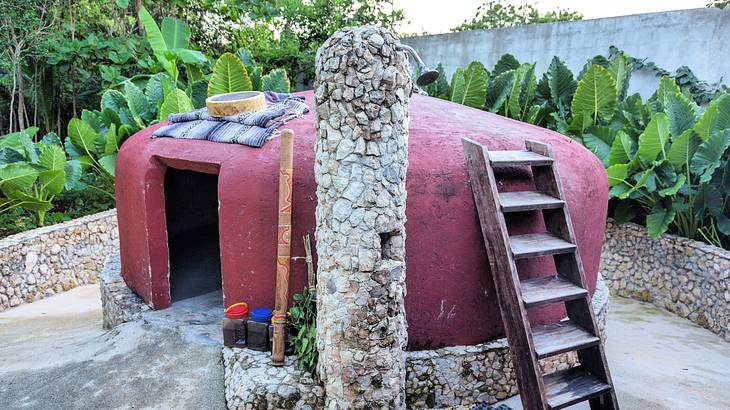 Mayan Temazcal Purification Ceremony and Cenote Swim
There are many things to do at night in Cancún, with one of the most unique and memorable being a Mayan Temazcal ceremony with evening cenote swim. Upon arrival to an ecological reserve with a Mayan community, you'll learn about the citizen's culture.
Afterward, you can meet the area's shaman, play traditional musical instruments, and get into the Temazcal, which is a sacred steam bath. When the primary purification ceremony is complete, you can hike through the rainforest to an atmospheric illuminated cenote where you can swim under the stars. A dinner with local dishes and Mexican hot chocolate is also included in the once-in-a-lifetime experience.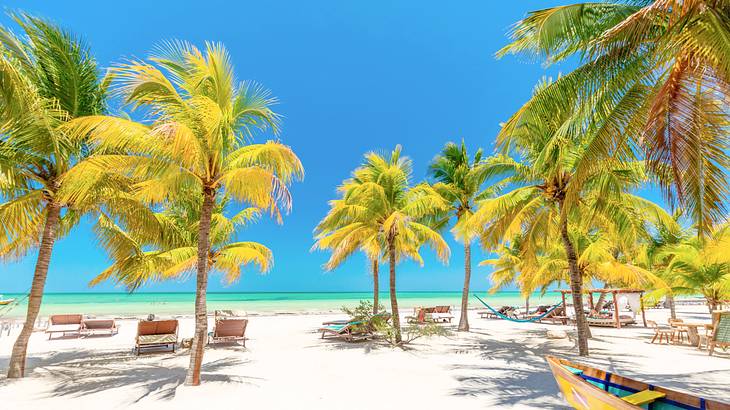 Isla Holbox, Cenote Yalahau, Isla de la Pasión
Spending the day in a tropical paradise is sure to appeal to most. One of the best ways to do that is by going on a Isla Holbox, Cenote Yalahau, and Isla de la Pasión day trip.
Isla Holbox is a beautiful island to the northwest of Cancún. It features white sand beaches and warm turquoise waters. During a visit, you can wander around the small town area and hang out on the beaches.
In addition, you can take a boat ride across from Isla Holbox to swim in Cenote Yalahau, admiring stunning vistas of the island from the water. A stop at the equally impressive Isla de la Pasión allows you to enjoy even more sun, sea, and sand.
Jungle UTV Buggy and Cenotes Adventure Tour
Visitors to Cancún looking for another adventure activity with cenote access will be interested in a jungle UTV buggy adventure tour. On this off-road excursion, you'll get to go on a thrilling UTV buggy ride around the jungle.
That's not the only exciting activity, though. You can also visit two cenotes, which include platforms to jump into the water and a rope swing. Other benefits of this tour include admission to Extreme Adventure Eco Park and a tequila-tasting session for adults (once you're done with UTV riding).
Cenotes and Tequila Tasting
A three cenotes and tequila tasting trip is one of the best cenote tours in Cancún for those that want to see as many natural pools as possible. Your guide will take you to three sacred cenotes within the jungle, where you can swim and even zipline into the water.
Once you've thoroughly explored the cenotes, you can indulge in a tequila tasting. Snacks are also included, and you can watch a traditional Mayan dance.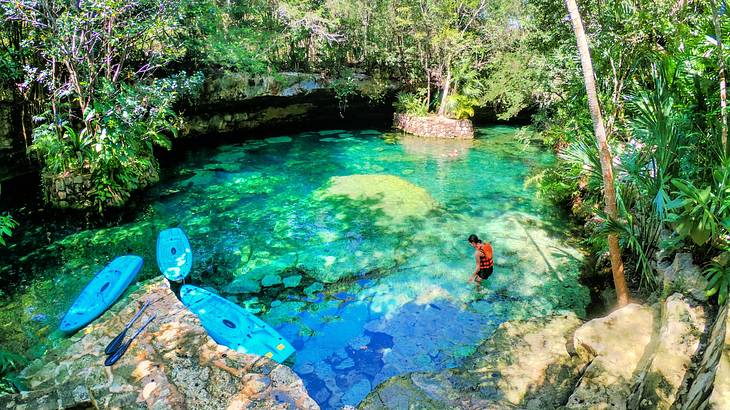 Cenotes with Kayaking and Snorkeling Excursion
Those who love outdoor activities should book a cenotes tour with kayaking and snorkeling. Your adventure-packed day includes visits to four cenotes, including open, semi-open, and cavern cenotes.
Along with being able to swim, snorkel, and kayak, you can rappel, zipline, and cliff jump into some of the natural pools. A picnic lunch, plus snacks like fruit and cookies, are also included for re-fueling!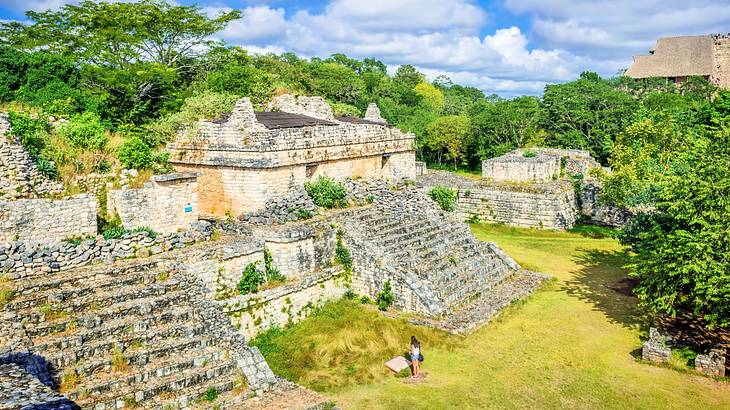 Ek Balam Archeological Zone, Cenote Chichikan, and Valladolid
Ek Balam is an archeological site that's a little less known to tourists. However, that doesn't mean it's not worth visiting. To combine a trip to this landmark with a visit to a cenote, opt for a Ek Balam, Cenote Chichikan, and Valladolid day trip.
The day begins at the archeological site, admiring the Mesoamerican ruins and learning an array of things about their history from your guide. Next, you can cool off in the clear waters of Cenote Chichikan before enjoying a lunch of traditional local dishes.
On the way back to Cancún, you get the chance to stop in the charming town of Valladolid. You can admire the colonial architecture, visit local shops, and snap some excellent vacation photographs.
Xel-Há Park with Cenotes
For a more unique cenote experience, spend the day at Xel-Há Park. Notably, this is an excellent activity for families visiting Cancún with kids.
This fun eco theme park has attractions to keep you occupied all day, including cenotes to swim and snorkel in. Other things to do include ziplining, going on waterslides, and riding bikes along nature trails.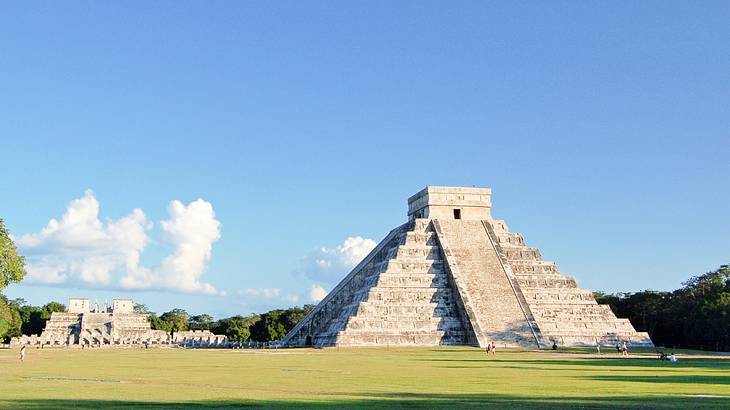 Cobá, Chichén Itzá, and Cenote Chichikan
A trip to Cobá and Chichén Itzá, plus Cenote Chichikan is the best cenote tour from Cancún for people interested in archeological sites and Mayan history. Your day trip includes an informative guided tour of the Mayan ruins at Chichén Itzá and Cobá, the latter of which date to 100 to 300 BC!
Of course, you can also relax in the stunning semi-open Cenote Chichikan. A buffet lunch and a quick stop in Valladolid is also included on this memorable excursion.
Cenote Zapote Ecopark
Another excellent eco park to check out is Cenote Zapote Ecopark. This park, located about an hour outside Cancún, has multiple clear water cenotes where you can swim and snorkel.
You can additionally zipline or bike through the surrounding jungle. When booking a tour, a Yucatan-style lunch is also included, allowing you to refuel and try new dishes between activities. If you need a longer break, you can relax in hammocks dotted around the park.
Cenote Freediving Tour
Freediving in a cenote is a unique activity that is a must for those that like new experiences. While many may think this is an extreme sport, it's actually suitable for almost all ability levels.
Your professional freediving instructor will teach you the basics before you can try it yourself. You can swim down in the cenote, taking in the underwater world around you before heading back to the surface. This excursion begins in Puerto Morelos, but transportation to and from Cancún is available.
Tulum Archeological Site, Cenote Jaguar, and Akumal Bay
Another tour that takes you to Tulum is a Tulum Archeological Zone, Cenote Jaguar, and Akumal excursion. The day trip begins at the Tulum ruins where you can explore with a professional archeologist guide.
Next, head to Cenote Jaguar for a swim before stopping for a delicious buffet lunch. Your last stop of the day is Akumal Bay, where you can swim with sea turtles and other marine life. This tour even includes a professional photographer who will snap pictures throughout the day as a memento of your trip.
In Conclusion
While in Cancún, adding a trip to at least one cenote is a must. If you've been searching for the best excursions to cenotes from Cancún, this list should have helped you find the perfect one.
Best of all, many tours also take you to landmarks like Chichén Itzá or Isla Holbox. No matter which day trip you book, you'll have a fun and memorable experience!
---
---
Want to keep exploring?
Subscribe for discounts on tickets and hotels and our latest guides.
Thank you for subscribing
We will be in touch soon with discounts on tickets and hotels and our latest guides.
Want to keep exploring?
Subscribe for discounts on tickets and hotels and our latest guides.
Thank you for subscribing
We will be in touch soon with discounts on tickets and hotels and our latest guides.
Related Articles