15 Fun Things to Do in Cancun at Night
Destguides may receive commissions from purchases made through affiliate links in this article.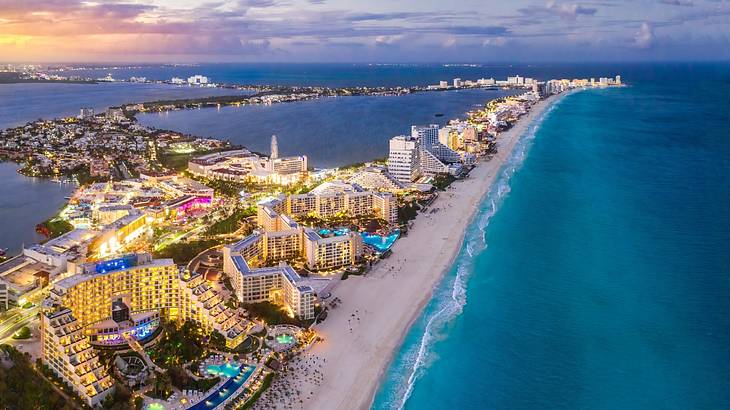 Cancun on the Yucatan Peninsula in Quintana Roo is a bustling and popular tourist destination. Visitors flock here for the stunning beaches, ancient Mayan ruins, exciting attractions, and amazing nightlife.
While you will find numerous activities to enjoy during the day, there are just as many fun things to do in Cancun at night. If you like to party, then you'll be overjoyed by the number of world-class nightclubs.
Other nighttime activities include going to theme parks, dining on pirate ships, and watching the world-renowned Chichen Itza light show.
If you're looking for incredible ideas concerning what to do at night in Cancun, this list is sure to have something for everyone!
15 Things to Do at Night in Cancun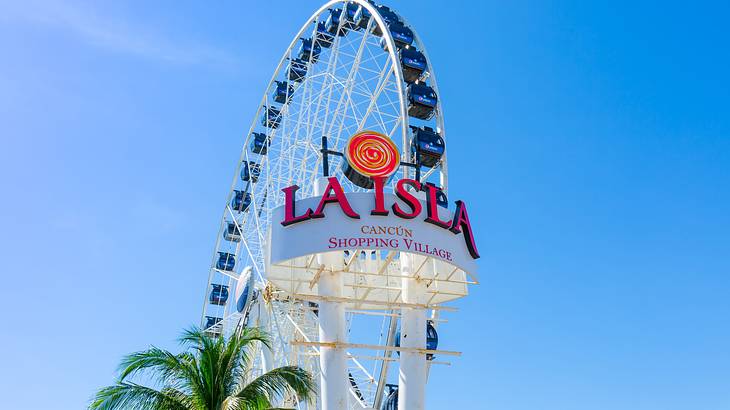 Shop the night away at La Isla Shopping Village
La Isla Shopping Village is a vast open-air shopping mall that's open until 10 pm every day. The mall features an array of shops and restaurants and even a Ferris wheel.
The shopping mall is a great place to visit after dark; you can enjoy the Mexican sunshine on the beach in the day and then head to the shops at night for some retail therapy. At the mall, you'll find some chain stores, interesting independent shops, and lots of places to get souvenirs. Having shopped around, stop at one of many bars and restaurants for a delicious dinner.
Chill out at Mandala Beach Club
Mandala Beach Club is one of the most popular party spots in Cancun. You can hang out at the stylish beach club all day and into the evening, with the club closing at 6 PM. On Tuesday, you can also party late into the night, with Mandala Beach Club open until 1 AM.
The club features a pool, bars, DJs, and fun tropical vibes! Being located right on a white-sand beach, you can dance, drink, sunbathe on the beach, or hang out by the pool. After dark, the club gets even cooler; the beach and pool area get lit up, and you can dance all night.
Feel like a VIP at Mandala Cancun
Mandala Cancun is a flashy and fun Cancun nightclub that you can party at every night until 1 AM. The nightclub features amazing DJs and live music, bottle service, and a luxurious energy.
To have the most exclusive experience at the club, opt for the Mandala Cancun Golden Personal Pass. This pass gives you and three or more friends entrance to the club, a private table, and food and beverage credits. Once inside, you can grab some drinks and dance the night away in Cancun's hottest club.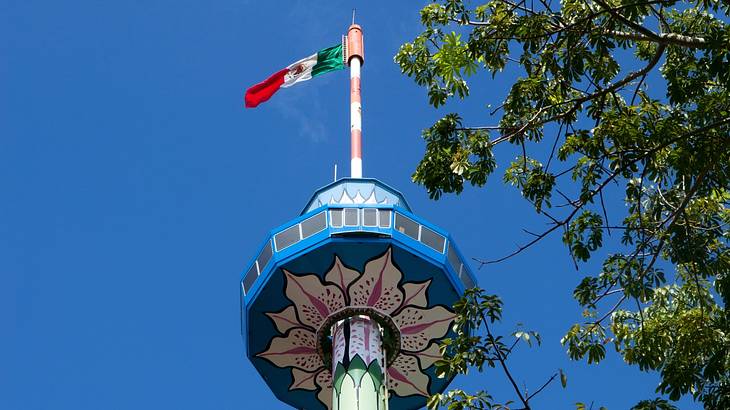 View Cancun from up high at the Cancun Scenic Tower
Want the best views of Cancun? Then heading up the Cancun Scenic Tower is one of the must-try Cancun night activities! The tower, also known as Torre Escénica in Spanish, is a rotating tower with an observation deck and is one of the famous landmarks in Cancun.
For the best views, go up the tower just before sunset and stay until it gets dark. This way, you can enjoy daytime views, the sunset, and nighttime views.
From the observation deck, you'll be able to see across the city and out over the Caribbean Sea. Going up the Scenic Tower is an exciting evening activity and will allow you to take some breathtaking photographs.
Have an night of adventure at Xplor Park
Nighttime activities don't just have to be about drinking and dancing! At Xplor, you can spend the evening trying a range of exhilarating adventure activities. Xplor is a jungle adventure theme park, and Xplor Fuego is a nighttime event that sees visitors explore the jungle park after dark.
Nighttime activities to try include ziplining, driving amphibious vehicles, exploring jungle caves, and swimming in subterranean pools. If you tire yourself out exploring the theme park, there's a BBQ buffet (with vegetarian options) for you to refuel.
Set sail on a pirate cruise on the Jolly Roger Ship
The Jolly Roger Pirate Show is one of the many fun Cancun night activities you have to try! It's also a great activity for adults traveling alone and those with kids. Once you hop aboard the real-life pirate ship, you'll be greeted by costumed actors and treated to a night of nautically themed entertainment.
You'll also get to enjoy dinner, with options including lobster, steaks, and vegetarian dishes. All cruises also offer an open bar with a vast range of alcoholic and non-alcoholic beverages. The Jolly Roger Pirate Show is a once-in-a-lifetime experience you won't want to miss!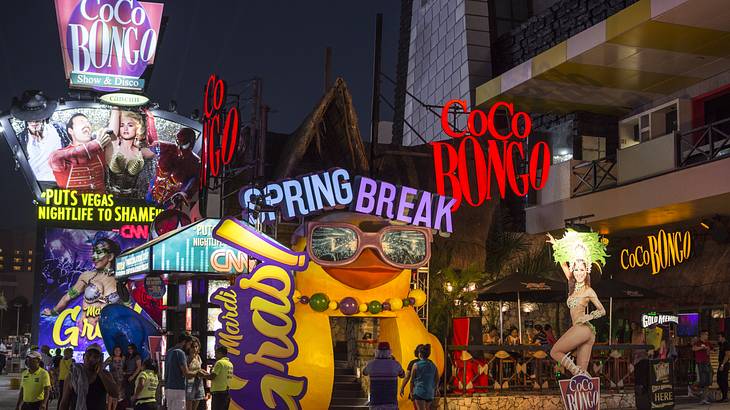 Enjoy a wild night at Coco Bongo
Spending at least one night at Coco Bongo nightclub is an absolute must! The iconic club features incredible DJs and dramatic live shows and performances.
If you purchase special Coco Bongo tickets in advance, you'll likely also have access to an open bar. With so many outstanding performances as well as dancing and great drinks and music, you're guaranteed to have an amazing and memorable night out at Coco Bongo!
Watch a show at Xcaret at Night
Xcaret is a popular theme park near Cancun. While it's an exciting place to visit in the day, you can have fun there at night too. The park offers a range of nighttime activities, including enjoying Mexican food and drinks as you watch a folklore show called Xcaret México Espectacular.
In the evening, you can also visit the coral reef aquarium, aviary, and butterfly pavilion. Access to many of the other theme park attractions is open as well, so you can explore the park before the show begins after dark.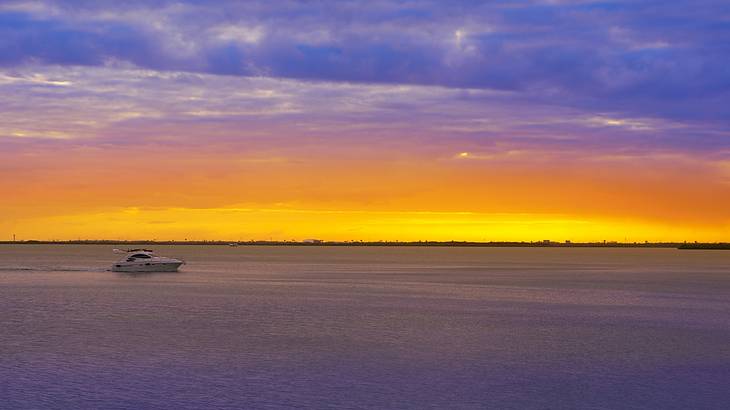 Take a sunset cruise of Nichupte Lagoon
Nichupte Lagoon is a mangrove ecosystem featuring crystal blue water and an array of wildlife. When in Cancun, taking a sunset cruise of Nichupte Lagoon is highly recommended. You'll set off at 5 PM, the ideal time to see the lagoon in the daylight, watch the sunset, and then enjoy the views after dark.
As you travel through the lagoon, you'll spot numerous species of birds and plants, as well as crocodiles. Of course, you'll also be able to take incredible pictures. Sailing through the Nichupte Lagoon is one of the most memorable and unique Cancun night activities.
Eat delicious Mexican cuisine on a Riviera Maya food tour
Mexico has some of the best cuisine in the world! A great way to try the country's delicious dishes is on a Riviera Maya food tour. While this evening and nighttime activity will require you to travel one hour out of Cancun, exploring Playa del Carmen on the Riviera Maya and trying amazing food is a must-do activity!
The two-and-a-half-hour tour begins at 5 PM and will see you visit a range of incredible restaurants. These stops include Mercado Playa Del Carmen, where you'll try homemade quesadilla, a local taqueria, and an ice cream shop for dessert.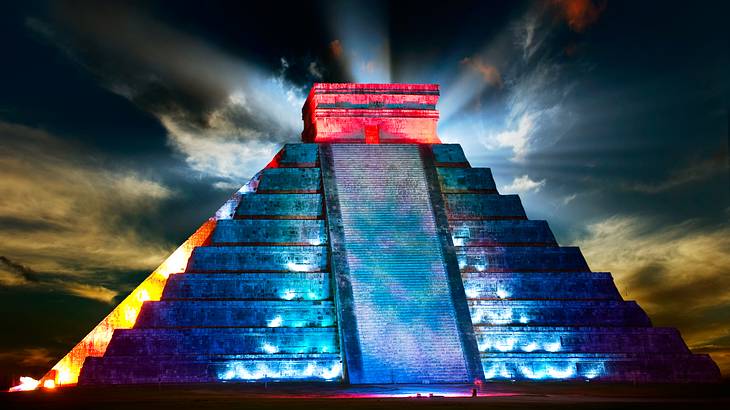 Marvel at the Chichen Itza Light and Sound Show
Chichen Itza is one of the most famous world landmarks as well as being a UNESCO World Heritage Site. The site of Mayan ruins is an incredible landmark to visit during the day, but it's also fun to visit at night.
Every night there is the Light and Sound Show, also called Kukulkan Nights. During the show, the Great Pyramid of El Castillo lights up and other ruins feature lights that change color. The magical show is a must-see and is a unique way to view one of the world's most famous monuments.
Share a romantic dinner on a Galleon
If traveling to Cancun with your partner, sharing a romantic dinner on a Galleon boat is one of the must-do things to do in Cancun, Mexico, at night. Once aboard, you'll enjoy a multi-course meal featuring options like surf and turf and vegetarian dishes.
You and your other half will also be serenaded with saxophone music as you take in the breathtaking views of the Riviera Maya and the Caribbean Sea. Alcoholic and non-alcoholic beverages are included as well. This romantic and relaxing cruise is a must for any couple in Cancun!
Party at a the Xoximilco floating carnival
Xoximilco is a one-of-a-kind party inspired by Mexican culture. The experience includes Mexican food, drinks, music, and games. It's somewhat like a Mexican carnival.
Interestingly, most of the events take place on the water on Mexican-style gondolas. You'll eat and drink incredible cuisine before dancing to live music and playing fun carnival-style games. This event is one of the most exciting attractions in Cancun and will make you feel like a kid again!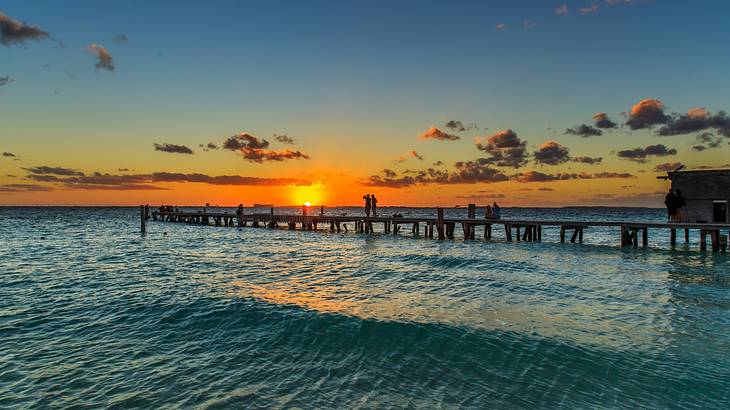 Do a bar crawl on Isla Mujeres
Isla Mujeres is a scenic island located about a 25-minute boat ride from Cancun. A fun activity is to take the ferry across to the island to check out some fun bars.
Once on the island, you'll have a range of spots to choose from. Ice Bar is a popular tourist spot. Everything in the bar is made of ice and is the ideal place to cool down with a delicious drink on a hot night.
Rock Bar is another local favorite featuring friendly vibes, unique drinks, and rock music all night. However, you'll find a ton of other great bars simply exploring the island.
Dance salsa at Mambo Cafe
Grand Mambo Cafe is a fun and popular club and bar in Cancun. It's less flashy and more laid back than alternate options, like Mandala Club. This bar still has a buzzing atmosphere though, and is as popular with locals as it is with tourists.
This nightlife spot features live music and is the ideal place to salsa dance. Even if you don't dance, watching others dance salsa, tango, and more is a memorable experience. Visiting Mambo Cafe is for sure one of the best things to do in Cancun, Mexico, at night.
In Summary
Cancun is a must-visit destination known for its stunning scenery and exciting attractions. It's also a well-loved nightlife spot with numerous fun activities to enjoy at night. Whether you want to party at the best nightclubs, relax in a bar, or try something unique like a pirate-themed cruise, everyone will find a nightlife activity for them in Cancun!
Give us feedback about this article
Learn more about Cancún:
More articles about Quintana Roo:
Read more articles about Mexico:
More articles about things to do:
More visual stories related to this article:
---
---
Want to keep exploring?
Subscribe for discounts on tickets and hotels and our latest guides.
Thank you for subscribing
We will be in touch soon with discounts on tickets and hotels and our latest guides.
Want to keep exploring?
Subscribe for discounts on tickets and hotels and our latest guides.
Thank you for subscribing
We will be in touch soon with discounts on tickets and hotels and our latest guides.
Related articles