20 Unique Things to Do in Cancun, Mexico
Destguides may receive commissions from purchases made through affiliate links in this article.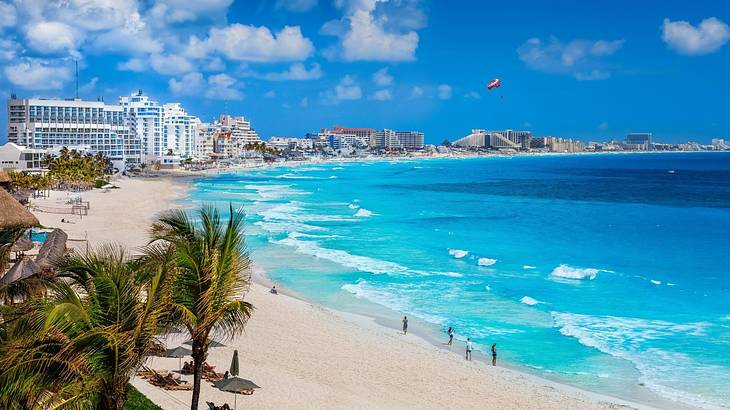 Cancun, located in the state of Quintana Roo, is a popular tourist destination. The beach paradise features an array of fun attractions and things to do for kids and adults. From relaxing on stunning white sand beaches to trying adventure activities and water sports, you won't get bored when visiting this Mexican location!
Along with classic tourist activities, you can discover many unique things to do in Cancun, Mexico. The attractions range from an underwater museum where you snorkel between exhibits to a theme park with caves to swim through. No matter what you enjoy doing while on vacation, these 20 exciting activities will make your trip more memorable and adventurous!
20 Cool Things to Do in Cancun, Mexico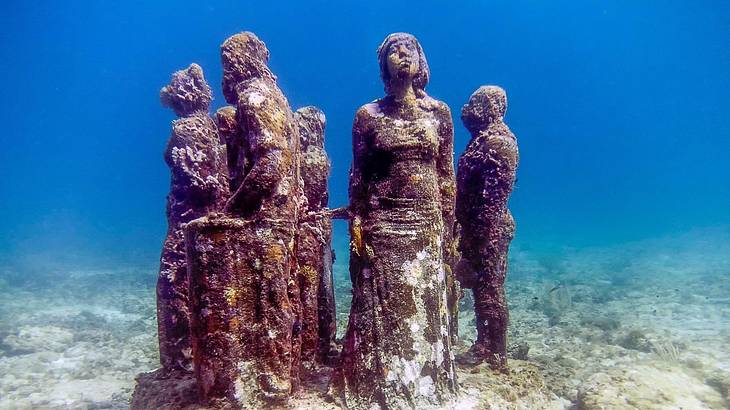 Snorkel around exhibits at the Cancun Underwater Museum
The fascinating Cancun Underwater Museum is just what it sounds like! It's a museum that's housed entirely underwater. To view the museum displays, you must snorkel or scuba dive beneath the ocean. You can find many tour operators offering snorkel tours of the Underwater Museum, which include boat rides to and from the attraction and snorkel gear.
Once under the water, you'll discover over 500 sculptures at this famous Mexican landmark. Along with being an exciting attraction, the sculptures act as an area for coral growth and a shelter for marine creatures.
Taste delicious dishes on a food tour
There are many excellent dishes to try in Cancun and a unique way to taste the best things is by going on a food tour. With your guide, you'll visit some of the top eateries in Cancun, to try various types of tacos. Your guide can also point out local landmarks as you go from place to place.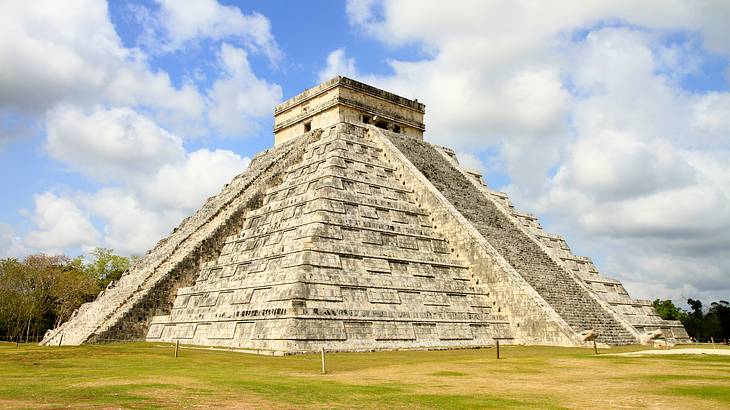 Visit the renowned Chichen Itza
Chichen Itza is the largest of Mexico's Mayan Ruins and one of the country's most important archeological sites. The ruins are also a UNESCO World Heritage Site and are a must-see landmark in North America.
The easiest way to visit the attraction is by going on a Chichen Itza day tour from Cancun. This excursion also includes a visit to the town of Valladolid and a cenote.
Alternatively, one of the unusual things to do in Cancun is to stay at the ruins until nighttime when there's a light and sound show called Kukulkan Nights. At this event, the Great Pyramid of El Castillo is illuminated with different colored patterns, allowing for a unique view of the landmark.
Swim with whale sharks
Whale sharks are a gentle species of shark that don't pose any danger to humans. The water surrounding Cancun is one of this creature's main habitats, and swimming with whale sharks is a fun thing to do when on vacation in Cancun.
You'll get to swim up close with these animals and will likely spot sea turtles, tropical fish, and dolphins, too. Swimming with whale sharks is also an ideal activity for families visiting Cancun with kids.
To guarantee a sighting, plan your trip during whale shark season. This period generally falls between June and September, with July and August being the best time to see the animals.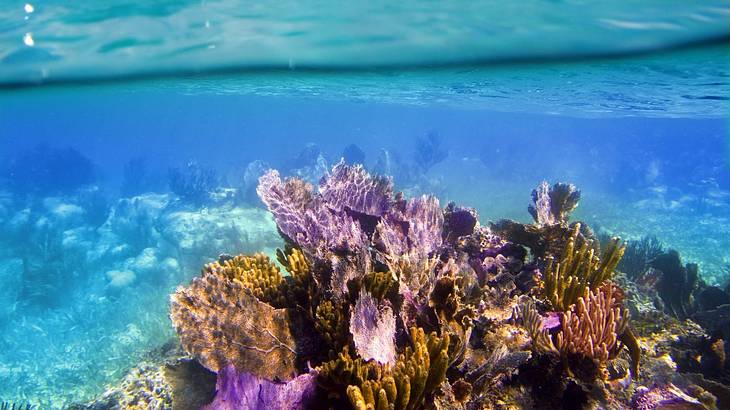 Explore coral reefs on a scuba diving trip
Cancun's oceans are home to beautiful coral reefs, tropical fish, and other marine life. Therefore, scuba diving when in the area has to be on your Cancun bucket list! You can find an array of scuba diving tours that will allow you to see these underwater features up close.
Best of all, guides are used to diving with all ability levels, from beginners to experienced divers. Once under the ocean, you can see colorful fish, sea turtles, and much more. Many tours will also take cool underwater pictures for you. If you're looking to learn a new skill or improve your technique, a scuba diving excursion is definitely one of the best tours in Cancún.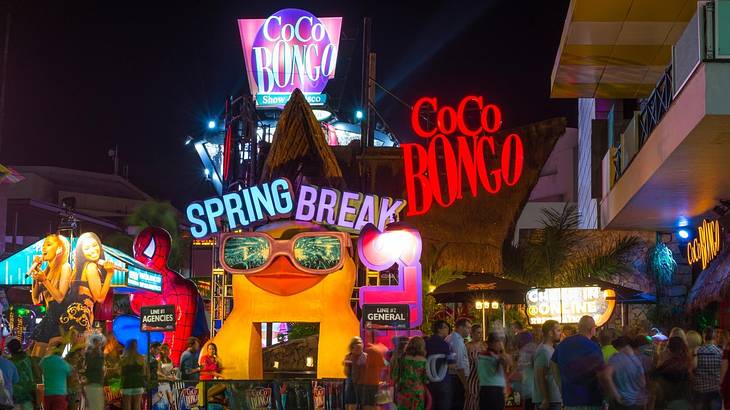 Party at Coco Bongo
Partying at Coco Bongo is one of the many cool things to do in Cancun, Mexico. It's also one of the most fun things to do at night in Cancun. This nightclub hosts amazing DJs, and there are various other live shows and performances to watch.
While you can just turn up to the club, purchasing Coco Bongo tickets in advance is recommended. These tickets provide entrance to the club and even access to an open bar. Spending the night dancing, drinking, and having fun at Coco Bongo is an incredible experience!
Spend the day at Xplor Adventure Park
Xplor Adventure Park is an exciting jungle theme park that features eco-attractions as opposed to traditional theme park rides. Activities you can try include ziplining, swimming in caves and cenotes, and riding ATVs.
If you're looking for some activities to try at night, Xplor Fuego allows you to enjoy all the attractions of Xplor after dark. When visiting Xplor via an arranged tour, you'll also be provided with a delicious buffet lunch or dinner.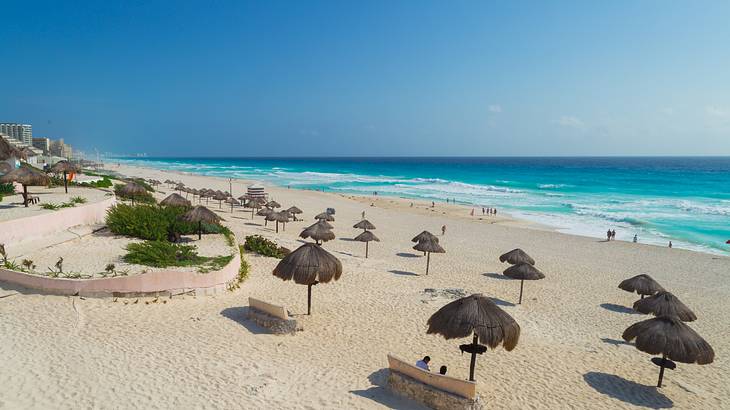 See dolphins at Playa Delfines
Playa Delfines is a stunning white sand beach located within the Hotel Zone. The beach also features calm, shallow waters and lots of space to relax. Fun things to do at Playa Delfines include sunbathing, swimming, and snorkeling.
This beautiful beach is also where you may see dolphins, hence its name, which translates to "Dolphin Beach." While sightings are rare, you can see them occasionally, with early morning being the best time to do so.
Visiting the beach around sunset is also recommended. If you're in the area with your other half, relaxing on the sand as the sun goes down is one of the best things for couples to do in Cancún.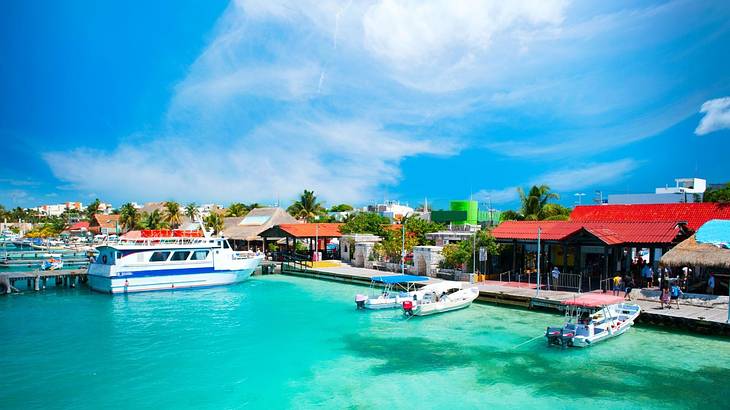 Sail to Isla Mujeres on a catamaran
Isla Mujeres is a beautiful island close to Cancun. One of the non-touristy things to do in Cancun is hopping aboard a catamaran to reach this stunning destination. On your catamaran trip to Isla Mujeres, you can admire the scenic ocean views as you enjoy drinks from an onboard open bar.
Once on the island, you can explore downtown, swim and snorkel in the crystal-clear waters, and have a buffet lunch. Spending the day outdoors on the water and exploring Isla Mujeres will also help you understand why Mexico's nickname is the Land of the Sun.
Wander around the San Miguelito Ruins
The San Miguelito Archeological Site is another set of Mayan Ruins in Cancun. The ruins are located about a ten-minute drive from the Hotel Zone. This famous landmark in Cancun is also on the same site as the informative Cancun Mayan Museum.
The museum features exhibits on archaeological sites throughout the Yucatan Peninsula and the rest of Mexico. These displays include artifacts from Chichen Itza and other historical sites. Having explored the museum, you can then wander around the impressive San Miguelito Ruins.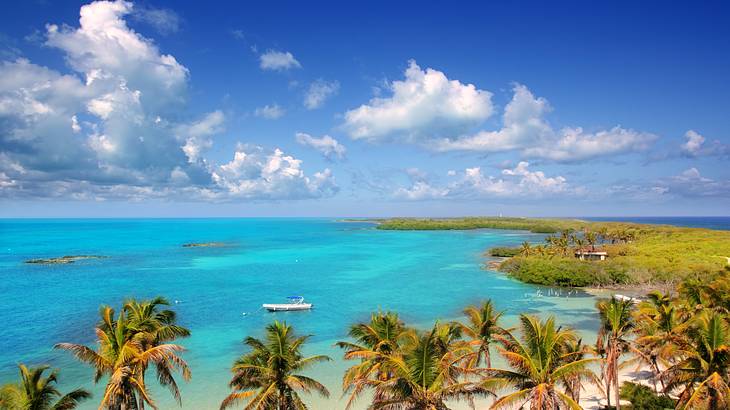 Take a day trip to Isla Contoy
Taking a day Trip to Isla Contoy is another of the great unique things to do in Cancun. Being close to Isla Mujeres, you can combine a visit to both islands in one day. Isla Contoy features stunning beaches and offers many water activities to try.
Along with exploring the island and relaxing on the beaches, you can swim and sail. The area is also home to the Ixlache Reef, which is the start of the Mesoamerican Reef, the second-largest reef in the world. Therefore, Isla Contoy is the ideal location for snorkelers and marine life enthusiasts.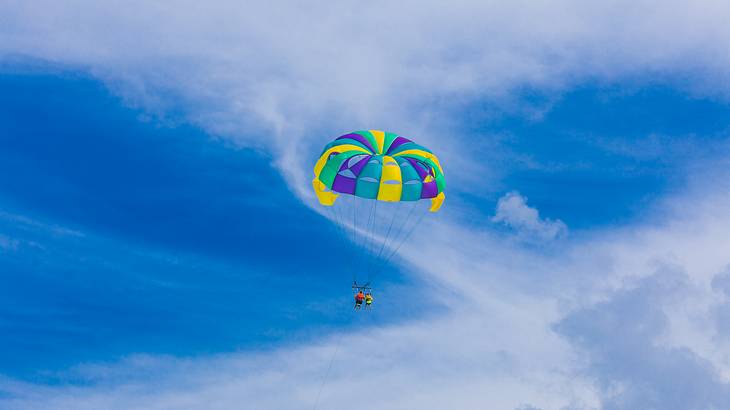 Try jet-skiing and parasailing
If you love water sports, one of the adventurous things to do in Cancun is going on a jet-skiing and parasailing adventure. During this experience, you'll get to parasail high above the ocean, taking in views of the Cancun Hotel Zone, Isla Mujeres, and the Nichupte Lagoon.
Next, you can hop on a jet ski for an exhilarating 30-minute ride. This activity is perfect for those who enjoy thrilling outdoor experiences. It's also a fun thing for kids to do.
Enjoy a private street art tour
When exploring Downtown Cancun, you'll notice that there is lots of creative street art. A great way to see the best pieces of artwork is on a street art walking tour.
The tour begins at Jardin del Arte, and a local guide will take you to the most beautiful murals in the area. Your guide will also point out local places of interest and give more information on the sites you see and the artists whose work you view.
Spot iguanas at El Rey Archaeological Site
Conveniently located in the Cancun Hotel Zone, the El Rey Archaeological Site is another area of Mayan Ruins in Quintana Roo. This site is thought to have been inhabited between 250 and 1500 AD. The ruins you will see date to between 1300 and 1500 AD, with around 47 structures remaining.
Interestingly, the ruins are also home to many iguanas! So you can spot some of these unique reptiles while exploring the historical landmark.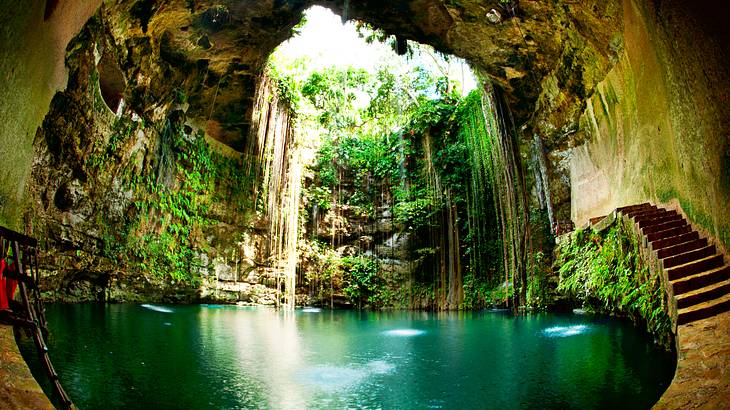 Drive an ATV to a cenote
One of the many Cancun hidden gems is the area's tranquil cenotes. A fun and unique way to reach these subterranean pools is by taking an ATV and cenote tour. On the tour, you can drive your own ATV or ride on one with a driver.
You'll then head to a beautiful cenote where you can swim and take pictures. After a relaxing swim, you can also try an exciting zipline course!
Admire the views from the Cancun Scenic Tower
If you want to enjoy stunning views of Cancun, going to the top of the Cancun Scenic Tower (Torre Escénica del Embarcadero de Cancún) is a must. Located in Xcaret Park, the tower features an observation deck that provides views of the Caribbean Sea and the surrounding beaches.
The tower is open all day, generally until 9 p.m., allowing you to enjoy clear daytime views as well as beautiful sunset and evening vistas. As the tower is located in Xcaret Park, you can also head to the other unique attractions found there before or after visiting the observation deck.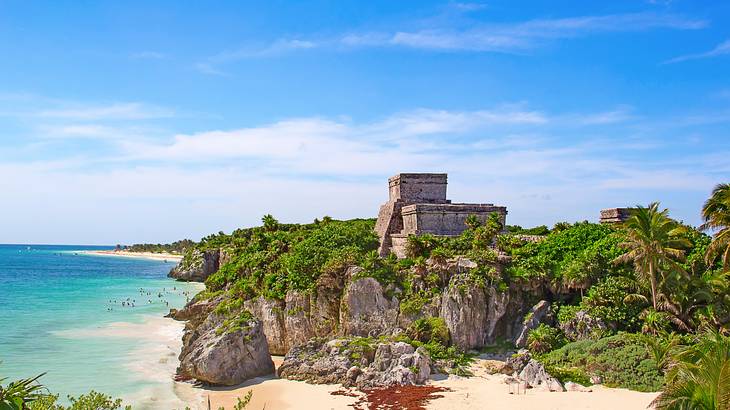 Go on a day trip to Tulum
Another great place to visit when in the Riviera Maya area is Tulum. Luckily, reaching Tulum from Cancun is relatively easy, especially if you take an organized Tulum day trip tour. The tour guide will collect you from your hotel before driving to this historical city.
The first stop on the day trip is the Tulum Archaeological Site. Here, you can view incredible Mayan ruins and take in the stunning views of the Caribbean coastline. Next, you'll go to the beach to snorkel in the surrounding waters.
Your last stop of the day is Parque de Cenotes Yax-Muul, which features a relaxing cenote located in the middle of the Yucatan rainforest. This exciting and memorable day trip is a must when visiting Cancun and is sure to please everyone in your group!
Experience a Rio Secreto underground river tour
Rio Secreto is a beautiful cenote and underground river system located around an hour from central Cancun. Experiencing a Rio Secreto tour is very memorable and one of the best ways to explore the attraction. On the full-day tour, you can swim through the underground cave pools and learn more about the landmark's formation.
Having enjoyed Rio Secreto, you can also add a trip to the Tulum Archaeological Site to your excursion. You will be transported back to Cancun at the end of the day.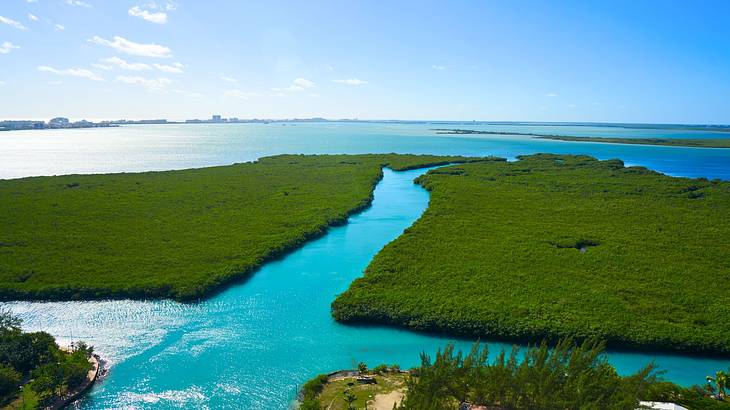 Kayak on Nichupte Lagoon
Kayaking on Nichupte Lagoon is another of the unique Cancun experiences to add to your bucket list. This tranquil lagoon is situated right on the edge of central Cancun, so it's easily accessible.
With a kayak tour, you'll get the chance to travel around the lagoon, exploring mangrove forests and learning about the area's ecosystems and biodiversity. You'll also spot a range of creatures, including many tropical birds.
Attend a Lucha Libre show
Lucha Libre is a Mexican form of wrestling that generally features wrestlers in colorful masks and clothing. While you could simply attend a show, opting for a Lucha Libre dinner package is the best option.
Along with seeing a unique wrestling match, you'll be provided with tacos and other Mexican snacks, plus beer or margaritas. You can also do a tequila tasting and will get to enjoy a musical performance by a Mariachi band. If you're looking for a memorable night out, this event package is one of the best in Cancun!
In Conclusion
Cancun is an incredibly fun destination that's ideal for families, couples, and groups of friends. No matter what activities you enjoy while on vacation, the above travel tips should inspire you to try something a bit different when in this tropical paradise!
Give us feedback about this article
More visual stories related to this article:
Want to keep exploring?
Subscribe for discounts on tickets and hotels and our latest guides.
Thank you for subscribing
We will be in touch soon with discounts on tickets and hotels and our latest guides.
Want to keep exploring?
Subscribe for discounts on tickets and hotels and our latest guides.
Thank you for subscribing
We will be in touch soon with discounts on tickets and hotels and our latest guides.