The 25 Best Cancun Excursions & Tours to Try
Destguides may receive commissions from purchases made through affiliate links in this article.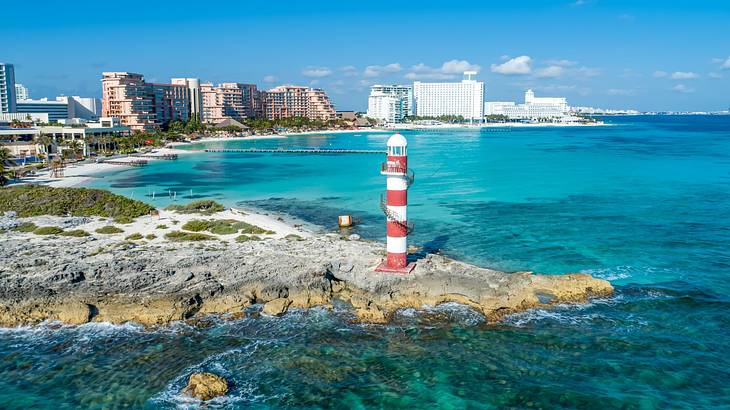 Cancún is one of the most popular vacation destinations in Mexico. From beautiful beaches to fun nightclubs and world-renowned landmarks, there's a lot to do in and around the tourist hotspot.
While you can explore solo, booking a guided tour offers an excellent way to experience new things and see landmarks you may not be able to alone. Conveniently, you can discover numerous Cancún guided excursions to join.
Whether you want to take a guided tour to Chichén Itzá, swim with marine life, or relax on a luxurious catamaran cruise, this list of the best Cancún excursions will have something for you! So, keep reading to find out what fun tours you can book to make your getaway more memorable.
25 Best Excursions in Cancun, Mexico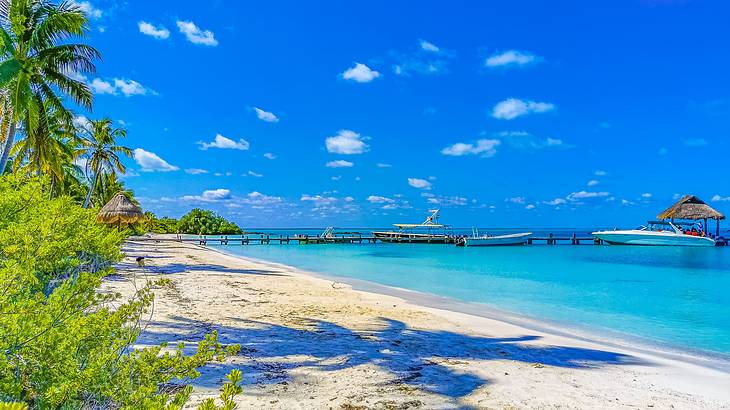 Enjoy a day trip to Isla Contoy
Isla Contoy is a beautiful island located just north of Cancún. Visiting this paradise can't be missed, and an excellent way to do so is by joining an Isla Contoy tour. You can be picked up from the Cancún Hotel Zone and will be taken to Isla Contoy National Park.
At the stunning park, you can experience a guided snorkel tour, allowing you to admire coral reefs. Next, you can do some bird-watching and go for a relaxing swim before heading to Isla Mujeres for an hour or so of exploration.
Zipline through a jungle canopy
Adventure activity lovers won't want to miss going on a jungle ziplining tour. This half-day excursion allows you to fly over the jungle, taking in the stunning views below. After enjoying the zipline course, you'll be taken to a subterranean grotto, where you can zipline down into the water for a relaxing swim.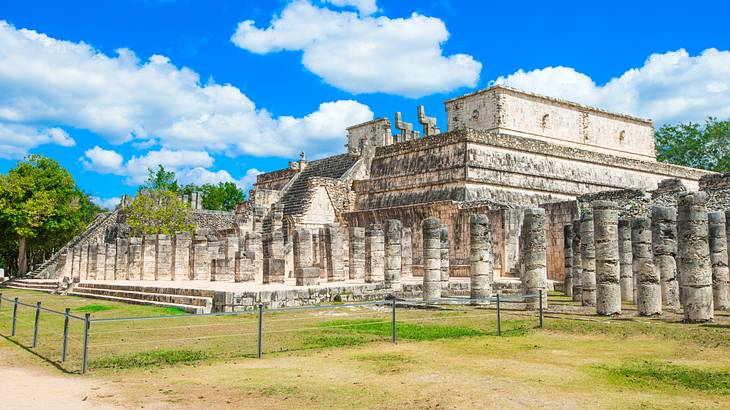 Marvel at Chichén Itzá
Chichén Itzá is arguably the most famous Mexican landmark. This UNESCO World Heritage Site is conveniently located just a few hours from Cancún, making it a must-visit location during your trip.
Numerous Cancún, Mexico, excursions will take you to the Ancient Mayan ruins, and many have other stops along the way. One of the most popular is opting for a Chichén Itzá, Valladolid, and cenote tour.
On this full-day tour, you'll first get to visit the ruins and learn a little more about Mayan culture. Next, you can swim in a tranquil cenote before exploring the colonial town of Valladolid, one of the oldest towns around the Yucatan Peninsula.
Dance all day on a party boat
If you're looking for a fun, memorable, and laid-back excursion, experiencing a boat party can't be missed. You'll get to dance to a range of music, with access to an open bar the entire time.
Of course, you can also admire the amazing ocean views as you sail through the water. The boat will even stop, allowing partygoers to hop in the water to swim or snorkel.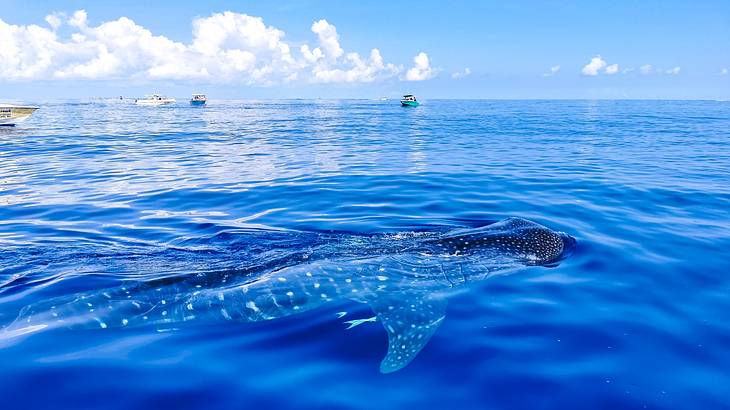 Meet marine life on a whale shark tour
Are you searching for fun things to do with kids in Cancún? If so, going on a whale shark tour is an excellent idea. However, this is also a great activity for adults who love marine life, especially whale sharks.
Your guide will take you to areas known to be home to the gentle marine creatures. Once you spot whale sharks, you can get into the water to snorkel around them, remembering not to touch them.
Other sealife you may see includes turtles, rays, dolphins, and an array of tropical fish. A lunch with traditional Mexican dishes and time to relax on white sand beaches is also included in this excursion.
Snorkel around the Punta Nizuc coral reef
There are many fantastic snorkeling locations near Cancún, with the Punta Nizuc coral reef being one of the best. While you could head to the reef independently, snorkeling on a guided tour of the Punta Nizuc reef is recommended.
Upon meeting your guide, you'll get into the crystal-clear water to snorkel around the stunning reef. Things to see include vibrant corals and marine life, like turtles. You even get the chance to snorkel at the Underwater Museum.
Best of all, the shallow and calm waters of the Punta Nizuc reef make this activity suitable for snorkelers of all levels, including beginners.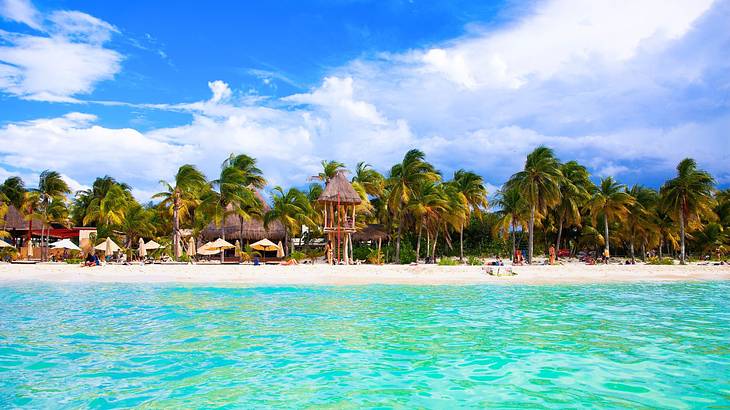 Luxuriate on a catamaran trip to Isla Mujeres
Another beautiful island near Cancún is Isla Mujeres. This destination is only about an hour away, and there are many excursions you can join to reach the area. A fun option is treating yourself to a catamaran adventure to Isla Mujeres.
Once aboard the boat, you can enjoy the stunning Caribbean Sea views as you sail to the island. While on the water, you can also hop in to swim and snorkel, allowing you to spot tropical fish, turtles, and more. Once on the island, you can explore the many attractions, including local shops and sandy beaches.
This excursion also includes access to an open bar and a decadent lunch onboard the catamaran. If you're looking for a memorable and luxurious tour, this Isla Mujeres day trip can't be missed!
Swim through underground caves at Río Secreto
If you're looking for more Cancun adventure tours, booking a Río Secreto underground river excursion is an excellent idea. At the Río Secreto Nature Reserve, you can swim through the stunning underground river system, admiring the impressive stalagmites above.
Lunch is also included, and you can add a trip to the Tulum Archeological Zone or Coba Archeological Zone to your tour to make it even more memorable.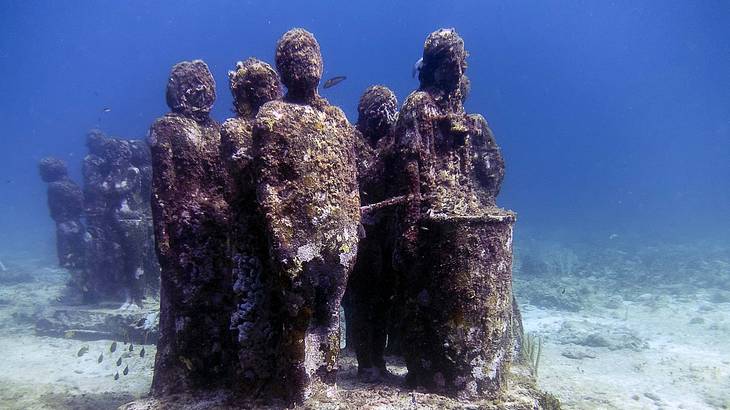 Explore the Cancún Underwater Museum of Art
The Underwater Museum of Art is one of the most unique Cancún landmarks. This attraction is literally a museum that's underwater! To view the exhibits, you must snorkel below the surface.
As with other activities, booking a guided Underwater Museum of Art tour is the best way to go. During the snorkeling session, you can view numerous sculptures, all of which will have fish and other marine life swimming around them.
Interestingly, the sculptures have become important to the marine ecosystem, promoting coral reef growth. Therefore, this is a popular Cancún excursion for those interested in ocean habitats and conservation.
Kayak around the Nichupté Lagoon
Outdoor activity enthusiasts won't want to miss kayaking on the Nichupté Lagoon. Located right along Kukulcan Boulevard and the Hotel Zone, the lagoon is home to mangroves and an array of wildlife. On the approximately three-hour tour, you can kayak through the scenic lagoon, taking in the beautiful flora and fauna.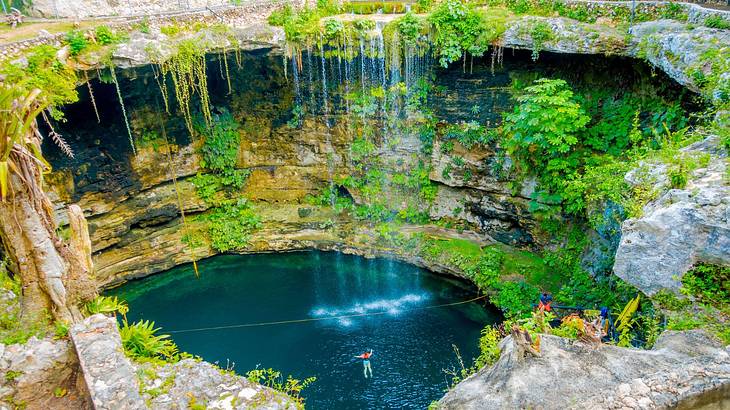 Go on an adventurous jungle tour
If you've ever wanted to drive through the jungle, this is one of the Riviera Maya tours that will let you do just that! Going on a Mayan jungle tour offers all kinds of unique experiences. First, you'll get to drive through the lush scenery in a fun jungle buggy.
Having thoroughly explored the forest, you can cool off with a relaxing swim in a crystal-clear cenote. Snorkeling is possible, too, if you want to get a better look at the aquatic life below the surface. Do note that pick-up from Cancún (to Playa del Carmen and then on to the jungle activity area) comes at an additional charge.
Try a beginner scuba diving tour
You don't have to be a pro to enjoy scuba diving excursions in Cancún, MX! Trying a beginner scuba diving course is an excellent way to have fun, spot Mexico's amazing marine life, and learn a new skill.
After being taught the basics, your diving guide will take you on an open-water dive. Creatures you may see include rays, turtles, and brightly colored fish. You can also admire stunning coral reefs before heading back to land. If you have dived before, there are many scuba diving tours for certified divers as well.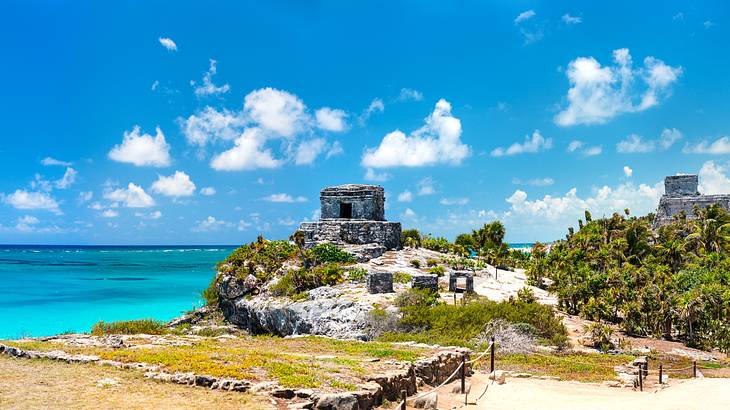 View ancient ruins at the Tulum Archaeological Site
While Chichén Itzá is the most well-known set of Mayan ruins near Cancún, the Tulum ruins are well worth seeing as well. When exploring via a Tulum excursion from Cancún, you have the added benefit of being with a travel guide, who can provide more information on the history of the archeological site.
Along with going to the ruins, this tour allows you to boat and snorkel in the waters of Tulum. For more aquatic fun, you can also go to Yax-Muul Cenote. Of course, the excursion package includes transport to and from Cancún, which takes approximately an hour and a half each way.
Have a fun day at Xcaret Eco Theme Park
Whether you're traveling with kids or are in a group of adults, spending the day at Xcaret Eco Park will always be a good time! The unique theme park has underground rivers, areas for snorkeling, and jungle trails, among many other attractions. When on an Xcaret tour, you can also enjoy a dance, music, and lights show with traditional Mayan and Mexican performances.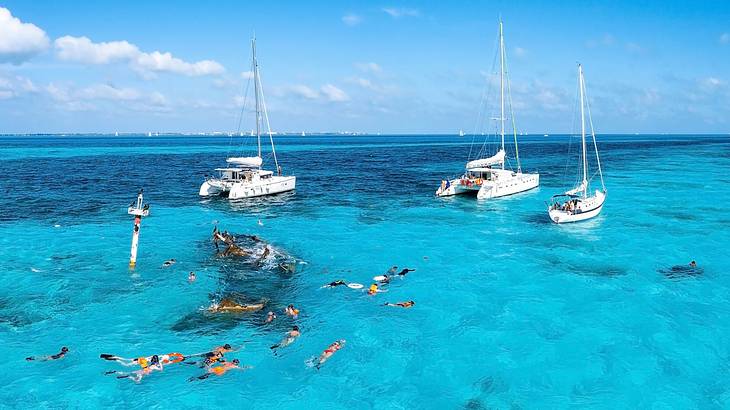 Discover a shipwreck on a snorkeling tour
Another of the top excursions in Cancún, Mexico that gets you into the water is a five-in-one snorkeling tour. One of the biggest draws of this trip is that you get to snorkel around a shipwreck!
Your four other activities include going to the Underwater Museum, snorkeling around a coral reef, swimming through waters known to be home to sea turtles, and taking a dip in a cenote.
Taste incredible dishes on a street food tour
Many Cancún tours and excursions take you to exciting places a little outside of Cancún. However, opting for a street food tour allows you to try some delicious dishes without leaving the area!
This tasty four-and-a-half-hour excursion takes you to the top foodie spots, where you can try a range of traditional Mexican treats. Options on the menu include tacos, churros, and marinated pulled pork.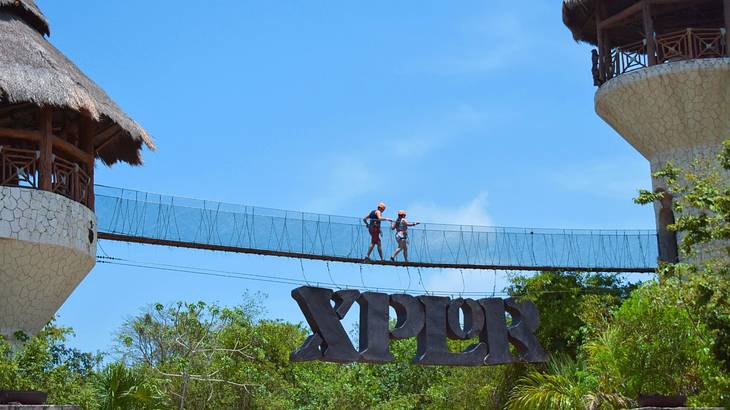 Spend the day at Xplor
Like Xcaret, Xplor is a fun and unique jungle adventure park. When visiting via an Xplor tour, you get the added benefit of being transported to and from the park.
During your day at the adventurous theme park, you can drive jungle ATVs, swim in underground rivers, zipline, and so much more. This is the ideal day out for thrill seekers of all ages!
Experience an exciting ATV tour
Another of the top Cancún excursions for thrill-seekers is enjoying an ATV adventure. Adventurers will get to ride ATVs through the jungle, taking in the scenery and likely spotting lots of Mexican wildlife.
However, that's not the only fun activity on this tour. You'll then get to fly along ziplines through the forest, walk across hanging bridges, and take a dip in a cenote. This is, without a doubt, one of the most unique things to do in Cancún!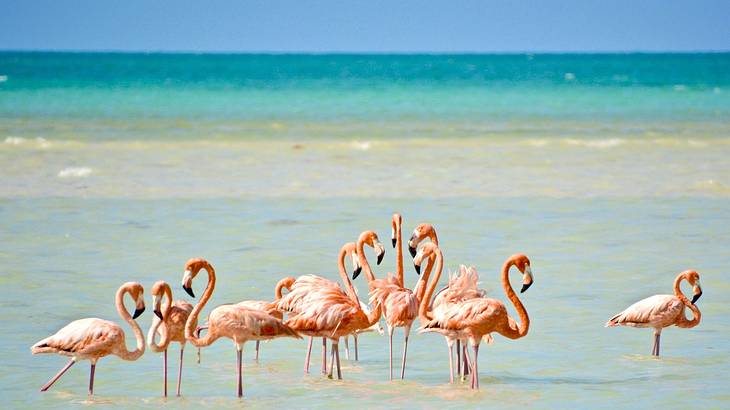 Unwind in nature on an Isla Holbox day trip
There's no shortage of breathtaking islands around Cancún, like Isla Holbox. The most optimal way to reach the island is by joining an Isla Holbox day trip tour.
Once you arrive, you can admire the beautiful scenery, which includes crystal clear waters and white, sandy beaches. Wildlife is abundant here as well, with the chance to spot flamingos and pelicans, among many other creatures.
Check out Xplor after dark
Are you looking for nighttime excursions? Then why not head to Xplor after dark. You can enjoy all the fun of the park with fewer crowds.
Additionally, activities are all enhanced by the evening atmosphere. For example, you can zipline under the stars! You'll also be treated to a delicious dinner, including alcoholic drinks, and can then enjoy treats by a campfire.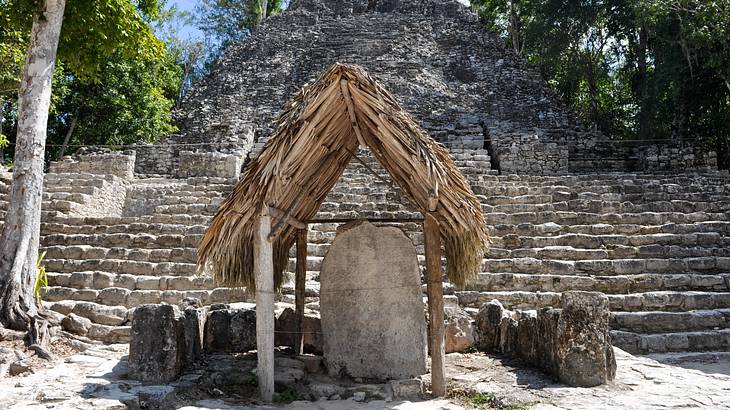 Visit the Cobá Archeological Zone
After checking Chichén Itzá off your list, visiting the ancient Mayan city of Cobá is recommended. There are quite a few tours that take you to this destination, which is about two hours from Cancún.
One popular option is to take a Cobá and Tulum ruins tour. On this excursion, you can visit both cities to explore their respective archaeological sites. A stop at a cenote is included as well. Alternatively, opt for a Cobá tour that takes you directly to the Coba Archeological Zone and then on to Punta Laguna Nature Reserve.
Relax on a sunset sailing cruise
If you're looking for romantic things to do with your other half in Cancún, this is the excursion for you! Treating your loved one to a sunset sailing cruise allows you both to enjoy the beautiful waters of the Riviera Maya under a scenic pink and orange sky.
Aboard the boat, you'll also have access to an open bar, and snacks, like tropical fruit, are provided. After admiring the sunset and ocean views, you can sail back under the starry night sky.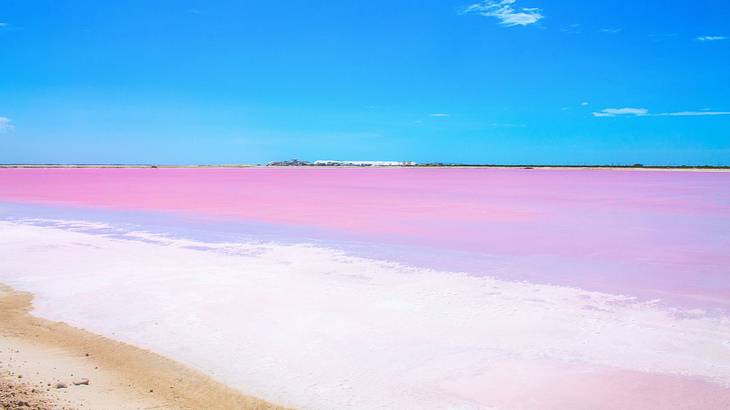 Spot flamingos while exploring Las Coloradas and Río Lagartos
Las Coloradas in the Río Lagartos municipality is another incredible destination. This area is northwest of Cancún, and while it's about three hours away, taking a full-day trip to Las Coloradas is an excellent experience.
The main attraction here is Parque Natural Ría Lagartos. This park features a stunning pink lagoon and an array of wildlife, including vibrant flamingos. If you're looking to take some breathtaking vacation photos, this is one of the best places near Cancún to do so. This excursion even includes a boat ride through the area's ecosystems. Along with flamingos, you can spot animals like pelicans and crocodiles.
Create delicious dishes at a cooking class
Excursions don't have to be full-day, overly active trips to be enjoyable. One of the top excursions in Cancún, MX, is making delicious dishes at a cooking class. Your session begins with a trip to a local market to buy an array of fresh ingredients.
Next, you'll head to the kitchen to learn how to create a variety of Mexican dishes, from tacos with homemade tortillas to the perfect guacamole. You can then enjoy the meal you've cooked, along with a refreshing margarita.
Notably, this activity is one of the best things to do in Cancún for couples. Having learned how to make a range of dishes, you can recreate them on your next date night when you return home!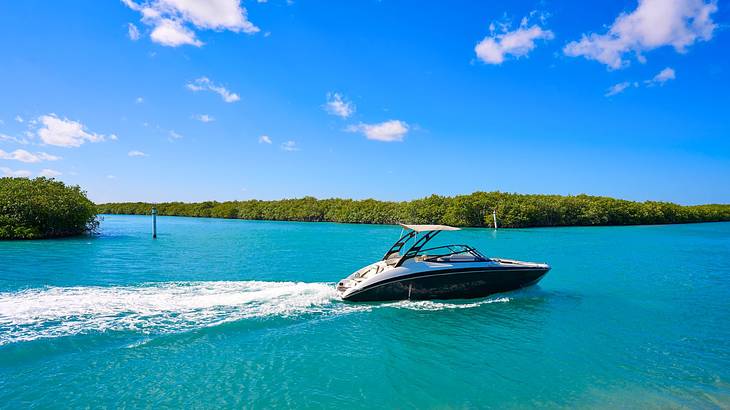 Flyboard over Nichupté Lagoon
Flyboarding over the waters of Cancún is another of many adventure activities to try while in the area. At Nichupté Lagoon, you'll undertake a brief safety session before being able to start flyboarding.
Then, you can give it a go, and your guide will offer lots of tips to have the most unique experience while floating above the water. The activity is suitable for all levels, and souvenir photos are available for an added cost. If you want to partake in even more thrilling watersports, you can also book a jet ski session on Nichupté Lagoon.
In Conclusion
As you can see, there's no shortage of fantastic excursions to book while visiting this stunning part of Mexico. From snorkeling around the Punta Nizuc coral reef to exploring Mayan ruins or partaking in a cooking class, there's a tour for everyone in Cancún!
Want to keep exploring?
Subscribe for discounts on tickets and hotels and our latest guides.
Thank you for subscribing
We will be in touch soon with discounts on tickets and hotels and our latest guides.
Want to keep exploring?
Subscribe for discounts on tickets and hotels and our latest guides.
Thank you for subscribing
We will be in touch soon with discounts on tickets and hotels and our latest guides.