The Perfect 1 Week in Palawan Itinerary
Destguides may receive commissions from purchases made through affiliate links in this article.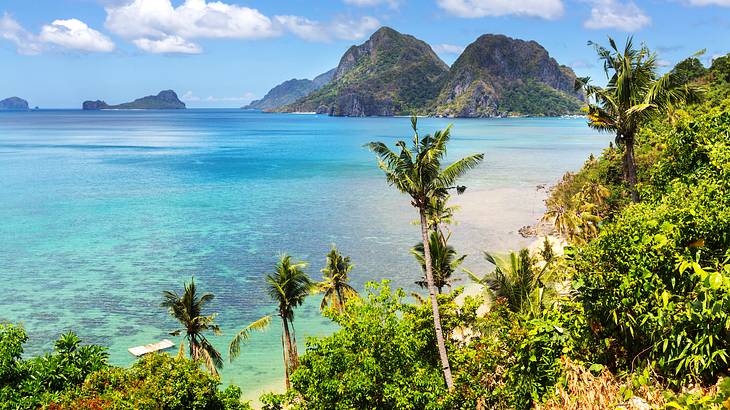 Tucked away in South East Asia is a magical, emerald archipelago known as the Philippines. This heavenly paradise is a chain of over 7,000 islands and islets featuring dramatic scenery, and it is home to thousands of species of animals, some still being discovered by scientists.
In recent years, the Philippines has become a top tourist destination for all types of globetrotters, especially for those looking for cheap places to travel in Asia or a romantic destination. There are various types of visas for foreigners, so no stress there.
Pristine beaches, colorful coral reefs, and majestic rainforests and mountains are all waiting to be discovered. While many places are catered to tourists, there are still some untouched places to find some quiet time.
The islands here have been ranked the best in the world, with Palawan in the region of Mimaropa leading at the top of the list. This alluring chain of islands has been affectionately referred to as "the last frontier," and this 1 week in Palawan itinerary will give you the real island experience mixed with some popular tourist attractions.
Puerto Princesa and El Nido are the top tourist spots in Palawan, and booking an island hopping tour is a must. There are also a lot of untouched, secret places that are off the beaten track that your tour guide might show you if you ask.
Each island offers its own magical experience that cannot be missed! There are various ways to get from isle to isle, but taking a boat or a ferry is a popular and preferred way. For example, you can easily ride a ferry from El Nido to Coron at an affordable rate.
This Palawan Island itinerary will eliminate a lot of decision-making for you, letting you relax and fully enjoy your holiday. Continue reading to learn more!
7 day itinerary
Average of 4 stops per day
1 Week Palawan Itinerary
El Nido
El Nido is a naturally striking place to begin your 7 day Palawan itinerary. Named after the nesting swiftlets, this island chain is made popular because of its sheer limestone cliffs, flawless white-sand beaches, hidden caves, and the impressive Bacuit Archipelago, just to name a few.
El Nido is an adventurer's paradise where you can explore by land, sea, or sky. There are plenty of things to do in El Nido, both thrilling and relaxing.
The easiest way to get to El Nido in Palawan is by taking a direct flight from Manila, the capital city of the Philippines. Or, you can take a plane from Manila to Puerto Princesa, and then travel north in a van where El Nido is located.
You can, of course, start your first day in Palawan in Puerto Princesa if this is where you land. Just change the days of this Palawan itinerary around to suit your schedule!
"Secret Beach" on Matinloc Island
Matinloc Island is usually included in 'Tour C' packages from El Nido, which is a full-day tour. As you'll already be doing a full-day island-hopping tour tomorrow, I'd recommend maybe partnering up with a few other travellers and hiring your own private boat to do half-day tours instead for today.
This can be relatively inexpensive, depending on how many other people you find, and allows you the flexibility to visit some of the more hidden secret areas. You can also visit the more popular locations at less busy times.
Matinloc Island is known for its "Secret Beach". Secret Beach, or Hidden Beach, is a small white sand beach hidden away amongst karst cliffs that can only be accessed by swimming through a bit of tunnel between cliffs. The walls of the tunnel are sharp, so a calm day on the water is a must when planning to visit the secret beach.
Some people also choose to explore Matinloc Island by taking a kayak tour where you can go through smaller coves and waterways around the islands.
The water and reefs surrounding the island are ideal for snorkeling and swimming. The clear and tranquil water makes it easy for you to swim amongst the vibrant fish and colorful coral.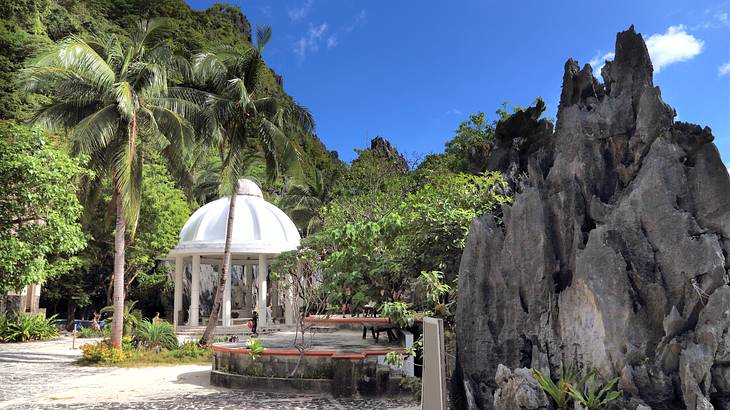 Matinloc Shrine
The Matinloc Shrine was built in the 1980s. Its proper name is the Shrine of Our Lady of Matinloc. It has mostly been left to the elements, making for a beautifully eerie place to visit and take a few photos!
There is also a small gazebo part where you can walk around and learn a little bit more about the abandoned shrine and Matinloc Island.
El Nido Boutique Artcafe
After a long morning of snorkeling and being out on the water, grab a bite to eat at the Boutique Artcafe. The Artcafe features a full menu with dishes from all over the world, making it easy to satisfy any and all of your cravings.
The cafe is primarily known for its homemade breads and desserts, as well as their fresh salads made from their organic farm.
Whatever you're feeling brunch or cocktails, this place serves excellent food at reasonable prices. And unlike many of the other places around, it accepts credit cards (lucky you)!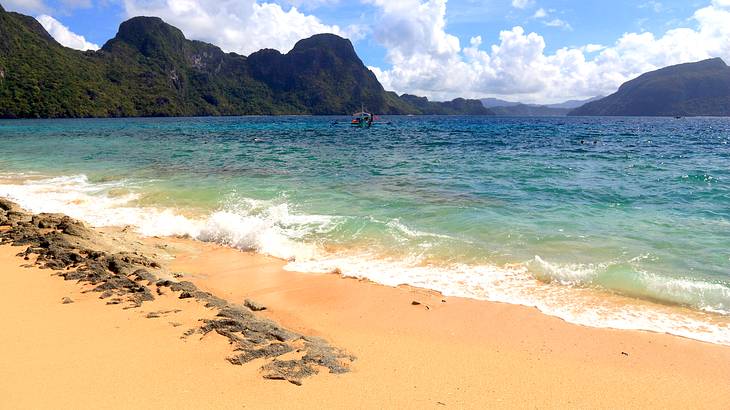 Dilumacad Island
From afar, this island looks like a helicopter, thus adopting the nickname, Helicopter Island. Helicopter Island is the perfect spot to end the first day of your Palawan 7-day itinerary.
Dilumacad Island is lined with lush, mountainous jungles, and is surrounded by tranquil waters quietly lapping the pristine, sandy shoreline.
If you happen to be an experienced diver, Dilumacad Island features an underwater tunnel that goes from one side of the island to the other and lies nearly 40 feet under the sea. The tunnel is home to an array of interesting sea creatures, including the moray eel, ringed pipefish, and the electric oyster.
If you're not a diver, snorkeling is a great alternative to explore the quiet sea. Of course, sitting and relaxing on the beach with a good book or blank journal is highly suggested as the sun sets on your first day.
SAVA Beach Bar
One of the more popular beachfront bars, amongst tourists, is the SAVA Beach Bar. It offers drinks and cocktails, dancing, music, and bar chow, as well as a relaxing ambiance.
The SAVA Beach Bar provides the best of both worlds, depending on what time of night you go. If you want the relaxing ambiance atmosphere, head on over during the early evening.
However, if you want to experience El Nido nightlife, just wait a few hours and go over at late night for music, dancing, and drink specials.
Lagoon Hopping with El Nido Tour A
The lagoons dotted around El Nido are best experienced by booking a tour. Everything, including lunch, is taken care of for you, which lets you sit back, relax, and enjoy the magical atmosphere of El Nido's mystical lagoons.
If you want to explore inside the lagoons, you will need to hire a kayak. They are usually pretty cheap and can be found near the entrances of most of the lagoons, which is also where your tour boat will drop you off for a set amount of time.
This is very typical and shouldn't worry you, but make sure to bring some extra cash for rental fees.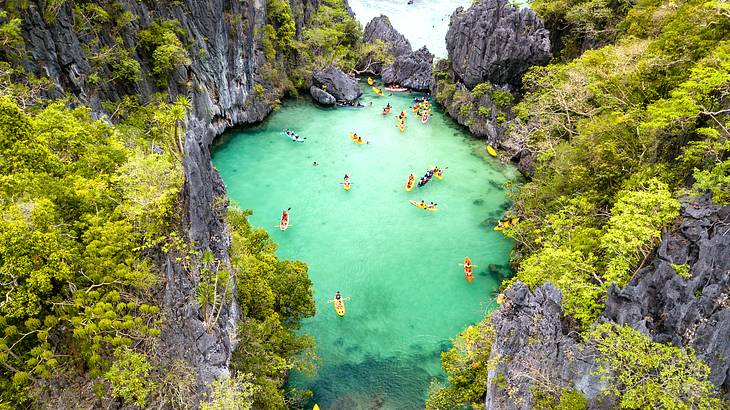 The Small Lagoon
The Small Lagoon is typically the first stop when doing 'Tour A' from El Nido. The entrance to this lagoon is a bit hidden between two limestone rocks and can only be entered by kayak or swimming through the opening.
As with most of the Philipines, the scene underwater is just as beautiful and vibrant, so you will want to bring a snorkel and goggles and an underwater camera if you can get your hands on one.
Aside from snorkeling, you can explore mysterious caves and monstrous cliffs. There are even some areas where you can cliff jump from. The Red Bull cliff diving competition was even held here in 2019!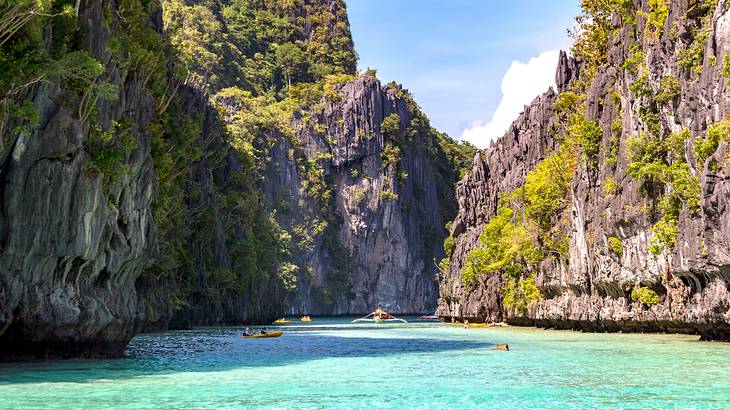 The Big Lagoon
After exploring the Small Lagoon, you will hop over to The Big Lagoon where more magical wonders await.
The Big Lagoon can also only be reached by kayak, but has a lot more space, as well as a lot more people. Don't let that discourage you from exploring this massive, beautiful lagoon though!
This lagoon is so big that despite the crowds, you can find caves and crevices amongst the sheer limestone cliffs to explore on your own, even some peace and quiet.
The Big Lagoon is home to beautiful coral and fish, and sometimes you can even see sea turtles!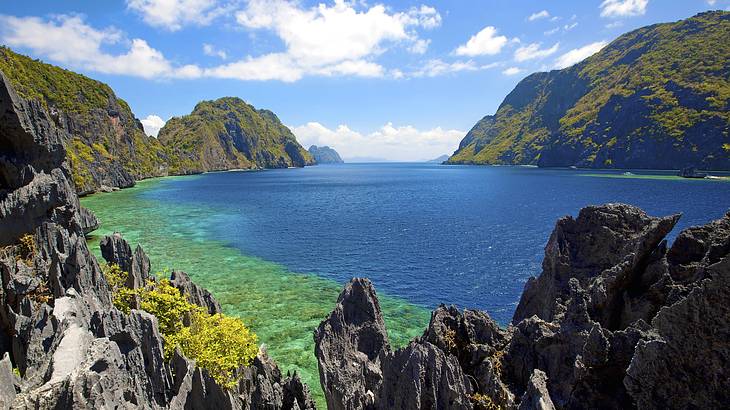 The Not-so-secret, Secret Lagoon
By now, you might think that you'll be tired of going from one lagoon to another, but the not-so-secret lagoon has always been voted a favorite when it comes to Palawan's top tourist spots.
To get to the Secret Lagoon, you will have to walk along the reef and across a small beach through a small opening in the limestone. As it is a popular tourist spot, it does get crowded, though this shouldn't deter you from visiting.
The lagoon is protected by majestic limestone cliffs that shoot straight up into the sky. These cliffs also protect the clusters of bright green trees growing from them, which creates a beautiful contrasting backdrop - perfect for your new Instagram photo.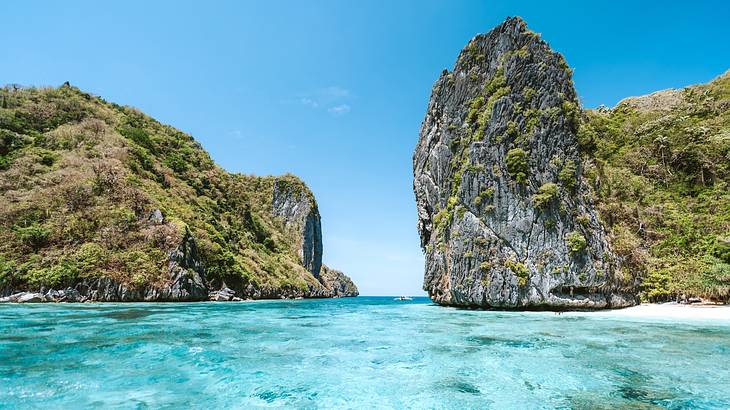 Shimizu Island
Shimizu Island is just one more magical stop on this lagoon tour. The island, originally named after a Japanese diver, is definitely something to include on your Palawan trip itinerary.
Shimizu does not fall short on beautiful rock and water views that are reminiscent of the previous Palawan islands you have already explored. Still, the snorkeling here will blow everything else out of the water.
There are hundreds of colorful tropical fish to swim with, coral reefs to swim through, and tranquil, warm water to float around in.
More of El Nido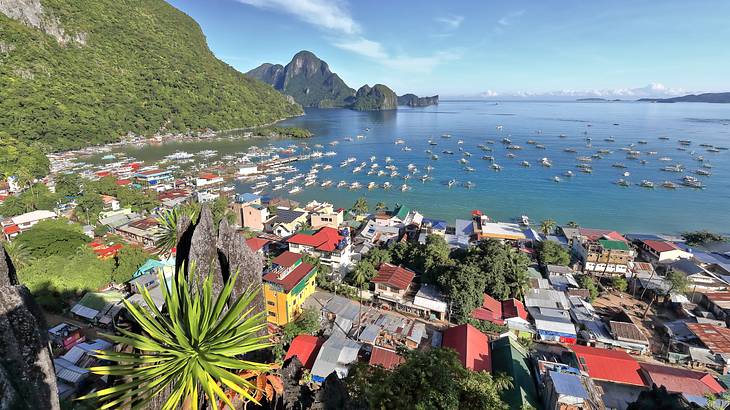 You need more than one day in El Nido to experience all it has to offer. Waterfalls and caves are on the schedule for the third day of your Palawan travel itinerary.
The Local Market
Start the day bright and early with the locals. The public market opens up every day at 4 am, not that you have to be up that early. The saying "the early bird catches the worm" is a cliche for a reason.
At the market, you can find a variety of colorful, local fruits and vegetables and other local treats, like freshly baked bread and homemade sweets.
The local market is the perfect place to stock up on goodies for your adventurous day ahead. No matter what time you go, you will surely find something to tantalize your tastebuds.
You can also find other homemade trinkets to bring home for your family and friends, or for yourself to remember your Philippines trip by.
Nagkalit-kalit Falls
What a better way to start your day than by swimming at a waterfall? Nagkalit-kalit Falls is a reasonably popular swimming spot at the end of a short hike.
The walk will take you through a thick, lively forest and over small streams, ultimately ending at two waterfalls with a refreshing pool to swim in.
This waterfall is famous amongst both locals and tourists, but it should be fairly quiet in the morning hours.
Las Cabanas Beach
After the waterfalls, head back towards where you were earlier, but a bit further south, to reach Las Cabanas Beach. One of the more exciting things to do here is to zipline between the islands.
You can fly back and forth, or just zip one way, but whatever you decide, you will have bragging rights amongst your friends.
The zipline runs from Las Cabanas Beach to Depeldet Island, and you can choose a couple of different flying positions, sit in a regular sitting position, or fly like superman (or woman). Either way, you will get a birds-eye view of how incredibly beautiful the island really is.
After zip-lining, spend the afternoon soaking up the sun on either island. Relax with some local beer, or unwind with your treats from your local market stop.
Port Barton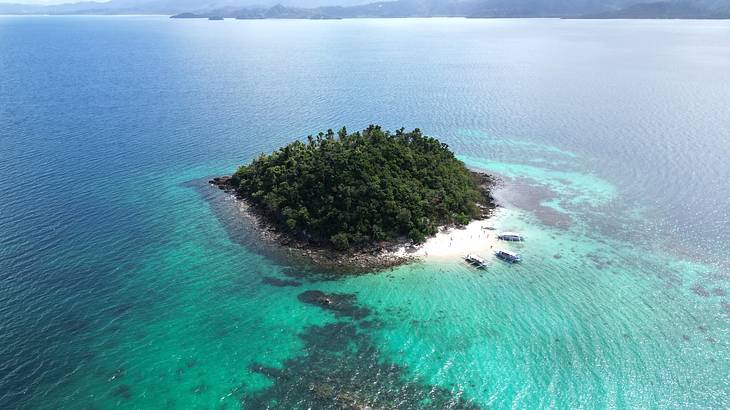 If you are ready for some less touristy areas, Port Barton is the spot for you. After exploring some of the surrounding rainforest and waterfalls, hop in the car for a road trip (best to find a driver vs trying to rent a car yourself) to some mystical caves before spiriting off for your final days in the Balabac Islands.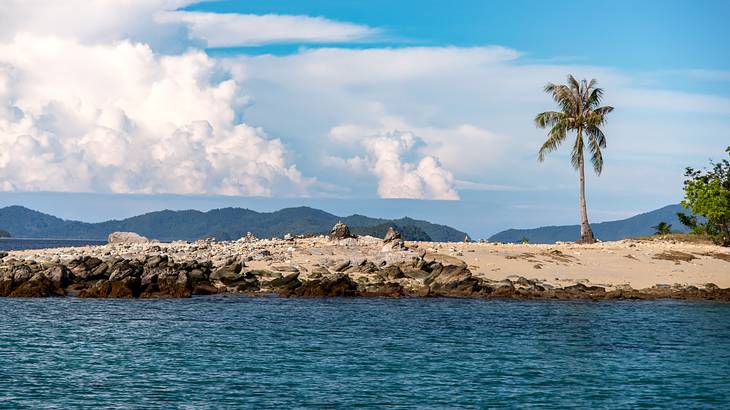 Palawan Easy Dive in Port Barton
Port Barton is not typically at the top of a tourist's list for what to do in Palawan, which makes it that much more special.
This quaint part of Palawan is laid back, quiet and tranquil - a hidden gem. The perfect beach to relax at after a few busy days of visiting the top tourist attractions in Palawan.
Port Barton is ideal for SCUBA diving. Whether you have never been diving or are a divemaster, Palawan Easy Dive can fulfil all your needs.
Pamuayan Falls
Not far from the city center are a lush and vibrant jungle and bamboo path about 3 miles long. The trail leads to a small but refreshing waterfall. There is also a check-in office where you can donate some money.
Pamuayan Falls stands close to 30 feet high, but depending on what time of year it is, will have a varying amount of water falling over its edge.
The pool at the edge of the falls is cool and revitalizing, but the hike there can get super hot and humid. Make sure you bring plenty of water and sunscreen.
Milano Cafe
Good coffee and food never get old, and Milano Cafe is the best place around in Port Barton.
This cafe is owned and operated by a friendly Italian couple who make excellent coffee, gelato, and sandwiches.
Puerto Princesa Getaway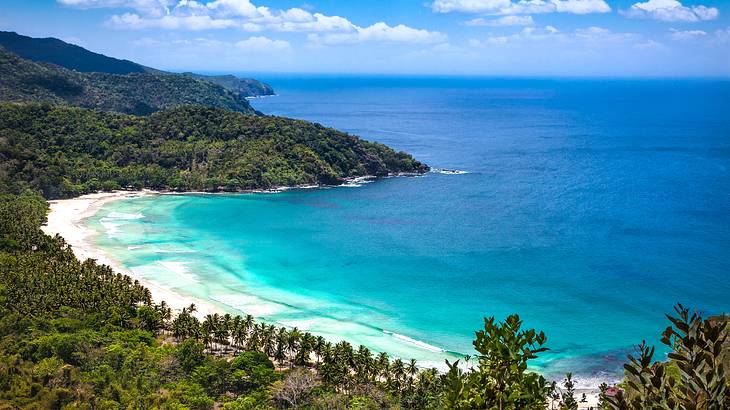 After a few days of enjoying the El Nido area and Port Barton, you will then head to Puerto Princesa (Port of the Princess) City, which is about a 4-hour drive from El Nido.
Puerto Princesa is the energetic capital city of Palawan and offers its own magical ambience far from the beaches, islands, and lagoons of the shore towns.
The city is known to be the cleanest and greenest of all the cities in the Philipines with exceptional food and nightlife.
The city is perhaps even more famous for its underground river system, which you'll get to explore.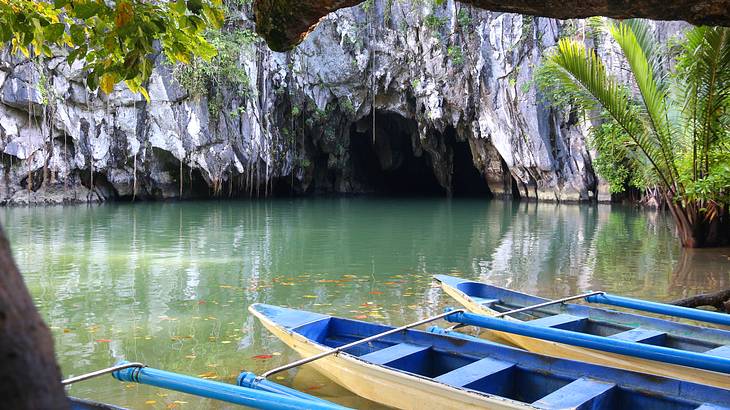 Puerto Princesa Subterranean River National Park
As mentioned before, Puerto Princesa is world-famous for its underground river system. The Subterranean River National Park is one the most thrilling Puerto Princesa tourist spots and is one of the top things to do in Puerto Princesa.
The park is a UNESCO World Heritage site and has been named as one of the New 7 Wonders of Nature. The entrance to the river system is in a small town called Sabang, which is where you can choose to take a boat ride to the entrance or hike there.
This tour starts in a pitch-black cave with a pre-recorded audio clip. No, it's not the beginning of a horror movie; instead, the recording talks about the history of the park and interesting facts about the formations and caves.
The river system is made up of waterfalls, caves, several different river channels, a deep river hole, and is home to marine sea creatures as well as bats.
Ugong Rock Adventures
Many people make a pitstop at the Ugong Rock Adventure Park for some more exciting adventures.
You can pick from several different experiences, including ziplining, zip biking, spelunking, and caving. If you have time, you can even do all three for the most thrilling adventure.
Whatever your thrill-seeking level, or if you just need to relax, there is something interesting for everyone to try at Ugong Rock Adventures.
Kalui Restaurant
After a day spent underground, retreat back to the city to experience the vibrant nightlife. Start your night with tasty Filipino cuisine at the trendy Kalui Restaurant found on the ever-popular Rizal street.
Because this place is so popular, there is typically a long line waiting for a table, so make sure to queue early or book a reservation in advance.
Once there, you'll be asked to remove your shoes before entering, which is also a traditional way of entering a home in the Philippines.
The walls are covered with work from local artists, giving it an authentic, local vibe. Overall, it's a great place to hang out or have a quiet date, so don't forget to pay it a visit!
Firefly Watching on the Iwahig River
On this tour, you will ride a 3-person boat with an assigned guide that will take you through the mangrove-lined river which the fireflies lie on.
This is a calm and relaxing experience in the dark where you will be able to catch a glimpse of the light given off by the fireflies.
If the sky is clear enough to see the stars, and if you are lucky, you might be able to also see the bioluminescent algae in the water.
Keep in mind the queue might be long because the number of boats allowed on the river is limited, but the sights you will see will be worth the long wait.
Lipuun Point Reservation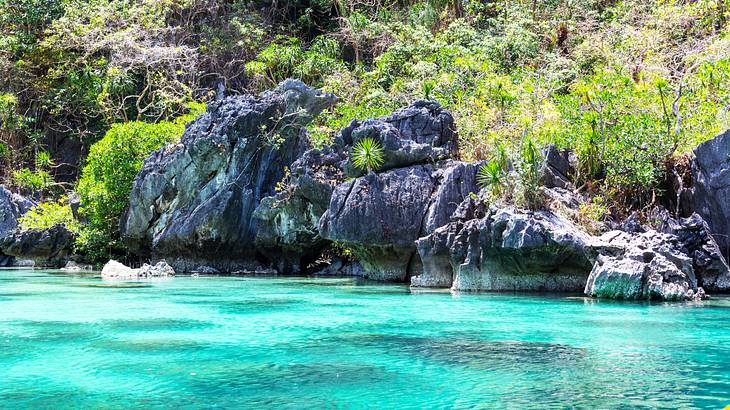 After another long car ride, you will be rewarded with the beautiful Lipuun Point Reservation. The reservation is made up of over 200 caves. The caves are shrouded in dense jungle and surrounded by shimmering turquoise water.
Only 29 of the 200 caves have been studied and explored, and 7 of these are open to the public. While it is not a top tourist site, it is a semi-secret sight to behold.
Lipuun Point Reservation is hauntingly beautiful and is waiting for its turn to be added to the UNESCO world heritage site list. Lipuun Point Reservation should be on everyone's Palawan itinerary.
Philippines' Cradle of Civilization
The Tabon Caves can only be reached by boat, booked through the Tabon Caves Museum. The caves are protected due to their archeological and historical significance.
When the caves were studied and explored in the 1960s, the archaeologists discovered many significant artefacts that shed light on the entire human history of the area.
One of the most noteworthy discoveries was that of the Tabon Man, later to actually be deemed a woman. These bones, as well as other fragments found within the caves, have been dated to over 50,000 years old.
Besides bones and burial sites, the caves have also been hiding burial jars, jewelry, ornaments, and stone tools.
The tour through the caves takes you through a similar route as the original archaeologists.
Sidanao Island and Nasirik Island
These uninhabited islands are charming and alluring with their white sand beaches and soothing waters.
When you hire a boat for the caves, you should also ask for stopovers at a couple of the islets that are around them. Captains will happily take you exploring for a small extra cost.
Sidanao Island and Nasirik Island are some of the more ideal islands to visit. Here, you can relax on the beaches or snorkel in the clear, shallow waters.
Balabac Island Tour
At the bottom of Palawan is a heavenly group of islands in an area referred to as Balabac. These remote islands are the ultimate way to spend your last day in the Palawan Islands, and is one of the top things to do in Palawan.
This paradise is dotted with palm trees and is lightly traveled, making you feel like you are secluded at the end of the world.
Hopefully, you are not tired of snorkeling yet because Balabac is surrounded by a colorful coral reef that is home to vibrant, tropical fish.
Onuk Island
Onuk Island is privately owned, and a permit is needed before heading there. You can easily get a permit from the tourism office.
This island oasis provides endless views of the calm ocean and is the perfect place to float around in the warm water, "endure" more snorkeling, work on your bronze or just take naps under one of the cabanas.
If you have more snorkeling left in you, it is highly likely you will see some sea turtles along with other sea creatures like giant clams.
Candaraman Island
Candaraman is a secret gem amongst hundreds of emerald islands along the Balabac chain. The shallows are typically lined with starfish and sea urchins, making it another epic place for, you guessed it, snorkeling.
There is a sandbar here as well that is only exposed at low tide. It is a fun stretch to walk along when showing.
While on Candaraman Island, keep your eyes and ears out for locals selling buko pie, a yummy local treat made from a coconut custard. You should also look for the fisherman just coming in from the days catch for some super local, super fresh fish.
Punta Sebaring
Punta Sebaring is the 3rd longest sandbar in the Philippines and is a beautiful, sunbleached white sand beach.
There is a small "resort" located in Punta Sebaring that can house up to 8 people. It has a little cafe that serves excellent fresh seafood, locally sourced, of course.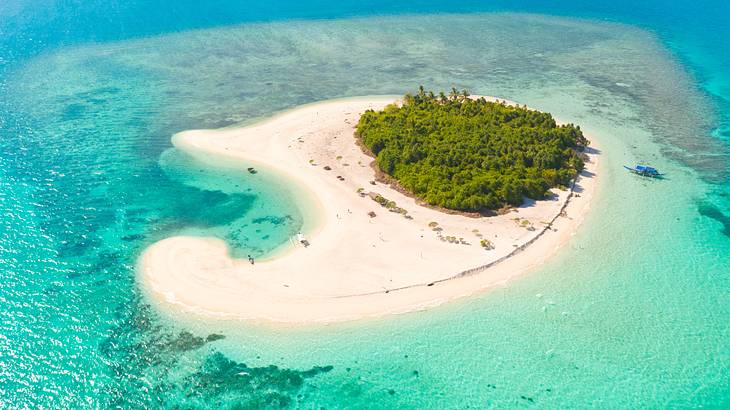 Patawan Island
Patawan Island is a super small island that you can walk around in about 15 mins, but don't let its small size fool you. This island is one of the best.
The sands of Patawan Island have a pink tint to them because of the red corals around the island, and there are little cabanas on the island where you can relax in the shade and admire the gently lapping water as the ocean meets the beach.
The snorkeling here gives you the unique opportunity to swim with snakes if you need a little bit of a thrill!
Final Thoughts
Palawan is one of the most naturally beautiful and serene places on earth. The calm waters, soft sand beaches, and vibrant colors, above and below the water, will bring your soul back to life, and who doesn't want that?
Some of the best parts of Palawan can be found under the sea, so you might feel like you are spending more time in the water than on dry land. Before your trip, it could be a good idea to purchase your own swim fins and snorkel set as well as a thin wetsuit top or rashguard to protect your skin from the sun.
Youll also want to stock up on reef-safe sunscreen! Moreover, you might also want to invest in an underwater phone case or disposable underwater camera. The snorkeling here is indescribable, and photos will never do it justice; however, it will preserve your memories and make your friends jealous back at home.
Keep in mind that many of these islands make their money from tourism, so there might be some unexpected small costs. Many places don't take credit cards nor have ATMs, so make sure you carry some cash on you, in small bills.
And if you haven't been able to work out after reading this detailed one week in Palawan itinerary, Palawan is not short of beautiful locations to visit. So if you need more time in Palawan, the Philippines actually has long term visa options, which allows you to take your time and enjoy the sights for even longer.
Give us feedback about this article
For more interesting articles about Philippines, read:
---
---
Want to keep exploring?
Subscribe for discounts on tickets and hotels and our latest guides.
Thank you for subscribing
We will be in touch soon with discounts on tickets and hotels and our latest guides.
Want to keep exploring?
Subscribe for discounts on tickets and hotels and our latest guides.
Thank you for subscribing
We will be in touch soon with discounts on tickets and hotels and our latest guides.
Related articles