The 28 Best Palawan Tourist Spots for First-timers
Destguides may receive commissions from purchases made through affiliate links in this article.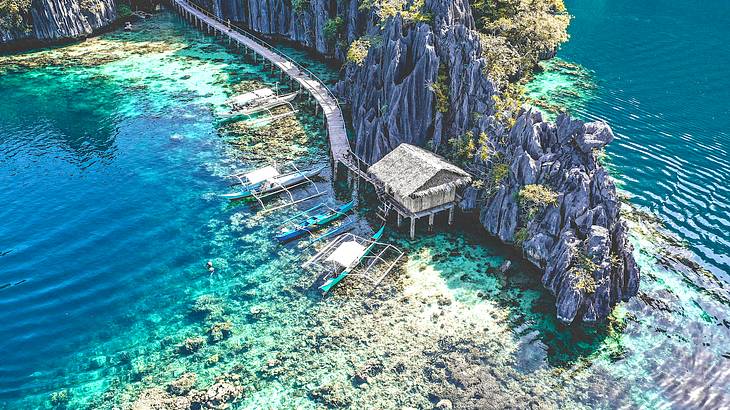 Palawan Island, in the Philippines, has been rising to the top of the list as not only a budget-friendly, backpacker location, but also as an ecotourism destination. The stunning backdrop of black limestone cliffs against the white beaches and sparkling emerald waters is more striking than you could ever imagine!
This list of Palawan tourist attractions will give you the best experience possible during your trip to Palawan. With a mix of relaxation, excitement, sun, and sand, the Philippines is a destination everyone should have on their bucket list.
Not only will this list give you the most popular Palawan tourist spots to visit, but it will also suggest some not-so-popular Palawan attractions so you can experience the local vibe of the area.
Palawan has some incredible cuisine to try as well. As you are exploring the islands, make an effort to try some of the local food, too! It is always fresh and tasty and is a great way to get to know a culture.
Some popular dishes to try are Chicken Inasal, Tamilok, Halo Halo, Crocodile Sisig, Lechon, Hopia Bread, Lato Seaweed, Danggit Lamayo, Chao Long Noodles, and of course, all the fresh seafood you can find.
These local dishes are quintessential Filipino food that will connect you to Filipino culture while enjoying their beautiful beaches.
So, what are you waiting for? Continue reading to learn about some of the top tourist attractions in Palawan to see.
28 Tourist Spots in Palawan, Philippines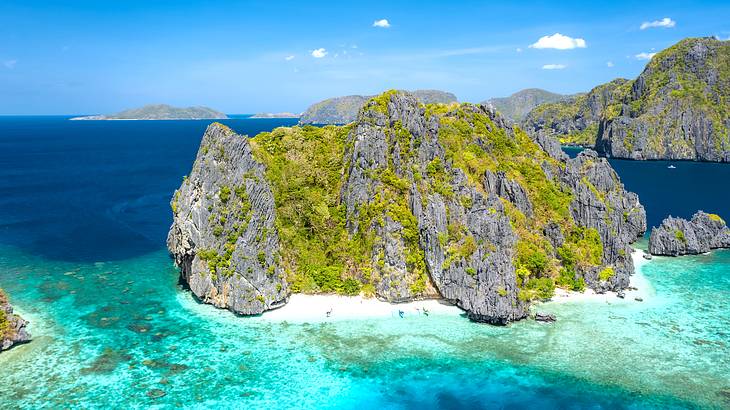 Shimizu Island
Shimizu Island is most commonly visited by people who choose tour A for an El Nido Island Hopping Tour. It is considered one of the top places to visit in El Nido.
Shimizu Island is ideal for snorkeling with its calm, crystal clear waters. The island is surrounded by colorful coral reefs and vibrant tropical fish. Shimizu is protected by black cliffs shooting into the sky, with bunches of green trees thriving amongst the cliffs.
If you are on the A tour, this is where you will have a big fresh seafood lunch prepared for you. While this tour is super popular and busy, it is a great way to meet new people and other travelers to make friends with.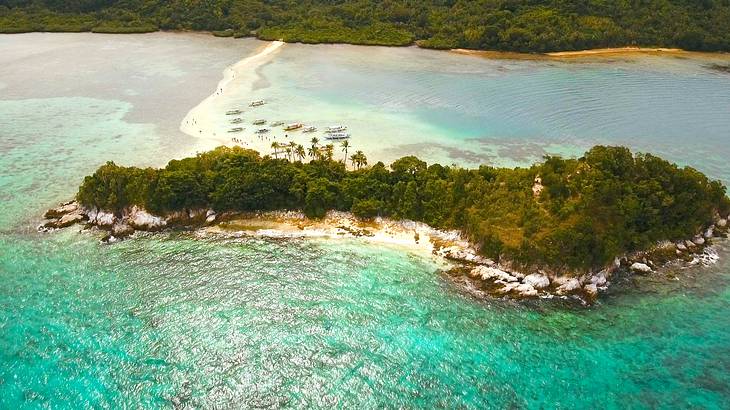 Snake Island
Snake Island, known by locals as Vigan Island, can be found tucked away in the beautiful Bacuit Bay.
While actually a sandbar, Snake Island is part of the El Nido Island Hopping Tour B, which tends to be less crowded. Like other islands in the area, Snake Island received its nickname from its shape rather than its inhabitants.
The island is shrouded in green, foresty mountains, palm trees, and soft white sand beaches, making it an idyllic place to relax and unwind.
Similar to tour A, if you are on tour B, they will provide a mouth-watering local lunch for you to enjoy while sitting in the warm sun or catching some shade under the palm trees.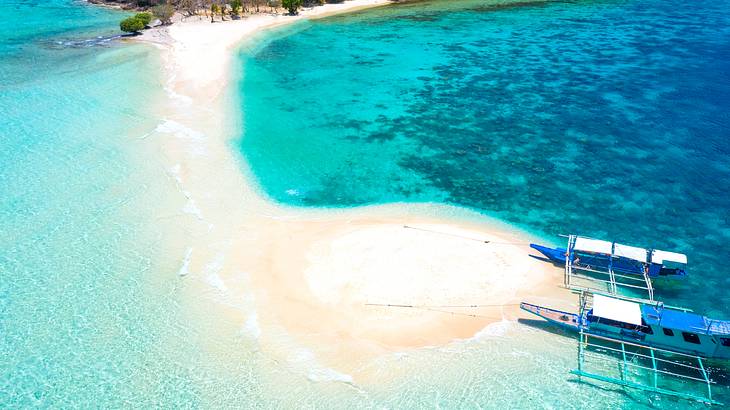 Culion Island
Culion Island is one of the most historical places in Palawan. Today, you would never know that this strikingly bright and beautiful island has a lonely and dark history.
Once dubbed "the island of no return," Culion Island was once a leper colony. The isolation from the rest of the world made it the perfect spot for the ill.
Now, this same isolation is sought out for better reasons, such as peace and quiet and to reconnect to nature and one's self. Culion has hardly changed architecturally since its past life as a leper colony.
Buildings have now been turned into museums and historical Asian landmarks, and if history is not your thing, there are other adventures as well. You can hike to wonderful waterfalls, sunbathe on sandy beaches, or snorkel along the reef.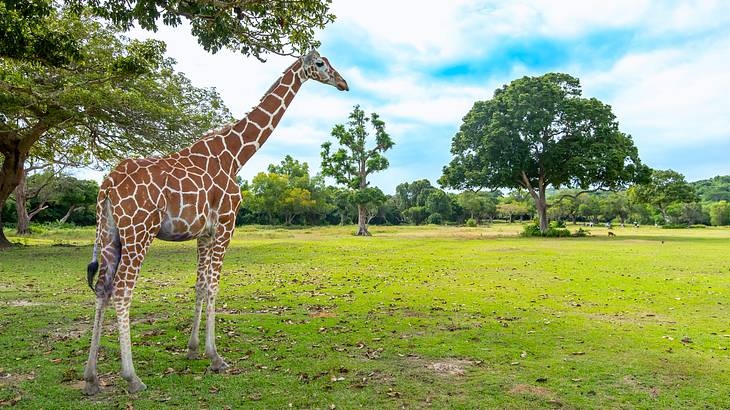 Calauit Safari Park
This safari park was originally made to be a game reserve under the command of Ferdinand Marcos. He demanded the locals be relocated and then bulldozed the natural bamboo to bring in big game animals from Africa.
There are still giraffes and zebra roaming the island, as well as Calamian deer, bearded pigs, pythons, and crocodiles. The zebra here are known as Grevy's Zebra, which is one of the most endangered species of zebra in the world.
Calauit Island National Park is becoming one of the top attractions in Palawan as the park expands to include campsites and tour groups, as well as letting people sponsor the wildlife.
Tubbataha Reefs Natural Park
Tubbataha Reefs Natural Park is a world-class spot for diving. Its seclusion has fortunately left the reef in a healthy condition, making it an exciting place to visit for certified divers.
The reef lies 10 hours off the coast of Palawan and is only accessible by booking a tour on a liveaboard boat. These tours typically have overnight options from 4-8 nights.
The reef is made up of two atolls, and the biodiversity here rivals anywhere else in the world. Divers regularly see dolphins, sea turtles, sharks, tropical fish, sea birds, and manta rays. There are nearly 400 types of coral and over 600 species of tropical fish. Occasionally, people have even encountered whale sharks.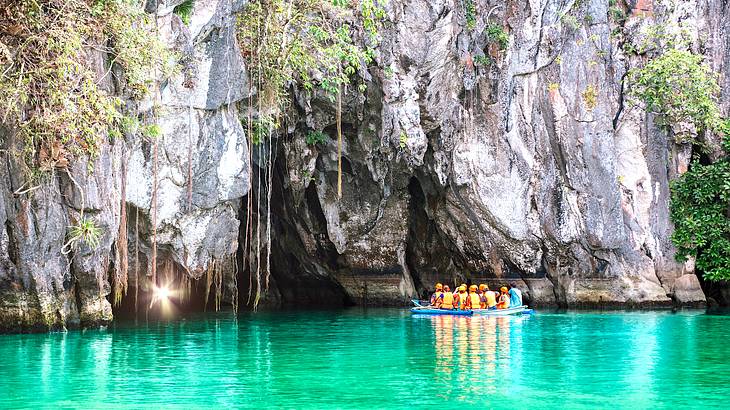 Puerto Princesa Subterranean River National Park
The Puerto Princesa Subterranean River National Park is the very best of the Puerto Princesa tourist spots. Located not far out of Puerto Princesa City, you definitely need to experience this.
It is a UNESCO world heritage site and has been named one of the new 7 Wonders of Nature. This 5-mile long river runs underground through caves, stalactites, and stalagmites before pouring out into the sea.
About 2.5 miles of the Puerto Princesa underground river is open to the public, but the rest of the river requires a permit. Geologists have made many discoveries within this extensive cave system, including a second floor, waterfalls, and big cavernous caves.
The river system is described as a "full mountain to sea ecosystem" and is home to bats and marine life.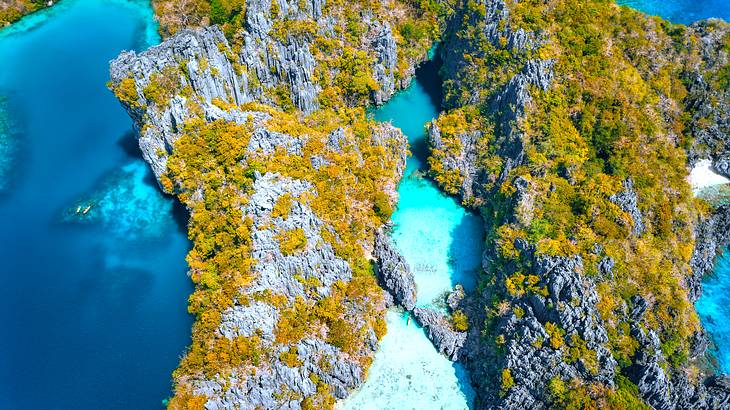 Small Lagoon
A visit to the Small Lagoon is typically the first stop of Tour A when island hopping in El Nido. Though this is a popular tourist spot, it is small, sheltered, and intimate. It is therefore recommended even for couples on a honeymoon!
You can only enter the lagoon through a small tunnel between the limestone cliffs, and it has to be on a calm day, so you don't get smashed into the sharp rocks.
The Small Lagoon was the site of the 2019 Red Bull cliff diving competition. You can still find some spots to jump from, but if cliff jumping isn't your jam, snorkeling, and swimming in the Small Lagoon is ideal.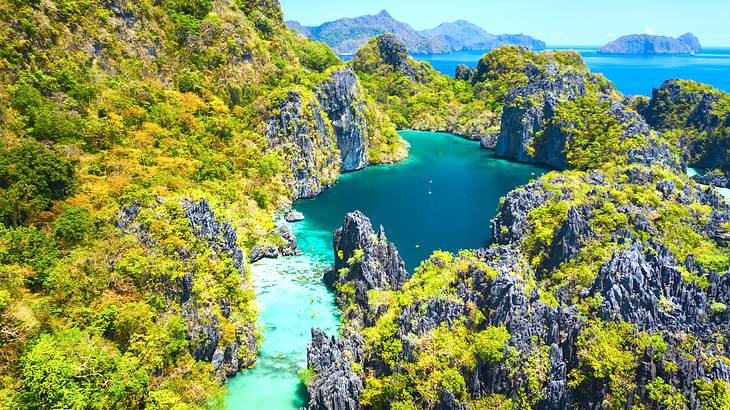 Big Lagoon
Following the Small Lagoon on Tour A is, of course, the Big Lagoon. The Big Lagoon has three distinct parts, and you'll want to give yourself the chance to explore them all.
The best way to explore the whole thing is to rent a kayak from the entrance of the lagoon. Some people choose to swim, but you'll cover more water and explore more areas with a kayak.
The entrance to the lagoon shouldn't be rushed over either. Here, you can find sea snakes, sea urchins, and other exciting sea creatures.
The lagoon is shrouded with massive, black limestone cliffs shooting straight out of the emerald water. Take the time to experience this truly gorgeous piece of paradise, and you'll understand why it's one of the best places in Palawan.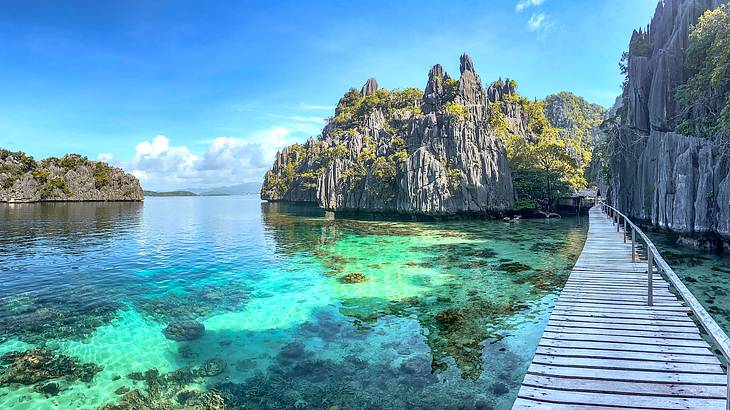 Twin Lagoon
One of the hottest Coron tourist spots, the Twin Lagoon is a must-see! You can only get here by boat, and you can do so by joining a tour or hiring a private boat.
Depending on what vibe you're looking for is what should determine the route you take. A private boat can get you here early in the morning before the tour groups arrive and fill up the area. However, if you want a fun, lively vibe, booking a tour is a great way to meet new people.
Similar to other lagoons, Twin Lagoon has reefs to explore, rocks to jump from, and a stunning backdrop for photos.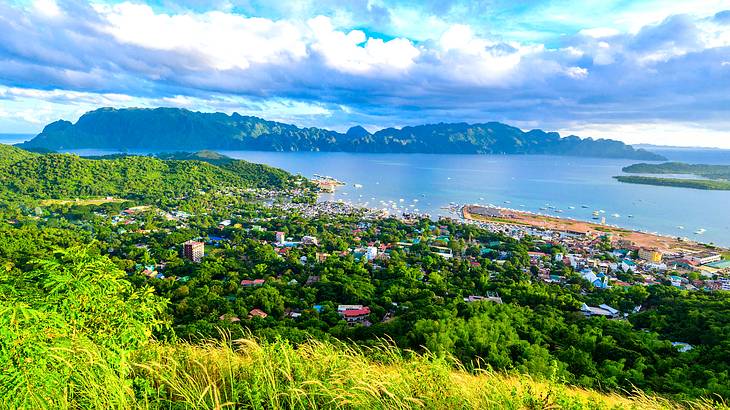 Trek Mt. Tapyas
Mt Tapyas is at the heart of Coron Town and offers a sweeping view of velvety green hills and endless emerald water that surrounds the area.
The trek consists of 721 steps leading up to the summit, and depending on your athletic ability and the time of day you go, will determine the amount of time it takes you to get to the top.
Once at the top, you will find little shelters and viewing areas to sit, relax, and soak up the view. Many people visit the summit for sunrise or sunset to make the views even more dramatic and spectacular.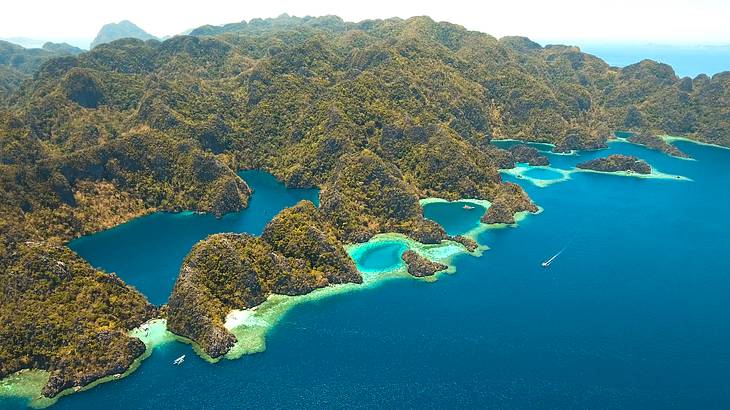 Barracuda Lake
Barracuda Lake is still somewhat of a secret gem when it comes to things to do in Palawan. This crystal-clear lake is perfect for diving and snorkeling. Many people take boat tours here, but you should book a diving trip if you want the ultimate experience!
Barracuda Lake reaches a depth of nearly 130 feet, making it a top spot for SCUBA divers and free divers, both beginners and advanced.
The lake averages 80 degrees year-round with a thermocline, a second layer of water, almost 50 feet down that sits around 100 degrees F.
The lake also has a halocline, which is where the salinity changes drastically. Because the lake is so clear, divers can visibly see this difference!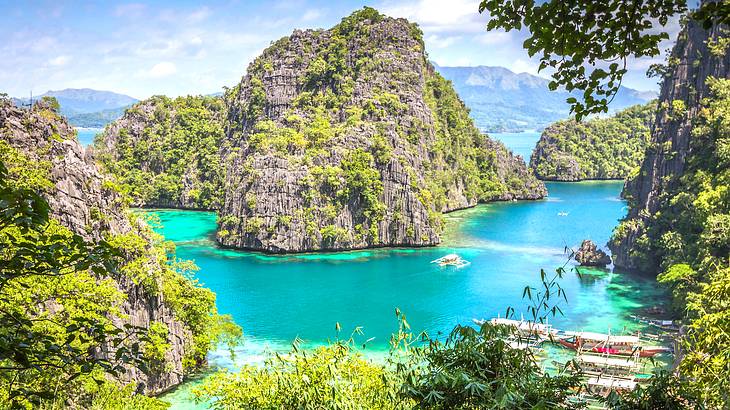 Kayangan Lake
Similar to Barracuda Lake, Kayangan Lake has exceptionally clear waters with different layers of saltwater and freshwater. This lake is super popular amongst tourists and is always featured on island hopping tours.
One of the obligatory things to do while visiting Kayangan is to take a bamboo raft ride around the lake. This lake also features a cave that you can explore once you get through the slender opening.
Other things to do in the lake are swimming, snorkeling, and diving, where you can see fish and other marine creatures.
Most people see this lake on a tour, but you can also book a private boat tour if you want to visit the lake at an unbusy time.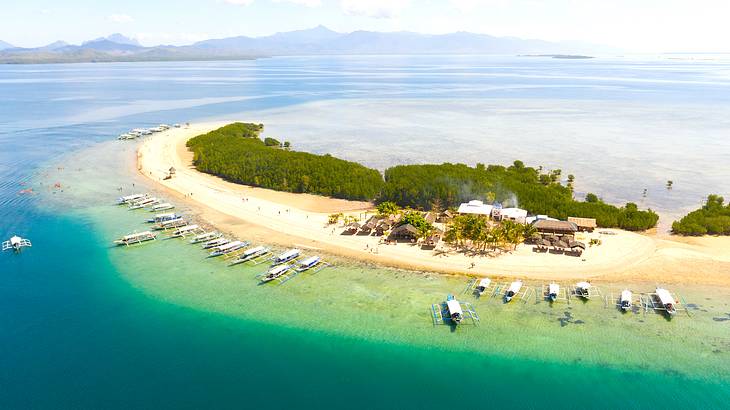 Starfish Island
Appropriately named Starfish Island, this Honda Bay tourist spot is covered with hundreds of brightly colored starfish. Not just its sandy shores, the waters surrounding the island are also filled with starfish.
The waters off of Starfish Island are also home to vibrant parrotfish and other fun sea creatures. You will want your snorkel gear here to experience the underwater life as well.
The island itself is very touristy with flags, signs, and cabanas, places to eat, and trinkets to buy. If you're not into the tourist vibe, you can just hang with the starfish.
While it is safe for the starfish to be handled, it should come with great care as they are wild and fragile.
Nagtabon Beach
Nagtabon Beach is a local secret, so if you plan on visiting here, you will most likely enjoy the quintessential laidback island vibe.
The jungle meets with the beach here, and you can enjoy a beautiful swim or sunbathe. As always with anywhere in the Philipines, it is a great snorkeling spot as well.
There are local stands selling food and fresh fruits as well as refreshing drinks like beer and soda. There are also cabanas you can rent if you need some time out of the sun and sand.
If you happen to be a surfer, Nagtabon Beach offers some ridable waves. You just might be lucky enough to find a local shop around to rent a board from if you don't have your own.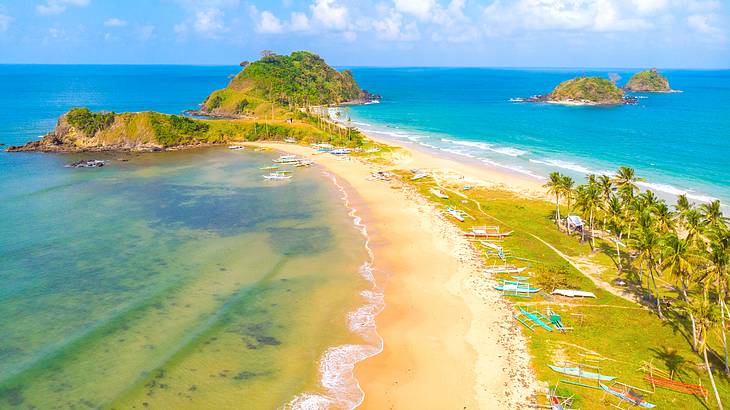 Nacpan Beach
Nacpan Beach is another beautiful white sand beach that you will definitely want to travel to. This beach is a little more built-up than others and offers several other activities you might not get to experience elsewhere.
In Nacpan, you can take an hour-long sailing tour, go swimming or just relax on the beach. The palm tree-lined beaches are perfect for taking naps under.
Nacpan Beach also has a fun nightlife where you can get a great dinner, refreshing drinks, and go bar hopping and dancing. This is a great place to meet new friends, especially if you are traveling solo.
Nagkalit-kalit Waterfalls
The Nagkalit-kalit Waterfalls are located less than two miles south of Nacpan Beach. Some people choose to hire a local guide as a precaution not to get lost.
However, the waterfalls are a short, 45-minute hike through palm trees and over several rivers. Though the walk is considered easy by most, your feet will get wet, so either wear water shoes or shoes you don't mind getting wet.
Once you arrive at the falls, you will be pleased to see soft cascading water falling into a pool that you can swim in. The falls are comprised of two separate waterfalls, one big and one small.
Pamuayan Waterfalls
The Pamuayan Waterfalls is located in Port Barton. It is anywhere from a 3-5 mile hike, depending on where you start from.
There are several ways to get to this waterfall. You can hike, take a tricycle or a motorbike, and while it is possible to go without a tour guide, many people choose to hire a local guide so that they stay on the right trek.
The path will take you through the jungle, a rice field, and some streams before letting you off at the Pamuayan Waterfalls and its gorgeous pool to refresh in.
The water is freezing, so be ready for it, especially after a long, hot hike. Make sure you bring plenty of water and some snacks so you can relax and take in the dramatic scenery.
Bigaho Falls
Bigaho Falls can be found in San Vicente, and you can either hire a boat to take you here, or hike.
Bigaho Falls empties out into a perfect swimming pool and in such a way that you can swim under the falls. Like most waterfalls, the water here is cold, so keep that in mind when jumping in.
The falls are about an easy 20-minute walk from a pristine beach where you can make a donation and get some fresh fruit or coconuts to enjoy during your walk. This spot tends to be more of a local's spot than a touristy area, making it even more special.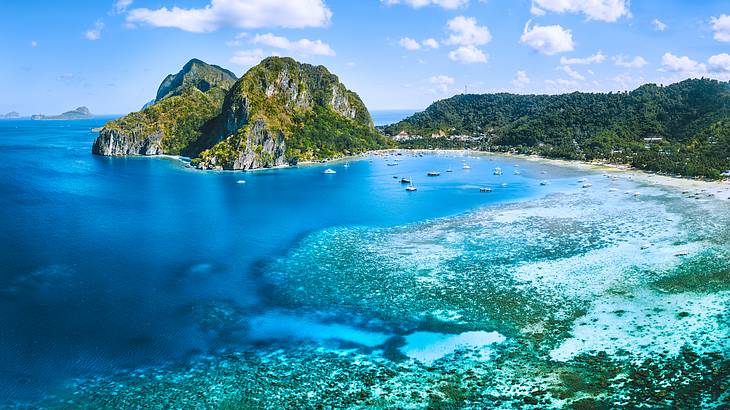 Sunset at Corong Corong Beach
Corong Corong Beach is ideal for watching a serene sunset. Not as touristy as El Nido, this beach is peppered with palm trees and small local restaurants that serve up tasty local cuisine.
The calm waters here remain pretty shallow and are lovely for floating around or swimming in, and of course, snorkeling.
The beach is perfect for a quiet day or evening to relax with a good book or journal, but the real show comes at sunset.
Grab a beer, sit, and watch the vibrant sky put on a spectacular show as the sun sets beneath the shimmering waters.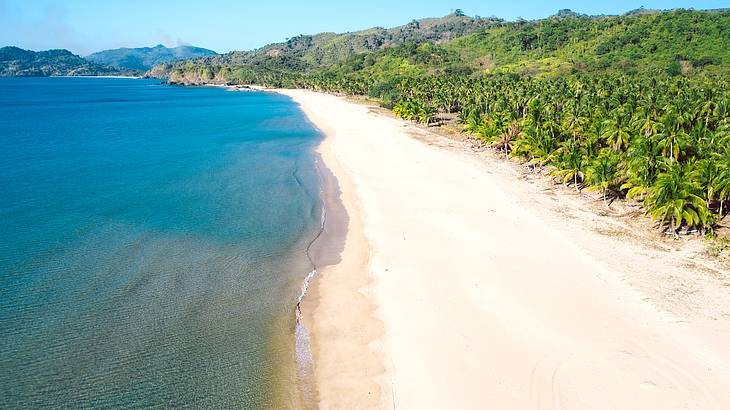 Surfing in Duli Beach
If you are a surfer or want to learn how to surf, Duli Beach is one of the best places to go in Palawan.
For experienced surfers, November through April is the best time to go. There tends to be bigger and more consistent swell during these months. Duli Beach is also perfect for beginners because of the sandy beach bottom.
If you are not traveling with your own board, there are a couple of places that offer rentals and instructors. This spot is an unforgettable spot to surf, and not just because of the striking backdrop of a teeming jungle meets the pristine beach.
The waves here can be ideal for both beginners, experts, and anyone in between. The road here can be quite rocky and bumpy, though, so take care when traveling out to this remote surf break.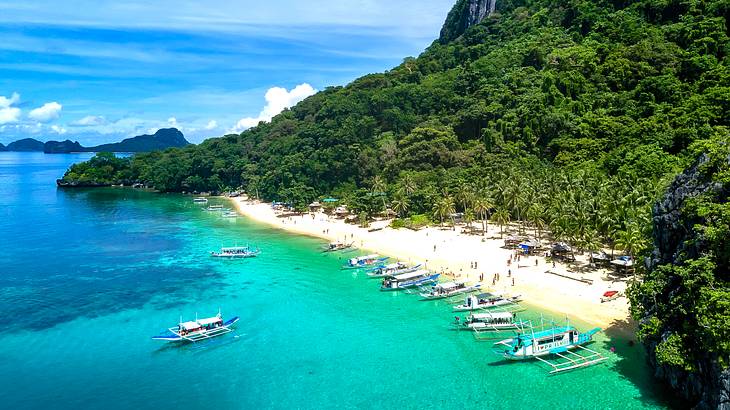 Seven Commandos Beach
7 Commandos Beach is legendary and mysterious because no one knows the real reason behind its odd name. The most common story told is that of 7 WWll soldiers who got stranded on this long stretch of sand.
This beach is popular with tourists and features stands and stalls providing fresh, local food, refreshing drinks, and other goodies.
People gather here to play beach volleyball, sunbathe, swim, and snorkel. You can only access Seven Commandos Beach by booking island hopping tour A in El Nido, but it is a wonderful way to meet fellow travelers.
Ugong Rock
Ugong Rock Adventures is the perfect park to visit if you are any sort of thrill-seeker. It has several adventures to choose from, or you can do everything!
There is regular zip-lining, bike zip-lining, hiking, and repelling, and spelunking through caves. The zip-lining is especially great for thrill-seekers as it is over a 200-foot drop.
The summit of Ugong Rock is 75 feet high and offers incredible panoramic views of the jungle and rice field beneath you.
All of these activities require sneakers or closed-toe shoes, so make sure you wear or bring those, and also bring plenty of water!
Tabon Caves
The Tabon Caves were initially discovered by Dr. Fox and is a system of nearly 200 caves. It is also the site where one of the oldest human skulls was found.
The caves are sometimes called the Philippines' Cradle of Civilization because of the artifacts that have been found within the caves, including the Tabon Man, burial jars, earthware, jewelry made from jade, tools made from stone, bones from animals and humans as well as fossils.
The tour through the caves takes you to eight of the main ones on much of the same path those earlier explorers took. The caves sit on Lipuun Point and are a UNESCO world heritage site.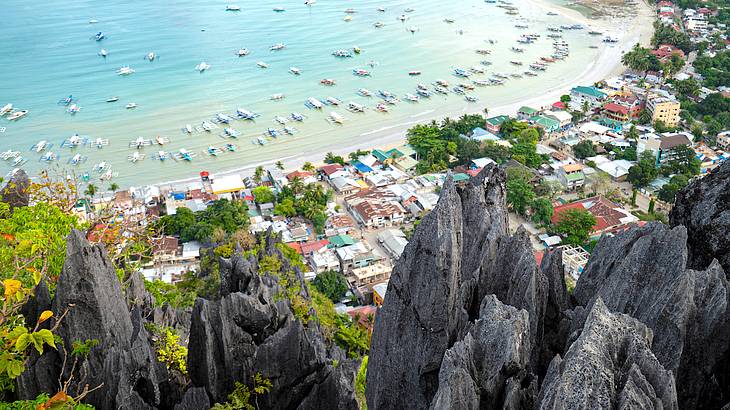 Taraw Cliff
The Taraw Cliff Climb is one of the most exciting things you can do in Palawan, although it is not for everyone.
The climb is short by most standards at around only 30 minutes, but it is a scramble up sharp rocks in high heat and humidity. The climb also requires three sunny days in a row, so going during the dry season is a must.
Taraw Cliff requires a local guide as there is a particular path you need to follow. Before getting to the rocks, you'll walk through a small village and a little bit of jungle. The climb is short and steep but is highly recommended to do at sunrise!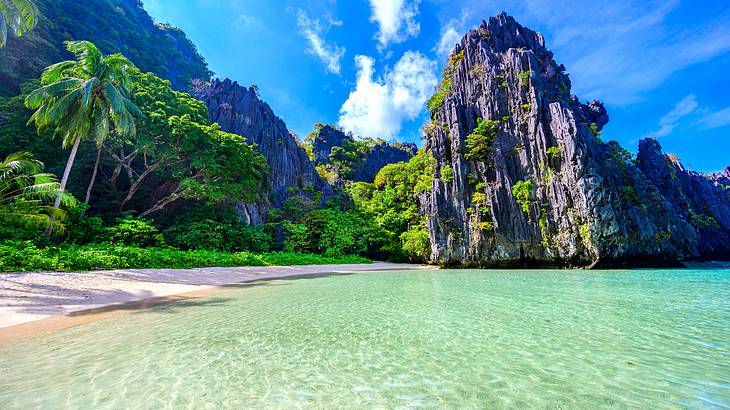 Hidden Beach is a beautiful sun-drenched beach, hidden and protected behind the high, sheer cliffs in El Nido. You can access this beach through a narrow tunnel, but only in calm seas.
Hidden Beach is a pretty popular tourist spot, but for obvious reasons. It is ideal for snorkeling and swimming as the turquoise waters are warm.
If you want to experience Hidde Beach on your own, it is recommended to go for a private tour and early in the morning or later in the evening to avoid all the tours that stop here. Visitors are required to wear water shoes and life vests.
Onuk Island
Onuk Island is super remote compared to some of the other islands dotting the Palawan Coast, making it somewhat of a hidden gem and definitely a lot less touristy.
The sands of Onuk Island are stark white, and it is surrounded by emerald waters and red coral reefs, which makes this island more vibrant than some others on the list.
Onuk is excellent for snorkeling amongst the reefs and spotting tropical fish, turtles, starfish, and other marine life like whale sharks and dolphins!
The island is privately owned, but it is open to the public through several different tour operators as they can get the required permission.
Dumaran Island
Dumaran Island is one of Palawan's secret spots. Not overrun by tourists, this island gives you a glimpse of a true island lifestyle.
The untouched beaches and pristine waters are ideal for anyone looking for a laidback and quiet environment. The waters surrounding the island are lined with brightly colored corals and a vast diversity of marine life, making it a world-class diving and snorkeling spot.
Dumaran Island has five ideal diving spots - Hardin Coral, Renambakan Island, Encantasia Island, Matarawis Reef, and Queen Coral.
Each spot has something unique to see and experience, and the best way to explore them all is by booking a private tour of Dumaran Island.
Olangoan Falls
The Olangoan Falls is about 40 minutes outside of Puerto Princesa. The best way to get here is by motorbike, and then hike the rest of the way.
The hike takes about an hour through thick, lush jungle. It can seem a bit difficult and steep at times, so wear proper shoes!
Once you get to the falls, you will see that it is actually made up of two falls and a pool to swim in. You can find rocks to jump off and even little fish to swim with.
Many people pack lunch to bring and spend the day relaxing in paradise. Make sure you bring enough water and sunscreen!
Lingering Thoughts
Much of this list is made up of outdoor water activities, so you should pack appropriately. As the Philippines is home to thriving coral reefs, when shopping for sunscreen, make sure you purchase reef-safe products. Palawan is an incredibly beautiful place, and it needs to stay that way.
It could also be a good idea to purchase your own set of swim fins and snorkels, as well as water shoes, and maybe even an underwater camera or phone case. Longsleeve sun shirts or thin wetsuit tops are great for days spent in the water and sun.
Many islands and waterfall hikes take donations and cash only. Most towns will not have ATMs either, so bring plenty of small bills with you. Remember, ecotourism is part of Palawan's economy!
Give us feedback about this article
Learn more about Palawan:
---
---
Want to keep exploring?
Subscribe for discounts on tickets and hotels and our latest guides.
Thank you for subscribing
We will be in touch soon with discounts on tickets and hotels and our latest guides.
Want to keep exploring?
Subscribe for discounts on tickets and hotels and our latest guides.
Thank you for subscribing
We will be in touch soon with discounts on tickets and hotels and our latest guides.
Related articles