25 Best Seoul Cafes You Must Visit
Destguides may receive commissions from purchases made through affiliate links in this article.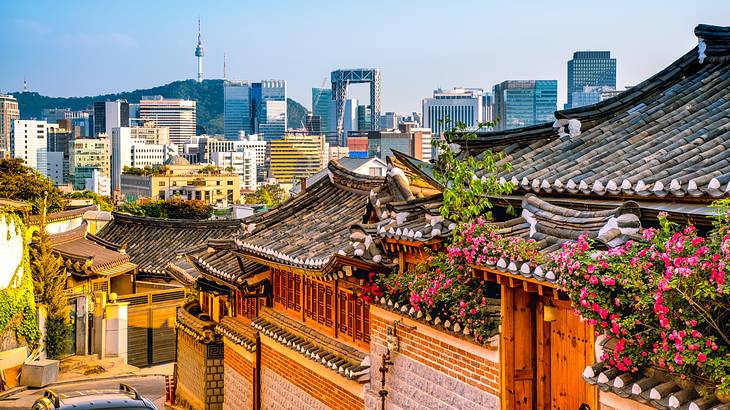 Seoul is a 'coffee shop paradise' with hundreds of independent coffee shops. New Korean coffee shops are constantly opening up to serve visitors delicious coffee. Most Seoul cafes have an aesthetically pleasing interior, which is excellent for photo-taking opportunities and Instagram. Today, there are more than 15,000 cafes in and around Seoul.
As a tourist with only a few days in Seoul, you might be unsure which coffee shops to visit. But don't worry, this list of the 25 best Seoul cafes to visit is here to help. Keep reading to find the best coffee shops in the city; Happy Seoul cafe hopping!
25 Best Cafes in Seoul
Osulloc Tea House
Osulloc is a famous green tea brand that has shops in Myeongdong, Insadong, Daehakro, and Apgujeong. Osulloc Tea House specialises in green tea-based drinks, cakes, and sandwiches.
All their tea houses offer a relaxed and modern atmosphere with some chic furniture and vintage tea plantation photos. Inside the cafe, you can taste various types of organic green tea, buy green tea chocolate and try the famous green tea latte with ice cream on top.
If you are looking for a quiet place, Osulloc Tea House is the best choice. All stores also have free wifi. Osulloc Tea House also offers majestic city views from the higher floors.
C27 Cheesecake and Coffee
If you love the airy and quirky style, C27 Cheesecake and Coffee is the right place for you. This coffee shop is set over four floors and features unique sculptures. You will also enjoy its quirky interior elements, such as giant forks and saucers.
In the warmer months, you can sit on the balcony and enjoy views of the buzzing streets. There are lots of spots to take beautiful Instagram photos as well.
While here, don't forget to try their signature cheesecake and a rich Americano. Be aware that C27 Cheesecake and Coffee is on the expensive side, so be prepared to pay about 8500 KRW ($8.5) for a barista-crafted drink.
Coffee Hanyakbang
Themed cafes in Seoul are becoming more and more popular, and ordinary traditional Korean coffee shops are left to be forgotten. However, Coffee Hanyakbang is still going strong.
This cafe is hidden between old buildings in the Euljiro neighbourhood, where tourists don't venture. It is located in a building from the 1920s and is well-known for its unique, rustic interior.
Hanyakbang's name means a traditional Korean herbal medicine room, which suggests they brew their coffee carefully like medicine. You will find ordinary hand-drip coffee, flavoured lattes, cappuccinos, espresso, affogatos, and even Dutch coffee on their menu, which I highly recommend trying. The prices here are similar to chain coffee shop brands, so you won't need to splurge.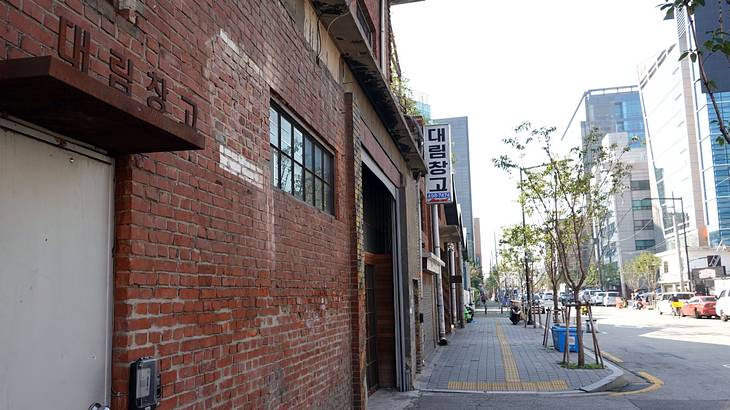 Daerim Warehouse
Nestled in the trendy neighbourhood of Seongsu, just opposite of Gangnam District, Daerim Warehouse (aka Daerim Changgo or Daelim Changgo) is the perfect cafe to relax in.
Its main building used to be an old factory that got converted into an airy coffee shop and art gallery. The cafe has an industrial interior, making it look artsy but modern.
As for prices, Daerim Warehouse is quite expensive for an ordinary traveller. If you aren't a coffee drinker, be prepared to splurge on a tea.
The cafe offers a wide selection of salads, pizzas and pasta dishes that you can share with your friends. Before leaving, don't forget to check out their art gallery, which is quite impressive.
Goondrip Coffeeshop
Do you love strong hand-drip coffee? If so, you have to visit Goondrip Coffeeshop in the Mapo District. This independent small coffee shop specialises in hand-drip coffee. Their strong coffee is becoming more and more famous amongst tourists and locals.
At Goondrip Coffeeshop, you can order a limited selection of drip coffee and sweet treats. The menu is handwritten and includes English translations, so you will know what you are ordering.
I recommend ordering a classic drip. If you don't like strong coffee, order chocolate pudding to wash the strong taste with. You can purchase a bag of coffee beans that makes a perfect present for a coffee lover as well.
You will also love the extraordinary interior featuring various artworks, shabby furniture, and colourful lights.
Temple of Ungnyeo
Situated in the heart of the Insadong neighbourhood, the Temple of Ungnyeo is one of the best coffee shops in Seoul. Everyone who loves great coffee and a unique interior has to visit it.
This coffee shop is designed to resemble a cave, from an unusual entrance to its interior. Drinks and the design were inspired by the Korean folklore myth, Ungnyeo. You will find strangely shaped tables and chairs, plants, and light installations that let you take stunning Instagram-worthy photos.
Their signature drink is artemisia, also known as mugwort, a cream tea. If you don't like the idea of trying herbal tea, the Temple of Ungnyeo has a wide variety of other drinks. For example, Americanos, lattes, teas, and iced drinks. Be aware that the coffee shop is small, so you might need to wait outside until you get a table.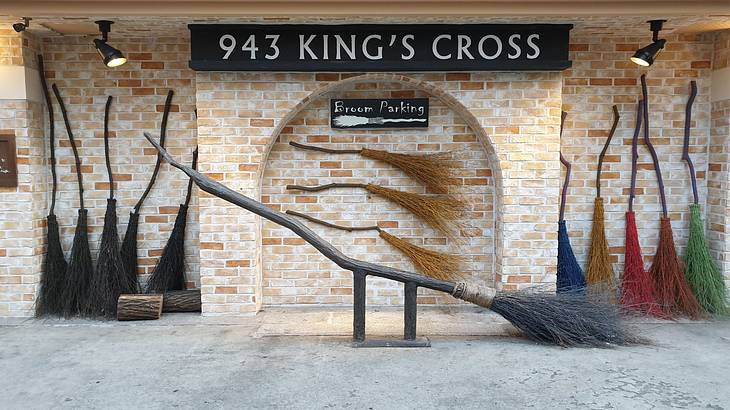 943 King's Cross Harry Potter Cafe
In late 2018, another excellent coffee shop opened up in the trendy Hongdae neighbourhood. 943 King's Cross is a Harry Potter-themed cafe stretched over five floors and has a pub in the basement. It is sometimes also called Seoul Cafe Street.
Everything in this cafe is made to look like a Harry Potter film. There are tons of props that you can use for your photos. You will find a wide selection of speciality coffee, Harry Potter themed drinks and healthy teas.
According to local coffee reviewers, 943 King's Cross serves the best coffee in the Hongdae area. You will have to order a drink by the entrance. Staff are very strict about this, so make sure to follow the rules.
Peach Grey
Peach Grey offers great drinks, delicious treats, and a unique painting experience. This coffee shop is located in the Songpa District, which tourists usually overlook.
With every food or drink order, you will receive a palette of watercolours, a paintbrush, and a stack of paper. You will be able to create your own art masterpiece, or colour their provided templates.
They offer a variety of drinks, including strong coffees and refreshing iced teas. I suggest trying their signature soufflé pancakes, served with lots of fruits and fresh cream. However, be aware that it takes about 20 minutes to prepare them.
Cong Caphe
Cong Caphe, or Cong Cafe, is slightly different from the other coffee shops mentioned on this list. It is a Vietnamese cafe franchise with more than 50 stores in Vietnam.
All stores, including the one in Seoul, are made to look like old communist buildings. Inside, you will see old-looking tables, memorabilia from the 60s and 70s, and baristas wearing green communist uniforms. You will feel like you just travelled back in time.
The incredible thing is that Seoul's Cong Caphe staff are all trained in Vietnam, and they use Vietnamese coffee beans. This means you will get precisely the same taste and menu that they offer in Vietnam. I recommend trying the all-time favourite coconut coffee smoothie or the coconut condensed milk coffee.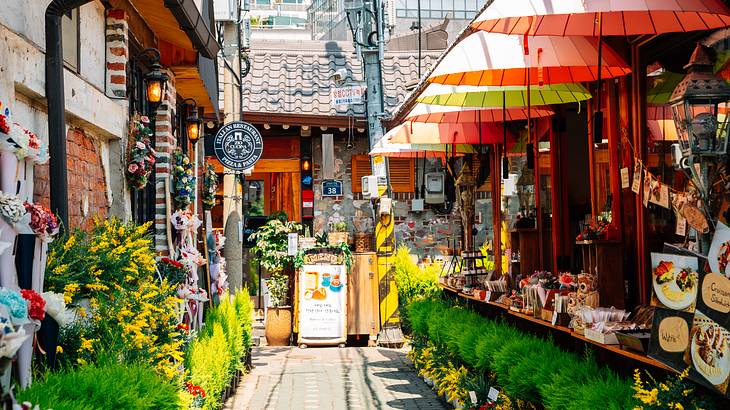 Madang Flower Cafe
This list would not be complete without also including Madang Cafe, which lives in the Ikseon neighbourhood of Jongno District. It is another flower cafe that is decorated with dried and real flowers. Madang Cafe is known for having delicious and beautiful-looking food and a wide selection of drinks.
The warm waffles served with whipped cream and fruit are recommended if you can't decide what to get. The dish looks great for a photo, and it's incredibly delicious! Madang Cafe is usually crowded with people taking photos, so come on a weekday morning to avoid the queues.
TXT Coffee
If you love retro vibes, then TXT Coffee is a must-visit cafe in Seoul. The coffee shop is situated within walking distance of Changdeokgung, so it's easy to find. Decorated with green, wood, and stone accents, TXT Coffee creates a warm and relaxing atmosphere.
Once inside, you will notice green coffee cups, airy spaces, and comfortable furniture. When you pick your table, you will notice a paper sheet like during the old times. Just write the coffee you'd like, your bean preference, and a name for a sweet treat, and you're good to go. Don't worry; all order sheets are translated into English, Japanese, and Chinese.
Thanks Nature Cafe
Nature Cafe is an interesting animal coffee shop. It is a cafe where you can meet two adorable sheep. It became popular due to the Korean TV show We Got Married. Inside the coffee shop, you will find farm-related decor and two very friendly sheep that like to interact and be fed by visitors.
There is a wide selection of waffles, toasts, traditional Korean ice cream, and drinks here. The prices are also very affordable. To get to the cafe, take the subway towards Hongik University in Hongdae, leave through exit nine, and follow the directions toward the university.
Stylenanda Pink Pool Cafe
If you are looking for an instagrammable cafe in Seoul, Stylenanda Pink Pool Cafe is the place for you. The cafe is located inside Stylenanda Pink Pool Hotel - a large store in the Myeongdong shopping area. Once you arrive, head straight to the 5th or 6th floor, where the coffee shop is.
After entering, you will be amazed by its unique and quirky interior. It has a massive choice of pretty drinks, too. Perfect for photographers looking for the most instagrammable places in Seoul!
I highly recommend staying on the 5th floor as it has a very cool swimming pool concept. You will have to order at least one drink per person to sit in the cafe and take photos.
Catlover Garden
If you are a cat lover, you have to visit the Catlover Garden coffee shop. Here, cats roam freely, and you can cuddle up to them while drinking your coffee. The incredible thing is that the coffee shop owners rescue stray cats and house them. All cats are well looked after, have a lot of freedom, and love following visitors around.
Besides buying treats for the cats and enjoying their company, don't forget to bring your camera and snap some photos with these cuties. There is a basic menu that includes various coffees, iced drinks, teas, sweet treats, and sandwiches. You will surely find something you will like on the menu!
Coffee & Cigarettes
Located on the 17th floor, Coffee & Cigarettes showcases stunning views of the surrounding mountains and the city skyline. Going to this unique coffee shop is one of the most unusual things to do in Seoul!
As the name suggests, here you can buy a wide selection of drinks, cigarettes, and little lighters. However, keep in mind that smoking isn't allowed inside. Their signature drinks are the Nu-black latte (Nutella latte) and the Cream-ppuccino, a maple syrup-based drink with homemade fresh cream.
If you aren't a coffee drinker, opt for the Hibiscus lemon tea. Aside from the drinks, order a rice dough waffle to go with your drinks. You will be surprised by a chewy and sweet taste that resembles traditional Korean rice cakes.
Yeonjiwon Traditional Tea House
Although Yeonjiwon Traditional Tea House is not an actual coffee shop, I couldn't exclude it from this list. As its name suggests, Yeonjiwon Traditional Tea House is a tea house located at the Jingwansa Temple in the northern part of Seoul.
You can combine a visit to the cafe with a trip to Eunpyeong Hanok Village and Bukhansan National Park.
This traditional cafe offers a wide variety of Korean teas and sweet treats. If you can't live without coffee, you can also order a simple Americano. After a short break at the café, walk around the temple and enjoy the peaceful atmosphere with great views of the mountains.
Old Ferry Donut
There is nothing better than a doughnut and a coffee, don't you agree? If you like this combination, visit Old Ferry Donut in Yongsan District. This coffee shop offers a variety of drinks and various handcrafted doughnuts.
Their signature drink is the Tube Latte. It is topped with a mini pink frosted doughnut that floats on top of the foamy milk. Pick up the doughnut from your drink and eat it before it sinks into your coffee.
If you can't resist the temptation of getting more doughnuts, try one of their bestsellers, such as their raspberry, matcha, coconut, or tiramisu doughnuts. You won't be able to stop yourself from eating them all!
Archivist
The Archivist is a simple coffee shop situated in the Jongno District. It is one of the most loved Seoul coffee shops. If you are visiting Gyeongbokgung, the Archivist is the perfect place to stop for a coffee break.
Although this coffee shop doesn't have a unique design or location, it is popular amongst the locals and tourists. While here, you can try the tasty Einspänner, a Vienesse coffee with whipped cream.
Archivist's Einspänner has a rich taste and sweet foamy cream on top. Also, don't forget to try their famous Basque cheesecake and baguette sandwiches that are made to order.
Seoulism
Seoulism is a classy cafe offering fantastic views of the Lotte World Tower. If you happen to be in Gangnam, you can take a subway further to Songpa, where this lovely cafe is located.
Seoulism is well-known for having a very chic rooftop area with a 'Seoul' sign. Most people come here for photo opportunities instead of coffee or brunch. Be prepared for queues on a nice day. I highly suggest coming on a rainy day if you don't mind taking photos of the Lotte World Tower with a grey sky.
Keep in mind that this cafe is more expensive, so be prepared to pay more for a drink. Drinks are priced at around 7,000 KRW (7 USD).
Sanmotoonge Cafe
If you are looking for beautiful cafes to visit in Seoul, Sanmotoonge Cafe must be on your list! This coffee shop was featured in the Korean TV drama Coffee Prince, making it one of the most well-known coffee shops in Korea.
It is located in the mountains, in the upper-class Buamdong District. The entrance to the coffee shop is shaped like an overgrown cave. It has indoor and outdoor seating areas and provides breathtaking panoramic views of the area.
On the terrace, TV drama fans will also find the two famous stone horses that were featured in the drama. I recommend coming in the morning to avoid the tourist crowds.
The Space Filled With You
Located in the quiet Yongsan District, The Space Filled With You offers a peaceful atmosphere and a great view of the Namsan Tower. From the outside, this coffee shop looks ordinary; however, its visitors can enjoy a unique experience.
The coffee shop offers a 'letter to the future service. You can write a letter to yourself in the future, and the staff will post it to your address. For an extra 1000 KRW (about $1), you can get your letter mailed to your foreign address.
I recommend ordering a rich iced americano or an iced latte with one of their famous filled cookies, such as the green tea macadamia cookie or the dark chocolate almond cookie.
C.Through
Situated in Itaewon, C.Through is the perfect place to relax and enjoy coffee. If you are cafe hopping in Seoul, you just can't skip this one!
C.Through is another art coffee shop that specialises in creating art masterpieces on top of your coffee. All art is done by Lee Kang Bin, who can do various drawings, including Van Gough's Starry Night.
You can also request a custom-made drink with a message if you reserve it on Instagram. However, you have to do it early in the morning, as there are limited spaces. Their signature drink is Scotchino, served in a ceramic cup, which is infused with butterscotch candy and topped with cocoa and coffee powder.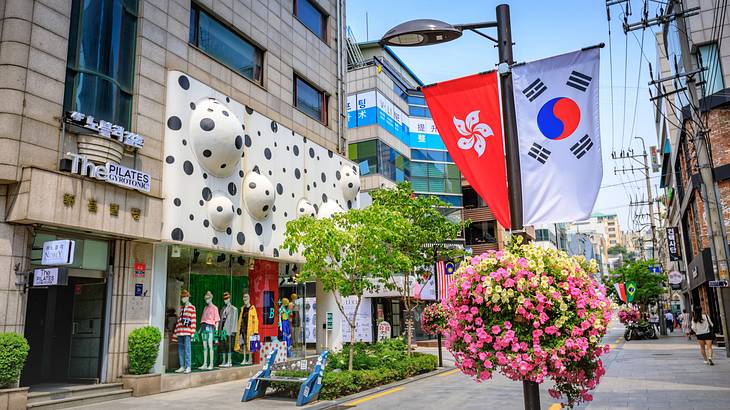 Mamma Mia
Do you love bright colours and aesthetic interiors? If so, Mamma Mia is one of the best Instagram-worthy Korean coffee shops in Seoul.
Situated in the trendy Apgujeong neighbourhood, this coffee shop attracts visitors with its bright exterior and flower-filled interior. They serve various drinks, baked goods, and brunch.
There are two floors, and outdoor seating is available, so you will have plenty of space and privacy. I recommend heading upstairs as this floor has a bright, open space decorated with plants and art pieces.
The cheapest drink on the menu is espresso for 4500 KRW ($4.5), and other beverages can go up to 8500 KRW ($8.5). If you plan to stay for brunch, it will cost you up to 23000 KRW ($23) per item.
Cafe Kohiru
Situated in the beautiful Songpa neighbourhood, Café Kohiru exceeds everyone's expectations regarding drinks, baked goods, and interior design. If you love vintage design and antiques, you will love spending time here. The café features vintage furniture and a shabby interior. They also serve excellent coffee.
You can select from a wide variety of drinks, including classic iced Americanos and lattes. However, I recommend ordering a cream green tea latte that is not only very tasty but also looks great in photos.
For the cake, order a green tea or lemon cake as they perfectly match any of the drinks. This is a mid-range coffee shop, so prices for a single item don't go over 10 000 KRW ($10).
Café Onion Anguk
Café Onion is well-known for its chic design and great drinks. There are several branches; however, my favourite one is near Gyeongbokgung.
This branch is based inside a hanok and features a traditional tiled roof and wooden interior. It makes you feel like you are back in the 16th century. The menu has a good selection of baked goods and drinks. The drinks are simple and go up to about 6,500 KRW ($6.5) in price.
Their signature cake is a Pandoro, an Italian-style bread covered in sugar powder. If you fancy a Korean twist on this classic dessert, select Injeolmi Pandoro, which is topped with rice cake powder.
Even though Café Onion is very spacious, it gets packed very quickly. Make sure to come before the afternoon if you want to avoid the crowds. Also, try to avoid weekends, as locals love this place, too.
Be aware that certain parts of the cafe make you sit on the floor, and shoes aren't allowed. I suggest wearing easy to remove shoes and have socks on, just in case.
In Summary
You can easily spend all your time visiting Seoul's coffee shops, and even then, you will still come across more interesting cafes. If none of the suggestions above appeal to you, try visiting areas like Hongdae, Myeongdong or Insadong. I can guarantee you will find a Seoul cafe that meets your needs in one of these neighbourhoods!
Give us feedback about this article
Learn more about Seoul:
Read more articles about South Korea:
More articles about cafes:
---
---
Want to keep exploring?
Subscribe for discounts on tickets and hotels and our latest guides.
Thank you for subscribing
We will be in touch soon with discounts on tickets and hotels and our latest guides.
Want to keep exploring?
Subscribe for discounts on tickets and hotels and our latest guides.
Thank you for subscribing
We will be in touch soon with discounts on tickets and hotels and our latest guides.
Related Articles