10 Best Seoul Night Markets to Visit
Destguides may receive commissions from purchases made through affiliate links in this article.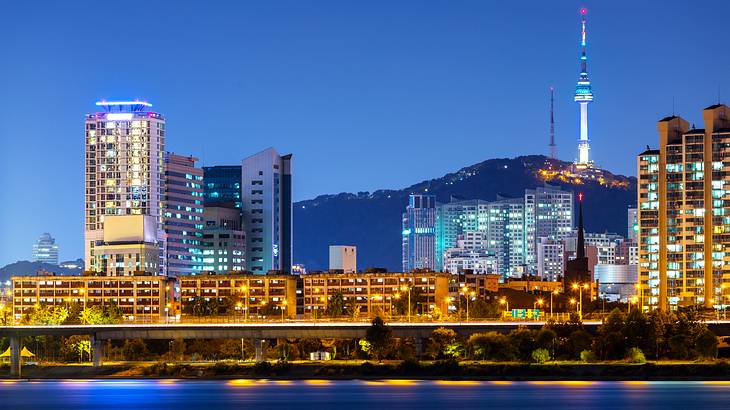 Seoul is a city that never sleeps and gets busier at night once the locals leave their offices. The Seoul night markets provide a different insight into the Korean way of life and are just one of the many unique things to do with a few days in Seoul.
If you want to shop like a local and try delicious South Korean food, the best place to do that is at a Seoul night market where the streets are lined with food stalls and the city is at its liveliest.
While modern skyscrapers dominate the city's skyline, Seoul remains deeply authentic. Just by roaming through the streets, you will find palaces, temples, tombs of Kings, and traditional markets with never-ending street food.
A night market in Korean is usually called a 'Bamdokkaebi Night Market.' Bamdokkaebi is a Korean word that consists of the phrases "bam" (night) and "dokkaebi" (goblin), meaning a "goblin that comes out at night and disappears by morning." The night markets in Seoul usually come out in the evening and cannot be found during the day.
The most famous and original Bamdokkaebi Night Market began operating in 2015 at Yeouido Han River Park. Due to its popularity, the Seoul government permitted more night markets around the city. Some markets are open year-round and permanent, while others are seasonal.
Knowing which night markets in Seoul to visit can be confusing for first-time visitors to the city. So below, you will find a list of the 10 best night markets in Seoul. The list covers famous permanent Seoul markets, like Dongdaemun, Namdaemun, Myeongdong, and Gwangjang, and smaller weekend Bamdokkaebi Night Markets. Keep reading to learn more!
10 Best Night Markets in Seoul
Seoul Night Markets Video
Check out our highlights video of Seoul night markets.
Seoul Night Markets Map
A map of Seoul. Use the map to explore all the night markets.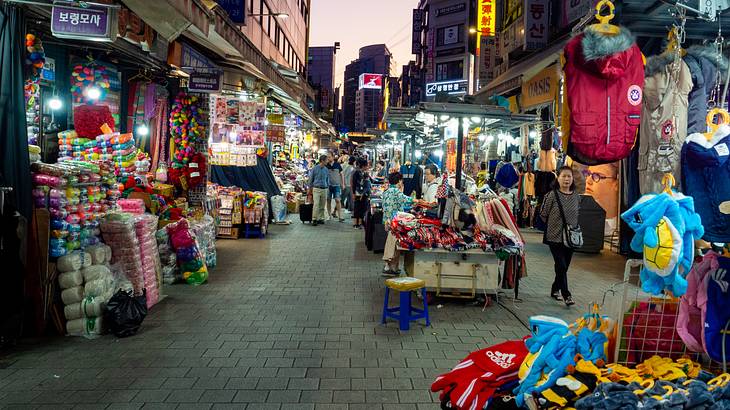 Dongdaemun Night Market
Dongdaemun is one of the top attractions in Seoul, making it always crowded with international visitors. The area used to be well-known for its massive ancient fortress gates, such as Dongdaemun (the East Grand Gate) and the Heunginjimun Gate.
Now, it is known for big shopping malls and the unique Dongdaemun Design Plaza (DDP) that was designed by Zaha Hadid. In more recent years, Dongdaemun has become a large shopping complex home to Seoul Fashion Week.
Dongdaemun Night Market (Sebit Market) operates daily from 8 PM to 3 AM. You will be able to taste delicious street food and get cheap fruit, clothes, shoes and bags here. If the market is not enough, head towards the department stores, Migliore and Doota - shopping havens for Korean fashion lovers.
Every Friday and Saturday from April to late October, the DDP Youth Runaway Market operates nearby. This market is a Seoul Bamdokkaebi Night Market and runs from 6 PM to 11 PM. Here, you will find items from young designers, food vans, and photo zones.
If you're looking for unique things to do in Seoul, try a wild ride at Disco Pang Pang - a circular ride that spins and bounces up and down. It is one of the most popular rides in Korean amusement parks. The ride costs about 4000 KRW ($4) and operates from 3 PM to 10 AM. You will find it by exit 14 at Dongdaemun History and Culture Park station.
How do you get to Dongdaemun Night Market?
Take subway line 2, 4 or 5 and get off at Dongdaemun History and Culture Park station, exit 1, 2 or 3. If your accommodation is on subway line 1, get off at Dongdaemun station, exit 7 or 6.
Cheonggyecheon Stream Time Tour Night Market
Cheonggyecheon Time Tour Night Market occurs along Cheonggyecheon Stream, near Gwangtonggyo Bridge, every Saturday and Sunday. It is open from 5 PM till 10 PM on Saturdays and 4 PM till 9 PM on Sundays.
The central theme of this market is "time travel". At the market, you will find countless traditional performances, snacks, souvenirs and street food. If you aren't interested in traditional performances, walk along the stream and enjoy the beautiful views of the floating lanterns.
The closest subway stations are Gwanghwamun (line 5, exit 5), Jonggak (line 1, exit 5) and Euljiro 1(il)-ga (line 2, exit 2).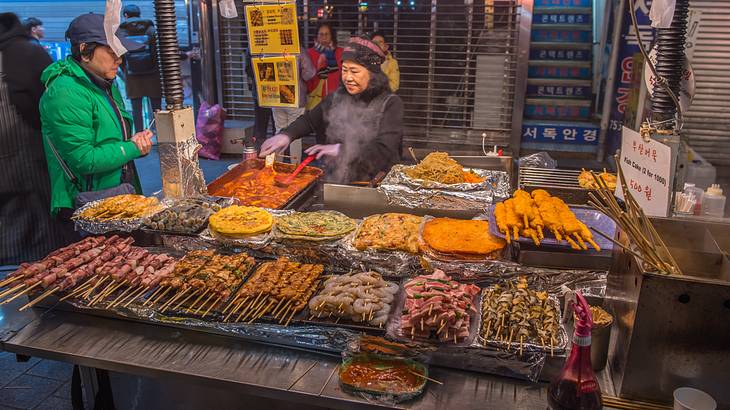 Namdaemun Night Market
If you are looking for what to do in Seoul at night, the Namdaemun Night Market is an excellent place to start your exploration. Namdaemun Market is a traditional market operating daily from 10 AM to 3 AM. It is situated next to Namdaemun Gate (Great South Gate) and not too far from Seoul Station and Myeongdong.
The market first opened in 1964. It is the oldest and largest market in South Korea. Namdaemun Night Market is busy with locals and tourists shopping for clothes, homeware, glasses, and traditional herbal teas during the day.
At night, Namdaemun becomes an ideal place to eat street food and grab a bargain from the various stalls. I recommend coming here if you wish to try heartwarming dishes and shop for traditional souvenirs.
I recommend passing by "market food street" as well, as it's filled with great restaurants. If you come hungry, don't miss a chance to try Namdaemun Naengmyeon (cold buckwheat noodles). Most restaurants serve this dish.
If you visit during colder weather, try a steamed sweet potato or grab a portion of Korean steamed dumplings. Don't look for a restaurant; grab the snacks from street vendors.
Also, pop inside Sungyemun Imported Goods Shopping Centre, which is well-known for selling cameras and audio equipment. However, be aware that this shopping mall closes at 7 PM.
How do you get to Namdaemun Night Market?
To get to Namdaemun Night Market, take subway line 4 and get off at Hoehyeon Station, exit 5.
Banpo Romantic Moonlight Market
Banpo Romantic Moonlight Market occurs at Banpo Han River Park every Friday and Saturday from 6 PM to 11 PM. A trip to this market has to be on your Seoul itinerary! The market sells unique and locally crafted art pieces. It's an ideal place if you are looking for a special present or souvenir for someone.
The market is also popular for its magnificent performances and spectacular views of the city lights and river. I highly recommend checking out the Banpo Flea Market, too, when here, as you can find some fantastic items from the 50s and 60s.
Banpo Romantic Moonlight Market is near the Express Bus Terminal (line 3, 7 and 9, exits 8-1 or 8-2) and Sinbanpo (line 9, exit 1) and Dongjak (line 4 and 9, exits 1 or 2) subway stations.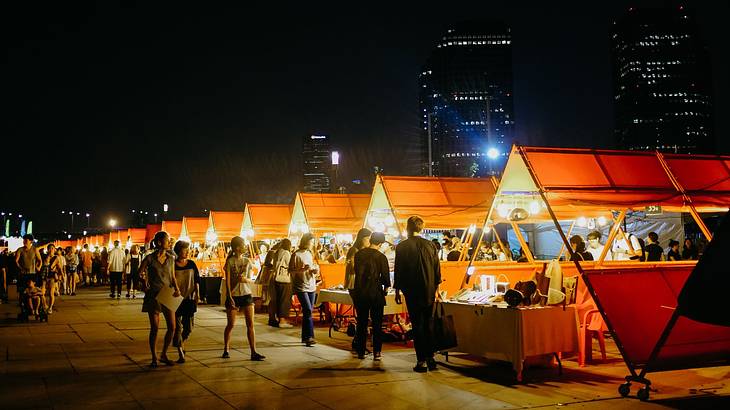 Yeouido World Night Market
Explore Seoul by night by visiting the Han River parks. Yeouido Han River Park, also known as Yeouido Hangang Park, is one of the most famous parks along the river. It attracts hundreds of tourists and locals every day. The park is well-known for its picturesque views of the famous 63 Building and the weekend night market.
Yeouido World Night Market is one of Seoul's most famous Bamdokkaebi Night Markets. It operates Fridays, Saturdays, and Sundays from 6 PM to 1 AM. The market has several food tents and performances from all over the world. You will feel like you have travelled to different countries in one night.
Yeouido World has stalls selling handicrafts from various countries as well. I recommend bringing extra cash with you as you never know what you will find while strolling around.
After a tiring day of exploration, this market is the perfect place to enjoy a relaxing night out with great food and music. The closest subway station is Yeouinaru on subway line 5. Get out at exit 2 and head towards the river.
Oil Tank Culture Park Seasonal Night Market
Oil Tank Culture Park Night Market is located within the Oil Tank Culture Park grounds in the Mapo district. The area used to be an old oil depot, but the Seoul government converted it into a public space that teaches people about the environment.
The night market is open for three weeks in May. It operates on Fridays and Saturdays from 4 PM to 9 PM. It is the perfect place to have a picnic, browse around the flea market and enjoy the street performances. Take subway line 6 towards World Cup Stadium station, exit 2, then follow the signs for Oil Tank Culture Park.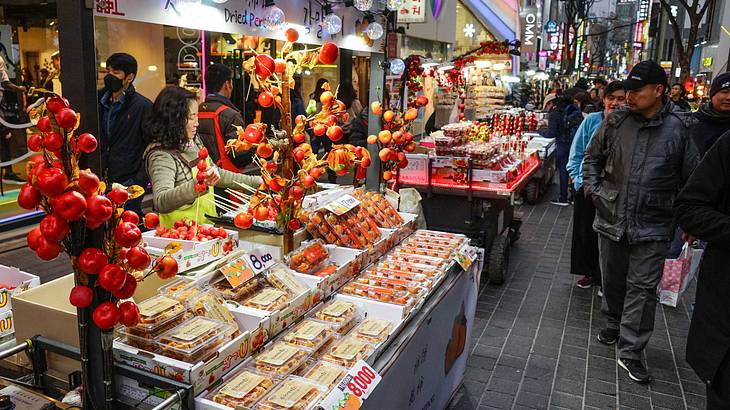 Myeongdong Night Market
Myeongdong (People's Neighbourhood) Night Market is probably the most well-known Seoul night market. It is close to Namdaemun Market, Seoul Station and City Hall, and it is the busiest outdoor night market in Seoul. The area is a shopping street filled with high-street clothes and makeup shops. The stores are open from morning till late evening.
Myeongdong Night Market operates daily from about 5 PM to 1 AM. You can find market stalls in the middle of the main streets here. It is different from the other traditional night markets as its stalls are filled with innovative dishes that you can't get anywhere else in Seoul.
I recommend trying the dry seafood snacks, the tornado potatoes, the cheese tteokbokki, and the various breaded fried vegetables. If you have a sweet tooth, go for the filled waffles, fruit cocktails, or traditional Korean sweet pancakes - Hotteok. Bring lots of cash with you as Myeongdong Night Market is a street food paradise!
How do you get to Myeongdong Night Market?
To get to Myeongdong, take subway line 4 and get off at Myeogdong station. Head towards exit 6 or 7, which are the closest to the main entrance of the market street.
Cheonggye Plaza Seasonal Night Market
Cheonggye Plaza Seasonal Night Market happens 3 to 4 times a year at Cheonggye Plaza, next to Cheonggyecheon Stream and City Hall. The seasonal night market usually opens at 6 PM and closes at 11 PM.
This is an open market and always has different themes depending on the month and season, such as a Christmas theme, a hot summer nights theme, and a chestnut season theme.
Cheonggye Plaza market is always filled with fun activities for families, performances, food stalls, and handmade items. It is also a great place to shop for unique gifts for your friends and family. For the dates of the market, take a look at the Seoul Metropolitan Government website. The closest subway stations are Gwanghwamun on line 5 and City Hall on lines 1 and 2.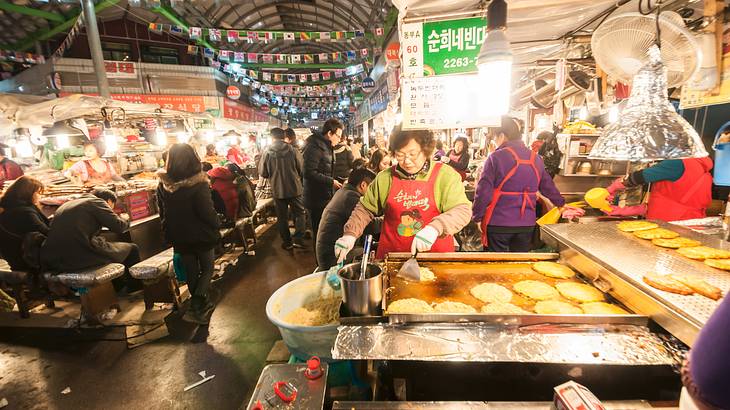 Gwangjang Night Market
Gwangjang Market is a permanent night market and one of the bigger markets in South Korea. It is also the most famous night market in Seoul amongst locals.
The market is open daily from morning till evening and is well known for its vintage clothes arcade, jewellery shops, and a food court full of traditional street food.
If you visit Gwangjang Market, you have to try bindaetteok (mung bean pancake) - it is the most famous dish here! You can also try Mayak kimbap (mini seaweed rolls with fillings), dumplings, freshly-made noodle soup, kimchi/vegetable pancakes, and much more.
Many street vendors have tables and benches for you to sit at and eat. However, be aware that you will be sitting next to strangers, and people might bump into your back while passing by.
Note that all stores, excluding the food court, shut around 6 or 7 PM. So, if you wish to shop for vintage Korean clothing, make sure to come before closing time.
How do you get to Gwangjang Night Market?
To get to the Gwangjang market, take subway line 1 to Jogno 5(o)-ga, exit 7, or take subway line 2 or 5 to Euljiro 4(sa)-ga, exit 4.
Mokdong Stadium Recreational Sports Market
Mokdong Stadium Night Market is a Seoul Bamdokkaebi Night Market. It is open on Fridays and Saturdays from 5 PM till 11 PM. Visit this market if you are interested in sports, sports equipment, and sports clothing. You can buy a great pair of hiking shoes, a sturdy backpack for travelling, and many other things here at an excellent price.
I recommend bringing cash with you as most of the stalls don't accept cards. To get to the market, take subway line 5 and get off at Omokgyo station, exit 3 or 4.
In Summary
Seoul's night markets are the best way to experience the nightlife in the city, try the best food, and shop till you can't feel your legs anymore.
Every market mentioned on this list is worth a visit. However, I don't recommend visiting more than two markets in a single night. You won't be able to enjoy everything a market has to offer otherwise!
Before visiting any market, I suggest checking the official website for more information. Operating hours may have changed since this article was last updated, or the market itself might be cancelled. I hope you found this list helpful, and have a great time exploring the best night markets in Seoul!
---
---
Want to keep exploring?
Subscribe for discounts on tickets and hotels and our latest guides.
Thank you for subscribing
We will be in touch soon with discounts on tickets and hotels and our latest guides.
Want to keep exploring?
Subscribe for discounts on tickets and hotels and our latest guides.
Thank you for subscribing
We will be in touch soon with discounts on tickets and hotels and our latest guides.
Related Articles