26 Unique and Unusual Things to Do in Seoul
Destguides may receive commissions from purchases made through affiliate links in this article.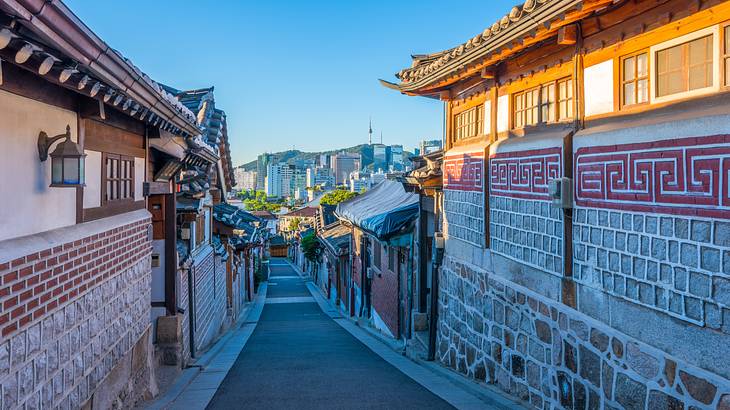 Seoul, the capital of South Korea, is home to more than nine million people and is considered one of the most vibrant cities in Asia. It is surrounded by rocky mountains and filled with a mixture of ancient buildings and modern skyscrapers. The skyscrapers throughout the city offer stunning views over this sprawling metropolis.
Seoul is an extraordinary and fun city where you can find many unique and unusual things to do. You should set aside at least 3 days for Seoul to explore it fully. Some of the highlights on this list include exploring an abandoned theme park, getting lost in varying Korean markets, checking out ancient buildings, learning more about Korean life, and immersing yourself in nature at a scenic national park.
I have combined my favourite fun and quirky things to do in Seoul that you can't miss while here. Some of the activities mentioned don't exist anywhere else in the world! So, if you are interested in finding out more, scroll down to take a look at the 26 top unusual things to do in Seoul.
26 Unique Things to Do in Seoul
Yongma Land Abandoned Theme Park
Constructed in 1980, Yongma Land was once a small but thriving theme park. It was closed in 2011 due to low profits and other bigger theme parks becoming more popular.
Today, this tiny amusement park is a well-known spot for photos. You can roam around the abandoned theme park for a small fee of 5,000 KRW (around 5 USD).
If you are happy to pay a bit more, for 30,000 KRW (around 30 USD), the theme park's current owner will turn the merry-go-round lights on for you. With the lights on, the merry-go-round makes for very majestic photos.
You will find run-down rides at the theme park, such as a Viking ride, bumper cars, flying planes, and many other iconic 80's rides. The theme park also has a small snack bar where you can purchase snacks, drinks and even balloons for your photos.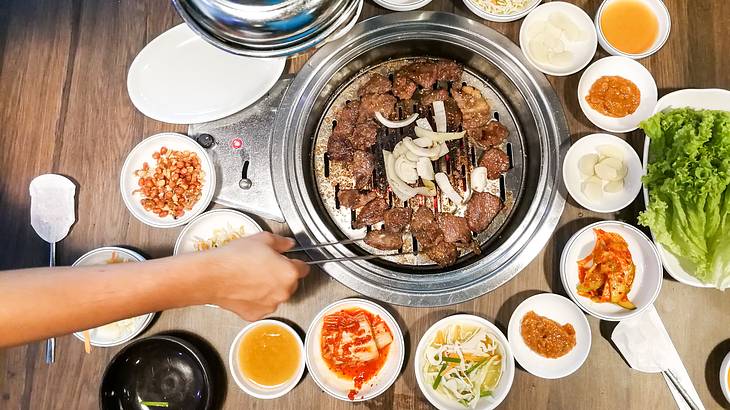 Traditional Korean BBQ at Wanbijib Chain Restaurant
Whether you are just visiting or living in Seoul, you have to try traditional Korean food! Almost every tourist has heard of a Korean BBQ. It's served at restaurants all over the city. When at one, you are given a tray of raw foods that you will have to cook by yourself.
The best place to go for a Korean BBQ is the Wangbijib restaurant situated in Myeongdong. Wangbijib restaurant specialises in grilled beef. After ordering, you will get raw meat, side dishes, lettuce, vegetables for grilling and sauces.
You will need to put the sliced meat on the grill and cook it to your liking. Once the meat is cooked, put a portion of all the side dishes and meat into the lettuce. If it's your first time at a Korean BBQ, the staff are friendly enough to help you.
Seoul Trick Eye Museum
If you are looking for some fun things to do in Seoul, the Trick Eye Museum is the best place for you. The museum is a unique art gallery that combines art with 2D and 3D illusions, allowing visitors to interact with the exhibits. Some of the Trick Eye Museum exhibits use your actual photo to come to life, integrating you into the display.
Inside the museum, you will find another museum, the Ice Museum. It is filled with objects made from ice. Your Trick Eye Museum admission ticket allows you to enter the Ice Museum, too.
After your visit, head to the museum's cafe to get a coffee with latte art designed using photos provided from your phone. Just don't forget to select your images before ordering your coffee.
National Museum of Korea
The National Museum of Korea is the largest in South Korea and contains important objects related to Korean culture and history. Make sure to add this museum to your South Korea itinerary if you visit Seoul!
At the museum, you will be able to find more than 220,000 objects scattered throughout six permanent galleries. The museum has three floors that together house several galleries.
The most captivating galleries are the Sculpture and Crafts Gallery, which is where you will find the most well-known Buddhist paintings and sculptures, and the Prehistoric and Ancient History Gallery, which is where you will have a chance to learn more about ancient Korea.
Outside the museum's grounds, you will find a large park with ponds where you can sit down and relax or eat your lunch. Just a short walk from the museum, you will find the newly-opened Hangeul Museum and the Korean War Memorial.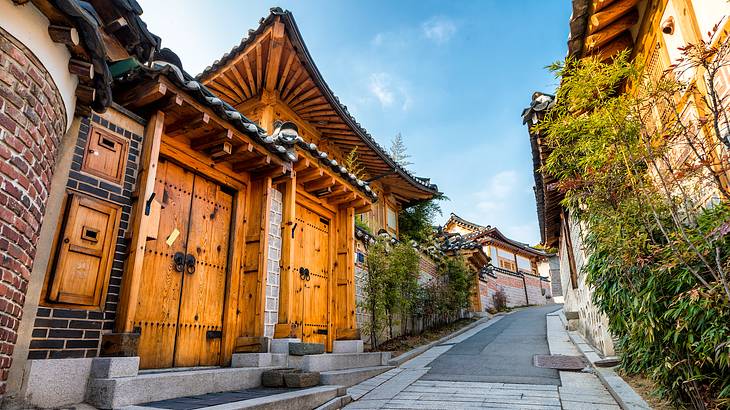 Bukchon Hanok Village
Nestled between two ancient palaces, Bukchon Hanok Village (Northern Village) is a place that you can't miss while in Seoul. Bukchon Hanok Village is filled with hundreds of traditional houses, called Hanok in Korean.
Most of the Hanoks are residential houses, and many have been converted into traditional Korean restaurants, art galleries, handicraft shops, guest houses, and museums.
The village dates back to the Joseon dynasty. It was an area where most of the aristocrats and public officers lived. Today, it's a trendy spot for photoshoots with iconic views of Seoul.
You will find numerous Hanbok (traditional Korean dress) shops around the village. If you are looking to create some unique photos that appear as though you have just stepped out from medieval Korea, you can rent a traditional dress from one of the dress shops. It makes for a fun photoshoot in the village.
Keep in mind that Bukchon Hanok Village is a residential area, so be respectful of the residents. Do not enter their private houses and try to keep your voice down.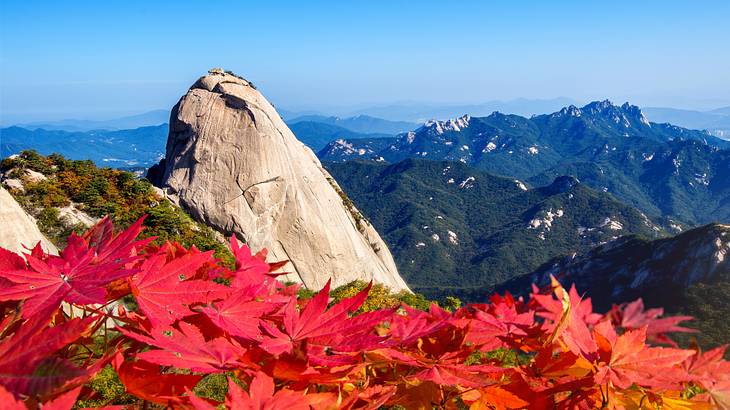 Bukhansan National Park
Near Seoul's northern border, you will find Bukhansan National Park, the closest national park to the city that can be reached by the subway. It has almost 100 hiking trails taking you through remote temples and beautiful mountain streams.
The most famous trail leads you towards Bukhansan's highest peak, Baegundae, which offers magnificent views of downtown Seoul.
Be aware, a hike up to the summit is very strenuous. If you are uncomfortable with heights, parts of it can be scary. If you aren't a fan of hiking, take a more accessible trail through the streams. Along the path, you will come across an observatory deck with great views of the city.
I suggest picking up a free English map from the information centre. The map will help you identify a trail that is most suitable for you.
Gyeongchun Line Forest Park
Gyeongchun Line used to be a railroad line that stopped operating in 2010. Now, it is a 6.3-kilometer-long walking path. Gyeongchun Line was built to develop various industries along the line.
Interesting fact: this was the only railway line built by Koreans during the Japanese colonial era. The train was going from Seoul to Chuncheon.
The park was opened to the public in 2017, so it is a relatively new attraction. The main attraction along the path is Hwarangdae Station. Here, you can find a couple of old steam locomotives, rail cars, and shipping containers. All visitors can also step inside and walk around the old vehicles.
I suggest heading northwest towards the Gongneung-dong Dokkaebi Traditional Market. Along the path, you will spot popular Seoul coffee shops, where you can grab drinks and brunch as well.
Tongin Market
Opened in 1941, Tongin Market was set up for Japanese residents living around the Hyoja neighbourhood. After Korea became independent from Japanese rule, the market was shut down.
After the Korean War, however, Seoul was short of markets, so various vendors decided to use the Tongin Market area to set up their stalls.
Today, Tongin Market has about 75 stores, including restaurants and food shops. But people don't come here to shop. Instead, Tongin Market is known for Dosirak (lunch box) cafes.
You can exchange Won (Korean currency) for a collection of old coins. Use these coins to buy your lunch box items from the market stalls. Just walk around the market and select what you like. Most items cost between 1 to 2 coins, and you can get quite a bit of food for a small amount of money. It's cheap and entertaining!
Poopoo Land
Poopoo Land is a bright and wacky museum theme park in downtown Seoul. The exhibitions at this museum explain everything to do with human poop, farts, urine and more.
The most popular attraction at Poopoo Land is the exit tunnel. It's a dark, steep slide that represents the digestive system. Before the slide, staff will give you shoe covers, long sleeves and 'poopoo pants' to cover your clothes. To discover what happens next, you will have to go on the slide!
Poopoo Land has a lovely poop-themed cafe where you can get food and drinks served in toilet bowls and mugs. If you are looking for a cheaper option, head to the ground floor and check out the stall selling various snacks shaped like poo.
Cafe Yeonnam-Dong 223-14
Cafe Yeonnam-Dong 223-14 is one of the unique things to do in Seoul. Why? As soon as you step into this coffee shop, you feel like you have just been drawn into a cartoon. Everything inside the shop has been made to look like a cartoon, including the coffee, mugs, and plates.
However, the cartoon interior is not the only thing that makes this cafe different. Strangely, the coffee shop doesn't have a name, so people refer to it by its address. Even if you know the address, it can still be tricky to find it, so install a Korean map app on your phone beforehand.
Be aware that it is required to order something from the coffee shop if you want to take photos. Also, be prepared for a queue if you come on a Saturday - it is a trendy spot!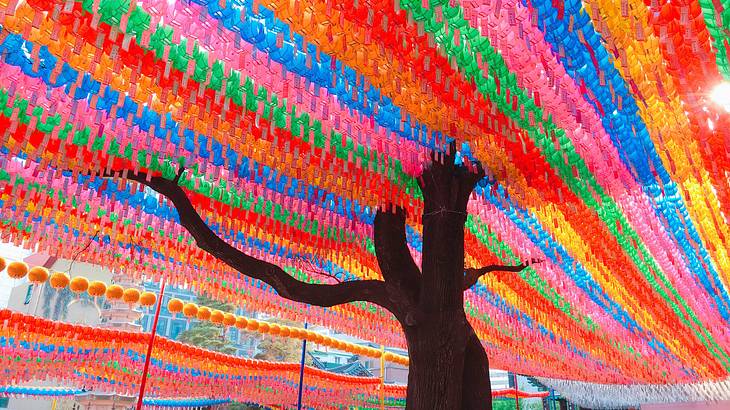 Temple Stay at Jogyesa Temple
An overnight temple stay is becoming more and more popular among international tourists. There is no need to go out of Seoul to enjoy this unique experience. Just visit Jogyesa Temple, located in the middle of downtown Seoul.
Constructed in the 14th century, Jogyesa Temple is considered to be the centre of Korean Buddhism. It is the head temple of the Jogye Order. Lots of important Buddhist events, rituals, and lectures happen at this temple.
During a temple stay at Jogyesa Temple, you will participate in daily monk activities, including chanting, an eating ritual, a tea ceremony, and traditional Buddhist crafts. The stay usually lasts for one night and two days, so it suits those who wish to experience something different and relax.
Museum Kimchikan
Museum Kimchikan is dedicated to the traditional Korean side dish Kimchi (spicy fermented cabbage). The museum also details Kimjang, the conventional Korean process of making kimchi.
At the museum, a UNESCO Intangible Cultural Heritage of Humanity, you will learn about the history of kimchi and will have a chance to try many types of kimchi from all over South Korea.
There is a small admission fee, and you will have to reserve your tickets online beforehand through the museum website. If you wish to rent an audio guide, you can in various languages.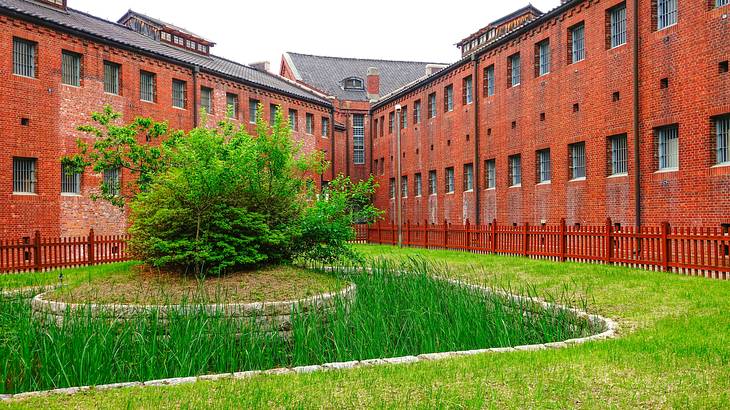 Seodaemun Prison History Museum
Seodaemun Prison History Museum is a significant museum for Korean history. The prison was built during the Japanese occupation and was where Korean independence fighters were tortured and executed by Japanese officers.
Today, the building has been converted into a museum where you can learn more about Japanese torture techniques and the history of the Korean Independence Movement.
The most important part of the museum is cell 8 in the women's prison. This is where the famous freedom fighter Yu Gwan Sun was tortured. The prison cell is dedicated to her quotes and life. I suggest spending at least 20 minutes here to appreciate the exhibit fully.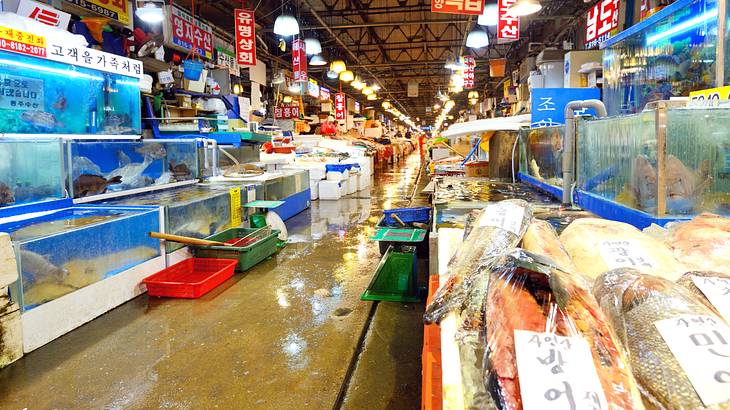 Noryangjin Fisheries Wholesale Market
Noryangjin Fish Market is located next to Noryangjin subway station. The market is open 24 hours a day and gets incredibly busy in the morning when the fresh fish arrives. More than 700 vendors sell all sorts of seafood here, from octopus and blue crabs to sea cucumbers and more.
You can wander around the market for a couple of hours. Fish or other seafood creatures can be cooked for you on-site by one of the different vendors. If you can't decide what you want, head to the fish restaurants with fantastic fish soups, which start from 5,000 KRW (around 5 USD).
Suguksa Temple
If you are looking for hidden things to do in Seoul, you will enjoy wandering around the peaceful Suguksa Temple. Tucked away from the main streets of Seoul, Suguksa is the perfect place for an afternoon walk.
Suguksa Temple is situated in the Eunpyeong district. The temple is known as the only golden temple in Seoul. Its name means 'the temple that protects the country'.
The main building is called the Golden Buddhist Sanctum, which is covered in golden paper made for ancient buildings. So, technically, the temple isn't made from gold, though you can't tell the difference.
If you can, visit during the spring when the temple is covered in lotus lanterns for Buddha's birthday. Suguksa also runs a temple stay program that you can book via a tourist information centre.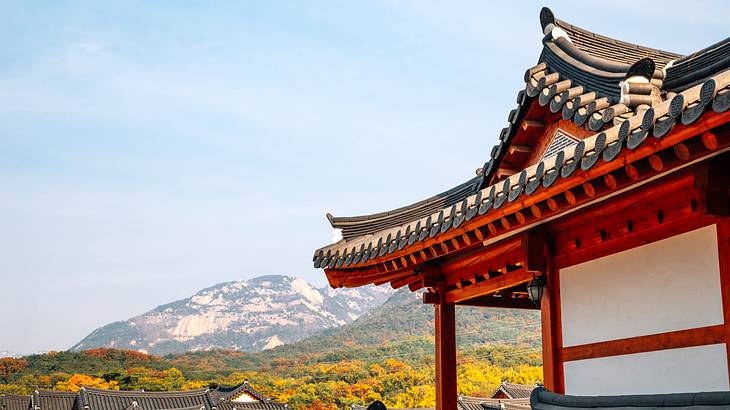 Eunpyeong Hanok Village
If you enjoyed wandering around the previously mentioned Bukchon Hanok Village, you have to visit Eunpyeong Hanok Village, too.
Situated in the quiet Jingwandong neighbourhood, the Seoul Government built Eunpyeong Hanok Village as a historical, cultural, and tourist site. However, as it is pretty far from central Seoul, mainly locals visit this place.
Here, you can enjoy a peaceful atmosphere, stunning views of Bukhansan, and stroll through narrow streets. You will feel like you went back in time to the 16th century.
While here, visit Jingwansa Temple and The Eunpyeong History & Hanok Museum. If you have time, have a coffee at Bukhansan Atelier, which overlooks the hanok village.
Gangseo Marsh Ecological Park
Gangseo Marsh Ecological Park is another unique location that can be found outside of central Seoul. It is also less touristy than other parks, situated along the river. The closest subway station is Banghwa, and the park is located between Bangwha Bridge and Hangju Bridge.
Established in 2007, Gangseo Marsh stretches for 8.5 kilometres along the Han River. This eco-park features several sections, including low wetlands, freshwater lakes, and aquatic plant areas.
Numerous walking trails throughout the park help you learn more about the local Korean wildlife. There are many places where you can go bird watching as well. If you are interested in learning more about the park and migratory birds, join one of the park's eco-educational programs.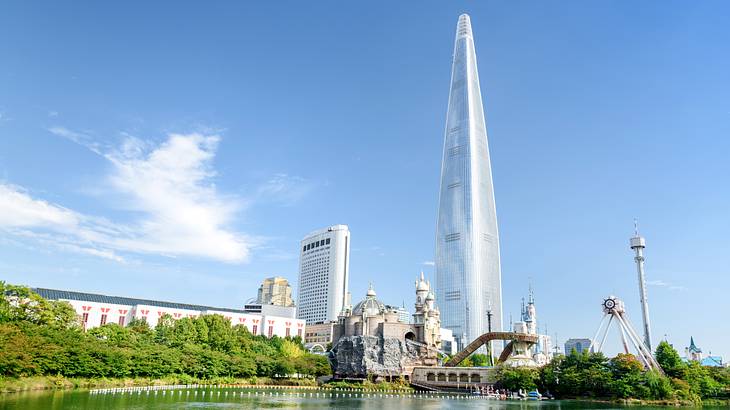 Lotte World
Lotte World is a massive indoor and outdoor amusement park filled with thrilling rides, an ice rink, museums, shops, and parades all day and night long.
The theme park is one of the most fun things to do in Seoul at night due to its countless lights and performances. Lotte World is known for its Magic Castle that shines brightly in the dark.
Lotte World is divided into two sections: Lotte World Adventure (indoor theme park with exciting rides) and Magic Island (outdoor theme park by Seokchon Lake).
Make sure you buy a ticket that includes admission to the Folk Museum as it attracts tons of international tourists. In the museum, you will find miniatures of Korean villages, a large playground, and ancient folk objects.
Seoul Battleship Park
Seoul Battleship Park is one of the newest and alternative things to do in Seoul. It is also the first shipbuilding theme park in the city.
Situated along the Han River, the park houses several retired Korean warships, such as Frigate Seoul, Chamsuri and the first Korean-made submarine, Dolgorae. They are all preserved and allow visitors to learn more about them and war history.
Once you walk inside, you will spot sleeping cabins, a dining area, a shower room, and a steering room. Next to the vessels are many food trucks for a quick bite to eat.
After visiting the park, you can stroll through Mangwondong neighbourhood, which has excellent places to eat and trendy coffee shops. There is a small entrance fee for adults and kids.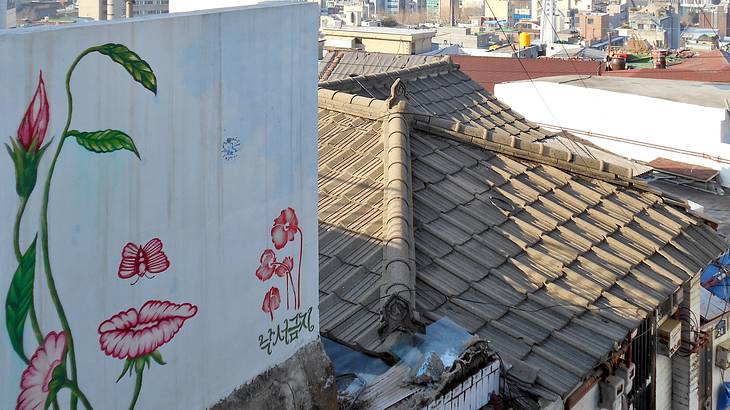 Ihwa Mural Village
Even though Ihwa Mural Village is a hot spot for tourists and locals, it is impossible to omit it from this list. Located within Naksan Mountain, Ihwa Mural Village has the most beautiful murals in the country. However, be prepared for a little bit of a hike if you wish to see them all.
Like Huinnyeol Culture Village in Busan, this neighbourhood was seen as a slum and was set for destruction. But in 2006, The Ministry of Culture, Sports and Tourism carried out the "Art in City Project" that transformed the neighbourhood into what you see today.
Currently, you can find murals on numerous walls. Some old murals are gone or have been repainted, but you can still enjoy the beautiful art. It is also a popular spot for coffee shops. This is a residential area, so like always, be respectful.
Sajik Park
Nestled on the Inwangsan Mountain, Sajik Park is the park of old traditions. Here, rites to the deities of earth and grains are performed on the third Sunday of September.
This ceremony can be dated back to the Three Kingdoms period. It has been designated as Intangible Cultural Property No. 111.
Once you enter the park, you will notice a big altar where the rites take place. Behind it, you will see two statues, one representing the greatest scholar Yi I and the other his mother Sin Saimdang.
The park's gates close early in the evening, so come in the morning or afternoon. After a visit to the park, go for a hike or grab a drink from one of the nearby coffee shops.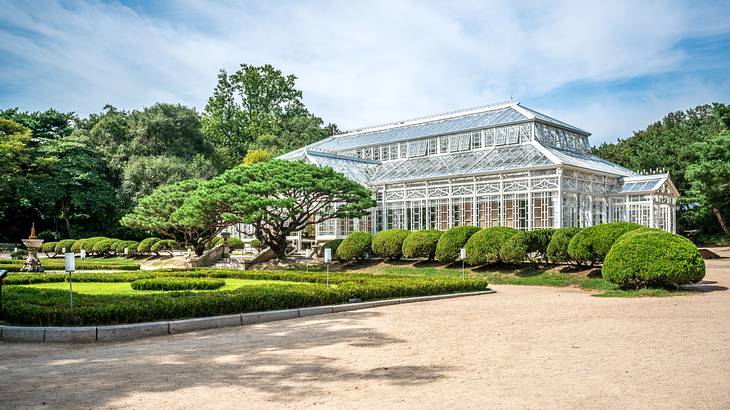 The Great Glass House at Changgyeonggung
Even though this attraction is located near Changdeokgung, Changgyeonggung is usually missed by tourists. This is unfortunate as this palace has a unique feature that can't be overlooked when in Seoul.
After the Japanese occupation, Changgyeonggung was converted into a public park with a zoo, botanical gardens, and the country's first Victorian-style greenhouse - Daeonsil (the Great Glass House).
Today, the Great Glass House is an impressive architectural piece. It houses rare plants indigenous to Korea, trees, ferns, and other simple plants. You will also find a small pond in the centre.
Outside, there is a Renaissance-style fountain with Korean turtle motifs. There is no additional fee to enter the glasshouse. You will only need to pay 1000 KRW ($1) for admission to the palace.
Oil Tank Culture Park
Are you still looking for weird things to do in Seoul? If so, the Oil Tank Culture Park has to be included on your list.
Found in the Mapo district, the Culture Park was once an oil depot. The Seoul government decided to transform the previous oil depot into a park to preserve its historical value and teach about sustainability.
Six oil tanks have been turned into event venues, galleries, and learning spaces. It is also the perfect place to take great Instagram photos. The Culture Park is closed on Mondays.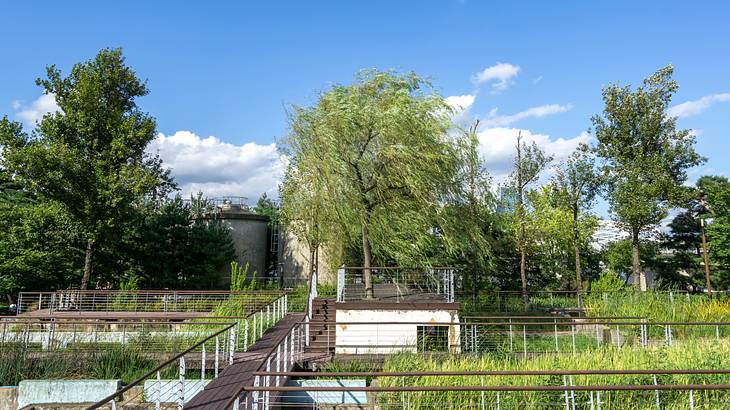 Seonyudo Park
Seonyudo Park is one of the best-kept secrets in Seoul. It is located on the island in the Han River and can only be accessed via the bridge.
It used to house a water treatment plant, but the Seoul government decided to transform it into a public park. All previously used equipment was reused and turned into displays.
The park is home to many walking trails, water displays, and botanical gardens. You will also find a children's play area, the Seoul Design Gallery, and cafes. If you are looking for a tranquil spot for a picnic with nature views, Seonyudo Park is a place you have to visit.
Seoullo 7017
Seoullo 7017 is one of the newest parks in Seoul, located near Seoul Station. It used to be an overpass that was transformed into a 1024-meter long park.
It is one of my favourite spots for Instagram-worthy photos and watching the sunset. Besides, the park offers stunning views of downtown Seoul.
Seoullo's name comes from "Seoul Road" (in Korean), and 7017 is a mesh of 1970 when the overpass was initially built and 2017 when it was turned into a public park.
Along the path, you will find a wishing pond, trees, flower gardens, and a piano. Seventeen exits from here lead to downtown neighbourhoods where you can find restaurants and cafes.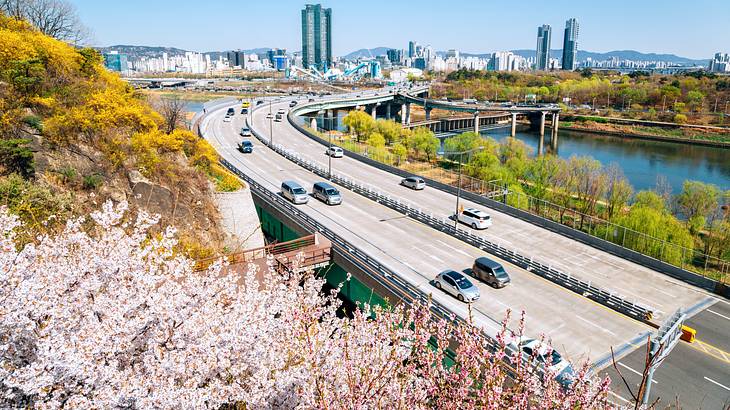 Eungbongsan Mountain
Situated near the Han River, Eunbongsan is a 95.3-metre high mountain that is sometimes referred to as "hawk peak". It is extremely popular among locals and tourists, especially during the spring when the flowers are in full bloom.
At the top, you will find an octagonal pavilion where you can rest and enjoy views of the river, Jamsil, and Seoul Forest. Eungbongsan Mountain is well-known for its Forsythia Festival, which is held every April.
If you are in Seoul during this time, I highly recommend checking it out. However, be aware of the crowds. When here, visit the Seoul Forest and walk along Jungnangcheon Stream as well.
In Summary
There are plenty of unique and unusual things to do in Seoul suitable for all ages and varying types of travelers. Don't be afraid to visit places and experience what Seoul has to offer you.
Some locations can seem bizarre, but I can guarantee that you will love every single activity on this list, so don't hesitate. If you want to explore outside of the city more, there are also many great day trips to do from Seoul.
I suggest fitting several of the activities that are close to each other into one day so that you can walk around and explore the city at the same time.
Anyways, that's it from me for now. I hope you enjoyed this list of unusual things to do and learned something new about South Korea's capital city. Have a lovely trip, and bring back unforgettable memories!
Give us feedback about this article
Learn more about Seoul:
Read more articles about South Korea:
More articles about things to do:
---
---
Want to keep exploring?
Subscribe for discounts on tickets and hotels and our latest guides.
Thank you for subscribing
We will be in touch soon with discounts on tickets and hotels and our latest guides.
Want to keep exploring?
Subscribe for discounts on tickets and hotels and our latest guides.
Thank you for subscribing
We will be in touch soon with discounts on tickets and hotels and our latest guides.
Related Articles