The Best 3 Days in Seoul Itinerary
Destguides may receive commissions from purchases made through affiliate links in this article.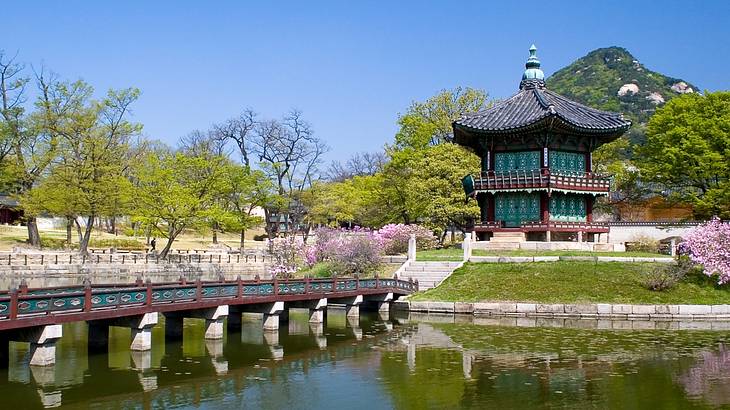 72 hours in Seoul is just enough time to see a lot of what this fascinating city has to offer. There are many unique things to do in Seoul as it is a place where tradition meets modernity.
Seoul is also considered to be a leading global city due to its high quality of life and several exciting attractions. For example, it has five UNESCO World Heritage Sites in the main part of the city centre alone!
Getting to Seoul from Incheon International Airport is also easy as trains run very often (express included), and it takes over an hour to reach the city. To discover all the things to do in Seoul, keep reading for an in-depth 3 days in Seoul itinerary!
Seoul 3 Day Itinerary
Discover Korean Royalty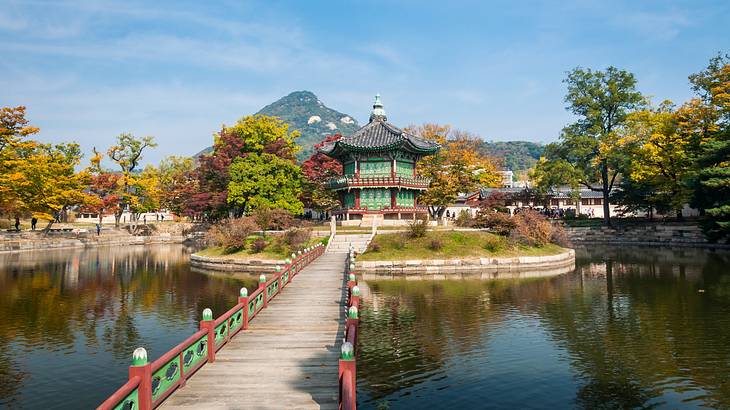 Before Korea became an empire in the 19th century, it was a kingdom with the longest-ruling dynasty, the Joseon Dynasty. The Joseon Dynasty ruled Korea for over five centuries and was responsible for moving its capital to Seoul.
The Joseon kings also built many incredible structures that praised their greatness and Korea's distinctive Asian architecture. Additionally, four of the five UNESCO Heritage Sites in Seoul are relics of the Joseon kings and queens.
On your first day in the city, you'll see some of these sites, like Changdeokgung Palace - a must on your South Korea itinerary!
Other places to visit include Gyeongbokgung Palace and Jogyesa Temple. You'll also get to wander around a traditional Korean village and end the day with a fascinating ghost tour.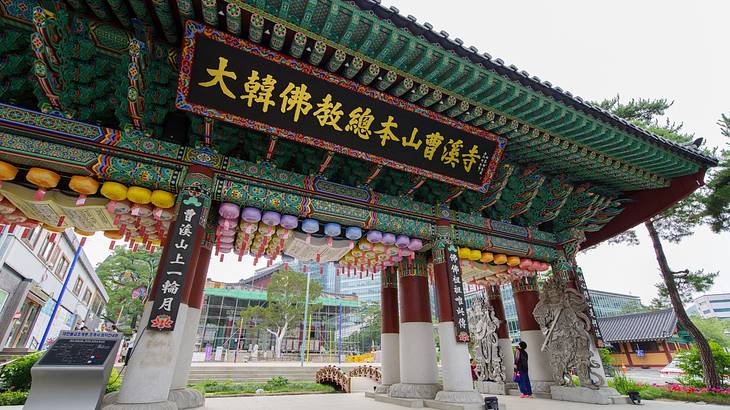 Jogyesa Temple
One of the best places to visit on this 3 day Seoul itinerary is Jogyesa Temple. The temple dates to the 14th century and is an important Buddhist temple in Seoul and South Korea. When here, you can admire the temple's beautiful architecture and the colourful Matsya.
If you want to see this temple and others, you may want to opt for a morning temple tour. This excursion includes a trip to Jogyesa Temple as well as Gyeongbokgung Palace and Cheongwadae - the presidential blue house.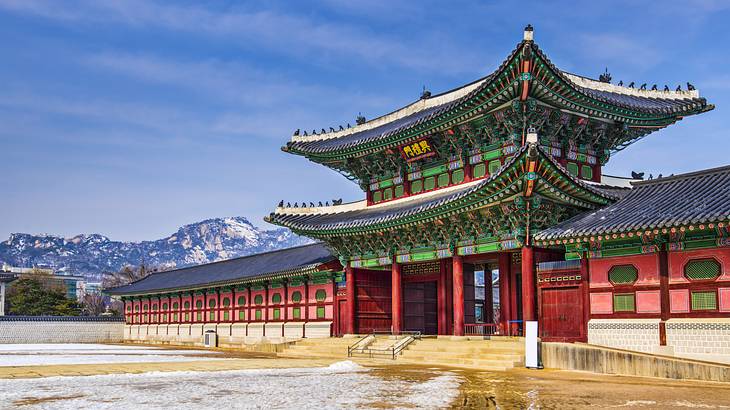 Gyeongbokgung Palace
The second stop on your itinerary is Gyeongbokgung Palace. This impressive palace compound, set in green gardens, served as the main palace for the Joseon Dynasty and initially had over 300 buildings.
Today, visitors to this Asian landmark can see beautiful buildings, notable sculptures, and a fascinating museum. It is worth watching the changing of the guard ceremony at Gyeongbokgung's main entrance. Here, you will also see many beautifully-dressed women in traditional Korean dress known as the Hanbok.
If you want to learn more about the palace, you could take a Gyeongbokgung Palace tour as well. This excursion includes a guided tour of the palace. You'll also be taken to Jogyesa Temple, the National Folk Museum of Korea, a shopping centre, and Namdaemun Market.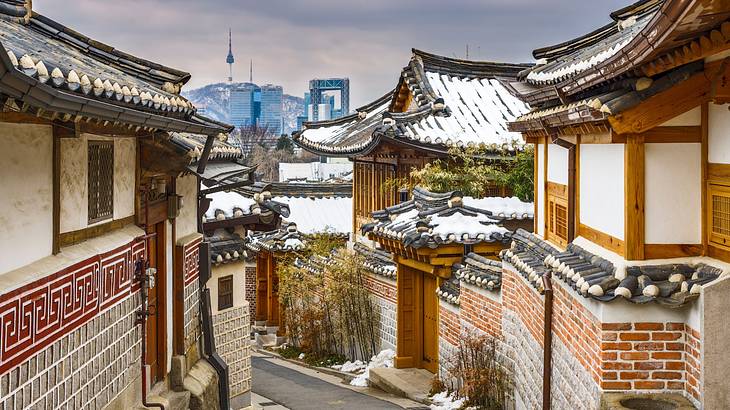 Bukchon Hanok Village
Instead of visiting two palaces back-to-back, check out Bukchon Hanok Village to briefly break up your morning. This village is a traditional Korean village located on top of a hill. Conveniently, it is situated between a couple of today's sites, Gyeongbokgung Palace and Changdeokgung Palace.
As you explore the village, you will find many charming windy alleys and traditional Korean houses. Take your time wandering around this attraction that is a favourite among both locals and tourists!
You could also go on a Bukchon Hanok Village tour. Your guide will offer more information on the history of the area and take you to some hidden spots. This excursion includes a guided tour of Gyeongbokgung Palace, too.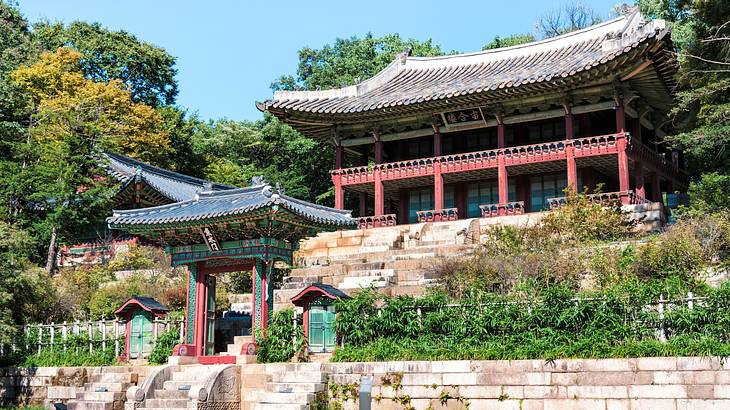 Changdeokgung Palace
Changdeokgung Palace is another example of the "Five Grand Palaces" that were built in Seoul by Joseon dynasty kings. It is often described as the most beautiful of all of Seoul's palaces and the most favoured by the Joseon princes.
The palace can be found in Jongno-gu Park - an area filled with many administrative and residential buildings, with Changdeokgung Palace somewhere in between. To explore the palace and its famous Secret Gardens, you will need to book a Changdeokgung Palace tour with a guide.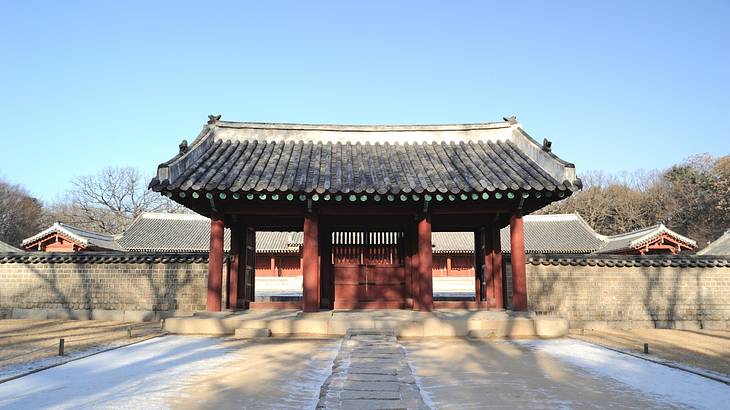 Jongmyo Shrine
A short walk from Changdeokgung Palace, you will find a neighbourhood park with another UNESCO Heritage Site, the Jongmyo Shrine. The Jongmyo Shrine is the oldest preserved Confucian shrine, having been established in the 14th century.
It was dedicated to the kings and queens of the Joseon Dynasty and is still currently being used for events and rituals. One of the most famous rituals it is used for is the Jongmyo Jerye, which involves ancient court music ('Jerye-ak') and a traditional dance performance ('Ilmu').
National Palace Museum of Korea
Located next to Gyeongbokgung Palace, the National Palace Museum of Korea is a must-see for all those interested in Korea's royal heritage. The museum features about 40,000 artifacts from the Joseon Dynasty and the Korean Empire periods.
These artifacts include 14 of the National Treasures of Korea. The Museum is also divided into a number of permanent exhibits and occasionally features special ones as well.
Seoul Ghost Tour
Seoul has a great nightlife scene, but you can also find some things to do that are more unique than going to a club or restaurant. For example, those interested in the paranormal can go on a ghost tour.
During this unique experience, your guide will take you to some of the most haunted areas in the city. At each stop, you can learn more about the spooky stories related to them. This ghostly sightseeing tour offers a memorable way to explore Seoul!
Taking Traditions to New Heights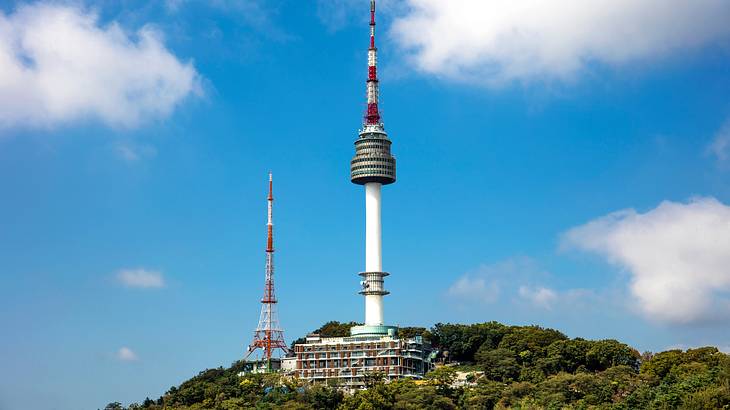 On day two in Seoul, you will visit various sites, from parks to markets and traditional Korean villages. Your first stop will be Namsan Mountain, where you can take a scenic walk and view the city skyline.
Next, you will see the city from up high by going to the observation deck at Namsan Seoul Tower. For lunch, you will visit Namdaemun Market, where you can get delicious Korean street food.
In the afternoon, you will wander around Namsangol Hanok Village and see the stunning Dongdaemun Design Plaza. Finally, your day will end uniquely with a Korean cooking experience. You will visit a local market with your guide and learn how to cook traditional Korean dishes.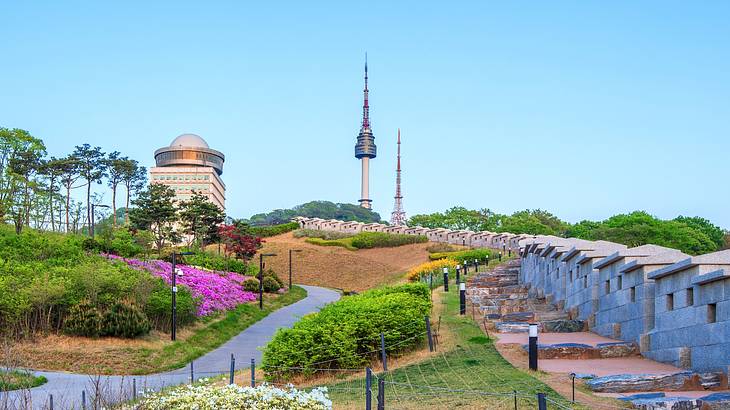 Namsan Mountain
After a first day spent familiarizing yourself with Korean royalty, it may be nice to spend some time connecting with Korean nature. You can do this by visiting Namsan Mountain.
Namsan Mountain, or Nam Mountain, is a 270-metre-high peak in central Seoul. It offers hiking paths, picnic areas, and panoramic views of the downtown Seoul skyline.
Many residents feel that Nam Mountain is the most scenic place in Seoul. As you explore, don't forget to take lots of photos, especially of the skyline. There is also a cable car system here, the Namsan Cable Car.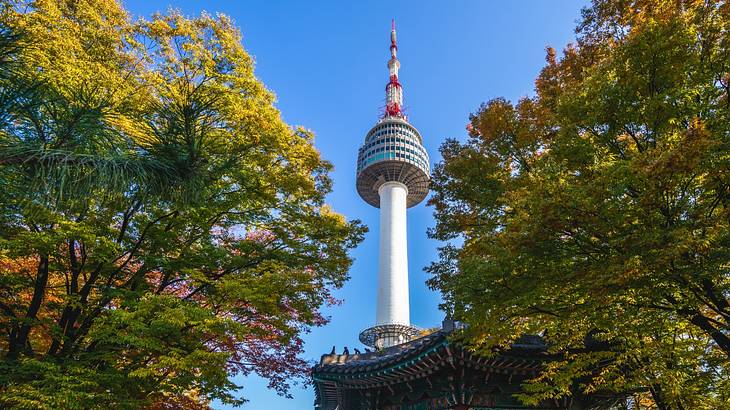 Namsan Seoul Tower
If you're wondering what to do in Seoul for 3 days, a trip to N Seoul Tower, or Namsan Tower, has to be on your to-do list! The communication and observation tower is located right on top of Namsan Mountain.
The tower was built in 1969 to provide radio and TV to all of Seoul's residents. Today, it is still used by major media networks in Korea. It also features an observation deck, where visitors can enjoy an expansive 360-degree view of the city.
Visitors can even dine at one of the tower's several restaurants, where you can enjoy food and drinks with stunning views. Eateries include a French restaurant, those serving Korean dishes, and more!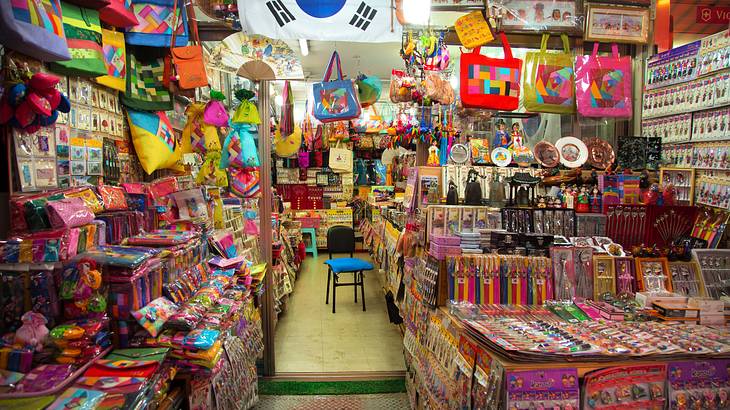 Namdaemun Market
You can find an array of fantastic street markets in Seoul, like Namdaemun Market. The name of this traditional market comes from its location as it is right next to Namdaemun, a gate in the Fortress Wall of Seoul that used to serve as the city's main southern entrance.
Notably, Namdaemun Market is one of the oldest still-running markets in Seoul. It is also one of the city's largest markets. As you walk through Namdaemun Market, you can enjoy the atmosphere and notice some elements related to the market's founding at the beginning of the 15th century.
Of course, you can also try some of the excellent Korean street food that Namdaemun offers. Dishes on offer include 'Kimchi Mandu,' Korea's take on Asian dumplings, and 'Kalguksu,' a Korean soup made with seafood broth and topped with hand-cut wheat noodles.
Those interested in exploring more food markets may want to book a private Seoul food tour. Your guide will take you to the best stalls at the city's top markets, many of which tourists don't know about.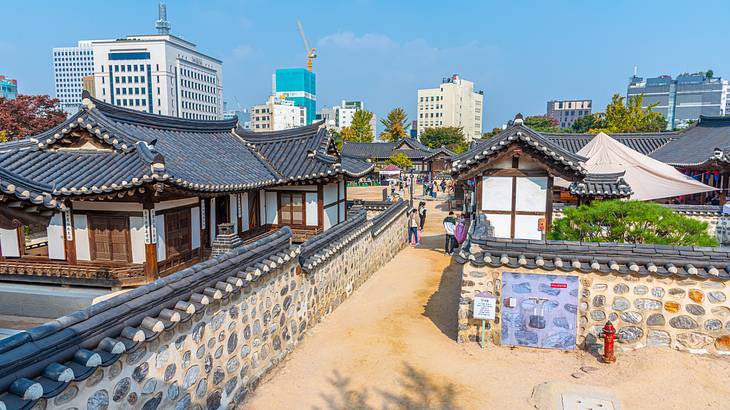 Namsangol Hanok Village
Namsangol Hanok Village is located in the northern corner of Namsan Park. It is known as the "Village of Traditional Houses." Its name basically says it all; the buildings in the area were restored, preserved, and furnished to resemble a village from the Joseon Era.
Visitors can take part in various activities here, experiencing for themselves what life in Korea was like during this period. For example, you can dress up like royalty for a couple of hours if you wish!
Again, you can book a guided tour around Namsangol Hanok Village if interested in learning more about the area.
Dongdaemun Design Plaza
Art and architecture enthusiasts will want to stop by Dongdaemun Design Plaza when in Seoul. The Dongdaemun Design Plaza is a stunning piece of architecture that was opened in 2014. Renowned architect Zaha Hadid designed the structure.
As you look around the Dongdaemun Design Plaza, you'll also see many art installations, and there are often galleries with unique art displays.
Korean Cooking Class
For dinner on your second day in Seoul, you'll attend a cooking class with a full-course meal. After getting ingredients at a nearby market, you'll learn how to make a variety of traditional Korean dishes. Things you may make include Bibimbap, Dakgalbi, and Doenjang Jjigae.
You'll also get to try some street food at the market and learn more overall about Korean cooking and culture. While there are many fantastic restaurants in Seoul to eat at, cooking delicious dishes with a local is much more memorable!
Han River's South Bank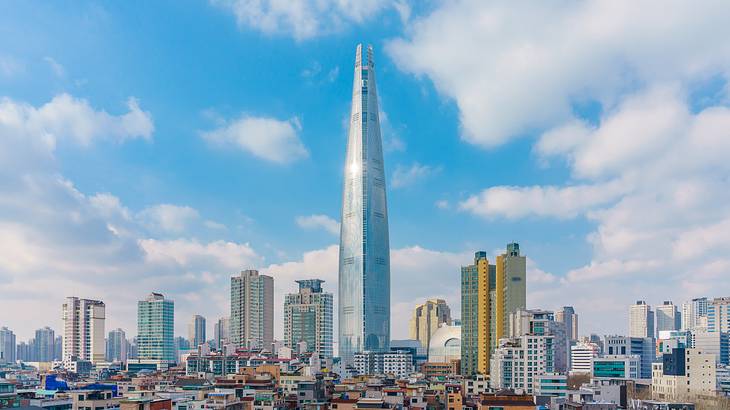 On your last day in Seoul, you should check out the South Bank of the Han River, which features wealthy neighbourhoods, Buddhist temples, and world-class skyscrapers.
The sites on day three are a little further apart, but there is a great variety of public transportation that can take you from one stop to the next earlier in the day in about ten to 15 minutes.
Places to visit on your last day in Seoul include Lotte World Tower, Bongeunsa Temple and Olympic Park. You can also take a half-day trip to the interesting Joint Security Area in the DMZ before heading back to Seoul to wander around.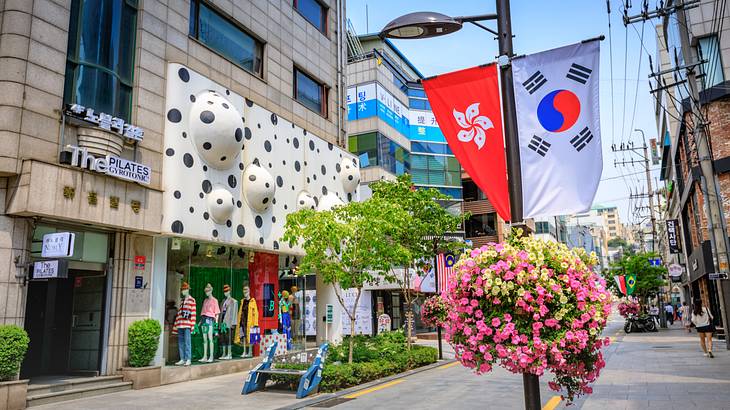 Apgujeong-dong
Apgujeong-dong is a ward in Gangnam-gu. It is one of South Korea's most expensive neighbourhoods. It is filled with high-class department stores and famous name-brand shops.
You can also find many unique restaurants and cafes to stop at for food and drinks here. If you are starting your day in this area, stopping at one of the local coffee shops for breakfast is a great idea.
After getting breakfast, you can explore the rest of the area. The most famous street in this neighbourhood is Apgujeong Rodeo Street, which symbolizes youth and trendiness in the city. You will definitely want to wander along Apgujeong Rodeo Street when in Apgujeong-dong!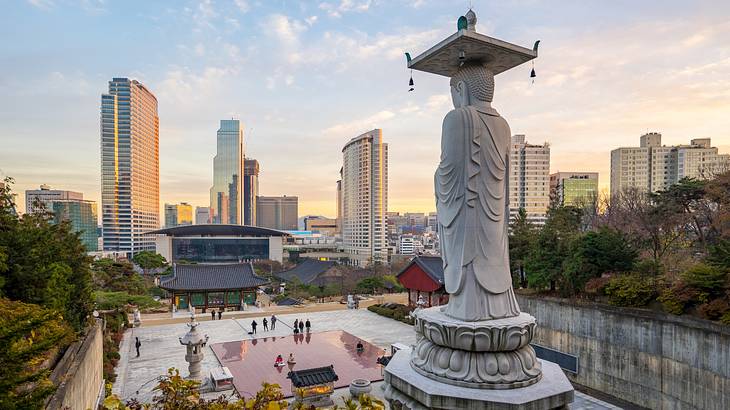 Bongeunsa Temple
Another can't-miss stop on this Seoul in 3 days itinerary is Bongeunsa Temple. Bongeunsa is a Buddhist temple that sits on the slope of Sudo Mountain.
This temple has been around since the 8th century. Despite being mostly unused during the Joseon Era, it served as the main Buddhist temple from the mid-16th century to the mid-20th century.
Unfortunately, visitors today cannot admire its full glory as fires severely destroyed the temple during the Korean Wars. However, Seoul's authorities are still putting a lot of work into reconstructing this magnificent temple, and the reconstruction itself is quite impressive!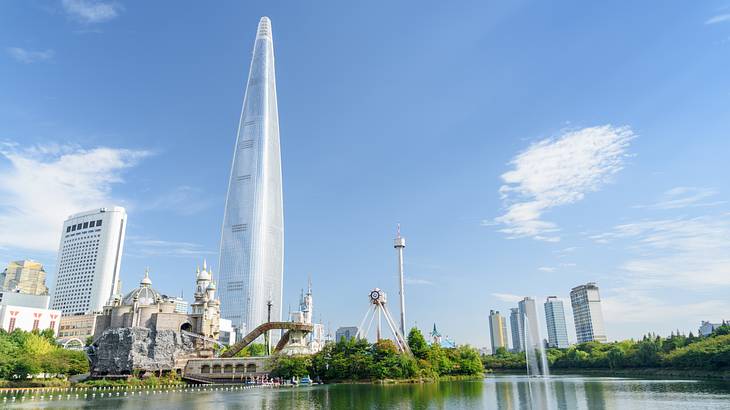 Lotte World Tower
You can't speak of Seoul's impressive growth and modernity without mentioning its tallest skyscraper, the Lotte World Tower. This interestingly-shaped building stands 555 meters tall over the capital. It was opened to the public in 2017 and is one of the top ten tallest buildings in the world.
Not only can you admire this landmark from street level, but you'll also find many attractions to check out within the tower. Seoul Sky, located on several of the top floors of the structure, features an array of tourist attractions, such as the Sky Terrace and Sky Café.
There's even an art museum, the Lotte Museum of Art, and a cinema, concert hall, and shopping mall. No matter what you do in the tower, you can admire stunning panoramic views of Seoul!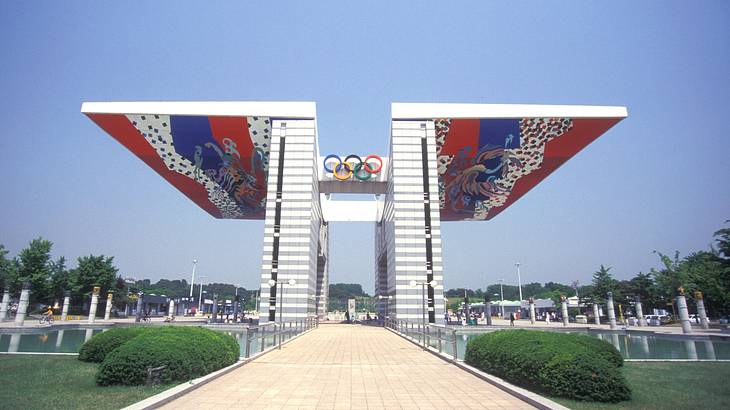 Olympic Park
Seoul Olympic Park was built to host the Summer Olympics in 1988. It features many sports facilities as well as an Olympics Museum.
It also has a sculpture park that has about 200 sculptures from around the world. Additionally, you can see the famous World Peace Gate, built to celebrate the peace and harmony of the Seoul Olympic Games.
All of these attractions are set in a serene and beautiful green park, which is surrounded by an ancient fortification - Mongchontoseong. Wandering around the park and enjoying the fresh air is a great way to unwind after a busy few days exploring the city.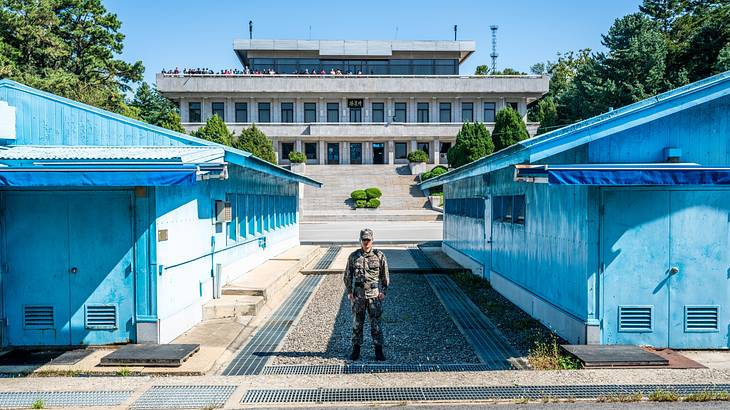 Joint Security Area - Optional
The Joint Security Area and Demilitarized Zone is a unique place to visit in South Korea. The area is the only place where military forces from South and North Korea stand face-to-face.
Tourists can see the area by booking a DMZ tour. This half-day sightseeing tour will also take you to sites like Imjingak Pyeonghwa-Nuri Park, the Bridge of Freedom, and the Dora Observatory.
Your guide will also provide an array of information on all the areas you see, and you'll learn some unique facts about the Demilitarized Zone. If you'd like to do this tour today, then you might have to omit or shuffle around some of the other stops mentioned above.
In Conclusion
Seoul is an excellent destination to visit, with an array of things to do for all types of travellers. If you have some extra time in the city, you may also want to visit Myeong-dong, a shopping district that begins at Myeong-Dong Station.
Additionally, you could plan some day trips from Seoul. A few of the best places to visit include Nami Island, Seoraksan National Park, and Petite France. You could also check out Bukhansan National Park, which sits on the edge of central Seoul. Whatever you end up doing in Seoul, you'll have a great time!
---
---
Want to keep exploring?
Subscribe for discounts on tickets and hotels and our latest guides.
Thank you for subscribing
We will be in touch soon with discounts on tickets and hotels and our latest guides.
Want to keep exploring?
Subscribe for discounts on tickets and hotels and our latest guides.
Thank you for subscribing
We will be in touch soon with discounts on tickets and hotels and our latest guides.
Related Articles