Where to Stay in Lucerne, Switzerland - 5 Best Areas & Hotels
Destguides may receive commissions from purchases made through affiliate links in this article.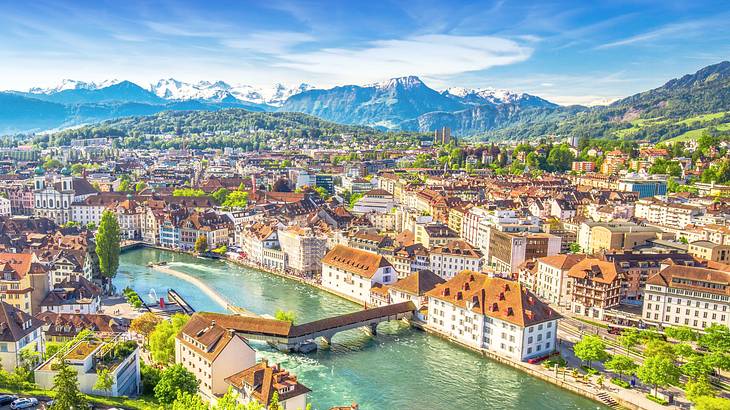 Lucerne is a beautiful city with a lot to offer. From being home to one of the longest medieval bridges in Europe to its trendy cafes and eateries, there's something for everyone in this corner of Switzerland.
However, trying to decide where to stay in Lucerne can be confusing. First-time visitors tend to appreciate the central location and sites of Altstadt and the other Old Town neighborhoods. On the other hand, families often prefer the peace that comes along with Oberseeburg and Littau.
Whether you're planning a weekend getaway or an extended trip, keep reading. This article will tell you everything you need to know about the top five places to stay in Lucerne.
5 Best Places to Stay in Lucerne, Switzerland
Lucerne Places to Stay Video
Check out our highlights video of Lucerne places to stay.
Lucerne Places to Stay Map
A map of Lucerne. Use the map to explore all the places to stay.
Best Areas to Stay in Lucerne, Switzerland
Altstadt (Old Town)
Altstadt may be one of Lucerne's oldest neighborhoods, but it's also one of its most vibrant. Known for its restaurants and shops, it's the perfect place for foodies, fashion lovers, and even sightseers to stay.
Many of the city's landmarks are just a short distance away. For example, the Richard Wagner Museum Lucerne is less than two miles from the neighborhood. The Lion Monument, which commemorates the Swiss Guards who fought in the French Revolution, is only around a 10-minute walk away.
This district is also convenient if you are taking the train in or out of the city, as it's within walking distance of the Lucerne Railway Station. You can also take the bus if you want to venture out of the neighborhood since Altstadt is well-connected to the rest of Lucerne.
As far as lodging is concerned, traditional hotels are the most common option. You can find both small inns and larger accommodations, so finding something to fit your travel group shouldn't be a concern. However, if you have a minimal budget, you may want to give yourself plenty of time to shop around for different deals.
Neustadt (New Town)
If you're a night owl, Neustadt might be the best area to stay in Lucerne, Switzerland. This district is known as the center for shopping and nightlife, and it's easy to see why. There's always something to do here with its numerous boutiques, shops, bars, and restaurants.
However, you don't have to stay out all night to appreciate what Neustadt has to offer. Staying here puts you within walking distance of some of the city's most beloved sites. The Swiss Museum of Transport is just over two miles away, and crossing Lucerne's famous wooden bridge gives you a great view of the Reuss River.
You can find a variety of lodging options in Neustadt as well. The most affordable are vacation apartment rentals and hostels. However, there are also traditional hotels you can choose from.
Keep in mind, though, that since it's in the heart of the city, the convenience of being able to get around easily means lodging is slightly more expensive here than in other areas. If you're traveling with a large group, you may want to consider staying in a different district.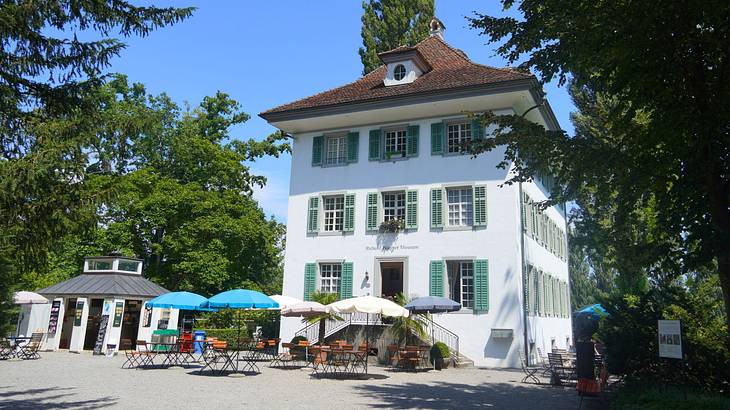 Tribschen
If you're a music lover, you should consider staying in Tribschen. Known as the home of the composer Richard Wagner during his time in this part of Switzerland, it's a beautiful and historic part of the city.
Even if you've never seen one of Wagner's operas, you might still enjoy your time in Tribschen since it's so close to many of the city's top sites. Chapel Bridge, one of Switzerland's greatest landmarks can be reached in 30 minutes or less on foot. Of course, you can also visit the Richard Wagner Museum, which is located in his former home. There are some small parks in this area to explore as well.
Lucerne is a relatively walkable place, so you can reach most places on foot, but Tribschen is well-connected if you'd rather rely on public transportation.
However, this convenience comes at a cost. Many of the area's lodging options are on the pricier side. Hostels are the cheapest choice, but even they can be expensive. So, make sure you give yourself plenty of time to shop around for a good deal.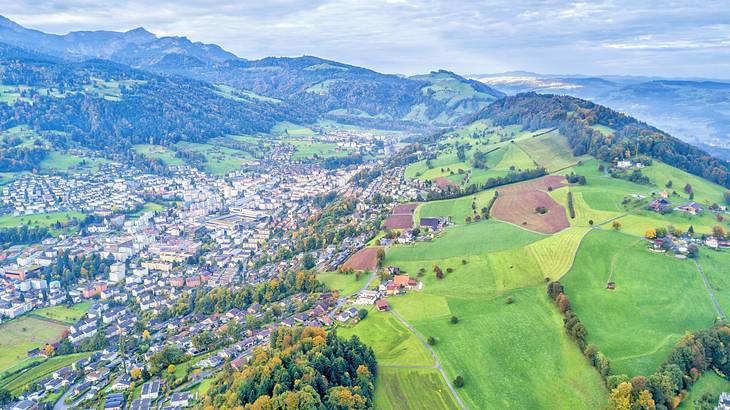 Littau
Littau is a rural neighborhood on the outskirts of Lucerne's main city. It's an excellent option for people who want to avoid bustling crowds and prefer to have a little peace and quiet when they wind down for the night.
Just because you're outside the main tourist districts doesn't mean you'll have a hard time seeing any of the city's major sites. The Musegg Wall and its nine towers are less than three miles away and give you a one-of-a-kind look at Lucerne's territory. If you'd consider yourself an art lover, you'll also be happy to learn the Kunstmuseum Luzern, a famous art museum, is also just a few minutes away by car.
Littau offers the benefit of being a more affordable option. Since it gets less tourist traffic, the demand for rooms is lower; you can find hotels and vacation rentals at lower prices than in other areas. However, you'll need to factor in the distance from other parts of the city. So, be prepared to rent a car, call taxis, or rely on the local public transportation system to get around.
Bruchquartier (Bruch Quarter)
If you ask locals, they'll tell you Bruch Quarter is the best location to stay in Lucerne. In recent years, it's become a beloved and trendy spot to get coffee, go for walks, and enjoy Swiss life. You can find a mix of locally-owned independent bars, boutiques, and residential homes throughout the area. This authentic ambiance is perfect for diving into the local culture.
While there's plenty to do in this area, you can also easily venture to other districts. The natural wonder Glacier Garden is nearby, and if you have a car, you can drive about 30 minutes to Lake Lucerne. You can even end your evening by taking in a show at one of the local entertainment venues.
However, Bruch Quarter's trendy appeal has caused it to become a more popular tourist destination. So, the demand for hotel rooms has skyrocketed. Though there are numerous stylish and independent hotels in this part of the city, they aren't the most affordable. So, ensure you have a flexible budget if this seems like the perfect neighborhood for your vacation.
Where to Stay in Lucerne, Switzerland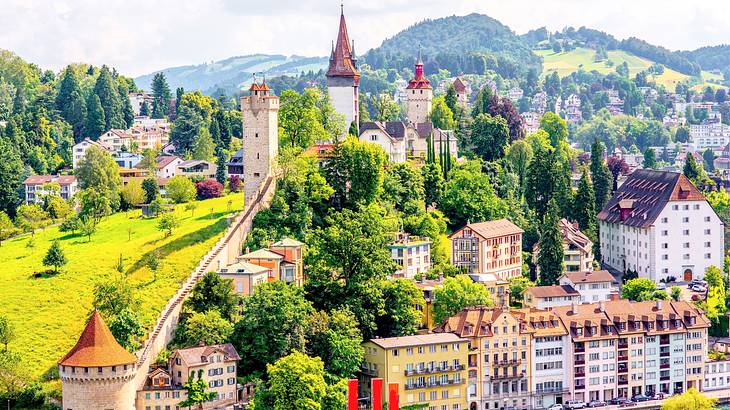 Where to stay in Lucerne for first-timers?
Altstadt, or Old Town, is the best place to stay if you're visiting Lucerne for the first time. It's the most historic area, so it has access to some of the most important sites. For example, the world-famous landmark Chapel Bridge, which is the oldest covered bridge in Europe, is just a short walk away.
However, if social media influenced your decision to visit Lucerne, you're likely picturing Bruch Quarter since it's the trendiest neighborhood in the city. This vibrant neighborhood is the perfect place to stay if you want an authentic idea of life in Switzerland while visiting.
If Lucerne is just one stop on a larger European trip, consider staying near the train station as well. Pilatusplatz, for example, is an excellent neighborhood with affordable lodging options. These areas are also near Altstadt, so the historic sites are just a short walk away.
Lucerne is a really well-connected place regarding its bus system, and most neighborhoods will have multiple stops. So, no matter where you stay for your first trip to Lucerne, you'll be able to get around easily.
Where to stay in Lucerne with family?
If your primary concern as a family is to save money so that you can use more of your budget for experiences, Littau is the place to go. This district is on the outskirts of town, so it tends to be cheaper than more central areas. Though make sure to familiarize yourself with the public transportation system or consider renting a car to get around.
Bruch Quarter is another district to consider if you're visiting with teens or younger adults. It's one of the trendiest spots around, so you and your travel party can take plenty of pictures for social media. It also has some of the best cafes and restaurants in town.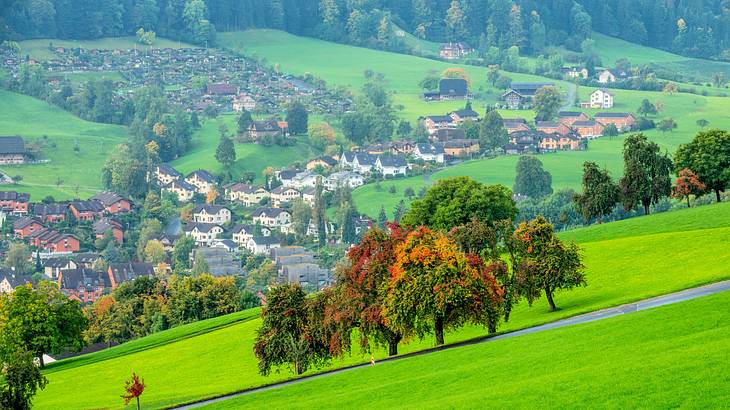 Where to stay in Lucerne on a budget?
Lucerne isn't known for being an affordable destination, so you'll want to ensure you have a flexible budget, no matter where you say. However, some neighborhoods are generally cheaper than others.
Littau is one of the cheapest places in Lucerne because it's one of the least centralized. Since it used to be a separate town, it's still a bit on the outskirts of the city. While that means you'll need to take a bus or car to see some of the major sites, you'll also be able to save on your hotel stay in the process.
Staying in Littau also gives you an excellent opportunity to trek a little outside of the town's limits for your daily excursions. If you have a car, Mount Pilatus is just a 20-minute drive away. You're also near Lake Lucerne if you want to spend time by the water.
Where to stay in Lucerne for nightlife?
If you want to enjoy top nightlife while on vacation, Neustadt is the best place to stay in Lucerne. This district's name literally translates to "new town," so it's where you'll find the most modern establishments, like late-night restaurants and clubs.
Neustadt is also located in the heart of the city, so its central location makes it perfect for sightseeing during the day without having to venture too far from your hotel. So, it's a great way to experience the city's daytime and nighttime cultures.
It's important to remember that Lucerne's main tourist season lasts from June through September. So, if you visit during those months, crowd levels will be at their highest. However, more establishments are likely to be open late to accommodate the influx of guests.
In Summary
Clearly, Lucerne has no shortage of options when it comes to places to stay. From the vibrant nightlife of Neustadts to the culture of Tribschen, there are things to do and see all over the area.
If you've been looking to answer the question: "where should I stay in Lucerne," this list should have helped you figure out which neighborhood to call home while visiting. All you have to do now is book your trip!
Give us feedback about this article
Read more articles about Switzerland:
More articles about places to stay:
---
---
Want to keep exploring?
Subscribe for discounts on tickets and hotels and our latest guides.
Thank you for subscribing
We will be in touch soon with discounts on tickets and hotels and our latest guides.
Want to keep exploring?
Subscribe for discounts on tickets and hotels and our latest guides.
Thank you for subscribing
We will be in touch soon with discounts on tickets and hotels and our latest guides.
Related Articles