20 Best Beach Towns in California to Visit
Destguides may receive commissions from purchases made through affiliate links in this article.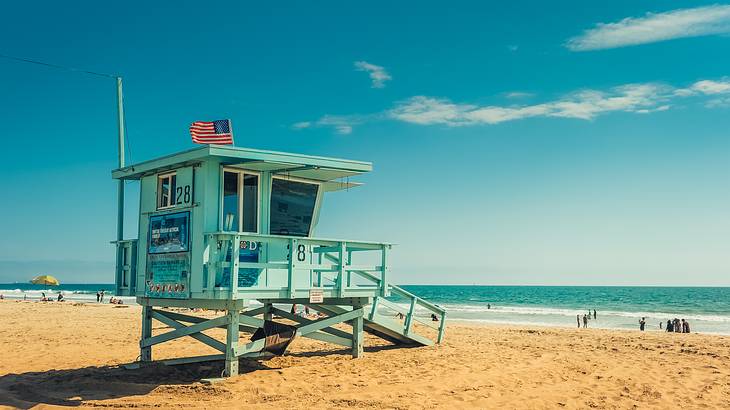 From sunny SoCal to the moody skies of the Pacific Northwest, California's beach towns have something to offer everyone. Surf shacks, fine dining, quirky markets, people-watching, and people-escaping are all time-honored traditions here.
But each nook and cranny along the expansive coastline has a distinct personality to it, which may leave you wondering where to begin. This list of the 20 best beach towns in California will either help you find a favorite or give you itinerary ideas for an epic road trip. Continue scrolling to learn more!
20 Best California Beach Towns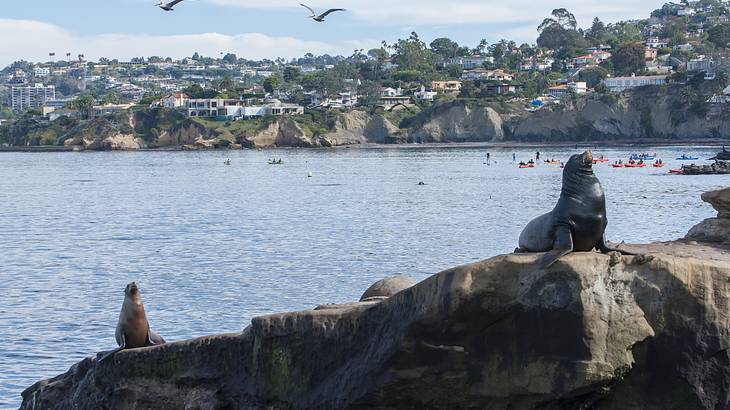 La Jolla
About fifteen minutes from Downtown San Diego, the upscale beach town of La Jolla inhabits a craggy coastline with no shortage of seafood, steakhouses, international fare, and vegan creations. These dining options are often paired with sweeping views of the Pacific, Michelin ratings, or both.
With a full belly, head to La Jolla Cove, one of the famous landmarks in San Diego, to see seals and sea lions. Or, take a short trip north to Torrey Pines State Natural Reserve where you can catch migrating humpback whales, desert foxes, and plenty of cacti.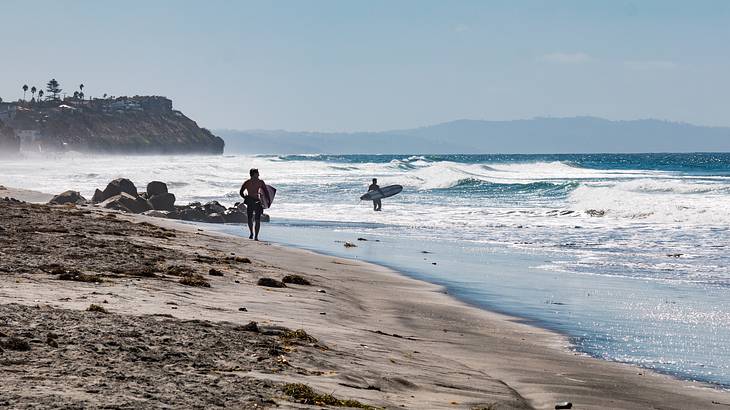 Encinitas
Encinitas is one of the original surf towns in California and has attracted beach bums and misfits alike for nearly a century. The resultingly eclectic town is famous for inspiring Beach Boys songs and for its midnight picnics at Moonlight State Beach.
Downtown Encinitas is home to boutiques and cafes intermingling with century-old buildings, giving it a satisfyingly bohemian feel.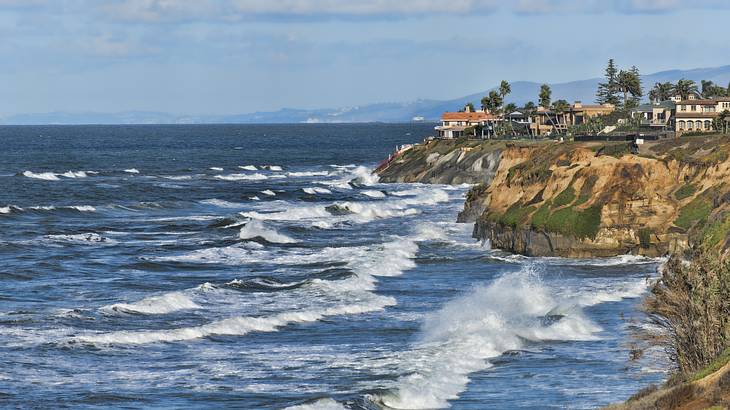 Carlsbad
About halfway between San Diego and Los Angeles, you'll find the town of Carlsbad. It's a resort community with a European feel, and the addition of Legoland makes it a great stop for families and grown-up kids alike.
For the outdoorsy types, enjoy scuba diving, snorkeling, surfing, and even some beach camping along the protected coastline and warm waters of Carlsbad State Beach.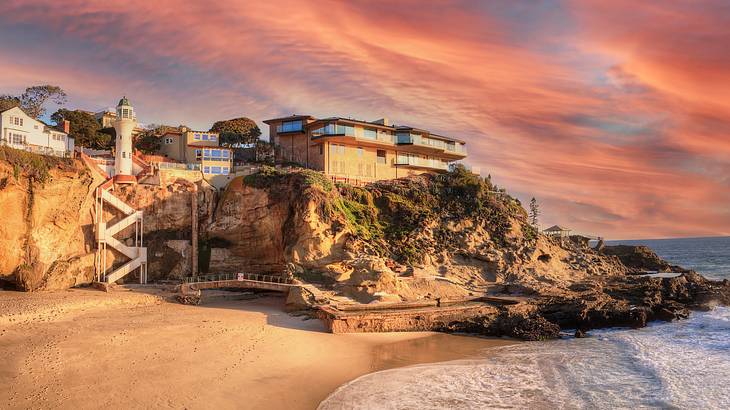 Laguna Beach
Moving further from San Diego towards Los Angeles and into Orange County, the next of the coastal California towns is Laguna Beach. For many, its equidistance between the two megacities of the West Coast makes it the ideal combination of comfort, convenience, and getting away from it all.
Thousand Steps Beach in South Laguna Beach may sound intimidating, but in reality, only about two hundred stairs line the path down to the shore. This beach is also one of the fun free things to do in Orange County, California.
If you want to get even further away, Laguna Beach gives you easy access to both Corona del Mar State Beach Park and Crystal Cove State Park.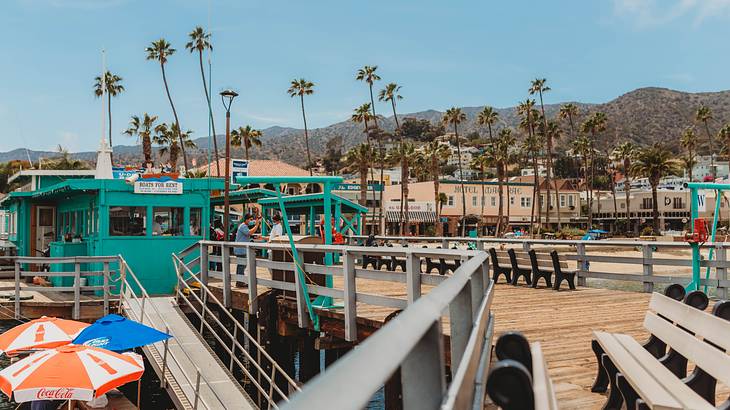 Avalon
For time away from the mainland, catch a one-hour ferry from Dana Point or Long Beach to get to Avalon on Santa Catalina Island. There's a romantic, old-world charm here, and it's small enough that visitors mostly get around on foot or in rented golf carts.
Jeep tours are available if you want to see Catalina's unique landscape and wild bison, and you can even board a submarine to explore the aquatic life surrounding the island Check out tour options, pricing, and availability.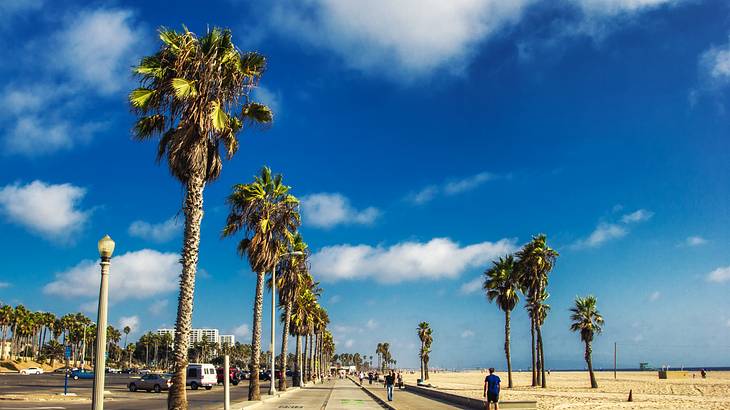 Venice Beach
Venice Beach and its world-famous boardwalk are cultural staples of the Los Angeles area. It was created as the "Coney Island of the West" but has transformed into something altogether unique.
Once you're done exploring this lively boardwalk and famous Los Angeles landmark, you can head to Abbot Kinney Boulevard for a shopping mecca. The restaurants, retail outlets, and trendy boutique shops will allow for nearly endless days and nights here without repeating the same stops.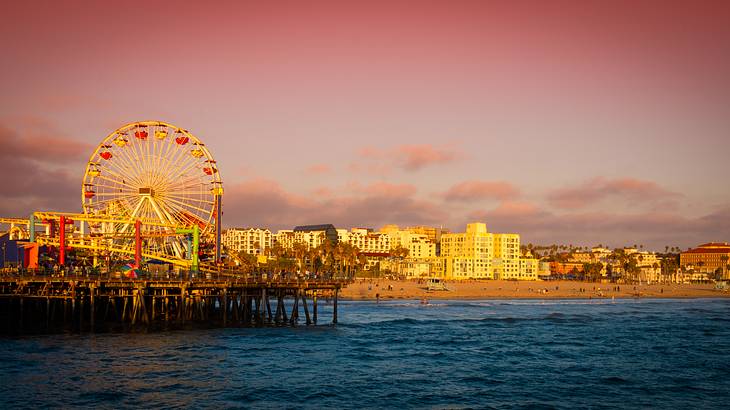 Santa Monica
Santa Monica is the last of the Los Angeles, CA beach towns to see on this list. Once you arrive, you probably won't need your car anymore in this highly walkable town, and its bike paths offer twenty-two miles of roaming.
Be sure to stroll down to Santa Monica Pier, a famous California landmark, for the amusement park and concessions. Or, just head there to catch the sunset over the Pacific Ocean before venturing out after dark for the bustling nightlife.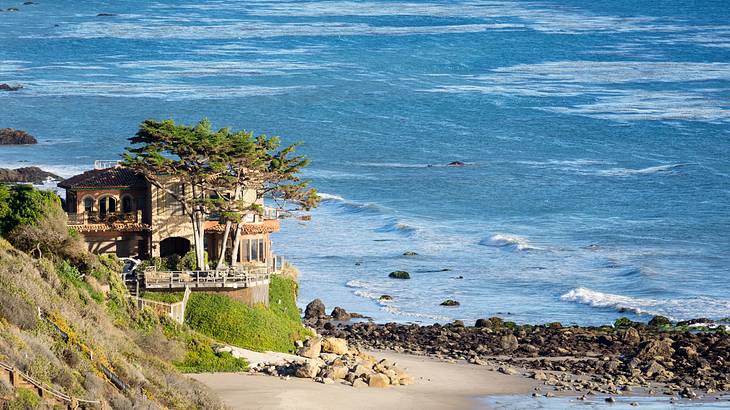 Malibu
Nestled between the Santa Monica Mountains and the Pacific Ocean, you'll find the picturesque town of Malibu. Its status as a surfing capital and a neighborhood of choice for celebrities make it an exciting destination in Southern California.
For some more seclusion, take a quick trip past the surfers at Zuma Beach to reach Matador State Beach Park. You'll find hiking, sunbathing, and snorkeling opportunities, but the rocks make swimming dangerous.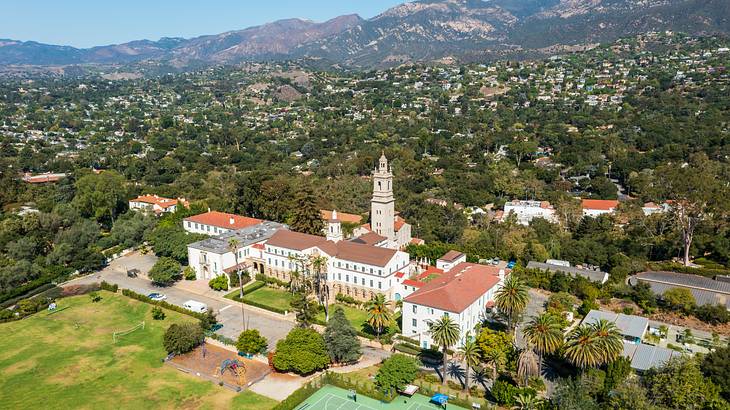 Santa Barbara
Santa Barbara's history stretches back to the founding of the Mission Santa Barbara in 1786 by the Franciscan Friars.
The Old Mission still remains active, with the kiosks along State Street Promenade and renowned art exhibits joining it as popular destinations. It is one of the fun things to do in Santa Barbara.
You can also enjoy the city's own beaches; head to the nearby Arroyo Burro Beach or take an hour-long ferry ride to Channel Islands National Park.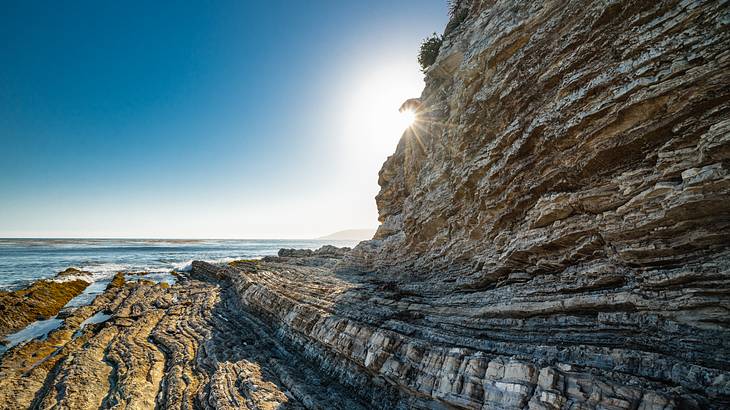 Pismo Beach
In Pismo Beach, you can take a docent-led hike through the Pismo Preserve, go golfing at nearby Avila Beach, or try your hand at clamming, though finding any large enough to keep has been unlikely for decades now.
If you happen to arrive between November and February, you'll be migrating with Monarch butterflies escaping the cooler weather of Northern California. They make their seasonal home in the Eucalyptus trees of the aptly named Monarch Butterfly Grove.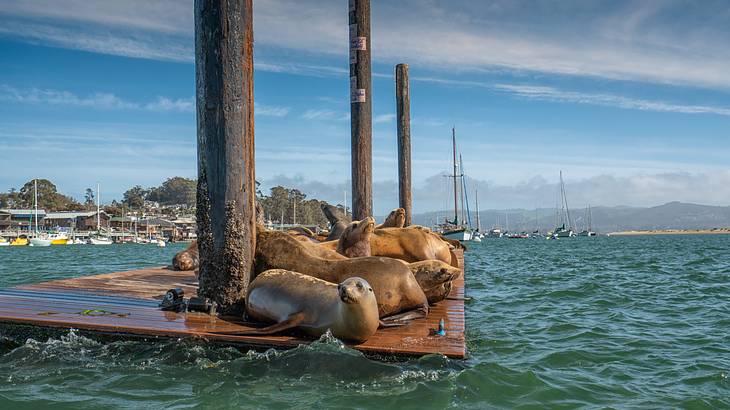 Morro Bay
Morro Bay is among the smaller of the CA coastal cities on this list and offers a slower pace of enjoyment. Scuba divers can take a quick boat ride to explore the bay's teeming kelp beds and vertical sea walls and easily be back in town for lunch.
The "Mural Mile" is another great way to meander through this beach town, taking a self-guided tour through artworks that depict the history and culture of the town.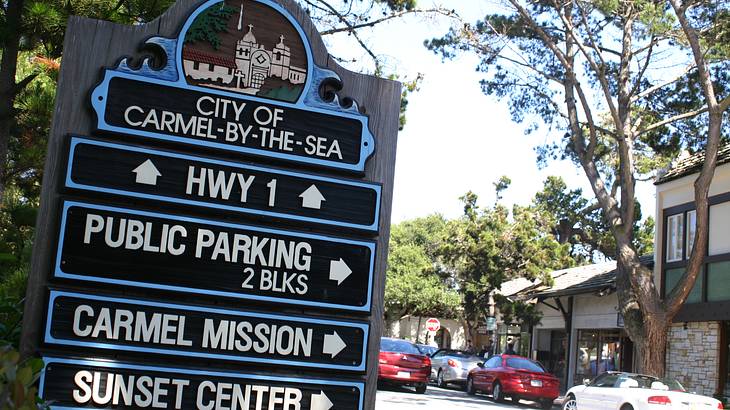 Carmel-by-the-Sea
Carmel-by-the-Sea is perhaps most famous as the town that Clint Eastwood once "Mayored," in real life, and this one-square-mile town really packs in the architectural charm.
Good thing it's small, too, as the lack of street addresses would otherwise make it difficult to find the many inns and restaurants that populate its largely cobbled walkways.
Add that it's a great launching point to Pfeiffer Beach in Big Sur and Point Lobos State Natural Reserve, and a trip here is a no-brainer.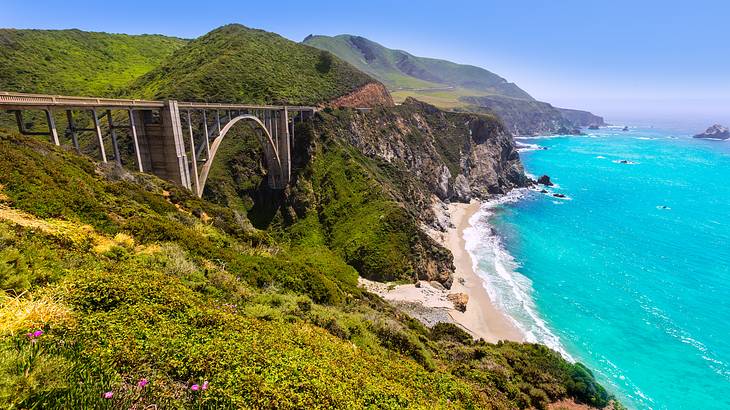 Monterey
Crossing into Northern California and cooler climates, Monterey beachgoers are less likely to go for a swim but are compensated with a rugged, rocky beauty on the often-foggy coast.
The more temperate weather also marks this as the beginning of California's wine country, and wine tours in nearby Salinas Valley are a must for connoisseurs and enthusiasts alike. Popular attractions also include the Monterey Bay Aquarium, a fun thing to do on California's Central Coast, and Cannery Row.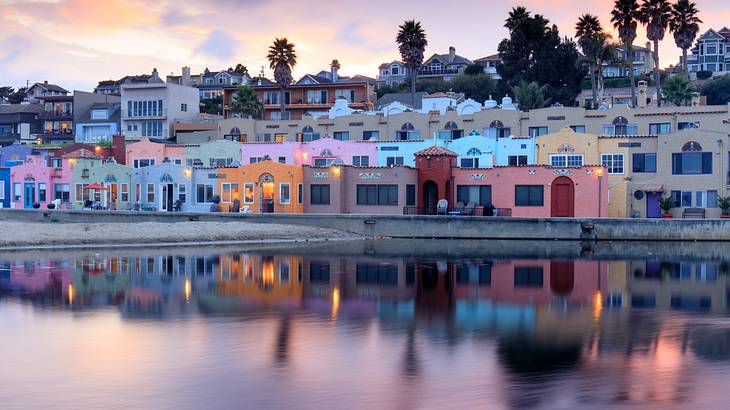 Capitola
The colorful Capitola is the next of the California coastal towns you'll want to see. This once small town has grown into the larger Santa Cruz urban area, and it is known for its brightly-painted adobe seafront buildings.
It's more than just a pretty postcard or social media posing location, though. Outdoor movies and concerts are staples of the warmer months, so do your research to see what you can catch.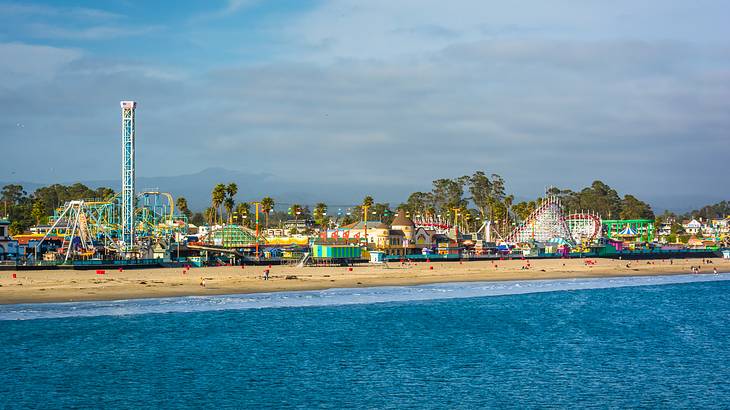 Santa Cruz
At the far northern end of Monterey Bay, you'll find the quirky Santa Cruz. Along with many smaller, hidden beaches, Santa Cruz has a city beach that provides a carnival atmosphere.
When you're finished with the rides and games, you can go exploring its thriving streets steeped in history and thick with eateries. The eclectic combination of modern and colonial-style architecture makes it a journey for the eyes as well as the stomach.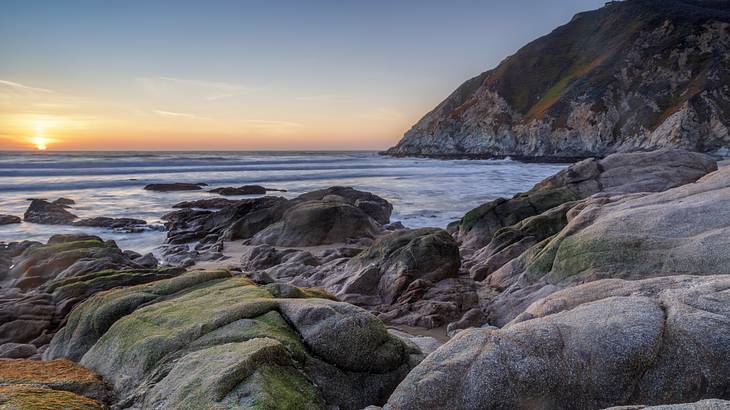 Half Moon Bay
Half Moon Bay is further up the Pacific Coast Highway and into San Mateo County. Its proximity to San Francisco makes it a popular getaway from city life and offers heaps of outdoor fun.
Visitors can go horseback riding, bird-watching, SUP boarding, or just take a spa day in town. Photography enthusiasts will have a blast here seeking views of its dramatic cliffs descending into the beach and ocean.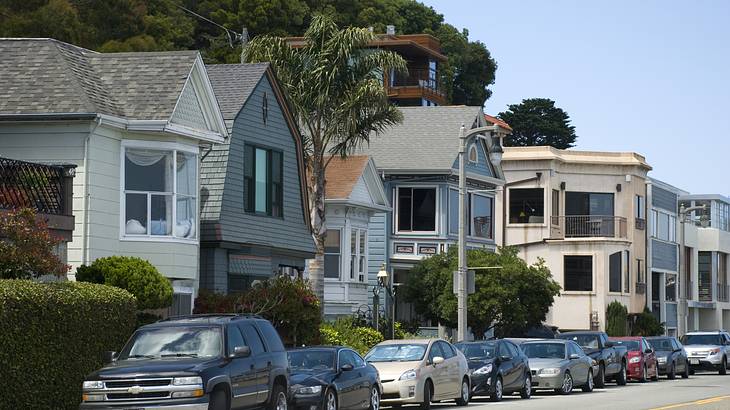 Sausalito
Protected from the sprawl of San Francisco by the Golden Gate National Recreation Area, Sausalito has maintained a small-town identity. It's one of the coastal towns in California that manages to be both busy and relaxed, thanks to its low population and a steady stream of day-trippers.
It's worth a trip across the iconic Golden Gate Bridge, one of North America's famous landmarks, to sit in one of Sausalito's many seafood restaurants, gazing upon the notorious Alcatraz Island between you and San Francisco.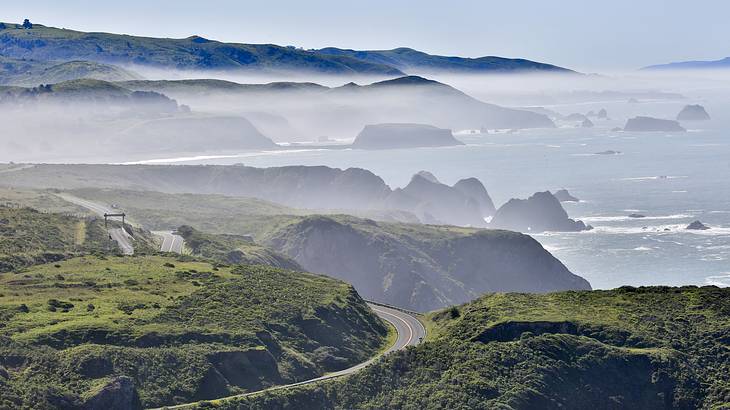 Bodega Bay
Getting further into Northern California, there are now some truly remote towns on the coast of California. Bodega Bay is just such a beach town, with little around it but the ocean, nature trails, and of course, the Sonoma Coast vineyards.
If mixing world-class wine with Pacific panoramas ever gets old, Point Reyes National Seashore is an easy trip south along Route 1.
Fort Bragg
The moody coast of Fort Bragg is great for nature lovers. Beachcombers will love the menagerie of colorful stones on Glass Beach, and woodsy types can hop on "Skunk Train" to see the local redwood forest.
The redwoods through here are not as massive as the sequoias in Kings Canyon National Park, but this region's forests do host "Mendocino," which have been ruled the world's largest tree until 2000, at a neck-aching 368 feet skyward.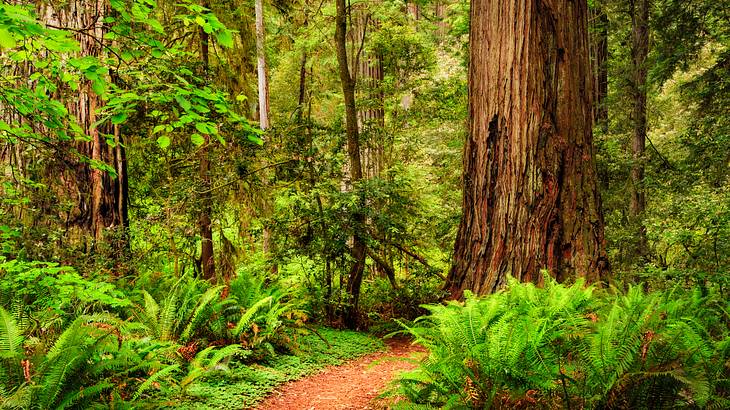 Crescent City
Finally, the northernmost of the California coastal cities on this list is Crescent City, near the border of Oregon. In-and-around the town, you'll find Crescent Beach, Pebble Beach, and the historic Battery Point Lighthouse, built in 1855.
Crescent City is also at the doorstep of both Redwoods National Park, a popular West Coast national park, and the 10,000-acre Jedediah Smith Redwoods State Park, the latter of which was declared a UNESCO World Heritage Site for its concentration of old-growth redwoods.
Conclusion
There are far more beach towns to see in California, but this sampler should have something for everyone.
It's easy to switch any of the beach towns on this list with some of the day trips or activities mentioned within them, so go have some fun and enjoy the cities in California by the beach!
Give us feedback about this article
More visual stories related to this article:
Want to keep exploring?
Subscribe for discounts on tickets and hotels and our latest guides.
Thank you for subscribing
We will be in touch soon with discounts on tickets and hotels and our latest guides.
Want to keep exploring?
Subscribe for discounts on tickets and hotels and our latest guides.
Thank you for subscribing
We will be in touch soon with discounts on tickets and hotels and our latest guides.