Where to Stay in Death Valley - 10 Best Areas
Destguides may receive commissions from purchases made through affiliate links in this article.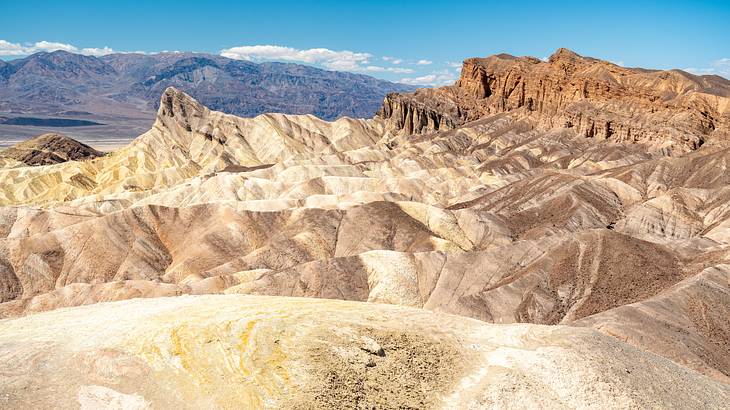 Death Valley is a marvelous desert region located in Southern California. Death Valley National Park attracts visitors from all over the world. It is known for spectacular stargazing, scenic hiking, and geological features.
The park itself is massive and offers much to explore. Picking the right spot to stay in can be confusing, with so many options at your fingertips. When choosing where to stay in Death Valley, it is crucial to consider three factors; how close you would like to be to the park, what type of accommodation you prefer, and your budget.
Luckily, Death Valley National Park and the surrounding areas provide travelers with a plethora of excellent options. To help you decide which area is the ideal fit for your travel goals, continue to read about the best places to stay in or around Death Valley.
10 Best Places to Stay in Death Valley
Best Areas to Stay in Death Valley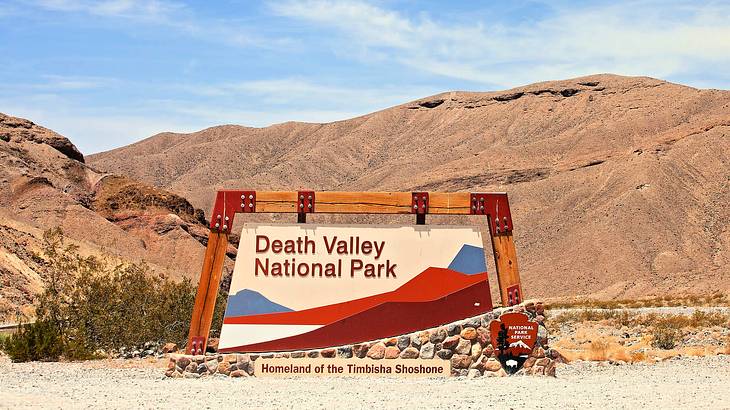 Death Valley National Park
If you want to be in the heart of the action, a stay inside the Death Valley National Park is in order. Death Valley is a popular California landmark that attracts visitors from all over the world.
The park has three hotels: The Inn at Death Valley, the Ranch at Death Valley, and the Stovepipe Wells Village Hotel. The Inn and the Ranch are both very central to the main attractions, such as popular hiking trails.
If you prefer to camp, Sunset Campgrounds is one of the best campgrounds in Death Valley. Pricing is affordable, there are almost three-hundred sites, and it is centrally located. The views that you will wake up to are also spectacular.
Located in the park and near accommodation options is Furnace Creek Visitor Center, which provides visitors with valuable resources. From here, you can visit popular park destinations such as Zabriskie Point or the Mesquite Flat Sand Dunes.
Best Places to Stay Near Death Valley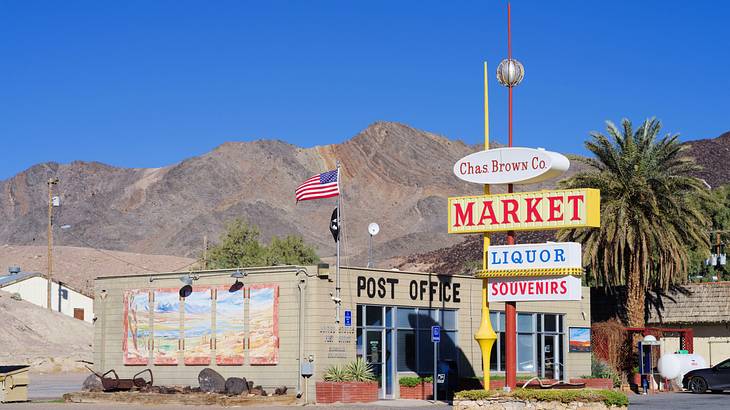 Shoshone
Shoshone is a small desert town nestled near the southern entrance of Death Valley National Park. The charming area located along Highway 178 offers travelers plenty to do on their way through.
Shoshone offers many amenities like restaurants, stores, and even a post office. Of course, it also has easy access to the park. If you plan to stay in Shoshone, the local campground, Shoshone Village, has twenty-five RV park spots and an area designated for tent campers. There is a small inn as well, and prices for all accommodation types are affordable.
All guests can also access a natural warm spring pool during their visit. You can additionally get food and other supplies at Charles Brown Market.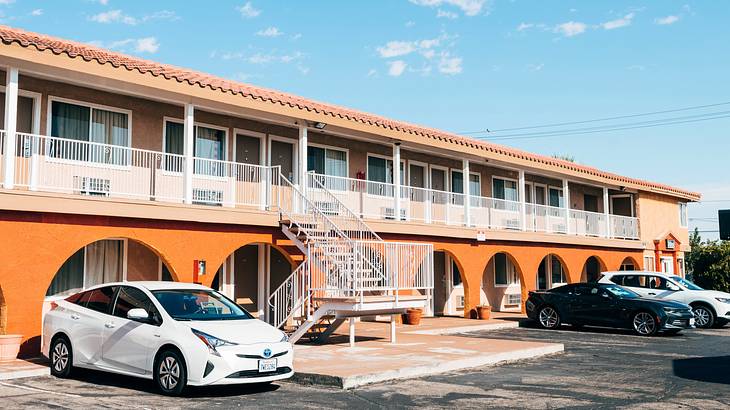 Ridgecrest
Located near the eastern edge of the Sierra Nevada Mountains roughly a two-hour drive from Death Valley, the quaint town of Ridgecrest provides travelers easy access to many outdoor activities.
The charm of the area and friendly locals will make you feel right at home. Local hotels are budget friendly for savvy travelers. The scenery is also stunning; dark skies line the evening horizon and set the perfect scene for stargazing after a long day of exploration.
Ridgecrest is where to stay outside Death Valley if you want to be close to multiple parks, such as Sequoia National Park and Joshua Tree National Park, but do not want to compromise the feel of setting up basecamp in a small town.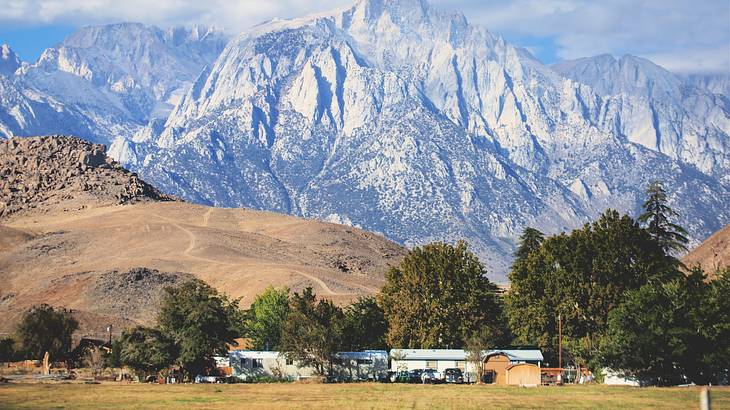 Lone Pine
Lone Pine is located in Inyo County and home to the famous Mount Whitney. An interesting Califonia fact is that Mount Whiney is the highest peak in the United States in the lower 48 states. This region offers gorgeous scenery and an old-western atmosphere.
A stay in Lone Pine means you must visit the Museum of Western Film History, which contains world-class exhibits. Along with a slice of Hollywood history, this full-service location also offers excellent motels, stores, and restaurants. All amenities are affordable as well, with many budget-friendly options.
Lone Pine is where to stay when visiting Death Valley if you want to experience multiple parks. The drive to the park's western entrance takes approximately two hours, depending on road conditions.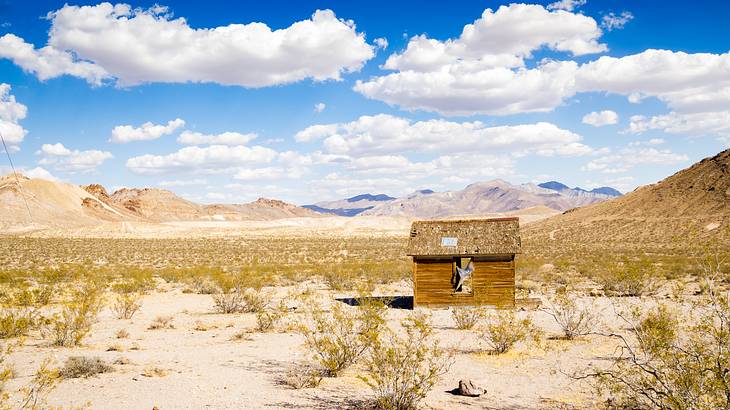 Beatty
Beatty is a small rural town in Nevada that is located only 10 to 15 minutes outside of Death Valley's entrance. Because of its proximity, it is referred to as the "Gateway to Death Valley." With a population of around one thousand people, Beatty is an intriguing place to stay.
Beatty is small but mighty, attracting visitors from all over the world. The famous Rhyolite Ghost Town is popular among tourists for its abandoned buildings and old-west vibes. Many travelers stay in Beatty because of its proximity to the park and its affordability. The hotel prices are much cheaper compared to staying inside the park.
Olancha
Just southwest of Death Valley National Park, close to Lone Pine, is the town of Olancha. With Death Valley to the East and the Sierra Mountains to the West, the views are absolutely breathtaking. It's about an hour's drive from Olancha to the Death Valley National Park.
Many visitors rave about the Fossil Falls Campground and Recreation Site for its natural beauty. Lake Olancha RV Park & Campground is another excellent destination for campers to either pitch a tent or park an RV.
The region offers motels as well for those who choose not to camp. Olancha is one of the best places to stay if you enjoy old-western vibes, beautiful scenery, and proximity to other parks like Sequoia National Park.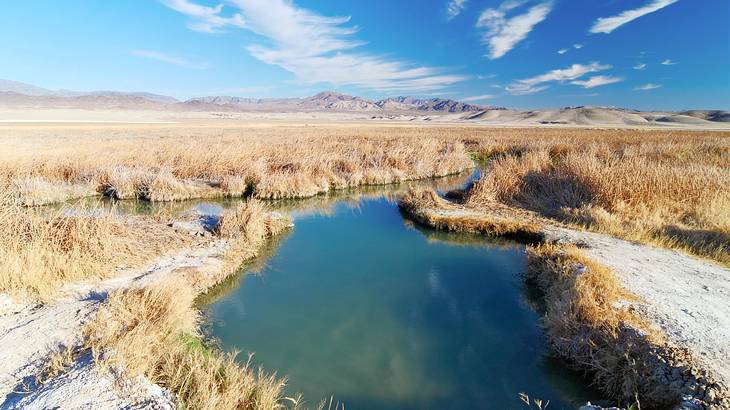 Tecopa
Tecopa is a small town that is approximately an hour south of the Death Valley Park entrance. The atmosphere is very quiet and remote, with limited cellular reception. This is where to stay around Death Valley if you prefer a remote location that still has much to offer.
Tecopa is known for its natural hot springs, famous breweries, and mouth-watering steaks at family-owned establishments. There are camping options as well as resorts, depending on what your budget is.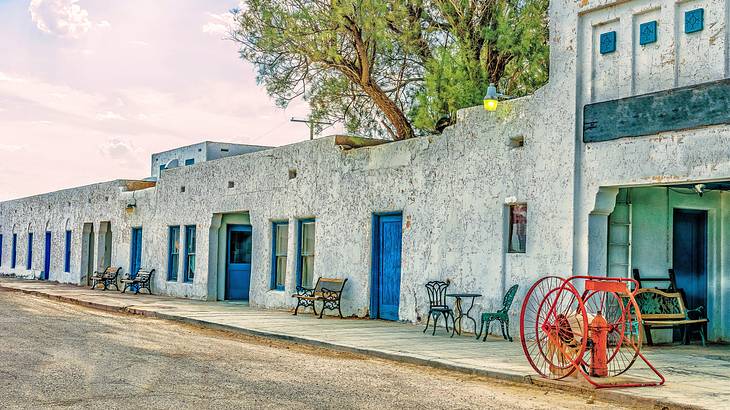 Amargosa
Armagosa is situated near Death Valley Junction, a small historic town just east of Death Valley National Park. Death Valley Junction is known for the historic Amargosa Opera House and Hotel.
Armagosa itself is an ideal place to stay when you want to be close to the park and all its wonders. When driving, you can reach the park in around 50 minutes to an hour. It is also not as well known as a tourist destination as some other areas, which means accommodations in Amargosa are comparatively inexpensive.
The natural beauty of Amargosa attracts travelers from all backgrounds, ages, and locations. From hiking to birdwatching, you will enjoy the region's natural beauty while remaining relatively close to the eastern entrance of Death Valley National Park. You can even visit the Area 51 Alien Center!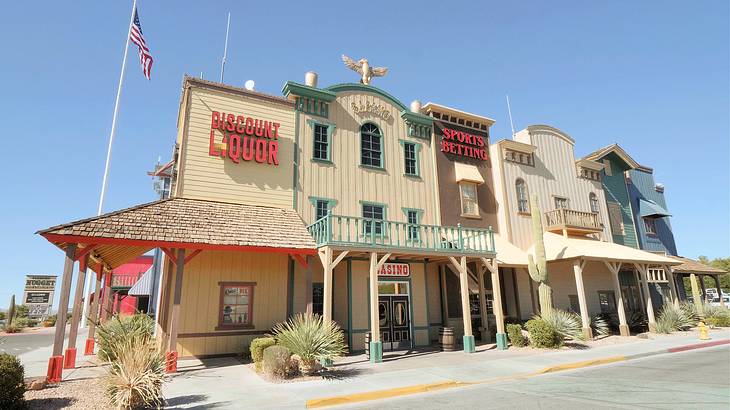 Pahrump
Nestled in Nevada, about an hour east of Death Valley National Park, is the region called Pahrump. This is an excellent location when looking for where to stay to visit Death Valley.
The proximity to the park as well as the attractions in Pahrump, make it ideal for families and those who like to stay active outdoors. There are also quite a few wineries here, making it a fun place to stay for a romantic break.
There are accommodation options in Pahrump for everyone. You will find somewhere in your budget, from inexpensive camping to flashy resorts.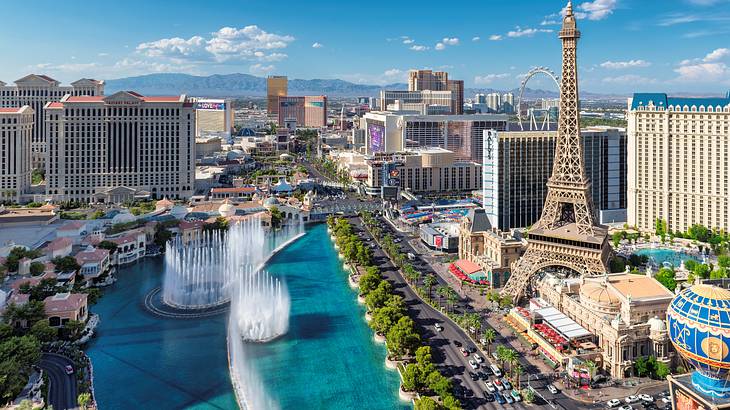 Las Vegas
The famous sights, sounds, and lights of Las Vegas are familiar to travelers from all over the world. The Las Vegas Airport (LAS) is a hub for popular airlines and is an ideal spot to fly into if you are looking for an inexpensive flight.
Las Vegas is located approximately two hours from Death Valley and is easily accessible with a rental car. If you decide to set your roots in Vegas, there are a variety of accommodation options ranging from inexpensive motels to luxury resorts and everything in between.
Within Las Vegas, there are a plethora of nightlife activities that will keep you entertained. Visit the world-famous Welcome to Fabulous Las Vegas Sign, try your luck at one of the many casinos, or simply enjoy a stroll down The Strip.
Where to Stay in and Near Death Valley, California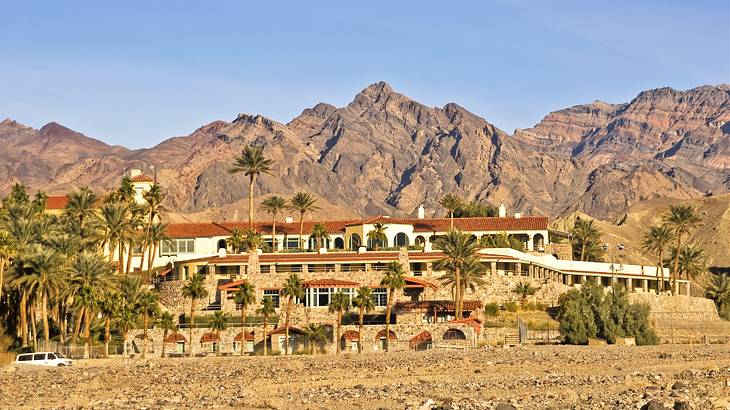 Where to stay in Death Valley with family?
Traveling with children can be a challenge, especially when deciding the location of your accommodation. Many families prefer a place close to their desired destination, meaning staying within the park is ideal.
There are family-friendly accommodations within Death Valley National Park that cater to families with various budgets. The Inn at Death Valley is a historic luxury hotel, whereas The Ranch at Death Valley is more budget-friendly.
These hotels offer comfortable hotel rooms, pristine pools, and easy access to food options, all essential features when traveling with children. You will love the easy accessibility to the park without compromising your family's comfort.
Where to stay in Death Valley on a budget?
Traveling to Death Valley on a budget is perfectly doable. Staying within the park is more expensive than staying in the surrounding areas. If you want to stay within the park, camping is an easy alternative to an expensive hotel.
However, if you want to stay outside the park to save even more money, Beatty is an ideal location. Beatty is a charming town with various accommodations, restaurants, and unique attractions.
It is an excellent choice for travelers looking to save money on their vacation. Beatty is approximately 10 minutes from the entrance to Death Valley, and the cost of staying in a motel is much less than booking something in the park.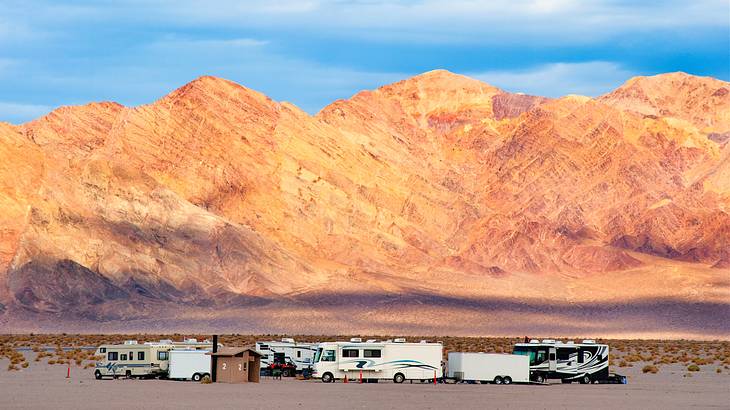 Where to stay in Death Valley for first-timers?
First-timers venturing to Death Valley will be in awe of the gorgeous scenery and natural wonders. There is a lot of beauty to soak in but also a lot of land to cover.
If you plan to spend most of your vacation at Death Valley, the best place to stay for a first-time trip is within the park. You will have the most time to explore the park as you don't have to commute back and forth to your accommodation and you'll also be near useful sites like the visitor center.
Alternatively, Las Vegas is one of the best places to stay around Death Valley National Park for first-time travelers who want to make a day trip to Death Valley. There are many activities to do in Vegas, and the city offers easy access to Death Valley and other outdoor attractions, like Red Rock Canyon National Conservation Area.
Where to stay in Death Valley for camping?
Camping in Death Valley is a wonderful experience for outdoor enthusiasts of all ages. However, there are a few factors to consider when planning a camping trip to the desert.
There are many excellent camping locations around the park, but if you want the full experience, it is ideal for camping within Death Valley National Park. There are nine different campgrounds to choose from, each offering its own unique charm.
Furnace Creek is the largest campground and is close to the visitor center. Another popular choice is Sunset Campground which is not far from the visitor center either.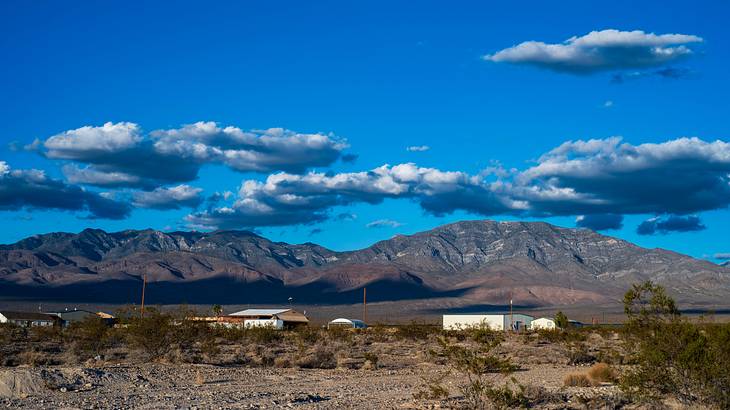 Where to stay in Death Valley for outdoor activities?
Outdoor lovers absolutely adore their time spent in Death Valley and the surrounding areas. There are a multitude of activities at your fingertips, such as hiking, wildlife viewing, and stargazing when the sun sets.
Residing within the park gives you the most easy access to the popular hiking trails and attractions within. However, if you plan on exploring beyond Death Valley, a stay in Pahrump may be in order.
The town offers outdoor activities such as dirt biking in the desert, hot air balloon rides, and much more. You also can access other scenic locations from Pahrump, such as the Spring Mountains National Recreation Area.
In Conclusion
Death Valley is a popular destination for travelers of all ages because of its natural beauty and spectacular scenery. The areas outside the park are also known for their character and landscapes.
When planning your trip, it is important to consider the best place to stay in Death Valley for your travel objectives. Accommodations are located inside and outside the park that host travelers of all budgets.
Each place offers its own charm, which is sure to make your experience in Death Valley unique. Whether traveling solo or with a group, you will have an unforgettable experience no matter where you stay.
Give us feedback about this article
More articles about California:
Read more articles about the United States:
More articles about places to stay:
---
---
Want to keep exploring?
Subscribe for discounts on tickets and hotels and our latest guides.
Thank you for subscribing
We will be in touch soon with discounts on tickets and hotels and our latest guides.
Want to keep exploring?
Subscribe for discounts on tickets and hotels and our latest guides.
Thank you for subscribing
We will be in touch soon with discounts on tickets and hotels and our latest guides.
Related Articles