Best Time to Visit Long Beach, CA for Weather, Prices, and Crowds
Destguides may receive commissions from purchases made through affiliate links in this article.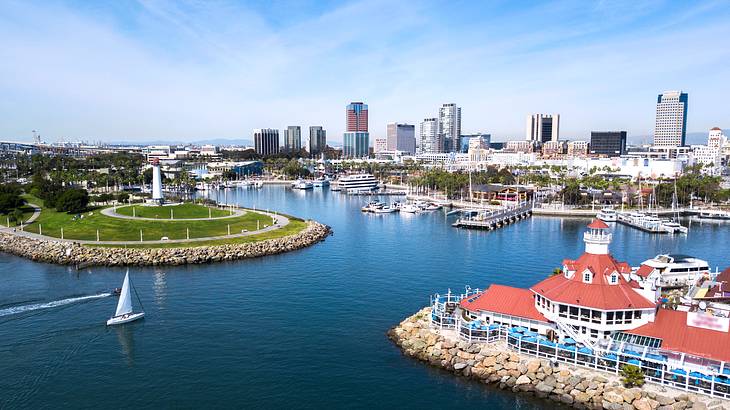 California's coast tops many people's travel wish lists, with Long Beach being a popular destination to check out. However, it can still take some planning to determine the best time to visit Long Beach, CA.
Summer (June to September) is hard to beat for the nicest weather. Temperatures hover between 77 and 84 degrees Fahrenheit and every day is sunny with clear skies.
However, budget travelers will want to plan a winter (December to March) trip. Flights are cheapest at that time of year, and hotels are often prone to lowering their rates. Crowd levels are generally manageable all year, however, weekends tend to be busier.
Ultimately, figuring out which time of year you should visit the "Aquatic Capital of America" will depend on your travel preferences. So keep reading to find out everything you need to know to plan your ideal Long Beach getaway.
Best Time to Go to Long Beach
Long Beach Best Time to Visit Tips Video
Check out our highlights video of Long Beach best time to visit tips.
Long Beach Vacation Planning Questions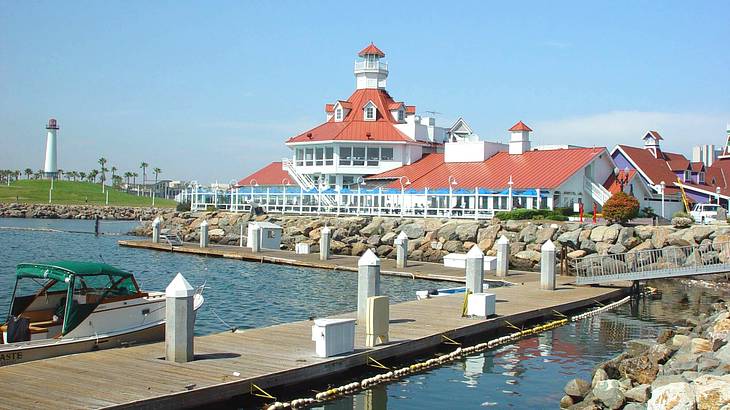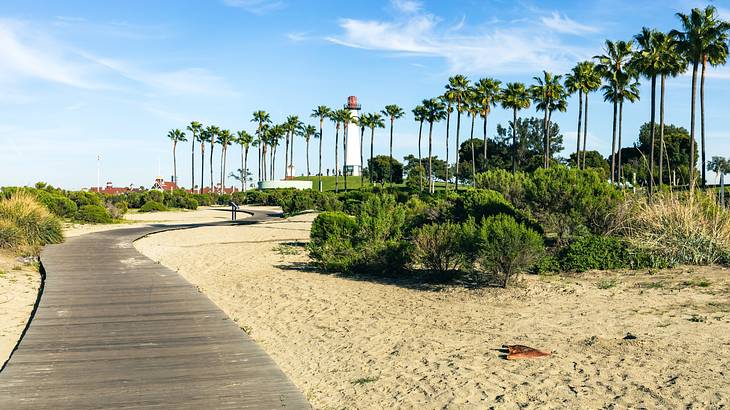 When is the best time to visit Long Beach, CA?
May to September is the best time of year to visit Long Beach. Surprisingly, not many tourists come to the area in the summer (June to September) months, so it's a relatively quiet time with few crowds.
Summer in Long Beach is warm and beautiful. Temperatures range between 74 and 84 degrees Fahrenheit, though nights will often cool to about 60 degrees Fahrenheit. Almost every day is sunny, with clear skies and no rain.
Long Beach can be expensive, but you can find deals on hotels throughout the summer season, especially if you avoid weekends and summer holidays like Independence Day.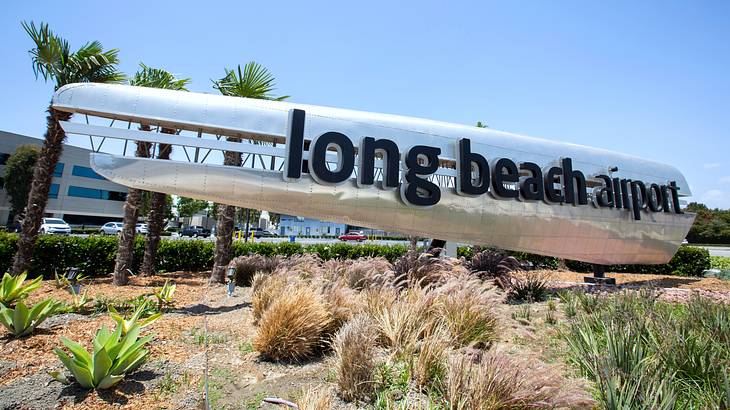 What are the closest airports to Long Beach, CA?
Five airports service Long Beach, the nearest being Long Beach Airport, just over four miles from the city center. However, Long Beach Airport is small, so you might find it easier to find flights at one of the other four nearby airports.
Los Angeles Airport (LAX) is about 20 miles away and is favored by international travelers. Alternatively, you could land at John Wayne Airport in Santa Ana, also approximately 20 miles away, or Hollywood-Burbank Airport, around 35 miles away.
If you don't mind going on a scenic drive along the coast, consider San Diego International Airport, about 100 miles away from Long Beach.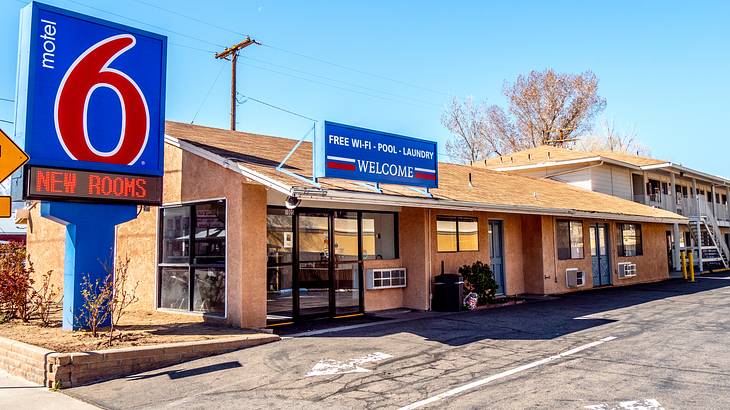 What are the cheapest motels in Long Beach?
Long beach has accommodation options to fit nearly any budget. If you're on a tight budget, a motel could be a good choice for an affordable stay.
Booking a room at Motel 6 in International City is a great choice. Or, stay at the Scottish Inns, which is centrally located. This motel offers amenities like free WiFi, and it's near several attractions and restaurants.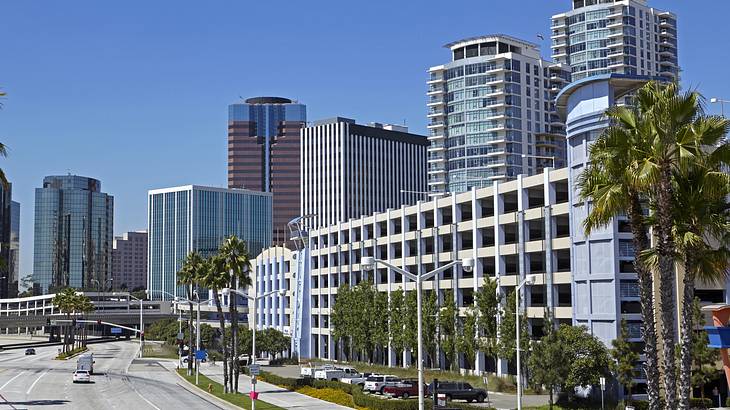 What are the cheapest hotels in Long Beach, CA?
There's no shortage of hotels in Long Beach. Lakewood Village, California Heights, and areas along the Pacific Coast Highway (PCH) are a few of the most affordable places in the city, but you can find budget-friendly accommodation all over.
Reserve a room at the Uptown Inn if you plan on spending most of your time exploring the city. The hotel has everything you need for an extended stay without costing a fortune.
The Cabana Inn & Suites is ideal if you visit Long Beach along the PCH. Each room has a coffee maker, WiFi access, and free guest parking.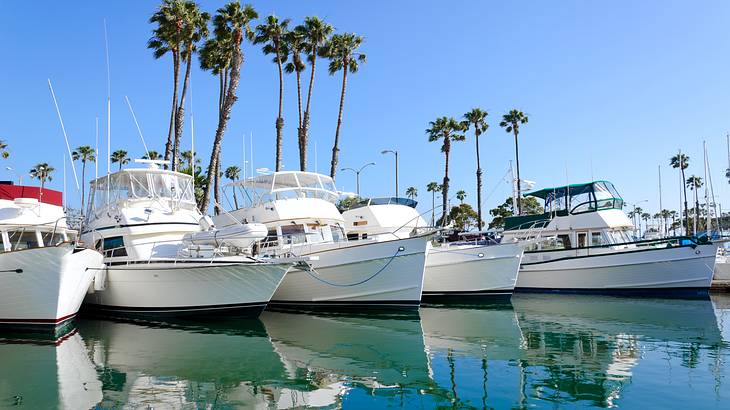 Where to get the cheapest cruises from Long Beach?
Long Beach is a popular departure point for cruises. If you want to go on a cruise, you can either stick to the California coast or venture out further, and cruise to Mexico or Hawaii.
Long Beach is home to one of the Carnival Cruise Line's main ports. As one of the most popular cruise line companies in the world, you'll be able to find deals at various times throughout the year. However, you could charter a smaller boat if you'd prefer a more customized experience. Of course, this is a more expensive option.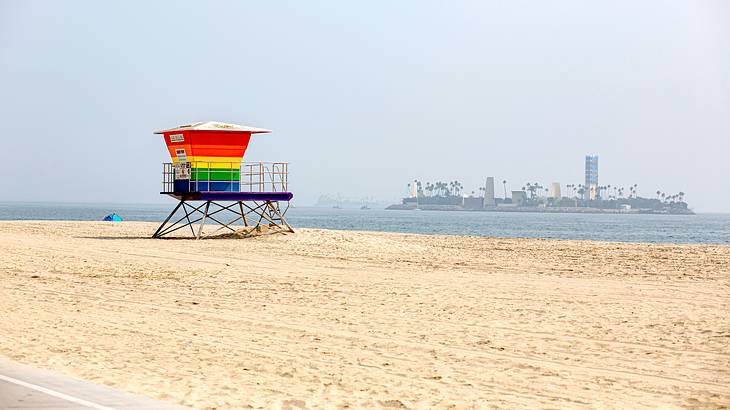 What is the best beach in Long Beach, CA?
Long Beach is famous for its long stretches of clean, white sand, and there are several beaches you can visit. However, some might be better suited to the kind of beach-goer you are.
Alamitos Park Beach is the best place to swim if you want to test the Pacific waters. The water is calm and warm, with gentle currents, and the beach is well-maintained. Seal Beach is the place to go if you're a surfer, with its consistent waves and clear water.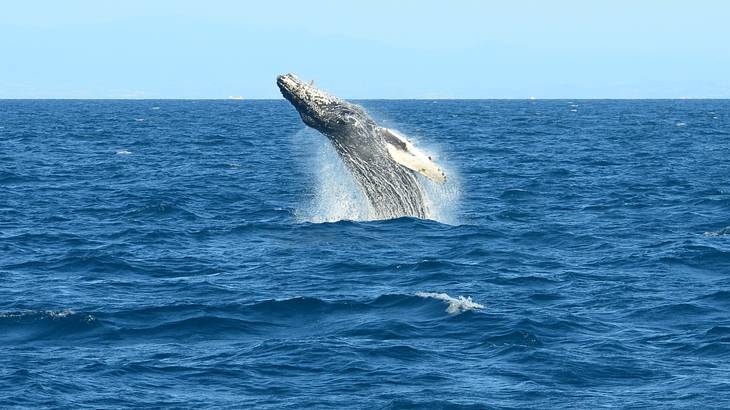 When is the best time to whale watch in Long Beach, CA?
No Long Beach vacation would be complete without whale watching. You can spot up to five whale species off the city's coast throughout the year.
The gray and humpback whales migrate through the area between January and April, but the blue and finback whales prefer the water between May and September. Minke whales are comfortable in the colder water between October and December.
You can often see whales breaching from the shore. However, to get a closer look at Long Beach's marine life, book a dolphin and whale adventure.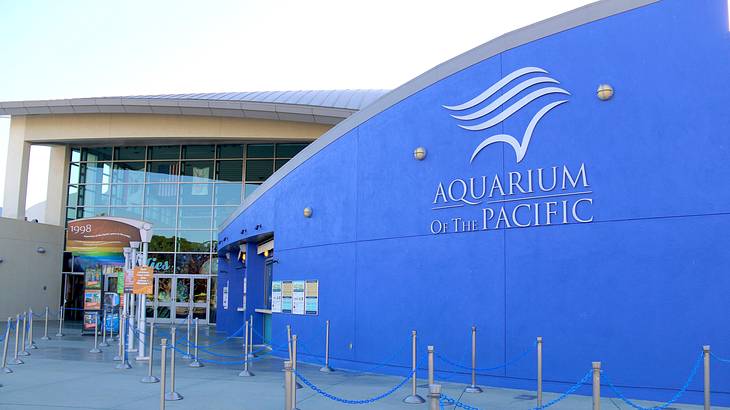 When is the best time to visit the Aquarium of the Pacific?
Summer (June to September) is the best time to travel to Long Beach to visit the Aquarium of the Pacific. This season is optimal because many of the animals housed there are more active during the warmer months.
The aquarium is popular with both tourists and locals, especially those with children. To avoid the crowds, plan your visit during the week and set aside at least three hours to explore the aquarium.
Lines to get tickets can be long, especially if you don't arrive near opening time. Pre-booking your aquarium admission to skip the queue is recommended.
Weather, Prices, and Crowds in Long Beach, CA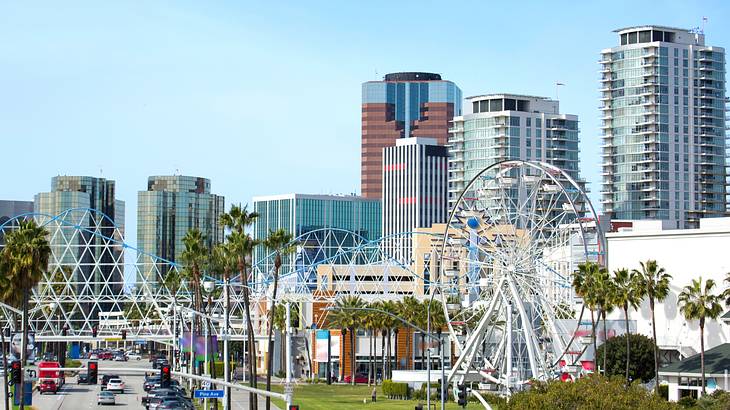 Long Beach in January
January is one of the coldest months in Long Beach; daily highs rarely exceed 68 degrees Fahrenheit, and nights can get as cold as 48 degrees Fahrenheit. The water is extremely chilly this time of year, so swimming or surfing isn't recommended without a wetsuit.
You will see tourists from much colder places visit Long Beach on weekends during their winters (December to March) to escape the cold, but generally, January does not have high crowd levels.
Despite the slightly cold weather, January is generally the cheapest time to fly to Long Beach. Do note that you can get even better deals on flights and hotel rooms if you make reservations a month or two in advance.
Long Beach in February
Long Beach's many fun date activities make it a popular spot for couples that are planning a Valentine's getaway in February. If you want to visit with your loved one, book well in advance to ensure you snag a hotel room during the week of Valentine's festivities.
If you want to book a budget-friendly getaway, plan a trip for the first or last week of the month when hotels and airlines have lowered their rates. Luckily, you shouldn't find it too difficult to navigate the crowds, and you can pre-purchase most admissions tickets to avoid lines.
February is the rainiest month in Long Beach, and you can expect precipitation about once a week, making the 68-degree Fahrenheit temperatures feel cooler.
Long Beach in March
March is one of the best times to visit Long Beach. The climate is mild, around 69 degrees Fahrenheit, with only four days of rain.
As schools around the country start letting out for spring break, the tourists will begin their descent into the city. For a brief respite from the crowd levels, get a bird's eye view of the city by taking a Long Beach helicopter tour.
If you make your travel plans early, you should be able to find travel options within your budget; however, last-minute getaways will eat up your dollars due to the elevated accommodation and flight costs.
Long Beach in April
Long Beach gets much warmer in April. The winter (December to March) rain has subsided, leaving 72-degree Fahrenheit days with plenty of sunshine.
However, April's weekends are full of tourists, so if you want to avoid large groups, plan your visit between Monday and Friday. Prices tend to follow the same pattern as the crowd levels. Weekend hotel stays and flights will cost more than those booked during the week.
Long Beach in May
May is generally the best time of year to visit Long Beach. The climate is ideal, and you can expect clear skies, no rain, and an average temperature of 72 degrees Fahrenheit.
Memorial Day weekend at the end of the month is busy, but crowd levels in the weeks leading up to the holiday are usually manageable; in fact, summer tourists are nowhere to be found as school is still in session, so most families aren't free to travel.
The price of flights rises steadily throughout the month. However, booking two to three months in advance should allow you to find cheaper options.
Long Beach in June
Though summer (June to September) doesn't start until the end of June, many seasonal businesses open for the season on the first day of the month. Farmer's markets are hosted regularly around the city, and beach shops have started opening their doors.
Since June is a popular month for travel, discounts on flights and hotel rooms are unlikely, so avoid booking a last-minute trip if you are visiting Long Beach on a budget.
Long Beach in July
July is a perfect time to visit Long Beach if you want to spend time outdoors. Nightly lows sit around 61 degrees Fahrenheit, and the daily highs are comfortably steady at 77 degrees Fahrenheit.
You can take advantage of the mild summer (June to September) nights by enjoying some of the city's after-sunset activities. For example, you can take an evening swan boat ride at Rainbow Harbor.
Crowd levels follow predictable patterns, with the weekends being busy. The exception is the week of Independence day which is hectic. However, the city calms down during the week. Accommodation prices will follow the same trend.
Long Beach in August
If you want to spend time on the sand, August is the best month to visit Long Beach. The weather is warm at 84 degrees Fahrenheit. Since it's late in the summer (June to September), the usually icy Pacific waters will be warm enough to allow for comfortable swimming.
August is the busiest tourist month as many families take their last vacations to the area before the school year starts again at the end of the month.
The advice for those wanting to travel in August is to always book early if you are on a budget. If you leave it to the last minute, you risk putting a severe dent in those holiday savings when spending on lodging and travel.
Long Beach in September
September is an option worth considering if you're trying to decide when to visit Long Beach. The month is on the cusp between summer (June to September) and fall (September to December) and has some of the best elements of both seasons.
Temperatures are warm, fluctuating between 64 and 84 degrees Fahrenheit, and rain is rare; even the Pacific Ocean's water is not out of the question to swim in.
After Labor Day weekend, crowd levels drop, even on weekends which usually have an influx of tourists. The low demand for lodging and plane tickets that accompanies lower crowd levels will also lead to steadily decreasing prices.
Long Beach in October
October has a lot to offer Long Beach's residents and visitors. For example, the Long Beach Oktoberfest is held at the beginning of the month every year.
Additionally, the weather is ideal for walking around and exploring the area. You can expect around 78-degree Fahrenheit temperatures and clear skies while in town.
High crowd levels are not a problem either, but expect an uptick on weekends, made up mostly of residents. Flight and accommodation costs continue to decline throughout the month, with the exception being Columbus Day weekend.
Long Beach in November
November has the potential to be the best time to visit Long Beach, but there are some things you'll want to keep in mind. These factors include the climate, crowd levels, and accommodation costs, which will adjust upwards as the month progresses.
November's average daily temperature is 73 degrees Fahrenheit; however, it's not uncommon to have 78-degree Fahrenheit days in the first half of the month and weather closer to 68 degrees Fahrenheit in the second half.
Crowd levels, on the other hand, increase throughout the month. The first two weeks of November are calm, but you'll notice an increase in tourists starting the week of Thanksgiving.
You'll see the cost of flights and hotel rooms rising during the month, culminating in the Thanksgiving weekend when tickets will be hard to come by. So book early to avoid disappointment if you have chosen November as the time you'd like to visit.
Long Beach in December
If you're looking for a December vacation spot, Long Beach deserves to be at the top of your list. Throughout the month, holiday events make this coastal city merry and great fun to be in.
The Naples Long Beach Boat Parade is held halfway through the month when boats are decorated with holiday lights and sail down the Naples Canals. Take an evening walk at parade time to enjoy this free Long Beach activity.
Since temperatures fluctuate between 46 and 68 degrees Fahrenheit, you won't have to deal with frigid temperatures while you attend the city's events. It also rarely rains, so you'll enjoy plenty of blue skies.
Do note that schools are on winter break in the second half of the month, giving families more travel freedom. Therefore, expect to see the locals and out-of-towners out and about enjoying the festive season in the city.
December is also a notoriously busy time for airports and hotels. As always, book early to ensure you find flights and hotel rooms to suit your budget.
In Summary
Thanks to its mild weather and manageable crowd levels, there's no wrong time to visit Long Beach. However, slight variables can make a world of difference on your trip.
Summer (June to September) brings the least rain and the warmest temperatures. If you're interested in admiring the local wildlife, animals will be most active at this time of year. On the other hand, winter (December to March) has the cheapest travel costs for visitors on a budget.
No matter when you decide to visit, this article can help you fine-tune the details for your Long Beach trip. Now all you have to do is book it!
Give us feedback about this article
Learn more about Long Beach:
More articles about California:
Read more articles about the United States:
More articles about best time to visit tips:
---
---
Want to keep exploring?
Subscribe for discounts on tickets and hotels and our latest guides.
Thank you for subscribing
We will be in touch soon with discounts on tickets and hotels and our latest guides.
Want to keep exploring?
Subscribe for discounts on tickets and hotels and our latest guides.
Thank you for subscribing
We will be in touch soon with discounts on tickets and hotels and our latest guides.
Related Articles