14 Long Beach Landmarks You Should Visit
Destguides may receive commissions from purchases made through affiliate links in this article.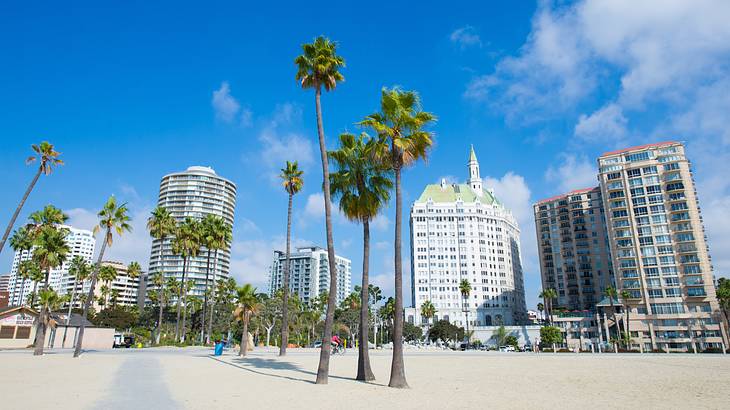 Long Beach is a coastal city and port in Los Angeles County, around 20 miles south of Downtown Los Angeles in Southern California. During a trip to the city, you'll find Long Beach landmarks everywhere!
The city is renowned for its waterfront attractions, like the Queen Mary and the kid-friendly Aquarium of the Pacific. You could also visit the Long Beach Museum of Art and its newest museum, the Pacific Island Ethnic Art Museum (PieAM).
Additionally, visitors can go downtown to the Broadway Corridor, where you'll find a plethora of great restaurants, coffee shops, and specialty stores. However, these are just a few of the great sites to visit; keep reading to learn more about the top landmarks you must see when in Long Beach.
14 Long Beach, CA, Landmarks
Long Beach Landmarks Video
Check out our highlights video of Long Beach landmarks.
Long Beach Landmarks Map
A map of Long Beach landmarks. Use the map to explore all of the points of interest.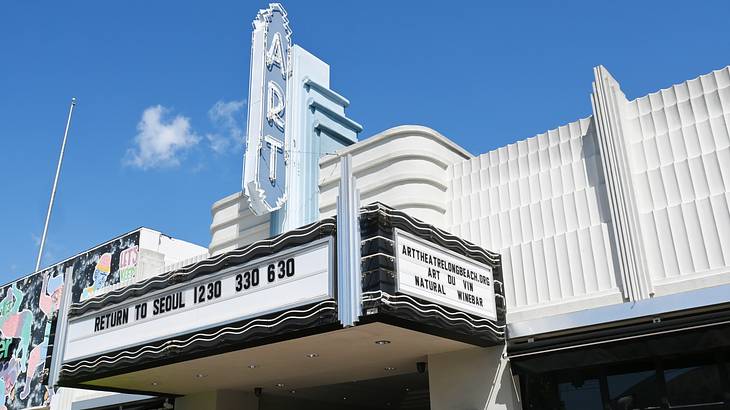 Art Theatre of Long Beach
Originally built in 1924, the beautifully restored Art Deco style Art Theatre of Long Beach in "Retro Row" is the last independent theater in the area. It airs big box office releases and small indie films. Watching a movie at the theater is an experience you shouldn't miss.
El Dorado Nature Center
The El Dorado Nature Center is an oasis in the center of urban life. The 105-acre nature attraction is a sanctuary for animals and plant life. You can stroll along dirt and paved trails which wind around two lakes, a stream, and forested areas.
An art gallery and a gift shop at the visitor center complete the experience. Enjoy the tranquillity of this interlude before you hit the 'rat race' again.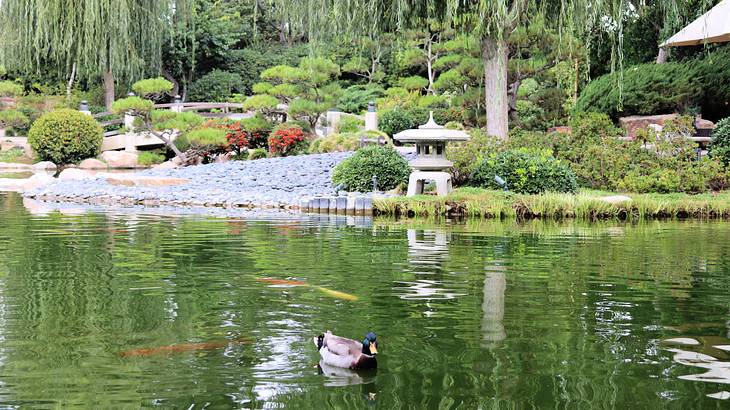 Earl Burns Miller Japanese Garden
Dedicated in April 1981, this enchanting garden was funded by Mrs. Loraine Miller Collins to honor Earl Burns Miller, her late husband. Situated on the grounds of California State University, the Japanese-inspired, 1.3-acre plot boasts a koi pond, a collection of bonsai trees, and a tea house, among many other Japanese design elements.
First Congregational Church of Long Beach
The Los Angeles Times described the First Congregational Church as an "immense auditorium" due to its roof that rises to fifty-five feet and likened it to the cathedrals of Europe. The publication also waxed lyrical about its incredible stained-glass windows as being "among the finest to be seen in the West."
Located downtown, the Italian Romanesque brick place of worship was built in 1914. The First Congregational Church was added to the National Register of Historic Places in 2012. If you're creating a list of the best Long Beach historical sites, this church has to be included!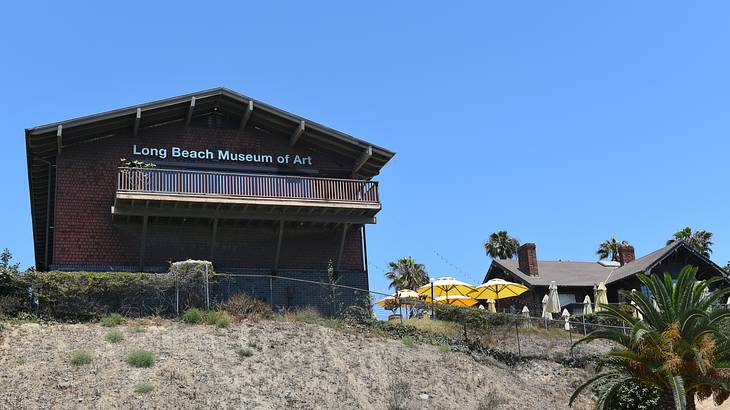 The Long Beach Museum of Art
The Long Beach Museum of Art can be found on Ocean Boulevard inside the historic Elizabeth Anderson House, built in 1911. Since its establishment in 1950, the museum has amassed a collection of over 3,200 works of American and European art in various mediums. A visit to this iconic Long Beach landmark is recommended for art enthusiasts.
Los Cerritos Ranch House
You can discover California's rich history at Los Cerritos Ranch House, a National Historic Landmark. Built in 1844, the ranch house is also a magnificent piece of architecture, showcasing Monterey Colonial and Hacienda styles.
Today, the site serves as a research library and museum that offers tours to learn about California's Spanish, Mexican, and early American eras and American Indian history.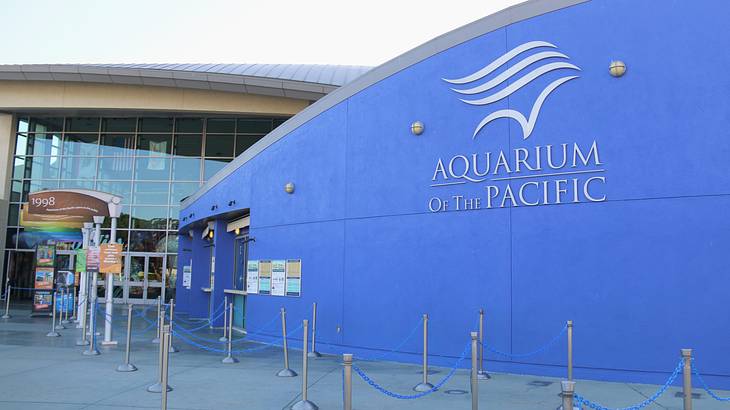 Aquarium of the Pacific
Being one of California's largest ocean aquariums is this attraction's claim to fame. It's home to approximately 12,000 marine life creatures from around 500 species. For the price of admission, you also experience the 29,000-square-foot expansion, which includes an art gallery and multi-media theater.
Notably, this is an ideal place to take the family, and the best time to visit Long Beach to go to the aquarium is during Summer as the animals are most active then.
Pacific Island Ethnic Art Museum
The United States administered Micronesia on behalf of the United Nations from 1947 until 1978; this fostered a close relationship between the two countries that exists to this day. In establishing the Pacific Island Ethnic Art Museum (EAIM), the founder aimed to restore and recreate the customs and traditions of Micronesia.
He succeeded in accurately reproducing the Pacific Islands' way of life using sculptures, carvings, and storyboards. Located on Alamitos Avenue, this museum is one of the most fascinating Long Beach, CA, points of interest.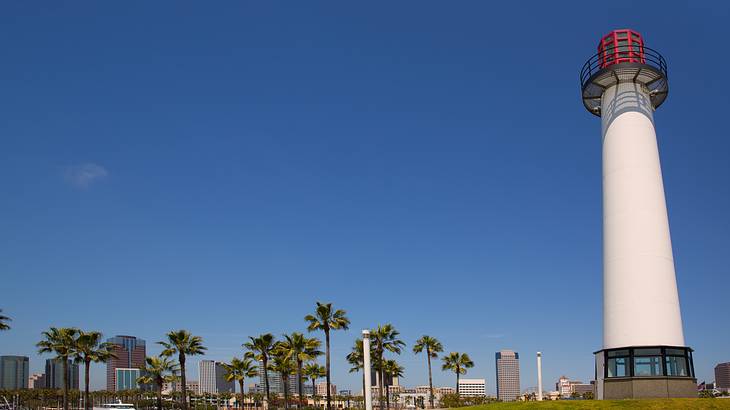 ShoreLine Aquatic Park
Located between Long Beach Arena and Downtown Shoreline Marina, you'll find ShoreLine Aquatic Park. This spacious green area is perfect for picnics and special events. The famous Long Beach skyline is even visible from the walkway along the shoreline.
Visitors can also view the many large cruise ships docked in the marina and pass the park's faux lighthouse. Best of all, going to ShoreLine Aquatic Park is one of many free things to do in Long Beach, making a visit ideal for those exploring on a budget.
Rainbow Lagoon Park
Long Beach's nickname of the Urban Waterfront Playground came about due to the many waterfront attractions located in the city. One of the most popular is Rainbow Lagoon Park, which lies north of Shoreline Drive.
One of the most popular attractions at Rainbow Lagoon Park is the Swan Boats. These unique boats provide a great outdoor activity. You can float across the water while enjoying the views of Downtown Long Beach.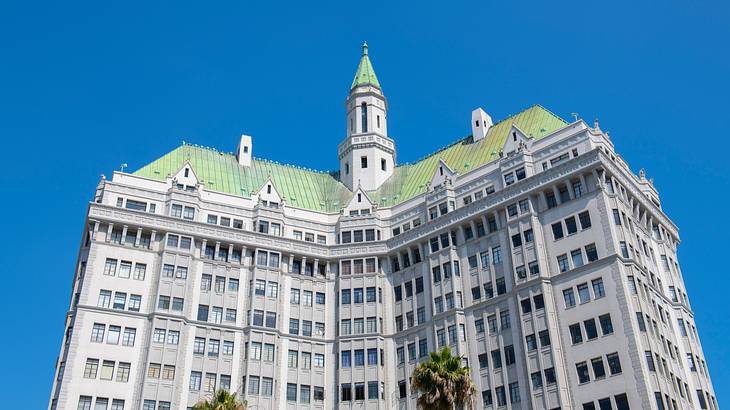 Villa Riviera
Completed in 1929, this French Gothic-style 16-story structure was the second-tallest building of its day in Southern California. The classy and elegant Villa Riviera, once a luxury hotel, now houses high-end condominiums. Despite not being a tourist attraction, you can see its hard-to-miss trademark spire from around Long Beach.
Belmont Veterans Memorial Pier
The Belmont Veterans Memorial Pier is located in the Belmont Shore neighborhood and is a popular spot for fishing and strolls. Accessible from both sides via Ocean Blvd, the pier was renamed in 2001 as a tribute to the veterans of the Long Beach area.
The pier features an obelisk with the military oath, medallions honoring individual veterans, and benches commemorating significant battles.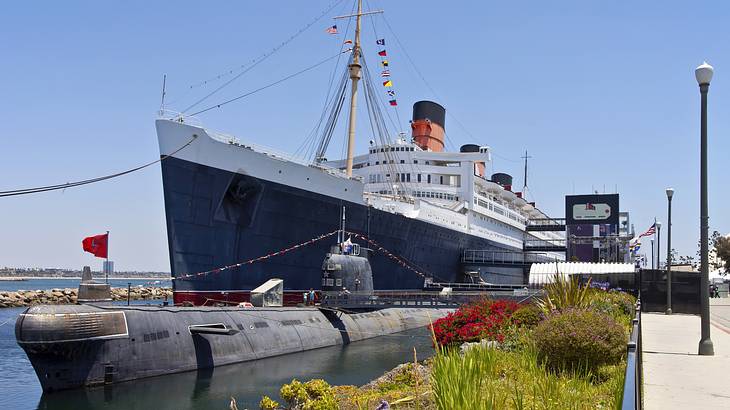 The Queen Mary
In 1967, the famous Queen Mary cruise ship docked in Long Beach, California, after completing her final voyage. Tourists flock to see the close-to-a-century-old ocean liner transformed into a luxurious floating hotel and restaurant.
Imagine the tales the walls could whisper as you follow the corridors and learn more about this grande dame of the sea. A visit to this landmark is non-negotiable.
Pine Avenue
Located in Downtown Long Beach, experiencing Pine Avenue is a must. You will be spoilt for choice with the great dining and entertainment options.
If you've seen one too many museums and are craving a bit of nightlife, many of the area's restaurants and clubs feature live entertainment and dancing. Pine Avenue bustles constantly, and don't forget to take note of its distinctive historical buildings from the 20s and 30s.
In Conclusion
This article gave you a little taste of what landmarks to see and experience in the vibrant city of Long Beach, California.
If you were unsure whether this Southern California destination was worth a visit, perhaps what you've read here has lit a fire in you to sample the many attractions Long Beach offers. And if it has, all that remains is to plan and pack.
---
---
Want to keep exploring?
Subscribe for discounts on tickets and hotels and our latest guides.
Thank you for subscribing
We will be in touch soon with discounts on tickets and hotels and our latest guides.
Want to keep exploring?
Subscribe for discounts on tickets and hotels and our latest guides.
Thank you for subscribing
We will be in touch soon with discounts on tickets and hotels and our latest guides.
Related Articles