20 Fun Things to Do in Los Angeles at Night
Destguides may receive commissions from purchases made through affiliate links in this article.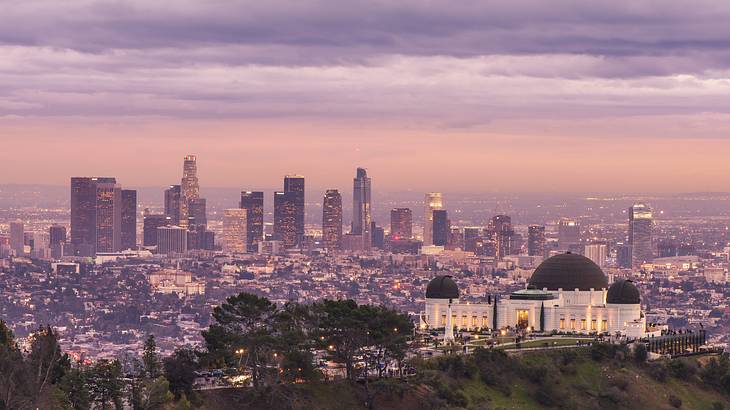 Los Angeles is a cultural hub in the United States and is known as the world's entertainment capital. Recognized for its exciting nightlife, picturesque hills, and incredible weather, the City of Angels deserves the reputation for its Hollywood glitz and glam.
You have the hilltop Hollywood sign, Disneyland, and film studios galore. The city is large, yet enticing; I am sure you are wondering what to do in Los Angeles at night?
You can visit this city alone, as a couple or with friends, and you will never run out of things to do, especially after dark!
This sprawling Southern California city has so much to offer that it can be hard to narrow down your itinerary. So, here are 20 fun things to do in Los Angeles at night.
20 Los Angeles things to do
20 Fun Things to Do in LA at Night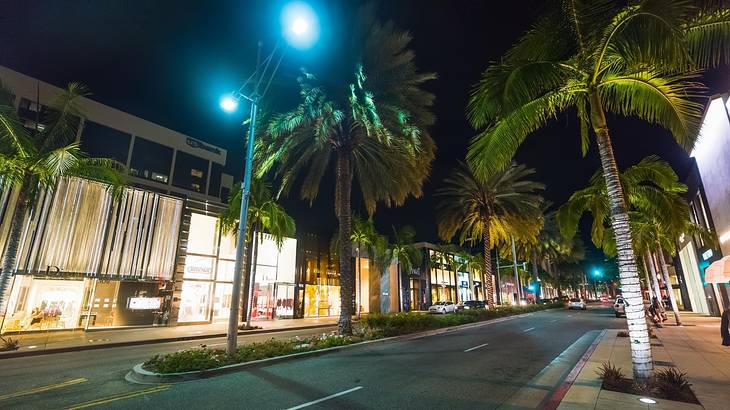 Strut down Rodeo Drive in Beverly Hills
You just can't beat the California sunshine and palm trees lining the streets of Beverly Hills.
Rodeo Drive is a famous two-mile-long shopping district known for its couture and luxury styles. It can become busy during the day, with the streets and shops lined with tourists.
Instead, show your style and walk down one of the most famous California landmarks, Rodeo Drive, for a night in Los Angeles. Here the streetlamps glow, and the buildings around you look like a stage. Grab your friends and make the street your runway!
For the ultimate travel experience, see Beverly Hills from the sky! With a private helicopter tour, you can soar above Hollywood.
Experience the Downtown Los Angeles Art Walk
This community-based nonprofit supports artists, businesses, and youths to share and enrich their art. Downtown Art Walk is a vibrant and colorful community where you can see the latest and hippest galleries.
For one of your night activities in Los Angeles, you can explore local galleries and watch street entertainment at the Downtown Los Angeles Art Walk.
See your favorite artists at the Grammy Museum
Whether you are an artist or a dreamer, music has always been a form of expression. No matter what genre of music you listen to, there will be exhibits for you to enjoy at the Grammy Museum.
The Grammy Museum is an interactive and educational experience that explores the history of music and the achievement of previous Grammy winners.
With live events and new exhibits always being added, it is an immersive museum that puts you in the shoes of some of the country's greats.
If you want to go in the evening, check out their calendar of many events. You can see a small concert, show, or exhibit unveiling.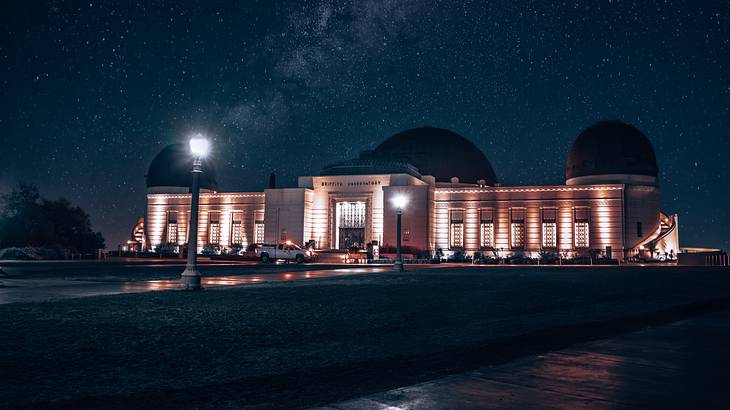 Shoot for the stars at Griffith Observatory
When visiting LA, you probably wonder what one of the best spots in Los Angeles is? Look no further than right in the heart of the city!
The Griffith Observatory is the perfect place to observe the sky and see spectacular views of the city and the Hollywood sign.
This famous LA landmark has been the world's most-visited public observatory in the world since it opened in 1935.
With over 60 exhibits, a planetarium, and daily programs, the universe comes to life right before your eyes as one of Los Angeles's best nighttime attractions.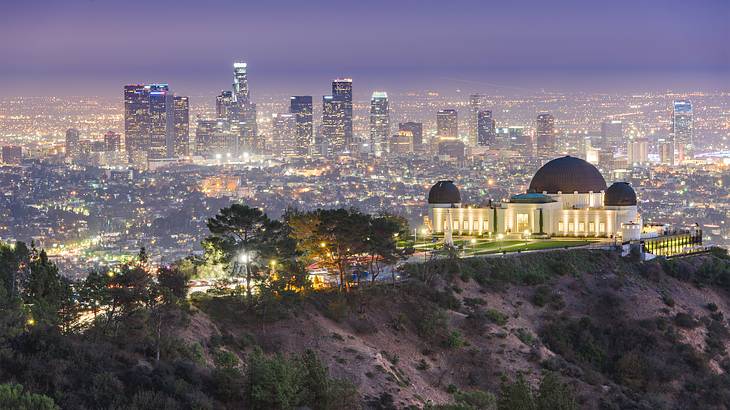 Hike at Griffith Park
Just outside of Griffith Observatory lies Griffith Park. With more than 4,100 acres of wilderness, it is a great way to escape the bustle of the big city for a bit of tranquility. Griffith Observatory is also one of the best places to watch the sunset in LA.
Hiking around sunset or after dark is a great way to unwind and escape the dawning heat. To do this safely, it is recommended to first check out the hike during the day and always hike with other people.
Many guided walking tours are available to get a different viewpoint of this bustling city!
Watch a movie at an outdoor cinema
An unmissable thing to do in Los Angeles at night is to watch a movie under the stars at an outdoor cinema. This experience is unlike any other drive-in theater! You will find live music and food as well to enjoy.
Check out Rooftop Cinema Club and Street Food Cinema to see which dates and movies work best for you. The location often changes with Street Food Cinema, so before your trip, look to see what part of Los Angeles the event is taking place.
If you aren't sure where it is, you can just follow the food trucks! These events are free, but you can book private parties or rent equipment as well.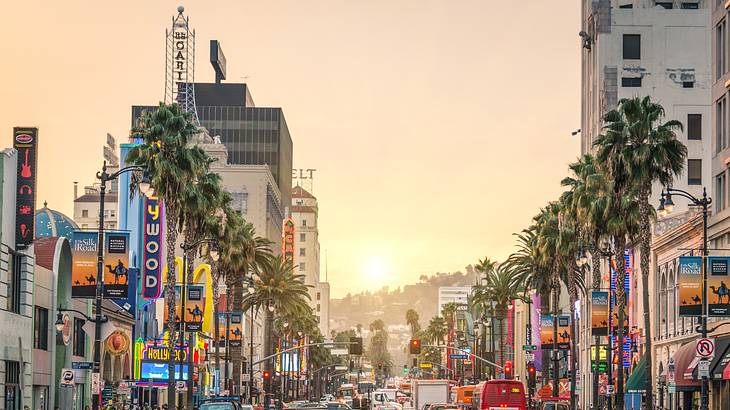 Tour Hollywood Boulevard
No trip to Los Angeles is complete without a journey down Hollywood Boulevard. This is a mainstream, cultural icon that celebrates LA's history.
Here, you can tour the footprints of the stars along the Hollywood Walk of Fame, or check out some of Los Angeles's most famous theaters.
The most notable ones to see are the TCL Chinese Theatre, Dolby Theatre, and El Capitan Theatre. Depending on when you are there, you may run into some celebrities or end up in the middle of a Hollywood film premiere!
Walking down the streets with the glowing billboards overhead makes this one of the best places to go to at night in Los Angeles.
Eat and drink through Little Tokyo
Little Tokyo is one of the best places to go in Los Angeles at night. It is a historic five-block area dedicated to Japanese culture, as a result of the 20th century. This part of Los Angeles is only one of three official Japan towns in the country.
There are comedy and improv shows, unique art spaces, arcades, and all the food and drinks available that you could think of. Grab your crew for an unforgettable night out in one of the city's hotspots!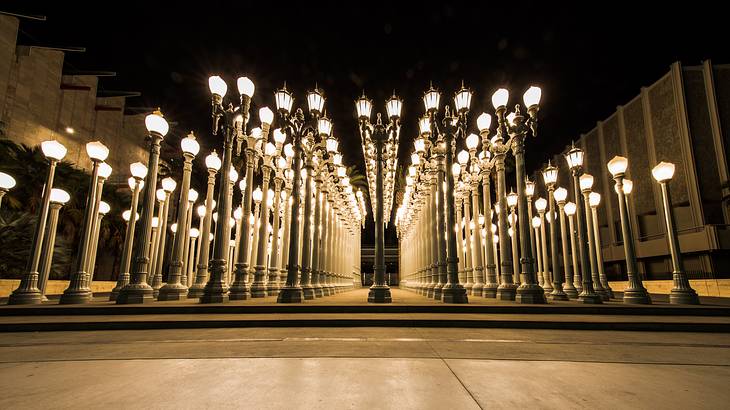 Take photos at the Los Angeles County Museum of Art
One of the most Instagrammable places to visit in Los Angeles at night is the Los Angeles County Museum of Art (LACMA). While once a part of the Los Angeles Museum of History, Science, and Art, the LACMA split off in 1961.
The LACMA is the largest art museum in the western part of the United States, covering art history from ancient times to the present.
You will find many people who come here to take photographs. The entrance is a beautiful LA nighttime attraction, with its golden, white pillars that glow against the backdrop of the palm trees and LA skyline.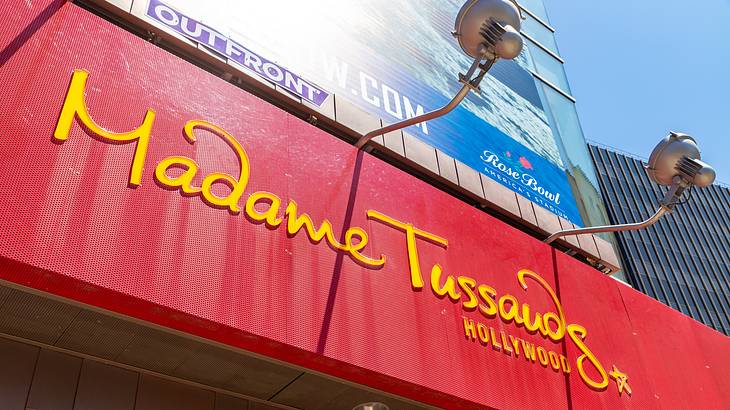 Meet your favorite celebrities at Madame Tussauds
Madame Tussauds is an iconic location if you are looking for an activity in LA at night. With over 100 wax figures depicting the city's history of elegance and glamour, it encompasses the spirit of Hollywood.
Capturing some of the greatest moments in cinematic history, the exhibits in the wax museum range from modern classics to pop-culture icons.
Despite the age of the technology and virtual reality, there is something timeless about seeing these realistic wax figures in person.
Book your Madame Tussauds Hollywood entry tickets.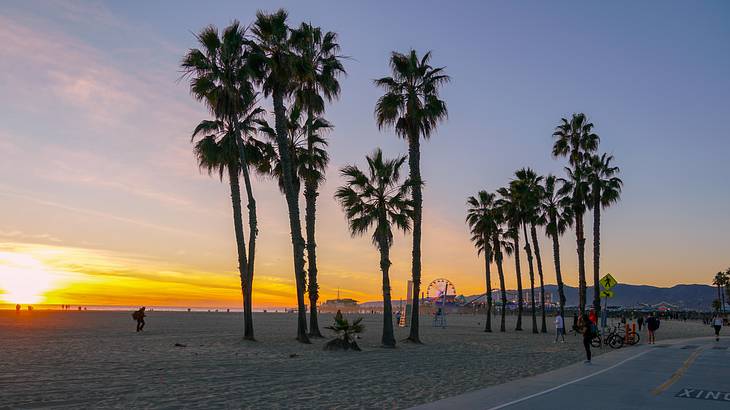 Stroll along Santa Monica Beach
Visitors worldwide come to Santa Monica Beach for a coastal adventure and a taste of local culture. It is a lively area with runners, surfers, skateboarders, and bikers enjoying the Southern California weather.
If you are visiting during the summer months, the beaming sun can become exhausting. Good news for you, the city of Los Angeles doesn't sleep early, so a stroll along the beach can still be one of your LA night activities!
You can visit the aquarium, eat at the beach-front restaurants, and have some thrills at the pier. If you want to explore the beach more quickly, take a segway tour around Santa Monica! It is two hours of amusement and fun!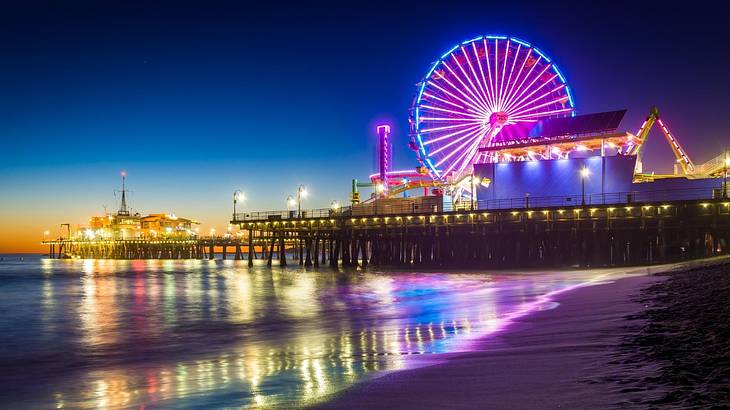 Play at Santa Monica Pier
One of the most fun things to do at night in Los Angeles is to bring out your inner child and spend the evening playing games and going on thrilling rides!
Constructed in 1909, the Santa Monica Pier quickly gained a reputation for its abundant fishing opportunities. With its incredible views jetting into the Pacific Ocean, it is a staple of Los Angeles tourism and a popular California beach town.
You can visit during the day to enjoy the sunshine or at night to see all the neon lights come to life. This amusement park has the world's only solar-powered Ferris wheel, many different food vendors, fishing spots, and midway games.
See a game or concert at the Staples Center
The Staples Center (now Crypto.com Arena) is California's famous, world-class entertainment hub. There have been thousands of concerts and championship games played there, making it one of the best places to hang out at night in Los Angeles.
The convention center can fit up to 20,000 people inside, so you are in for the ultimate fan experience, especially during a LA Lakers game. During your trip, look into if there are any concerts, basketball, or hockey games for a local evening out!
Explore Sunset Strip
The Sunset Strip is a 1.5-mile-long part of the famed Sunset Boulevard, once known for its gangsters and grunge rock scene. It made a name for itself in the early 1920s, when it became the nightlife capital of the city, filled with bars and casinos.
Now, you can walk or drive along the strip to view the star-studded hotels and music venues. Known for its eclectic LA nightlife, there's no shortage of nightclubs or bars to hang out in after dark!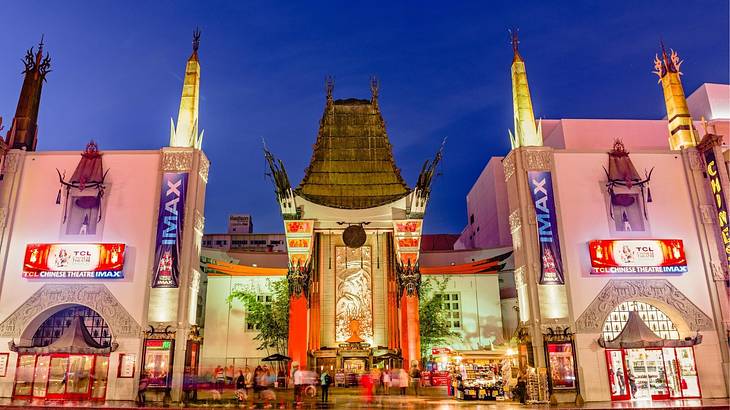 Watch a movie at the TCL Chinese Theatre
While you're in town, make a memorable evening with a dinner and a movie, for one of the most classic LA things to do at night. The TCL Chinese Theatre is an iconic movie palace on Hollywood Boulevard, along the Hollywood Walk of Fame.
The TCL Chinese Theatre is famous for hosting a plethora of movie premieres over the years and immortalizing the handprints of many celebrities. It is designed in the style of a Chinese pagoda and was commissioned after the success of Sid Grauman's Egyptian Theater.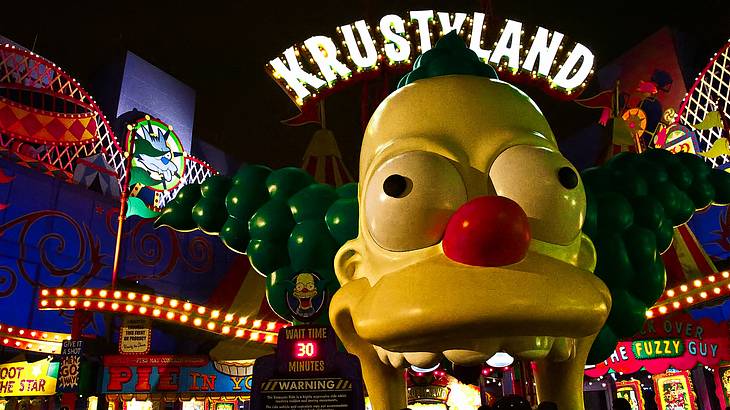 Visit Universal Studios Hollywood
While visiting Los Angeles, you should venture to one of its many theme parks! Universal Studios Hollywood is an ever-expanding California theme park known for its attractions such as The Wizarding World of Harry Potter, Jurassic World, and more.
It is both a theme park and film studio where you can see the movie magic happen for yourself! One of the most popular LA night attractions at Universal is the Halloween Horror Nights throughout the month of October.
Book your Universal Studios Hollywood entry tickets.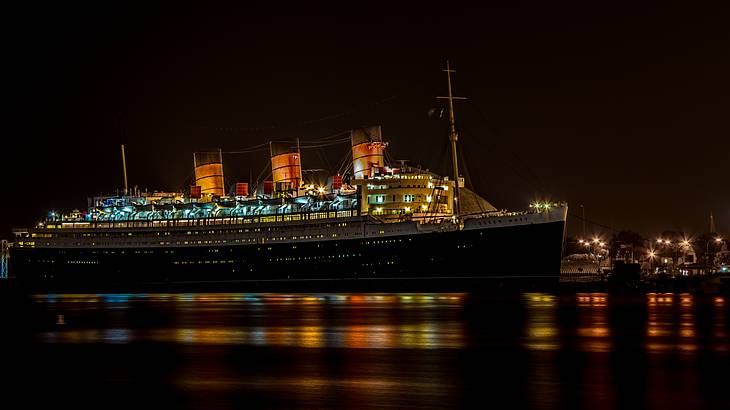 Go ghost hunting
Los Angeles is usually a dreamy and sunny place, but it harbors many horrors and history. Whether you are visiting in October or year-round, there are many paranormal nighttime activities you can partake in.
You can take part in ghost tours, see haunted hotels, and visit actual crime locations.
If you are looking for a spooky nighttime attraction in Los Angeles, you should get tickets to the Queen Mary. Here, you can have a paranormal experience that takes you through the ship, where you can hear unique and spooky stories about its past.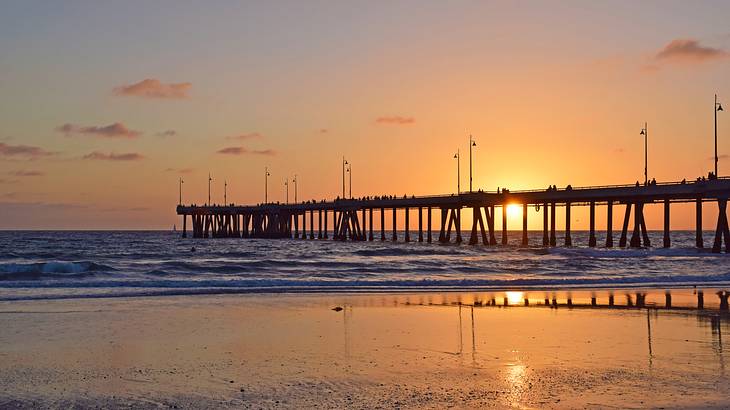 Indulge in Venice Beach
One of the most hipster areas of Los Angeles is Venice Beach. The commercial shops and boutiques fill this free-spirited boardwalk with people.
Walking along the beach, you will find many street performers and murals. For a late-night thing to do in LA, you will find locals and tourists watching the Pacific Coast sunset from Venice Beach's Art District.
One thing you cannot miss is the chance to indulge in all the food trucks at Venice Beach. Some of the cheapest food is found here, and many are famous for being the best food trucks in America!
Even if you have been to Venice before, a lot of the cuisine changes, so there will be something new for you to try!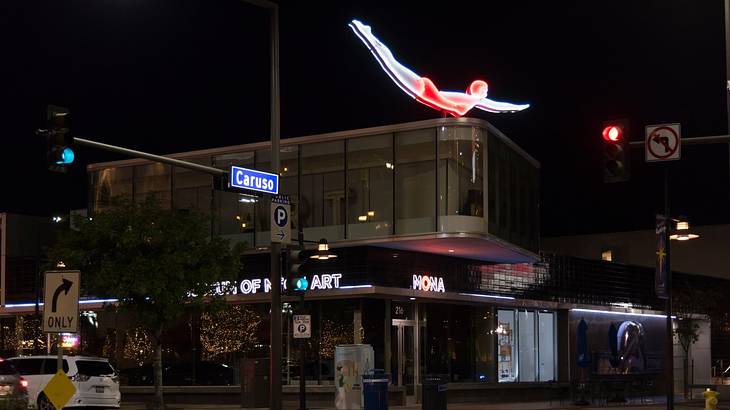 Go to the Museum of Neon Art
The Museum of Neon Art is the only museum in the world that dedicates itself to the celebration and appreciation of electric art.
Here, you can learn a lot about the expression and science behind neon art and how it forms through media and glass. It is a blend of artistic influence, physics, and chemistry.
The art signage is beautiful and vibrant, and you can see the influence that this art form has on Los Angeles culture. It is definitely a unique experience to enjoy if you are wondering where you should go in Los Angeles at night!
Walk through the Universal CityWalk
Catch the neon lights that glow throughout the Universal CityWalk. This entertainment and retail district serves as the parking building and entrance to Universal Studios Hollywood.
After a long day experiencing all the attractions at Universal Studios, this is a fantastic place to grab some dinner and shop before heading in for the evening. You will often hear live music in the central plaza, so it is a lively place to hang out at night in Los Angeles.
In Conclusion
With Los Angeles being the second-largest city in the United States, you will never get bored or run out of things to experience!
While the daytime sunshine and sprawling coastlines will be calling for your attention, don't forget that the adventures don't have to end as soon as the sun goes down.
With this list, you can pinpoint what to do in LA at night, fill your itinerary, and get the most out of your vacation!
Give us feedback about this article
Learn more about Los Angeles:
More articles about California:
Read more articles about the United States:
More articles about things to do:
More visual stories related to this article:
---
---
Want to keep exploring?
Subscribe for discounts on tickets and hotels and our latest guides.
Thank you for subscribing
We will be in touch soon with discounts on tickets and hotels and our latest guides.
Want to keep exploring?
Subscribe for discounts on tickets and hotels and our latest guides.
Thank you for subscribing
We will be in touch soon with discounts on tickets and hotels and our latest guides.
Related articles