35 Fun Los Angeles Date Ideas To Try at Least Once
Destguides may receive commissions from purchases made through affiliate links in this article.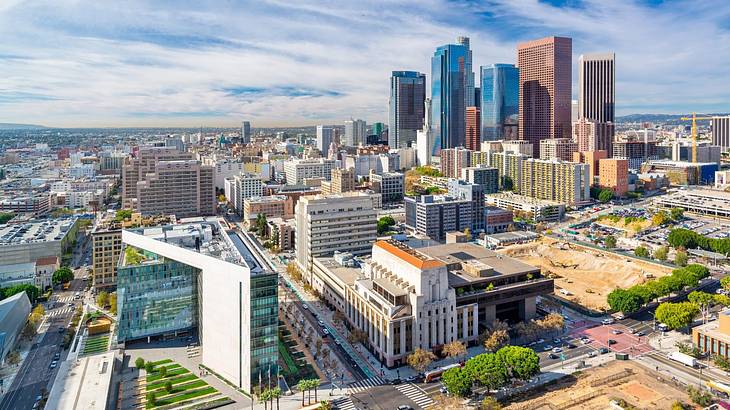 Are you looking for fun Los Angeles date ideas? Whether you live in the city or are visiting, you can find an array of unique and memorable things to do with your partner in LA!
Some of the activities to try include watching a movie at the Melrose Rooftop Theatre or the Electric Dusk Drive-In and having a coffee date with cats at Crumbs & Whiskers.
There are also many outdoor date ideas, like hiking at Runyon Canyon Park or hanging out at one of the city's many beaches. Keep reading to discover all of the best date activities in Los Angeles!
35 Fun Date Ideas in Los Angeles, CA
Fun Things to Do on a Date in Los Angeles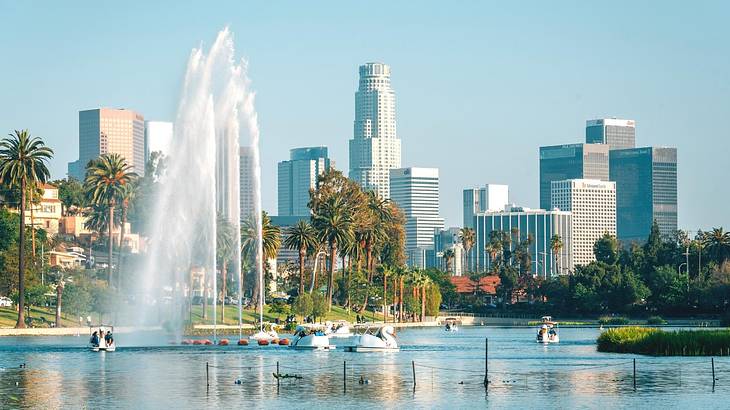 Ride swan boats on Echo Park Lake
Echo Park Lake is a scenic lake surrounded by a park filled with palm trees. It's another of the great places to spend some time outdoors with your date.
If you're looking to do something a bit different when visiting, renting swan boats at Echo Park Lake is a must. Additionally, wandering around the beautiful park on a sunny day will help you and your date understand why the Los Angeles nickname, the City of Flowers and Sunshine, exists!
Find dinosaurs at the Natural History Museum of Los Angeles County
An LA attraction that makes a unique date spot is the Natural History Museum of Los Angeles County. You and your other half will learn about various topics covering 4.5 billion years of history via fascinating exhibits.
The most popular exhibit is the Dinosaur Hall, where you can see 20 dino skeletons and over 300 fossils. Because the attraction gets busy, book Natural History Museum of Los Angeles County tickets before you arrive.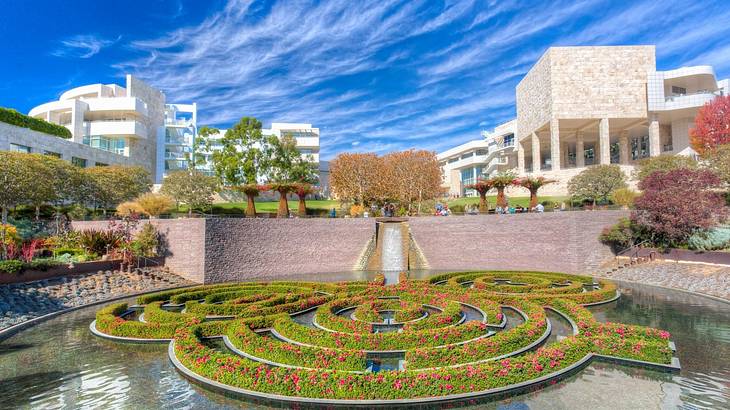 Look around the gallery and gardens at The Getty
The Getty, also known as the Getty Center, features an art gallery and beautiful gardens. The famous Los Angeles landmark is located in the Santa Monica Mountains and is an interesting place to spend a few hours with your date.
After seeing all the artworks, you can wander around the tranquil gardens that have pretty floral displays, fountains, and sculptures. If you want to learn more about the Getty and its collection, take a Getty Center guided tour.
Check out the best eateries on a food tour
Los Angeles has numerous fantastic dining options. If you and your date can't decide where to eat, going on a downtown LA food tour is a fun thing to try.
On the three-hour tour, you'll be taken to a variety of top restaurants, bakeries, markets, and more. You get to try dishes at each stop, and you and your partner may also find a new favorite dining spot!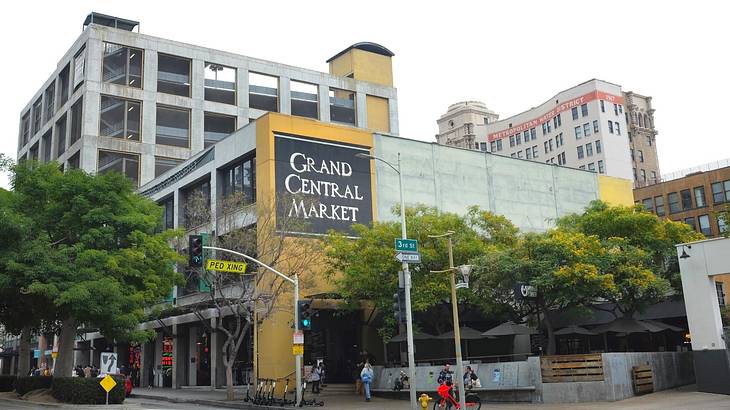 Eat your way through Grand Central Market!
Grand Central Market is an over 30,000-square-foot food court and shopping complex. Instead of picking one restaurant for a lunch or dinner date, trying dishes from multiple vendors at Grand Central Market is a great idea.
Things to try range from fresh-made pasta dishes and authentic tacos to delicious desserts and Mexican-style fruit cups. You can also find coffee shops, juice bars, and much more at the market.
Buy your date a bouquet at the Original Los Angeles Flower Market
Buying your partner some flowers is a failsafe way to please them! A fun way to do this is by taking them to the Original Los Angeles Flower Market.
This large indoor market is filled with numerous varieties of flowers and plants. Your date can choose pre-made bouquets or have one made from scratch with all their favorite blooms.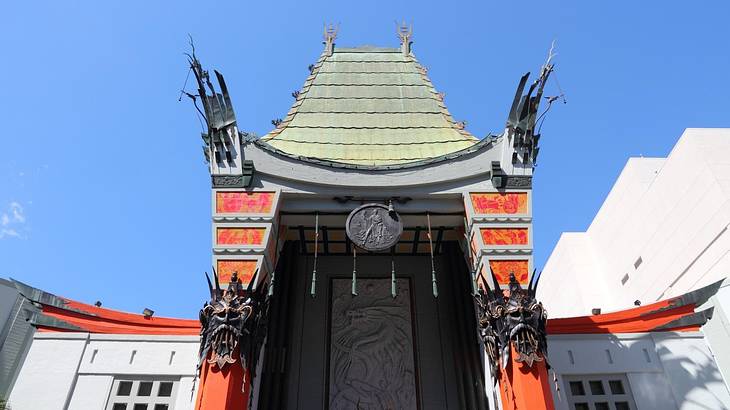 Tour the TCL Chinese Theatre
One of the best things to do at night in LA is seeing a movie at the renowned TCL Chinese Theatre. Along with hosting movies to the public, this landmark is the location of film premieres. If you want to learn more about the venue, you and your partner can also go on a TCL Chinese Theatre tour.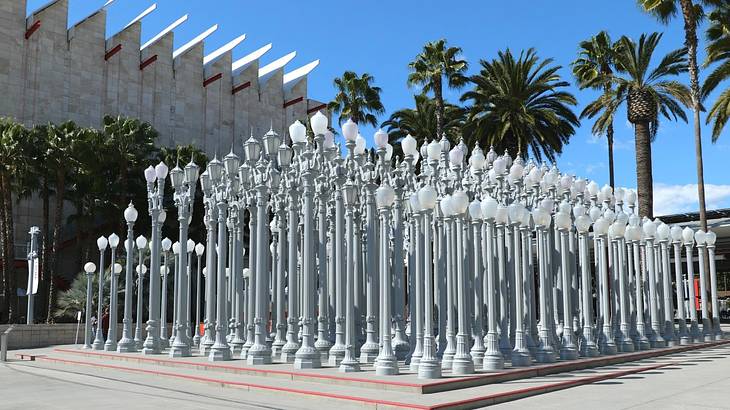 Admire artworks at the Los Angeles County Museum of Art
Going to the Los Angeles County Museum of Art for a daytime or early evening date is a great idea, especially if you and your partner love arts and culture attractions. Opened in 1961, the museum houses a collection of over 120,000 pieces.
After thoroughly exploring the museum, don't forget to see the renowned Urban Light installation that features 202 restored street lamps.
Catch a movie at Melrose Rooftop Theatre
Located in West Hollywood, Melrose Rooftop Theatre takes dinner and a movie to a new level. The stylish rooftop movie theater allows you to watch films under the stars, and you can have alcoholic drinks ordered to your seats.
Before the movie, make a reservation at E.P. Restaurant, located below the rooftop theater.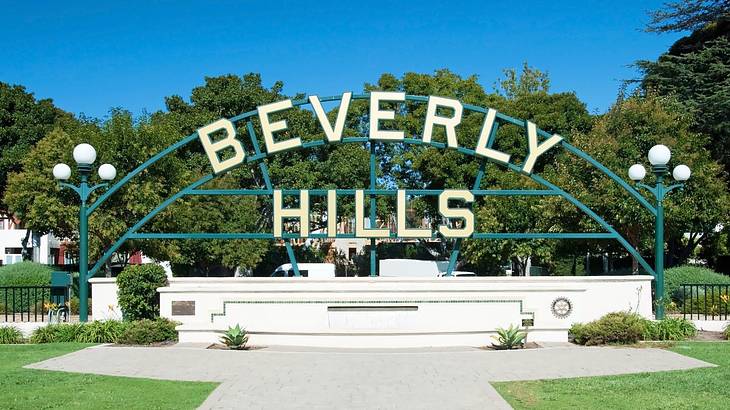 Wander around Beverly Gardens Park in Beverly Hills
Despite being a relatively small park, Beverly Gardens Park is a charming place to go for a walk with your loved one. Notably, you will see one of the most photographed spots in the city, the Beverly Hills Sign.
You can also wander around the rose and cactus gardens and hang out on the surrounding lawns.
Go bowling at Highland Park Bowl
If you want to plan a super fun date night in Los Angeles, CA, book a lane at Highland Park Bowl. Opened in 1927 and known as "LA's oldest bowling alley," it's an excellent spot for a memorable yet relaxed night out.
As you play, you can order food and drinks, including specialty cocktails, beer, and wine. The bowling alley stays open until 2 AM, but it doesn't generally open until midnight on Saturday and Sunday.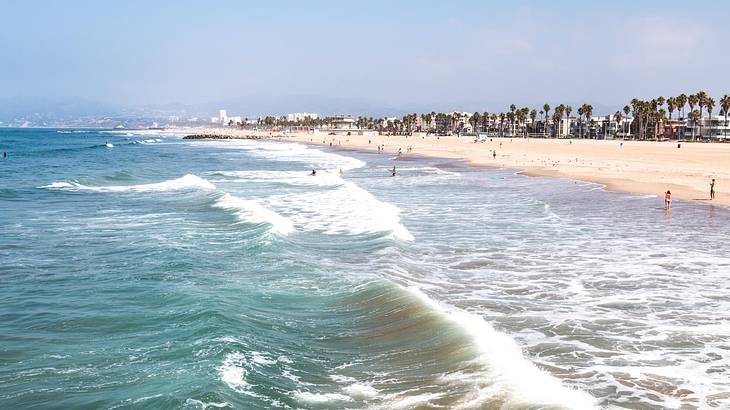 Surf at Venice Beach
Sunbathing and walking along the boardwalk at Venice Beach are some of the best things to do in Los Angeles. However, if you're looking for a more unique date in LA, consider learning to surf at Venice Beach.
Your private instructor will teach you all the basics before you can hit the waves. If you're already good surfers, take lessons to improve your skills.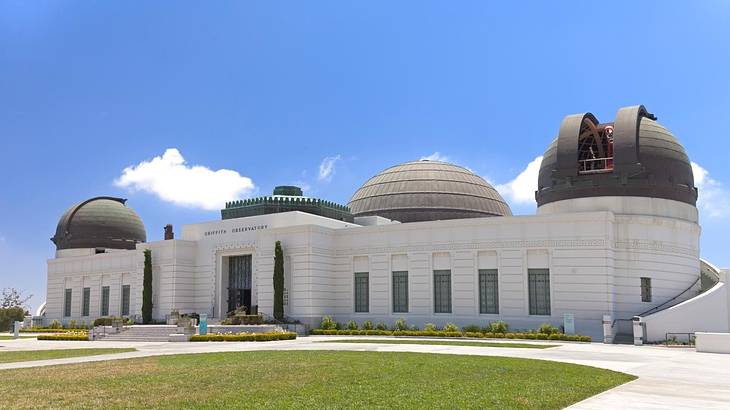 Take in the views from Griffith Observatory
Griffith Observatory is a famous California landmark that makes for a unique date location. Situated on Mount Hollywood, you and your partner can enjoy stunning city views from the observatory.
You can also see interesting exhibits on astronomy and look up at the galaxies. To reach the attraction, consider taking the Firebreak Trail to Griffith Observatory, a 1.3-mile-long hiking route.
Learn to make delicious dishes together at a cooking class
Instead of going to a restaurant for dinner, why not learn to cook a delicious meal together? Taking a cooking class is one of the most fun LA date ideas. At Hipcooks, you can choose from a variety of cuisines and dishes.
Things to cook include Spanish tapas, classic French dishes, and Moroccan-style food. Classes can last two or three hours, and there's a fun happy hour option where you can also mix cocktails.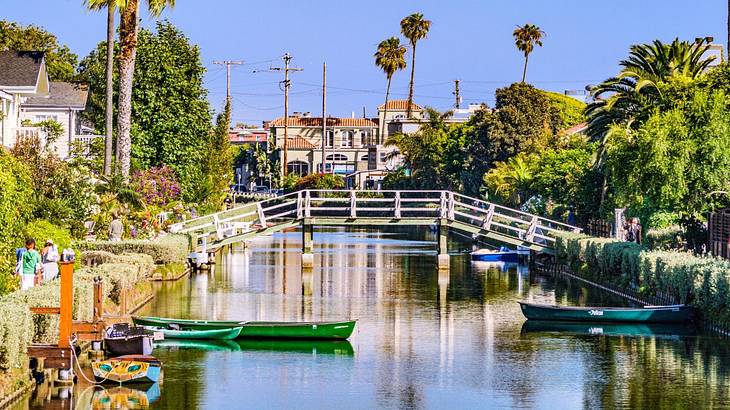 Walk alongside the Venice Canals
You and your loved one can enjoy a little bit of Italy in LA by taking a romantic walk along the Venice Canals. Inspired by the canals of Venice, Italy, the waterways have been a unique part of the city since 1906. If you don't feel like going for a walk, you can also canoe or kayak on the canals.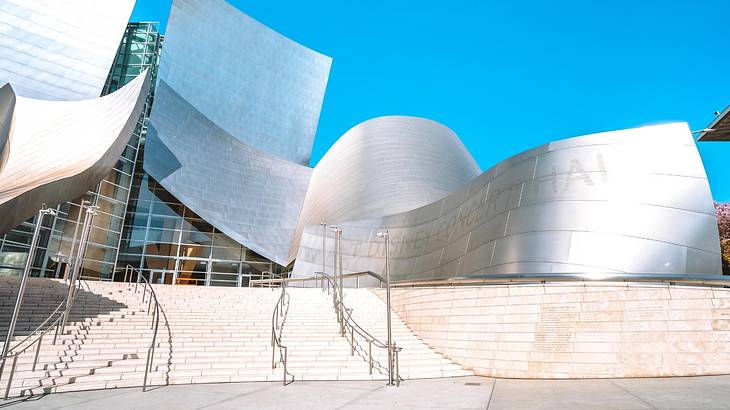 See the Los Angeles Philharmonic at Walt Disney Concert Hall
While the name may suggest Disney-themed performances are held here, the Walt Disney Concert Hall is actually home to the Los Angeles Philharmonic.
When taking your date to this sophisticated cultural attraction, you'll be able to see an outstanding classical music concert. Performances of other music genres are sometimes hosted too.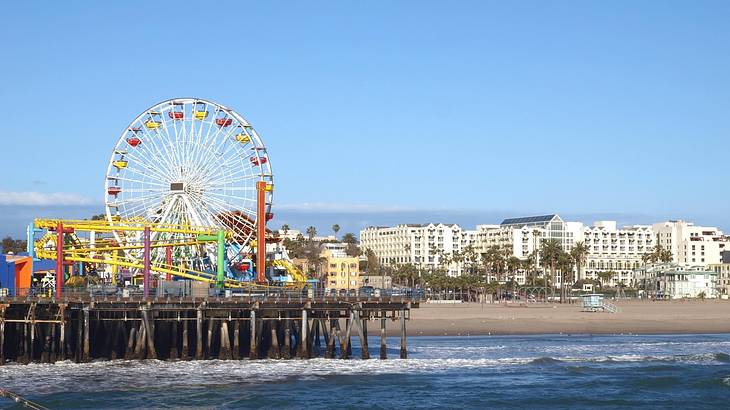 Hang out at Santa Monica Pier
A fun and laid-back date idea is to spend some time at Santa Monica Pier. You and your partner can enjoy the ocean views and stroll along the pier and boardwalk. You can also ride the famous Ferris wheel, play funfair-style games, share some ice cream, and check out the beachside shops and cafes.
Share Brunch at The Eveleigh on the Sunset Strip
The Sunset Strip is a famous area of LA, known for its restaurants, bars, and hotels, like Chateau Marmont. While heading there in the evening is a must, stopping at The Eveleigh for brunch makes for a romantic daytime date.
Dishes to order include toasted banana bread, Dungeness crab pasta, and truffle fries. Don't forget to treat your date to a cocktail or mocktail too!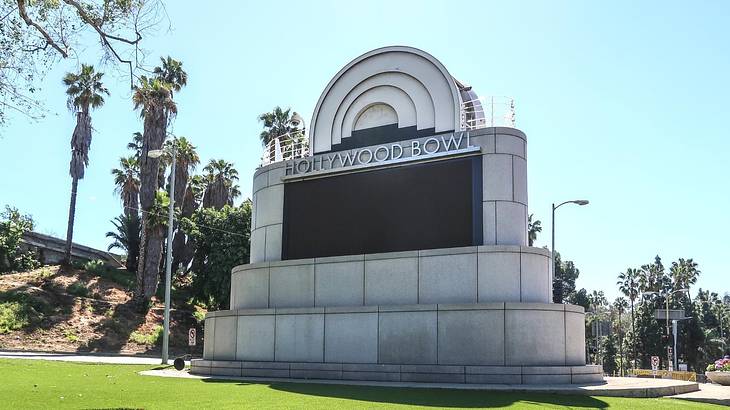 Experience a concert at the Hollywood Bowl
Having been named one of the best live music venues in America, taking your date to Hollywood Bowl is a must if they love concerts. The outdoor theater hosts a range of performances, from jazz to classical music. There are also many dining options and bars on-site, allowing you to enjoy dinner, drinks, and an excellent show.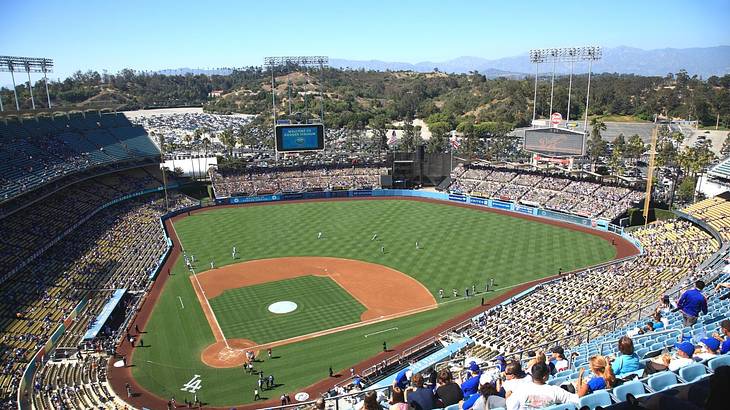 Cheer for local LA teams
If you and your loved one are sports fans, one of the best LA date ideas is going to a game; and there's lots of choice in Los Angeles!
While the city has minor league and college teams, it also boasts a team in all five of the most popular professional US sports: the Kings in the NHL, Lakers in the NBA, Rams in the NFL, Dodgers in MLB, and the Galaxy in MLS.
Cuddle Cats at Crumbs & Whiskers
One of the best date ideas in LA for animal lovers is visiting Crumbs & Whiskers. This adorable cafe features a stylish interior with baby pink walls, pastel faux furs, and neon signs. Best of all, it's home to cute cats!
As you enjoy a coffee, you can also pet, play, and snuggle with the kitties. All cats are up for adoption if you and your partner are looking for a feline pal. Cat Cafe Lounge is another cute cat cafe in LA to check out.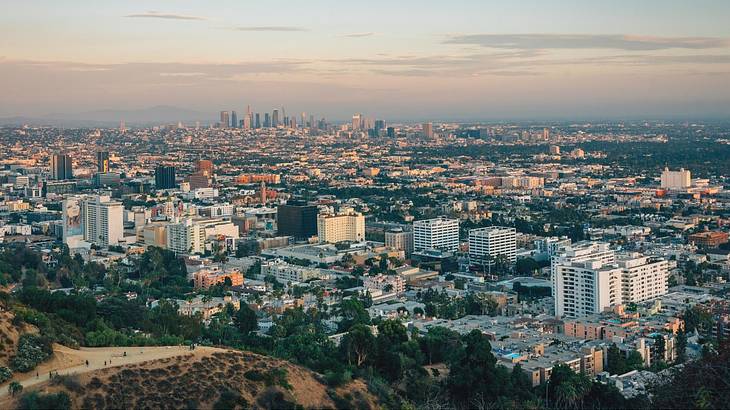 Hike at Runyon Canyon Park
Couples that like hiking don't have to leave Los Angeles to find trails. Runyon Canyon Park is one of the most popular hiking spots in the city with locals and visitors.
The park covers 160 acres within the Santa Monica Mountains and features a few routes. All trails offer spectacular views across the city. Going at sunrise or sunset is recommended to make your hike a little more romantic.
Discover something new at the California Science Center
A fun and educational attraction to check out with your other half is the California Science Center. Topics covered at the museum include ecosystems, air and space, and evolution. In addition, you can watch some science-themed movies in the IMAX theater.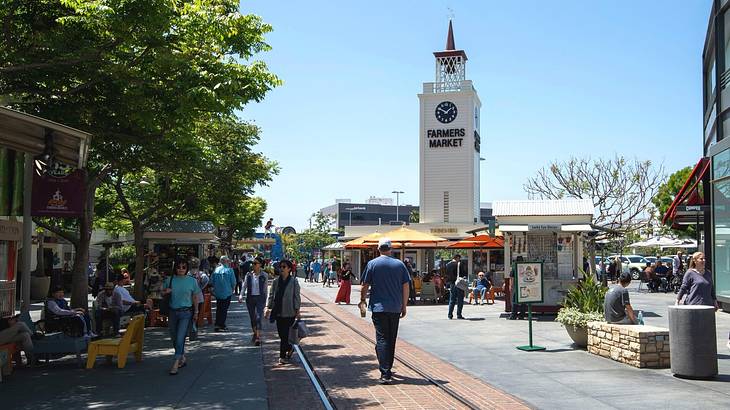 Shop at the Original Farmers Market
Another famous market to visit with your date is the Original Farmers Market. Operating in LA since 1934, the market has a variety of vendors, including restaurants, specialty food shops, and stores selling other goods like jewelry and housewares.
The Original Farmers Market is a bustling place where you can try different cuisines and find unique items; it's a must-visit spot to add to your Los Angeles itinerary!
Things to Do Near Los Angeles on a Date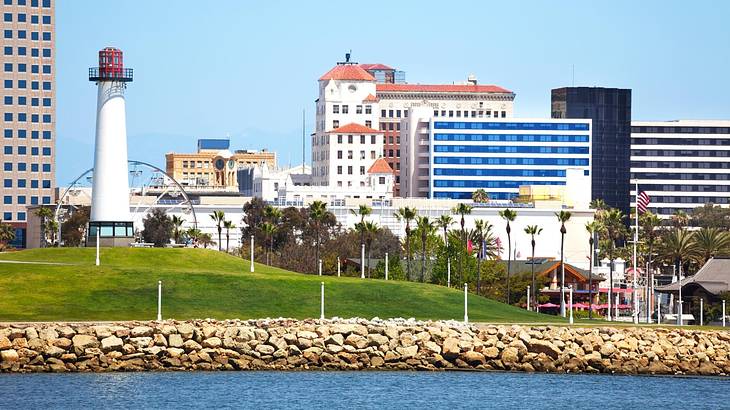 Spend the day in Long Beach
If you're planning an all-day date or an overnight trip, consider going to Long Beach. Located just under an hour from LA, the city features pretty beaches and lots of other attractions.
Date ideas in Long Beach include relaxing at Alamitos Beach, kayaking on the waterways of Belmont Shore, and wandering around Rainbow Lagoon Park. Best of all, you can find many free things to do in Long Beach, making it an ideal destination for all couples, even those on a budget.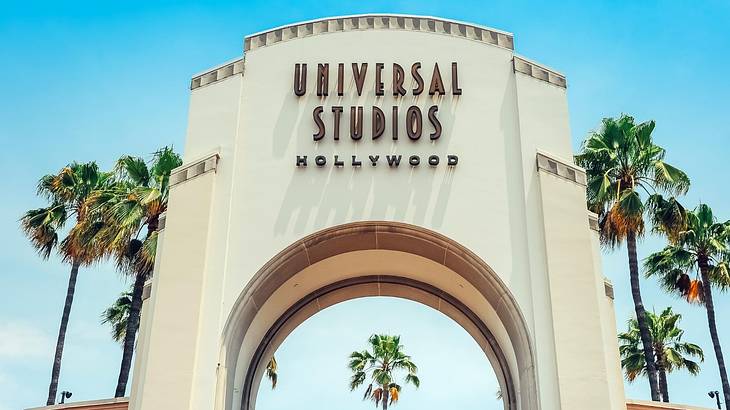 Enjoy a day at Universal Studios Hollywood
An exciting way to spend a day with your partner in Los Angeles is by going to Universal Studios Hollywood. The theme park features an array of themed rides based on popular Universal Studios movies.
After exploring the theme park, you can get a meal or snacks at one of 57 eateries. To avoid long lines when you arrive, buy a Universal Studio Hollywood skip-the-line admission ticket in advance.
While you can visit the attraction at any time of year, the best time to plan a trip to LA to go to Universal Studios is in the fall. The weather is generally still nice enough to be outside exploring the park, but crowd levels are much lower than during spring and summer.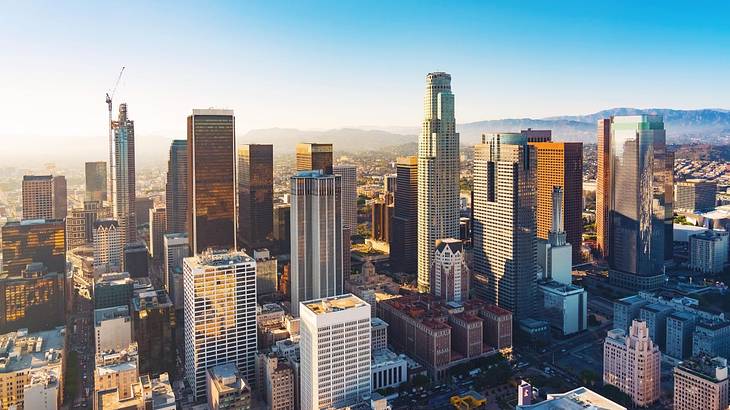 Fly above LA on a helicopter tour
Seeing the city from above is breathtaking, and taking your other half on a Los Angeles helicopter tour is sure to please! Of course, you can fly at any time of the day, but going on a helicopter ride at sunset is definitely one of the most romantic date ideas in LA. Do note that the flight takes off in Burbank, about 20 to 30 minutes from central Los Angeles, depending on traffic.
Sip wine at local wineries
While many think you have to go to Napa to visit wineries in California, you can find some wineries close to Los Angeles. If you and your partner are interested in wine tasting, book a winery tour.
This day trip will allow you to visit multiple wineries in Malibu and the Santa Monica Mountains. The excursion includes wine tasting at every winery, and you can add lunch for an additional cost.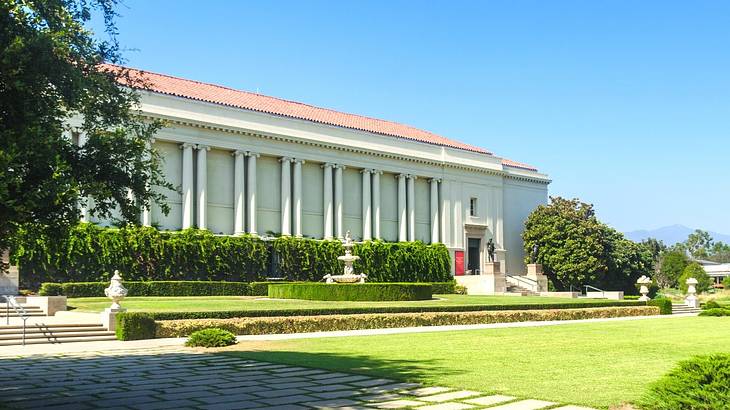 Visit The Huntington Library, Art Museum, and Botanical Gardens
The Huntington Library, Art Museum, and Botanical Gardens is another of many cultural attractions you and your other half may find interesting. Founded in 1919, the landmark houses an extensive collection of art and exhibits on topics like American history, architecture, and literature.
Don't forget to explore the beautiful botanical garden. Filled with orchids, bonsai trees, and many other plant varieties, it makes an excellent backdrop for some photos together.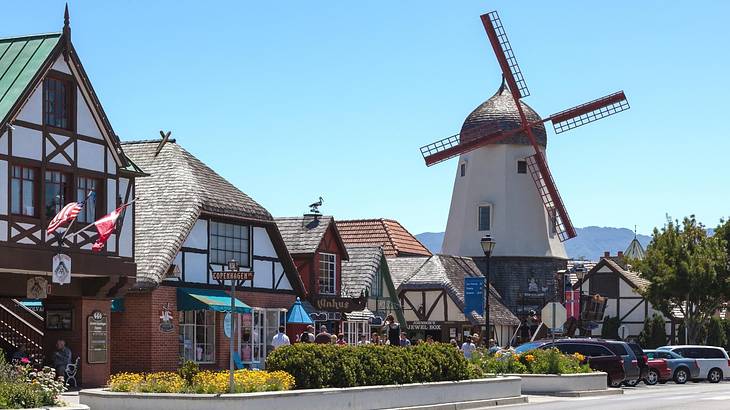 Road trip to Solvang
Another exciting place to spend the day if you're planning a longer date is Solvang. Located two hours from LA, this city is incredibly unique.
It features Danish-style architecture and businesses that make you feel as though you've traveled to Denmark. As you explore, you can visit museums on the history of the area, taste traditional Danish pastries, and even spot a windmill!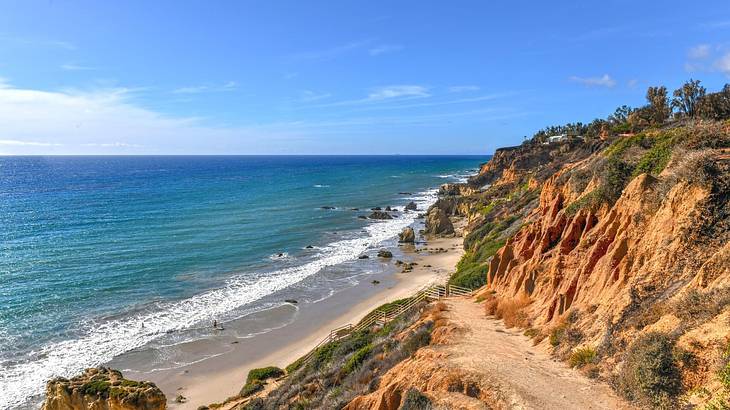 Relax at El Matador State Beach
There are many beaches to visit in the greater Los Angeles area, but one of the most fun date ideas in LA is going to some of the less popular beaches. One of these more quiet beaches is El Matador State Beach within Robert H. Meyer Memorial State Beach in northern Malibu.
Once on the sandy beach, you can chat or sunbathe on the sand and cool off in the calm ocean. You can also visit La Piedra Beach and El Pescador State Beach when in the area.
Watch a movie at the Electric Dusk Drive-In
When planning date nights in Los Angeles, going to a movie is always fun. One of the cool places to do so near LA is at Electric Dusk Drive-In in Glendale. The retro drive-in movie theater shows a wide array of genres of films to please all audiences. There's also a snack shack to buy classic movie treats.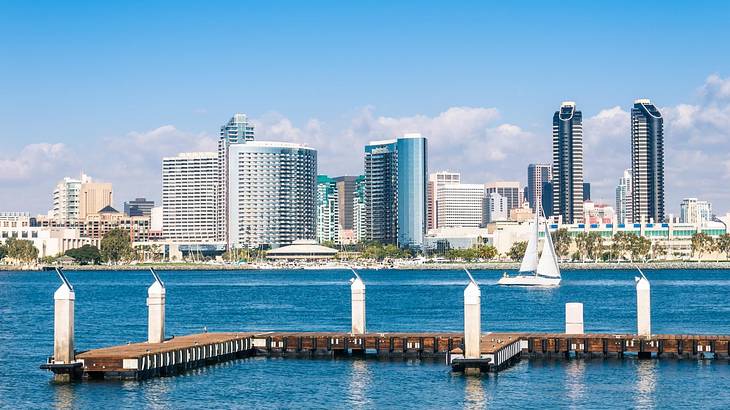 Plan a trip to San Diego
Located just under two hours from LA is another vibrant Southern California city, San Diego. Whether planning a day trip or spending a weekend in San Diego, the journey is well worth it!
Once you arrive, you'll discover an array of fun activities to enjoy in San Diego. There are also many natural landmarks in San Diego to visit, like Balboa Park and the Torrey Pines State Natural Reserve. If you stay overnight, you'll discover no shortage of things to do at night in San Diego either.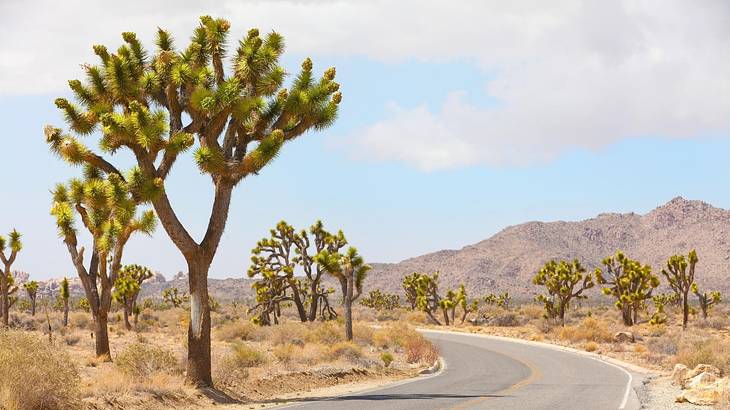 Go to Joshua Tree National Park
One of the best National Parks on the West Coast is Joshua Tree National Park. You and your partner can reach this renowned park in just two hours when driving from LA. Once you arrive, you can hike, see the park's namesake Joshua trees, and spot wildlife like rabbits, bears, and white-tailed deer.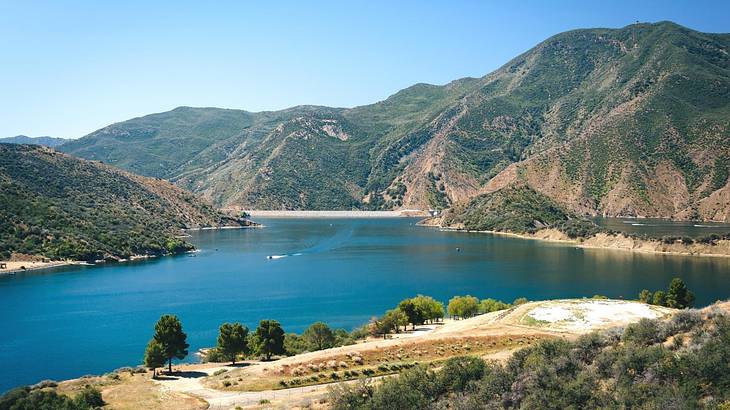 Explore Angeles National Forest
Angeles National Forest is another perfect date spot for outdoor activity enthusiasts. The 700-acre park sits on the outskirts of Greater Los Angeles within the San Gabriel Mountains and Sierra Pelona Mountains. It features multiple trails and lots of wildlife and trees native to California.
In Conclusion
This list includes some of the most romantic things to do in Los Angeles for couples, as well as some more laid-back and quirky date ideas. No matter what you and your partner enjoy doing, you'll find a multitude of memorable things to do on a date in LA!
If you're planning a multi-day couples getaway, taking a scenic road trip along the Pacific Coast Highway is also a perfect date idea.
---
---
Want to keep exploring?
Subscribe for discounts on tickets and hotels and our latest guides.
Thank you for subscribing
We will be in touch soon with discounts on tickets and hotels and our latest guides.
Want to keep exploring?
Subscribe for discounts on tickets and hotels and our latest guides.
Thank you for subscribing
We will be in touch soon with discounts on tickets and hotels and our latest guides.
Related Articles