15 Fort Myers Landmarks You Should See
Destguides may receive commissions from purchases made through affiliate links in this article.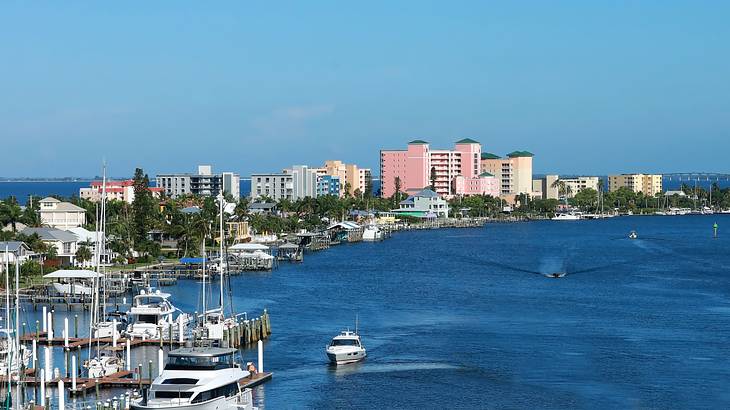 Southwest Florida is home to a unique mix of natural marvels and a rich art culture. So, it shouldn't be surprising that there are more than enough Fort Myers landmarks to fill your vacation itinerary. You can take a walk through the River District or see Florida's manatees up close, all without leaving the city!
However, with so many options, deciding which to visit first can be tough. Whether you're about to embark on a Fort Myers getaway or you just want to learn a little more about the "City of Palms," keep reading. Here are 15 landmarks you should definitely see.
15 Landmarks in Fort Myers
Barbara B. Mann Performing Arts Hall
When it comes to Fort Myers attractions, Barbara B. Mann Performing Arts Hall is one of the most versatile. The theater is after Barbara B. Mann, who was a pillar in the Fort Myers art and culture scene for 40 years. To honor her memory as a patron of the performing arts, the theater hosts numerous comedy shows, ballets, and plays each year.
Calusa Nature Center & Planetarium
The Calusa Nature Center & Planetarium is an educational site that teaches visitors about a wide range of natural sciences, from biology to astronomy. Spread over 105 acres of land, the facility is able to serve multiple purposes.
It, in part, functions as a rehabilitation and preservation center for local wildlife. However, it also houses numerous meteorites and hosts daily planetarium shows that change on a monthly basis.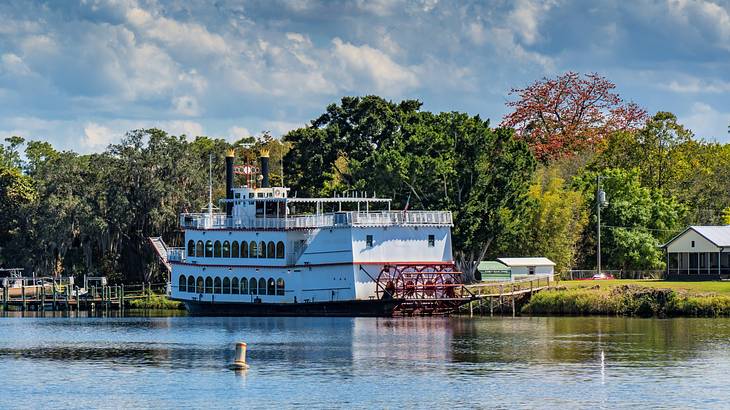 Caloosahatchee River
The Caloosahatchee River is a 67-mile-long body of water that runs through part of Fort Myers before it meets the Gulf of MExico. Today, the river serves multiple functions for the city's residents and visitors.
For one, it serves as a peaceful backdrop for those driving along the parallel McGregor Boulevard. However, it also plays an important role in helping restore and maintain the Florida Everglades because the river helps form necessary tidal wetlands.
Edison & Ford Winter Estates
This Florida landmark is a favorite among history lovers. Especially those who know about the friendship between Thomas Edison and Henry Ford.
In 1916, a few years after these two important men became close, Ford decided to purchase a winter residence in Fort Myers. He just so happened to buy the home right next door to Edison's estate.
Today, these two homes serve as a historical museum complex that honors these inventors. The properties also have a 21-acre garden that is also visitable.
Southwest Florida Historical Society
Since 1963, the Southwest Florida Historical Society has aimed to preserve the history of Florida's Gulf Coast. Each year, this group of volunteers hosts events and funds research to educate locals and tourists about the area's past. Much of the artifacts in the society's care, as well as other historic information they've collected about For Myers, are on display to the public at their headquarters.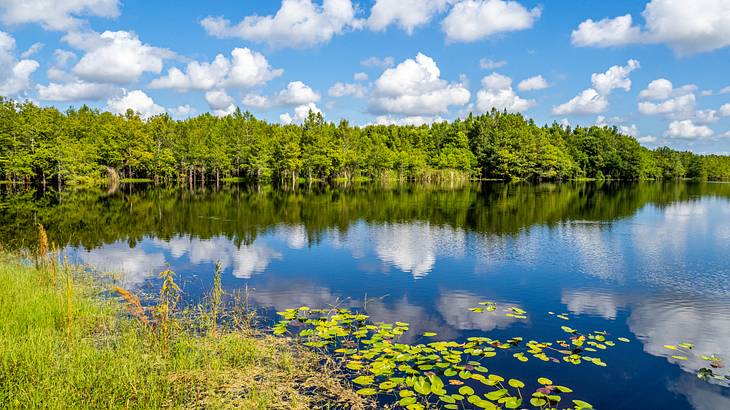 Six Mile Cypress Slough Preserve
There are many natural Fort Myers points of interest, but Six Mile Cypress Sloughy Preserve remains a local favorite. The park's 3,500-acre wetland area allows local wildlife like otters and turtles, to move around the Fort Myers area safely. If you decide to take the mile-long walk on the preserve's boardwalk, you might get to see a few of these animals for yourself!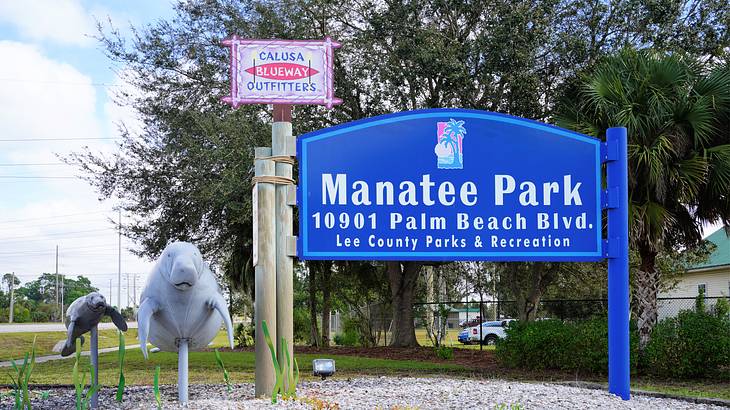 Manatee Park
Since the 1970s, the Florida Manatee has been considered a vulnerable species. That's why the Manatee Park preserve in Fort Myers is so important.
The park is located right on the coast and serves as a non-captive, natural space for these gentle mammals to live safely. When you visit, you'll even have the chance to kayak alongside them for a truly unique experience.
Fleamasters Fleamarket
If you're looking for a place to find souvenirs while in Fort Myers, you can't get much better than Fleamasters Fleamarket. With 100 different shops and thousands of square feet to explore, it's one of the largest markets in Lee County. So you're bound to find a few one-of-a-kind pieces to remember your trip by. There are even on-site food options, so it's the perfect place to spend a shopping day.
Lakes Park
Named after the nearly 160 acres of man-made lakes within its territory, Lakes Park is a favorite green space among Fort Myers families. One of the area's main features is the "Train Village," a rideable model train that allows visitors to take a 15-minute trip around the park. You can also find open spaces for picnics, event pavillions, and playgrounds available to enjoy.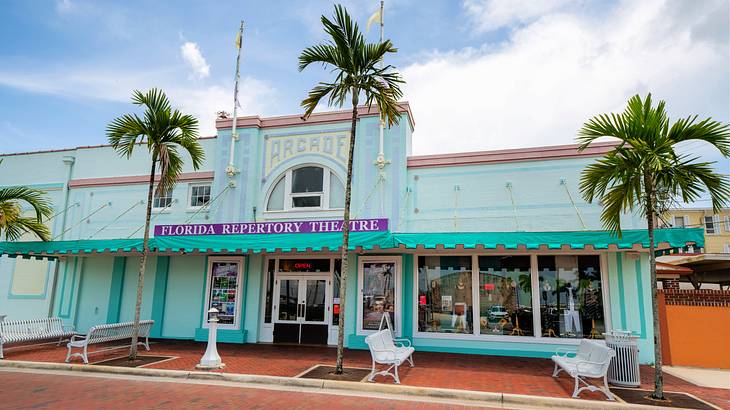 Florida Repertory Theatre
Fort Myer's Repertory Theatre has been a mainstay of Florida's culture scene for over 25 years. Between September and May, this theater company performs comedies, musicals, and more for over 87,000 spectators. The troupe typically performs at the historic Arcade Theatre, but you can also find them performing at the city's ArtStage Studio Theatre.
Centennial Park
Everyone's heard the Florida fact that it also goes by the moniker "The Sunshine State." So you'll want to spend plenty of time outside while in Fort Myers. Centennial Park is the perfect place to do that. With multiple walking paths and installations from local artists, its ambiance is a blend of peaceful waterfront nature and the city's eclectic culture. The park is currently undergoing renovations but should re-open soon.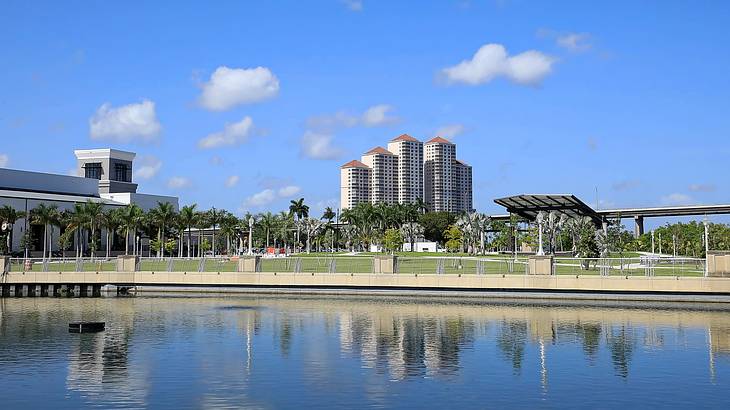 River District
The Fort Myers River District is the lively heart of the city. With numerous restaurants, shops, and tourist attractions all within walking distance, the district is the place to go if you want to experience the city like a local. To make sure you see everything the district has to offer, try to visit both during the day and in the evening.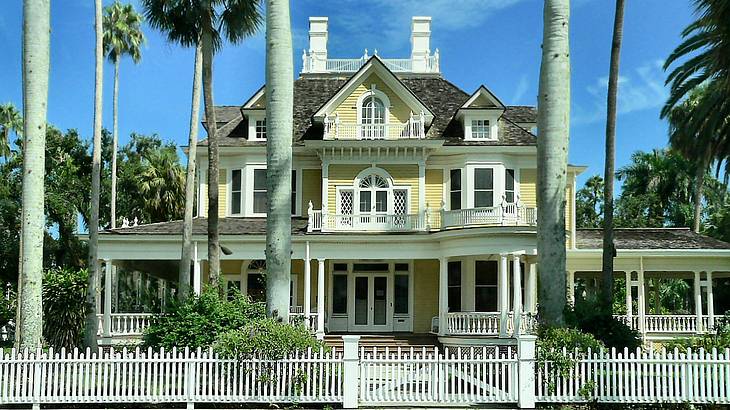 Burroughs Home and Gardens
The Burroughs Home and Gardens is one of the most significant Fort Myers historical sites. Built in 1901, the Georgian Revival estate symbolized a reinvigorated interest in the Fort Myers area. After its construction, dozens of subsequent homes popped up throughout the area. Today you can tour the home, which remains furnished in early-20th-century decor, and even use the property as an event venue.
The Butterfly Estates
Visiting the Butterfly Estates is one of the most fun things to do in Fort Myers. Operated by the Florida Native Butterfly Society Conservatory, the facility aims to protect local species and educate the public about the state's butterflies. You can visit the estate's glass house yourself or attend one of the events by the society each year.
IMAG History & Science Center
If you find yourself in Downtown Fort Myers, don't miss out on visiting the IMAG History & Science Center. The facility complex features exhibits on a wide variety of scientific topics, from engineering to marine biology, so there's something for everyone. The center even regularly has lectures, presentations, and other hands-on activities. See what's on the schedule when you visit!
In Summary
Fort Myers has a rich history, natural beauty, and a vibrant arts scene that offers practically endless opportunities for fun. From shopping til you drop to exploring the Six Mile Cypress Sloughy Preserve, there's something for everyone in this gem of a city.
Hopefully, this list has convinced you to plan a trip to the "City of Palms" so you can see what this corner of South Florida has in store for you.
---
---
Want to keep exploring?
Subscribe for discounts on tickets and hotels and our latest guides.
Thank you for subscribing
We will be in touch soon with discounts on tickets and hotels and our latest guides.
Want to keep exploring?
Subscribe for discounts on tickets and hotels and our latest guides.
Thank you for subscribing
We will be in touch soon with discounts on tickets and hotels and our latest guides.
Related Articles