20 Cool & Unusual Things to Do in Fort Myers, Florida
Destguides may receive commissions from purchases made through affiliate links in this article.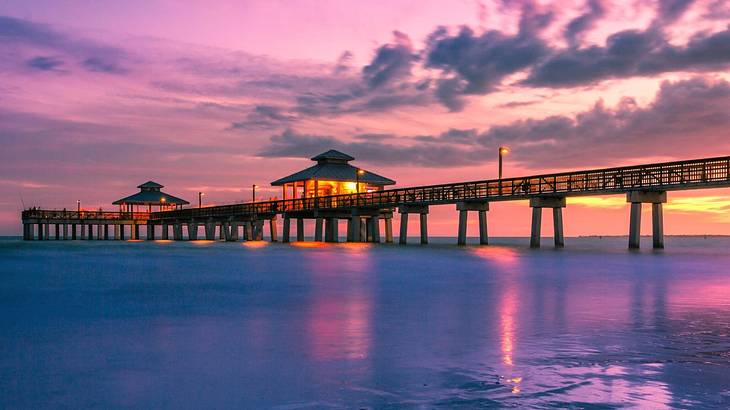 Fort Myers, Florida, finds itself at an interesting crossroads of culture and nature. It's surrounded by one of the best national parks on the East Coast, Everglades National Park, plus the Gulf of Mexico, mangrove forests, and barrier islands.
Smack in the middle of this unique geography is Fort Myers, a thriving city full of history, art, beaches, and entertainment. Its relative isolation makes it distinct from other South Florida locations like Miami, and it's closer to Cuba than to its neighboring state of Georgia.
All of this combines to make it a fascinating place to visit, so read on to find 20 cool and unusual things to do in Fort Myers, Florida!
20 Unique Things to Do in Fort Myers, Florida
Unique Things to Do in Fort Myers, FL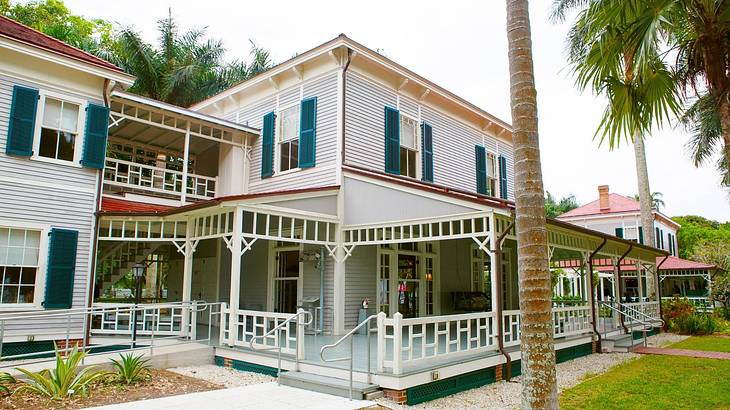 Stand on the shoulders of giants at the Edison & Ford Winter Estates
Two of America's most celebrated innovators were also some of the first snowbirds to make their winter homes in Fort Myers.
Thomas Edison and Henry Ford developed a close friendship during their time as neighbors here, and their historic houses are open to the public. A 15,000-square-foot museum on the property chronicles the life work of each American icon.
Hear spooky stories on a Fort Myers ghost tour
Are you looking for unique things to do in the evening? Then booking a Fort Myers ghost tour is a must! Your guide will take you to spots related to eerie events and tell stories of ghost sightings and paranormal activity reported in the area.
Catch an Off-Broadway show at Barbara B. Mann Performing Arts Hall
This impressive performing arts hall is a very cool way to spend your time in Southwest Florida. From one of its nearly 2,000 seats, you can see touring Broadway shows like The Lion King, The Book of Mormon, and Hamilton that have all passed through.
Other performances use this theater as well, from Blue Man Group to The Price is Right. Check their schedule to see what's on stage when you're in town.
Sample beer at Fort Myers Brewing Company
Fort Myers Brewing Company is a must-visit for lovers of craft beer. It is one of the hidden gems in Fort Myers.
Once a small basement operation, this brewery now has a diverse, rotating tap list. Whether you're looking for a hoppy IPA to sip on or a refreshing light lager after a day in the sun, this brewpub has you covered!
Connect with nature at the Calusa Nature Center & Planetarium
The Calusa Nature Center and Planetarium was created in 1970 to inspire people to connect with both nature and their place in the wider universe.
More than fifty years later, this is still a great place to visit on your trip to Fort Myers. With over one hundred acres, the facilities include the Butterfly House, the Natural History Living Museum, the Raptor Aviary, and the Planetarium.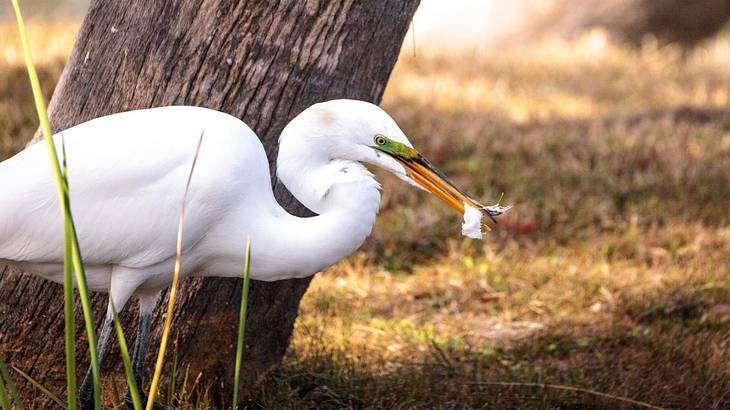 Have family fun at Lakes Regional Park
This 279-acre park in the heart of Fort Myers is built for family fun. They have playgrounds, a splash park, and a miniature railroad that will keep the little ones entertained for hours.
Lakes Regional Park also has paddleboats, a rock climbing wall, concessions, and guided walks through the botanical gardens that older kids and parents will appreciate as well.
Explore the culture of the Fort Myers River District
The brick-and-palm-lined streets of the River District are some of the cool places in Fort Myers you should visit while you're here. They're full of historic buildings, art galleries, quirky boutiques, and restaurants for whatever you're craving.
The nightlife hums here as well, with live music and celebrity DJs found at the nightclubs or just a booth for you and your friends at a local dive or sports bar.
Take a stroll through Burroughs Home and Gardens
Another historic house in Fort Myers is Burroughs Home and Gardens. Built in 1901, this mansion in the River District is open to the public and is the only home from its time still preserved in its original location.
Public tours through the extravagant house and gardens are available, showing visitors how high-society Floridians lived at the turn of the 20th century.
Solve a whodunnit on the Murder Mystery Dinner Train
Over forty miles and almost four hours long, the Murder Mystery Dinner Train will both perplex and delight you. This is one of the most unique things to do in Fort Myers, FL, and it combines a five-course meal, drinks, and an untimely death.
Make sure you stay sharp while delighting your taste buds, and be on the lookout for clues that will help you find the killer in time.
Get blown away at IMAG History & Science Center
The IMAG History and Science Center is an especially cool place in Fort Myers to visit with your family, and you can sign up for a tour to skip the line.
They have hands-on exhibits that allow kids to feed a stingray in their SEA-to-SEE tank and even hop in a hurricane simulator to experience the fury of one of nature's most incredible storms.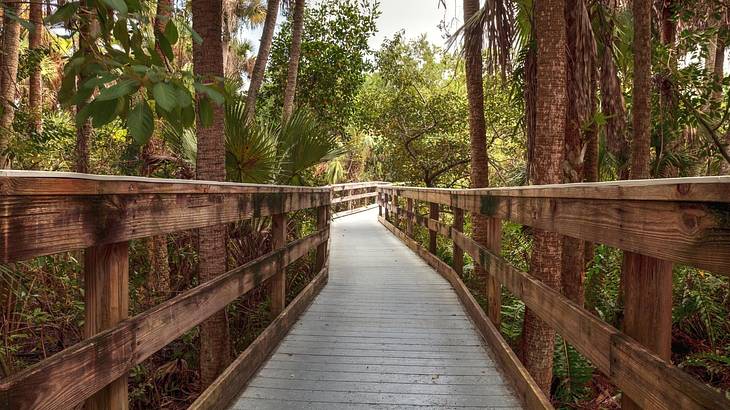 Kayak with mermaids in Manatee Park
Visiting the "mermaids" in Manatee Park is a fun thing to do in Fort Myers in winter. Manatee Park is a non-captive, warm-water sanctuary for Florida Manatees.
The Manatees spend their winter months here, typically December through February, when the temperature in the Gulf of Mexico dips below about sixty-eight degrees Fahrenheit.
During these months, you can slip into the water on a kayak to get a closer look at these peaceful "sea cows" that early mariners mistook to be mermaids.
See a performance to remember at the Florida Repertory Theatre
Since 1998, the historic Arcade Theatre in Downtown Fort Myers has been restored and run by the artists and directors of the Florida Repertory Theatre.
Catching a show by this seasoned acting troupe in a century-old theater is a fun and unique experience in Fort Myers, so check their lineup to see what's on stage when you're here.
Walk through Six Mile Cypress Slough Preserve
The Six Mile Cypress Slough (pronounced "slew") Preserve is an important wetland found just outside of town.
Depending on the season, the Preserve might resemble a stream or a swamp, but it's one of the most unique things to do in Fort Myers, FL, any time of year.
A boardwalk takes visitors through the boggy forest, where they can keep an eye out for alligators, otters, and turtles as they stop at interpretive markers to learn about the importance of wetland areas.
Check out some Spring Training
Fort Myers' CenturyLink Sports Complex and JetBlue Park are the homes away from home for the Minnesota Twins and the Boston Red Sox, respectively.
Both of these northern teams prefer to take the season's early practices and preliminary games of spring training to the more hospitable Sunshine State.
Check out their schedules for February and March to see if you can catch a bit of America's favorite pastime in the only city with two teams.
Unique Things to Do Near Fort Myers, Florida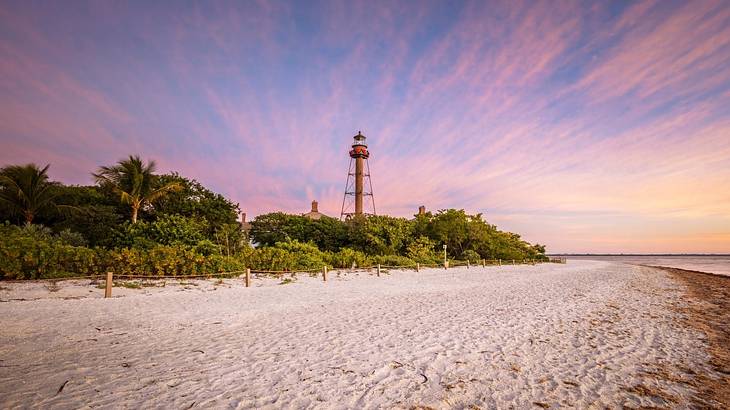 Get weird with hermit crabs on Sanibel Island
Visitors to Sanibel Island have access to its coastline of white, sandy shores, and many choose to spend the day simply basking in the sun. If you're looking to be more active, you can rent jet skis, kayaks, or bikes to explore this tropical paradise.
Go hiking (safely) in Florida Panther National Wildlife Refuge
Established in the United States under the Endangered Species Act of 1989, the mission of the Florida Panther National Wildlife Refuge is to protect the Florida Panther and its vanishing ecosystem.
To keep both people and panthers safe, most of the park is closed to the public, with daytime hiking permitted in some areas. In other words, if things go right, expect stunning scenery but no large-cat encounters on your trip here.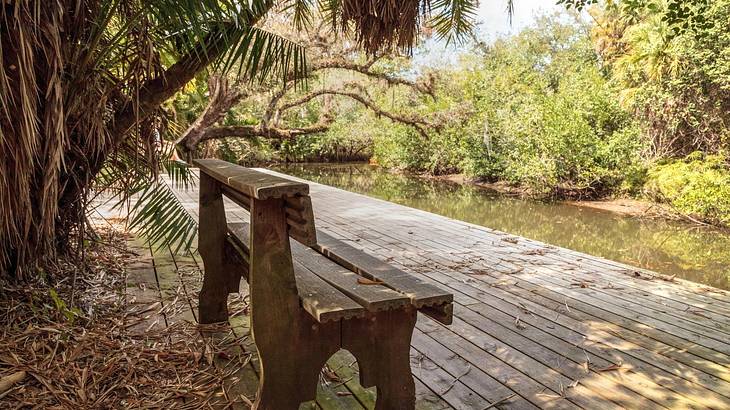 Visit an abandoned cult in Koreshan State Park
Nearby Koreshan State Park provides the odd mixture of nature trails and the ruins of a failed utopia.
Dr. Cyrus Teed, a New York physician, convinced many followers that they lived inside a hollow Earth curving inwards rather than the outside of a tiny sphere in the yawning infinity of space.
With this interestingly wrong idea, he moved his followers to the Florida swamp and preached that celibacy was the path to literal immortality until he, of course, died. The religion soon followed, its members being effectively sterilized by their beliefs.
Sail around Fort Myers on a Catamaran cruise
Taking in the beauty of Fort Myers from the water is a must! An excellent way to do so is by going on a Catamaran sail. This excursion takes you around Fort Myers and Sanibel Island. Along with admiring the scenery, you may see marine life like dolphins.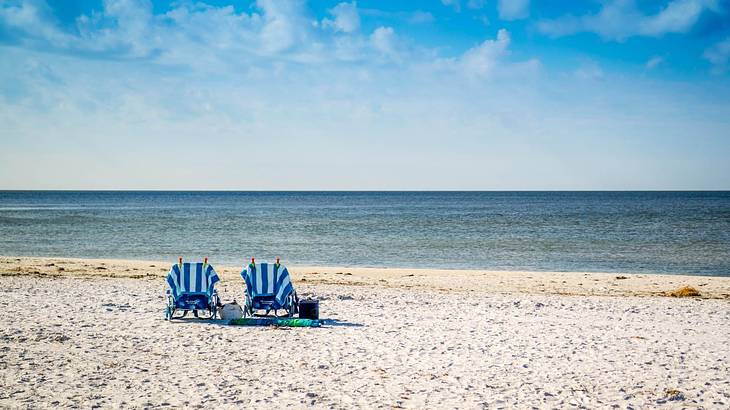 Go parasailing in Fort Myers Beach
Fort Myers Beach on Estero Island offers many unique things to do in Fort Myers, FL, and parasailing is one of the most thrilling.
If you sign up for a parasailing adventure on Fort Myers Beach, you'll find yourself gazing down at the coastline and the Gulf of Mexico from an exhilarating 400 feet in the sky.
Luxuriate on a sunset sail
One of the coolest and most memorable things to do in the Fort Myers area is treating yourself to a sunset sail. You'll hop aboard just before sunset and set sail around Fort Myers.
During the trip, you'll spot lots of landmarks before enjoying the sunset over the ocean. Wildlife sightings are almost guaranteed as well!
Conclusion
Fort Myers, Florida, is the rare city with something for everyone.
These 20 cool and unusual things demonstrate its range, though not enough can be said for its national sport of simply saddling up at a beach bar and hiding from the infamous "Florida Man."
Or, perhaps, you may wish to seek him out. Anything is possible in this mysterious but beautiful place, so get going...and good luck.
Give us feedback about this article
More visual stories related to this article:
---
---
Want to keep exploring?
Subscribe for discounts on tickets and hotels and our latest guides.
Thank you for subscribing
We will be in touch soon with discounts on tickets and hotels and our latest guides.
Want to keep exploring?
Subscribe for discounts on tickets and hotels and our latest guides.
Thank you for subscribing
We will be in touch soon with discounts on tickets and hotels and our latest guides.
Related Articles