15 Fun Things to Do in Fort Myers at Night
Destguides may receive commissions from purchases made through affiliate links in this article.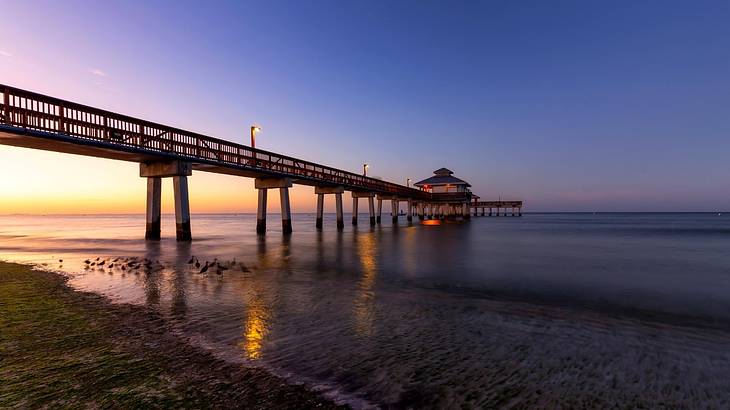 Just north from where Everglades National Park relent their domination of southwestern Florida, the city of Fort Myers straddles the Caloosahatchee River as it empties into the Gulf of Mexico.
While many come to bask in the sun on its white sandy beaches and beautiful barrier islands, there are plenty of fun things to do in Fort Myers at night as well.
It's a vibrant city full of clubs, beach bars, restaurants, historical architecture, and perhaps even some ghosts. No matter what brought you to this tropical state or how you choose to fill your days, this list will have you spending your nights in style!
15 Things to Do in Fort Myers, Florida at Night
Best Things to Do in Fort Myers at Night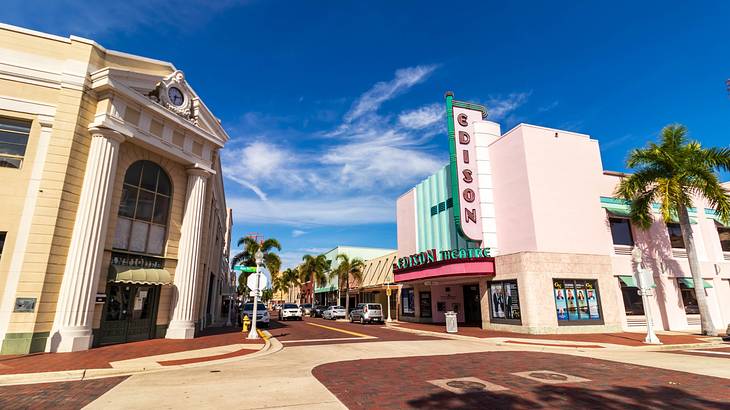 Spend a night in the Fort Myers River District
The River District in Downtown Fort Myers is a charming trip back to the city's roots. The brick-paved streets are lined with palm trees and host an impressive array of boutiques, restaurants, and historical buildings, many of which date back to the mid-1800s.
In the evening, the city springs to life with people looking for what to do in Fort Myers at night. They typically have no problem finding their way to the many bars, nightclubs, dance floors, and even the occasional celebrity DJ that makes an appearance in this vibrant, tropical city.
Get dinner and a movie at Gulf Coast Town Center
The Gulf Coast Town Center brings a little bit of everything to Fort Myers. It has shopping, dining, and even a Courtyard Marriot Hotel. This makes it both a convenient refueling stop and an easy way to spend a day beating the heat.
It remains open into the late evening, and visitors can enjoy dinner at one of its many restaurants before catching a movie at the cinema.
Dine at Blu Sushi
Blu Sushi is the perfect place to go for dinner, whether you're dining with family, friends, or a date. The sushi restaurant serves a range of rolls and fresh sashimi.
You can also get appetizers, salads, and hot dishes like chicken teriyaki or crispy fried tofu. To drink, unique cocktails and sake are available, along with wine and beer.
Find intrigue and steak on the Murder Mystery Dinner Train
Murder may be a dish best served cold, but your dinner doesn't have to be. On Fort Myers' Murder Mystery Dinner Train, you'll enjoy a five-course meal with wine and cocktails while channeling your inner Sherlock Holmes to solve a murder most foul.
You'll have forty miles and nearly four hours to rout out the killer in this live murder mystery show, and it could be anyone. Did that waiter seem a little disgruntled? Did that couple seem a little TOO nice? Keep your wits, enjoy your food, and trust no one!
Grab drinks at City Tavern
There's no shortage of unique bars to visit in the evening in Fort Myers, with City Tavern being one of the most fun and popular options. The bustling spot features indoor and outdoor seating and an extensive drinks menu. Beverages on offer range from delicious cocktails to craft beer and wine.
Get spooked on a Haunted History of Fort Myers Walking Tour
For a spooky night on the town, you can join the Haunted History of Fort Myers Walking Tour. Anywhere with such a long history is sure to have some skeletons, and you'll find this Florida town especially peculiar.
Wandering spirits seen from the corner of the eye, apparitions in photographs, and unexplained noises have all been reported by unsettled residents and guests.
This tour will take you through some of the common legends behind all this reported paranormal activity and leave you to decide what you believe.
Sample local beer at Fort Myers Brewing Company
Fort Myers Brewing Company is a must-visit for craft beer lovers in Southwest Florida. It was started by a couple of transplants, one from San Diego and one from Michigan, and has become a town staple since it opened its doors in 2013.
Their small brewing operation has grown into an enormous, rotating tap list meant to satisfy a wide range of tastes from stouts to sours and everything in between.
They also host trivia events, burger nights, and live music, so check their schedule and show up thirsty.
See a comedy show at the Snappers Comedy Club
The Snappers Comedy Club is one of the most entertaining things to do at night in Fort Myers. They've been pulling in the best touring comedians in the country for nearly three decades and will make a great addition to your trip to Florida.
This spot opens its doors early to serve dinner before each show begins, which can really help to simplify an evening if you're in the mood for dinner and a show.
Join the fun at the Edison Festival of Light Parade
In honor of the inventions of part-time Fort Myers resident Thomas Edison, the Festival of Light Parade stomps through the streets of Fort Myers each winter. Enthusiasts from all over the United States come to show off their floats and join with local participants, marching bands, and city officials.
The parade is the largest night parade in the American southeast and typically lasts for two hours while spectators jostle for the best spots from which to watch the spectacle.
Best Things to Do Near Fort Myers, Florida, at Night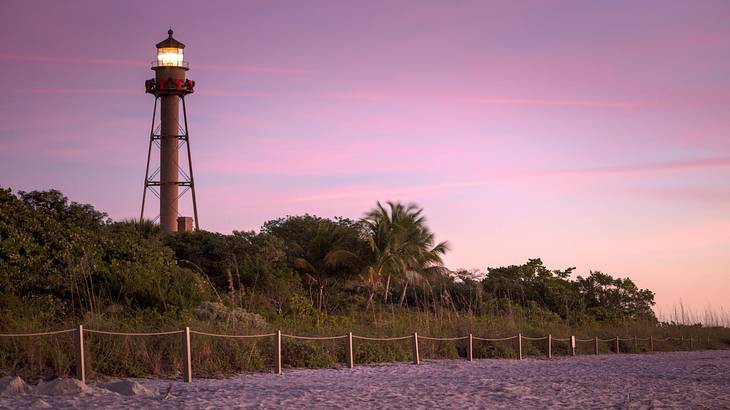 Kick back on Sanibel Island
Situated off the Florida coast, this barrier island is a popular destination and ideal for a beach day. Additionally, those looking for things to do at night in Fort Myers will be interested in heading to the island.
Once dark has set in, you can enjoy the still-warm night air at one of Sanibel Island's beach bars. RC Otter's is one of many options and has a good family atmosphere if you're traveling with kids. Watching the sunset from the beach is a must as well!
Try your luck at the Seminole Casino Hotel
Just about forty-five minutes outside of Fort Myers in the area of Immokalee, Florida, you can try your luck at the Seminole Casino Hotel.
Once there, the casino offers its guests a variety of slot machines and table games, along with excellent dining options, bars and lounges, and live shows.
As the name implies, you can also take advantage of their hotel rooms to make it an overnight trip from Fort Myers. Before heading back, you can rent an airboat to explore nearby Lake Trafford or catch a drag race at Immokalee Regional Raceway.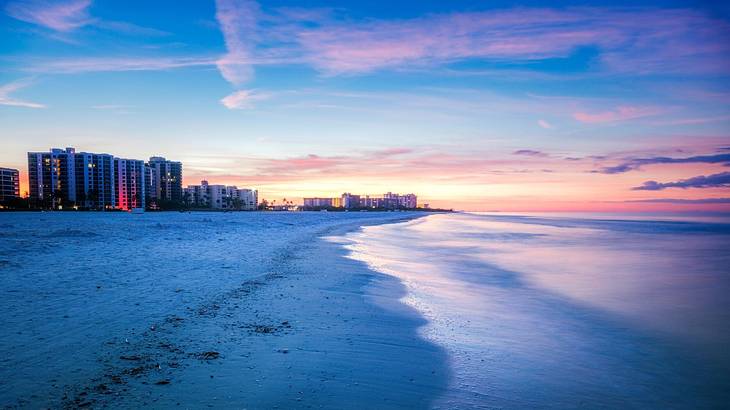 Head to Fort Myers Beach on Estero Island
Fort Myers Beach on Estero Island is a favorite destination for southern Florida beach bums, and not just while the sun's up.
In addition to happy hours and excellent dining, you can find live music nearly every night of the week at places like Dixie Fish Co and Cabanas Beach Bar & Grille.
There's live entertainment and plenty of things to do in Fort Myers at night all up and down this stretch of beach, so check the calendar to see what's happening during your visit.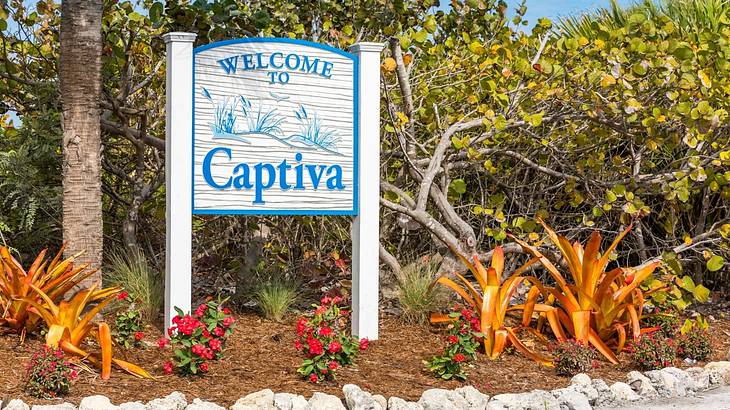 Relax on Captiva Island
Heading to the remote Captiva Island, just north of Sanibel, is an excellent way to spend a relaxing evening. After a day of soaking up the sun on pristine, white sandy beaches, stick around to catch a majestic sunset over the Gulf of Mexico.
You can also find a few bars serving food and drinks here, but note that hurricane repairs are still in progress for many businesses.
Experience a haunted pub crawl
What is there to do in Fort Myers at night if you like both ghosts tours AND bars? If this is you, you'll hit the jackpot with a Fort Myers Beach haunted pub crawl.
On this tour, ghosts, history, and booze all intermingle.
Was it a miracle, the triumph of the human spirit, or the twisted whims of a malevolent spirit that influenced events in the city's past?
How did my beer disappear already?
All of these questions and more will both trouble and inspire you as you learn to see Fort Myers through new (blurry) eyes.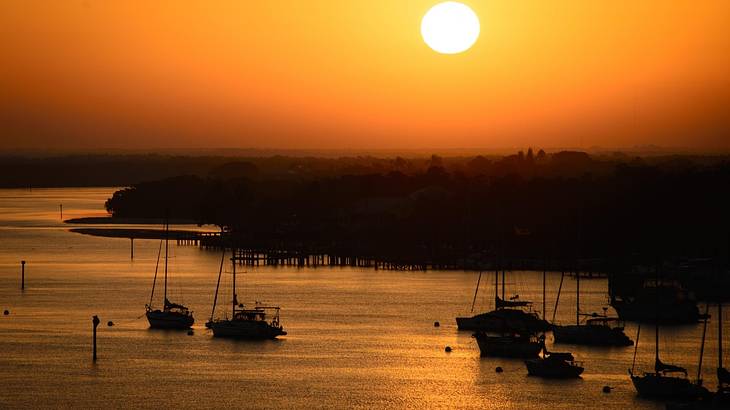 Sail away on a Sunset and Dolphin Cruise
For a trip to Southwest Florida, there's nothing more iconic than a sunset and dolphin cruise on the Gulf of Mexico. This two-hour tour departs from Gateway Marina in Fort Myers Beach and whisks you out of the city and into the mangrove forests of Estero Island.
Next, you'll head through Big Carlos Pass where the dolphins often hunt fish before heading further out into San Carlos Bay for a very memorable sunset. As the sky darkens on your way back, you'll see the night come alive in Downtown Fort Myers.
Conclusion
For many visitors to Fort Myers, their nights offer the best parts of their trip. Sitting in the warm night air with food, drinks, and a salty breeze from the sea is a strong argument for flipping nocturnal.
There's an energy that the city gives off at night after the retreat of the often oppressive sun. While the heat of the day can breed a slow pace in tropical places, the nights tend to perk things up.
This certainly holds true in Fort Myers, and hopefully, this list of the best nighttime Fort Myers attractions will provide you with inspiration for your next trip here.
Give us feedback about this article
More visual stories related to this article:
Want to keep exploring?
Subscribe for discounts on tickets and hotels and our latest guides.
Thank you for subscribing
We will be in touch soon with discounts on tickets and hotels and our latest guides.
Want to keep exploring?
Subscribe for discounts on tickets and hotels and our latest guides.
Thank you for subscribing
We will be in touch soon with discounts on tickets and hotels and our latest guides.