22 Fun Facts About Key West, Florida, That May Surprise You
Destguides may receive commissions from purchases made through affiliate links in this article.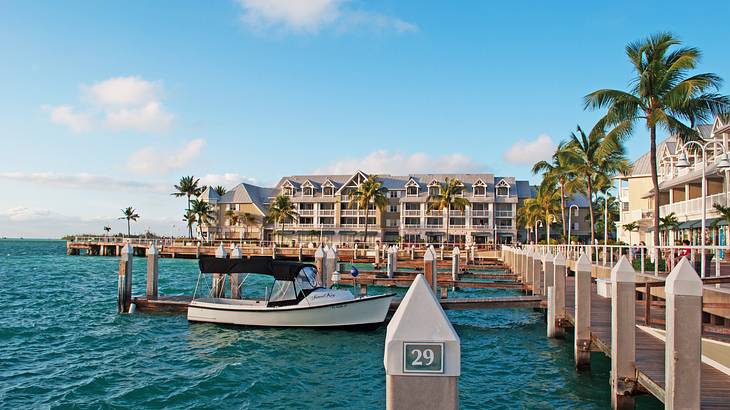 If in West Florida, visiting Key West is a must! This outstanding destination offers tourists scenic beaches, crystal clear ocean, and an array of fascinating attractions to check out.
You may be interested to know that there are also a lot of fun facts about Key West, Florida. These facts cover various Flordia topics, from how the area got its name to what famous residents have lived there.
If you want to learn more about this beautiful part of the United States, continue reading for some exciting Key West facts!
22 Key West Facts
Key West Facts Video
Check out our highlights video of Key West facts.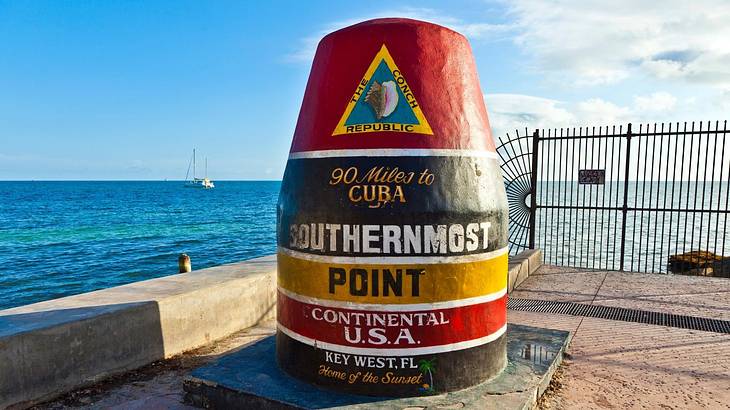 Key West is the southernmost city of the contiguous United States
A fun fact about Florida is that Key West is the southernmost city of the Continental United States. The specific location of the Southernmost point on the island is at an intersection between Whitehead Street and South Street. You can easily spot the marker highlighting the spot, and this is a must-visit location when in the Florida Keys.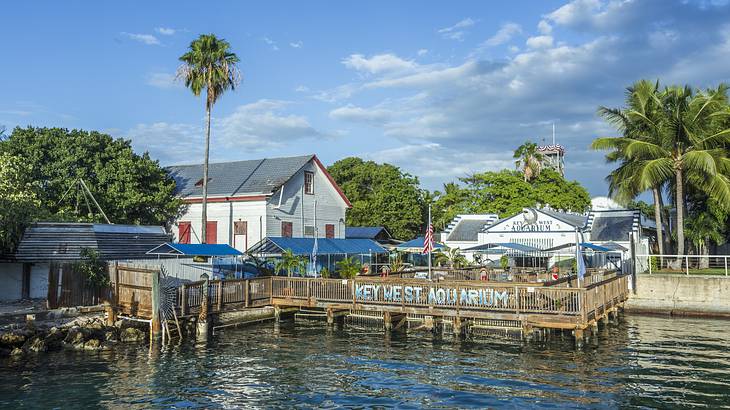 Admission to the Key West Aquarium was once 15 cents!
The Key West Aquarium is the only aquarium in Key West, Florida, and it's a much-loved landmark. It's also one of the oldest aquariums in the state. The aquarium opened in 1934, and adult admission was 15 cents, with it costing 5 cents for children to enter.
Despite admissions fees being a bit more today, the aquarium remains a fun educational landmark to visit. Marine creatures to see include various tropical fish, sharks, jellyfish, and turtles.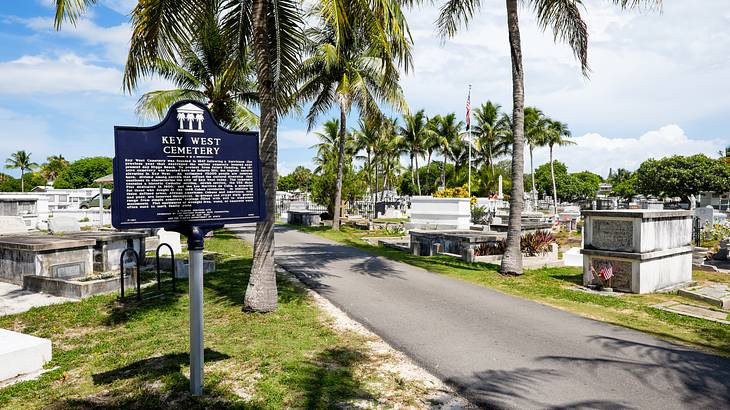 100,000 people are buried in Key West Cemetery
One of the very interesting facts about Key West is that there are approximately 100,000 people buried in the Key West Cemetery. That's over three times the number of living residents in Key West, with the current population being about 30,000.
Located in Old Town, the cemetery was opened in 1847, and burials still occur to this day. The cemetery sits within a scenic 19-acre park and features graves for individuals from various religions, eras, and walks of life.
Key West was first called Cayo Hueso
Before getting the name Key West, the area was called Cayo Hueso, or Bone Island. Spanish settlers picked the name due to the skeletal remains of Calusa Indians found on the Keys.
When English-speaking settlers began to arrive, they misheard Cayo Hueso as Key West! Once these settlers claimed the territory, it was renamed Key West. Despite this, Spanish speakers still refer to the area as Cayo Hueso.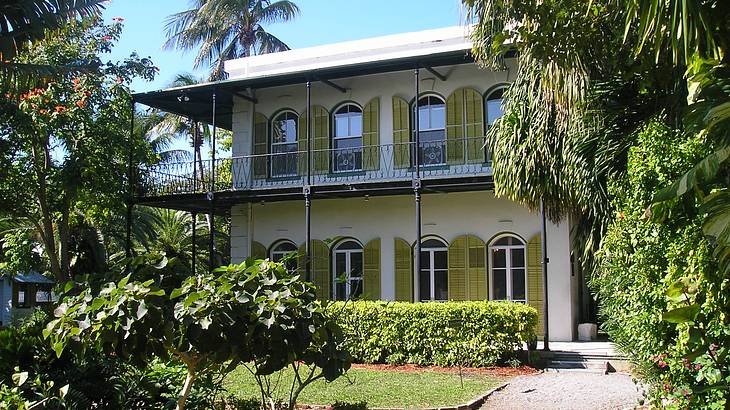 Ernest Hemingway lived and wrote in Key West
The writer Ernest Hemingway had a residence in Key West in the 1930s. In this home, he wrote the majority of his most famous works. Hemingway's son was also born in Key West, and the writer's home featured the first above-ground pool in the area.
Today, Hemingway's former home is a museum and is a must-visit attraction to add to your Key West itinerary.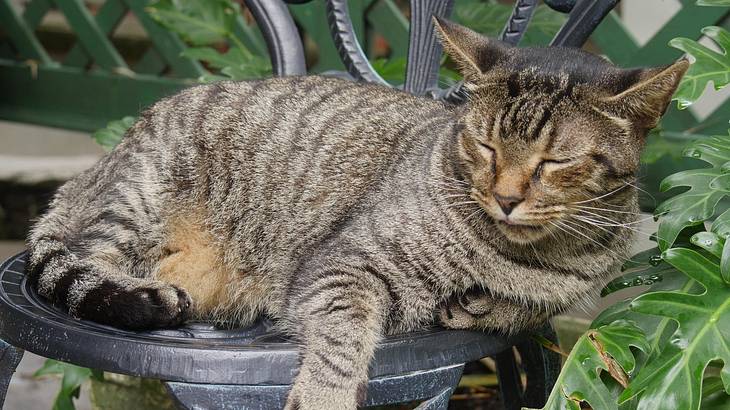 Unique six-toed cats live at Ernest Hemingway's House
Another of the interesting facts about Key West, relating to Ernest Hemingway, is that about 60 polydactyl cats live on his property. These six-toed felines are extremely rare and are said to be descendants of Hemingway's cat Snow White, also a polydactyl kitty.
If you visit the Hemingway Museum, you're sure to spot some of these cute residents!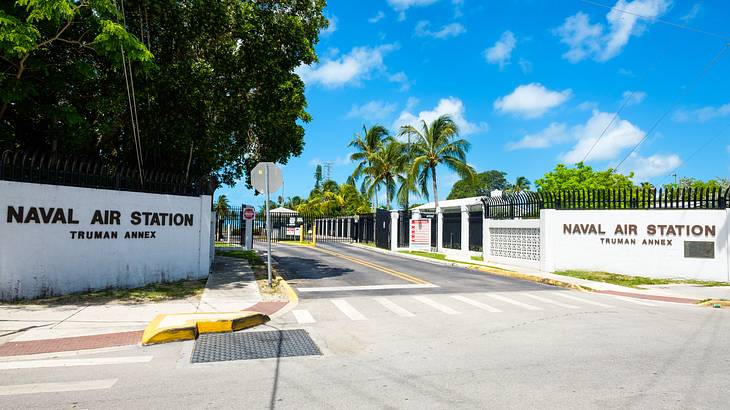 The United States Navy have a training facility on Key West
The US Navy has a base on Key West, the Naval Air Station Key West. This location was specifically chosen as a training ground due to the ideal flying conditions that Key West presents.
There are clear and calm conditions all year, which are difficult to find anywhere else in the US. These conditions allow for a range of aerial drills to be performed every day of the year without hindrance.
The third most-intense Atlantic hurricane damaged Key West in 1935
In 1935, the "Labor Day Hurricane" struck Key West, causing significant damage. At the time, the hurricane was the most intense Atlantic hurricane ever to be recorded.
To this day, the Labor Day hurricane is still the third most intense hurricane on record in the United States. Only Hurricane Wilma (2005) and Hurricane Gilbert (1988) were more intense, in terms of peak pressure.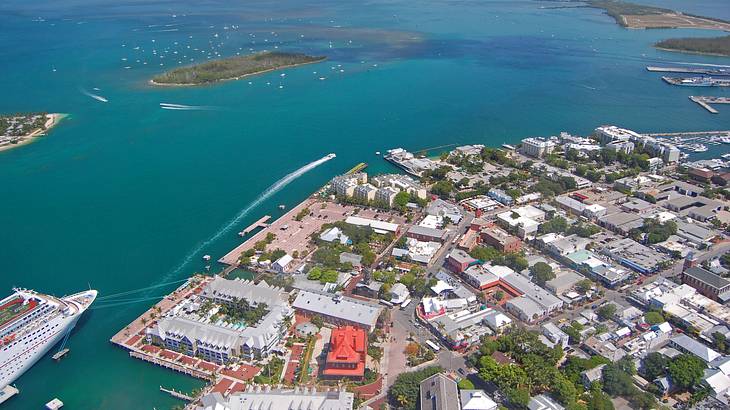 Key West is the most populated area of Monroe County
Monroe County is the jurisdiction that Key West and the rest of the Florida Keys fall under. Key West is not only the county seat, but it's also the most populated area of Monroe County.
The county has a population of just over 73,000 people, and Key West has approximately 26,400 residents; this makes Key West the largest city in Monroe County.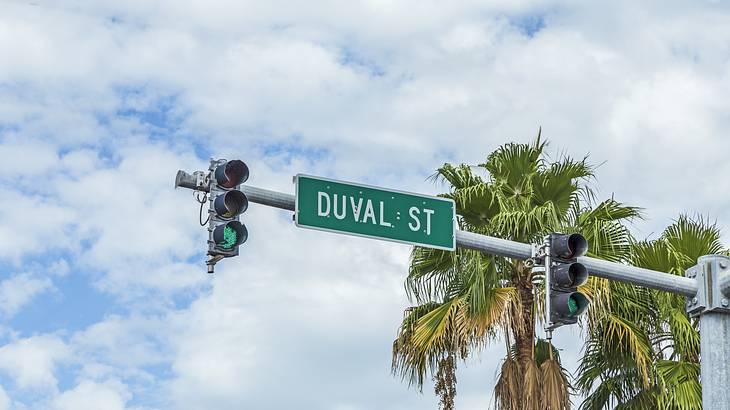 Duval Street gets its name from Florida's first governor
Duval Street is a popular area of Key West, especially for those looking to party. One of the Key West history facts relating to the street that many don't know is that it was named after Florida's first territorial governor.
William Pope Duval was governor of Florida from 1822 to 1834. He's known for establishing a local court system and naming Tallahassee as the state capital.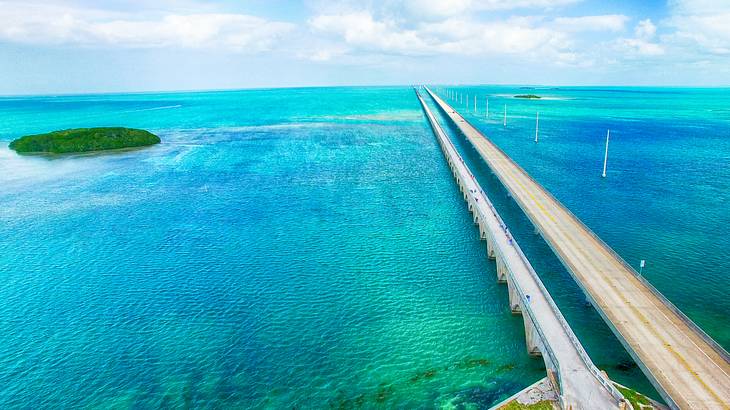 The Overseas Highway includes 42 bridges
The Overseas Highway is a 113-mile-long roadway that connects Key West to Key Largo. Interestingly, the Overseas Highway features 42 different bridges, making all the Keys accessible.
The bridge is also known as the "Highway that Goes to Sea." This is because the highway runs almost completely over the Atlantic Ocean as well as over Florida Bay and the Gulf of Mexico.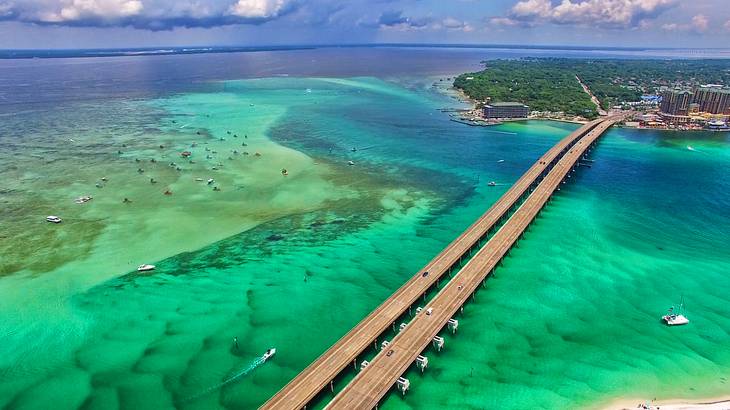 Seven Mile Bridge is the longest bridge in the Keys
The Overseas Highway features numerous bridges, the most well-known of which is the Seven Mile Bridge. This bridge also holds the title of being the longest bridge in the Florida Keys. The 35,720-footbridge was originally built in 1912 but was reconstructed in the early 1980s.
During its initial construction, the bridge amazed people in the US. This is because a project like this, with miles of bridge over open water, had never been attempted before. Today, the bridge is an important transport route for many residents and has even featured in films like 2 Fast 2 Furious.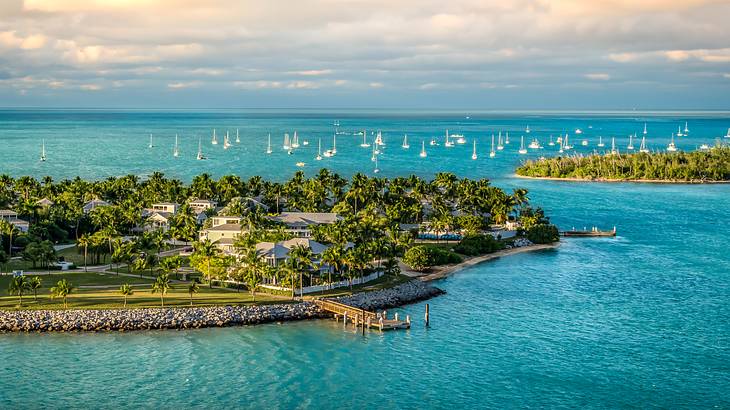 Sunset Key is man-made
One of the Key West, Florida, facts that you may not know is that Sunset Key is a man-made island. Sunset Key was originally called Tank Island and was created by the US Navy in 1965. Its purpose was to be used as a fuel tank depot during the Cold War.
Today, the island is a luxury residential area of Key West, with stunning homes and beachside cottages. Homes on Sunset Key are valued at $1.5 million minimum. Nearby Wisteria Island was also created by the US Navy in the early 1900s.
There's an annual Key lime festival in Key West!
One of the Florida Keys' most famous exports is Key limes. Although the fruit is barely grown in the Keys anymore, Key West still hosts an annual Key lime festival that's been running since 2002.
The festival celebrates everything key lime, and you can get a range of food and beverages incorporating the fruit. Most importantly, there's a large selection of Key lime pies available for purchase!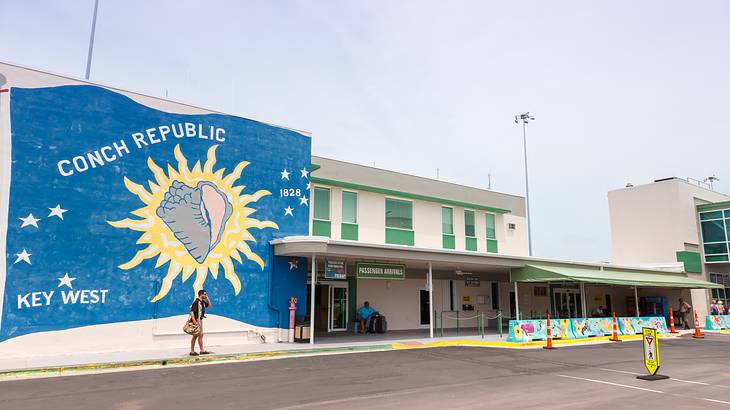 Key West tried to secede and form the Conch Republic
In April 1982, the residents of Key West declared that they wanted to secede from the United States to form the Conch Republic. The desire to secede was due to issues with a US border patrol checkpoint, mainly that it damaged the Key West tourism industry.
The secession did not happen, but a lot of residents still refer to the area as the Conch Republic and call themselves "Conches." A week-long Conch Republic Independence Celebration also takes place every April.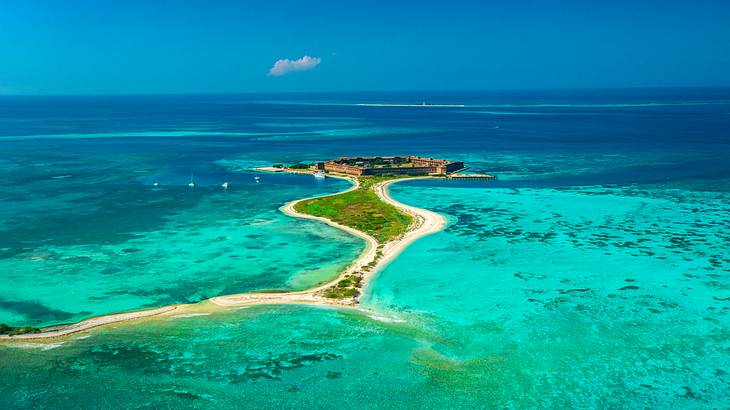 The Westernmost of the Keys isn't Key West
Another of many Key West, Florida, facts to know is that Key West isn't technically the Westernmost point of the Florida Keys. Dry Tortugas National Park, which sits on its own island, is the westernmost point. The park is located 70 miles west of Key West and features the historic Fort Jefferson and scenic surroundings.
Despite this fact, Key West does still hold the title of being the Westernmost of the inhabited islands in the Florida Keys. Dry Tortugas National Park is uninhabited by humans.
President Truman had a winter residence in Key West
President Harry S. Truman owned a home in Key West that he used as his winter residence while in office. To date, the Harry Truman Little White House remains Florida's only presidential site.
Truman spent 175 days of his presidency at the home and welcomed guests such as Thomas Edison. Other presidents have visited or used the home too, including Dwight Eisenhower and Bill Clinton. Today, the house is a museum that you can tour.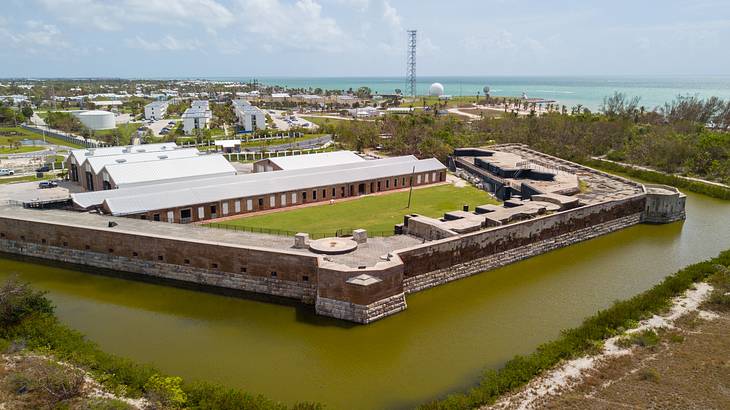 Fort Zachery Taylor has the world's largest cache of Civil War armament
Fort Zachery Taylor is a National Historic Landmark constructed in the mid-19th-century. The fort sits within Key West's Fort Zachary Taylor Historic State Beach Park.
An interesting fact about this Florida landmark is that it housed the world's largest cache of Civil War armament. In 1968, Civil War guns, canyons, and ammunition were excavated, with the total collection of hidden weaponry being the biggest discovery of its kind recorded.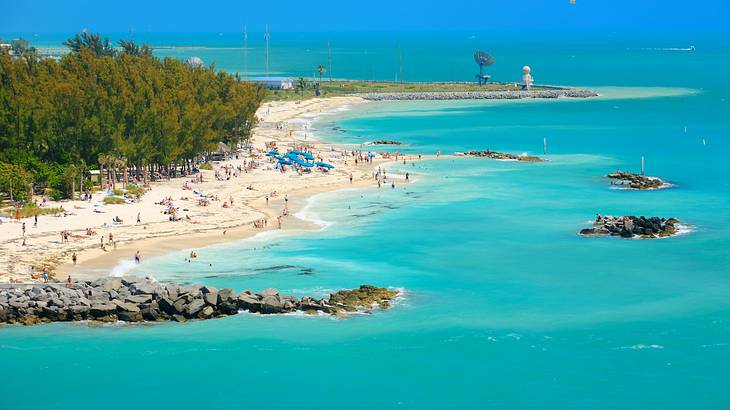 It never snows in Key West!
Tourists flock to Key West for its warm and sunny weather. Therefore, it may not be too surprising to learn that it's never snowed in Key West. The area has never recorded snowfall or even frost or sleet. The formation of ice is also almost non-existent, although some ice has been seen in the Upper Keys.
If looking for a destination where hot and dry weather is almost guaranteed, Key West is the place to go!
Pan American Airways was founded in Key West
One of the numerous fascinating Key West, Florida, facts is that Pan American Airways was founded in Key West in 1927. Pan Am originally acted as a scheduled mail service route between Key West and Havana.
The airline went on to service multiple cargo and passenger routes. Pan Am officially ceased operations in December 1991 when the company declared bankruptcy.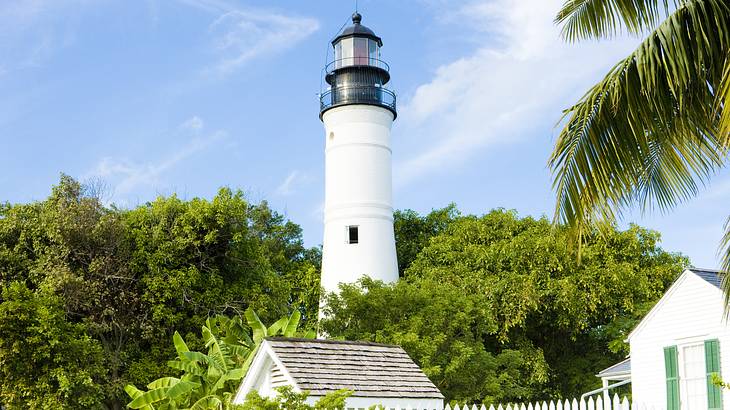 One of the first female lighthouse keepers lived in Key West
In the 1800s, being a lighthouse keeper was an important job. However, this job was primarily assigned to men. In 1832, Key West resident Barbara Mabrity broke that tradition by becoming one of the first recorded female lighthouse keepers.
In 1891, another Key West female, Mary Eliza Bethel, followed suit, becoming the new keeper of Key West Lighthouse.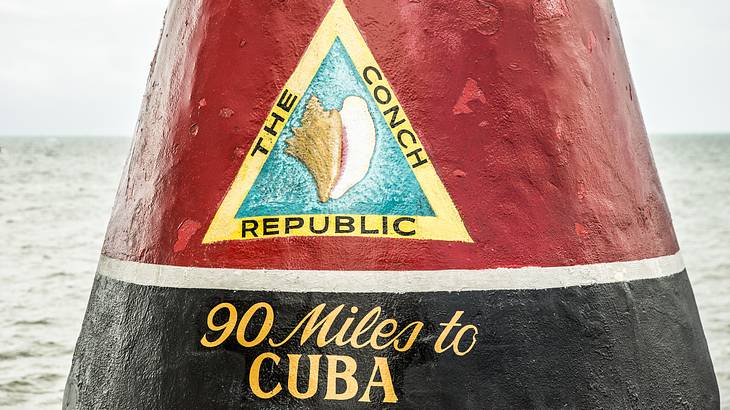 Key West is closer to Havana, Cuba, than to Miami, Florida
Miami, Florida, is just a three-hour drive from Key West. However, Key West is closer to Havana, Cuba than to Miami. Miami is approximately 130 miles away, while Havana is 106 miles away (or 90 miles away from the southernmost point.)
Interestingly, Key West is known as a finishing point for marathon swims that start in Cuba!
In Summary
Key West is a must-visit destination with lots to teach visitors about its history and culture. Whether you're planning to visit, go to Key West often, or even live there, you're guaranteed to have learned something new with these 20 Key West facts!
Want to keep exploring?
Subscribe for discounts on tickets and hotels and our latest guides.
Thank you for subscribing
We will be in touch soon with discounts on tickets and hotels and our latest guides.
Want to keep exploring?
Subscribe for discounts on tickets and hotels and our latest guides.
Thank you for subscribing
We will be in touch soon with discounts on tickets and hotels and our latest guides.