25 Famous Landmarks in Miami, Florida, to Visit
Destguides may receive commissions from purchases made through affiliate links in this article.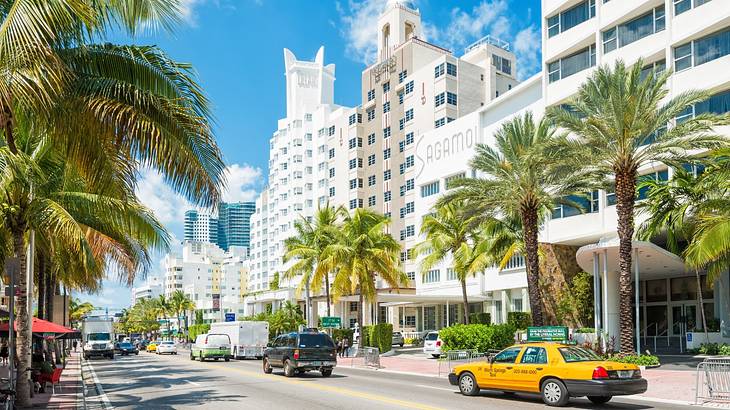 Miami in Florida is a favorite destination for many tourists, from families to spring breakers and even the rich and famous. The city has a flashy beach town vibe and features Art Deco buildings, high-end shops and restaurants, and sandy beaches.
As one of the US' major cities, you'll discover numerous famous landmarks in Miami, Florida. Interestingly, lots of these landmarks are areas of the city instead of physical buildings and monuments.
These iconic neighborhoods include the Art Deco District and South Beach. You will also find some famous buildings to see, however, such as the Freedom Tower and the Ancient Spanish Monastery. To find out what you must see when in this part of Florida, read on for 25 landmarks of Miami.
25 Famous Miami Landmarks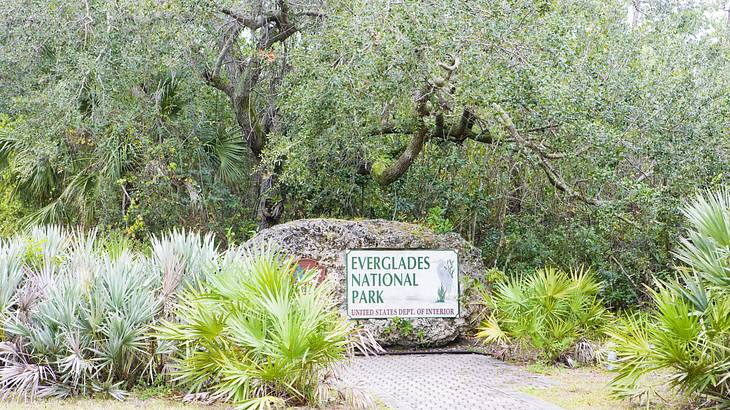 Everglades National Park
Everglades National Park is a wetland preserve in South Florida and one of the best national parks on the East Coast. It is located about an hour outside of Miami. The wetlands span 1.5 million acres and are home to a range of wildlife, including alligators, leatherback turtles, and Florida panthers.
There are numerous ways to explore the area, and a range of tours of Everglades National Park are available. These excursions include boat and airboat tours, kayaking tours, and walking eco-tours.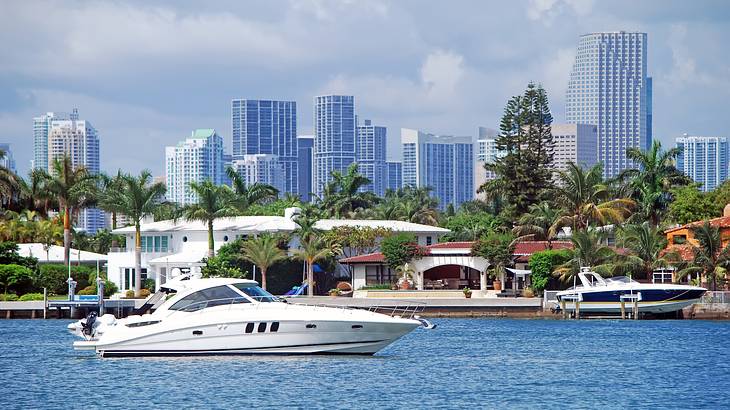 Miami Beach
Miami Beach is one of the most iconic landmarks of Miami and a must on any Miami itinerary! Miami Beach is its own island, connected by bridges to mainland Miami. Miami Beach is home to many popular Florida landmarks discussed here, like South Beach and the Art Deco District.
Miami Beach oozes luxury, and there are numerous fun things to do there. To start with, you'll find a host of high-end bars and restaurants, most of which offer beachside dining. There are also incredible shops and museums and unique architecture.
Of course, you'll find beautiful sandy beaches to relax on as well. When in Florida, you must see Miami Beach!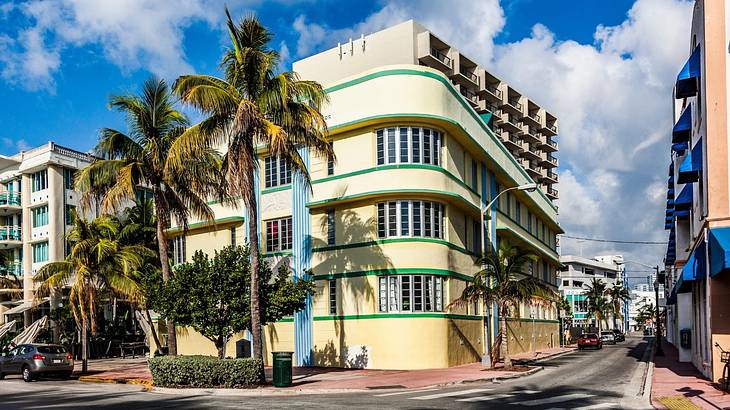 Art Deco Historic District
The Art Deco Historic District, near Miami Beach, is one of the famous landmarks of Miami. However, it's an area of the city instead of a building or monument. The district is known for its retro vibes and over 800 art deco-style white and pastel stucco buildings.
When in Miami, be sure to walk around this area and learn more about the Art Deco District by going into museums and galleries.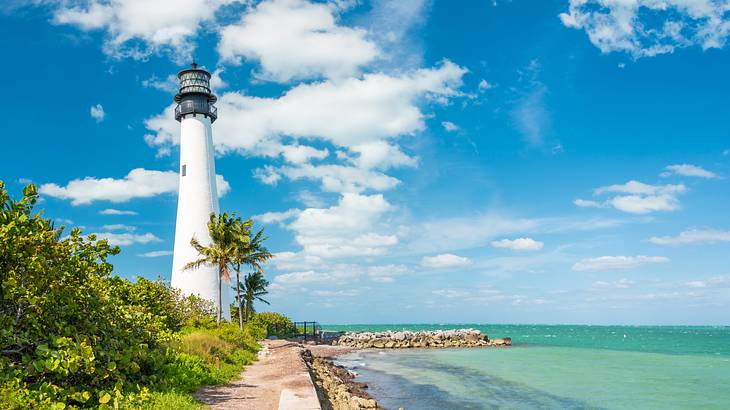 Cape Florida Lighthouse
Cape Florida Lighthouse is another of the fascinating landmarks of Miami. The lighthouse sits in Bill Baggs State Park on Cape Florida at the south of Key Biscayne. This landmark was constructed in 1825 and has sat on the Cape ever since. It's notably the oldest structure in the Miami-Dade area.
Visitors can climb up 109 stairs to the top of the lighthouse. Once at the top, you'll get to enjoy breathtaking views of Cape Florida, Key Biscayne, Miami Beach, and the Atlantic Ocean. After seeing the lighthouse, you can go to relax on the beach that surrounds it.
Coral Gables Merrick House and Gardens
The Coral Gables Merrick House is a National Historic Landmark in greater Miami. The house was home to George Merrick and his family. Merrick was the founder of the city of Coral Gables, and the house acts as a museum dedicated to his life and the history of the region.
Once inside the building, you can explore all 14 rooms, which are decorated as they would have been in the 1920s. A guide will offer more information on the Merrick family and the home.
You can then wander around the 1.3-acre grounds. In the gardens, you'll discover multiple species of fish, a lily pond, and various beautiful plants, flowers, and trees.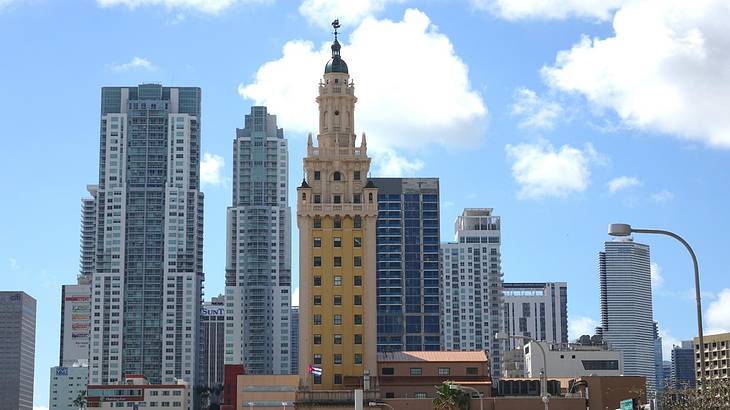 Freedom Tower
Miami Dade College's Freedom Tower is one of the many famous Miami buildings. The North American landmark was designed by Schultze and Weaver in 1925 and today houses a contemporary art museum. Interestingly, the tower acted as an immigration center in the 1960s for immigrants arriving from Cuba.
When visiting, you can appreciate the stunning architecture before heading into the museum. At the museum, you'll discover a range of exhibits with contemporary art, as well as a few featuring other styles of artwork. A visit to the Freedom Tower is an ideal activity for those interested in history, art, and architecture.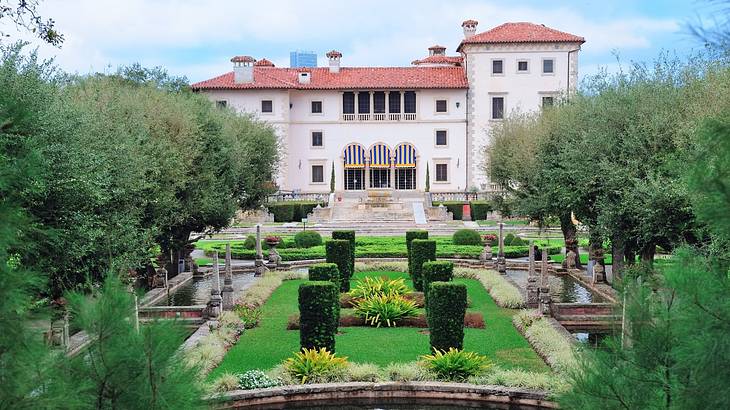 Vizcaya Museum and Gardens
Located in Miami's Coconut Grove, Vizcaya Museum and Gardens is an Italian-style villa and estate previously owned by James Deering. Today, the building houses a museum that has many of the original furnishings and exquisite artworks.
Once you've taken in the luxury of the main house, you can explore the Mediterranean gardens. These gardens feature an array of plants, including roses, orchids, and champion trees.
Outside, you'll also discover a range of antique outdoor sculptures and fountains from the Baroque and Renaissance periods. Vizcaya Museum and Gardens exhibits pure luxury and decadence and is a must-see in Miami!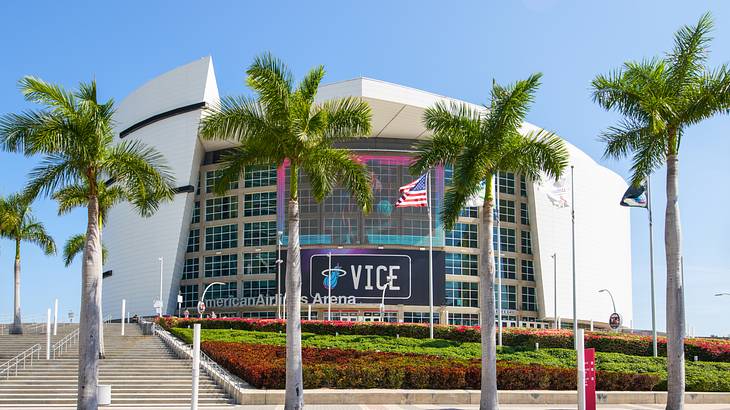 American Airlines Arena (FTX Arena)
FTX Arena, formerly known as American Airlines Arena, is a sports and entertainment complex in downtown Miami. The arena is notably recognized as the place where the Miami Heat NBA team plays. If in Miami, catching an event at the arena is well worth it.
If you like sports, be sure to get tickets to a Heat game (if visiting during the basketball season.) Alternatively, FTX Arena hosts music events and concerts, especially featuring Latin artists. No matter what you decide to see, you're sure to have an amazing and memorable time.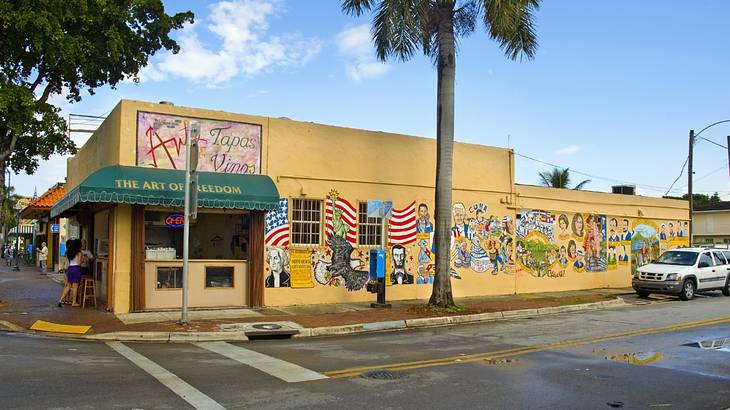 Little Havana
Little Havana is the city's Cuban district and the area is well-loved as one of the numerous landmarks in Miami. It is also one of the fun things to do in Miami for couples.
In the 1960s, many Cuban immigrants arrived in Miami, and they brought with them their rich culture and heritage. The district of Little Havana features Cuban restaurants, shops, and other attractions. With Latin music often playing in the street as well, you could easily think you were in Central or South America!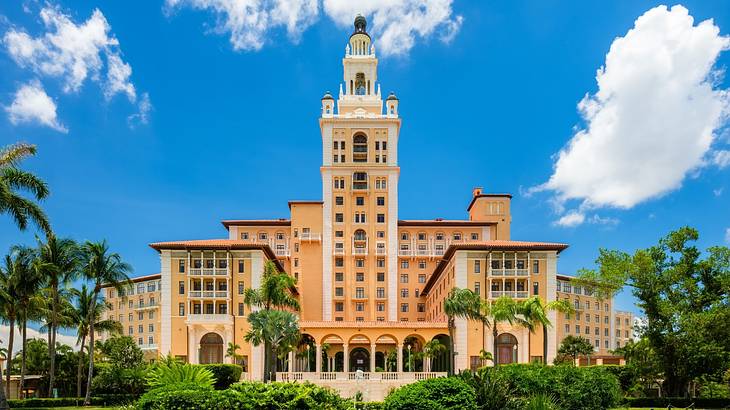 The Biltmore Hotel
The Biltmore Hotel is an iconic location found in the Coral Gables area of Miami. The luxury hotel is another Miami landmark designed by Schultze and Weaver and was constructed in 1926. The design of the building takes inspiration from Seville in Spain.
Today, the hotel remains in its former glory and boasts exquisite European-style guest rooms and a beautiful pool and spa. If you're staying here, you can relax by the pool in a cabana, dine at the high-end restaurant, or play a round of golf on the Biltmore Golf Course. Being at the Biltmore Hotel is the ultimate opulent experience.
Phillip and Patricia Frost Museum of Science
The Phillip and Patricia Frost Museum of Science has been in Miami since 1949. The museum features hands-on exhibits relating to science, weather, and technology. There's also a planetarium and an aquarium.
This location is notable as it houses the only aquarium, planetarium, and science museum in Miami. Exhibits at the museum cover topics like space travel, dinosaurs, the body, and scientific research and discovery.
Once you've explored the museum, head to the aquarium to get up close to marine life, like stingrays and sharks. Finally, visit the planetarium to learn more about space and the cosmos. A trip to the Phillip and Patricia Frost Museum of Science is fun for both kids and adults!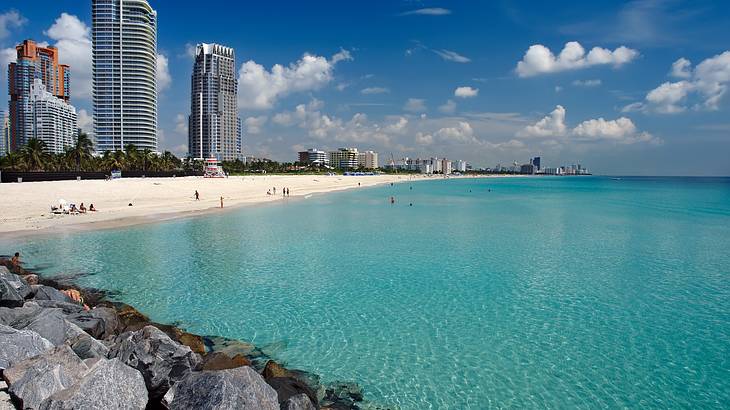 South Beach
South Beach is a landmark area of Miami known for beautiful beaches, high-end eateries and shops, and glamorous vibes. You can also find more Art Deco-style buildings here, especially on the renowned Ocean Drive.
When in the area, you'll discover a variety of exciting South Beach activities to keep you entertained. Things to do include going on food tours, cruises, and guided walking tours. You can also do yoga or hang out on the beach and simply explore the scenic area.
Best of all, as the weather is generally good in the city, you won't have to worry about rain or cold ruining your South Beach trip. The Miami nickname, the Sunshine City, exists for a reason!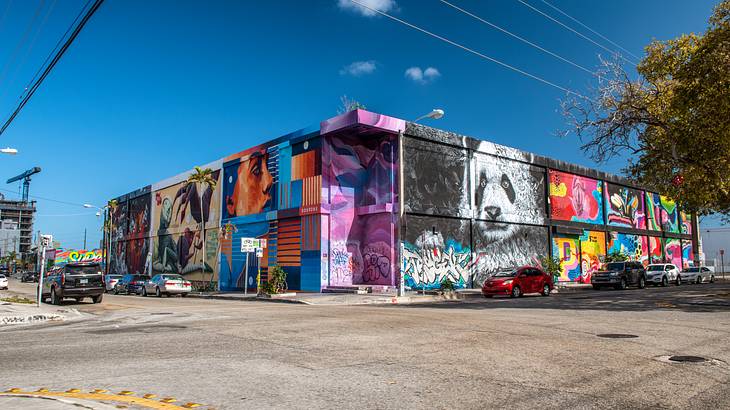 Wynwood Walls Street Art
Miami is a highly artistic city, and the Wynwood Walls Street Art is a prime example of this. The free outdoor display features an array of colorful and unique murals. The art has been placed there by various artists from across the globe.
Viewing the street art is a must for anyone visiting Miami and is the ideal way to get some incredible photographs. You can also find a vast selection of art galleries, shops, and restaurants in the area.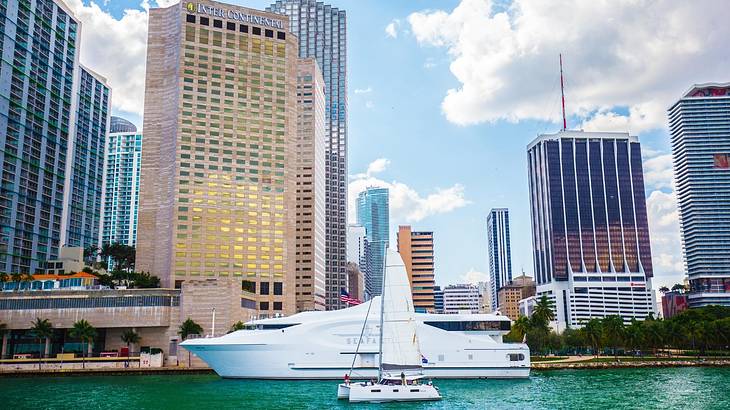 Biscayne Bay
Biscayne Bay is another of the landmarks of Miami that is an area of the city instead of a physical landmark. Biscayne Bay is actually a lagoon and features crystal clear water, a marina, and many attractions. This part of the city is also home to some of the most high-end hotels in Miami and attracts the rich and famous.
You can discover a host of things to do in Biscayne Bay, including jet-skiing, going on cruises, and enjoying boat parties. The area also has multiple golf courses and a selection of restaurants, bars, and shops. In addition, a fun Miami fact about the bay is that you may see manatees swimming in it!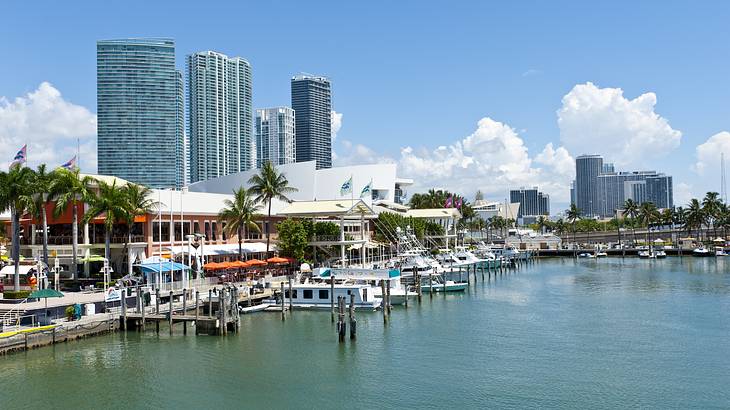 Bayside Marketplace
Bayside Marketplace is a unique open-air shopping mall. The mall covers two stories and features shops and restaurants. It's also recognized as one of Miami's most visited attractions. Stores to explore include well-known brands and interesting independent shops.
Once you've shopped around, stop for a snack and drink at one of the multiple bars, cafes, and restaurants. Dining options include chains like Five Guys and lesser-known brands. Best of all, you can shop and eat right on the water's edge, taking in the stunning surrounding views of Biscayne Bay.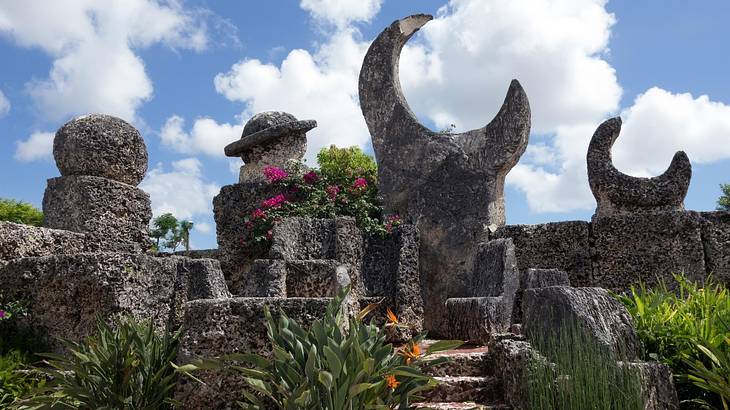 Coral Castle
Located between Homestead and Leisure City in Miami-Dade County, Coral Castle is another monument in Miami you must see. The limestone structure was created by Edward Leedskalnin over 28 years, finally being completed in 1920.
When visiting the attraction, you'll be amazed by the rock structure. The design features 1,000 tons of coral rock. The rock is shaped into walls, garden sculptures, and even furniture.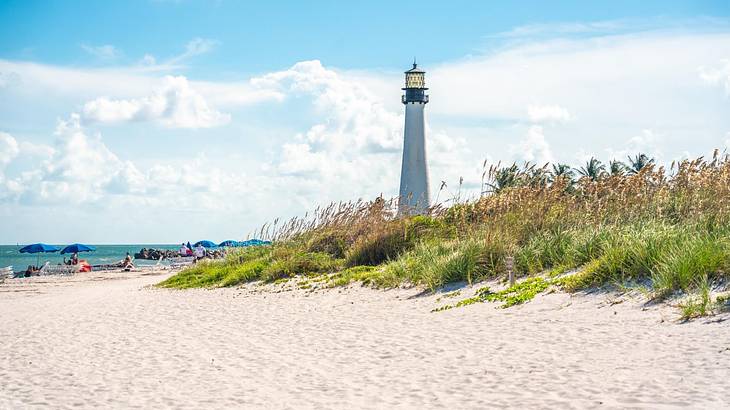 Bill Baggs Cape Florida State Park
Bill Baggs Cape Florida State Park is one of the most well-known outdoor attractions in Miami. The park was named after Bill Baggs, who was editor of the Miami News from 1957 to 1969. It covers about a third of Key Biscayne Island and is home to the Cape Florida Lighthouse.
At the park, you can relax on the sandy beach or wander around a few coastal forest paths. The water here is also warm and calm, making it great for swimming. Other popular activities to enjoy at Bill Baggs Cape Florida State Park include biking and kayaking.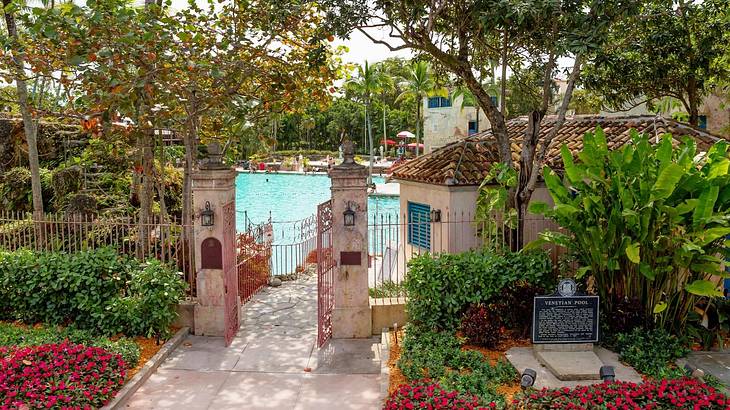 Venetian Pool
The Venetian Pool is a historic pool located in Coral Gables. Opened in 1924, the landmark was constructed from coral rock and continues to see thousands of visitors yearly. It was added to the National Register of Historic Places in 1981 and is the only swimming pool in the world with that title.
The freshwater pool has a Mediterranean feel and even features a waterfall and a grotto. Palm trees surround it to add to the feeling of being a tropical oasis. If in Miami when it's open from March through October, visiting the Venetian Pool and going for a swim is a must!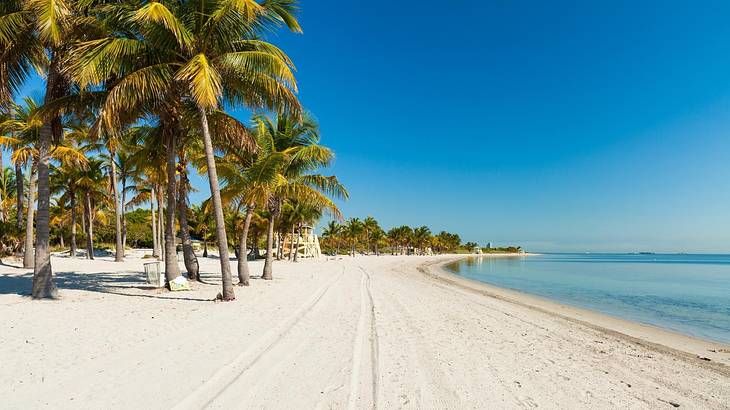 Crandon Park
Another must-see place to add to your Miami landmarks list is Crandon Park. The 808-acre park is in Key Biscayne and features a two-mile-long beach, palm tree-lined paths, and ocean views.
Crandon Park was donated to Miami-Dade County in 1940 by the heirs of a wealthy businessman. Today, the park draws tourists and locals alike and offers visitors lots of activities to enjoy. Along with relaxing on the beach, you can visit a nature center, follow trails, or go kayaking.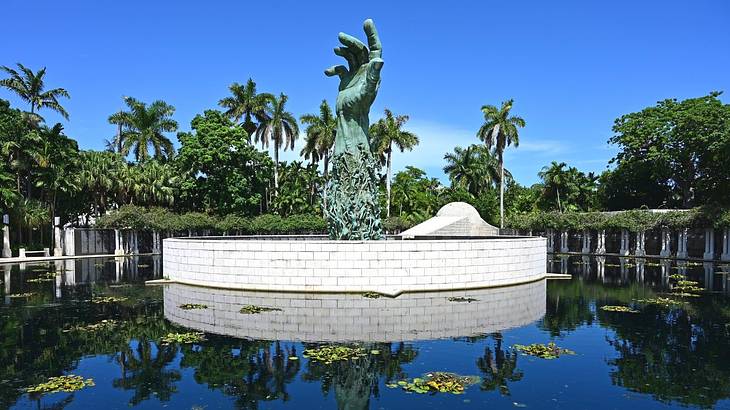 Holocaust Memorial
Located in Miami Beach, the Holocaust Memorial of the Greater Miami Jewish Federation was opened in 1990 and was conceived by survivors of the Holocaust. The memorial serves to commemorate those who died and were affected by the Holocaust during World War II.
Designed by Kenneth Treister, the memorial includes a 40-foot sculpture of a hand reaching toward the sky. The sculpture is surrounded by a water feature and has moving depictions of victims carved into the bottom of the hand design. Along with the main sculpture, you'll see other elements around the memorial, such as a menorah.
Fairchild Tropical Botanic Gardens
One of the most beautiful attractions in Miami is the Fairchild Tropical Botanic Gardens. Opened in 1938, the gardens cover 83 acres and feature an array of rare tropical plants.
As you wander around, you can admire the plants and flowers and will also see ponds, water features, and sculptures. Wildlife also inhabits the gardens, with creatures like birds and lizards likely to be seen.
If visiting with kids, they'll want to also check out the Wings of the Tropics area of the gardens. They'll be able to see over 40 species of butterflies in all different sizes, patterns, and colors!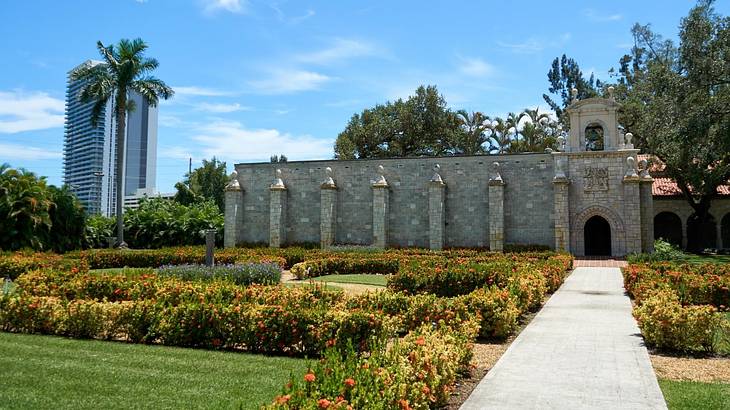 The Ancient Spanish Monastery
One of the oldest historical landmarks in Miami is the Ancient Spanish Monastery. Many believe that this structure is the oldest building in the Western Hemisphere.
The monastery was originally built in Spain in 1141. Almost 800 years later, in 1925, William Randolph Hearst purchased the building and had it taken down and moved to the US. In the 1950s, the structure was finally reassembled, and it now sits in North Miami Beach.
The beautiful monastery is a popular wedding destination, and mass is actively held too. During a visit to Miami, you can tour the Ancient Spanish Monastery and admire this almost 900-year-old building.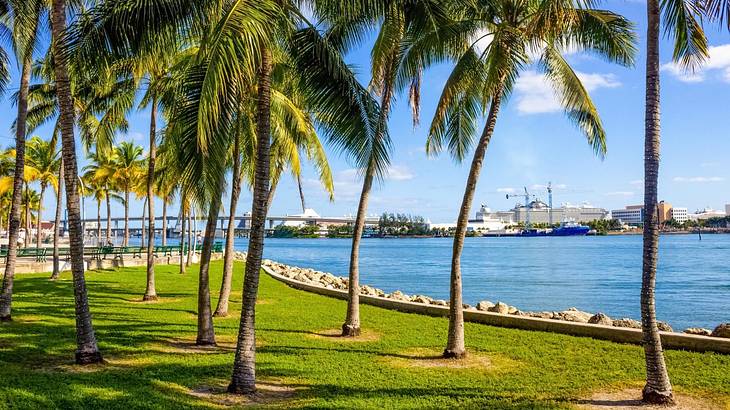 Bayfront Park
Bayfront Park was previously called Royal Palm Park and was first opened in 1896. Having been redesigned and renamed in 1925, the urban park today covers 32 acres. Being located right on the waterfront, it's a scenic place to escape the bustle of the city.
At Bayfront Park, you can walk around, relax on the grass, and enjoy the views. Events are often held in the park too, such as outdoor yoga sessions. Ultra music festival has also been held here in the past and 4th of July events are hosted annually.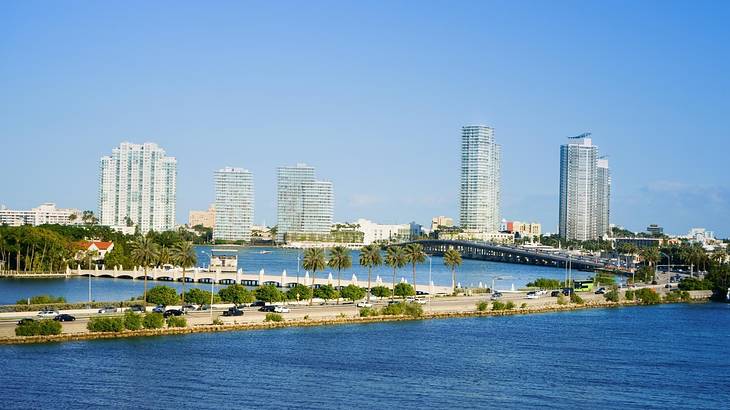 MacArthur Causeway
Constructed in 1920, the MacArthur Causeway is an iconic bridge structure in Miami. The MacArthur Causeway gets its name from General Douglas MacArther, a United States general who fought in WWII.
The six-lane causeway bridge spans a little over 5,600 meters and connects downtown Miami to South Beach. As you drive across the bridge, you'll be able to appreciate views of the Miami skyline and the waters surrounding it.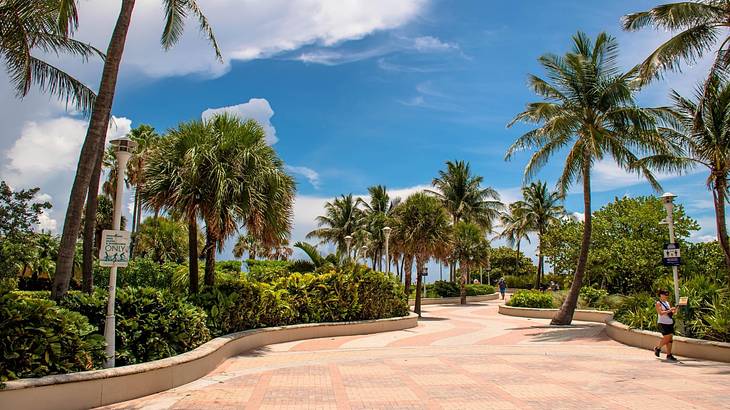 Lummus Park Historic District
Another of the many Miami famous landmarks to see is the Lummus Park Historic District, often known just as Lummus Park. This green space was opened in 1909 and was one of Miami's first parks. In addition, most of the buildings seen around the park are over 100 years old, having all been built before 1926.
Today, the urban park covers 5.9 acres and features shady areas of grass to relax on and scenic palm tree-lined paths. Lummus Park also has basketball courts, picnic tables, and a children's play area.
In Summary
Miami is an incredibly fun city to visit. There are also a host of iconic Miami landmarks to see. From amazing beaches to stunning estates and quirky neighborhoods, you'll never get bored when exploring Miami!
Give us feedback about this article
More visual stories related to this article:
---
---
Want to keep exploring?
Subscribe for discounts on tickets and hotels and our latest guides.
Thank you for subscribing
We will be in touch soon with discounts on tickets and hotels and our latest guides.
Want to keep exploring?
Subscribe for discounts on tickets and hotels and our latest guides.
Thank you for subscribing
We will be in touch soon with discounts on tickets and hotels and our latest guides.
Related Articles