15 Tampa Landmarks for Your Bucket List
Destguides may receive commissions from purchases made through affiliate links in this article.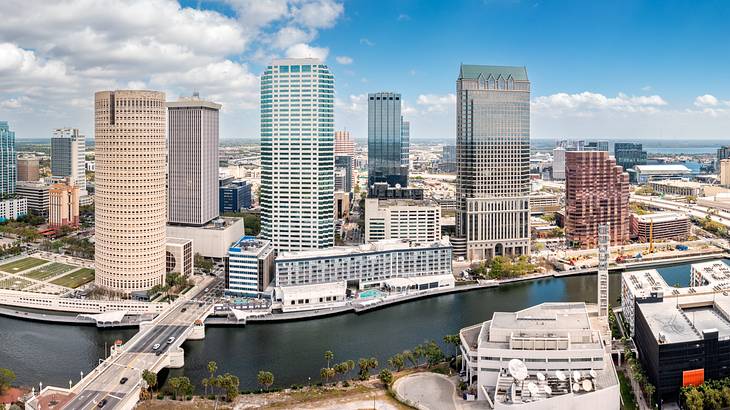 Tampa is a diverse destination that has a lot to offer, with famous sites ranging from the historic Ybor district to the Tampa Theatre. Whether you're a thrill-seeker or a history buff, there's something for you to see and do when visiting this renowned city.
However, due to the vast array of places to visit in Tampa, it can be difficult to decide what sites deserve a spot on your itinerary. To discover all the attractions you have to check out, keep reading for 15 top Tampa landmarks!
15 Landmarks in Tampa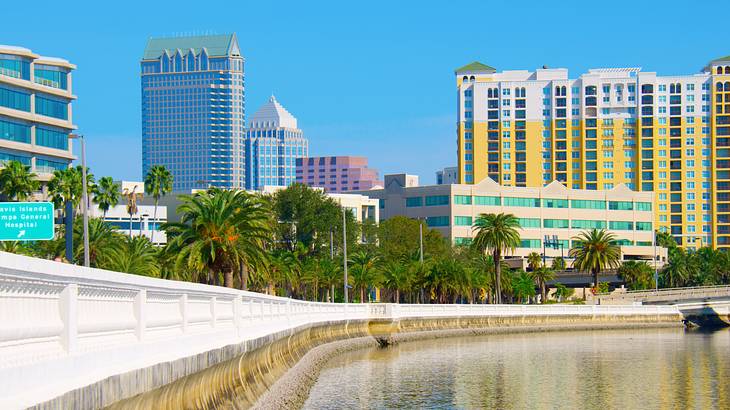 Bayshore Boulevard
Bayshore Boulevard runs along Hillsborough Bay. The boulevard is one of the most famous Tampa sites because it provides fantastic views of Hillsborough Bay and the Tampa downtown area.
This ocean-front walkway stretches continuously for four miles, making it the longest continuous sidewalk in the world. The walk takes you past some of Hillsborough County's best restaurants and parks and offers relaxing views of Tampa downtown.
Glazer Children's Museum
Tampa has a lot of activities for people traveling with children, but a favorite spot among locals and tourists is the Glazer Children's Museum. This 53,000-foot structure has 16 interactive exhibits.
The entire facility is designed to help kids learn about the world around them and express their creativity. Keep in mind that it's designed for children ten and under, so older kids might not be as interested in the site's activities.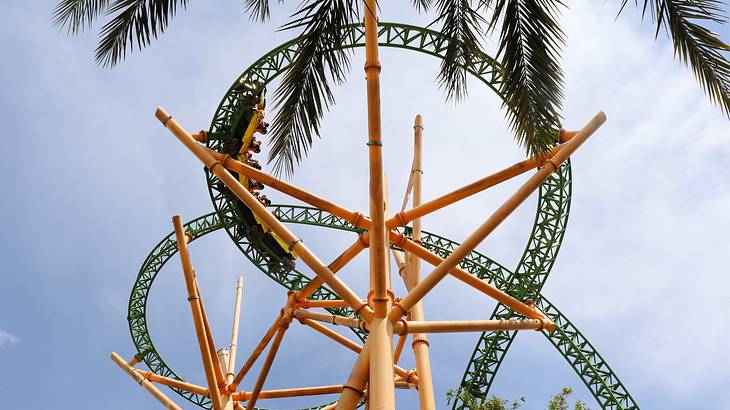 Busch Gardens Tampa Bay
Since 1959, Busch Gardens has offered countless hours of fun to Tampa's residents and visitors. The park sprawls over 335 acres with sections designed to emulate natural habitats found in Africa and Asia.
Though this animal-themed park is fun all year, certain times might provide for a more pleasant trip. Fall or winter is generally the best time to go to Tampa if you want to enjoy Busch Gardens to the fullest. Crowds are smaller in those seasons, and the weather will be comfortable.
Tampa Bay History Center
The Tampa Bay History Center is an interactive attraction that displays artifacts relating to more than 12,000 years of the area's history. The museum addresses topics ranging from Florida's indigenous populations to more modern history. Visitors can even take virtual tours of Tampa's most important landmarks.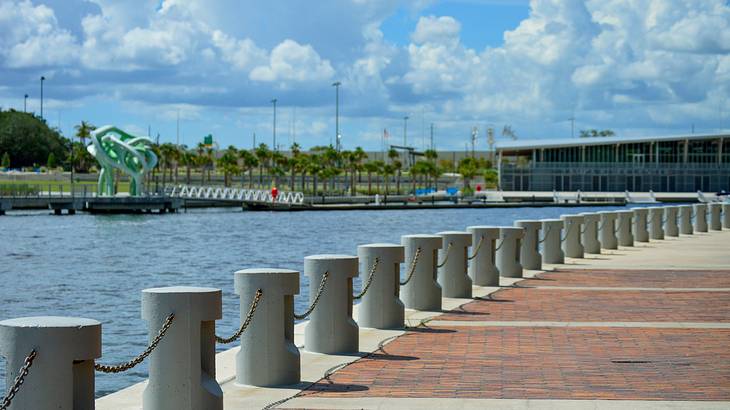 Tampa Riverwalk
The Hillsborough River brings a dose of natural beauty to Tampa's downtown district. To help visitors enjoy the water that runs through this part of the city, the Tampa Riverwalk was opened in 1989.
This two-mile-plus foot trail is also home to numerous attractions. Two of the most popular entertainment spots are the Straz Center for the Performing Arts and the Curtis Hixon Waterfront Park.
Hyde Park Village
If you're looking for a place to unwind and enjoy some fresh air while doing a little shopping, you can't beat Hyde Park. With over a dozen eateries and even more stores offering everything from home decor to fashion, it's a popular social hub for locals. Many special events for all ages and interests are also held throughout the year.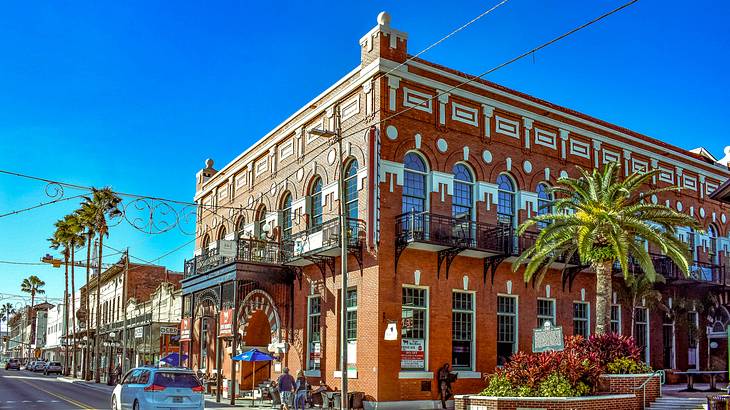 Ybor City Historic District
As the city's famous Latin Quarter, Ybor is the only Tampa neighborhood to have a spot on the National Register of Historic Places. This historic district was first built in the 1880s by cigar manufacturers as an industrial area and residence for Tampa's many Hispanic and Italian immigrants.
Though initially only factories and homes were found in Ybor City, soon other famous Florida landmarks were opened as well. Perhaps the most famous is El Centro Espanol de Tampa which acted as the social heart of Tampa's Latin community.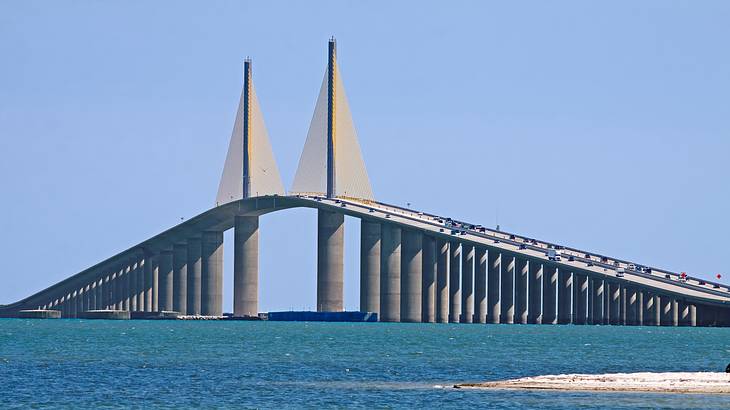 Sunshine Skyway Bridge
The Sunshine Skyway Bridge spans Lower Tampa Bay. The bridge opened in 1987, and construction took about five years, commencing in 1982.
The bridge spans 4.14 miles and connects St. Petersburg to Terra Ceia. The Sunshine Skyway Bridge follows a cable-stayed concrete design and, as such, is one of the longest of this design in the world.
There are parking lots on both ends of the bridge. From these car parks, you can take beautiful photos of the bridge. On the bridge and from the car parks, you can enjoy scenic panoramas of Tampa Bay and the Gulf of Mexico.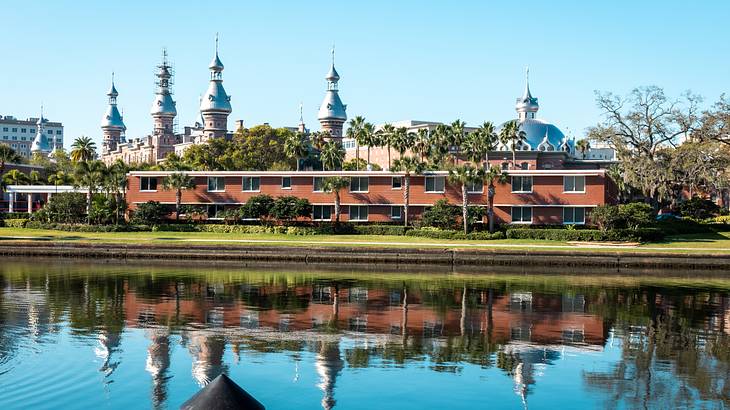 Henry B. Plant Museum
Though named after the businessman who helped Florida become a major cargo port, the Henry B. Plant Museum isn't just a biographical site. The museum also features exhibits with artifacts from around the world and showcases the state's economic and cultural growth as a result of Plant's work.
Due to the diverse exhibits found at the museum, it's become one of the most significant and historic Tampa, Florida, landmarks.
Seminole Heights
Seminole Heights is a beloved neighborhood known for its 20th-century buildings and artsy ambiance. In a calm part of the city, it's an excellent spot for families who want a little peace and quiet.
While in the area, you can check out vintage shops and art galleries. From Seminole Heights, you can easily reach another landmark, ZooTampa, in the neighboring Lowry Park.
J.C. Newman Cigar Company
Founded in 1895, J.C. Newman is the oldest and longest-running cigar factory in the United States. Though the company originally opened for business in Ohio, the Newman family soon moved to Ybor City, as the district had become famous for cigar production. This area was so well-known for producing cigars that the Tampa nicknames of Cigar Capital of the World and Cigar City were created!
The ownership history of J.C. Newman Cigar Company is even more impressive than the company's longevity. Despite over a century passing since its inception, J.C. Newman is still family-owned, thus honoring the memory of its founder, Julius Caeser Newman.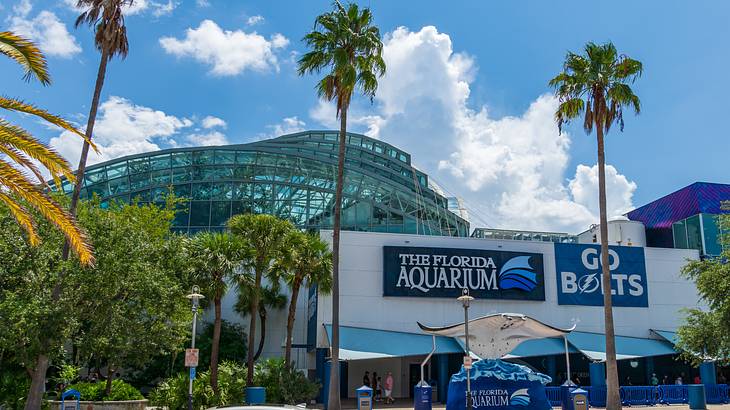 The Florida Aquarium
The Florida Aquarium is one of the best places of interest in Tampa if you want to learn a little more about ocean life. With over 8,000 animals housed in its tanks and five other interactive exhibits, the aquarium offers fun and educational opportunities for visitors of all ages.
Tampa Theatre
If you're a film lover, don't miss the opportunity to catch a showing at one of the most historical sites in Tampa. The Tampa Theatre cinema was initially built in 1926 with stages and curtains to emulate traditional theaters for drama productions.
It was believed that this design style would help create a more immersive atmosphere for movie-goers. Today, you can see showings for independent, foreign, and limited-release films.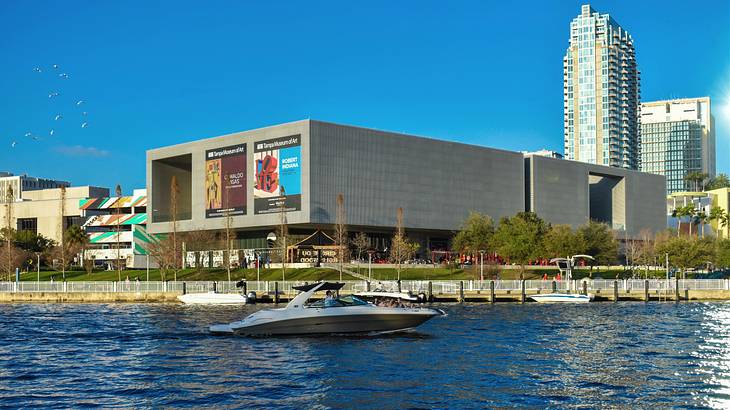 Tampa Museum of Art
The Tampa Museum of Art has one of the state's most well-rounded collections of art. Not only does the museum feature works from contemporary artists, but it also houses numerous ancient artifacts from the Greek, Roman, and Etruscan civilizations.
Since the museum has rotating exhibits in addition to its permanent collection, no two trips will ever be the same. So it's definitely worth visiting multiple times!
John F. Kennedy Boulevard Corridor
John F. Kennedy Boulevard, often shortened to just Kennedy Boulevard, is one of the most important roadways in the city. This five-mile road connects numerous districts, so it's essential for keeping traffic flow smooth and diverting vehicles from the busiest areas.
The road especially helps keep traffic down as much as possible around places like Downtown Tampa and the city's international airport.
In Summary
Clearly, Tampa has no shortage of landmarks and attractions. Its Bayshore Boulevard is a record-holder, and the Tampa Museum of Art has a renowned collection of ancient art. But that's just the tip of the iceberg regarding things to see when in the city.
Hopefully, this list has convinced you to put Tampa at the top of your must-visit list. All you have to do now is plan your trip and see everything this corner of Florida has to offer!
---
---
Want to keep exploring?
Subscribe for discounts on tickets and hotels and our latest guides.
Thank you for subscribing
We will be in touch soon with discounts on tickets and hotels and our latest guides.
Want to keep exploring?
Subscribe for discounts on tickets and hotels and our latest guides.
Thank you for subscribing
We will be in touch soon with discounts on tickets and hotels and our latest guides.
Related Articles