35 Romantic Things to Do in Tampa for Couples
Destguides may receive commissions from purchases made through affiliate links in this article.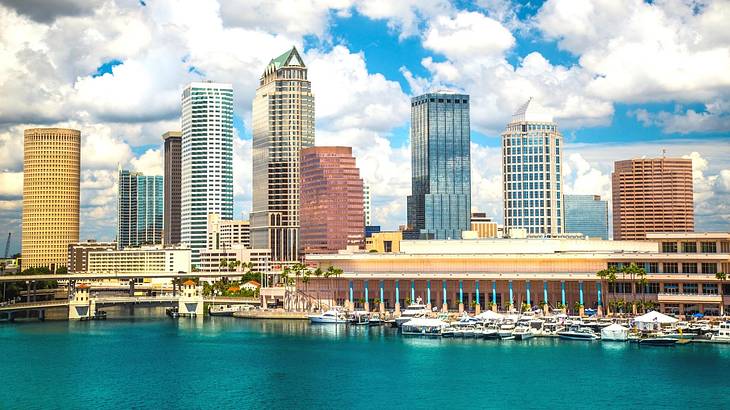 Tampa is a fun and vibrant city in Florida that has something for everyone, including lots of exciting things for couples to do. Whether planning a first date or looking for new things to do with a long-time partner, you'll find multiple attractions in Tampa that appeal to you both.
Some of the romantic things to do in Tampa for couples include walking along the waterfront, having drinks at a rooftop bar, and spending a relaxing day at the spa. Want some more Tampa date ideas? Keep reading for 35 unique suggestions.
35 Tampa Date Ideas
Fun Things for Couples to Do in Tampa, FL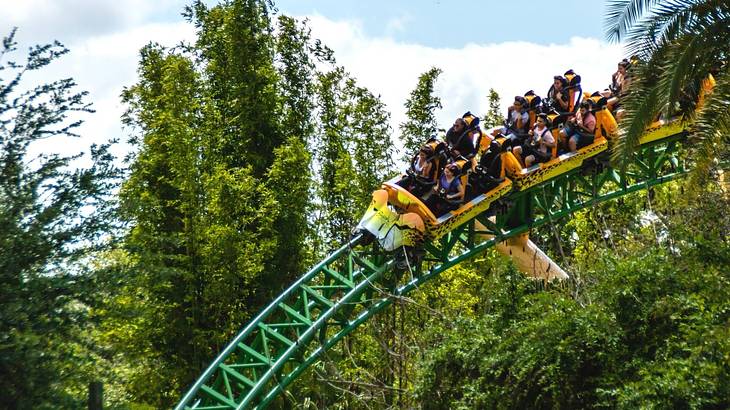 Ride roller coasters at Busch Gardens Tampa Bay
Busch Gardens Tampa Bay is one of Tampa's most visited attractions. The theme park features around 50 rides for all thrill levels and offers safari park tours.
You can also shop and dine at safari-themed eateries and stores. Spending the day at the theme park will make you and your date feel like kids again! Purchasing Busch Gardens Tampa Bay tickets in advance is highly recommended to avoid long lines when you arrive.
If you're visiting the city with your other half, the winter is the best time to travel to Tampa to go to Busch Gardens. During the winter months, crowds are low, and the weather is warm but not overly hot and humid, perfect for enjoying the theme park!
Treat yourselves at Hyde Park Village
If you're after a relaxed date idea, doing some shopping at Hyde Park Village is a good idea. The shopping mall houses a variety of stores, including lots of independent shops. After exploring the stores and treating yourself to some purchases, you can also grab food and drinks at one of many bars and restaurants.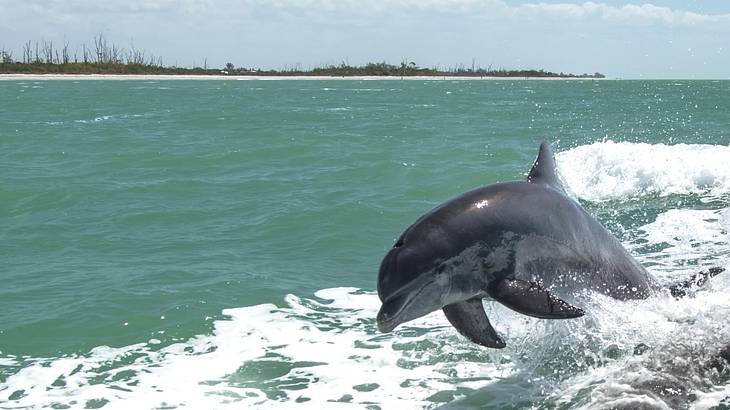 See dolphins on a sightseeing cruise
Experiencing a dolphin sightseeing tour is another of the fun things to do in Tampa, Florida, for couples. You'll sail out to areas known to be home to pods of bottlenose dolphins, making sightings almost guaranteed. Manatees, sea turtles, and other marine life are likely to be seen too.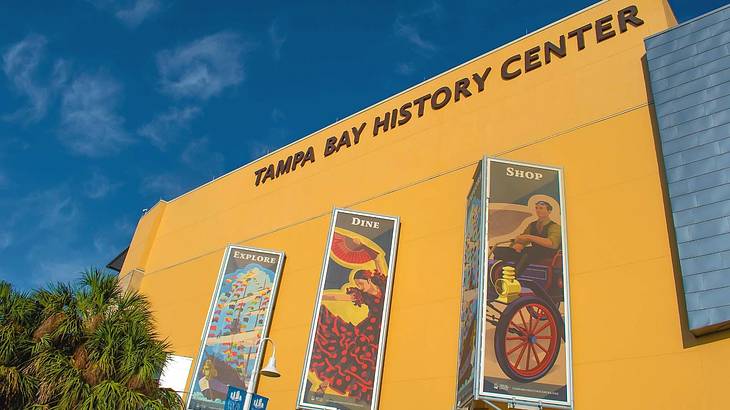 Learn something new at the Tampa Bay History Center
Want to learn more about Tampa's history? Going to the Tampa Bay History Center is a must! You and your date will be able to view a range of exhibits covering 12,000 years of Tampa and Florida history.
From learning about recent events to finding out what the area was like thousands of years before it was inhabited, you and your partner will leave the museum knowing lots of new things.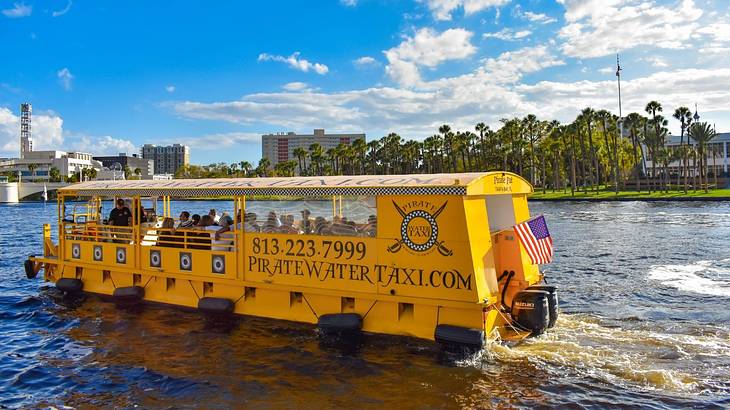 Hop around the city on the Pirate Water Taxi
Pirate Water Taxi offers a service similar to hop-on-hop-off bus tours. The difference is that you're transported from attractions via boat.
Hopping between landmarks on a Pirate Water Taxi sightseeing tour is a perfect date idea, especially if you're new to or visiting Tampa. There are over 80 stops to hop off at, including famous attractions, parks, and restaurants.
Plan a dinner date at Heights Public Market in Armature Works
For those planning a date night in Tampa, FL, add Armature Works to your list of places to visit. The trendy bar and restaurant complex houses a variety of eateries, many of which are in the bustling Heights Public Market.
Places to choose from include Mexican, American, and Japanese food outlets. There are also wine bars, ice cream shops, and more. As you dine, you can also enjoy stunning views of the Hillsborough River.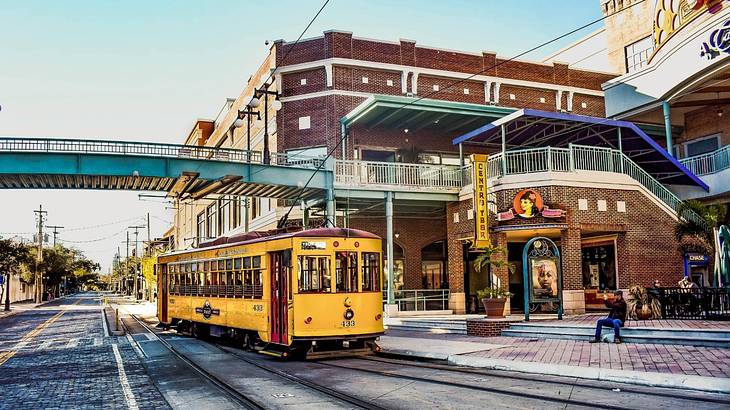 Try delicious dishes in Ybor City
Whether you're planning a daytime or evening date, exploring Ybor City is sure to please. The neighborhood features a variety of unique shops, restaurants, and attractions and has a strong Latin American influence.
To discover the best eateries, take your date on a Ybor City food tour. This excursion takes you to six spots, where you can try signature food and drinks. When in the Ybor City area, also pass by El Centro Espanol de Tampa, a Florida landmark constructed in 1912.
Watch a movie at the Tampa Theatre
Going to a movie is a classic date night in Tampa, Florida, idea. But, to make this activity a little more unique, see a film at the Tampa Theatre. Opened in 1926, this National Historic Landmark features a retro-style movie theater and shows classic and independent films.
Bar hop at happy hour!
Why choose one bar to get drinks at when you could go to multiple spots? For those planning an afternoon or early evening date, bar hopping at happy hour is a must.
There are numerous bars in Tampa with great happy hour offers. Ava Tampa is one of the best locations, with a happy hour menu that features discounted pizza and appetizers, as well as cocktails, beer, and wine.
Hotel Bar is also recommended. At happy hour, you can get deals on cava, wine, beer, and cocktails like Old Fashioned or Daiquiris. Lastly, No Vacancy has to be mentioned. This Instagram-worthy bar has daily deals, like discounted fish bowls and bubbles.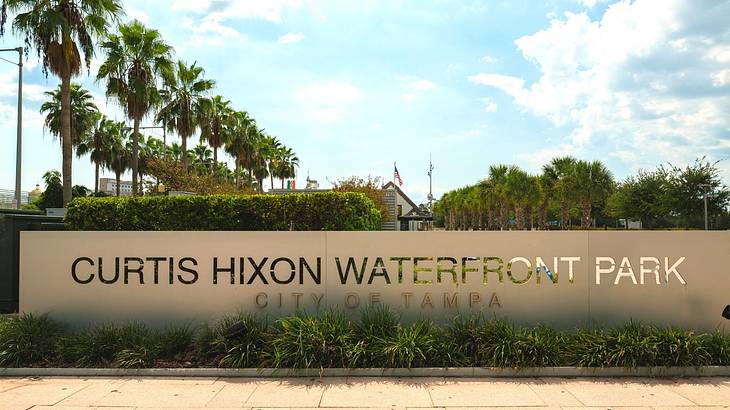 Hang out at Curtis Hixon Waterfront Park
Wandering around the Curtis Hixon Waterfront Park is one of the romantic things to do in Tampa, Florida, that will appeal to most couples. The charming nine-acre park sits on the banks of the Hillsborough River and features lots of green space. It's also a great place to go with your other half to watch the sunset or share a picnic.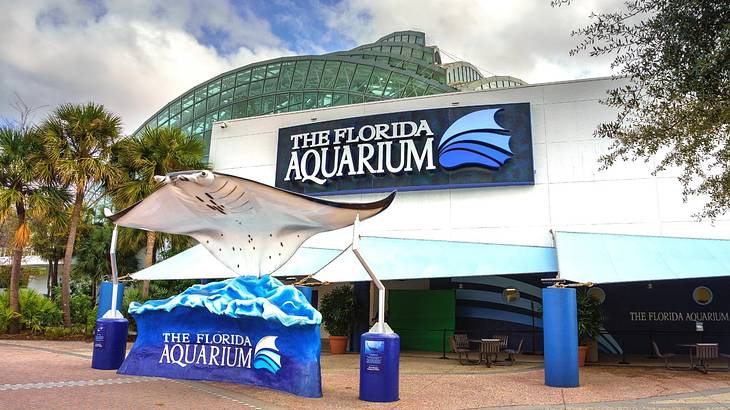 Marvel at marine life at the Florida Aquarium
The Florida Aquarium is another unique attraction in Tampa to visit with your date. Covering 250,000 square feet, the attraction is home to an array of sea life. You and your date can see stingrays, jellyfish, tropical fish, and much more.
As this attraction gets busy, buy Florida Aquarium tickets for you and your partner before arriving.
Luxuriate at The Champagne Bar at Oxford Exchange
Oxford Exchange is a stylish venue featuring a high-end restaurant, coffee shop, and a charming bookstore. It also has a luxury champagne bar, the ideal place to treat your date.
The Champagne Bar is stylishly decorated and serves flutes and bottles as well as tasting flights, and champagne cocktails, all of which can be accompanied by caviar.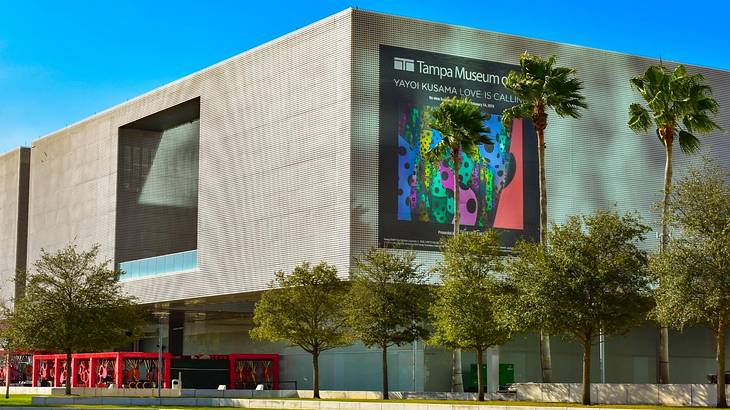 Check out the Tampa Museum of Art
With so many Tampa attractions for couples, it can be challenging to decide which to visit. If in central Tampa and undecided on what to do, going to the Tampa Museum of Art is always a good idea.
As you look around the 66,000-square-foot space, you'll discover a variety of artworks, from Ancient Roman and Greek pieces to more contemporary works.
Explore Lettuce Lake Regional Park
Hiking, biking, kayaking, and more are all on the agenda when taking your other half to Lettuce Lake Regional Park! As you explore the 240-acre space, you'll come across pretty flora, wildlife, and tranquil lakes. It's one of the best places to visit for couples that enjoy outdoor activities.
Spot exotic animals at ZooTampa at Lowry Park
ZooTampa at Lowry Park houses over 1,300 species of animals. Creatures you and your date can visit include elephants, koalas, penguins, and hippos. Some animals native to Florida also call the zoo home, like Florida panthers and Manatees. As with other popular attractions, it's best to buy ZooTampa tickets in advance.
Party on a Tiki bar boat cruise
Taking a Tiki boat cruise is a fun date idea for the day or night. Once on your floating Tiki bar boat, you and your date can sail around Tampa, enjoying cocktails and incredible views.
This excursion is BYOB, but coolers are provided. Bluetooth speakers are also included, allowing you to create a unique party on the water.
Catch a show at the Straz Center for the Performing Arts
Seeing a show at the Straz Center for the Performing Arts is one of the most unique and memorable date night ideas in Tampa, FL. A variety of musicals, concerts, and other shows are held to please all tastes. Just a few of the performances that have been on at the venue include jazz and classical music concerts and popular musicals like Hamilton.
Sip cocktails at a rooftop bar
The Edge Rooftop Cocktail Lounge is located on top of the Epicurean Hotel. This bar offers city views and delicious drinks. Cocktails to order include spicy passion fruit margaritas and Madagascan vanilla daiquiris.
This unique date night activity will appeal to most couples and is the perfect thing to do before or after other date ideas, such as going to dinner or a movie.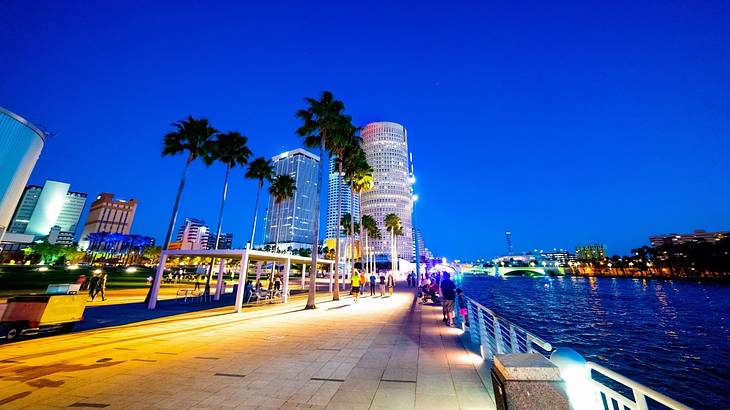 Stroll along the Tampa Riverwalk
Stretching for 2.6 miles along the Hillsborough River, the Tampa Riverwalk is the ideal place to take a romantic stroll with your loved one. While this Tampa landmark is beautiful during the day, going for a walk at sunset or after dark is a great idea.
The surrounding park also becomes illuminated at night, and you can watch the sparkling lights twinkling around the river.
Listen to live music at Hooch and Hive
Hooch and Hive is a laid-back spot that frequently has live music. As you listen to music, you can order yummy snacks, like truffle fries, waffle grilled sandwiches, and French toast pops. They also have an extensive cocktail list with unique house creations and beer on tap.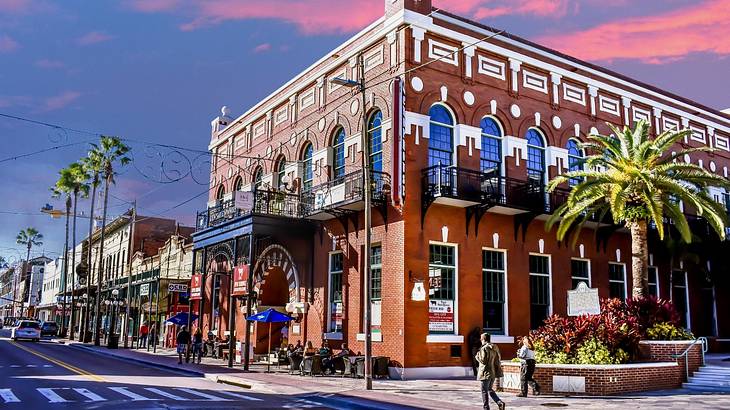 Hear spooky stories on a haunted Tampa pub crawl
Going on a Tampa ghost tour is a fun way to hear some spooky stories about the city. However, this tour is unique because it's also a pub crawl. You'll alternate between hearing ghost tales at haunted spots and getting drinks at some of the best bars in the city, which may also be haunted!
Fun Things to Do Near Tampa for Couples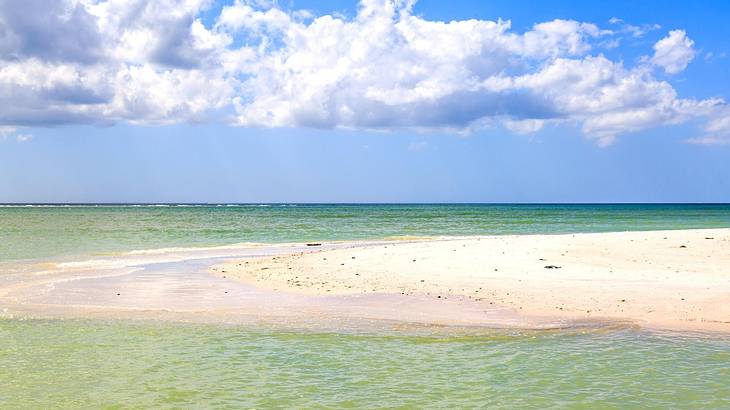 Spend the day on the water at Honeymoon Island State Park
There are lots of beautiful outdoor attractions near Tampa, one of which is Honeymoon Island State Park. This barrier island features crystal clear waters, white sand beaches, and wildlife like tortoises, dolphins, and manatees. Along with spotting marine life, you can sunbathe on the beach, swim in the warm water, and take a relaxing coastal walk.
Admire the flowers at the Florida Botanical Gardens
Wandering around the beautiful Florida Botanical Gardens is a great idea for couples that want to spend some time in the fresh air. Spread across 182 acres, the gardens feature floral displays, tree-lined paths, and tranquil lily ponds. The gorgeous gardens notably make a unique backdrop for couples photos.
Discover sea life at the Clearwater Marine Aquarium
Another of the relaxed but fun date ideas to try is going to the Clearwater Marine Aquarium. Creatures to see include dolphins, sea turtles, sharks, and stingrays. You may also spot some pelicans.
Clearwater Marine Aquarium is a rescue and rehabilitation center. Most of the sea animals you'll see are being rehabilitated for release or live at the aquarium because they wouldn't survive if released back to the ocean.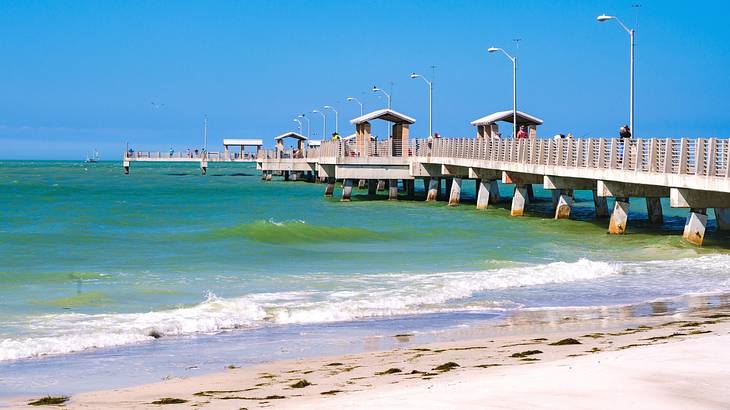 Bike around Fort De Soto Park
Situated approximately 40 minutes from Tampa, Fort De Soto Park is an island with tropical plants, white sand shores, and sparkling ocean water. There are many things to do together here, including biking around Fort De Soto Park.
If you take a guided bike tour, you'll ride through the most scenic areas and can learn more about the ecology and history of the island.
Relax at the spa
Relaxing at the spa is an excellent way for you and your other half to unwind. One of the most romantic places near Tampa, FL, to visit for a spa day is Safety Harbor Resort & Spa. Massages and facials are available, and you can also book couples treatments.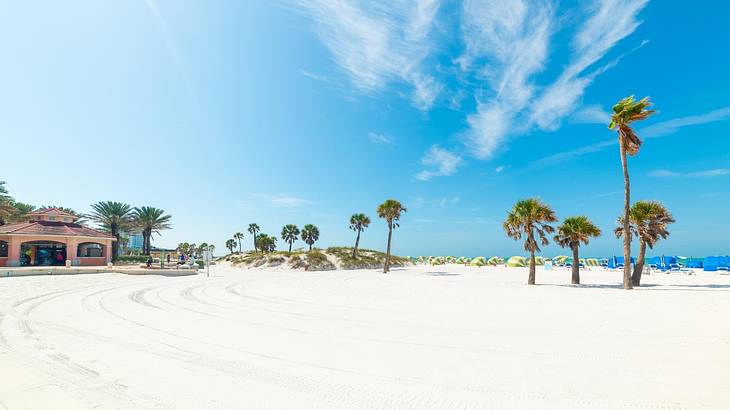 Enjoy activities around Clearwater Beach
Clearwater Beach is a stunning beach with turquoise water, white sand shores, and palm trees. Spending the day at the beach with your date is fun and relaxing.
However, if you want to do something a little different, there are many Clearwater Beach activities to book. From dolphin watching and sunset cruises to party boat rentals, there's an experience for all types of couples!
Zipline through the forest
Are you and your partner adventure seekers? If so, add ziplining through the Mobbly Bayou Wilderness Preserve to your date ideas list. This two-hour adventure includes five zip lines, all offering stunning views across the nature preserve.
Snap photos among palm trees at the Gizella Kopsick Palm Arboretum
Want to visit another stunning botanical garden with your date? Then add the Gizella Kopsick Palm Arboretum to your activity list. This tropical garden specializes in palms and features over 150 species.
It also sits on the waterfront, making the attraction extra scenic. Due to its beauty, the Gizella Kopsick Palm Arboretum is another fantastic place to take photos together.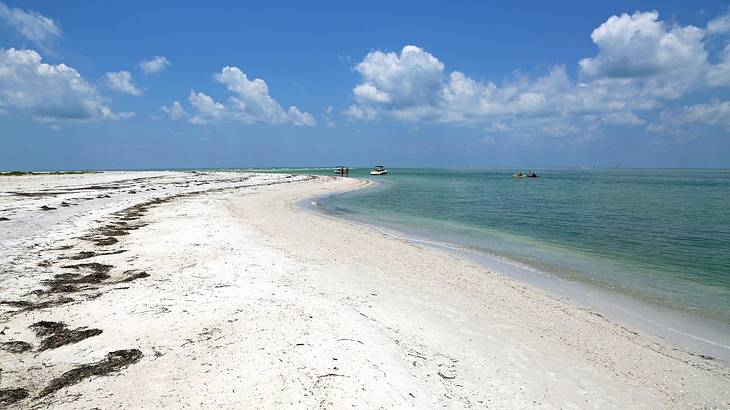 Kayak around Caladesi Island
There's no shortage of breathtaking beaches and islands around Tampa! Another of the islands to visit with your other half is Caladesi Island. Along with relaxing on the sandy shores, kayaking at Caladesi Island is a popular activity.
Once on the water, you and your date can paddle around the island, discovering hidden spots. You may even have some dolphins come up to your kayaks!
Get lost in the Sunken Gardens
One of the most magical places to take your date near Tampa is the Sunken Gardens. These beautiful botanic gardens are filled with tropical plants, waterfalls, ponds, and exotic wildlife. As you explore together, you'll feel like you've escaped into a romantic paradise!
Horseback ride at Cypress Breeze Farm
Cypress Breeze Farm is located across from Downtown Tampa in Pinellas Park. The farm specializes in horseback riding tours for all abilities. You and your partner can ride horses along scenic woodland and coastal trails. Whether you're used to riding horses or new to the activity, this date idea is a laid-back and memorable thing to do together.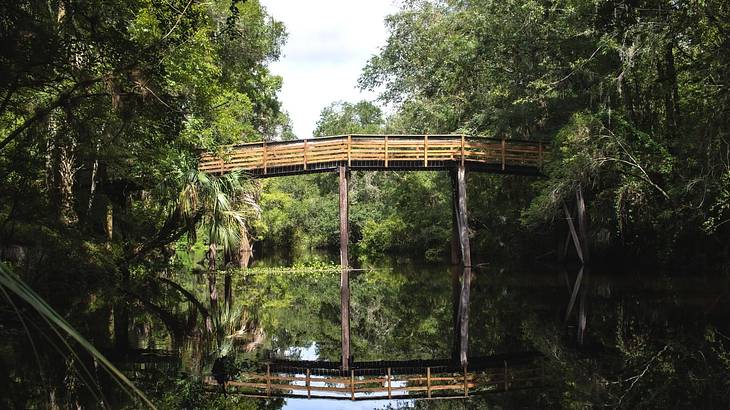 Glamp in Hillsborough River State Park
Hillsborough River State Park is a 3,383-acre park with trails, wildlife, and swamps. It's the ideal place to hike, kayak or canoe, and spot wildlife.
If you want to plan an overnight trip with your partner, glamping (glamorous camping) in Hillsborough River State Park is a fantastic idea! You can camp in cute tents with hotel-quality beds, AC, and beautiful decor accents!
Get back to nature at Little Manatee River State Park
Another of many activities that allows you to explore the outdoors together is going to Little Manatee River State Park. The 2,433-acre park offers activities for all interests.
Things to do range from hiking and biking to spotting wildlife, including alligators. Little Manatee River State Park is pet-friendly, so you and your date can bring your dogs along!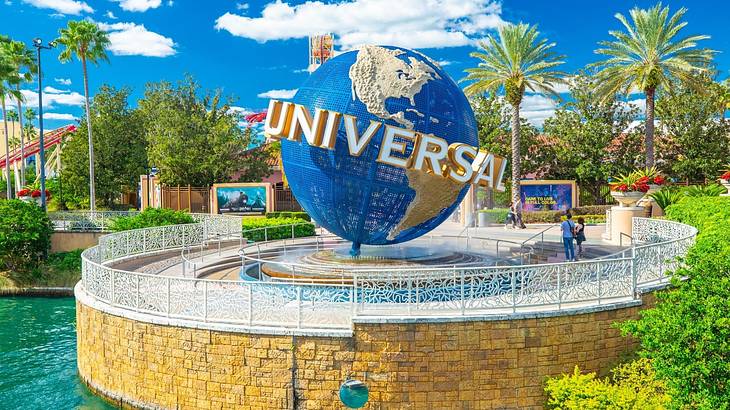 Road trip to Orlando
While there are plenty of things to do in Tampa for couples, many great getaway destinations are also nearby. Planning a road trip to Orlando is one of the best options.
Known for its theme parks, it's an excellent choice for those that love roller coasters and similar attractions. However, if you aren't interested in theme parks, you can still find an array of fun date activities in Orlando, from going to comedy clubs to exploring botanical gardens.
In Conclusion
This list of date ideas comprises some of the most romantic places in Tampa, Florida, as well as some fun and unique attractions to take your partner to. No matter where you plan a date, you're guaranteed to have a fun and memorable time!
Give us feedback about this article
Learn more about Tampa:
More articles about Florida:
Read more articles about the United States:
More articles about date ideas:
More visual stories related to this article:
---
---
Want to keep exploring?
Subscribe for discounts on tickets and hotels and our latest guides.
Thank you for subscribing
We will be in touch soon with discounts on tickets and hotels and our latest guides.
Want to keep exploring?
Subscribe for discounts on tickets and hotels and our latest guides.
Thank you for subscribing
We will be in touch soon with discounts on tickets and hotels and our latest guides.
Related Articles