20 Fun Things to Do With Kids in Savannah, GA
Destguides may receive commissions from purchases made through affiliate links in this article.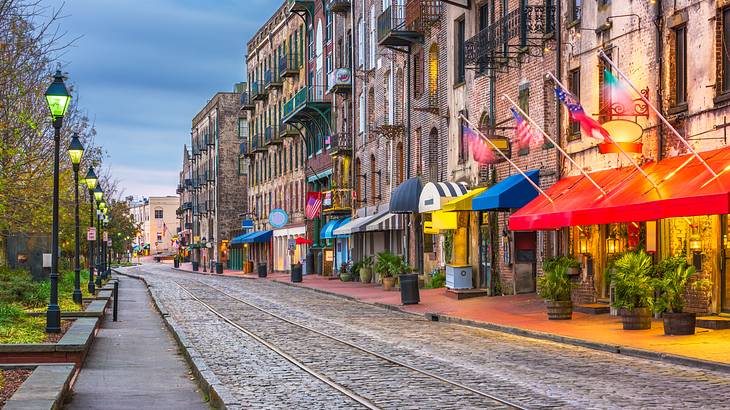 Savannah, in the state of Georgia, is a fascinating city to visit. The area has a rich history, unique culture, and friendly locals. There are also an array of attractions to see, from museums and historical sites to parks and markets. This southern city is also an ideal family getaway location, whether you're planning a weekend trip or a longer vacation.
When exploring the city, you'll find many fun things to do with kids in Savannah, GA. Activities include spotting animals at wildlife reserves, going on a dessert tour, and playing at the Children's museum. If the city sounds like the ideal destination for your next family trip, read on for 20 top kids' attractions in Savannah.
20 Fun Things to Do for Kids in Savannah, GA
Fun Things to Do in Savannah, GA, With Kids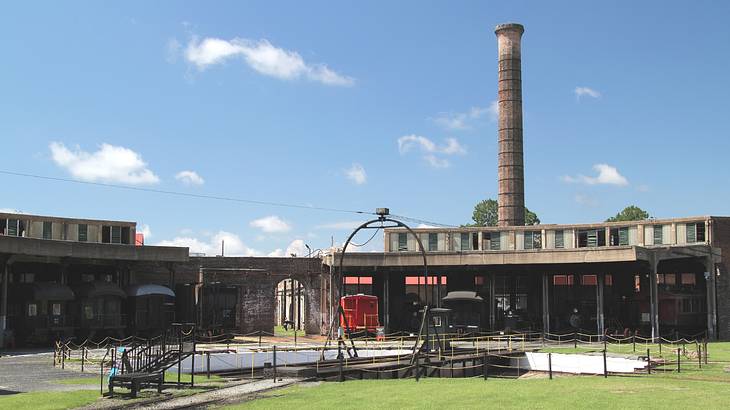 Check out old trains at Georgia State Railroad Museum
The Georgia State Railroad Museum is one of the best railway museums in the United States. Visiting the museum is also one of the fun things for kids to do in Savannah, GA. At the museum you and your kids can learn about the functions that old trains served and can even go inside numerous railway carriages and cars.
Another fun child-friendly activity at the museum is going on a train ride. You can choose from historic steam or diesel locomotive rides, both of which are an exciting and memorable experience, especially for young children.
See Savannah landmarks on an Old Town Trolley Tour
There are many trolley tours to try in Savannah, but the Old Town Trolley Tour is the most famous. For 30 years, this trolley tour operator has offered the best sightseeing tours of Savannah. If visiting the city with your kids, they're sure to love seeing Savannah's landmarks and attractions on an old-fashioned trolley ride!
Spots you'll see include River Street, City Market, and Forsyth Park, among others. Friendly conductors will also offer in-depth explanations of the places you see, and they'll even be some kid-friendly trivia and funny stories.
Interact with wild animals at Oatland Island Wildlife Center
If your kids love animals, then visiting Oatland Island Wildlife Center is a must. The center features numerous species in large open enclosures. The goal of the wildlife center is to teach visitors about protecting and making a connection with the natural environment.
At the park, creatures to see include wolves, birds of prey, and barnyard animals. Getting up close with the vast array of wildlife is an ideal way to get your kids interested in nature and protecting animal habitats.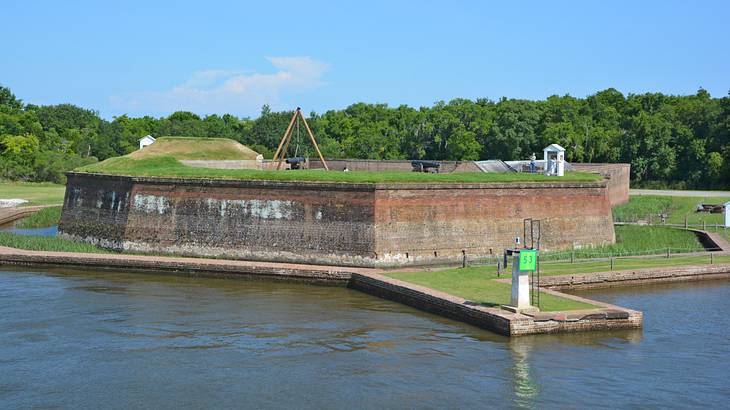 Visit Old Fort Jackson
Old Fort Jackson is a National Historic Site and one of the most famous historical sites in Savannah. Taking a trip to this well-known attraction is also one of the best things for families to do in Savannah, GA.
The fort, which is the oldest fort in Georgia, today houses a range of interactive exhibits. You'll also discover many events and performances to watch here. These shows include daily cannon firings and historical re-enactments.
Play and learn at the Savannah Children's Museum
The Savannah Children's Museum, located in Tricentennial Park, is one of the most kid-friendly attractions in Savannah. The museum houses numerous exhibits intended to get children interacting, learning, and having fun.
Things to check out include a fun outdoor playground, reading nook, and exploration maze. There are also certified educators on-site to tell stories and make visiting the museum more fun and educational. If you're in Savannah with young kids, you have to visit the Savannah Children's Museum!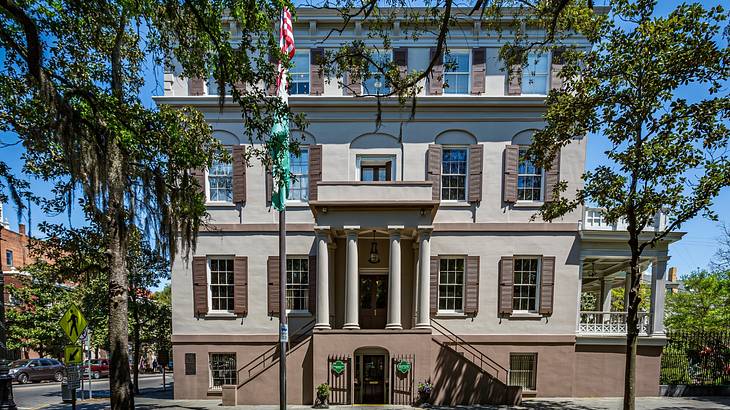 Explore the Juliette Gordon Low Birthplace
The Juliette Gordon Low Birthplace is the birthplace and long-time home of the founder of the Girl Scouts, Juliette Gordon Low. Found in the Juliette Gordon Low Historic District, the house features exhibits on the history of the Girl Scouts and Juliette's life.
Once you've explored the museum, stop at the gift shop to buy Girl Scout merchandise, including their famous cookies. Going to the Juliette Gordon Low Birthplace is one of the exciting things to do in Savannah for Kids, especially if you have daughters in the Girl Scouts.
Learn about Gullah-Geechee culture at Pin Point Heritage Museum
Located a 15-minute drive from downtown Savannah, visiting Pin Point Heritage Museum is an ideal way to escape the bustle of central Savannah. This museum is housed in an old oyster and crab factory and teaches visitors about the Gullah-Geechee People.
The museum has exhibits on Gullah-Geechee culture and the fishing town of Pin Point that they established in the 1890s. There's also a short film to watch when you arrive that's sure to get your kids interested in the topic.
Discover marine creatures at UGA Marine Education Center and Aquarium
The UGA (University of Georgia) Marine Education Center and Aquarium features the state's first saltwater aquarium. When visiting, your kids can check out 16 tanks with various marine animals. At the Marine Education Center and Aquarium, you and your family can also walk along nature trails and a saltmarsh boardwalk.
Find out about 1920s prohibition at the American Prohibition Museum
The American Prohibition Museum is a fun and interactive museum covering the era of prohibition in the 1920s. While it may not sound like it, this museum is kid-friendly. It features characters, fun displays, and fascinating and informative exhibits.
Your kids are sure to learn a lot of new information while exploring the museum! If thinking about checking it out, getting a skip-the-line ticket for the American Prohibition Museum is highly recommended when visiting with children.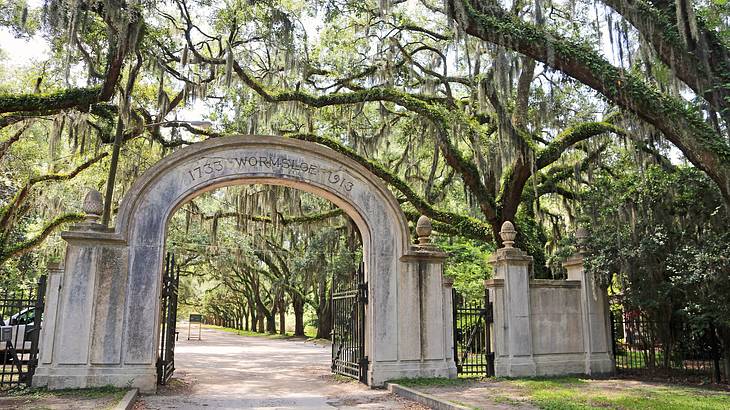 Wander around Wormsloe Historic Site
Wormsloe Historic Site is a pretty park in Savannah that's filled with oak trees and walking trails. It's a great park to wander around with your kids as there are lots of places for children to explore and you can enjoy the relaxing scenery.
You can also visit the Wormsloe Estate and museum. Notably, the estate building is Savannah's oldest standing structure. While you can walk around at your own pace, exploring the Wormsloe Historic Site on a guided tour is recommended. Your guide can provide more information on the estate and grounds before you and your kids check out the park together.
Eat delicious sweet treats at Leopold's Ice Cream
Chances are, your kids love ice cream! So, taking them to Leopold's Ice Cream is a must. Leopold's is an iconic Savannah spot, serving delicious ice cream in a large variety of flavors.
Kid-favorite flavors include chocolate, Tutti Frutti, and cookie dough. Milkshakes, banana splits, and sundaes are also available. Getting a scoop or two at Leopold's Ice Cream is one of the fun things to do in Savannah with kids that you can't miss out on.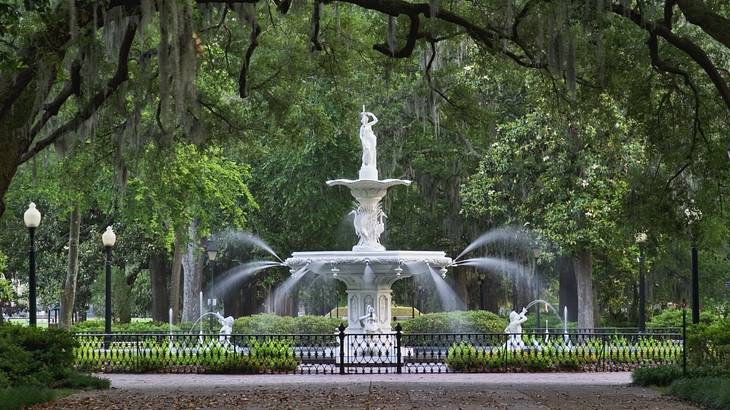 Have a picnic in Forsyth Park
Forsyth Park is a popular park located in the Savannah Historic District. When in Savannah, exploring this park at least once is a must. When visiting with kids, having a picnic here is a fun idea. For a unique outdoor meal, try the Forsyth Park picnic experience.
With this package, you'll have a picnic blanket set or small tables set up that will be decorated with pretty flowers and pillows. Plates, cups, and cutlery are also provided. Simply pack your kid-friendly picnic and enjoy the magical al-fresco dining setup.
Learn about Savannah's history at the Savannah History Museum
If you and your family want to learn more about Savannah and the state of Georgia, you must make a trip to the Savannah History Museum. What's best is that the exhibits are entertaining to children of most ages, as well as adults.
Exhibits cover historical, artistic, musical, and cultural parts of Savannah's identity. Things to see include displays on everything from the Civil War to Girl Scout founder Juliette Gordon Low. You may even see consumed actors performing historical re-enactments.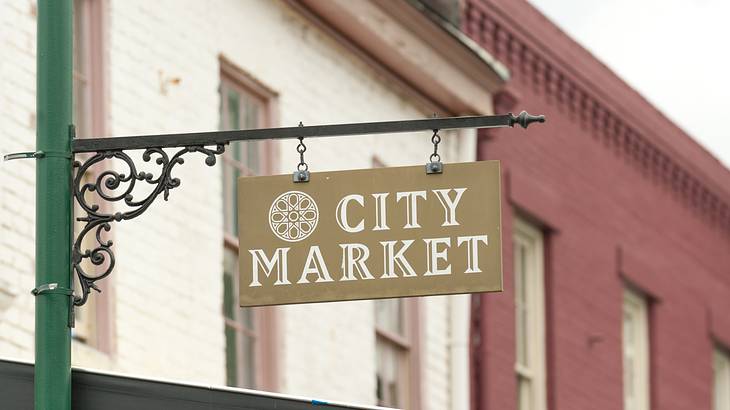 Try Savannah cuisine at City Market
City Market is an open-air market that covers four blocks. The market has a range of food shops and restaurants to check out. You'll also find some independent shops selling arts and crafts-type products.
Going around the market and trying some local cuisine is one of the fun family activities in Savannah, GA. This activity is an ideal way to get your kids to try some new and tasty dishes. Having eaten amazing meals, you can visit the market's art gallery and check out various stores.
Take a picture with the Waving Girl Statue
The Waving Girl Statue is an iconic Savannah landmark located in Morrell Park on River Street. The statue commemorates Florence Martus, a historical figure who saw ships safely into the harbor. The statue shows Florence waving ships with her dog by her side.
Visiting the statue is a fun activity, and you can get some adorable pictures of your kids next to it. You can visit the statue while exploring the city or spot her on while on a hop-on-hop-off trolley tour of Savannah.
Splash around in the Ellis Square Fountains
Ellis Square is one of the fun outdoor attractions in Savannah, GA, for kids. The square features a large garden chess set, statues, and water fountains. Playing in the water fountains is a super exciting activity for small children, especially on a hot Savannah day.
Ellis Square is right by City Market, so it's the perfect place to stop after checking out that attraction. You can enjoy snacks purchased at the market while the kids play in the park and water fountains.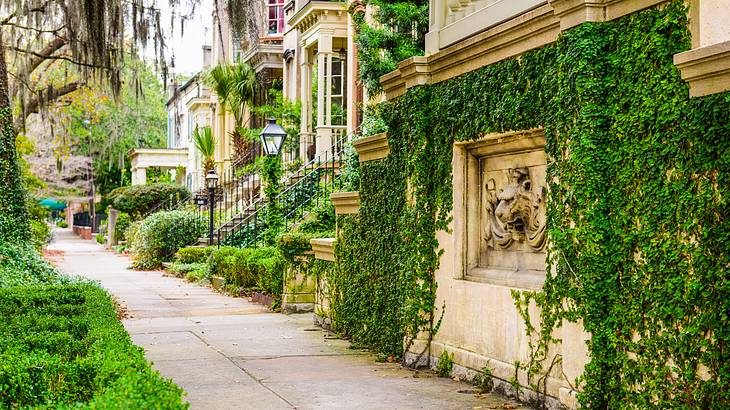 Dare to go on the Grave Tales Ghost Tour
Savannah is known for being one of the US' most haunted cities, and as such, you'll find many ghost tutors operating in the area. While some of these are not kid-friendly, taking the Grave Tales Ghost Tour is a perfect choice if your children like spooky stories.
The nighttime tour visits haunted spots in the Savannah Historic District and tales told are always family-friendly. At each stop, you'll be told of the paranormal activity that occurred there in a lighthearted way that's still interesting for adults.
Taste delicious Savannah sweet treats
If you and your kids have a sweet tooth then going on the Southern Flavors Savannah Dessert Tour is a must! The three-hour tour takes you to Savannah's best dessert locations, with tastings available at every stop.
Treats you'll all get to sample include cupcakes, cookies, ice cream, and more. You'll also be offered some historical background on Georgia landmarks you see as you move between dessert locations. This tour is the ultimate reward for kids who love sweets.
Fun Things to Do Near Savannah, GA, With Kids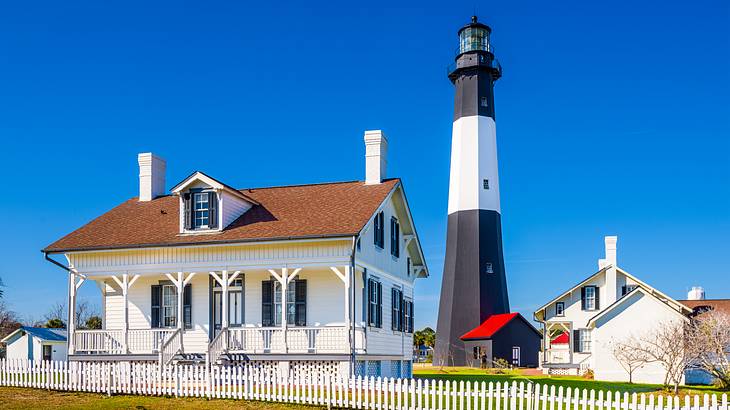 Spend the day on Tybee Island
Tybee Island is a small barrier island close to central Savannah. Taking a day trip to the island is an ideal activity for families that love being outdoors. Tybee Island has scenic sandy beaches along with attractions like a lighthouse, museum, and fort.
When visiting, if it's a nice day, you can relax on the beaches and may even spot dolphins in the water. Another fun idea is to go on a Tybee Island dolphin tour. Your kids will love seeing dolphins, and you'll also stop at Tybee Island lighthouse and Fort Pulaski.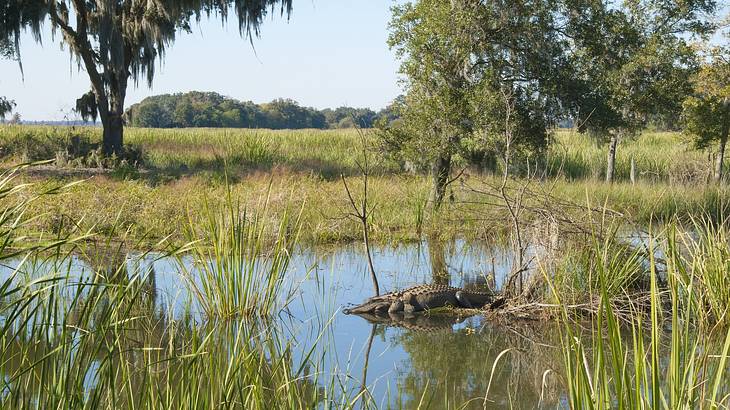 Search for wildlife at the Savannah National Wildlife Refuge
The Savannah National Wildlife Refuge is a 31,000-acre reserve that covers parts of Georgia and South Carolina. The park is home to a vast array of wildlife, and there are numerous trails to follow.
If your kids love animals, then spotting as many creatures as possible in the park is a fun activity to try. Animals you may encounter include alligators and deer. You can also see various species of birds, from ducks and geese to eagles and ospreys.
In Summary
Savannah is a bustling city full of history and culture. It's also a fun place to visit with your family. If in the southern city, make sure to check out these Savannah, Georgia, attractions for kids to ensure the whole family has an amazing vacation!
Give us feedback about this article
More visual stories related to this article:
---
---
Want to keep exploring?
Subscribe for discounts on tickets and hotels and our latest guides.
Thank you for subscribing
We will be in touch soon with discounts on tickets and hotels and our latest guides.
Want to keep exploring?
Subscribe for discounts on tickets and hotels and our latest guides.
Thank you for subscribing
We will be in touch soon with discounts on tickets and hotels and our latest guides.
Related Articles