16 Historical Sites in Savannah, Georgia, to See
Destguides may receive commissions from purchases made through affiliate links in this article.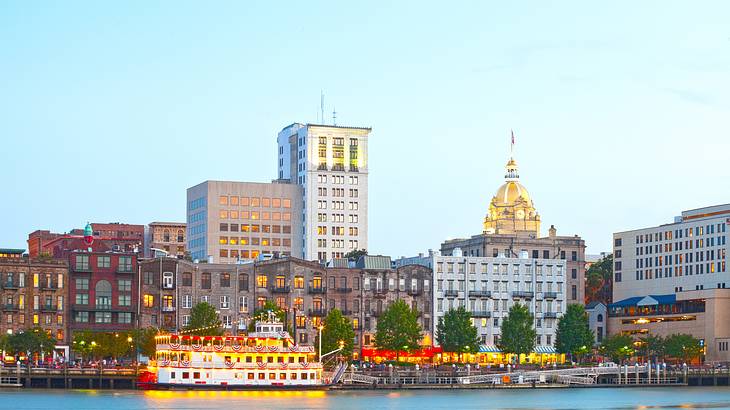 Savannah is a stunning city found in the state of Georgia, United States. The town boasts friendly locals, incredible food, a rich culture, and famous landmarks. Having such a complex past, you'll also find a host of historical sites in Savannah, Georgia.
The majority of these sites are located in the Savannah historic district, with a few spread across town. Places to see include those related to the Civil War, the Civil Rights Movement, and even the founding of the Girl Scouts.
If interested in visiting this charming southern city, read on for 16 historic places in Savannah, GA.
16 Savannah historic sites
16 Historical Sites in Savannah, Ga
First African Baptist Church
The First African Baptist Church was founded in 1773 and is said to be the first organized by a black Baptist congregation. In addition, the first black Sunday school in North America was held in this church.
It was also an important meeting place during segregation and was the birthplace of Savannah's civil rights movement in the 1950s.
When visiting, you'll find many elements of historical significance. These include a stained-glass window of the church's founder, Reverend Leile, and original features, like the baptismal pool.
Another interesting feature is the underground railroad that is supposedly located under the building. However, there is no marked entrance to the railroad, and it's uncertain if it was ever used.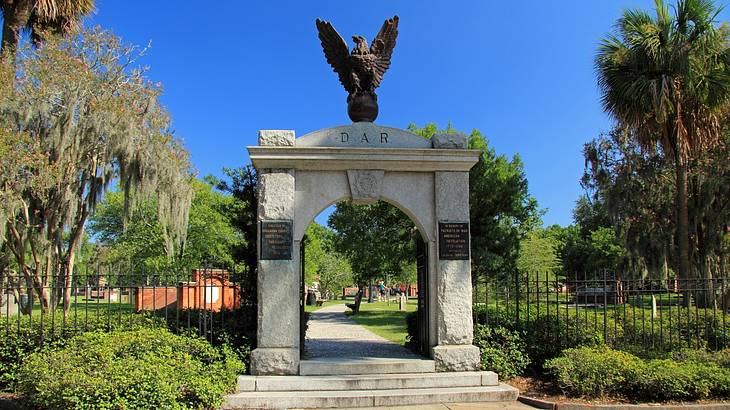 Colonial Park Cemetery
Colonial Park Cemetery is one of the more eerie Savannah historic sites, but it's well worth a visit. The cemetery was Savannah's primary burial ground until 1853. Today, the cemetery acts as a park, but the graves remain.
Those buried here include 700 victims of the Yellow Fever epidemic in the 1820s. Button Gwinnett, who signed the Declaration of Independence, and the first governor of Georgia, Archibald Bulloch, are also buried here.
At the cemetery, you can discover notable graves, admire the intricately designed tombs and memorials, and enjoy the park's green surroundings. Be careful if visiting after dark, as many believe an array of ghosts inhabit the grounds!
Olde Pink House Restaurant
Olde Pink House Restaurant is one of Savannah's oldest dining establishments, having been opened in 1789. The Georgian-style building is well-known throughout Savannah for its soft pink facade. Today, it also serves some of the best southern cuisine in Georgia.
If visiting Savannah, it's highly recommended that you get a meal here. Dishes on the menu include shrimp and grits, cornbread fried oysters, and ribeye steak with bacon buttermilk mashed potatoes.
Like many Savannah buildings, Olde Pink House is said to be haunted. So, you may find you have a few unexpected guests join you during your meal!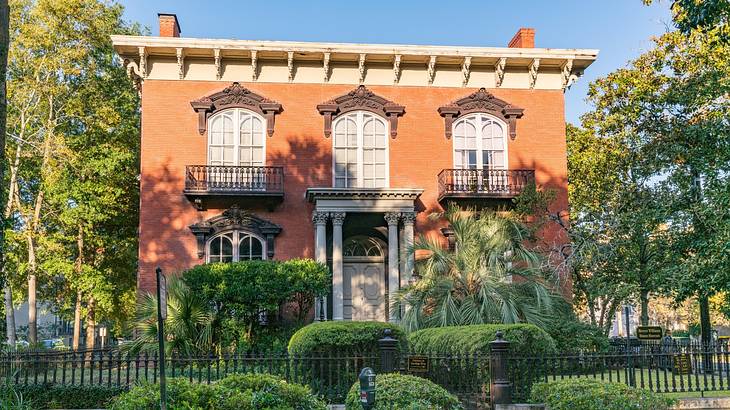 Mercer Williams House Museum
This Savannah landmark is known to many as the mansion featured in John Berendt's "Midnight in the Garden of Good and Evil". The building was home to Jim Williams, who the book centers around.
This Savannah native is the only person in Georgia to be tried four times for the same crime: a murder that took place in the Mercer Williams house.
When visiting this historic mansion, you'll be able to view centuries-old antiques, artifacts, and artworks. You can also learn more about its fascinating past owner.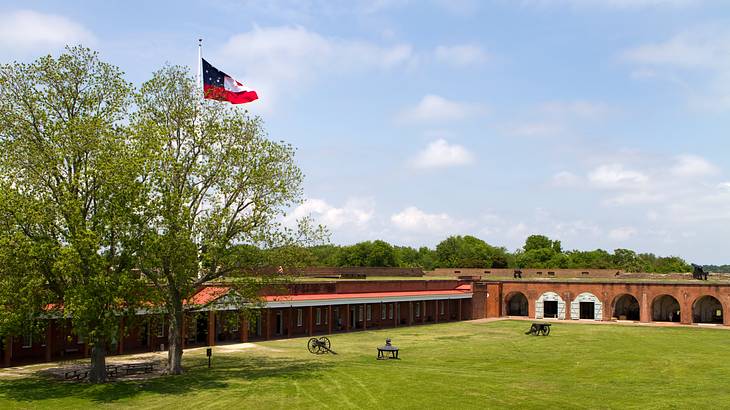 Fort Pulaski National Monument
The Fort Pulaski National Monument is one of the multiple historic sites in Savannah, Georgia, relating to the Civil War. Located between Savannah and Tybee Island, this site features Fort Pulaski, where the Union Army tested new cannons.
If interested in visiting, you can explore the fort and well-manicured grounds. You'll also learn a lot about the fort's role in the Civil War. There are additionally some trails that take you off the main grounds and into surrounding marshes.
American Prohibition Museum
Savannah's American Prohibition Museum prides itself on being the only prohibition museum in the US. Exhibits cover the history and politics surrounding prohibition.
You'll also learn more about how residents evaded the rules and accessed alcohol despite it being illegal. To make your visit easier, consider purchasing a skip the line ticket.
Having checked out all of the exhibits, you can enjoy the museum's speakeasy. Here you can try a range of prohibition-themed cocktails and see what it was like to grab a drink during the era. You can also do tequila and whisky tastings or try a cocktail-making class.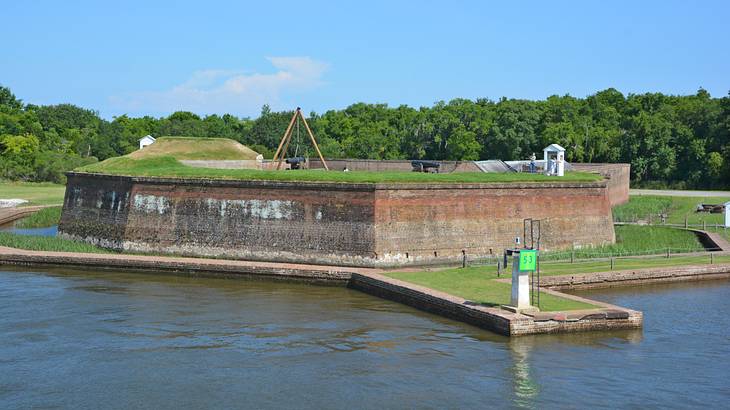 Old Fort Jackson Historic Site
Located on the Savannah River, Old Fort Jackson is a 19th-century fort that holds the title of being Georgia's oldest fort. The fort was constructed in 1808 and was named after James Jackson, a governor of Georgia that helped free Savannah from the rule of the British.
Today it houses the Fort Jackson Maritime Museum and exhibits on the Civil War. In addition to exploring the exhibits, you can witness cannon firings and explore the grounds. You can also enjoy beautiful views of the river from the top of the fort.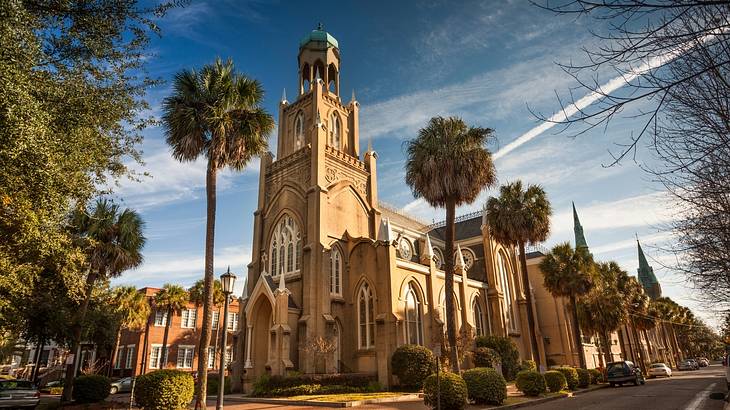 Temple Mickve Israel
This North American landmark is one of the United States' oldest synagogues and is also home to the country's third-oldest Jewish congregation. Temple Mickve Israel was opened in 1878 and still operates as a synagogue today.
Along with being an active place of worship, you can take tours of the temple. You'll learn about its origins and can visit a small museum.
Artifacts to see in the museum include two Torahs from the 1400s. Temple Mickve Israel is definitely one of the must-see Savannah historic sites.
Savannah History Museum
As the name suggests, this museum covers all aspects of Savannah's history. Exhibits to see include those covering military history and art and cultural history. Periods covered stretch from the revolution to modern times.
On this site in Tricentennial Park, you'll additionally find Battlefield Memorial Park, the Savannah Children's Museum, and the Georgia State Railroad Museum.
If you enjoy this museum, be sure to also visit the Ralph Mark Gilbert Civil Rights Museum, another important museum in Savannah.
Cathedral of St. John the Baptist
This Roman Catholic cathedral and basilica has been in Savannah since 1873. The Cathedral of St. John the Baptist is additionally the oldest Roman Catholic church in Georgia.
You're sure to be amazed as soon as you see the building. It features tall spires, stunning stained-glass windows, and regal gold accents. Once inside, you can explore alone or take a guided tour. Mass is also still held at the cathedral regularly.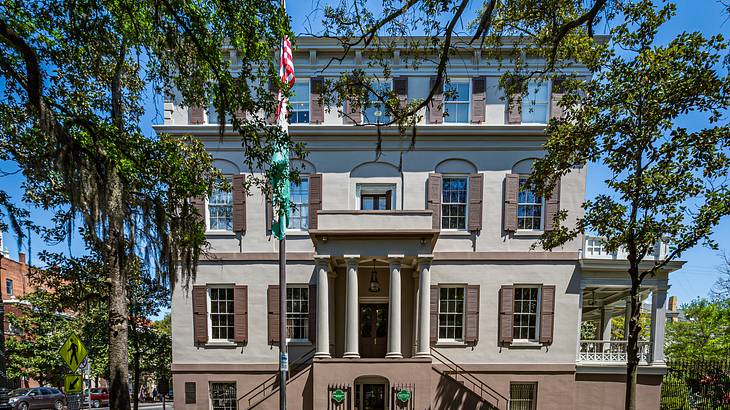 Juliette Gordon Low Home
The Juliette Gordon Low Home, or Juliette Gordon Low Birthplace, is the childhood home of the famous Girl Scout founder. This location is one of the various must-see historic homes in Savannah.
Located in the Juliette Gordon Low Historic District, Juliette was born here in 1860 and lived at the house for many years. Today, the Girl Scouts operate a museum here, covering Juliette's life and Girl Scout history.
Having explored this unique museum, head to the gift shop for Girl Scout merchandise. All profits go directly to the program.
Andrew Low House
Andrew Low House is another historic site in Savannah relating to Juliette Gordon Low. The house was built by Andrew Low in 1848. His son William then lived there along with his wife, Juliette.
Tours of Andrew Low House are available, and your guide will offer an array of information on the house's history and its owners. Being a home museum, the interior is almost as it was when the Low family lived there.
You'll get to appreciate antiques and other 19th-century furnishings and ornamental pieces as you complete your tour.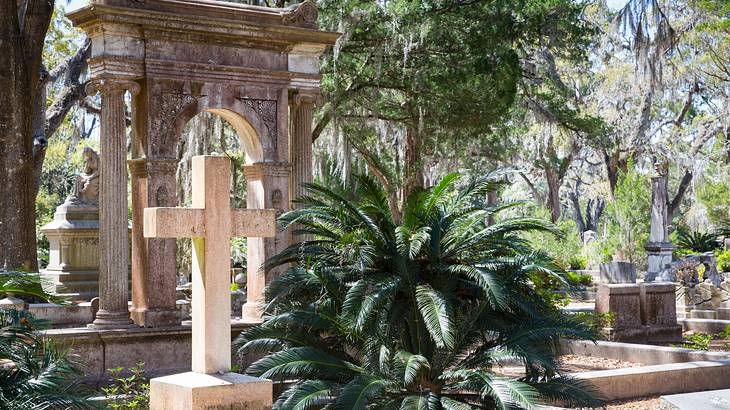 Bonaventure Cemetery
If you like eerie sites and ghost stories, Bonaventure Cemetery is another of the historical places in Savannah, Georgia, to check out. The cemetery features many large tombs, mausoleums, and gravestones surrounded by lush greenery.
Along with being the resting place of some famous individuals, the cemetery lies on the former grounds of Bonaventure Plantation. In addition, the cemetery is another location in Savannah that featured in "Midnight in the Garden of Good and Evil."
If intending to visit, you can explore by yourself or take an informative guided tour of Bonaventure Cemetery.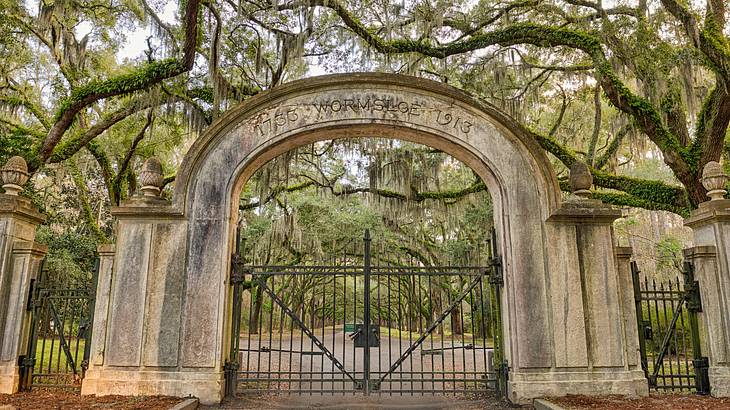 Wormsloe Historic Site
Wormsloe is a stunning park and historic site in Savannah. The area features moss-covered oak trees and a range of quaint trails.
Having explored oak-lined avenues and taken lots of pictures, you'll reach Wormsloe estate. This building is notable as it's Savannah's oldest standing structure.
In addition, there is an informative museum to check out. The museum features colonial artifacts and gives some background on Wormsloe and the surrounding area.
While you can visit the site alone, going on a Wormsloe Historic Site tour will provide you with more background information on this famous landmark.
The Sorrel Weed House
The Sorrel Weed House is one of many historic sites in Savannah, GA, that people believe to be haunted. The house was built in the 1800s and today is known as Savannah's most haunted building.
If you dare to explore the house, you can try a ghost tour. On the tour, you'll visit each room and hear tales of ghosts said to inhabit them.
If paranormal stories aren't your thing, a history and architecture tour is also offered. You'll learn more about the house's history, inhabitants, and architect, Charles Clusky.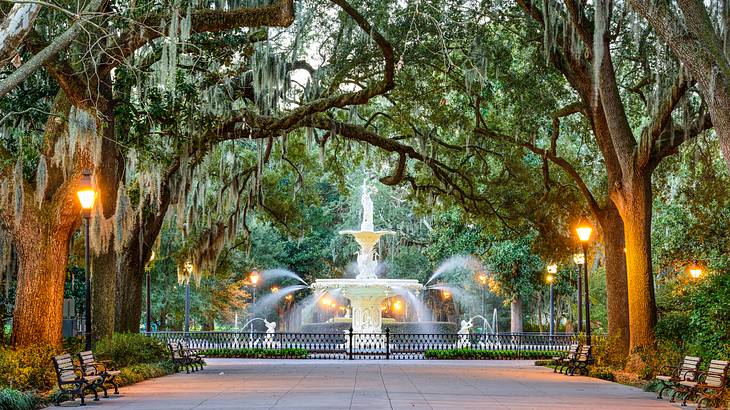 Forsyth Park
Located in the Savannah historic district, Forsyth Park is one of the must-visit Savannah historic sites. The park was created in the 1840s and has been a main feature in downtown Savannah ever since.
Forsyth Park features vast green areas and beautiful plants and trees. There is also a large fountain, installed in 1858, that many think of as one of the symbols of Savannah.
During the Civil War, the park was used by Confederate troops as a parade ground. Other historical elements include a monument relating to the Spanish American War and a memorial for locals lost during WWII.
In Summary
Savannah features an array of attractions, including many sites of historical significance. If visiting this southern city, make sure you visit as many of these historic places in Savannah, Georgia, as you can to get the most out of your trip.
Give us feedback about this article
Learn more about Savannah:
More articles about Georgia:
Read more articles about the United States:
More visual stories related to this article:
---
---
Want to keep exploring?
Subscribe for discounts on tickets and hotels and our latest guides.
Thank you for subscribing
We will be in touch soon with discounts on tickets and hotels and our latest guides.
Want to keep exploring?
Subscribe for discounts on tickets and hotels and our latest guides.
Thank you for subscribing
We will be in touch soon with discounts on tickets and hotels and our latest guides.
Related articles