25 Famous Landmarks in Georgia for Your Bucket List
Destguides may receive commissions from purchases made through affiliate links in this article.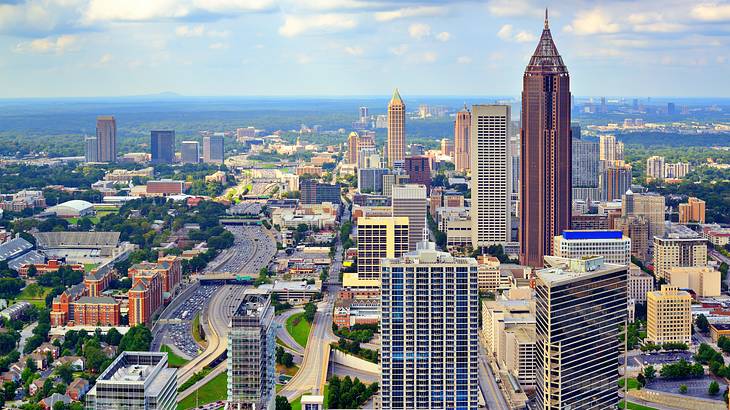 Also known as the Peach State, Georgia is renowned for its rich cultural and historical background. The state also has a variety of attractions for all types of travelers.
This curated list of famous landmarks in Georgia highlights just some of the places you must visit when in this charming state. From beautiful botanical gardens to museums and historical buildings, you won't run out of things to see whether you're visiting for the day, a week, or longer!
What are you waiting for? Keep reading to discover 25 can't-miss landmarks in Georgia!
25 Famous Georgia Landmarks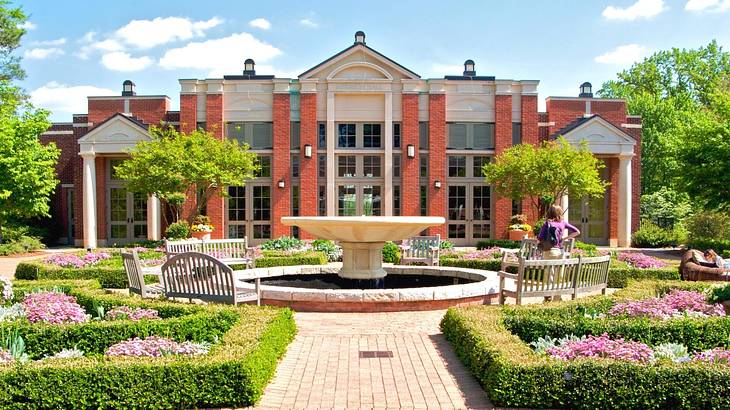 Atlanta Botanical Garden
Take a break from busy city life at the Atlanta Botanical Garden! This magical landmark offers a serene space to unwind as you enjoy the nature around you.
Opened in 1976, the garden features a variety of displays complete with flowers, plants, water features, and sculptures. This pretty attraction is notably one of the best places for a romantic date in Atlanta.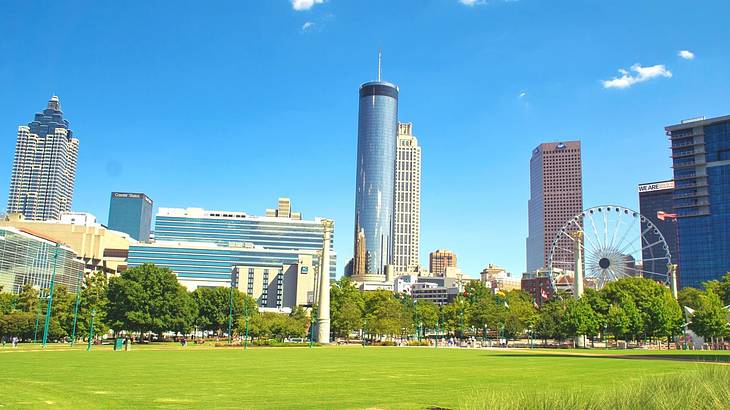 Centennial Olympic Park
Centennial Olympic Park was built for the 1996 Olympic Games. The park is spread across 22 acres and is often referred to as the "Crown Jewel" of downtown Atlanta.
Both locals and tourists visit for its weekly entertainment events and to simply enjoy the outdoors. The park also exhibits a memorial to the victims of the 1996 Olympic bombing.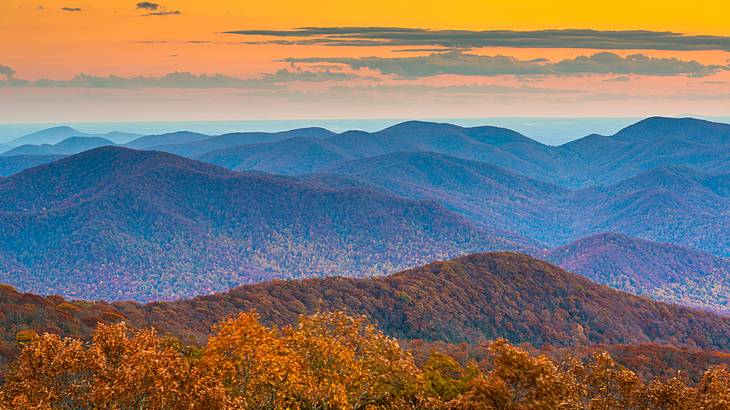 Blue Ridge Scenic Railway
In the 1990s, a group of investors decided to preserve the Marietta and North Georgia Railroad. Today, this railroad is called the Blue Ridge Scenic Railway, and it welcomes over 70,000 visitors each year.
Those that ride along the railway can experience a train journey through the beautiful forests of North Georgia. This famous landmark in Georgia has two stops along the route, McCaysville in Georgia and Copperhill in Tennessee.
During those stops, passengers are encouraged to explore local shops, restaurants, and breweries. You can even be in two places at once by standing on the state line between Georgia and Tennessee!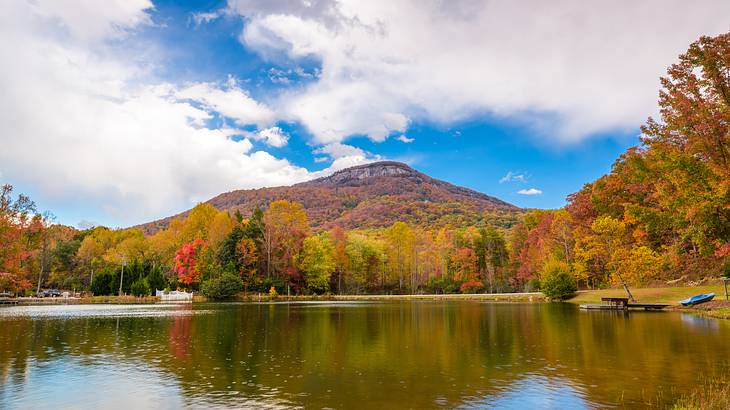 Chattahoochee–Oconee National Forest
Chattahoochee-Oconee National Forest comprises two individual national forests, which together span 26 counties and almost 876,000 acres. The area is one of Georgia's most popular natural resources, and locals and tourists love enjoying the park's outdoor activities.
Things to do include camping, hiking some of over 850 miles of trails, and searching for waterfalls. A wide variety of wildlife also lives in the forest, including black bears, coyotes, otters, and beavers.
Fort Mountain State Park
Established in 1938, Fort Mountain State Park can be reached by taking a picturesque drive on Highway 52. The mountainous park welcomes adventurers like hikers, mountain bikers, and horseback riders who flock to the area for its scenic trails. The park has acres of dense hardwood forests, plus tranquil streams, a beautiful lake, and lots of wildlife.
Once inside the park, you will also find a stone fire tower built by the Civilian Conservation Corps and an ancient rock wall located at the top of the mountain. The wall is 855 feet long, and it is believed to have been built as a fort by early Native American settlers.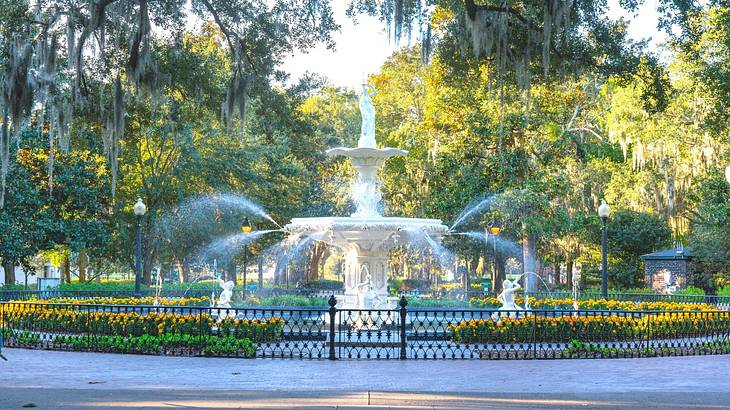 Forsyth Park
Located in Savannah, this much-loved city park occupies around 30 acres of land and is one of the most famous places in Georgia. The beautiful city park is home to the well-known Forsyth Park Fountain and features tree-lined paths, scenic ponds, and open green space.
An interesting Savannah fact relating to the park is that the Forsyth Park Fountain was actually ordered from a catalog! Therefore, similar fountains are found across the world, from France to Peru.
Despite the fountain not being one-of-a-kind, it's still a must-see. Best of all, going to Forsyth Park costs nothing, making it one of the best free things to do in Savannah!
Fort Yargo State Park
Fort Yargo State Park rests between the cities of Atlanta and Athens and attracts thousands of tourists year-round. The park notably features a log fort constructed in 1792 by US settlers. This fort was used as protection against the Creek and Cherokee tribes.
Today, visitors head to Fort Yargo to enjoy outdoor activities like swimming or spending time on the beach by the lake. You can also enjoy 20.5 miles of hiking and mountain biking trails or camp in lakeside yurts.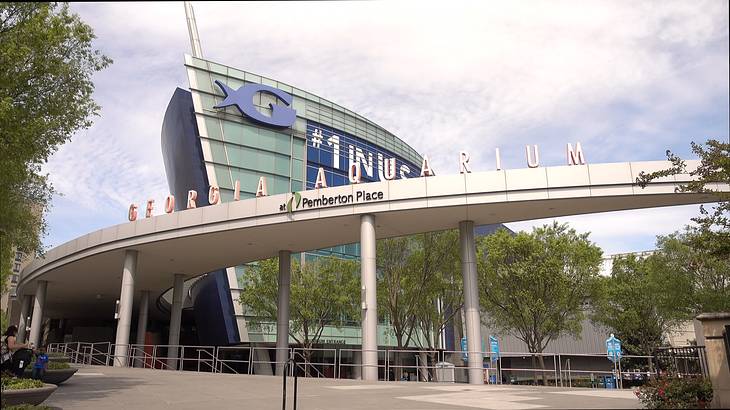 Georgia Aquarium
Discover the ocean's wonders by visiting the Georgia Aquarium, an attraction that aims to educate and entertain its visitors. Opened in 2005, the aquarium comprises seven sections that feature sea life from across the globe.
Aquatic animals to see include penguins, sea lions, rays, and many species of fish. The aquarium is also home to four whale sharks and is the only aquarium in the United States to house these animals.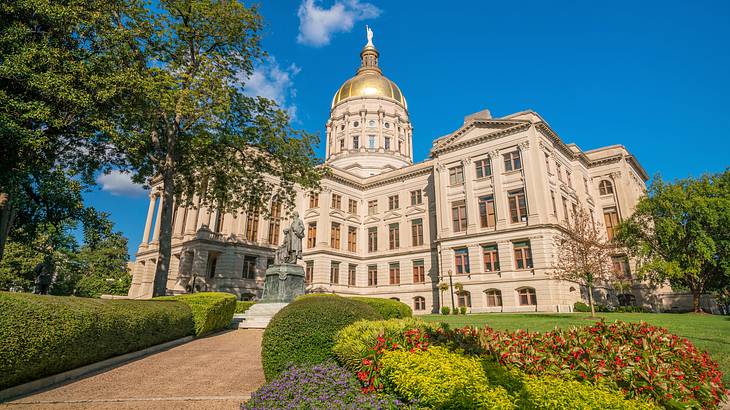 Georgia Capitol Museum
The Georgia Capitol is one of the most well-known historical landmarks in Georgia state. Within the 19th-century building, which remains the primary seat of government for the state, you'll discover an educational museum.
The museum was built to preserve the state's history and teach visitors more about the State Capitol Building itself. If you visit the museum, you can view artifacts, works of art, historical flags, and exhibits on significant events in Georgia's history.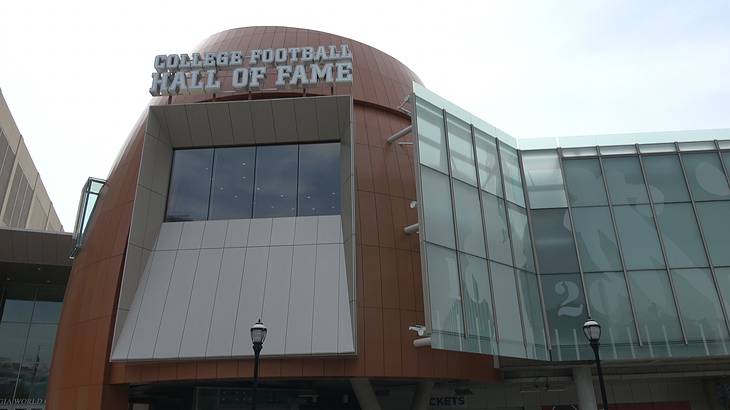 College Football Hall of Fame
The College Football Hall of Fame is a landmark that will greatly appeal to sports fans. Located in Atlanta, the museum is dedicated to all things college football, with exhibits on teams, coaches, and championships.
Of course, you can also see the Hall of Fame section, with displays relating to college football's most famous players over the last decades. You can also see an array of memorabilia, and there are fun interactive activities to try.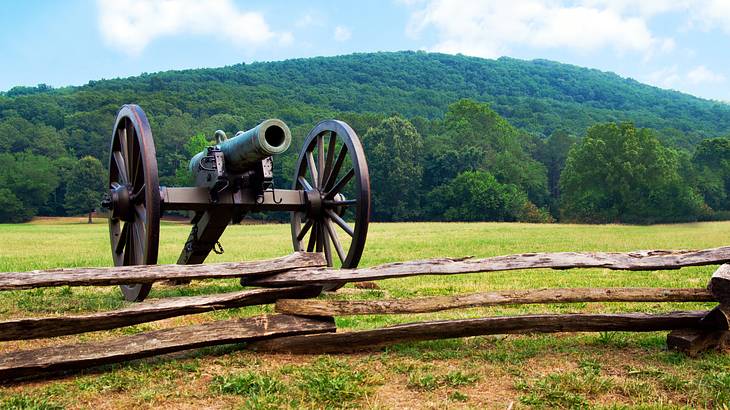 Kennesaw Mountain National Battlefield Park
Kennesaw Mountain National Battlefield Park is the location of the Battle of Kennesaw Mountain, a significant Civil War battle. It's also home to its namesake Kennesaw Mountain. The mountain's name comes from the Cherokee Indian "Gah-nee-sah," meaning "cemetery."
Those that visit the 2,923-acre park can explore the area where the battle took place and follow hiking trails. You can also see some notable landmarks, like an 1830s farmhouse owned by pioneer settler Peter Valentine Kolb.
Little White House Historic Site
The Little White House is one of many National Historic Landmarks in Georgia. The residence was built in 1932 for Franklin Delano Roosevelt, the 32nd president of the United States, as a private retreat.
The well-preserved house now serves as a museum. Those visiting can tour FDR's home while learning more about the president through educational exhibits.
Some notable artifacts include Roosevelt's 1938 Ford convertible and a stagecoach. You can also see the famous "Unfinished Portrait," a painting of FDR that could not be finished as he died while posing for the artwork.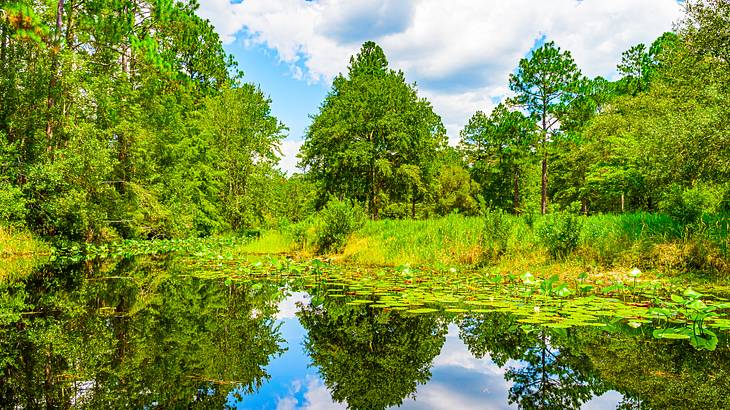 Okefenokee Swamp
Best known for its amphibian inhabitants, Okefenokee Swamp welcomes millions of visitors each year who are eager to explore the 353,981-acre National Wilderness Area. The park has more than 600 lily-deck water trails and lush green vegetation.
It's also home to various wildlife, including endangered species like red-cockaded woodpeckers and indigo snakes. Notably, the amphibian populations at the park are used as indicators of global bio-health. This measure shows how animals react to changes in water pollutants and other environmental factors.
Martin Luther King Jr. National Historical Park
The Martin Luther King Jr. National Historical Park preserves the life and work of iconic Civil Rights activist Martin Luther King Jr. The 35-acre park is located in Atlanta and is one of the most famous landmarks of Georgia and the US. Visiting this landmark is a must on your Atlanta itinerary!
As you explore the area, you will find the house where Martin Luther King Jr. was born, the Ebenezer Baptist Church where both he and his father were pastors, and his final resting place next to his wife, Coretta Scott King.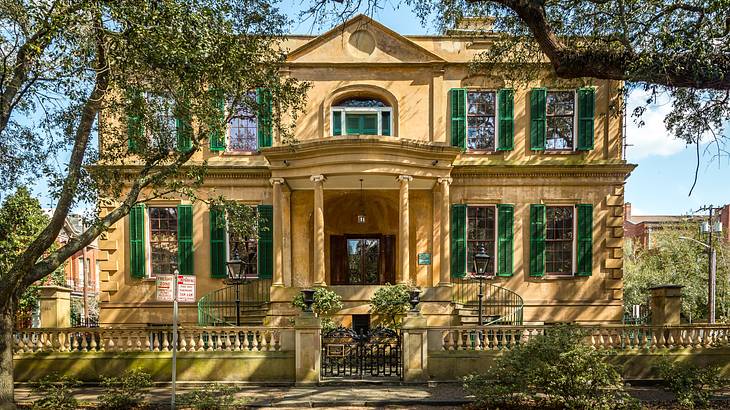 Savannah Historic District
Savannah is a city full of history, and the Savannah Historic District highlights a lot of this rich history. The neighborhood is a National Historic Landmark and is structured under the original town plan designed by Gen. James E. Oglethorpe in 1773.
As you look around the area, you'll find many buildings from the 18th and 19th centuries designed in Greek Revival and Gothic styles. You can also discover a variety of Savannah historic landmarks, like the home of Girl Scout's founder Juliette Gordon Low.
Another of the important Georgia historical sites found nearby is the Beach Institute. The institute was opened in 1865 as the first school in the city for African-Americans.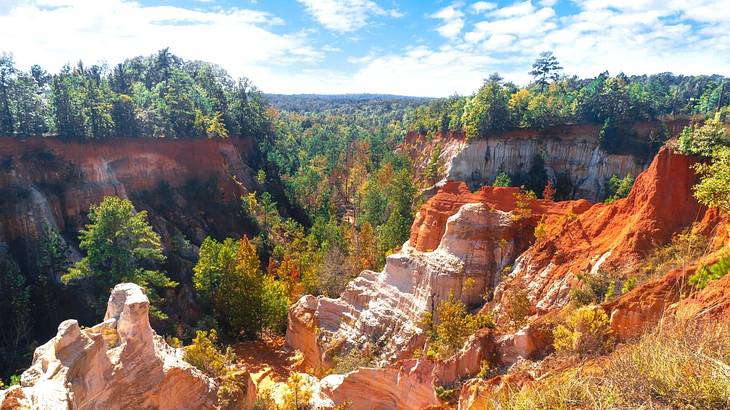 Providence Canyon State Park
Providence Canyon State Park spans 1,003 acres in Stewart County. The park is known for its canyon, often referred to as the "Little Grand Canyon," and also features a rare plant called the plumleaf azalea.
An interesting Georgia fact about this "natural" landmark is that not every feature in the park is one hundred percent naturally occurring. Some canyons found here are 150 feet-deep gullies created due to poor farming practices in the 1800s.
Another attraction that is not natural to the park is a collection of 1950s trucks. They've been left because removing them would damage the environment around them.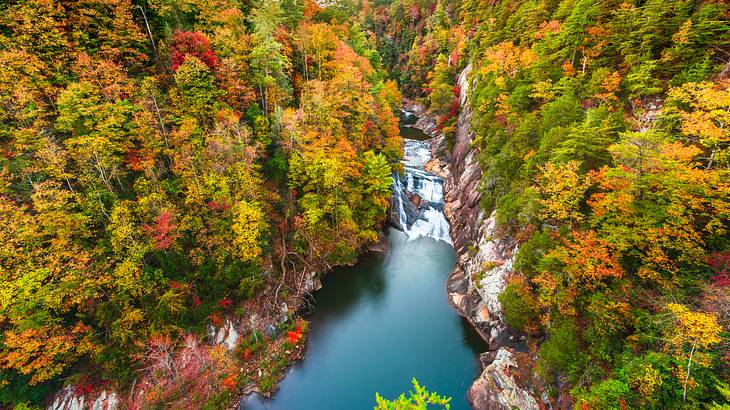 Tallulah Falls
Tallulah Falls is a resort town that leads into Tallulah Gorge State Park. The city is known for its Victorian-era architecture, stunning natural landscape, and the many waterfalls found in the park.
When visiting Tallulah Gorge State Park, guests can enjoy the scenic view of Hurricane Falls. You can also try getting your hands on one of the 100 permits given to hike the gorge. Going to Tallulah Gorge State Park in the fall, when the trees change color, is recommended.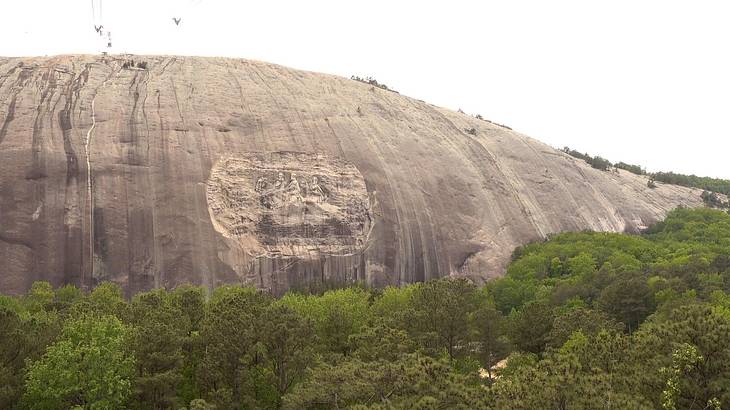 Stone Mountain Park
Known as one of the most famous tourist attractions in Georgia, Stone Mountain Park welcomes over four million visitors each year. The Park covers 3,200 acres and features multiple hiking trails for all abilities, plus a scenic lake. You can also take a cable car ride to the top of the mountain.
Additionally, the Park hosts lots of events, including golf tournaments, a laser show, and a pumpkin festival. It's an ideal attraction to visit for all sorts of adventures!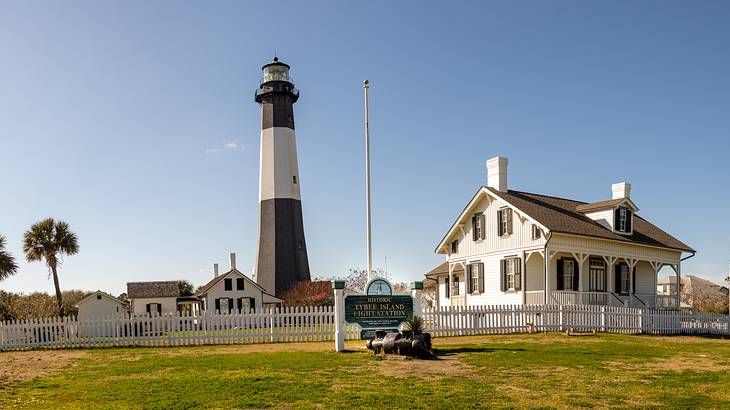 Tybee Island Light Station & Museum
Tybee Island Light Station was opened almost 300 years ago in 1736 on Tybee Island, located 30 minutes from Savannah. Today, it is Georgia's oldest lighthouse. The tower reaches 145 feet in height, meaning it's also the tallest lighthouse in Georgia.
Across from the lighthouse, you will find the Tybee Island Museum. The museum is housed within an 1899 Military Battery and covers the area's history. The island also features sandy beaches, and you may spot dolphins!
Taking a day trip to Tybee Island and the Tybee Island Light Station is a must for anyone staying nearby, especially those in Savannah with kids.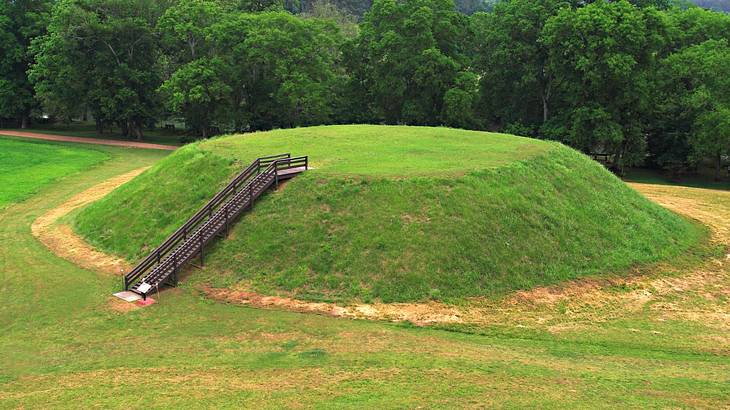 Etowah Mounds
This 54-acre archeological site was home to several Native American tribes between 1000 AD and 1550 AD. The Etowah Indian Mounds State Historic Site is considered a prehistoric site and can be found on the edge of the Etowah River in Bartow County.
Although just nine percent of the site has been excavated, it is considered one of the most intact prehistoric sites in the southeast. During the excavation process, various ancient artifacts were discovered, like pottery and weapons.
Due to its construction around 1000 AD, it is also one of the oldest Georgia historic sites and landmarks.
Rock City Gardens
Rock City Gardens is located at the very top of Lookout Mountain. This natural attraction opened in 1932 and is best known for being featured in painted barn advertisements. The advertisements were seen on barns throughout the southeast and the midwest United States between the 1930s and 1960s.
Visitors to the area can walk a 4,100-foot-long trail that takes you past caves, rock formations, and waterfalls. At the Rock City Garden lookout, you can also enjoy breathtaking views across the surrounding forests.
Stone Hall Atlanta
Stone Hall Atlanta, now known as Fountain Hall, is an academic building within Morris Brown College. The building was constructed in 1882 and is currently the oldest original building at Clark Atlanta University. The iconic structure also became a National Historic Landmark in 1974.
Today, the building is primarily used to house offices for university staff. However, Stone Hall also contains a chapel, art studios, and an art gallery.
New Echota State Historic Site
New Echota was one of the most important Cherokee sites. However, it is sadly also where the tragic "Trail of Tears" began. The Cherokee national legislature made New Echota its capital in 1825.
The area was home to one of the first attempts at self-government by a Native American tribe. It was the location of the first Native American language newspaper office as well.
Today, you can visit 12 reconstructed buildings on the site, like the Court House, a store from 1805, smokehouses, and the Council House. Visitors can also watch a 17-minute film on the life of the Cherokee people in the 19th century.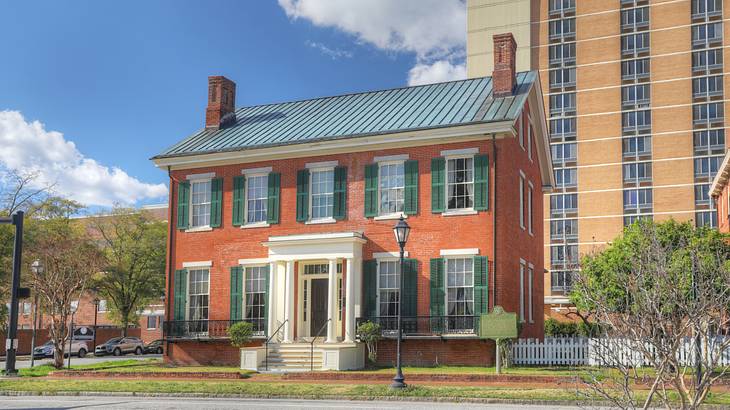 The Boyhood Home of President Woodrow Wilson
The Woodrow Wilson Boyhood Home is another of the must-visit historical sites in Georgia. Wilson, the 28th President of the United States, grew up in Georgia during the Civil War era and lived in Augusta from 1859 to 1870.
His childhood home is located in the Augusta Downtown Historic District and now serves as a museum. The museum showcases the early life of Woodrow Wilson and what growing up during the Civil War would have been like.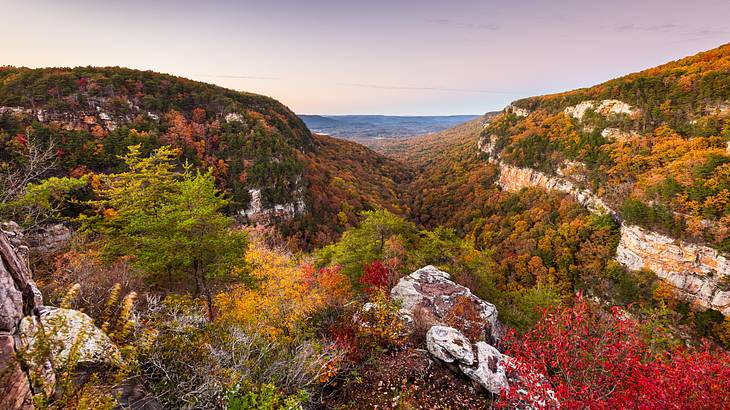 Cloudland Canyon State Park
Cloudland Canyon State Park is located on the west side of Lookout Mountain. Its picturesque surroundings comprise deep canyons, caves, sandstone cliffs, and flowing creeks, and the park is also home to lots of wildlife.
While at the park, you can hike, bike, play disc golf, and fish. If you want to stay, there are some campsites in the area or charming cottages to rent.
In Summary
If planning a trip to the Peach State, you won't be short of things to do! Visitors can discover an array of fascinating Georgia landmarks and tourist attractions, from outdoor areas, like Fort Mountain State Park, to historical attractions, such as the Georgia Capitol Museum.
Whether you're visiting a renowned city like Atlanta or Savannah for the weekend, or are taking a longer vacation to explore the lesser-known towns in Georgia, there is something new to discover around every corner of the state!
Give us feedback about this article
More visual stories related to this article:
---
---
Want to keep exploring?
Subscribe for discounts on tickets and hotels and our latest guides.
Thank you for subscribing
We will be in touch soon with discounts on tickets and hotels and our latest guides.
Want to keep exploring?
Subscribe for discounts on tickets and hotels and our latest guides.
Thank you for subscribing
We will be in touch soon with discounts on tickets and hotels and our latest guides.
Related Articles