Have You Heard of These 11 Landmarks in Lanai, Hawaii?
Destguides may receive commissions from purchases made through affiliate links in this article.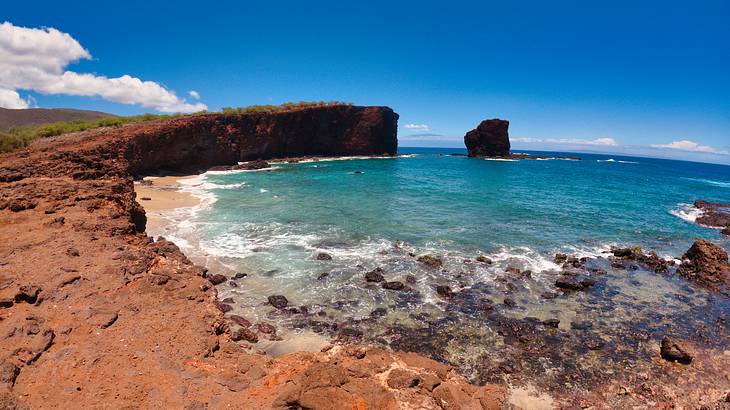 Just ten miles off the coast of its more famous neighbor Maui, you'll find Lanai. This Hawaiian island has been getting more and more attention from travelers and vacationers who are looking to get off the beaten path.
Whether you're looking for a day trip or a full-week getaway, these 11 landmarks in Lanai, Hawaii, have to be on your must-see list!
11 Lanai Landmarks
Lanai Landmarks Video
Check out our highlights video of Lanai landmarks.
Lanai Landmarks Map
A map of Lanai landmarks. Use the map to explore all of the points of interest.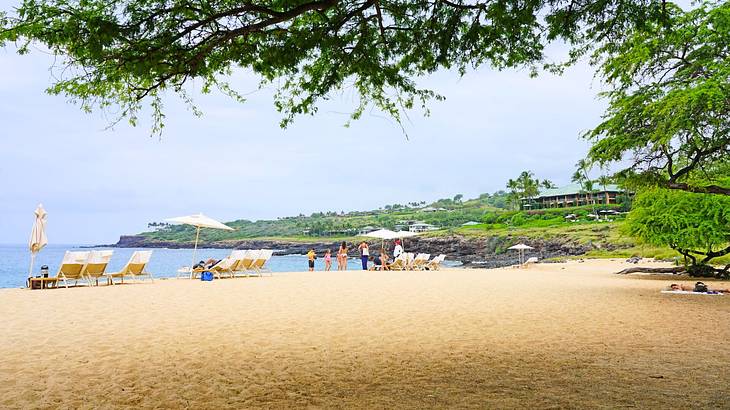 Hulopo'e Beach Park
The first and most common landmark for visitors to Lanai to check out is Hulopoe Beach Park, on the island's southern coast. This crescent-shaped beach is near the Four Seasons Resort and has calm, crystal-clear water, making it ideal for swimming and snorkeling.
Visitors can often spot spinner dolphins jumping out of the water in the summer, and the winter months bring migrating humpback whales.
It also boasts large tide pools on its eastern side, where visitors can spot hermit crabs and starfish. It has restrooms, showers, picnic tables, and barbecue grills, making it easy to spend a whole day there.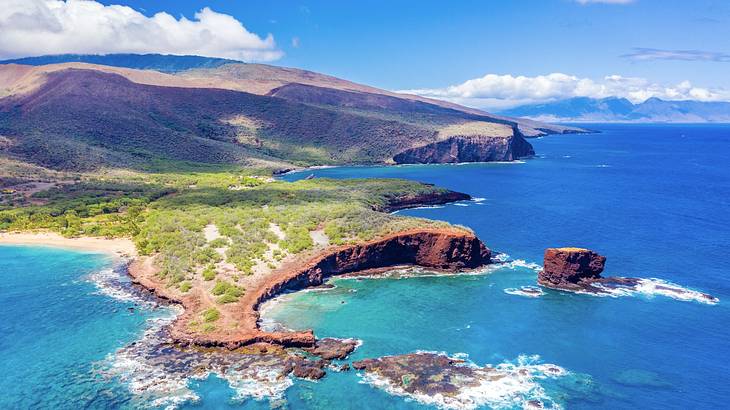 Pu'u Pehe (Sweetheart Rock)
A short 30-minute hike away from Hulapoe Beach Park is perhaps the island's most iconic natural landmark, Pu'u Pehe - a rocky monolith jutting 80 feet out of Hulapoe Bay. Pu'u Pehe translates to Sweetheart Rock in English, but the legend behind it is more tragic than the name suggests.
It tells of Pehe, the woman that a warrior named Makakehau fell in love with. Every time he saw her, his eyes would tear up, and his vision would blur. In Hawaiian, "maka" means eyes, and "kehau" means mist, giving him his name.
One day, following a storm, he returned to their cave on the beach to find her drowned. In his grief, he asked the gods for the strength to climb the giant sea rock. He buried her at the peak and then jumped to his death below.
Lopa Beach
For a more secluded and adventurous beach option, look no further than Lopa Beach on the island's eastern coast. Its most frequent visitors are the local fishermen, and it requires a four-wheel-drive vehicle to reach it.
Those that make the journey are treated to a white-sand beach, with a forest behind them and magnificent views of neighboring Maui ahead. It's safe to swim out in calm waters, but the rocky ocean bottom makes it dangerous in rougher surf.
At the south end of the beach, visitors will find an ancient fishpond called Loko Lopa, which now doubles as a bird sanctuary.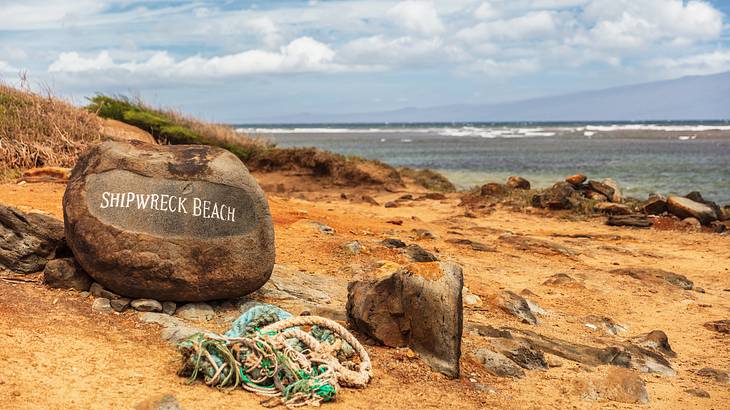 The Lanai'i Ghost Ship at Kaiolohia
Continuing counter-clockwise around the island, the next landmark that visitors to Lanai should put on their itinerary is Shipwreck Beach. Called Kaiolohia in Hawaiian, this one also requires a sense of adventure to reach as you drive along unmarked roads in a 4x4 vehicle.
Once there, you won't be able to miss the spooky, rusting hull of a 1940s oil tanker still beached upright along the bay's coral reef as it slowly weathers away. While this beach is not recommended for swimming, it offers views of Maui and the Molokai islands and has nearby petroglyphs made by ancient Polynesians.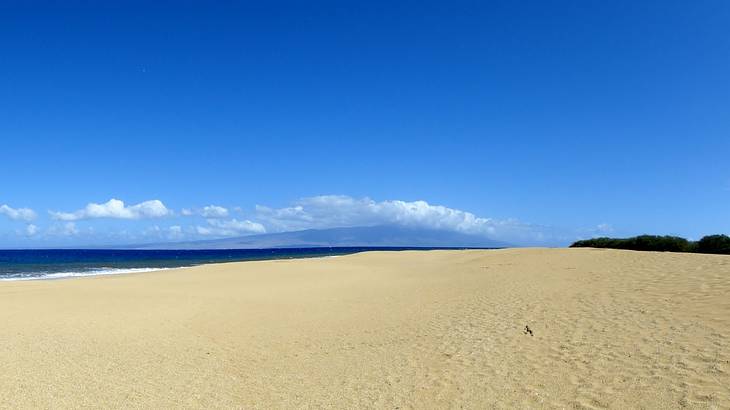 Polihua Beach
For a truly remote beach, get into a four-wheel drive or hire a guide and head to Polihua Beach at the northwestern tip of Lanai. It's the longest sand beach on the island, adding to the feeling that you have this beautiful corner of the world all to yourself.
There is no protective reef here, and high winds make for strong currents and dangerous swimming. As a trade-off, the winds have carved large dunes on the beach, which are great for walks, picnics, and wintertime vantage points for humpback whales.
Additionally, "Polihua" is Hawaiian for "egg nest," so keep an eye out for the native green turtles nesting in its sands.
Kaunolu Village
Another of the top landmarks in Lanai, Hawaii, is Kaunolu Village. Like many of the landmarks in Lanai, this one also requires a four-wheel drive to access. Unlike other landmarks, this one treats visitors to views of the island's southern cliffs that this ancient fishing village is nestled into.
Kaunolu Village is found at the southern edge of the Lanai and was a favorite destination for King Kamehameha I, the leader famous for unifying the Hawaiian islands in the late 18th and early 19th centuries. It was also named a US National Historic Landmark in 1962 for its petroglyphs and ruins of both a temple and a prehistoric Hawaiian village.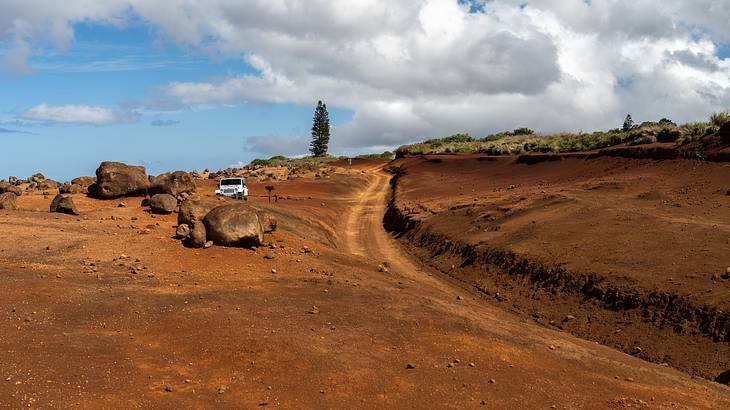 Keahiakawelo (Garden of the Gods)
At the end of Polihua Road in North Lanai, and only a 45-minute drive from Lanai City, visitors will find the Garden of the Gods or Keahiakawelo in Hawaiian. Centuries of erosion have carved the rocks of this barren plateau into towers and spires, and the boulders littering the landscape complete its seemingly alien topography.
Keahiakawelo's elevation allows visitors to see Oahu in the distance on a clear day, and at dusk, the setting sun paints the vast rock garden in an otherworldly orange.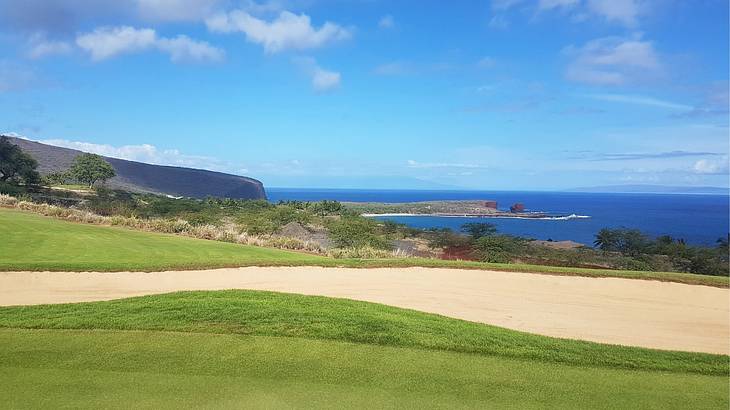 Manele Golf Course
Taking a break from the many adventurous destinations and landmarks in Lanai, visitors can spend a day at Manele Golf Course, found at the Four Seasons Resort in the southern part of the island.
It's a challenging course that gives golfers a unique chance to hit the greens on 200-foot cliffs amid ocean views and surrounding black lava rock. Jack Nicklaus designed the course, and it's consistently listed as one of the top golf courses in the country.
Kanepuu Preserve
Kanepuu is a 590-acre nature preserve on the island's western side, protected by The Nature Conservancy. Here, visitors can take a guided or a self-guided walk to see the 48 native plants and trees that cover large parts of the Hawaiian islands in dryland forests.
The Nature Conservancy has placed informative signs to inform people about the challenges of restoration and the ongoing threats of non-native flora. As usual, a four-wheel-drive vehicle will be needed to navigate the roads that connect the preserve to the nearby Lanai City.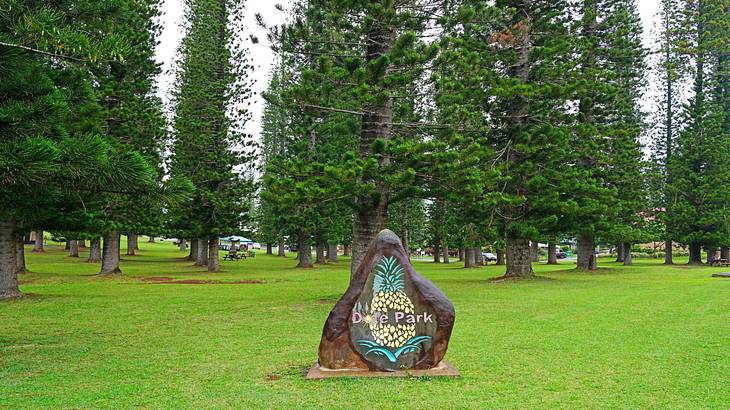 Dole Park
Finally, this list of landmarks reaches Lanai City itself. With a population of around 3,000, this feels much more like a town than a city, and visitors will enjoy its slow pace, small cafes, and extreme walkability.
In the city center, Dole Park gets its name from the founder of the Dole Food Company, formerly called the Hawaiian Pineapple Company. Due to the company's dubious reputation among Hawaiians, the park is often called Lanai City Commercial Square. Every Saturday, the park transforms into a farmer's market with pop-up booths for arts and local crafts as well.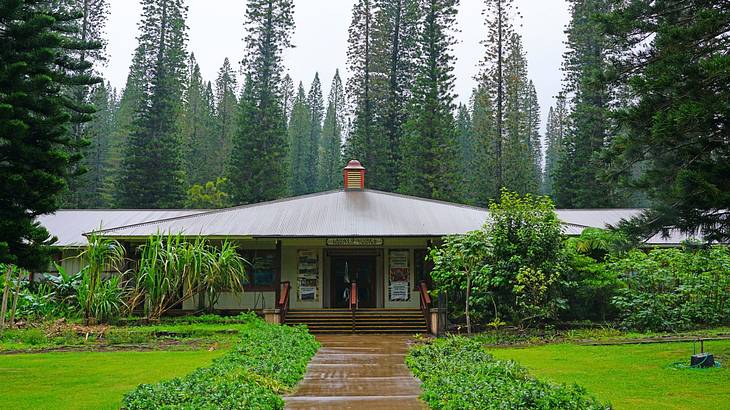 Lanai Culture and Heritage Center
The last of the landmarks in Lanai, Hawaii, is the Lanai Culture and Heritage Center. This community heritage center opened its doors in January of 2007 and allows visitors to inform themselves about Hawaiian history and to celebrate their traditions.
This is an important stop for people visiting Lanai to help them understand the diverse cultures of the islands and one that will help them be respectful guests and thoughtful stewards during their time in Lanai and in all of the Hawaiian islands.
In Conclusion
So there you have it, the top 11 landmarks in Lanai, Hawaii. You are sure to find even more fascinating and jaw-dropping spots on this remote Pacific island, but these are some of the best places to start.
Give us feedback about this article
More articles about Hawaii:
Read more articles about the United States:
More articles about landmarks:
---
---
Want to keep exploring?
Subscribe for discounts on tickets and hotels and our latest guides.
Thank you for subscribing
We will be in touch soon with discounts on tickets and hotels and our latest guides.
Want to keep exploring?
Subscribe for discounts on tickets and hotels and our latest guides.
Thank you for subscribing
We will be in touch soon with discounts on tickets and hotels and our latest guides.
Related Articles